This avocado dressing recipe is a quick and tasty way to amp up your salads in two simple steps. It will add body, flavor, and a vibrant splash of color to your next healthy salad or snack. Or use it as a dip for your veggie tray!
Love dipping your veggies? Try our easy homemade hummus recipe for an irrestible snack. Or give our homemade ranch dressing a try next.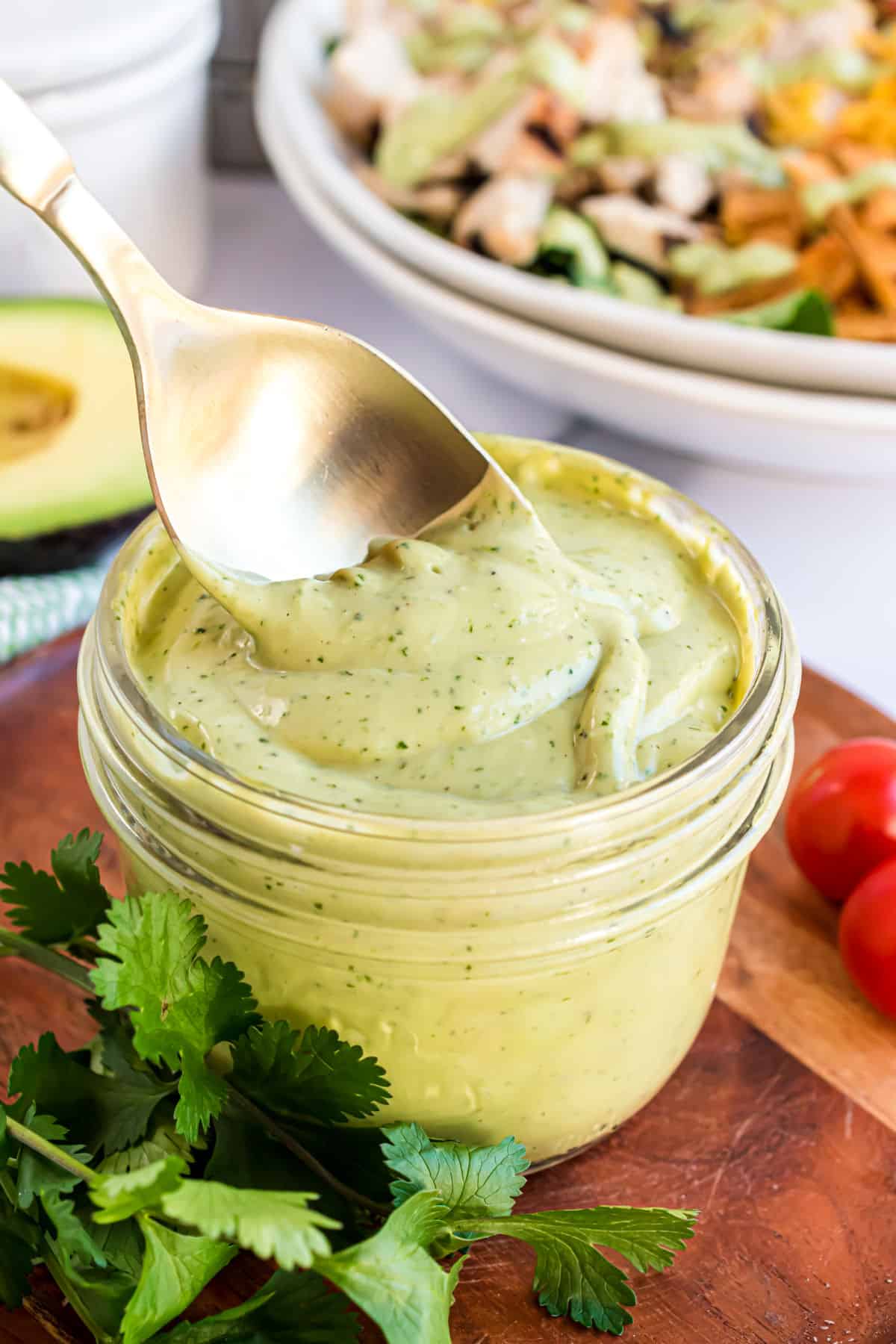 Why Avocado Dressing Works
Tasted alone, my avocado dressing is fresh and light. But it's also an excellent way to add body to a salad or raw veggies. And it will enhance their natural flavor too.
Here are a few reasons why you'll love it.
It's quick. Even at your slowest pace, this dressing will come together in under 10 minutes. It's an easy last-minute addition.
The vibrant color. If you're spread feels boring and monotone, the vibrant green of this dressing is an easy way to make the table feel more festive.
It's universal. Although you might make avocado dressing for a salad, the leftovers won't go to waste. Repurpose the leftovers as a dip for chips, veggies or tomorrow's pasta salad.
Today's dressing is perfect on our southwest chicken salad. Or drizzle it over our mandarin salad to give it a southwest flair.
Ingredient Notes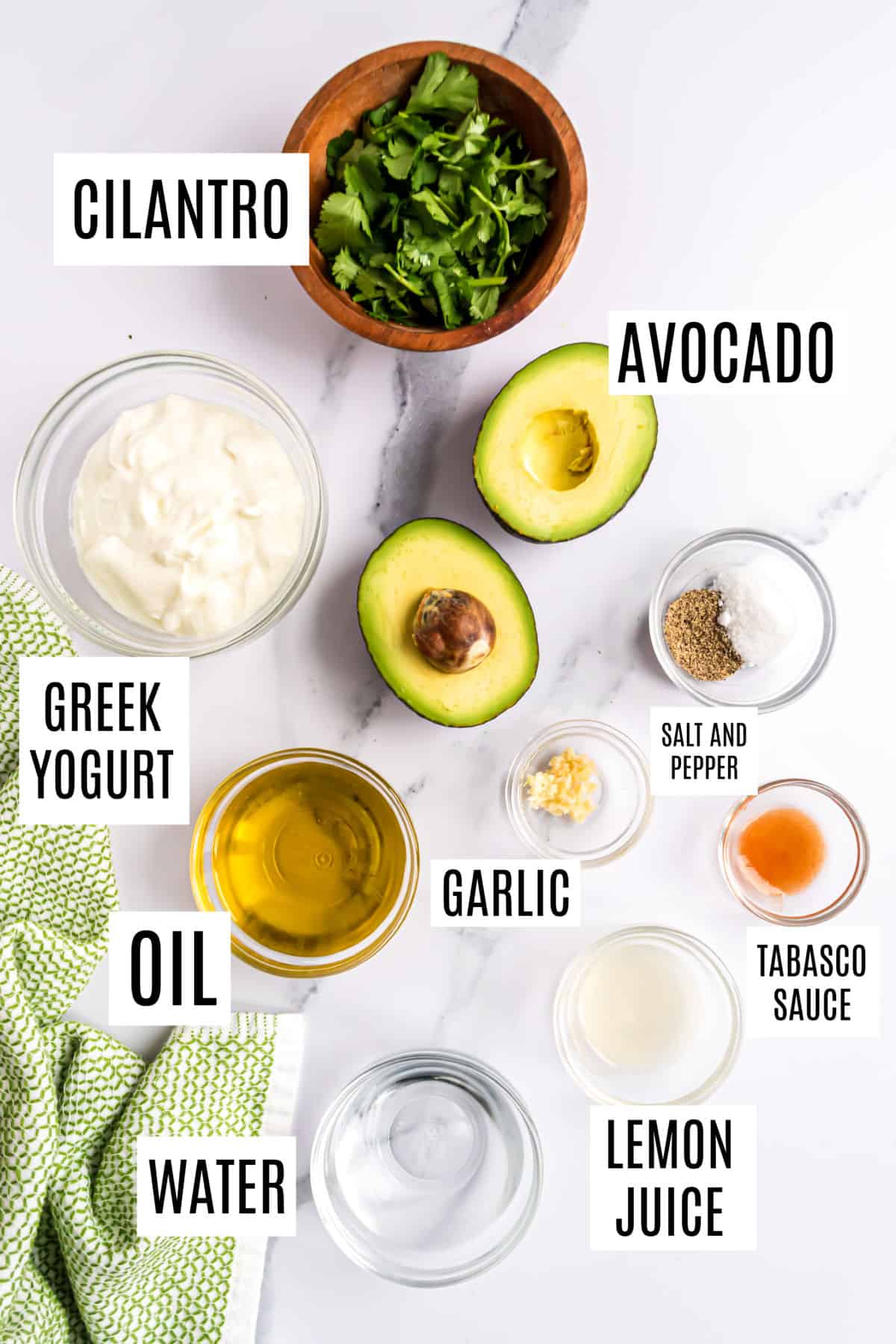 Avocado – Having a ripe avocado is a "must," for this recipe to work, so time your shopping appropriately. An underripe avocado won't be as smooth, creamy, or flavorful as a ripe one.
Lemon Juice – Although a fresh lemon is always best, pre-packaged lemon juice will work similarly.
Greek Yogurt – Plain greek yogurt works best for this recipe. You can make the recipe vegan by replacing it with plain dairy-free yogurt. You can also swap out the yogurt for sour cream if desired.
Tabasco Sauce – It adds a kick of spice to the dressing. You can replace it with any hot sauce you like. Or even skip it if you don't like heat.
Olive Oil – Extra virgin olive oil works best and gives a velvety smoothness to it.
Garlic – Use fresh garlic. You can alter the quantity depending on how strong or mild you like it.
Cilantro – Fresh cilantro adds bright green color and freshness to the dressing. If you don't like cilantro, replace it with fresh parsley or basil.
Kosher Salt
Black Pepper
Water – Use cold water to retain the bright green color of the dressing.
Easy Instructions
This avocado dressing recipe is as simple and straightforward as it can get. It can be made in two easy steps in less than 10 minutes.
Prep the yogurt base. In a food processor jar, add avocado, lemon juice, and, greek yogurt. Process until it turns smooth. It should take about 2-3 minutes.
Add the aromatics. To the jar, add the remaining ingredients and process until everything gets mixed and you get a smooth avocado dressing.
And Voila! Your avocado dressing is ready.
Tips and Tricks
Here are a few tips and tricks to ensure a perfect avocado dressing:
Don't overprocess the dressing. Doing so will make the color darker and less vibrant.
Make it Vegan. Switch the greek yogurt with plain dairy-free yogurt.
Adding more heat. If you want to make it spicier, add a fresh green chili or jalapeño pepper while processing.
Make it Chunky. Instead of processing the whole avocado, process half of it with the rest of the ingredients and chop up the other half and add it at the end.
Make it into a Thick Dip or Spread. Skip the water and reduce the yogurt quantity to half (3 ounces).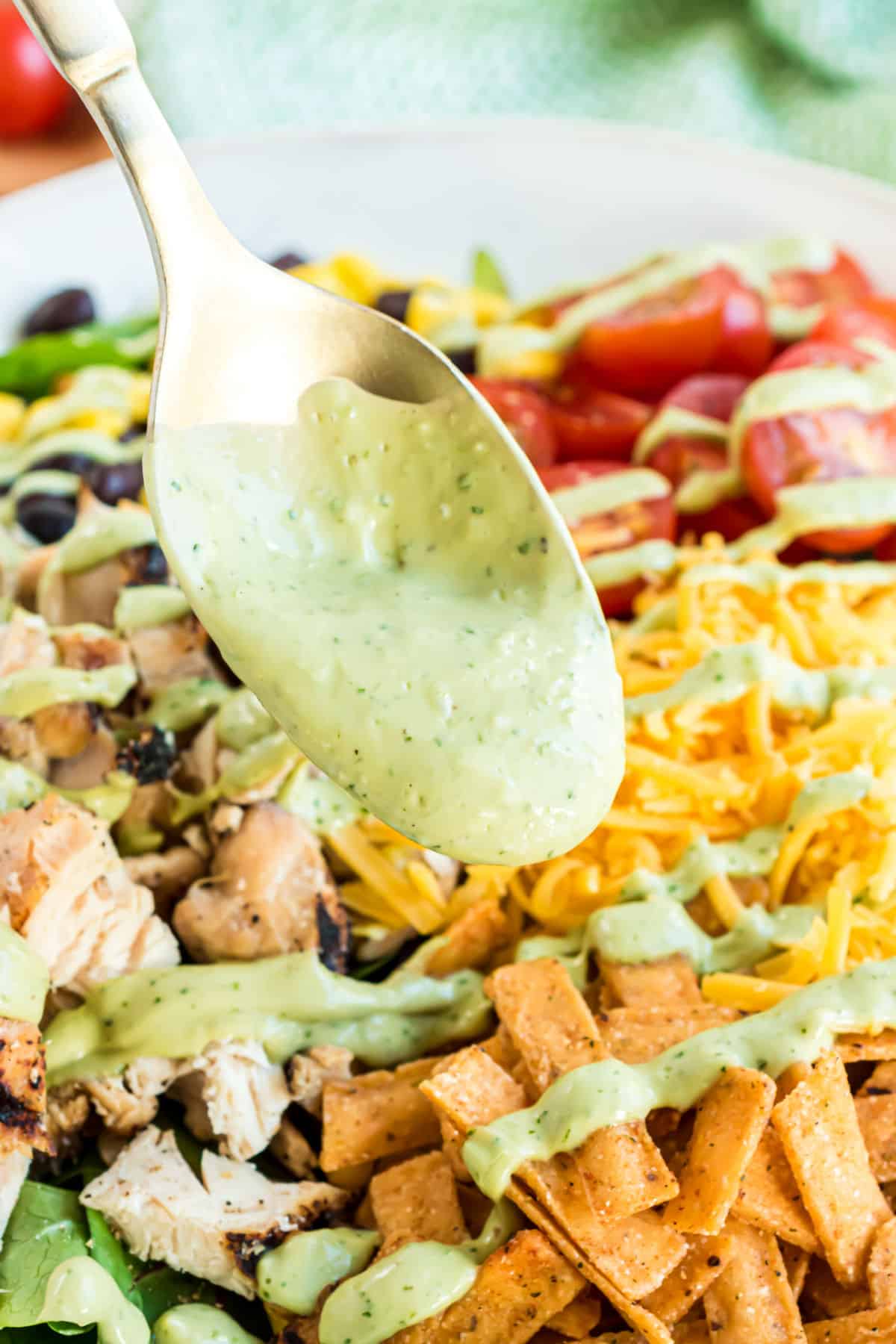 Serving Suggestions
With this avocado dressing, the pairing possibilities are endless. It tastes delicious paired with our Southwest chicken salad recipe.
It makes for a great party snack when had as a dip with nachos and chips or even sliced fresh veggies.
You can also pour this dressing over boiled macaroni or fusilli pasta and make a refreshing cold pasta salad.
Also delicious on our fish tacos recipe!
Recipe FAQs
How do I store avocado salad dressing?
Avocado dressing can be stored in an airtight container or jar in the refrigerator for up to 5 days. Make sure the container or jar is completely clean and dry so that the dressing does not get spoiled.
Can I make this dressing vegan?
Absolutely yes. You can simply switch the greek yogurt with any plain dairy-free yogurt and make the recipe vegan.
Can I make the dressing in larger batches and freeze it?
Yes. You can scale the recipe by proportionately increasing the ingredient quantity. Then divide the dressing into smaller portions and store it in freezer-safe containers or bags. Transfer them from the freezer to the refrigerator 4-5 hours before you intend to consume it. Please note that the dressing may turn slightly liquid when you take it out of the freezer.
Can I skip or replace the cilantro?
You can skip the cilantro if you don't like it. However, it provides a bright green color and freshness to the recipe. So I would recommend replacing it with other fresh greens like parsley, mint, or basil.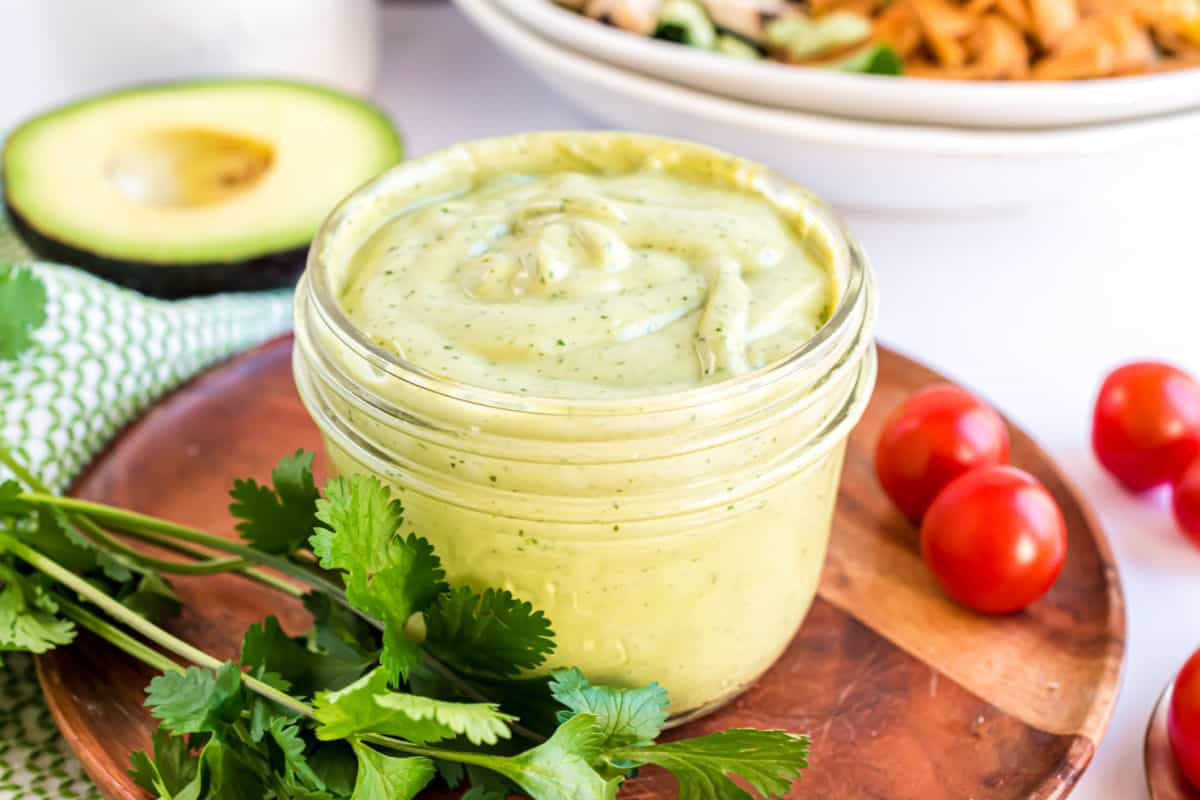 More Recipe Basics