My Blue Cheese Dressing recipe is anything but subtle. It screams flavor. The bold blue cheese flavor is carefully balanced by the richness of mayonnaise and sour cream, and the fresh tanginess of lemon juice. Even better, it only takes 5 minutes to make.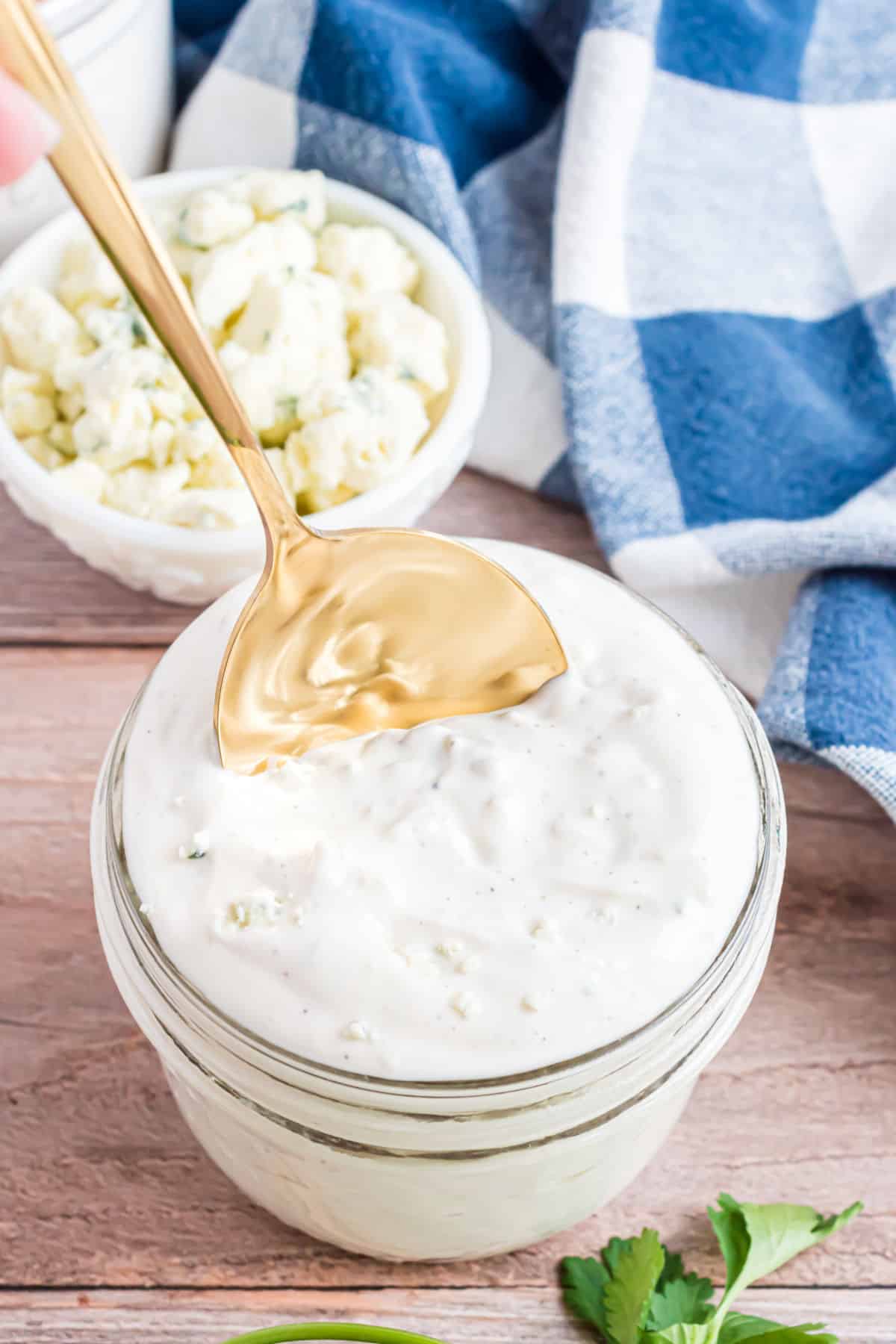 Why This Blue Cheese Dressing Works
I'll never not feel ripped off by store-bought salad dressing. Even the good ones. I suppose it's the curse of center-aisle convenience.
That's why I've always gone to great lengths to create my own homemade versions. From homemade ranch dressing, Italian dressing to homemade caesar dressing, I love it all.
What I discovered is that, when I'm the one making it, I can nail the flavor every time. And I get to side-step the preservatives used by many of the store brands.
Here are a few reasons why this recipe works so wel.
It's lightning fast. You can make this dressing in less than 5 minutes, even if you're juggling other tasks at the same time.
It's simple. All you need is a bowl and whisk, and six ingredients. The only one that isn't a basic pantry staple is the blue cheese.
It's versatile. I love this dressing on a wedge salad, but you really can use it for anything. Works great as a dressing, dip, or sauce. Try it with buffalo wings too!
Now that we've created the perfect dressing, whip up a delicious pan of Million Dollar Spaghetti or Baked Ziti, and Olive Garden Salad, and a batch of dinner rolls.
Ingredient Notes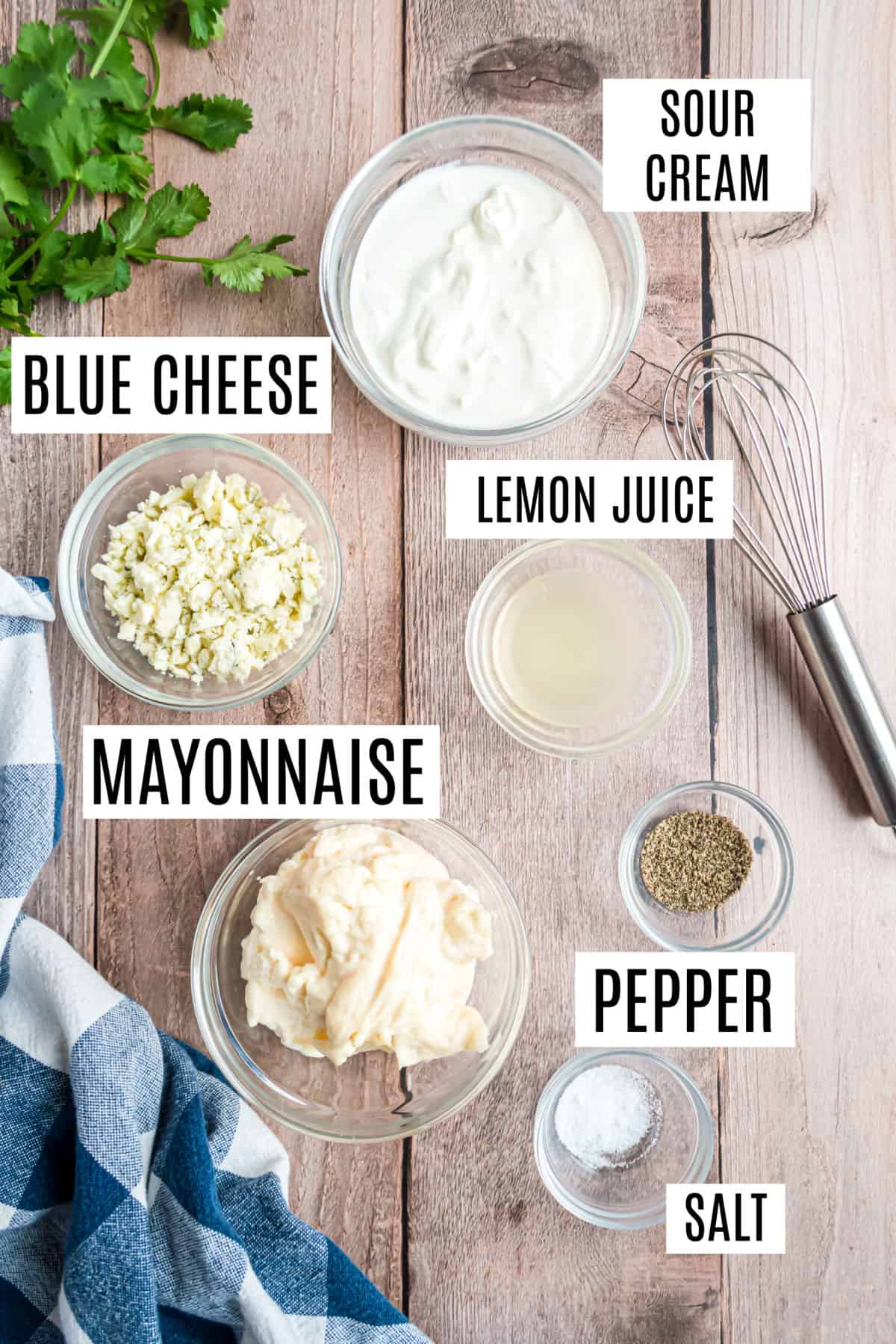 See the recipe card for full information on ingredients and quantities.
Mayonnaise – Makes for one-half of the dressing base. Adds richness to the blue cheese dressing.
Sour Cream – Makes for the other half of the base. Replace it with greek yogurt to make the dressing less rich.
Black Pepper – Use freshly ground black pepper to add a touch of heat to the dressing.
Kosher Salt
Lemon Juice – Don't skip it. It adds a kick of tanginess and freshness to the dressing.
Blue Cheese – Purchase either a wedge of blue cheese or a container of crumbled blue cheese to save time. Since blue cheese is easy to crumble, I always pick my favorite wedge from the specialty section.
Easy Instructions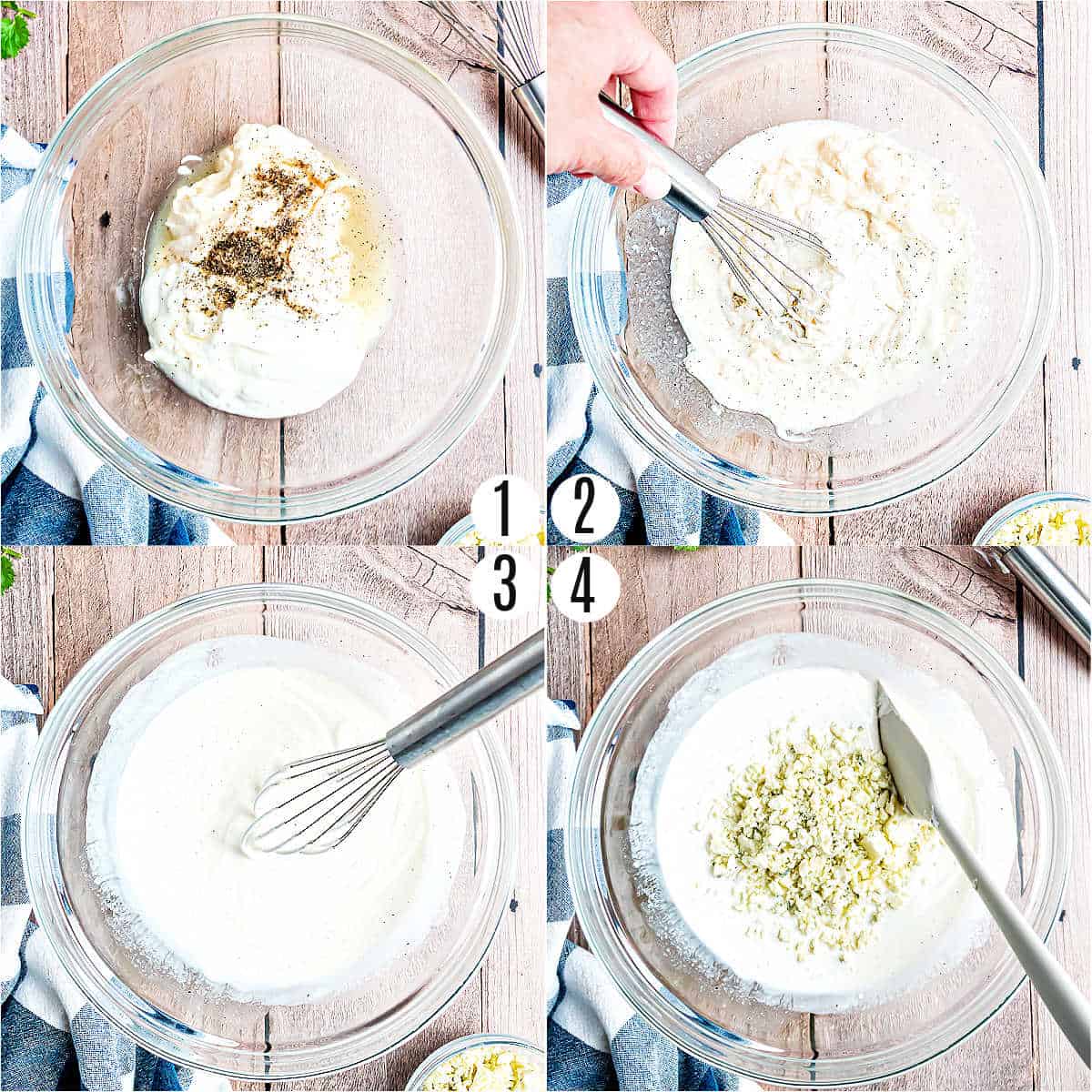 Mix it. Whisk together all the ingredients except the blue cheese in a bowl. Then crumble and fold in the blue cheese.
Refrigerate it. Then refrigerate the dressing for about an hour before serving.
Tips and Tricks
Add fresh lemon juice. Lemon juice enhances the flavor of blue cheese and brightens the dressing. If you don't have fresh lemons, use apple cider vinegar instead.
Add a pop of green. Fresh herbs are a great way to amp up any recipe. Add some finely chopped rosemary, dill, or oregano to complement the flavor of blue cheese.
Make it in a mason jar. If you're lazy like me when it comes to cleaning up afterward, I have a trick for you. Mix your dressing in a mason jar, to begin with. Simple.
Let it rest in the refrigerator. Allowing the dressing to sit in the refrigerator will further develop the flavors.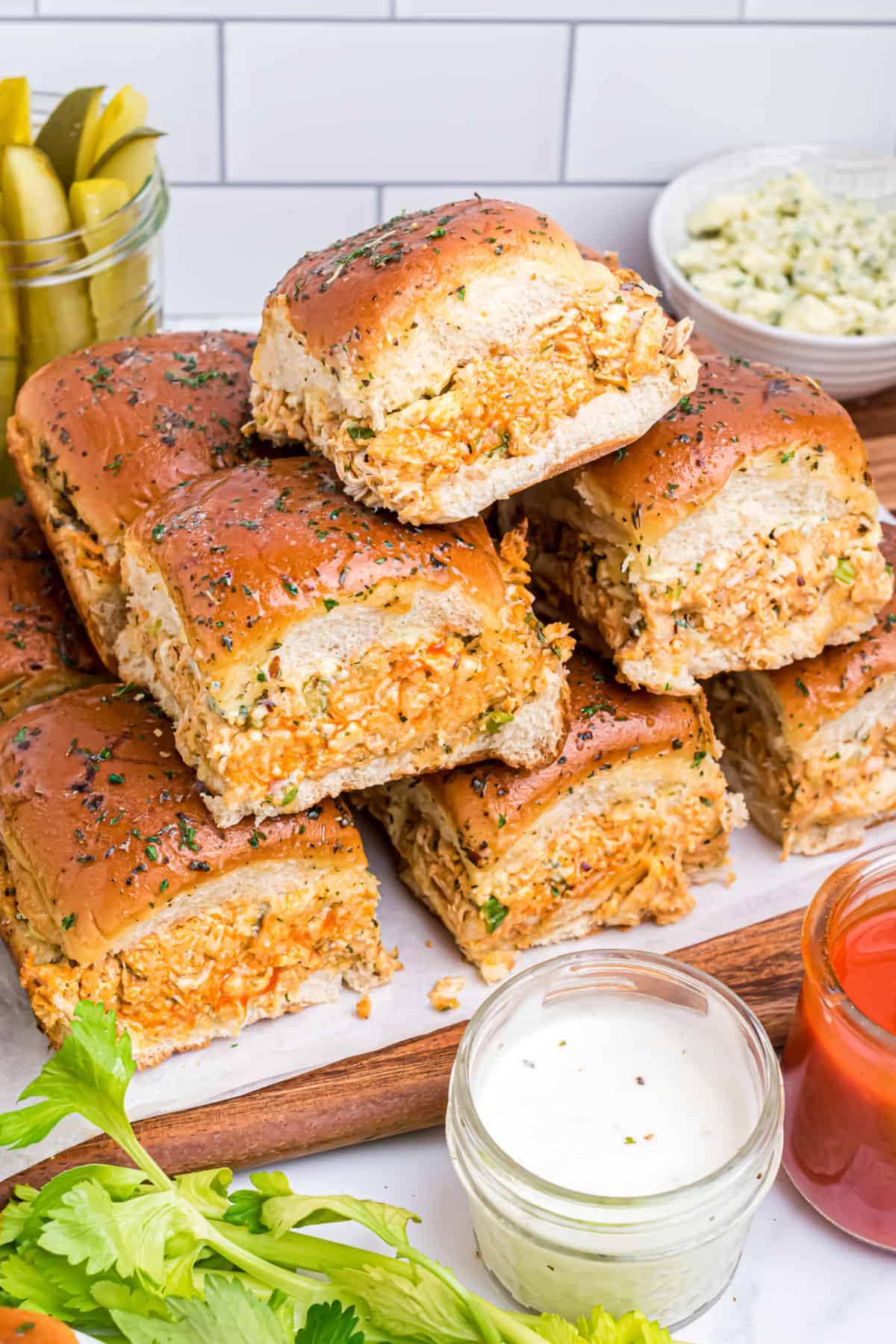 Serving Suggestions
This Blue Cheese Dressing works well for a caesar salad, wedge salad, or as dip with french fries or fresh roasted vegetables.
It even pairs well with anything that is cooked in buffalo sauce. Use it as a dipper for our cauliflower wings, buffalo chicken sliders, or in drizzled over buffalo chicken dip.
Recipe FAQs
How do I store blue cheese dressing?
Store blue cheese dressing in an air-tight container (or mason jar) in the refrigerator for up to a week.
How can I make the dressing thinner?
It's simple. Add about a quarter cup of buttermilk to make it thinner. This consistency is ideal for drizzling over nachos and chips, dipping buffalo wings, etc. Make sure you taste it and adjust the seasonings accordingly.
Can I substitute the blue cheese?
Blue cheese is an acquired taste and may not be palatable for everyone. You can substitute it with any cheese that is easy to crumble and has a flavor that can stand out among the other ingredients. Some good options are cheshire, feta, and asiago.
How do I pick the right blue cheese?
Blue cheese is the focal point of this dressing recipe. If you're unsure or unfamiliar with the different blue cheese varieties, I recommend going for a milder variety like Danish Blue or Gorgonzola. If you're looking for sharp and bold flavors of blue cheese, go for Maytag or Roquefort.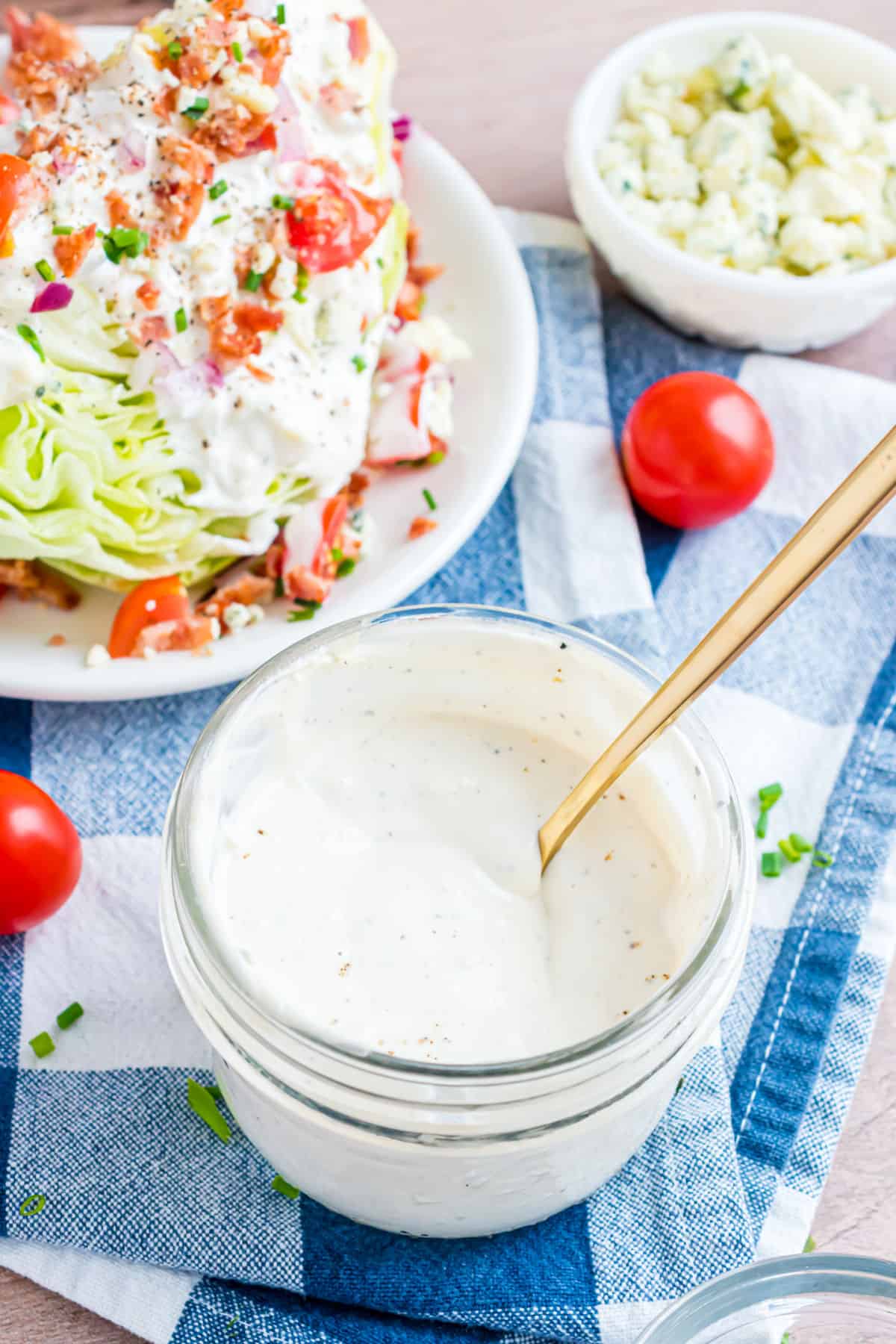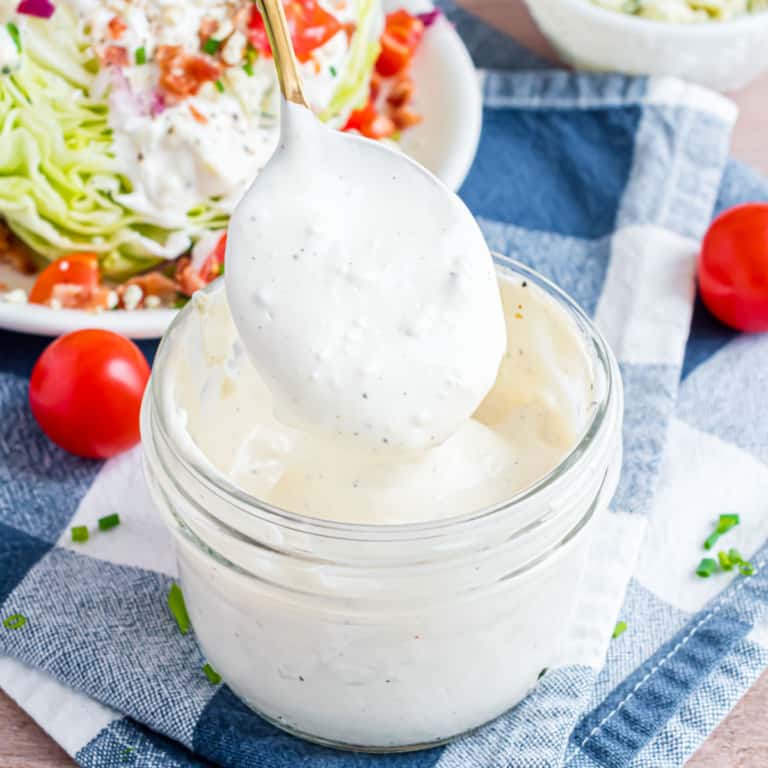 Blue Cheese Dressing Recipe
My Blue Cheese Dressing is anything but subtle. It screams flavor. The bold blue cheese flavor is carefully balanced by the richness of mayonnaise and sour cream, and the fresh tanginess of lemon juice. Even better, it only takes 5 minutes to make.
Ingredients
½

cup

mayonnaise

½

cup

sour cream

¼

teaspoon

black pepper

¼

teaspoon

kosher salt

1

Tablespoon

lemon juice

¼

cup

crumbled blue cheese

mild
Instructions
In a mixing bowl, whisk together mayonnaise, sour cream, pepper, salt, and lemon juice until creamy.

Fold in blue cheese crumbles.

Refrigerate dressing for one hour before serving.
Notes
If you want a thinner dressing, add up to 1/4 cup buttermilk to the dressing.
Store dressing in airtight container (or mason jar) for up to one week.
Use dressing as a dip for fresh vegetables, or anything with buffalo chicken!
Lemon juice is optional but adds a delicious pop of fresh citrus flavor to the dressing.
See blog post for more recipe tips and tricks.
Nutrition
Serving:
2
Tablespoons
,
Calories:
139
kcal
,
Carbohydrates:
1
g
,
Protein:
1
g
,
Fat:
14
g
,
Saturated Fat:
4
g
,
Polyunsaturated Fat:
6
g
,
Monounsaturated Fat:
3
g
,
Trans Fat:
0.03
g
,
Cholesterol:
18
mg
,
Sodium:
215
mg
,
Potassium:
34
mg
,
Fiber:
0.02
g
,
Sugar:
1
g
,
Vitamin A:
131
IU
,
Vitamin C:
1
mg
,
Calcium:
38
mg
,
Iron:
0.1
mg