Nothing beats the taste of homemade Dinner Rolls! Try this soft, buttery, and very easy yeast roll recipe to complete your next family dinner.
These fluffy dinner rolls pair perfectly with mom's Pot Roast recipe and Pork Chops in a creamy mushroom sauce!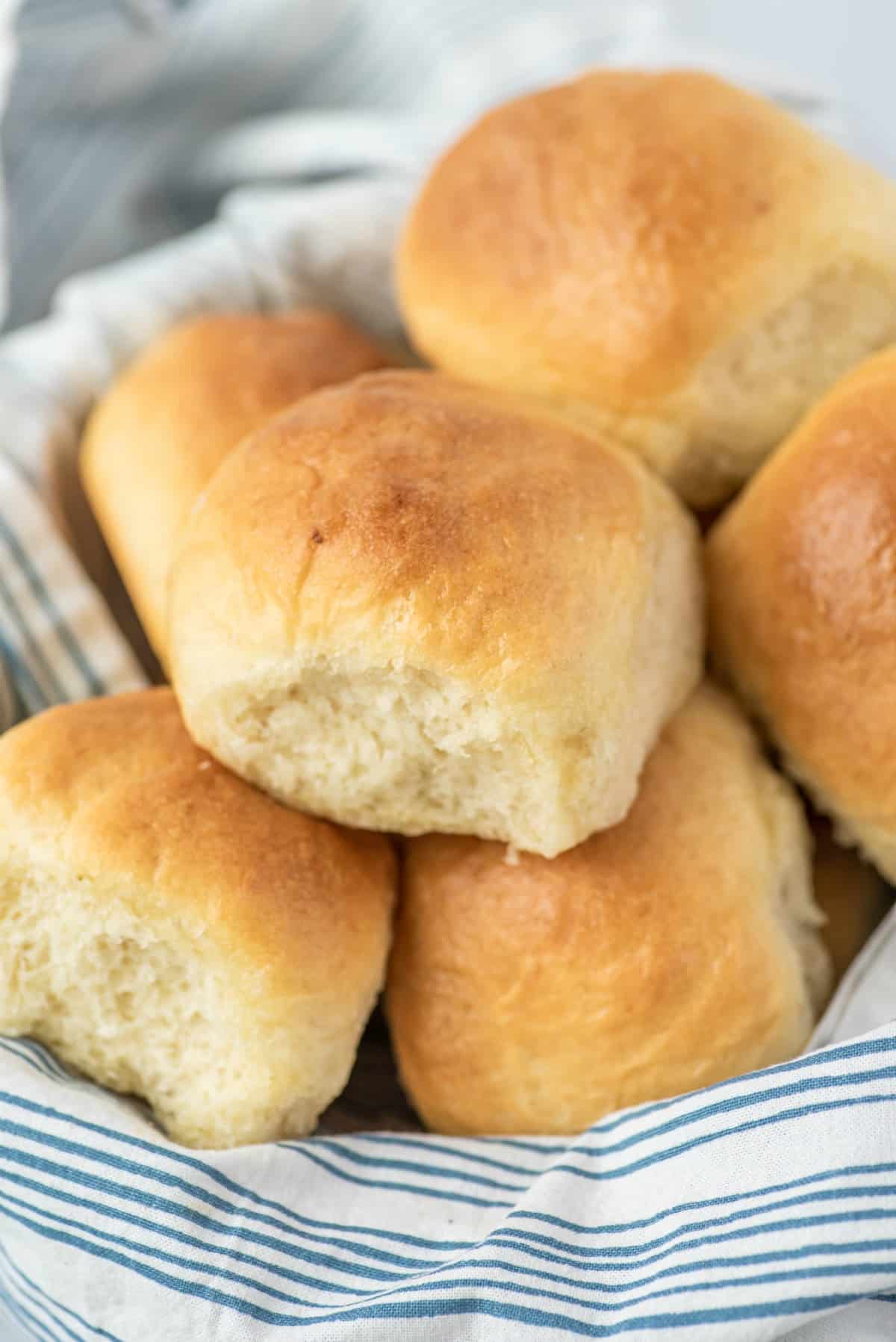 Why this Recipe is Best
Does anything smell better than fresh baked yeast rolls?
I've been known to choose a restaurant simply for the quality of its dinner rolls. When the server plops a basket of hot rolls on the table, heaven help anyone who tries to stop me from grabbing one right away.
I can't think of any meal that isn't automatically improved with a warm fluffy dinner roll spread with melting butter.
Dredged through potato soup or served with baked ziti, fluffy dinner rolls are a must on our table.
And the tantalizing aroma that fills your kitchen as these dinner rolls bake isn't half bad either.
This dinner rolls recipe will have you baking your own fresh yeast rolls at every possible opportunity. They are an obvious addition to a holiday table but they're easy enough to make for any occasion, even if that occasion is just "Thursday night."
Favorite Dinner Breads: Garlic Bread | Puff Pastry Breadsticks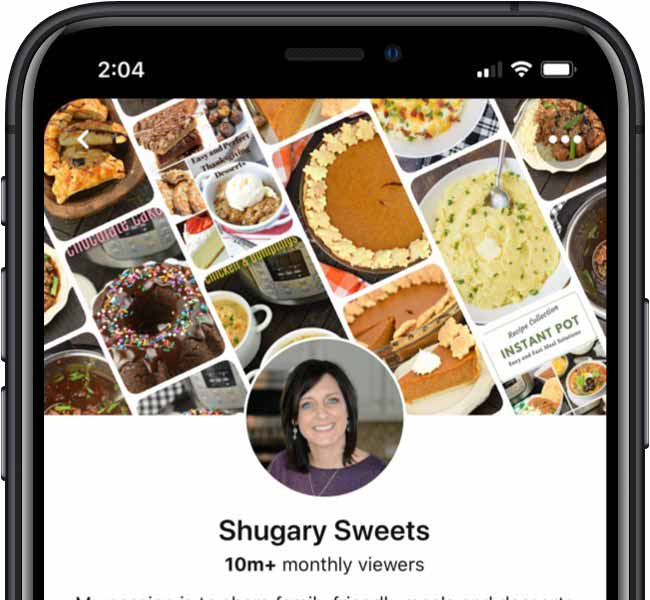 Don't be afraid of Yeast
These rolls are light and fluffy with just the teeniest hint of sweetness.
Don't be scared of using yeast. Make sure you choose "active dry yeast."
Made with a yeast dough and brushed with melting butter before baking in the oven, these dinner rolls prove that the simplest baked goods are sometimes the best.
While this dinner rolls recipe involves a few steps and a bit of rising time, you can prep everything ahead of time and keep the dough in the fridge until ready to use.
The baked rolls freeze beautifully, too, so you can have delicious yeast rolls with dinner at the drop of a hat.
Ingredient Notes
Here's what you'll need to make this yeast rolls recipe:
Active dry yeast – Not bread machine yeast or instant yeast
Warm water – It should be the temperature of a mild bath. Not too hot but warm to the touch.
Sugar
Unsalted Butter – You'll put some in the dough and reserve some to melt and brush on top of the rolls before they bake.
Milk
Kosher salt
Step by Step Instructions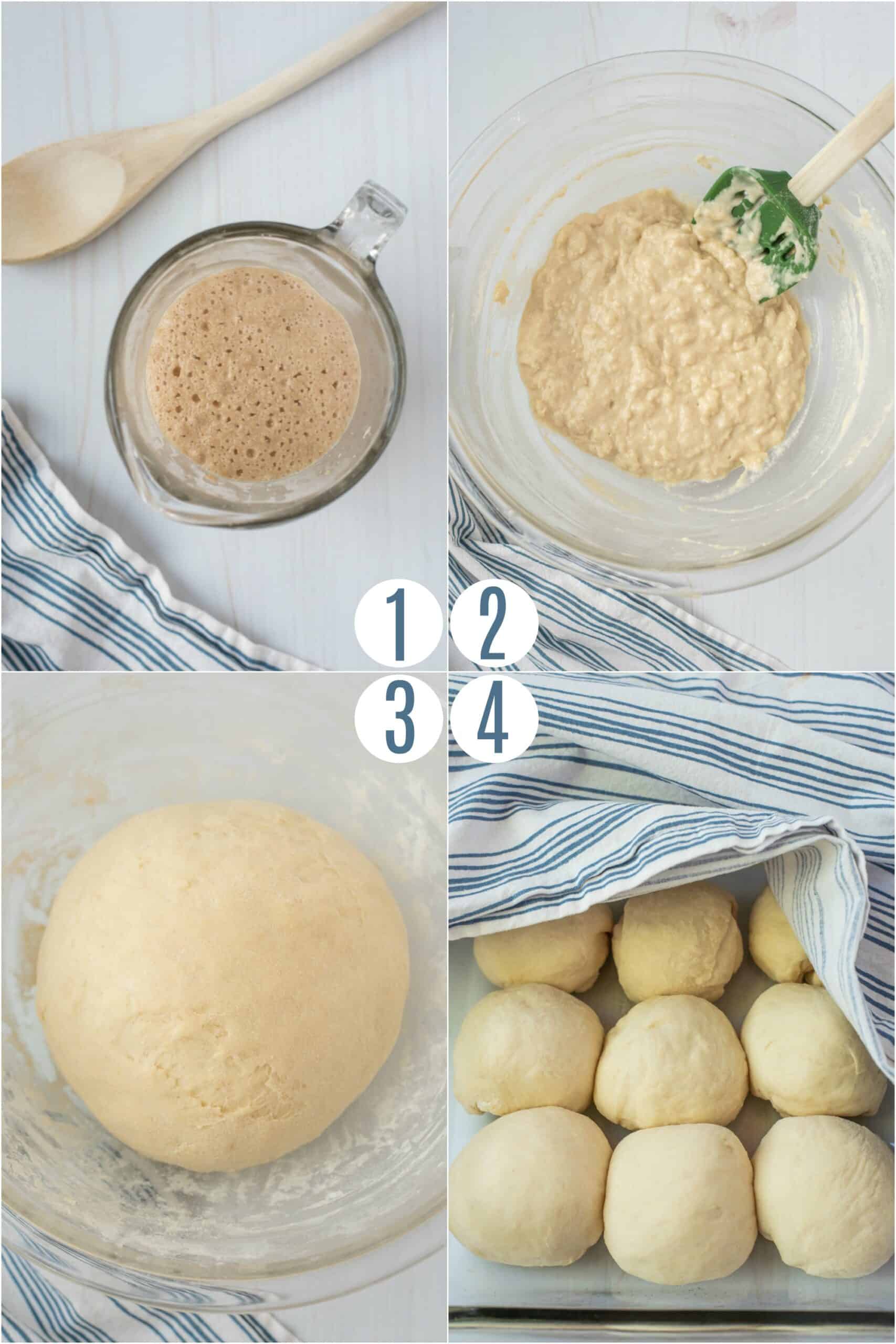 STEP 1. Proof the yeast
Combine warm water with sugar and yeast in a small bowl or glass measuring cup. Allow to proof for about 10 minutes.
By the end of 10 minutes, the yeast should look a bit foamy or bubbly. If it doesn't, throw it out and try again with a fresh package of yeast.
STEP 2. Make the dough
Warm the milk and butter in a small saucepan on the stove over low heat, until butter is melted and temperature is around 110°F. Add this to the flour and salt. Beat with electric mixer or by hand until well combined.
Add in ¼ cup more flour and the yeast mixture and again mix until well combined. Continue mixing in ¼ cup flour at a time until a soft ball of dough forms.
Knead with hands, or dough hook attachment on stand mixer, until smooth and elastic – about 5 to 7 minutes. Place dough in bowl and cover and let rest for 20 minutes.
STEP 3. Let the rolls rise
Place dough on well floured surface and divide into 9 equal-sized pieces. Roll each piece into a ball and place in a well greased 9" cake round or 9×9" baking dish.Cover and allow to rise until doubled in size, about 45 to 60 minutes.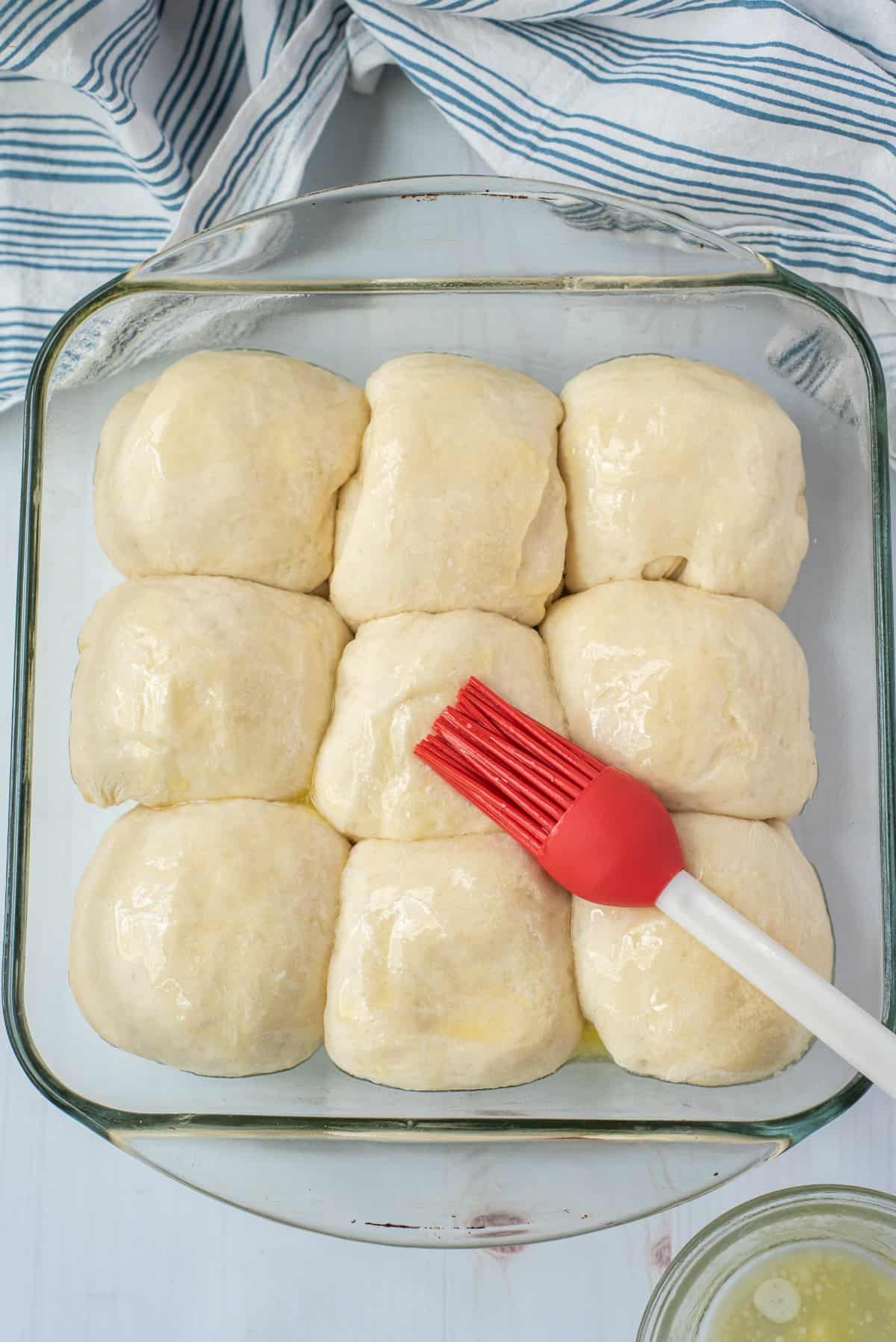 STEP 4. Bake!
While the rolls are rising, preheat the oven to 375 F. When risen, brush the tops of the rolls with melted butter, then bake for 20 minutes or until the tops of the rolls are golden brown.
Remove from the oven and let the rolls cool in the pan for about 20 minutes. Brush again with more butter, if desired.
I love these best served warm with a little more butter on the side for spreading!
PRO TIP: Add garlic salt to melted butter for an irresistible garlic bread style roll.
Yeast Tips
When it comes to any kind of yeast bread, including yeast rolls, keeping the yeast alive and active while the bread rises and bakes is vital. For this yeast to work best, the liquid ingredients should be warm but not hot.
It's easy to accidentally get the milk too hot here, so be sure to keep a careful eye on it when it's on the stove.
It needs to be warm, but if the liquid is too hot it can kill the yeast, thus making it not rise your bread.
For best results, use a kitchen thermometer and do not add to the dough until it is cooler than 120°. To be on the safe side, I remove it from heat just before it reaches 110.
More Tips and Tricks
You may not need the entire amount of flour for your dough. Stop adding when the dough forms a ball and is still slightly sticky. You will use a bit more flour when kneading.
A stand mixer with the dough attachment is the quickest and easiest way to work the dough. Kneading helps activate the gluten so the rolls get fluffy and soft on the inside. If kneading by hand, be sure to knead until the dough can stretch quite a bit without breaking.
To divide dough into rolls evenly sized, use a kitchen scale to weigh them.
Store rolls covered in an air-tight container for up to 3 days. However, the fresher the better!
Use leftover dinner rolls as sliders in my French Dip recipe!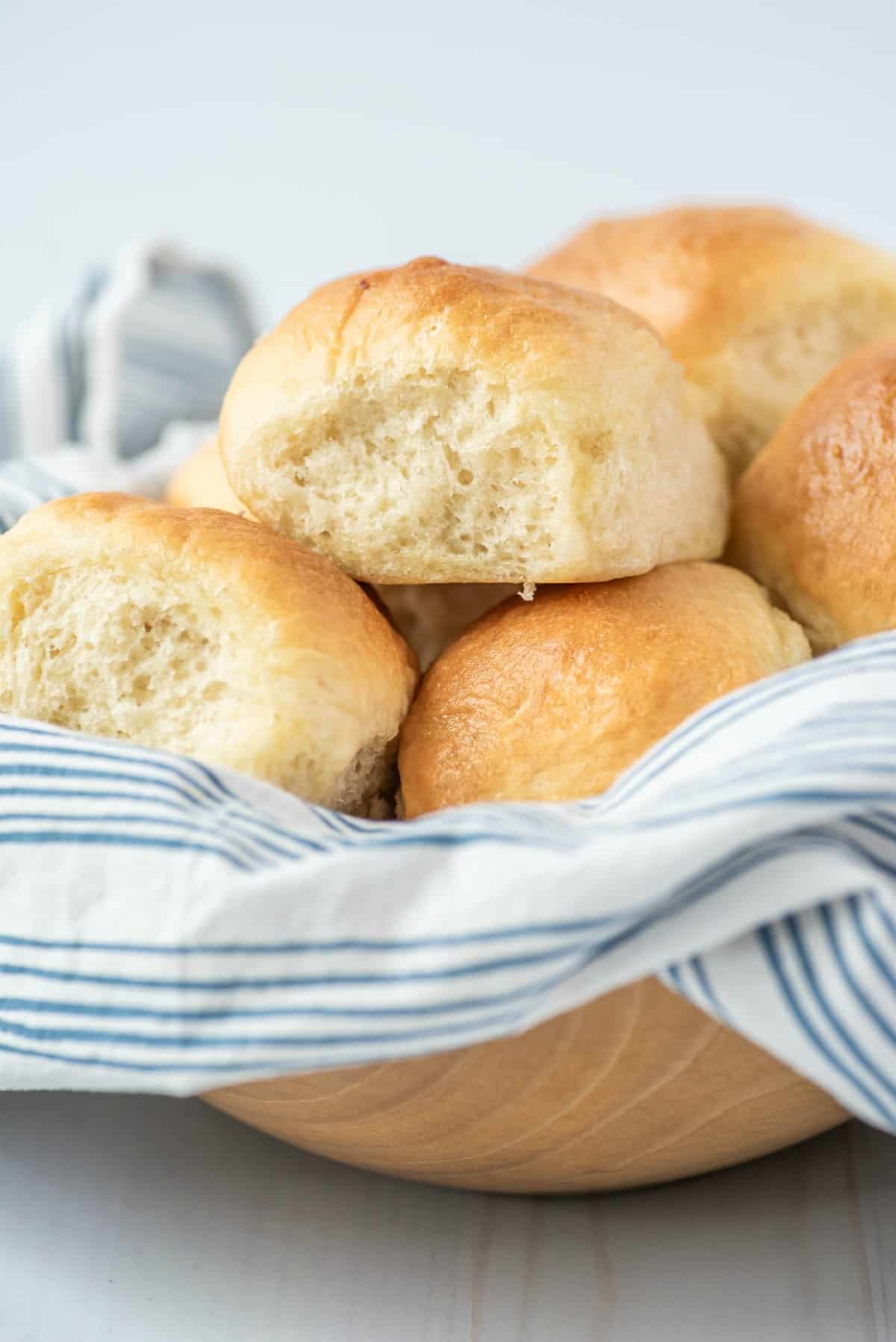 Recipe FAQs
Can you make dinner rolls in advance?
Yes! Follow all the steps in the recipe up until brushing with butter and baking. Cover the risen rolls with plastic wrap and keep in the fridge until ready to bake (up to 1 day). Before baking, let the rolls come back to room temperature.
Can you freeze dinner rolls?
Yes! Once cooled, wrap the rolls in plastic wrap, then a layer of tin foil and place them in the freezer. They will keep in the freezer for up to a month–after that point, they start to develop a freezer burnt taste.
What can I do with leftover dinner rolls?
If you have leftover dinner rolls, save them for breakfast the next day. They're amazing sliced in half, toasted and spread with butter and jam or honey. Or fill them with lunchmeat and cheese and bake as sliders.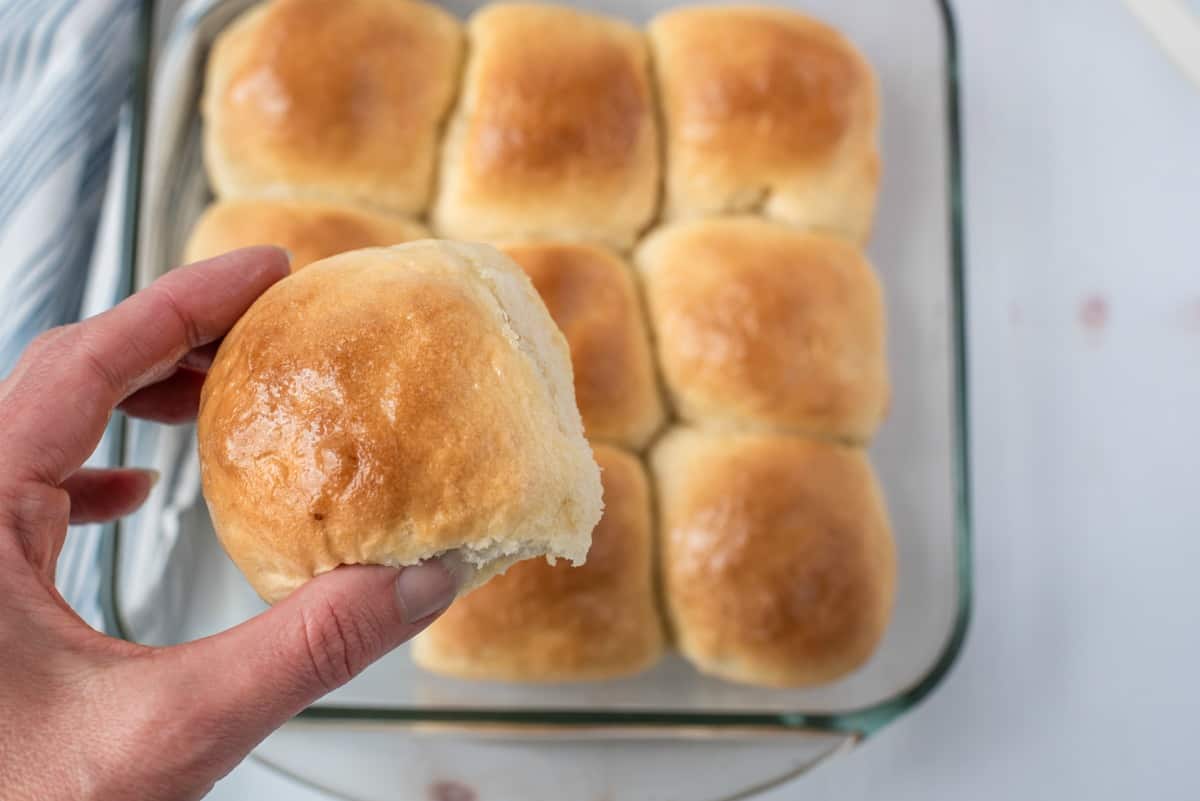 Don't wait another minute before trying this delicious and easy dinner rolls recipe!