Potato Soup loaded with bacon and topped with shredded cheese is a comforting and hearty Instant Pot meal! It doesn't get any better than creamy homemade soup that's ready in less time than it takes to order takeout.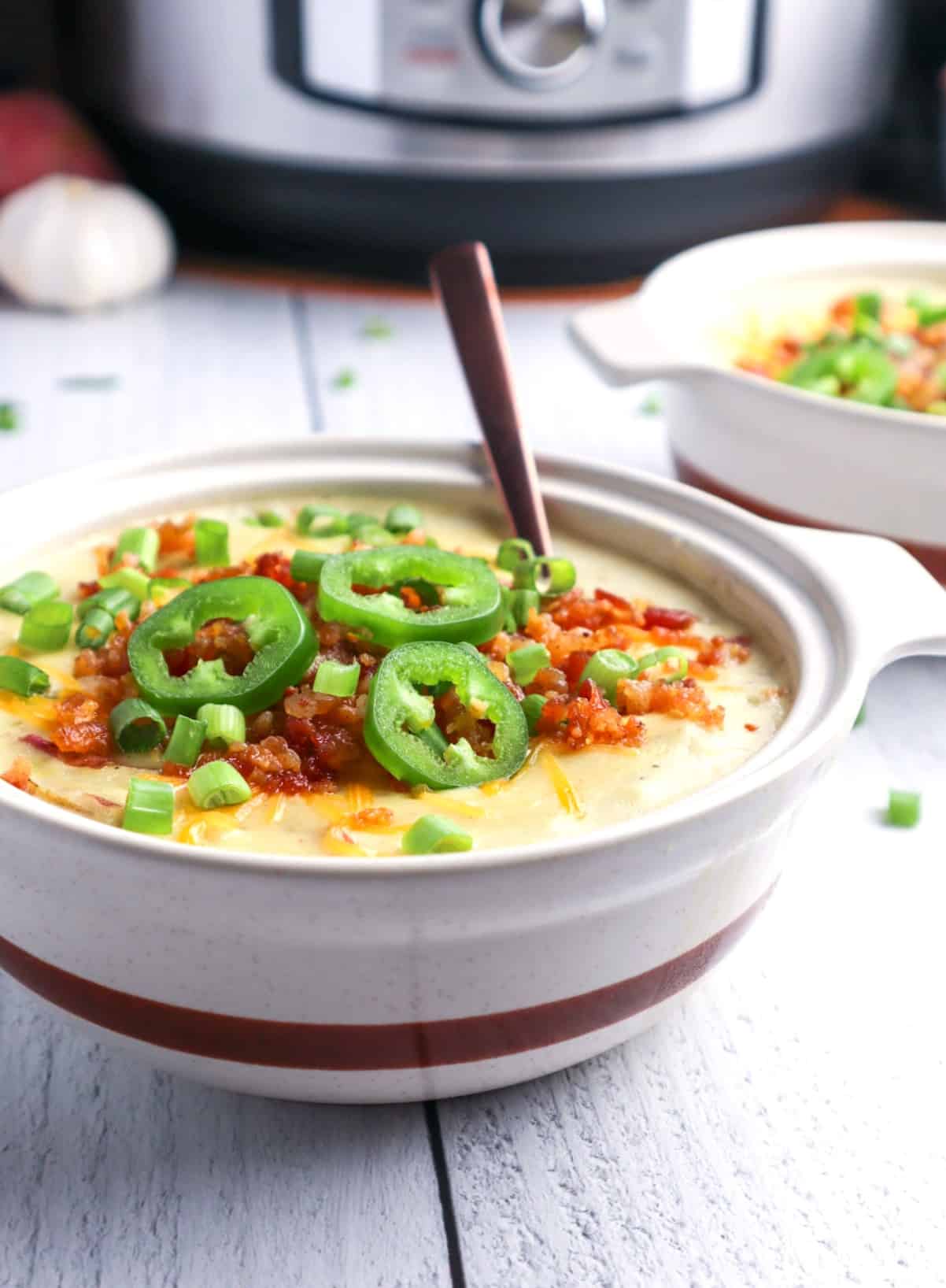 When you're hungry, you need a soup with a lot going on. No brothy concoction with a few sparse vegetables; you need a LOADED soup that's filled with all the good stuff.
This Loaded Potato Soup is just the ticket!
It has plenty of potatoes, lots of bacon, cheese and freshness from chives served on top.
Even better–you can make it in no time in the instapot. A welcome dinner as the weather gets cooler, but so delicious you'll want to make it all year long.
What is Loaded Potato Soup?
Loaded Potato Soup is like a baked potato stuffed and piled high with all the fixings transformed into a steaming hot bowl of soup.
Or imagine turning my favorite loaded potato salad into soup?!
This soup is made with heavy cream, fresh herbs and potatoes. Crumbled bacon is a necessity, naturally, as is the generous amount of cheese I love to put on top of each bowl before I serve it.
Jalapenos add the perfect amount of heat to this creamy soup with garlic making it irresistibly fragrant.
As filling as this soup is, it taste so good that it's hard to stop at just one bowl!
Favorite Instant Pot Recipes: Lasagna Soup | Mashed Potatoes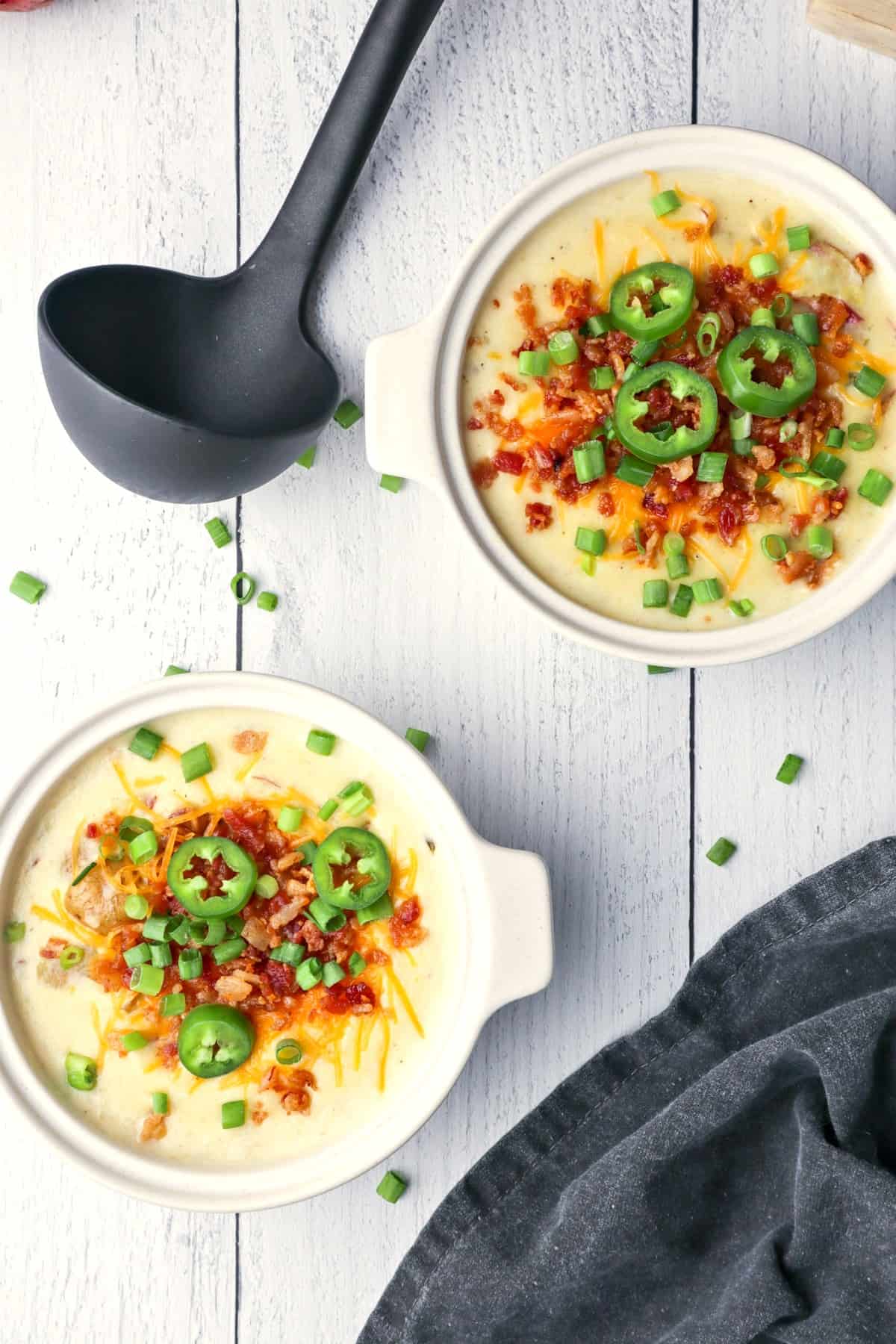 What kind of potatoes to use
For this soup, I used a combination of baby yellow potatoes and red potatoes.
Red potatoes are waxy varieties of potatoes that mash well into the broth to create a thick and creamy soup. You don't even need to peel them because the skin is so thin!
Yellow potatoes also have a thin skin, with a little more starch than reds. They hold their shape while cooking so when you mash them, they'll retain some texture.
I don't recommend using Russets or other higher starch potatoes in this soup. They get fluffy instead of creamy when cooked and the texture of the soup will be different.
You could, however, opt to just use the Yellow OR the Red potatoes, and not both.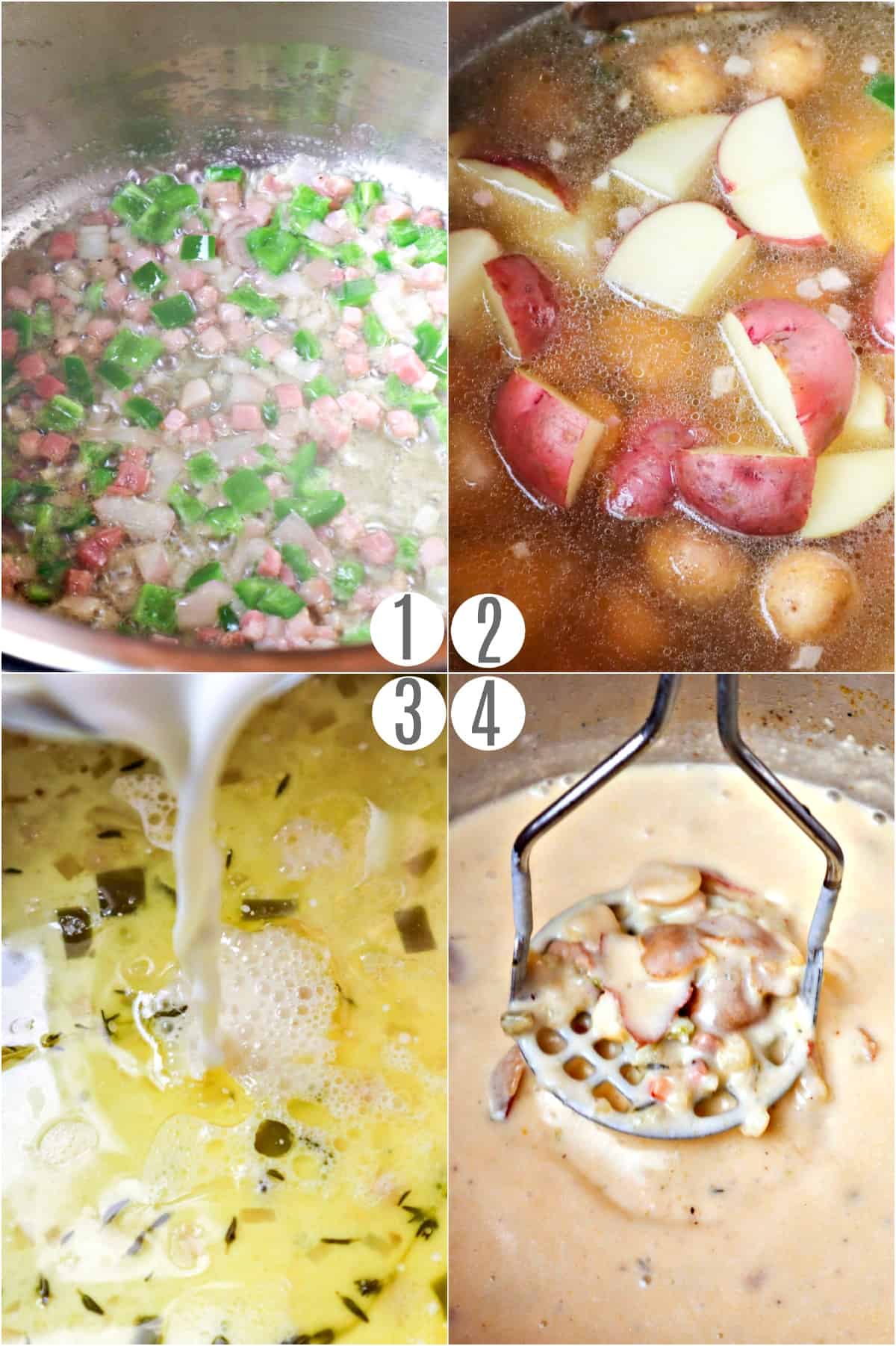 How to Make Potato Soup
STEP 1. Saute
Using the saute setting on your Instant Pot, cook the shallot, jalapeño, garlic, and bacon in butter for 3 minutes. Then, turn off the heat.
STEP 2. Deglaze
Pour chicken broth into the pot and deglaze the bottom of the pan.
Use a wooden spoon to get off any pieces stuck to the bottom and sides of the pot. This is super important for preventing a burn notice!
STEP 3. Pressure Cook
Add potatoes, more butter and fresh thyme to the pot. Secure the lid in place and make sure the valve on top is set to "SEALING."
Cook on high pressure for 8 minutes.
STEP 4. Thicken
While the soup cooks, mix 3 Tbsp cornstarch and 3 Tbsp water to make a slurry in a small bowl.
When the cook time ends, do a quick release of the pressure by moving the valve on top to "VENTING."
Open the lid and add the cornstarch slurry with milk, heavy whipping cream and black pepper to the pot and stir. Set to SAUTE and cook for 8 minutes, until everything is thickened and creamy.
STEP 5. Mash
Lightly mash potatoes to whatever consistency you prefer. You can leave them a little chunky or mash them to almost a puree.
Let cool for 10 minutes to continue letting it thicken. Serve with desired toppings and enjoy!
Topping Ideas
Any thing you like on your baked potatoes is delicious as a topping for this Loaded Potato Soup!
Whenever I make this, I always serve it with bowls of sour cream, shredded cheese, bacon bits and chives on the table. Then, everyone can dress up their soup however they like.
This soup is definitely hearty enough to serve as a meal all on its own. If you like, a fresh green salad makes a nice side dish!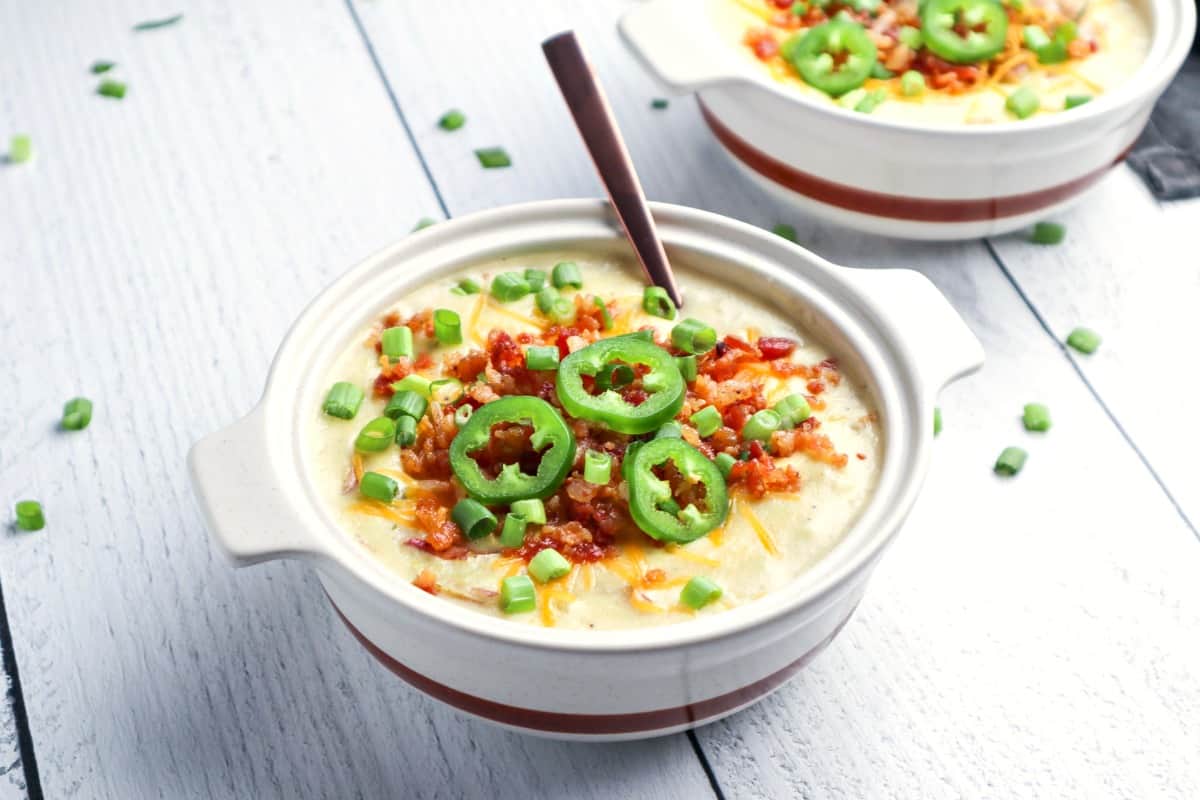 Tips & Tricks
To add more spice to your potato soup, garnish with even more sliced jalapeño.
If the soup has too much spice for you, you can reduce or omit the jalapeño entirely.
Make sure to thoroughly deglaze the pan before the pressure cooking step! Any bits of shallot or bacon stuck to the pot are likely to burn due to the high heat the Instant Pot reaches when cooking.
A potato masher is the easiest way to mash the potatoes at the end of cooking time. If you don't have one, the back of a heavy spoon will work.
Store the soup in an airtight container in the fridge for about 3 days. I don't recommend freezing this soup because of all the milk products. The cream will separate from the other ingredients and affect the texture.
Chicken Wild Rice Soup
Goulash – in the Instant Pot!
Thick, creamy and covered with cheese, Loaded Baked Potato Soup is everything you need to warm body and soul!