No need to turn the stove on to make delicious Chicken Tortilla Soup! This Instant Pot chicken soup recipe with Mexican flavors is ready in 30 minutes!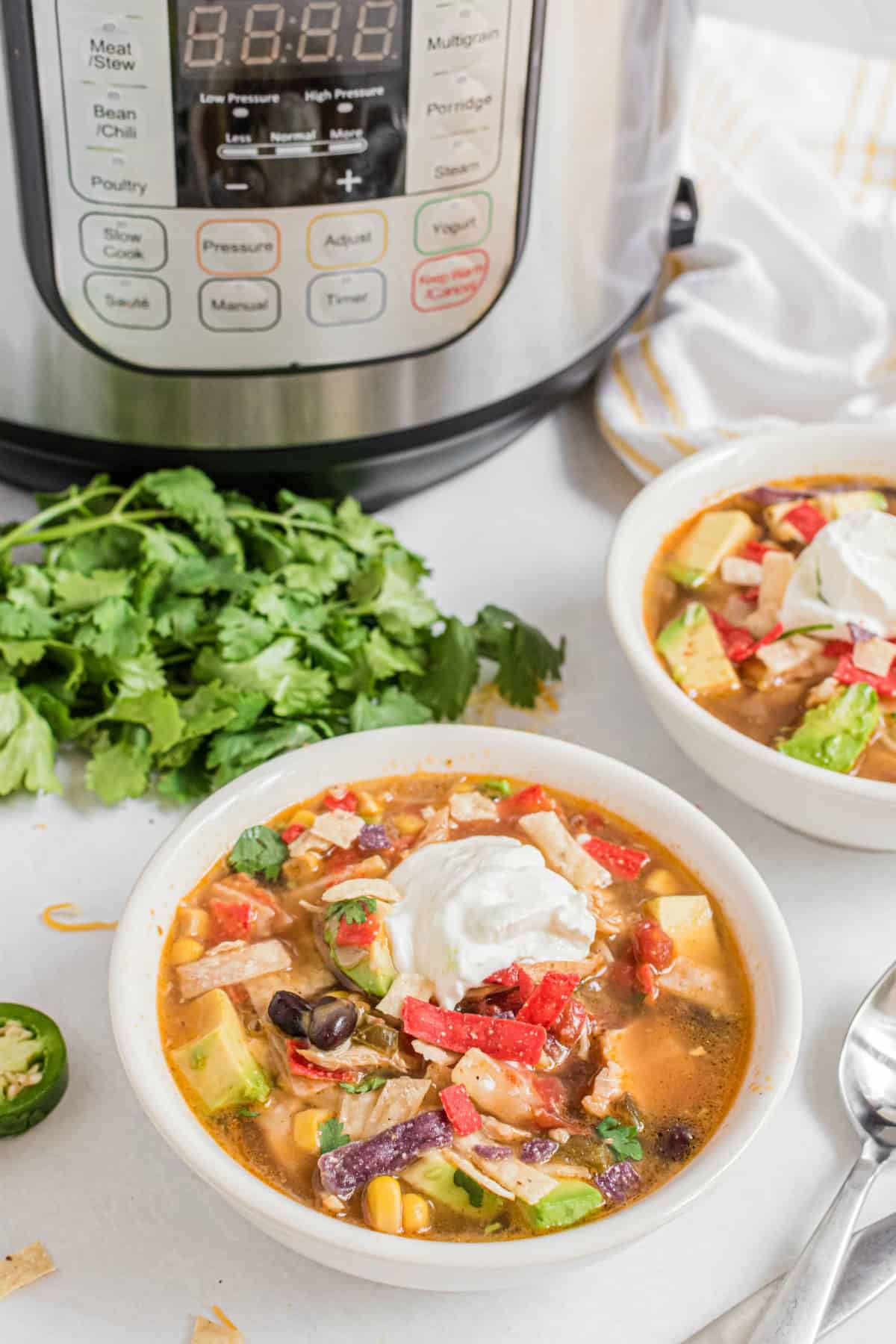 The Instant Pot has radically changed my weeknight dinner game.
Every time I think I've discovered all its uses, I find one more. Instant pot chicken recipes are among my go-tos when I need to get something everyone likes on the table FAST.
This Instant Pot Chicken Tortilla Soup is the latest quick and easy dinner fix in my line up!
I'm adding it to my list of instant pot chicken recipe staples along with Instant Pot Chicken Paprikash and Instant Pot Chicken Noodle Soup.
It's not just that it comes together in under 30 minutes or that it uses ingredients I almost always have in stock.
This tortilla soup is incredibly flavorful, especially topped with extra tortilla strips, sour cream and cheese. Nourishing for both body and soul!
Make it your own way
Jalapenos add just the right amount of heat to the tender pieces of chicken simmered with strips of corn tortillas. Want less heat? Just leave them out. Want more? Add more jalapenos.
Canned tomatoes, beans and corn make this a colorful meal that the kids love!
A hot bowl of chicken tortilla soup is the perfect comforting meal as the nights start to turn cooler, but I love this recipe for summertime meals as well.
Since I make it in the Instant Pot I don't have to heat up my kitchen by having a pot simmering on the stove for an hour.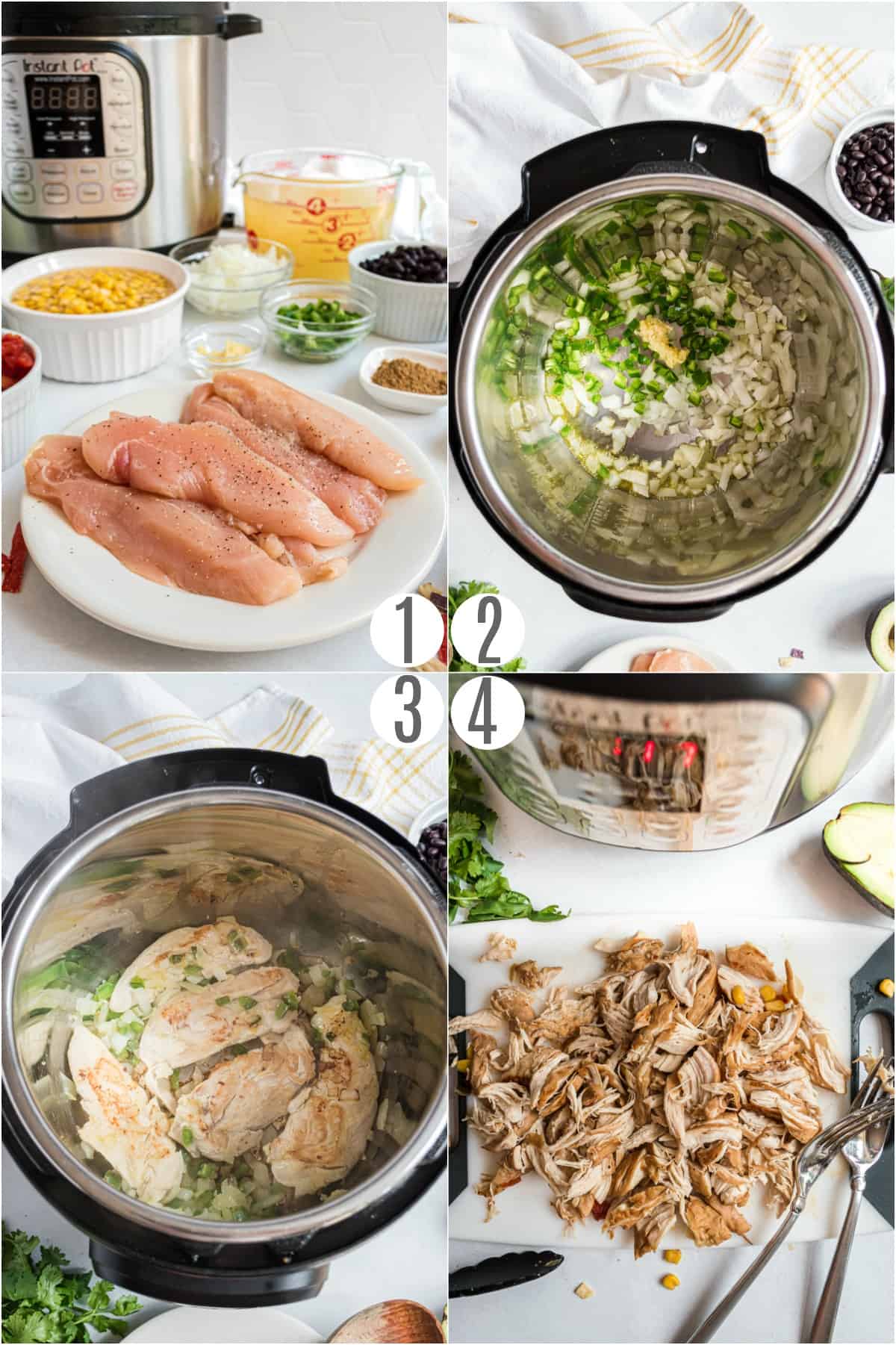 How to make chicken soup in the Instant Pot
I start this soup by sauteing onions, jalapeno and garlic right in the Instant Pot with some olive oil. Next, you add the chicken tenderloins and keep sauteeing for a couple of minutes on both sides.
After this step, make sure to deglaze the pot with chicken broth. Scrape the bits on the bottom of the pot completely so nothing is sticking then turn off the instant pot while you add the remaining ingredients, except the tortilla strips.
Stir the spices, tomatoes, corn and beans gently with the chicken and broth. Then, top with the tortilla strips. DON'T stir!
Now, you seal the pot with the lid on and cook on high pressure for 7 minutes. When cook time ends, allow to naturally release pressure for ten minutes.
Open the lid and shred the chicken with two forks (or remove to a cutting board and shred it if you like that method better). Squeeze one lime into the pot and ladle into bowls for serving.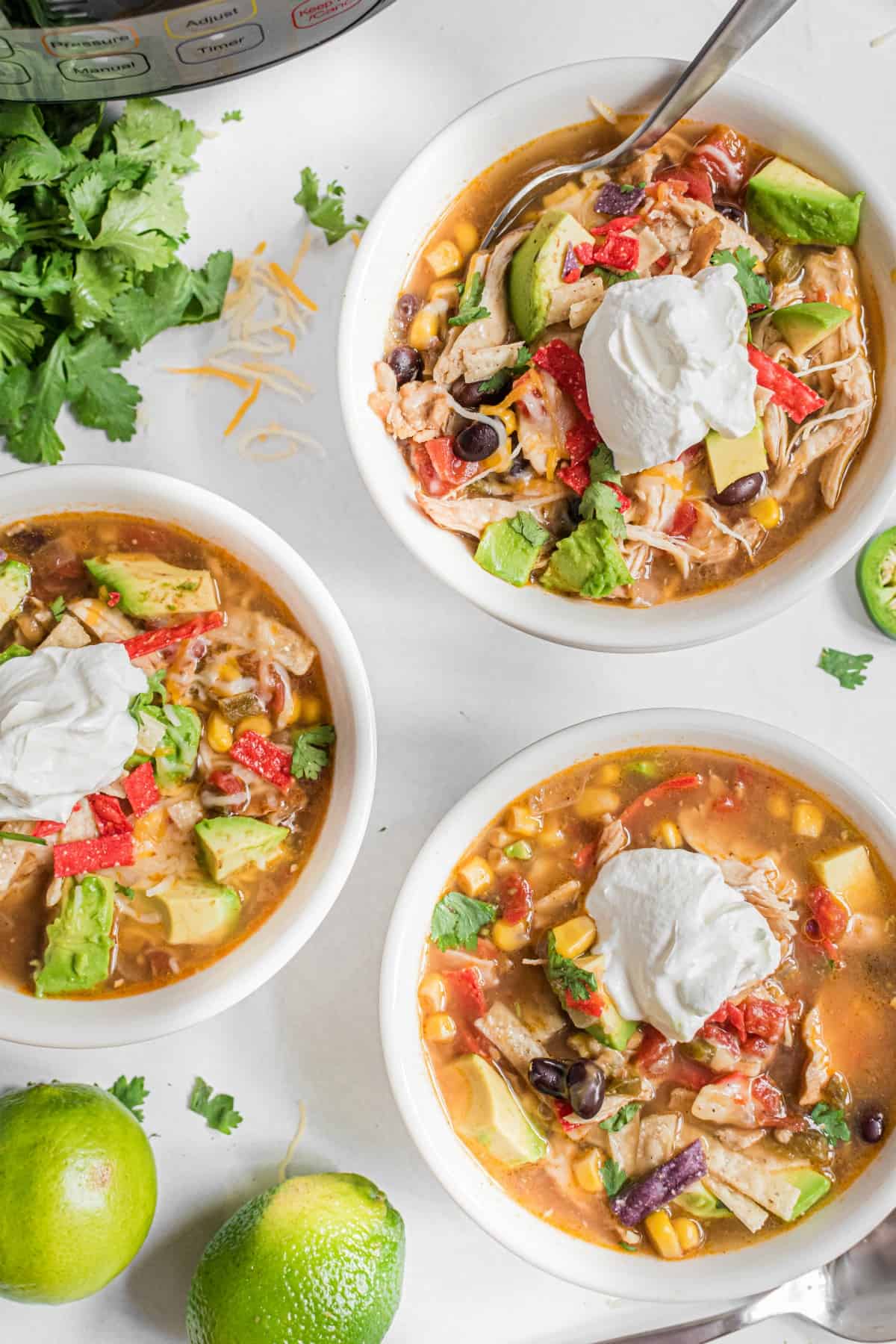 Toppings
One of the best things about chicken tortilla soup is all the tasty toppings your can pile on!
I always serve taco soup with crunchy tortilla strips and a big handful of shredded cheese on top.
Sour cream, cilantro, lime juice and avocado make amazing additions, too.
Don't forget a bottle of hot sauce for your family members who can never have enough spiciness in their soup!
Put bowls full of topping options on the table so everyone can dress up their chicken tortilla soup how they like.
What chicken to use
I prefer boneless skinless chicken tenderloins for tortilla soup. They shred well and cook through quickly making them great for instant pot chicken recipes.
You can also use chicken thighs or chicken breasts in this recipe. Just make sure to pound them to an even thickness so they cook evenly and fully.
Can this be made on the stove top?
Certainly, with a few adaptations you can make chicken tortilla soup the traditional way on the stove.
To make it on the stove, boil your chicken first, then remove it from the pan and shred. Add it back to the pot with all the other ingredients and let it simmer for 30 minutes.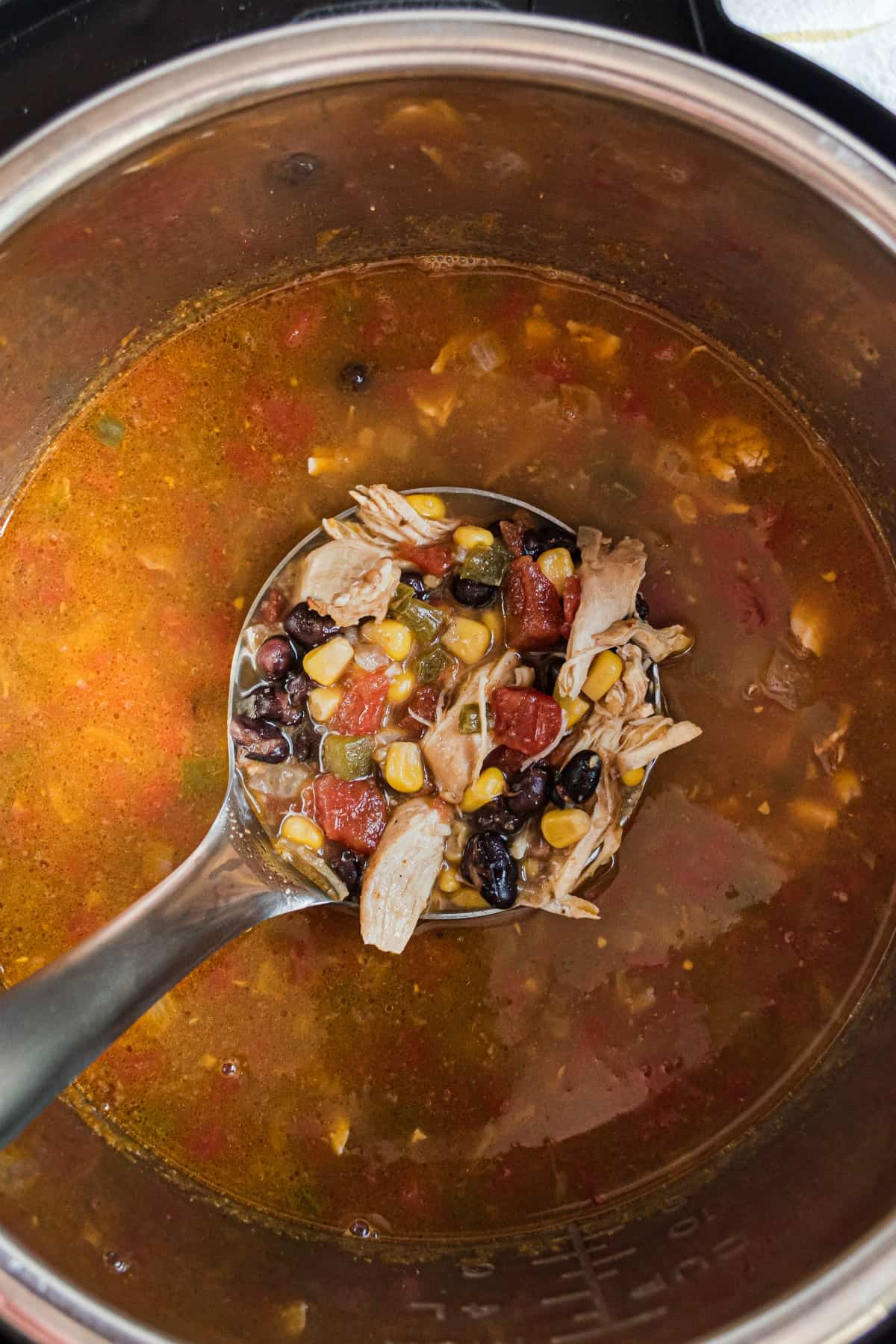 Can this be made in the slow cooker?
Tortilla soup tastes great made in the slow cooker too and it has even fewer steps! Add everything to the crockpot, cover and let it cook on low for 6 hours.
More Tips & Tricks
What size instant pot to use: This recipe is designed to be made in a 6 quart instant pot. I haven't tested it or adapted it for other sizes!
Tortilla strips: Make sure to use corn tortillas in this recipe for both the best authentic flavor and consistency. Flour tortillas will get soggy.
Preventing burning: Deglazing the pot is essential. After adding the chicken broth, take care to really scrape the bottoms and edges of the pan to remove any stuck pieces of chicken, onions or jalapenos. A spatula can help with this if the spoon isn't doing the trick.
How to store: Transfer the soup to tupperware containers and store in the fridge or freeze if you won't be eating it within a few days. It tastes delicious the next day, too, as the flavors mingle even more.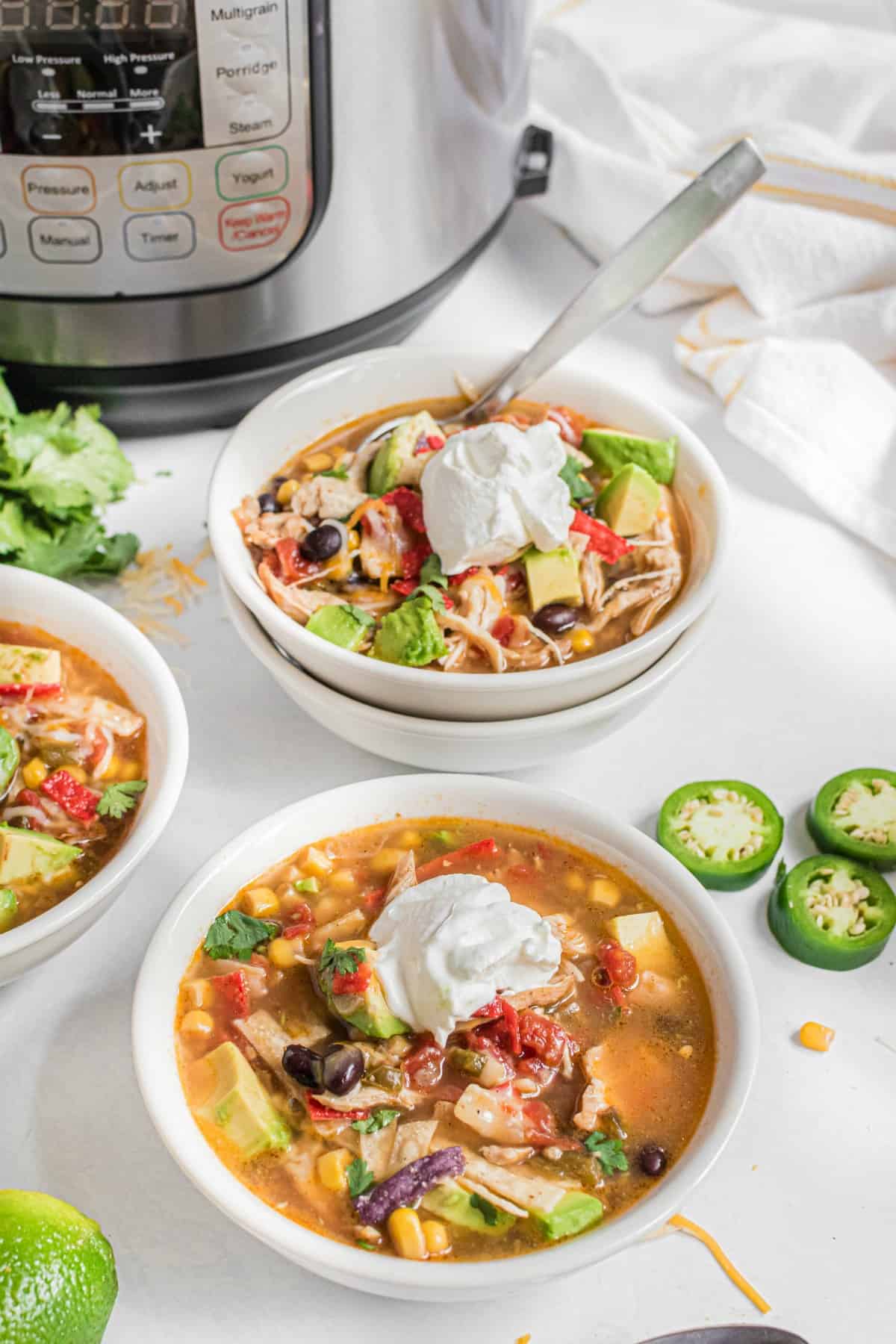 Making Chicken Tortilla Soup from scratch is easier than ever when you cook it in your Instant Pot! With only one pot to wash at the end of the night, this soup saves you so much time while tempting your taste buds.