Chicken Tetrazzini
Comfort food. This Chicken Tetrazzini recipe has been a family favorite for many years! It's also a great dish to bring a new mom!
Be sure to sign up for my email…new recipes in your inbox!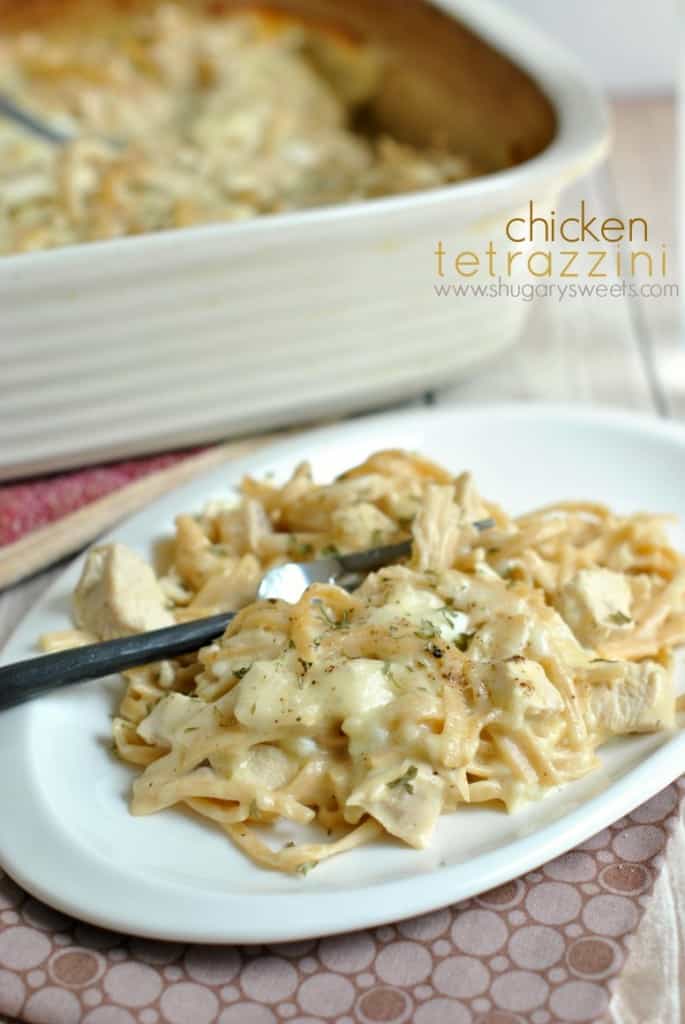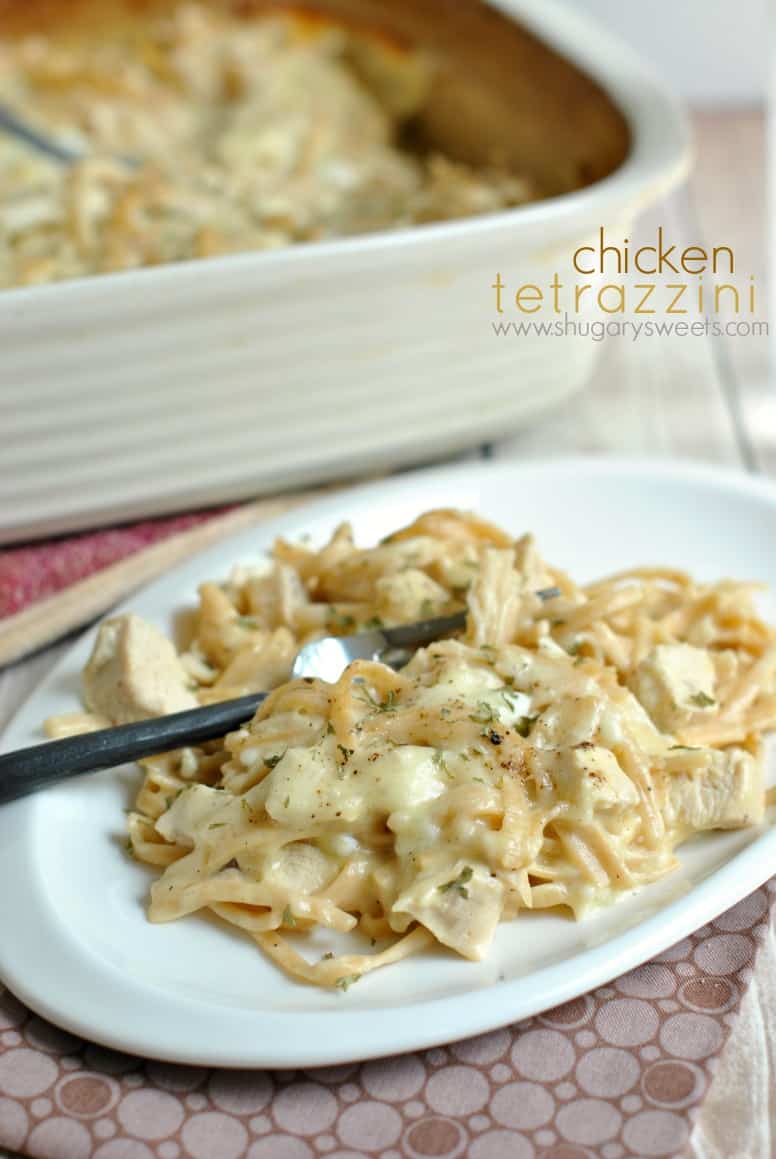 Click HERE to save recipe to Pinterest!
Two of my children have left the nest, and this Chicken Tetrazzini recipe is what they always request when they come home. It's delicious comfort food, and easy to make ahead of time too! This is also one of those recipes I like to keep on hand for when I want to bring a family in need a hearty meal, or a new mom a dinner! It gets rave reviews, and I even made a video tutorial to show you how to make chicken tetrazzini!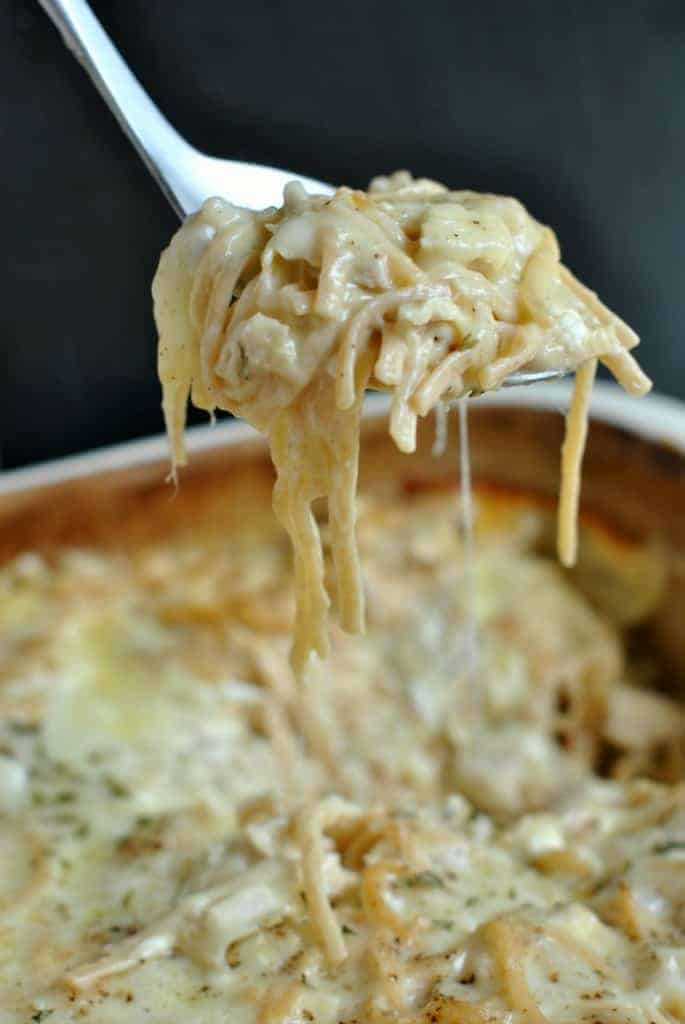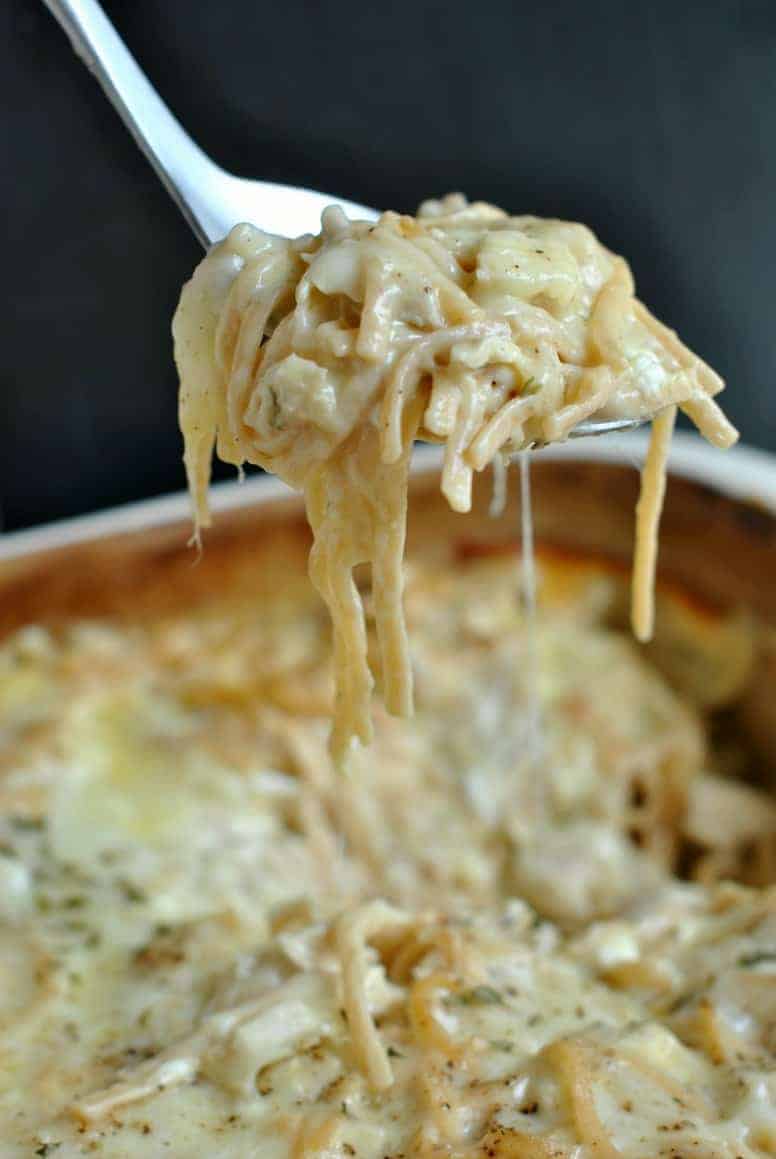 This cheesy dish needs to happen in your kitchen. It makes a big 13×9 pan, but you can split it into two dishes (2qt or 8-inch square) and share it with a neighbor or friend in need! This dish ALWAYS gets people asking for the recipe, and once you try it, you'll understand why!!
How to make Chicken Tetrazzini:
You'll want to start by cooking your chicken or using leftover turkey, rotisserie chicken, or leftover cooked chicken. If I'm in a hurry, I'll boil some boneless skinless chicken breasts in a pot of water to use in this cheesy dish!
Pick your favorite kind of pasta and cook it until al dente. What is al dente pasta? It just means that the pasta is still slightly firm. Because you will be baking this dish, you don't want your pasta too soft and mushy!
While your chicken and your noodles are cooking, combine the remaining ingredients in a very large bowl. Add your hot pasta and your cooked (diced) chicken to the bowl and mix until blended.
Pour into a large 13×9 baking dish (or two smaller pans). Bake covered for about 45 minutes, then remove foil and bake uncovered for an additional 15 minutes, until bubbly and cheese is melted.
If making this in advance, refrigerate and cover until ready to heat. If cooking from cold, add bake for one hour, then uncovered for 20 minutes. ENJOY.

If you love this easy Chicken Tetrazzini dinner, here are some more weeknight meals you may enjoy:
Easy Chicken Tetrazzini recipe and video tutorial: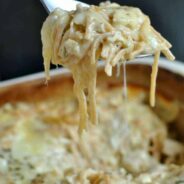 Chicken Tetrazinni
Yield: serves 8-10
Prep Time:15 minutes
Cook Time:60 minutes
Cheesy, Chicken Tetrazzini. One of our favorite meals, perfect for serving a crowd too! EASY and DELISH!
Ingredients:
16 oz thin spaghetti, cooked (or any of your favorite noodles)
½ cup butter (plus more for buttering pan)
4 chicken breasts, cooked, diced
2 cans cream of chicken soup
2 cup sour cream
½ cup dry white wine (I use Beringer, but you can also use cooking wine)
1 tsp kosher salt
1/2 tsp ground black pepper
2 Tbsp parmesan cheese
2 cup shredded mozzarella cheese
Directions:
Combine 1/2 cup butter, cooked chicken, soup, sour cream, salt, pepper and white wine. Add cooked noodles.
Pour into a buttered 13x9. Sprinkle both cheeses on top.
Bake in a 300 degree oven for 45 minutes, covered with foil. Remove foil and bake uncovered for another 15 minutes.
May be made in advance and refrigerated (before cooking). However, add time if that is the case to heat thoroughly! Enjoy!
MAKING THIS RECIPE? Share it with me on Instagram using the hashtag #ShugarySweets so I can see what you're cooking up in the kitchen!


*This cheesy Chicken Tetrazzini pasta recipe was originally published on Shugary Sweets on Sept 14, 2011 and the photos were updated in August 2014. The recipe has been republished in April 2018.