Beer Bread–An easy, buttery bread without yeast to serve with dinner tonight! Enjoy a warm slice fresh from the oven, or slice it into cubes to serve with all your favorite dips.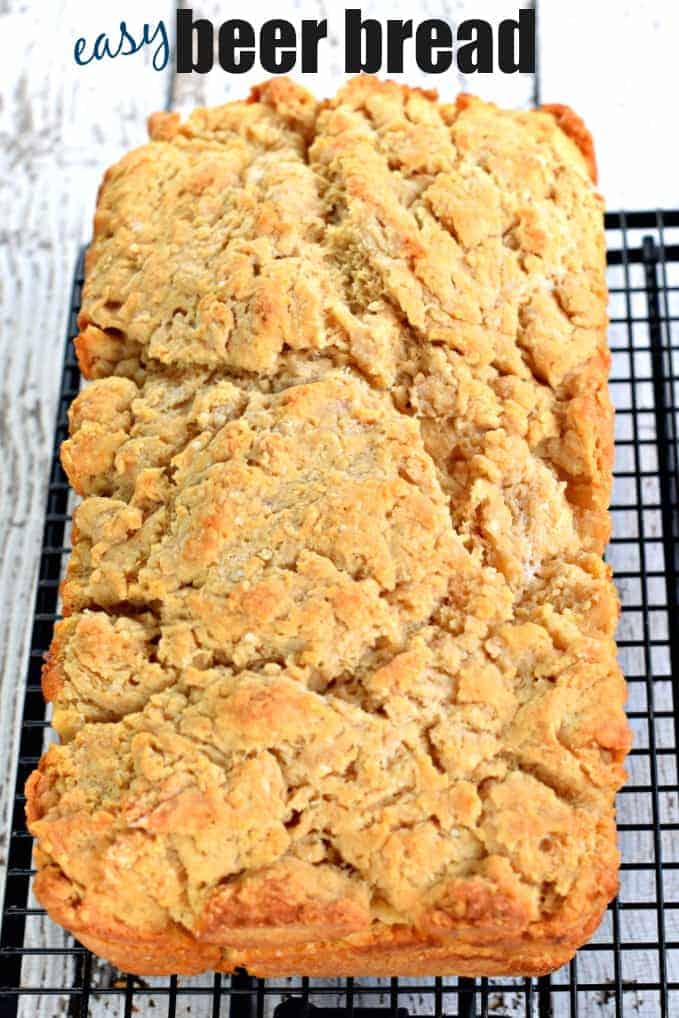 Why this Bread is Best
I called this Beer Bread recipe a homemade bread without yeast, but that's not technically true. The beer just brings its own yeast to the party so you don't have to.
This recipe creates a loaf of bread with a hearty crust that yields to a soft interior.
Eaten on its own or as a side dish for a meal, I can't get enough!
There are plenty of reasons to make beer bread:
Maybe yeast is in short supply at your grocery store.
Maybe you're all out of yeast and don't want to make a special trip out.
Maybe you've never baked bread from scratch before and you're looking for an easy fool proof (and yeast proofing free!) method.
Or, maybe you simply want a delicious, homemade loaf of bread!
In any case, beer bread is the answer. You're going to love how easy it is to make perfect bread using a can of beer!
Move over Boxed Mixes
For many years, I ordered beer bread mix from a specialty foods company. It's how I got introduced to the idea of using beer to raise bread instead of a packet of dry yeast.
Then I learned how to make beer bread from scratch! It's so much more affordable than premade mixes and just as easy.
I can make beer bread any time without having to remember to buy or order anything outside of my usual staples.
Unlike traditional yeast breads, Beer bread also requires no kneading and no rising time! You just mix everything up, bake and enjoy.
Ingredient Notes
Flour – I use all purpose. You can also substitute bread flour or white whole wheat, but the loaf will be a little chewier and denser.
Baking powder
Salt
Sugar
Beer – No need to get fancy. Any can of beer will do just fine.
Butter – Unsalted and melted, for topping the bread loaf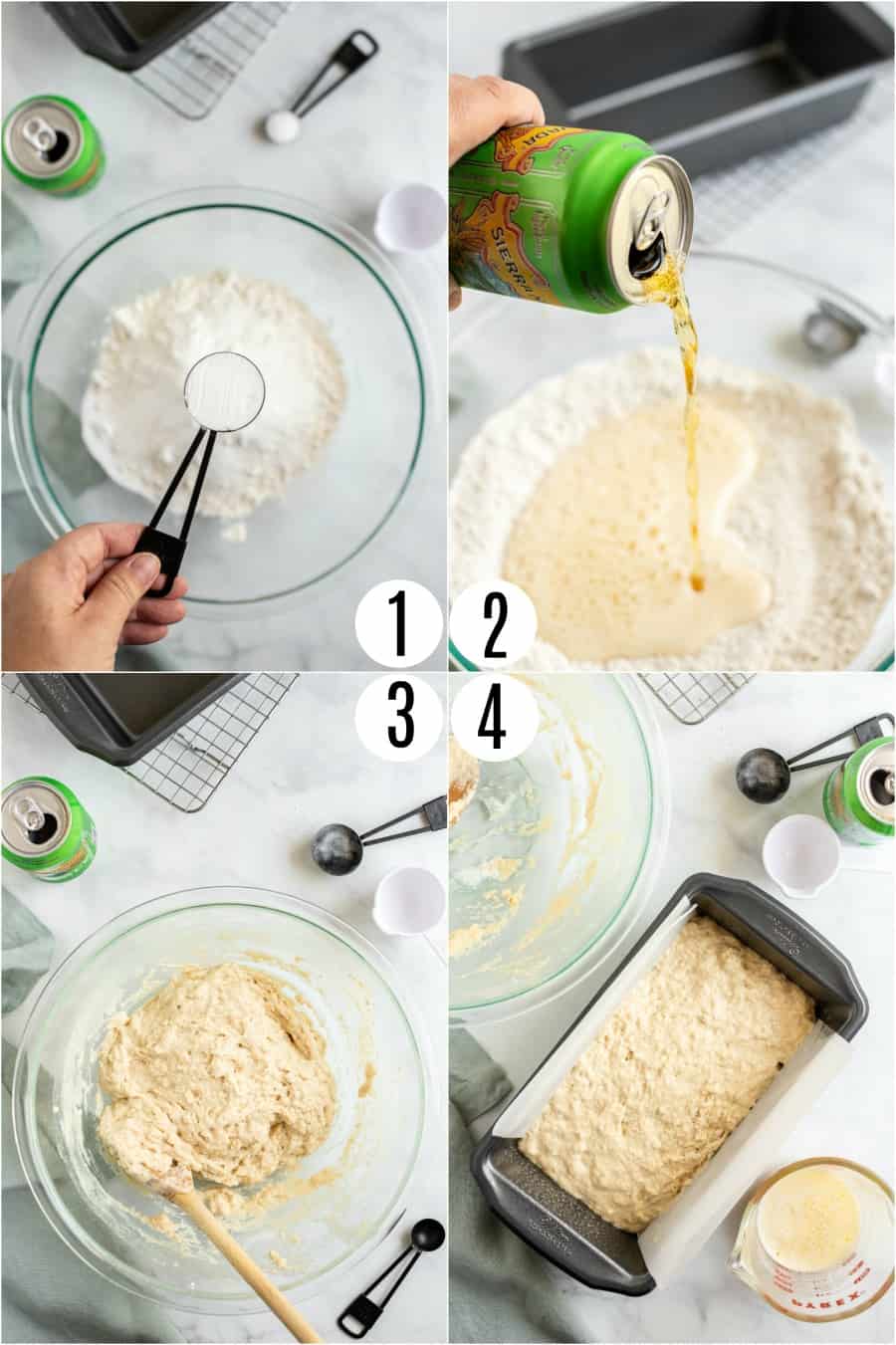 How to Make Beer Bread
STEP 1. Preheat oven to 375°F. Grease 9×5-inch loaf pan and line bottom of pan with parchment paper. Set aside.
STEP 2. In a large mixing bowl, combine flour, baking powder, salt and sugar. Using as few strokes as possible, mix in the beer until the flour mixture is moistened.
STEP 2. Pour thick batter into loaf pan. Drizzle melted butter over the top.Bake for 50 minutes, remove from oven and cool in pan 5 minutes. Remove from pan and enjoy warm!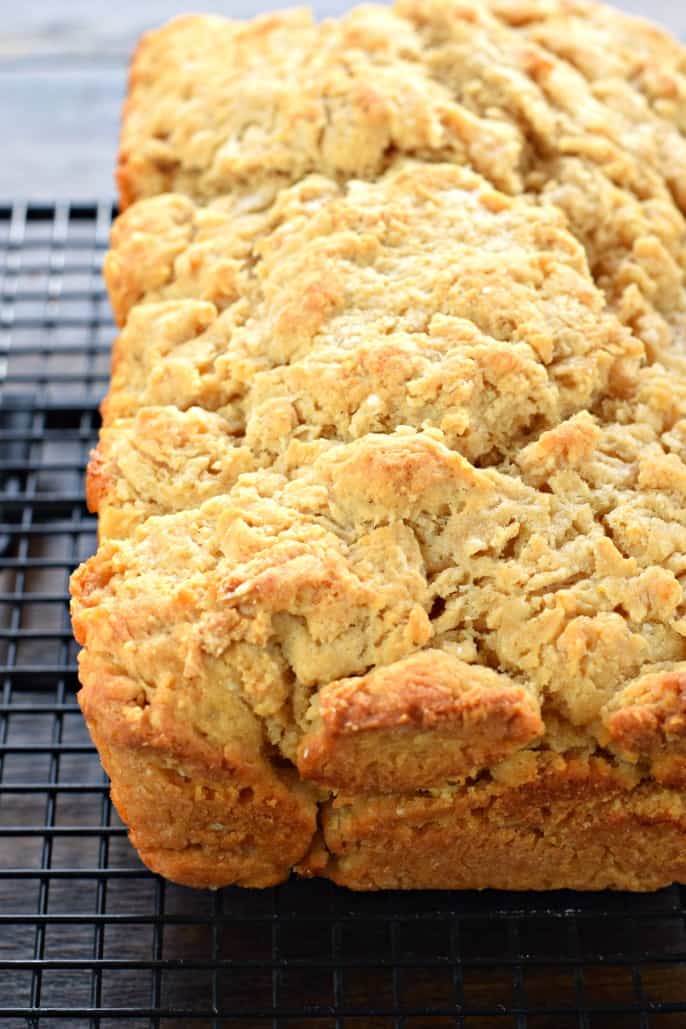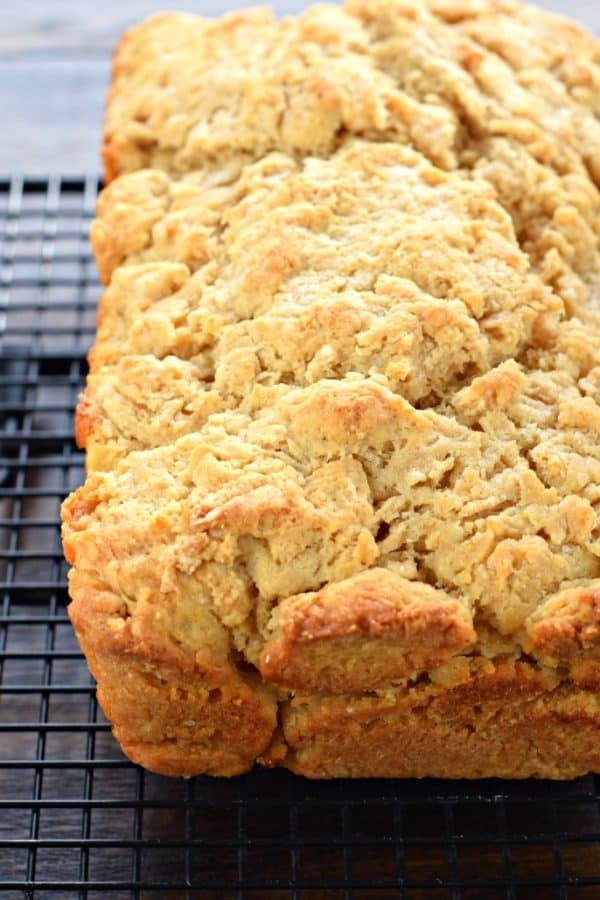 FAQs
Does beer bread taste like beer? The short answer is no. If you didn't know there was beer in the bread, you wouldn't be able to tell by the taste alone. It does have a deeper, richer flavor than an every day white bread and that's what makes it so delicious!
And it goes without saying, but just in case . . .all the alcohol bakes out of this bread in the oven, so there's nothing boozy going on here!
Can I add anything to the bread? Yes. Check out my Cheesy Onion Beer Bread recipe on the blog from years ago for some ideas and guidelines!
Can I substitute anything for the beer?
You can use 7UP or Sprite instead of beer if you don't have any or prefer not to use it. However, these sodas don't contain yeast so the bread turns out a little denser.
Do you have to add butter on top?
Of course not. However, the butter gives this bread so much flavor and since there are no oils IN the bread, you're not doubling up. I suggest you try it, the buttery top of the bread is one of the best parts!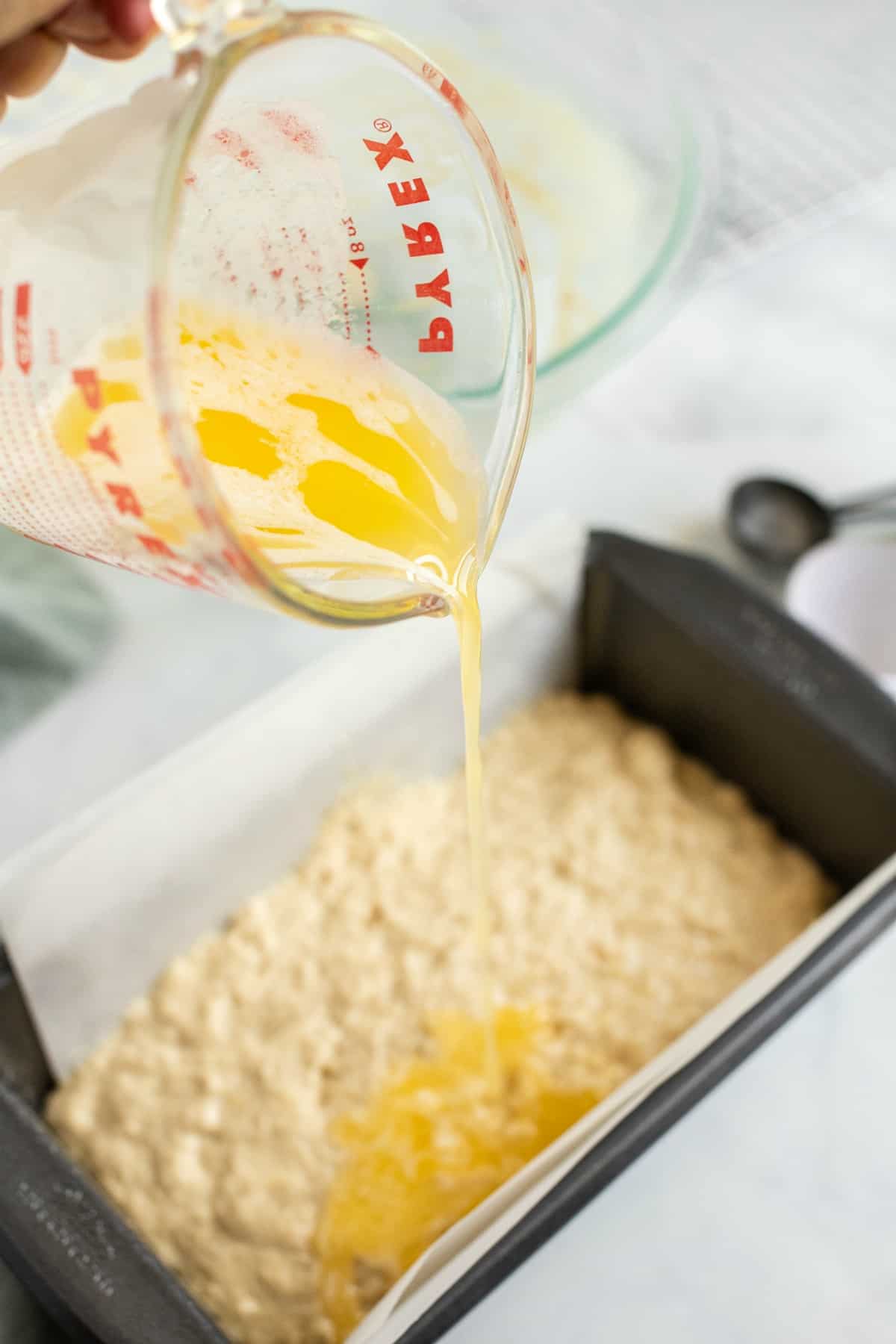 Can you freeze beer bread?
No. It totally changes the texture and flavor unfortunately. This bread is best served on the same day. Or warm it up to serve with soup and chili on day two!
My bread crumbled when I tried to cut it! What did I do wrong?
Nothing! That is totally normal for this bread. It's definitely on the crumblier side. I use a very sharp knife to slice this bread to avoid too much crumble, but sometimes you get a perfect slice, and sometimes you don't!
So there you go…one delicious bread recipe to go with any weeknight dinner!
Beer bread is also amazing as a dipper. Cut it into cubes and try it with Spinach Artichoke Dip or Hot Jalapeno Corn Dip. You won't be sorry!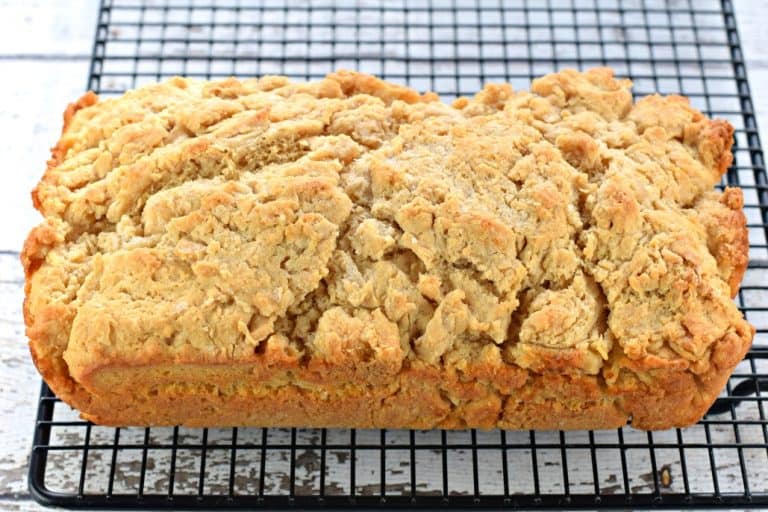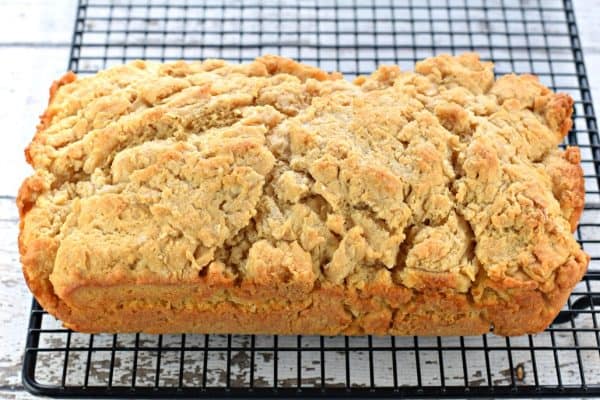 Delicious Recipes
Crusty beer bread with no yeast, no kneading and no rising time is a recipe everyone should know how to make!