It's bread made with BEER! This beer bread is soft on the inside with a nice crunchy crust. Add a little onion and some cheese and you have a perfect loaf of bread for any occasion.
Serve this up with an easy slow cooker dinner, like our Mississippi Pot Roast recipe. Or serve it with our favorite meatloaf recipe!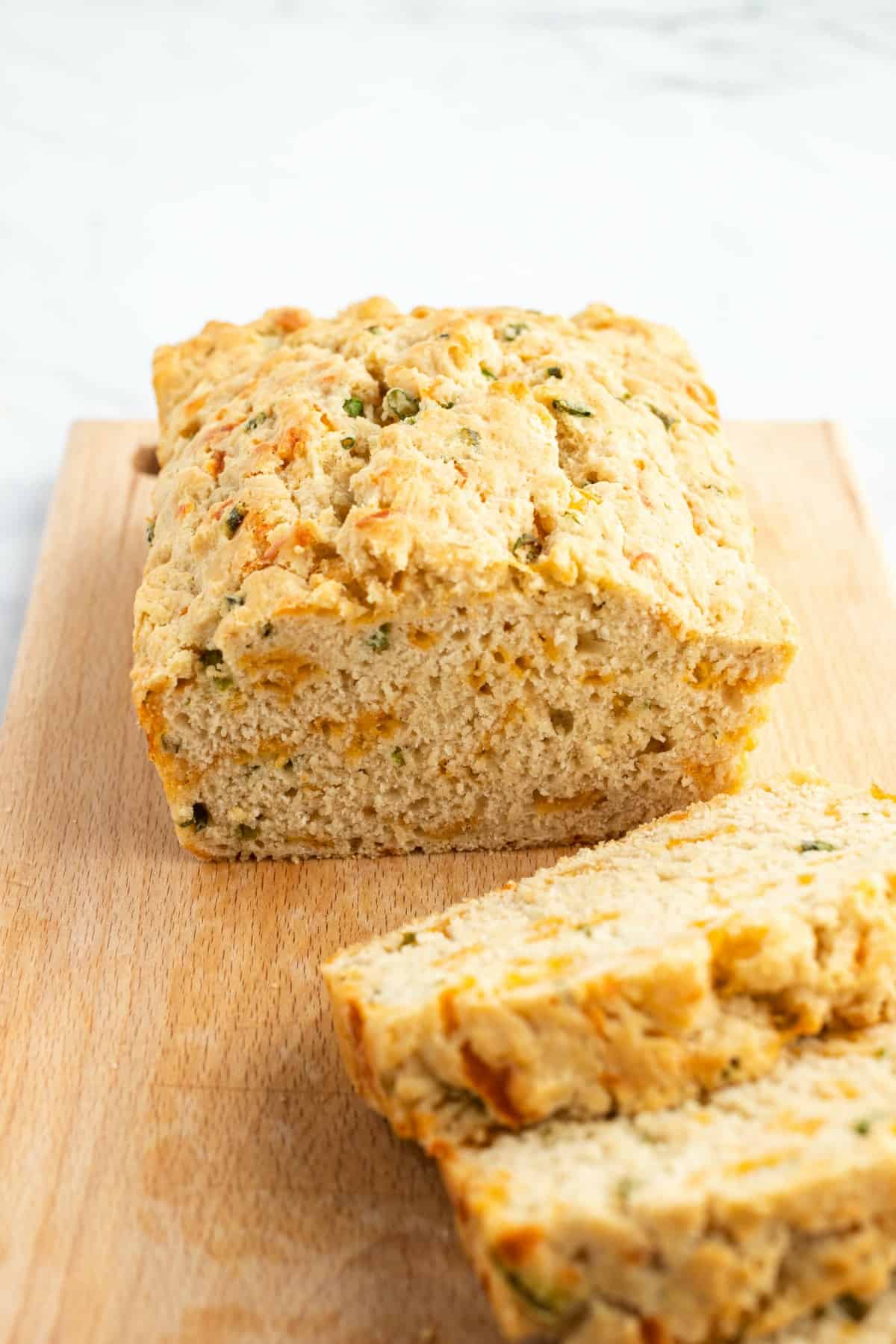 What is Beer Bread
Beer bread is one of those items I used to buy from specialty food stores. We ate it often, too! I couldn't resist that mild yeast flavor and all the good things that would come baked inside it.
Cheese and onion beer bread was always my favorite. We ordered it so often that I googled the recipe out of curiosity.
Scanning the simple ingredients list I realized just how easy it would be to make it home . . .for WAY less money!
This is one of my all time favorite ways to make bread. I love my Homemade White Bread, too, but sometimes I want something a little with a little extra flavor.
This is also a much heartier bread that I like pairing with soups and stews!
Beer Bread is Made Without Yeast
If you can't find yeast but do have a can or two of beer in the fridge, beer bread is the answer! The yeast in the beer gives the bread dough a "rise", no proofing required.
It puffs up nicely while it cooks and a slice of this spread with butter is the highlight of the day anytime I make it!
The first time I made this bread, I used a can of beer we'd had in the fridge for months after a party. If you're not a fan of beer or don't keep it in the house, it's definitely worth picking up a can or bottle to make this.
In a pinch, you can also use a can of Sprite, but the bread WILL be a little more dense.
Ready in an hour.
No kneading.
No rise time!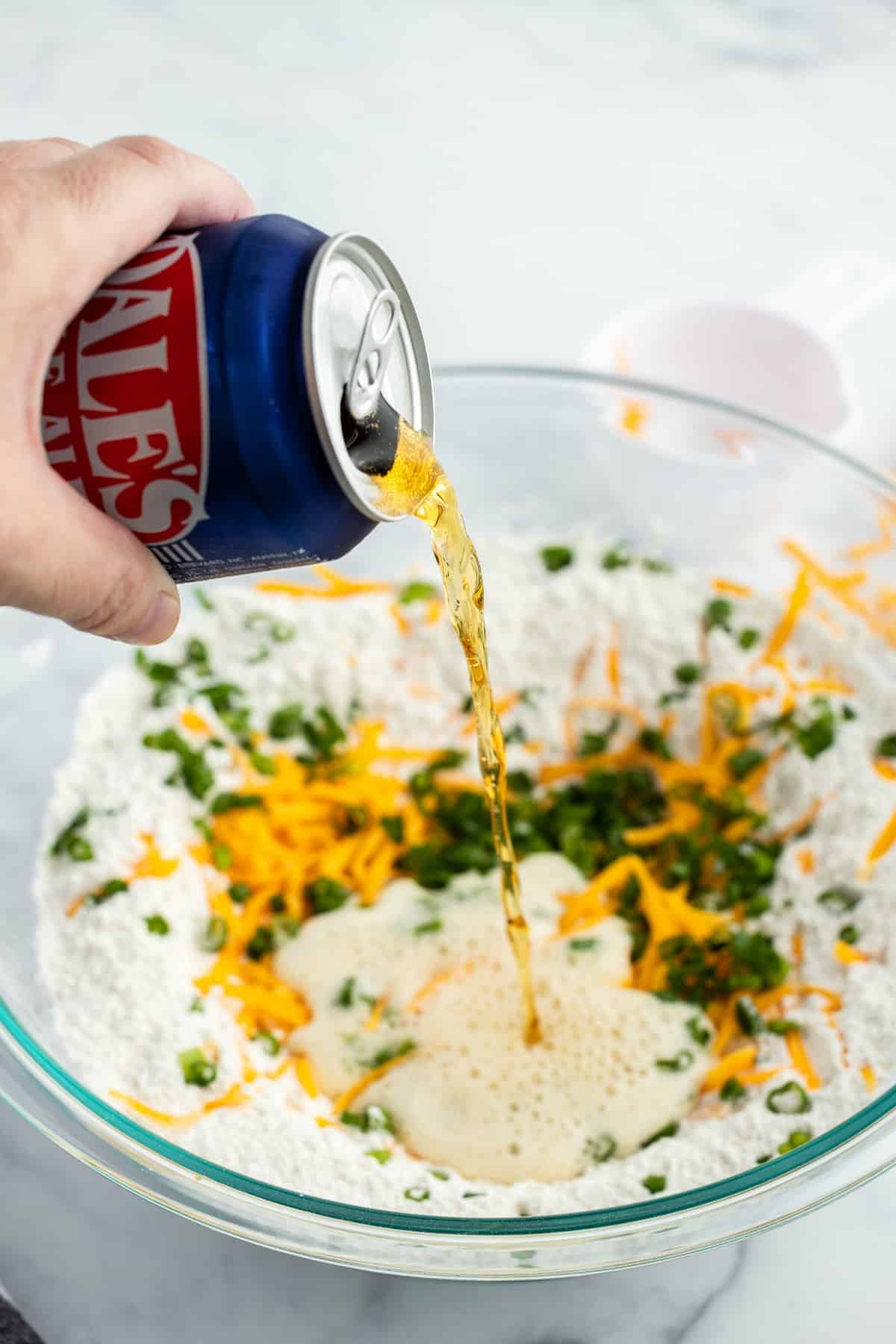 Ingredient Notes
Beer– Gives the bread a mild, malty flavor (does not taste like beer)
Flour
Salt
Sugar
Shredded cheddar cheese
Sliced green onion
Melted butter
I usually make my beer bread plain without any mix-ins or extras and it's always delicious.
This time though we kicked things up a notch with some cheddar cheese and green onion added to the mix. Oh my. These flavors were the perfect addition!
So much better than the cheddar cheese beer bread I used to buy all those years ago.
Now that I've had success with Cheese and Green Onion Beer Bread, I'm envisioning other great flavors as well. . . stay tuned and, in the mean time, make yourself a loaf or two of this amazing bread!
How to Make Beer Bread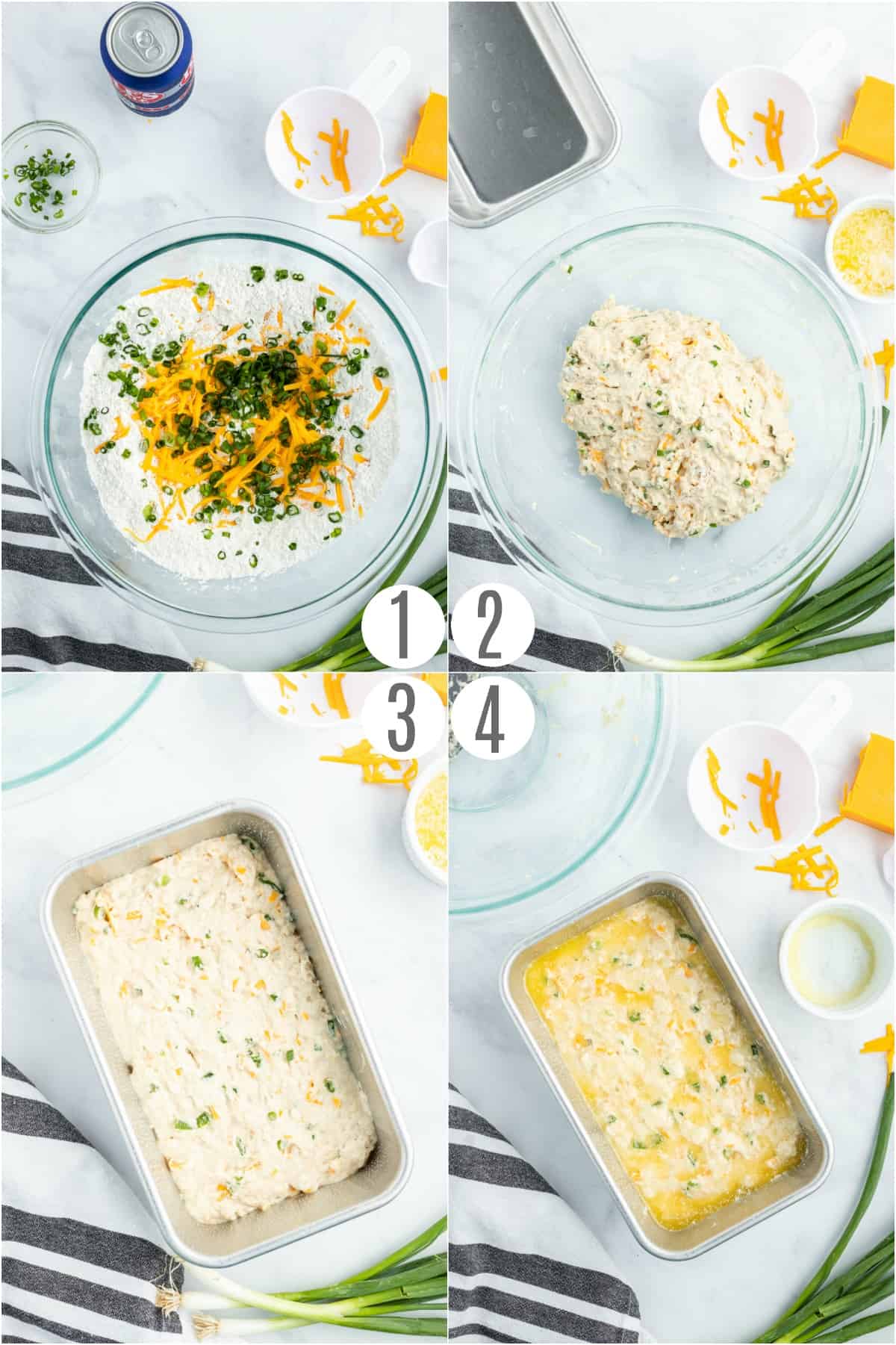 STEP 1. In large mixing bowl mix flour, baking powder, salt, sugar, cheese and green onions. Using as few strokes as possible, mix in the beer until moistened.
STEP 2. Pour thick batter into a greased loaf pan. Drizzle melted butter over the top.
STEP 3. Bake in a 375 degree oven for 50 minutes. Remove and cool 10 minutes before removing from pan. Enjoy!
Beer bread tastes delicious plain OR spread with a little warm butter.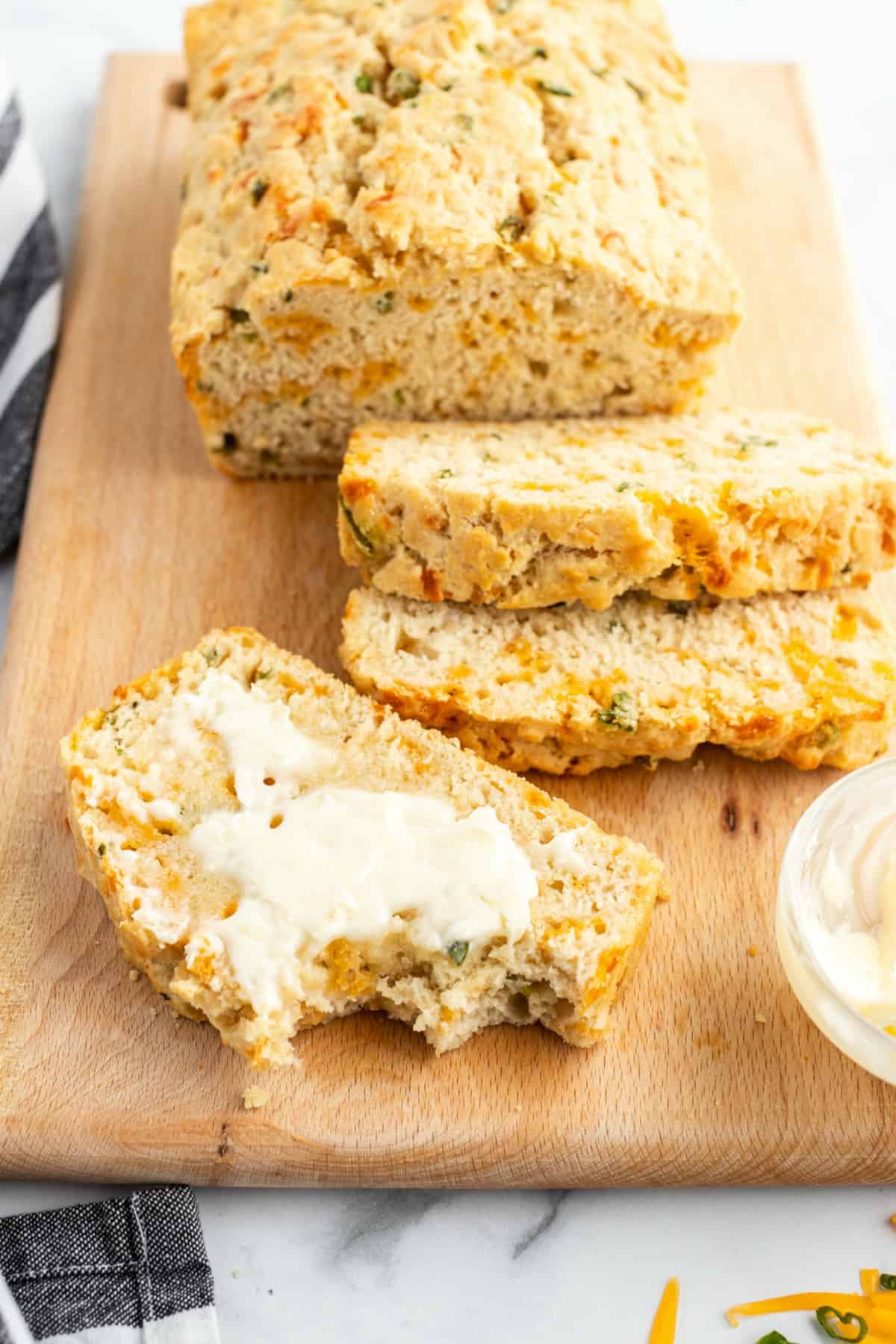 Variations
This bread recipe is the ideal starting point for so many delicious spins on beer bread. Here are a couple to get you started:
Jalapeno Cheese beer bread: omit the green onion and replace with 2 seeded and diced jalapenos. Delicious with chili!
Garlic Herb Beer Bread: Omit the onion and add a teaspoon each of Italian seasonings and garlic powder to the bread batter!
7-Up Bread: Don't have beer or prefer not to use it? I've occasionally substituted 7-Up soda with decent results! It is much denser since it doesn't "rise" the same way bread with beer will since there's no yeast but it still tastes good! If using 7-up, reduce the amount of sugar in the recipe by 2 tablespoons.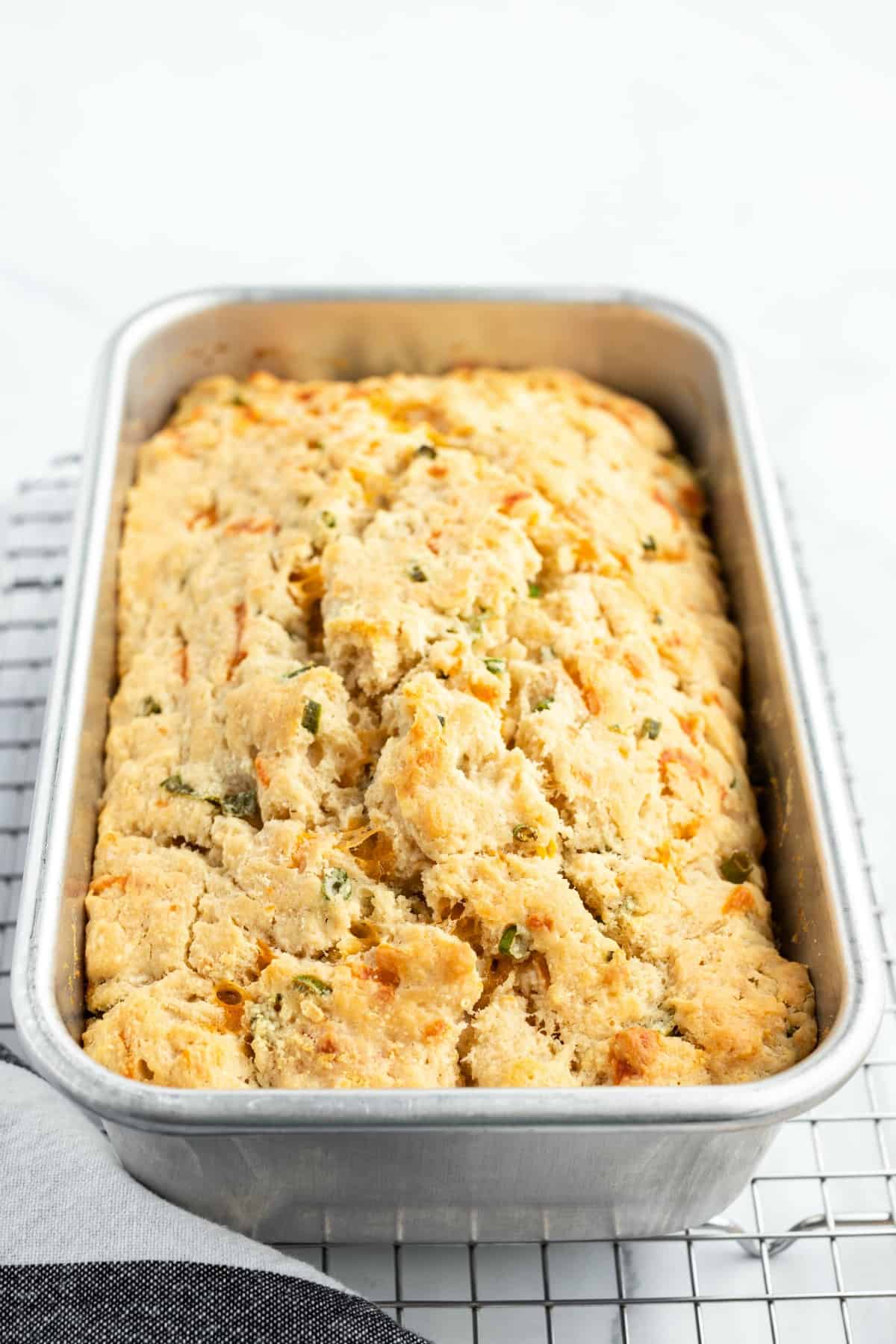 You're going to love this recipe! Skip the yeast, the kneading and the rising of most homemade breads and enjoy a slice of this cheesy onion beer bread in less than an hour.