Easy Almond Croissants are flaky and buttery and packed with a sweet almond filling and topping! Turn crescent rolls into perfect homemade croissants with this easy recipe.
You can't beat the convenience of baking with crescent rolls. We use them in this Veggie Pizza recipe and Pigs in a Blanket too!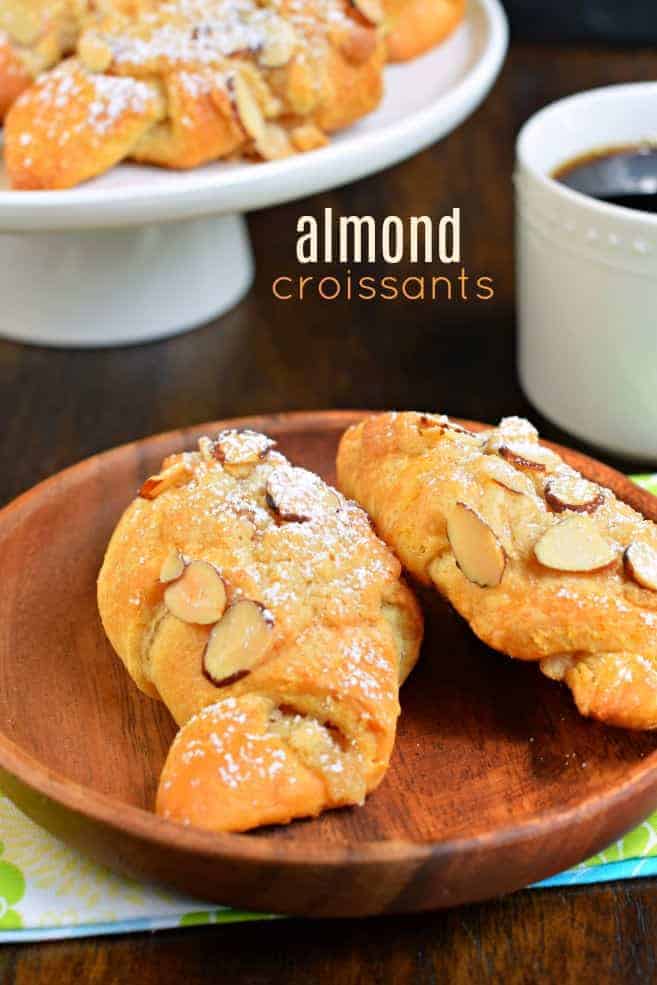 What is a Croissant
A croissant is a flaky, buttery pastry rolled into a crescent shape and baked until golden brown.
The croissant's close association with all things Parisian (and its French name) makes most pastry lovers assume it was invented in France. While croissants have been a staple in French bakeries for centuries, they were actually invented in Austria then later brought to France by Viennese bakers.
Traditional versions are made from layers of yeast dough that's brushed with butter and folded multiple times to create the delicious layers. The buttery flavor in a well made croissant is tasty enough all on its own, but even better stuffed with all kinds of savory or sweet fillings.
Our Almond Croissants recipe is a sweet, nutty variation on the crescent shaped pastry. And we make it easier by using a refrigerated dough!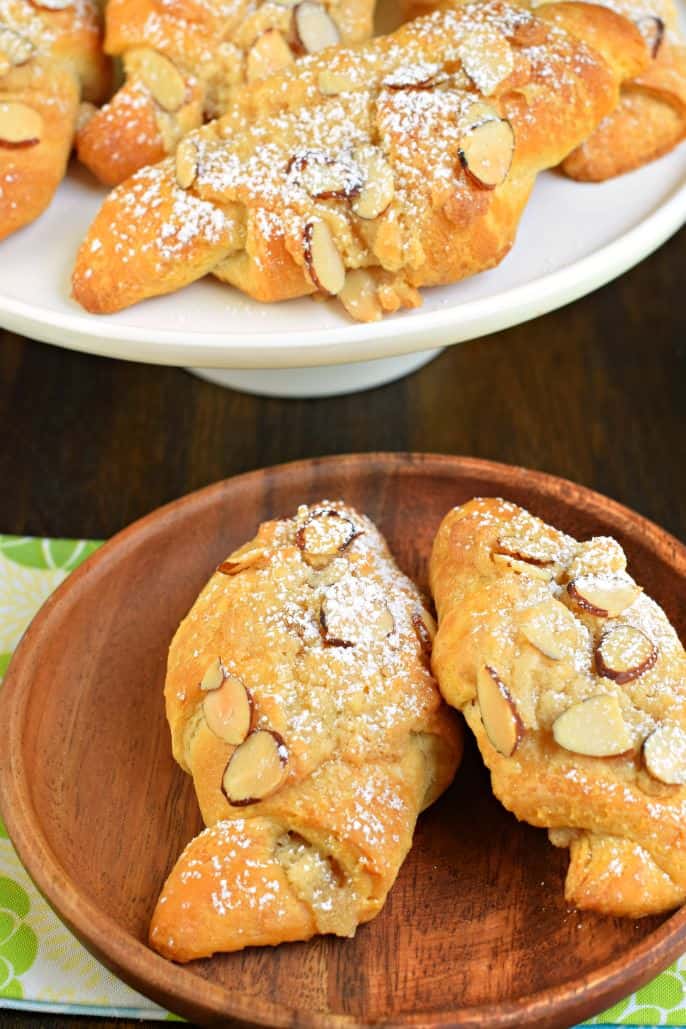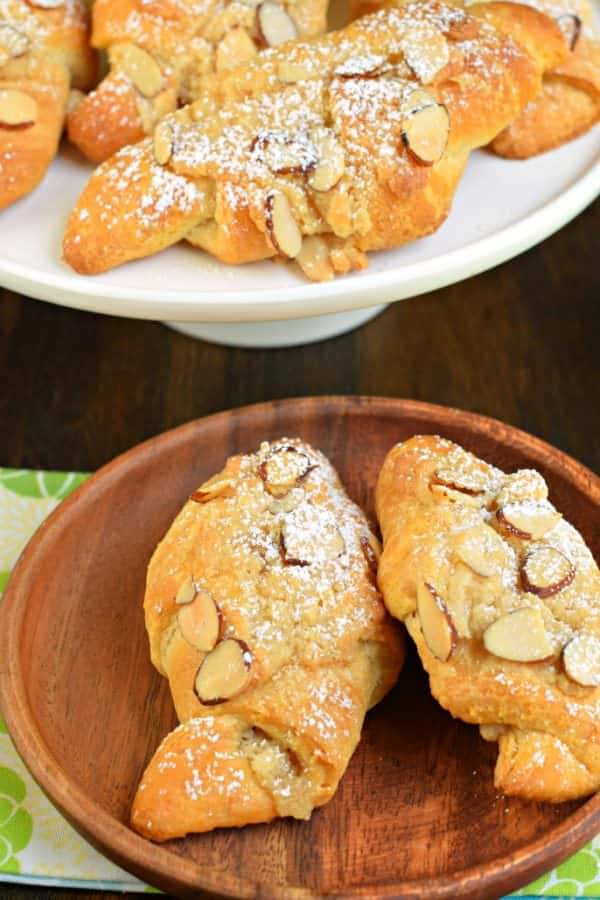 Easy Ingredient List
Refrigerated crescent rolls – Making croissants from scratch takes more time and effort than most home bakers have to spare! Using unbaked crescent rolls for almond croissants is the perfect hack for home bakers.
Almond paste gives the smooth filling in these croissants its irresistible nutty taste.
Butter provides richness and flavor.
Brown sugar is blended with the almond paste and butter to create a perfectly sweet almond filling.
Sliced almonds pressed into the top of the croissants for a little crunch and pretty presentation.
We dusted our almond croissants with a little powdered sugar but it's not necessary to make the croissants look as good as they taste!
How To Make Easy Almond Croissants
Making homemade croissants with almond filling is easier than you might think. Because we're using a ready made dough, a lot of the work is already done for you!
First, combine the filling ingredients. Use a food processor or electric mixer to beat together the butter, brown sugar and almond paste until well blended.
Next, unroll and fill the crescent rolls. You'll have 8 triangles of dough. Spoon a little of the almond filling onto the center of each one. Roll up the triangles into crescents and place them on a baking sheet.
Finally, add the almond topping. Spread the remaining almond filling on to the top of the crescent rolls. Press on the almond slices.
Bake Almont Croissants for about 12 minutes, or until they turn golden brown. Let cool slightly and enjoy!
Tips and Tricks
Mix filling well. It takes a few minutes of beating for the thick almond paste to soften enough to combine with the other ingredients. That's why I recommend using a food processor or electric stand mixer instead of mixing by hand.
Almond croissants taste best the same day. I recommend serving them while still slightly warm from the oven for best flavor.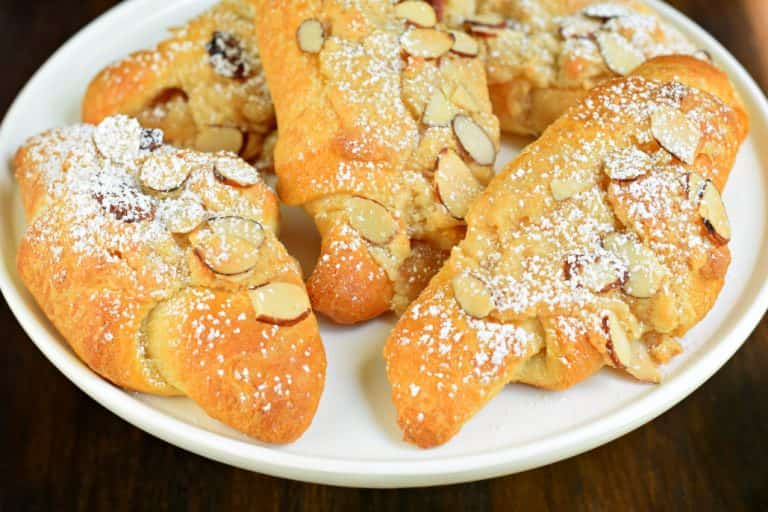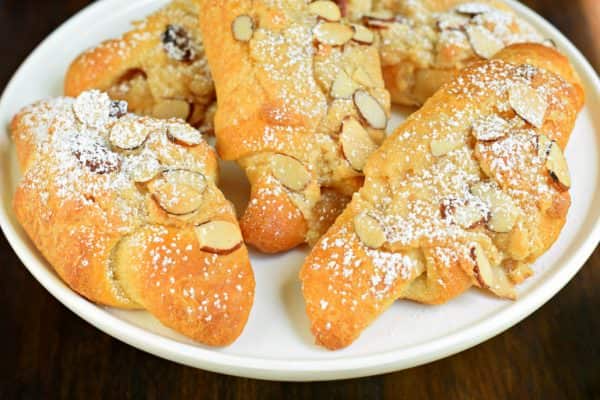 Recipe FAQs
What can I use instead of almond paste?
Unfortunately, there's no good substitute for the almond paste in this recipe. It's essential for the almond flavor and smooth consistency in the filling. If you can't find it at your local store, you can order almond paste online to make this recipe.
Can I make croissants with puff pastry?
If you don't have crescent rolls where you live, you can use puff pastry to make this recipe instead! Let the pastry dough thaw at room temperature and slice it into triangles to use it in this croissant recipe.
Adjust the baking time and temperature for the croissants based on the puff pastry package directions.
Do I need to pinch the ends of the crescent roll together?
I leave the ends uncurled and do not pinch the dough together to give these a classic croissant look. You can certainly pinch the dough to seal in the filling if you prefer. It won't affect the taste of the almond croissants.
Grab a can of crescent rolls and make these flaky, buttery Easy Almond Croissants.