Fresh and flavorful, this easy Veggie and Dill Crescent Roll Pizza recipe will make the perfect pizza night dinner! Great for picnics too.
We love using crescent rolls for snacks and meals. Our pigs in a blanket is not only a family favorite, but reader favorite too. Got a sweet tooth? Try our strawberry cream cheese danish.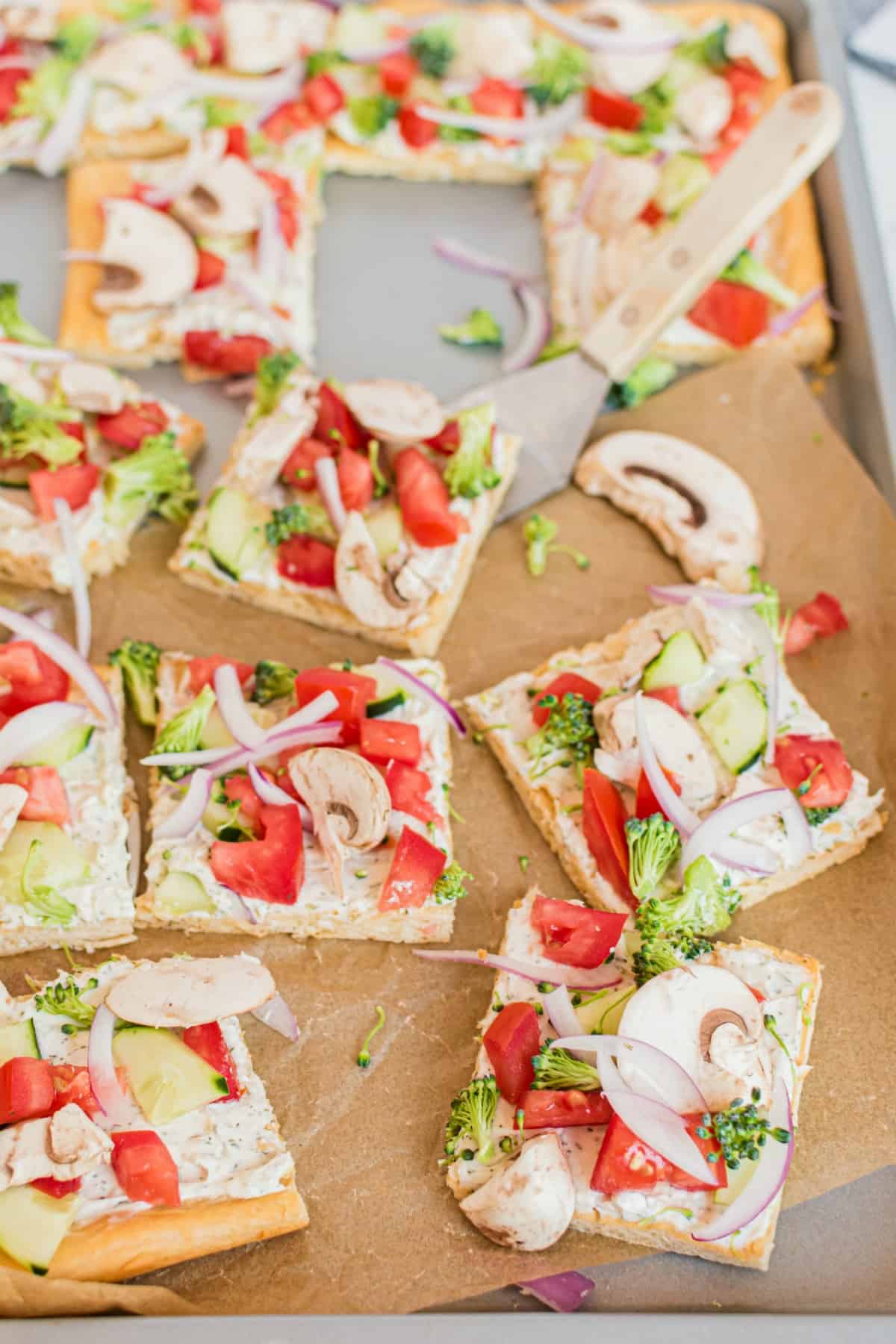 Why this Recipe is Best
This pizza first came into my life about 15 years ago (probably more). I went to a Pampered Chef party and they made a pizza very much like this one.
I love making this in the summer time. It's so fresh, filling and a great use for the abundance of fresh produce we have around in the warm months.
The dill and garlic in the cream cheese topping is what makes this pizza so good. A creamy and tangy sauce pairs beautifully with just about any kind of fresh vegetable you can imagine.
In a household with lots of different taste preferences, I also love that fresh Veggie Dill Pizza is endlessly adaptable.
In the recipe below, I've included my recommendations for veggies to use on your pizza, but any kind of vegetable you enjoy will work well here.
I like to add avocado too, just for some extra creaminess. Depending on what veggies you have on hand you can change it up. Feel free to use fresh spinach, chopped up carrots, cauliflower, asparagus. It all works.
My kids love this veggie pizza! I can feel good that they're "eating the rainbow" while also enjoying a delicious pizza.
When you serve this pizza for dinner, you don't have to mess with any side dishes or salads if you don't want to. It's a full balanced meal all on its own!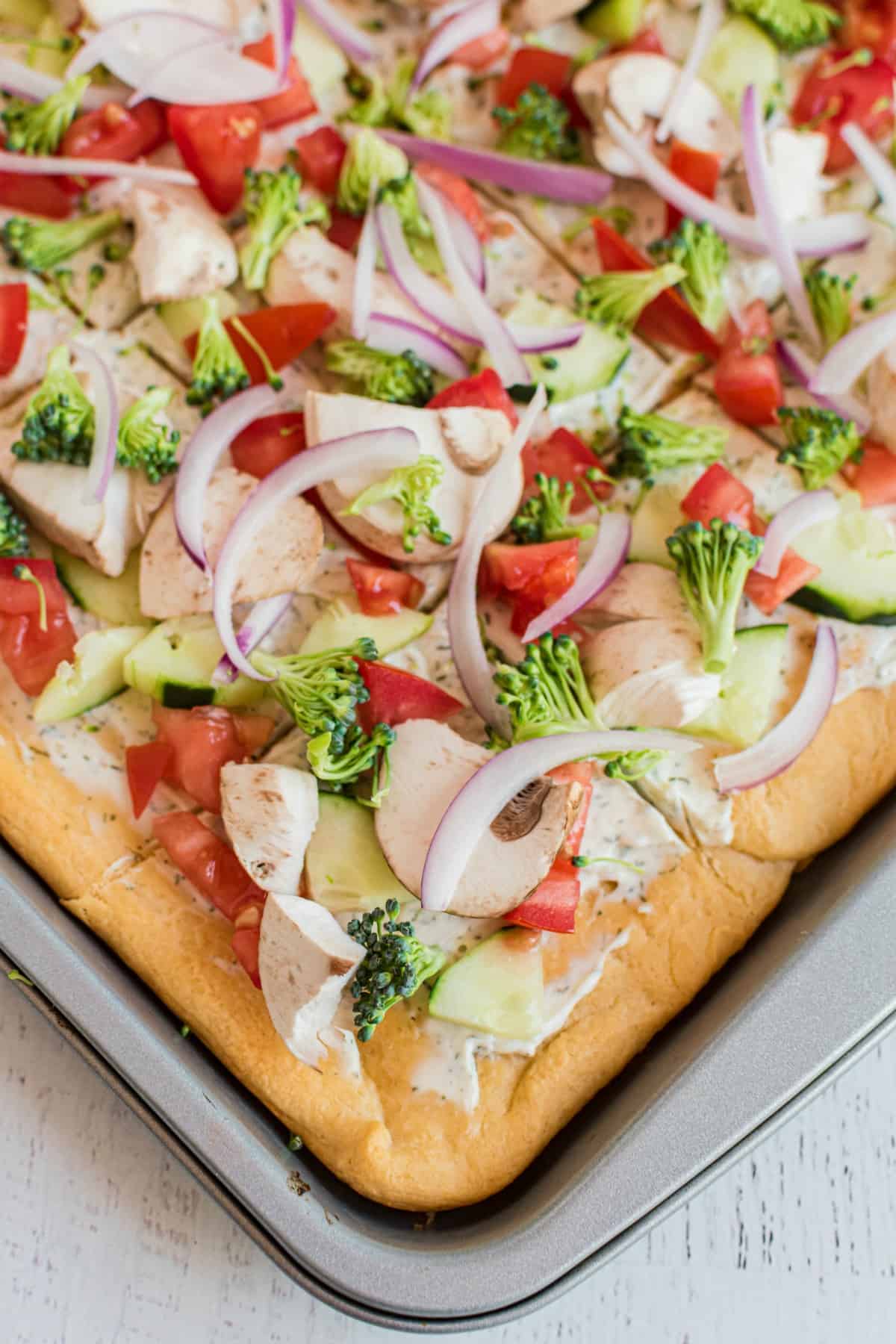 Vegetarian Too!
Veggie Pizza with dill also happens to be vegetarian friendly!
You won't even miss the meat. When you have lunch and dinner guests who don't eat meat, this pizza is an option that will make everyone happy.
If you NEED meat, feel free to add cooked, diced chicken breast along with the vegetables. But I promise it's delicious without it!
You could make this a vegan pizza by substituting vegan versions of the mayo and cream cheese. While I haven't tried it and can't vouch for the results, I'd love to hear how they work if you do!
Crescent Roll Pizza Crust
Refrigerated crescent sheets are one of my most favorite hacks for quick cooking and baking! Making this Veggie Dill Pizza Recipe starts with two packages (sheets) or crescent roll dough.
Using crescent roll dough creates a pizza with a flaky, buttery crust instantly. You bake the crescent roll crust on its own in the pan, then add the toppings after it cools.
If you're like me and hate turning on your oven at dinner time in the summer, do what I do. Bake up this crust first thing in the morning, then cover it with saran wrap until you are ready to use!
This is also a hack I use when I know I won't have much time for dinner prep in the evening.
PRO TIP: If you can find the crescent roll sheets, those work best. Otherwise, just unroll the regular crescent rolls and press the seams together!
A few slices of this pizza make for a satisfying dinner, but it's also the perfect party food! Cut into squares and serve on a platter as an appetizer.
Don't you just want to nibble on Veggie Dill Pizza while you sit on a patio on a warm summer day with a glass of cold beer lemonade?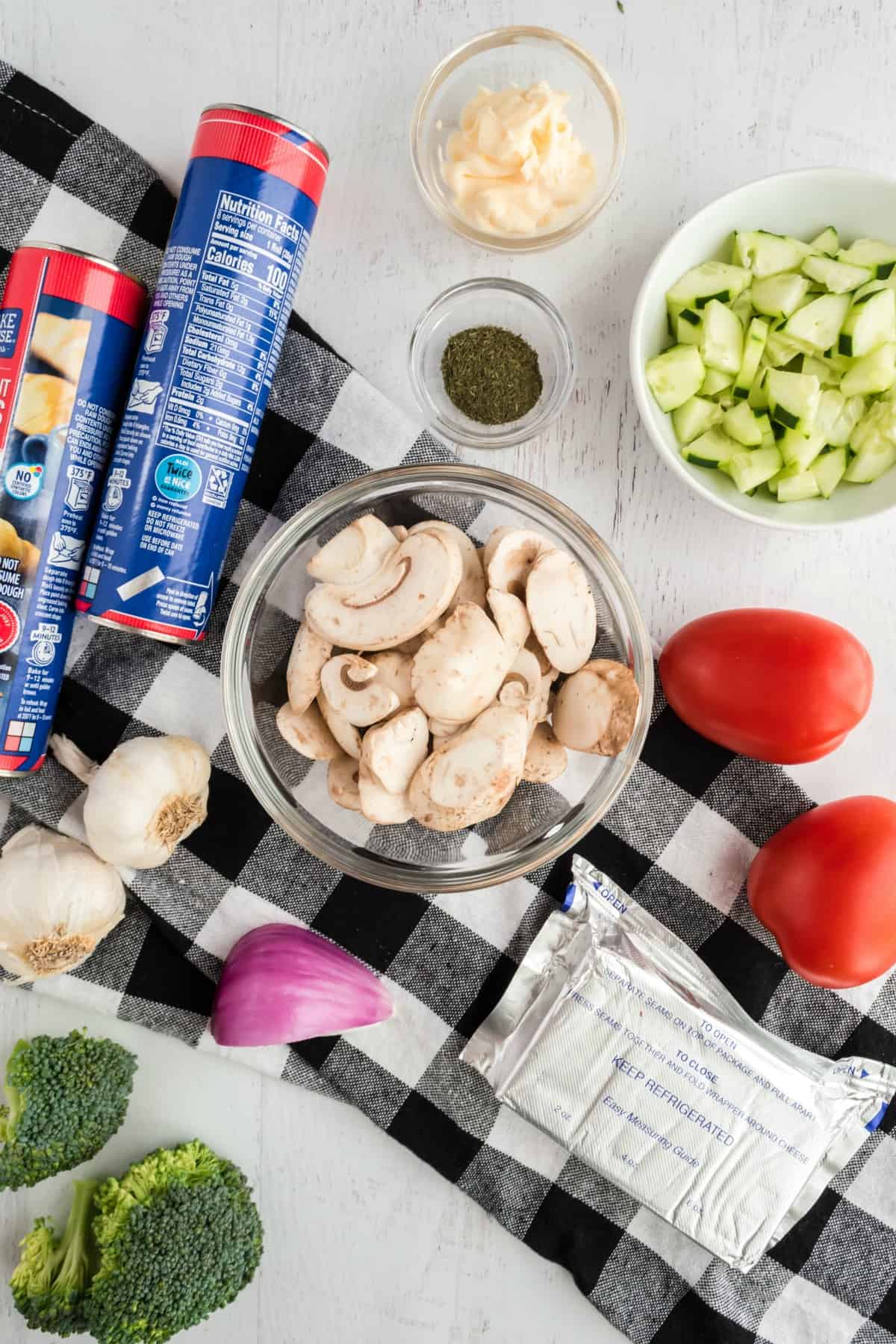 What you'll Need
To make this pizza, you need:
Crescent roll dough
Cream Cheese
Mayonnaise
Fresh dill
Pressed garlic
Diced red onion
Cucumber
Roma tomatoes
Mushrooms
Broccoli
Or substitute other veggies you have on hand. Spinach, bell peppers, avocado, sun tried tomatoes and olives are other delicious toppings to try.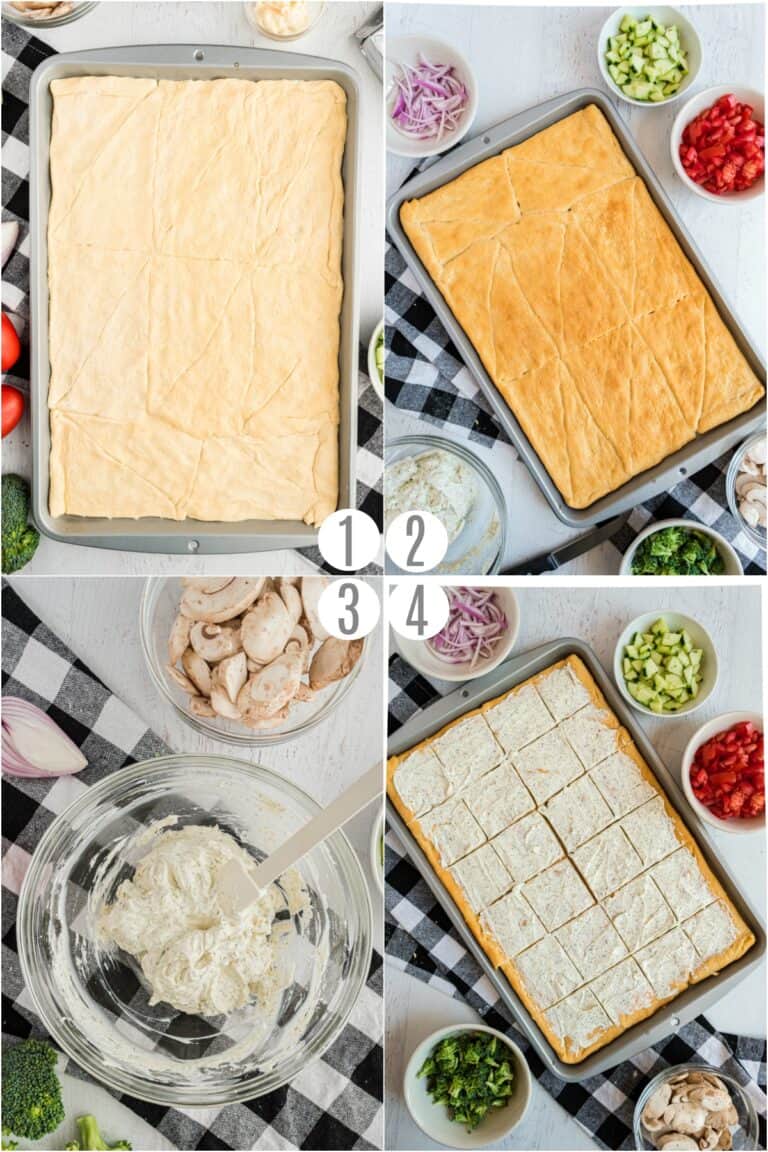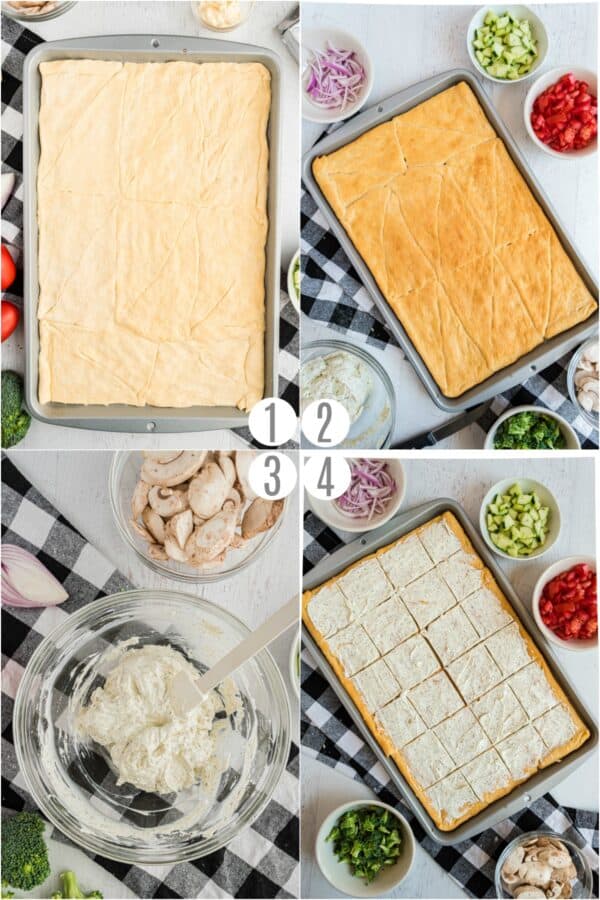 How to Make Veggie and Dill Pizza
STEP 1. Prepare the crust
Roll out the cresent dough sheets onto a large baking pan (or pizza dish). Pinch the seams together and bake for 11 -13 minutes. Let cool completely. Make the pizza right away OR cover the crust with Saran wrap until ready to use.
STEP 2. Make the cream cheese dill spread
Beat cream cheese with mayonnaise, garlic and dill. Spread onto cooled crust. Cut the pizza into slices.
STEP 3. Add veggies
Top slices with the veggies, serve and ENJOY!
What if your family can't agree on toppings? Set up a "pizza bar" and let everyone choose your own vegetables. That way everyone gets to enjoy the veggies they like. . . and you won't have to deal with whining. (At least, not about the pizza.)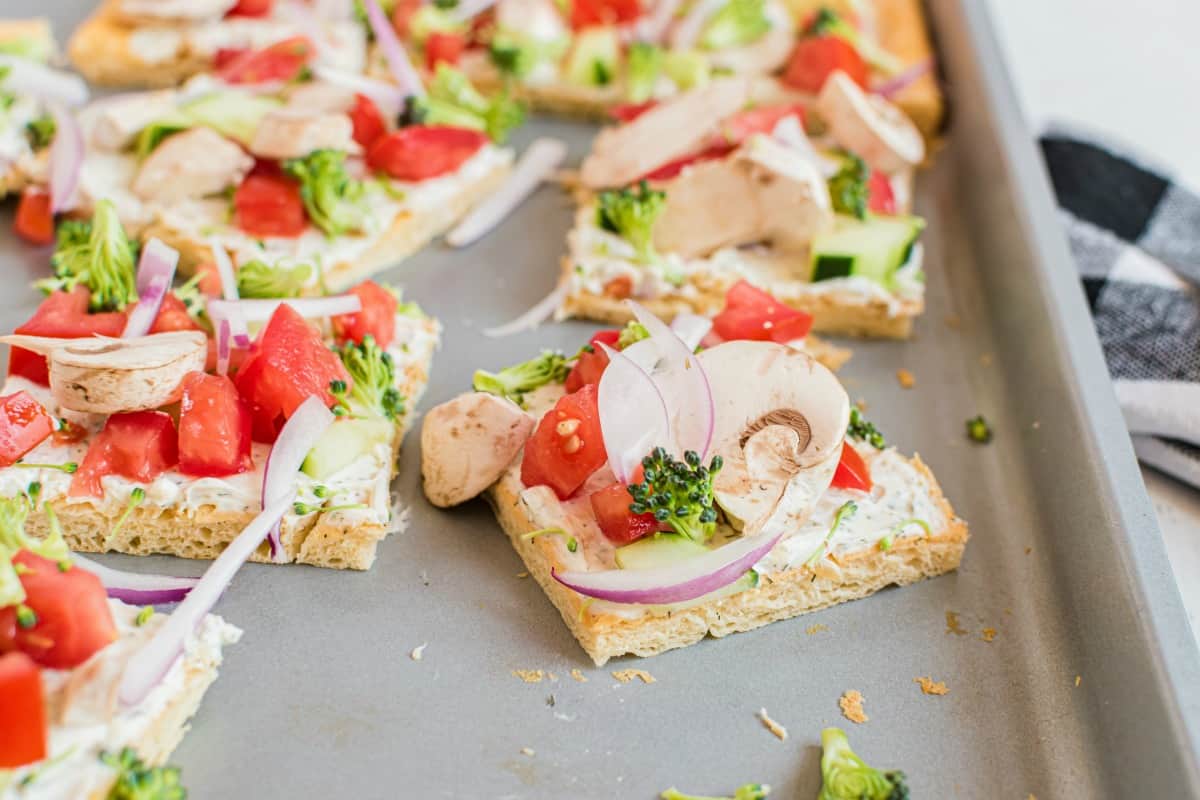 Tips and Tricks
After baking the crescent rolls on the baking sheet, allow to cool. Once you spread the dill cream cheese over the crescents, cut into bars BEFORE adding the fresh vegetables.
Store leftovers in an airtight container (or ziploc) in the refrigerator. Best eaten within 3 days. Perfect for picnics!
More Easy Recipes
With so many ways to make this pizza delicious, you really can't go wrong with this recipe. Give Fresh Veggie Dill Pizza a try next time you need a quick and fresh family dinner!