Lemonade Beer is a refreshing summer shandy with a tangy combination of light beer and lemonade, and a shot of rum!
Whipping up a summer cocktail is as easy as pie with some of our great recipes. Try this Pineapple sangria for a crowd. Or give this easy whiskey slush bucket a try soon.
What's in lemonade beer?
Whether you're a beer drinker or not, you need to try a lemonade beer at least once. It has to be tasted to be believed!
Also called "shandy" or a "radler", this lemonade beer is true to its name: lemonade and light beer stirred together and served cold!
Use a light beer in this recipe. (Sorry, dark beer lovers, but your stouts and porters will not taste good at all combined with lemonade.) Any light beer you enjoy sipping should taste great here.
Pilsners are delicious, along with all other blonde lagers.
The recipe I'm sharing today has a little extra somethin' somethin' too: cherry rum.
A couple of shots of Bacardi Cherry rum to the pitcher infuses the lemony drink with just a touch of sweetness.
And, yes, it does make the finished drink a bit more strong, but no more so than your average bottle of beer–remember you're diluting the beer and rum with lots of lemonade.
It is light, endlessly drinkable and oh-so-refreshing on a hot day!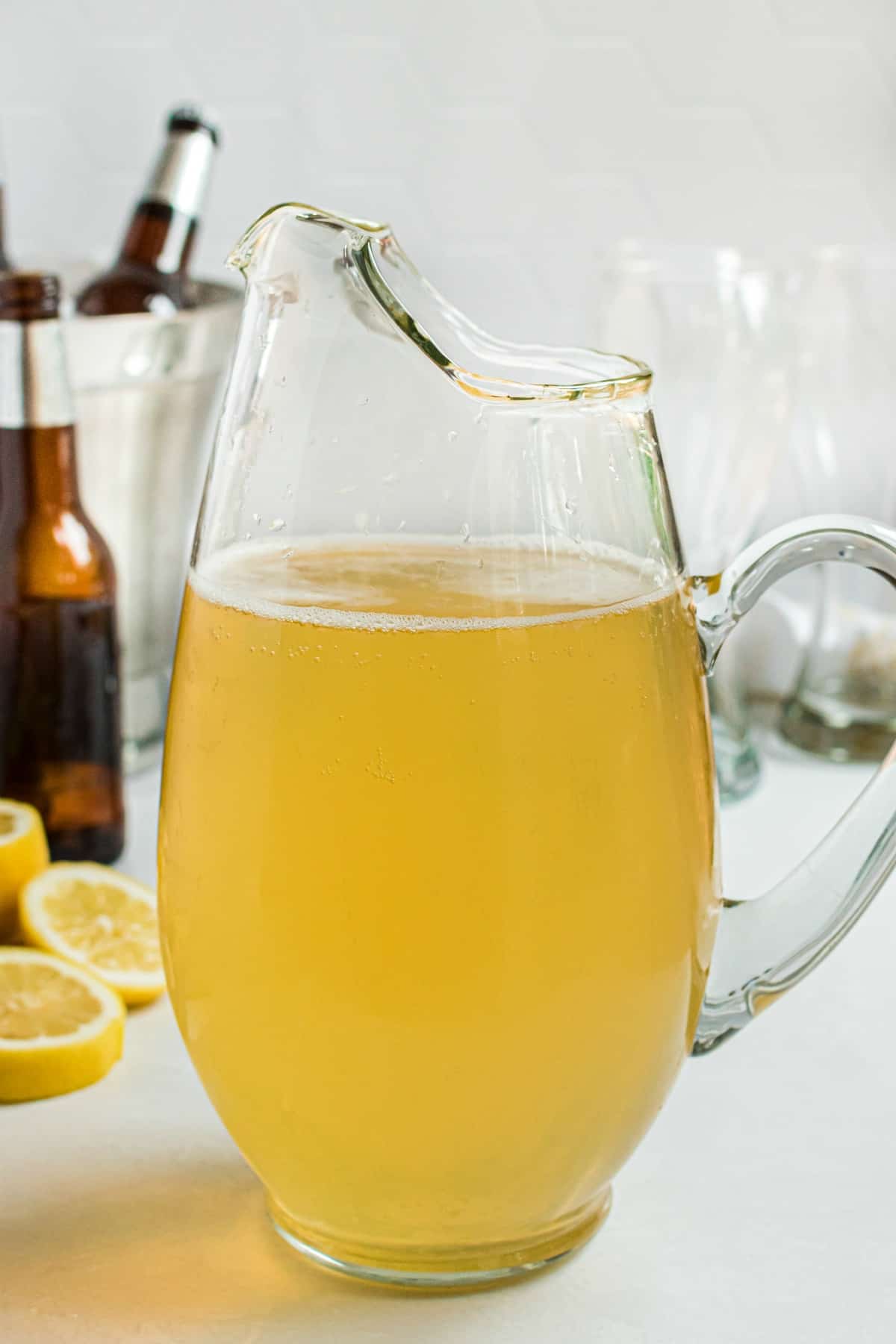 Radler or Shandy?
There's plenty of opinions in the Radler vs. Shandy debate. So as to remain neutral, I'll simple call this recipe Lemonade Beer.
These names both describe the exact same drink. From my understanding, the name shandy is used most often in Britain while Germans call their lemonade-beer combos a Radler.
You can call it whatever you like, I just want you to taste it!
Oh, and I know I have some readers out there who are NOT fans of beer. If you like lemonade, chances are good you'll love this version anyway!
And for those of you that cringe at the idea of drinking beer that's been mixed with lemonade and cherry rum–don't knock it 'til you try it.
My husband never goes for "frou frou" drinks and he thought the homemade shandy was plenty tasty!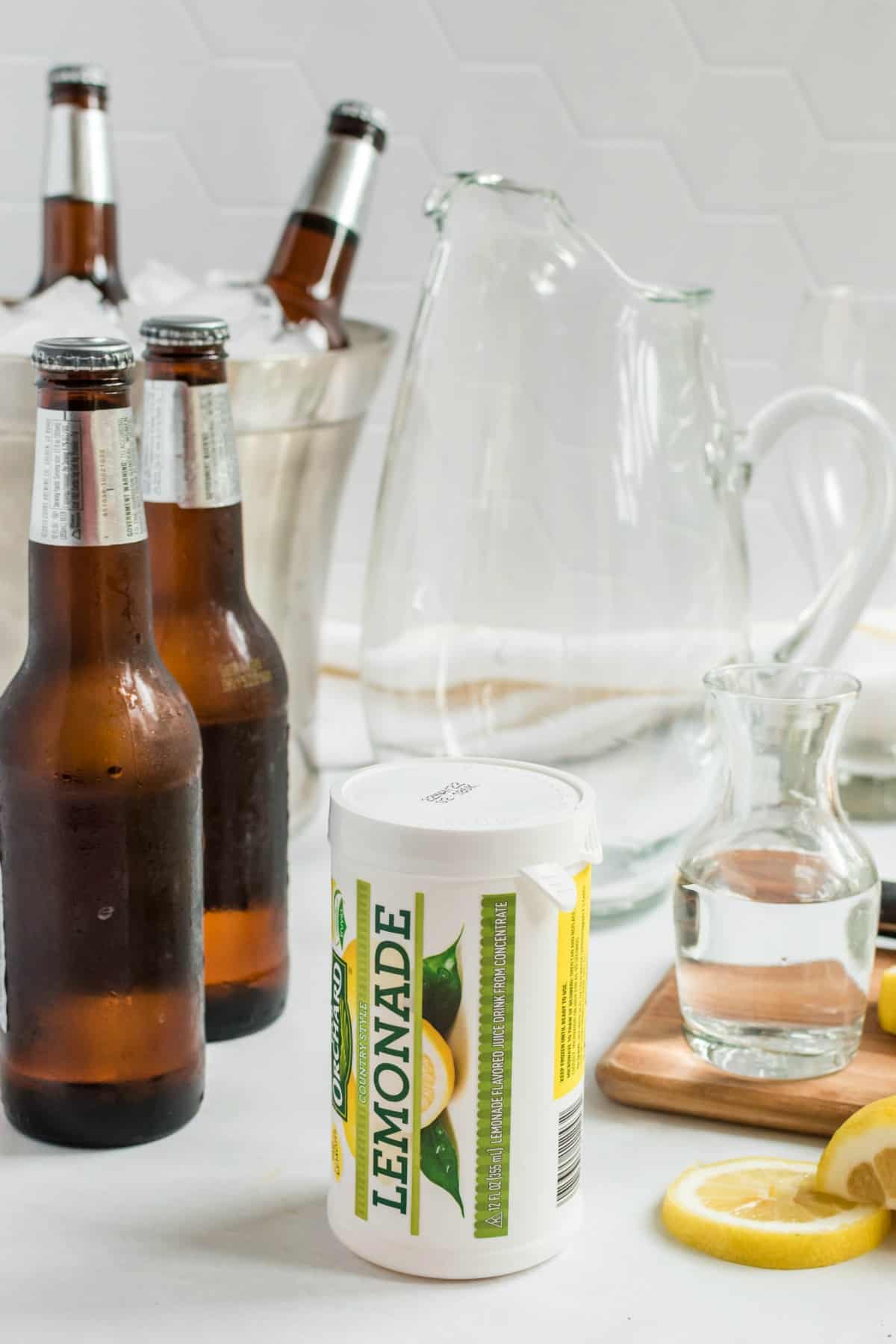 How to Make Shandy
When it comes to crowd pleasing party drinks, it doesn't get any easier than this one!
Start by mixing lemonade concentrate with water.
Add two bottles of beer, a quarter cup of cherry rum and mix with a large spoon!
Pour the shandy over tall glasses filled with ice, garnish with a lemon wedge and say "cheers!"
Rum Substitutions
Not a fan of cherry rum? Feel free to mix up the flavor! Use a regular white rum or try one of these fruity rum ideas:
Pineapple
Citrus
Raspberry
Lemon
Dragon Berry
Flavored vodka is also delicious as a rum alternative in lemonade beer. I can't wait to try all kinds of variations this summer.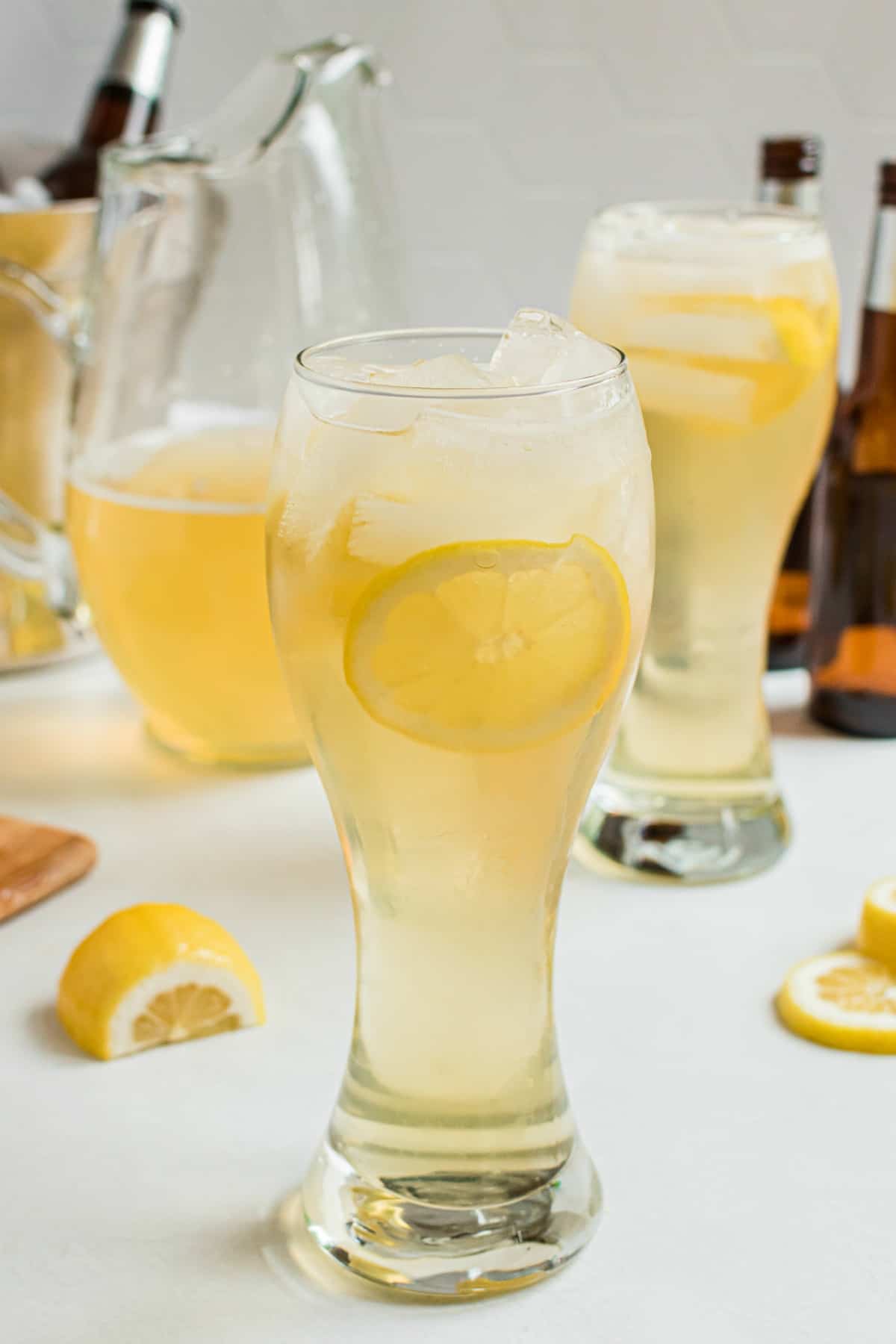 Lemonade Substitutions
You can make shandy with plenty more fizzy juices than just lemonade!
Try grapefruit juice or limeade (limonada) mixed with your beer.
Next time I make a pitcher, I want to try half lemonade, half grapefruit juice. Tart, sweet and delicious!
Tips & Tricks
Mix the lemonade concentrate with club soda or unflavored sparkling water for even more fizz.
Worried about ice diluting your drink too much? Use large round cocktail ice cubes (they melt slower) or freeze lemonade into ice cubes to add to your drink.
This is best served right away before the beer has a chance to go flat. You can mix the lemonade up ahead of time if needed then add the beer and rum just before serving.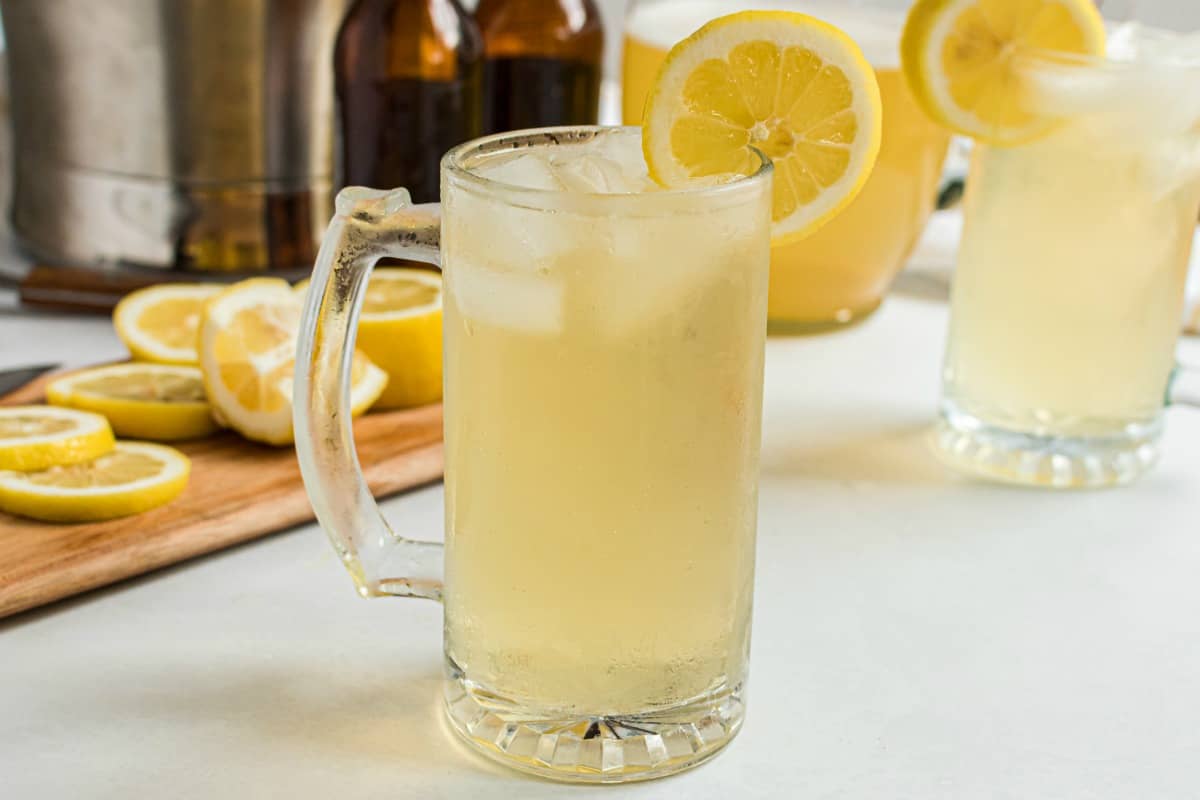 Summer Entertaining Recipes