A classic, easy 7 layer Salad recipe served in a trifle bowl. So many options for the seven layers, you choose what you love. Perfect for potlucks!
Love weeknight salads for dinner? This easy macaroni salad recipe is packed with pasta, veggies, and tuna! You may also love this Dorito Taco Salad for dinner!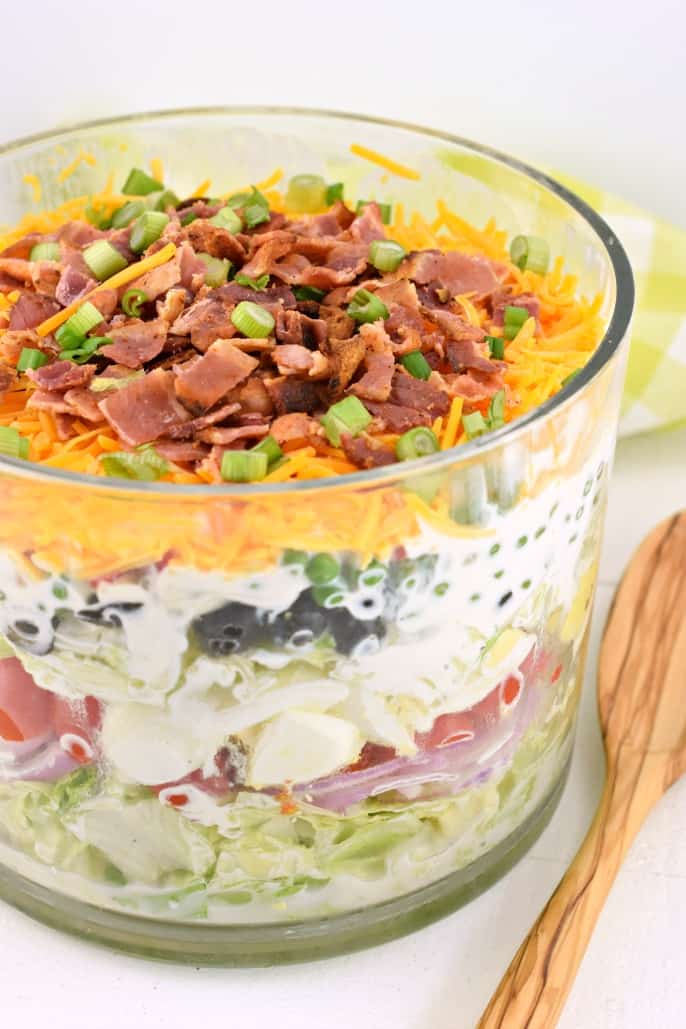 Weeknight Salad Recipe
Growing up, my mom always made a 7 Layer Salad in the summer.
I feel bad.
I didn't appreciate it back then.
At family gatherings there was always an abundance of salads and side dishes, and the layered salad recipe with vegetables and sour cream never called my name.
I mean, things like Pistachio Fluff Salad and Snicker's Taffy Apple Salad were my go-to choices.
And while I still love those sweet dessert salads, I've come full circle in life to where I tend to love and appreciate those foods from my childhood that I turned up my nose at (remember these 7 layer cookie bars?).
Anyway, let's get started on all the details to making THE BEST Seven Layer Salad recipe!
Step by Step Instructions
EGGS: Make your hard boiled eggs. You'll need about 6-8 large eggs for this recipe.
PRO TIP: I love using my Instant Pot Hard Boiled Egg recipe for quick and perfect eggs. They peel like a dream. Once cooked, cut eggs into quarters.
BACON: Prepare your bacon. Whether you like your breakfast bacon chewy or crunchy doesn't matter for today's salad. You MUST make the crunchy version. Trust me, in a salad, wimpy chewy bacon is never a good option.
To get perfect crisp bacon I opt to fry it up in a skillet while my eggs are cooking! Crumble the bacon once it is cooked to a crisp!
VEGETABLES: Cut and dice your remaining vegetables. 
DRESSING: Mix the dressing. Using a medium size bowl, whisk together the mayonnaise, sour cream, buttermilk, granulated sugar, cider vinegar, salt, pepper, and onion powder.
ASSEMBLE: Assemble the salad. In a large trifle bowl or clear glass salad bowl (so you can see the layers!), layer 1/2 of the chopped lettuce, cherry tomatoes, red onion, hard boiled eggs. Add about 1/3 of the dressing. Top with the remaining lettuce, black olives, peas, and red bell pepper. Add the remaining dressing on top. 
Garnish the top of the salad with shredded cheese, bacon crumbles, and green onions slices (optional).
CHILL: Refrigerate. It's very important for a seven layer salad to chill in the refrigerator for 8 hours or overnight. Cover with plastic wrap and refrigerate.
Serve and enjoy!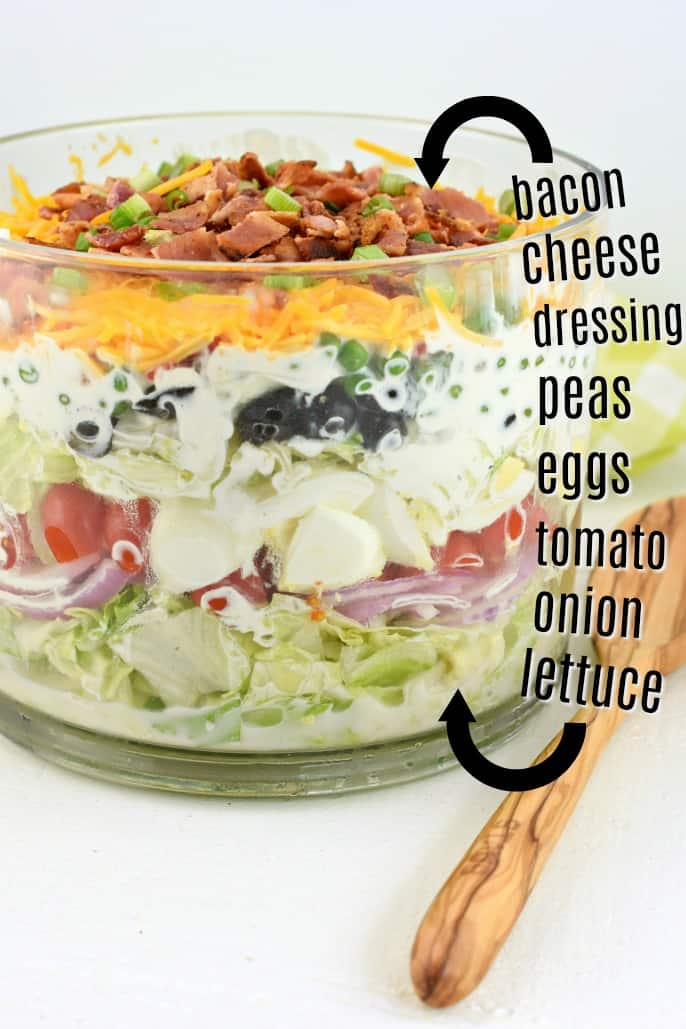 What are the layers in a 7 Layer Salad
Lettuce
Tomato
Onion
Eggs
Olives
Peas
Peppers
OOPS. I have too many layers. Dressing.
Cheese.
Bacon.
Green onion
As you can see there is a LOT of flexibility with layers. Sometimes I omit the olives and peppers. Sometimes I get rid of the onion and peas. Seriously, make it with the layers YOU love.
This salad makes a big trifle bowl full of fresh veggies, and is the perfect crowd feeding recipe!
Can you make ahead of time?
One of the things that makes a layered salad ideal for potlucks and picnics is the fact that it can be made ahead of time.
It actually NEEDS to be made ahead of time. By assembling the layers in a trifle dish and topping with dressing, you're sealing in the freshness. This hearty salad needs at least 8 hours to chill.
Once you've started serving this salad, the lettuce will mix with the dressing and begin to wilt. While it will still taste good, it won't look good. We usually try to make about 8-24 hours in advance, and then once we begin eating the salad, it's best to use for an additional 24 hours.
Do NOT leave this salad out for more than an hour without refrigerating it or the mayo will go sour!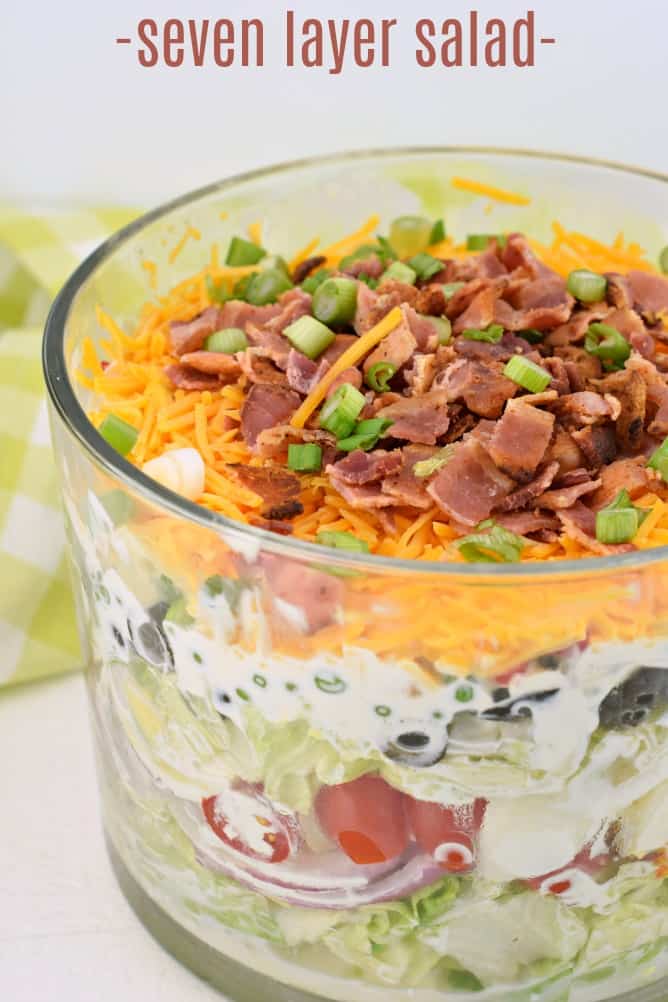 Serving Suggestions
If you're bringing this to a potluck, you never know what might show up. But making and serving this layered salad with dinner is definitely a genius decision.
We like this salad with Baked Pork Chops, BBQ Chicken, or Mississippi Pot Roast!
You could even toss in a layer of shredded chicken and make this salad a meal.
Tips and Tricks

Recipe FAQs
How do you store 7 layer salad?
Keep covered in refrigerator for up to 2 days.
What kind of dish do I serve a seven layer salad in?
No trifle bowl? No problem. Assemble in a 13×9 instead. You could also assemble in a regular glass bowl (not see through) and mix the salad RIGHT before serving!
Can 7 layer salad be made in advance?
Assemble this salad at least 8 hours in advance! This allows the sugar in the dressing to absorb and the flavors to mingle.
Tools Needed

Traditional, Southern 7 Layer Salad recipe with zesty dressing. Perfect for potlucks and parties.