Snicker Caramel Apple Salad recipe is the perfect dessert for your next potluck. Whether serving this to your family or a crowd, it's always a 5 star recipe!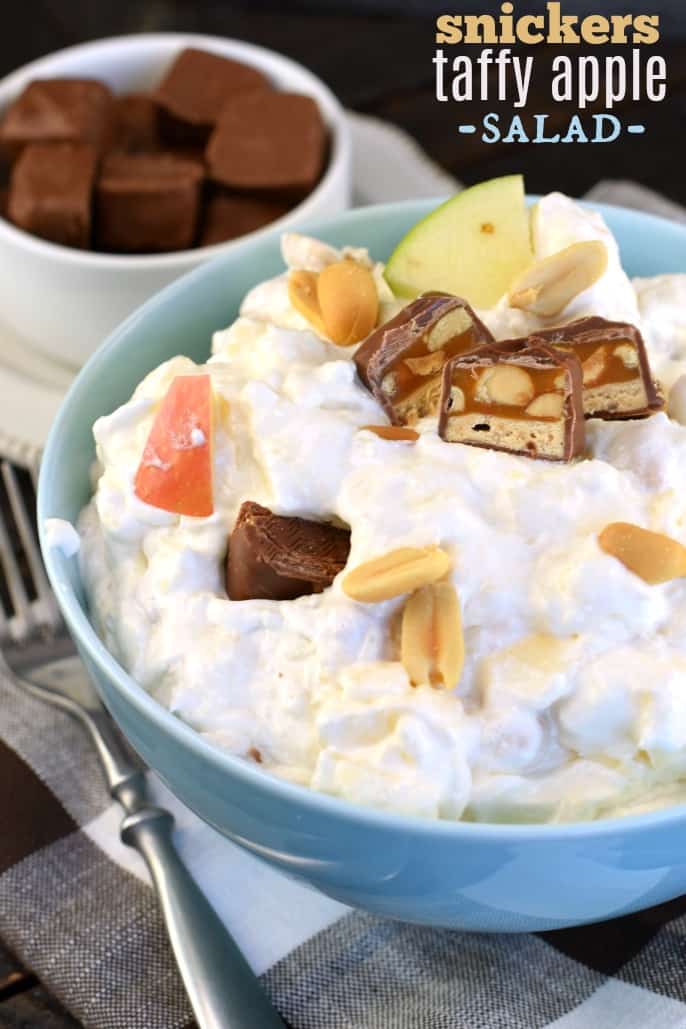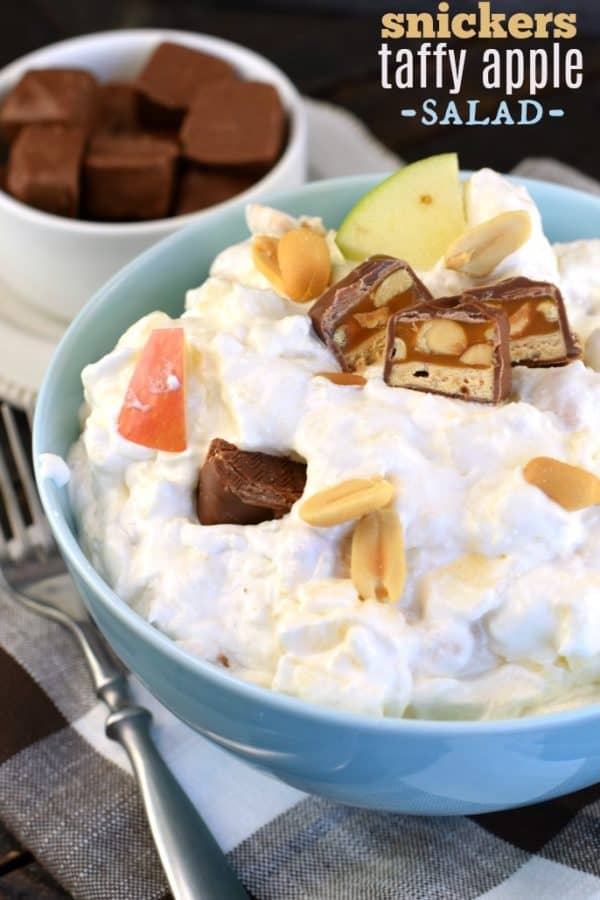 What is Snicker Salad?
Unlike a traditional salad, Snickers Salad is a dessert salad made with apples, whipped cream, and peanuts and when combined (especially with candy bars) it tastes like a caramel apple.
You'll find many variations (like the traditional taffy apple salad) in church cookbooks, but this one is my favorite!
Much like a fruit salad, you'll love the sweetness of this classic side dish recipe!
How to make Snickers Caramel Apple Salad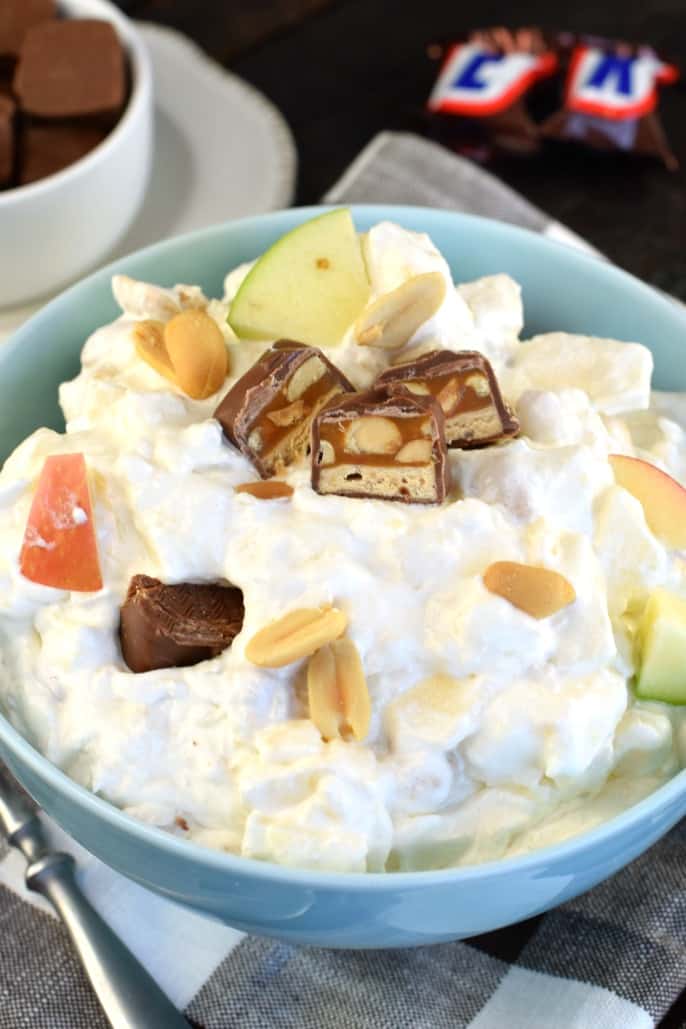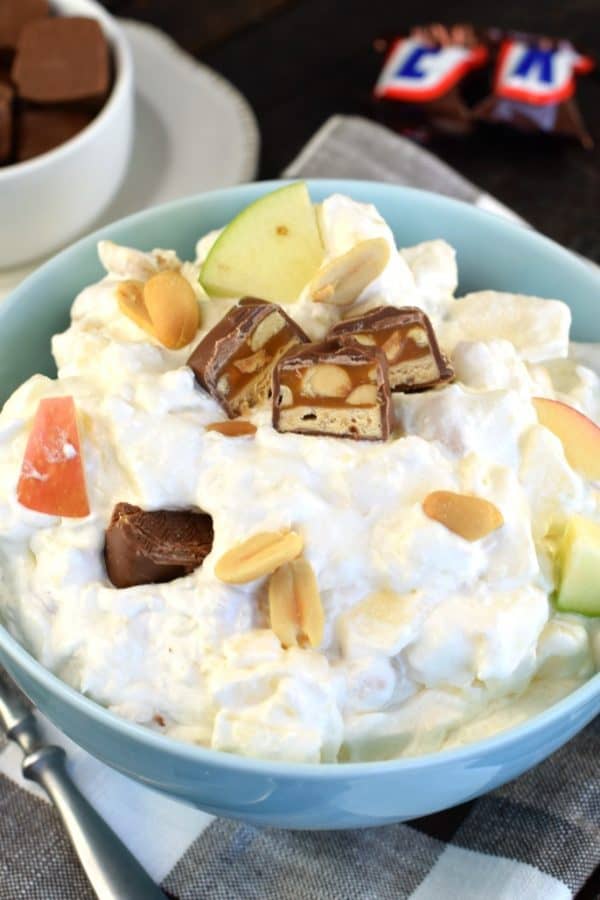 STEP 1: Start by combining the sugar, egg, white vinegar, and flour in a small saucepan. Whisk together and heat over medium heat for several minutes until thickens. This will take about 5-10 minutes.
Remove from heat and cool completely.
STEP 2: Chop apples into bite sized pieces and add to a large bowl. Add drained pineapple and the cooled sugar and egg mixture.
Stir until completely combined.
STEP 3: Fold in thawed Cool Whip (whipped topping). Refrigerate for at least one hour before serving.
STEP 4: Right before serving, fold in peanuts and candy bars. ENJOY.
TIP: Go for the gold and drizzle some caramel sauce over the top! Use homemade or store bought!
One more tip. You could layer and serve this sweet Apple Snickers Salad recipe in a trifle bowl or individual bowls for a beautiful presentation. Make the filling as instructed WITHOUT the apples.
Layer apples, then filling, then candy. Repeat until done. ENJOY.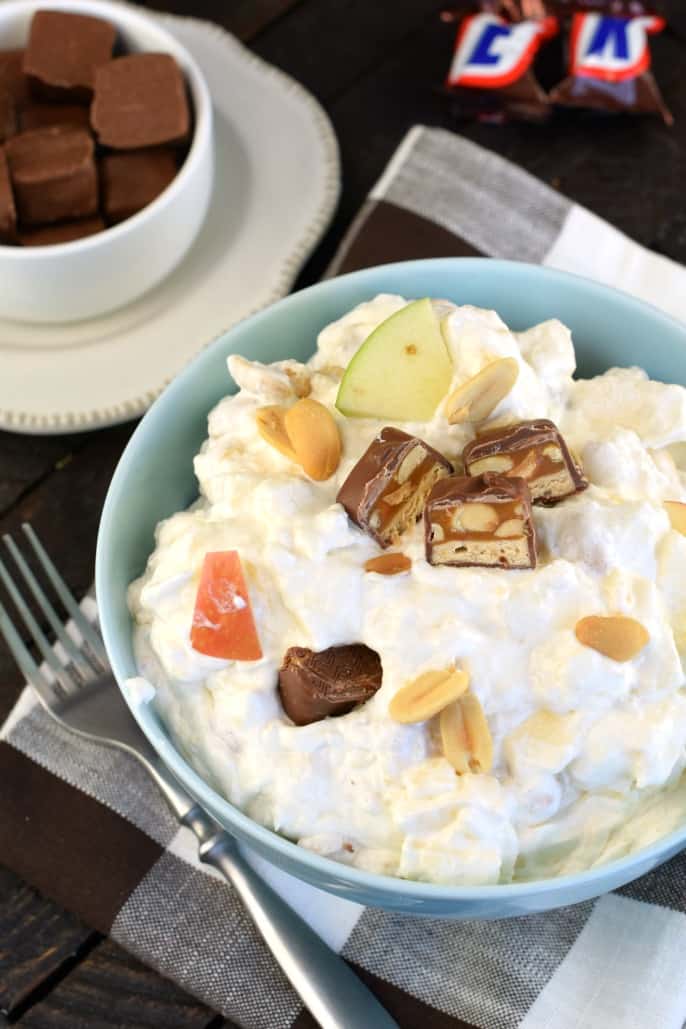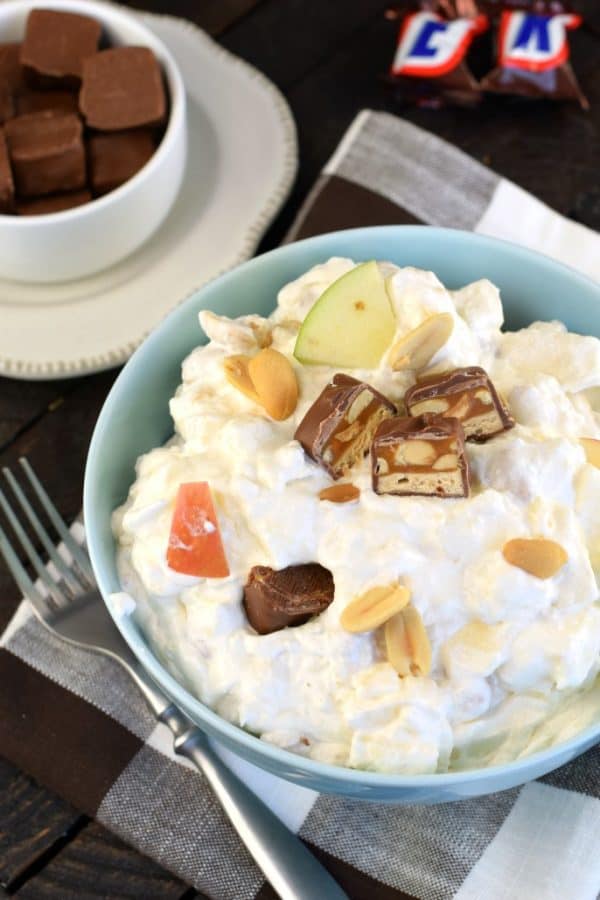 Can I make this Snicker Apple Salad ahead of time
This salad can be made in the morning and eaten that evening. It is best served the same day, as it can get watery and keeps the apples from turning brown.
I have made it the night before too, and stirred well before serving.
Be sure to wait to add the peanuts and snickers bars right before serving.
Some people opt to add a package of vanilla or butterscotch pudding mix to the cooled sugar mixture to make a creamier salad, much like this Watergate Salad recipe.
I prefer the recipe as written!
What kind of apples should I use in Snicker Salad
I like to use both red and green apples. You really can't go wrong with any kind, so pick your favorite varieties.
The sweetness from a red apple (like Red Delicious, Honeycrisp, Gala, or Fuji) pairs beautifully with the tartness of green Granny Smith Apples! Keep that in mind!
Do I need to peel the apples for Snickers Taffy Apple Salad?
Nope. I love seeing the pop of color from the red and green apples.
However, if you enjoy apples with the peels removed, then by all means go for it.
Just be sure if leaving the apples on, you wash them really well to remove any wax and pesticides that might be on them!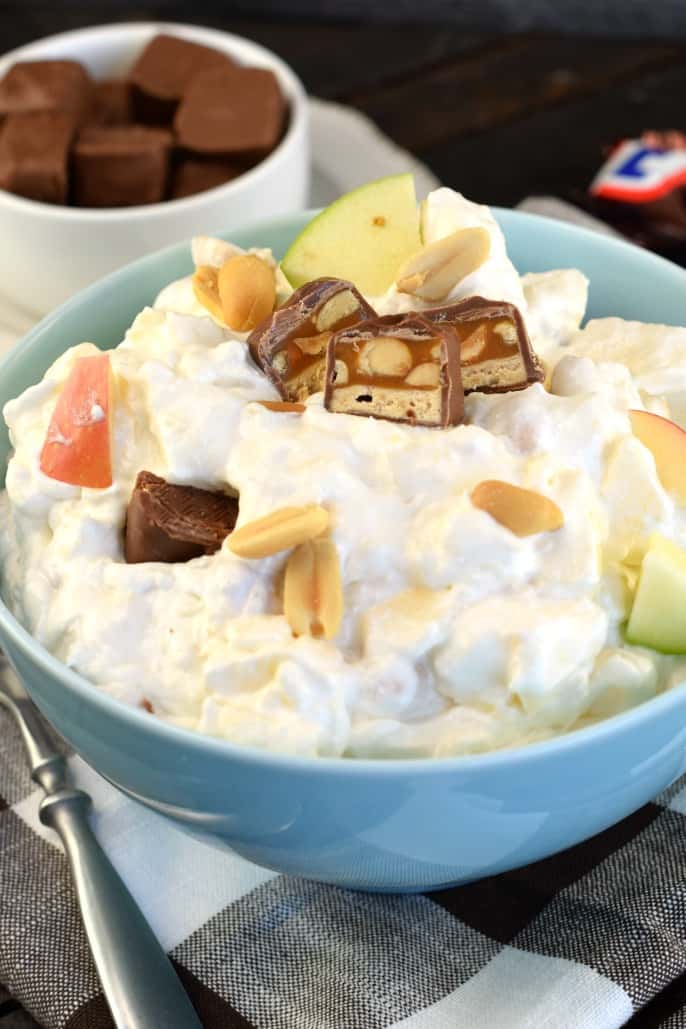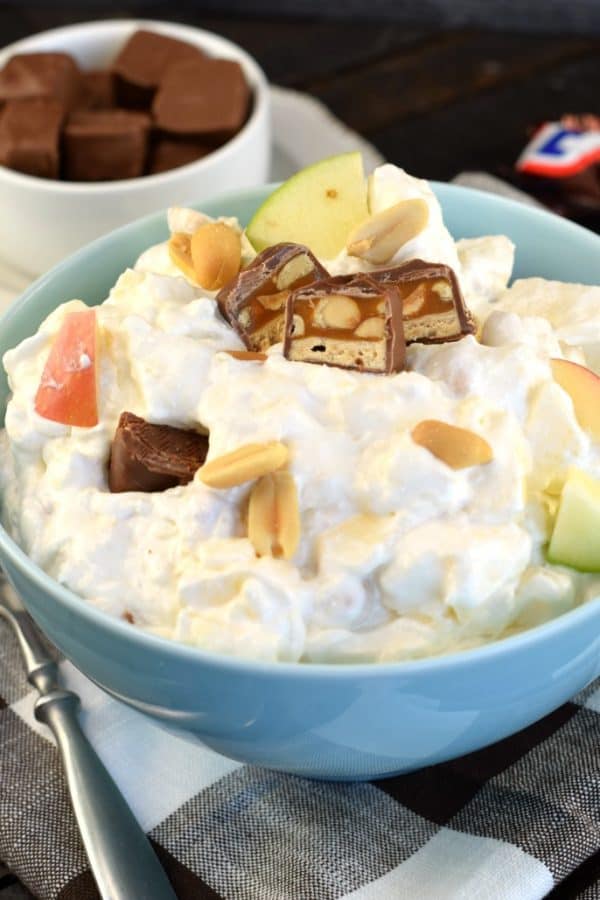 How to lighten it up!
I know, I know. I'm often asked if there is a way to lighten this Snicker Salad recipe.
You could use Splenda to replace the sugar and use a light or fat free Cool Whip. Also, skip the snickers candy bars.
Although, I don't recommend any of those choices, haha!
More Apple Recipes
More Potluck Recipes