Cool Whip cookies are light and airy cookies with a delicious chewy texture. They're incredibly quick and easy to make in one bowl. Best of all, you can switch up the flavors and colors to find your favorite combination!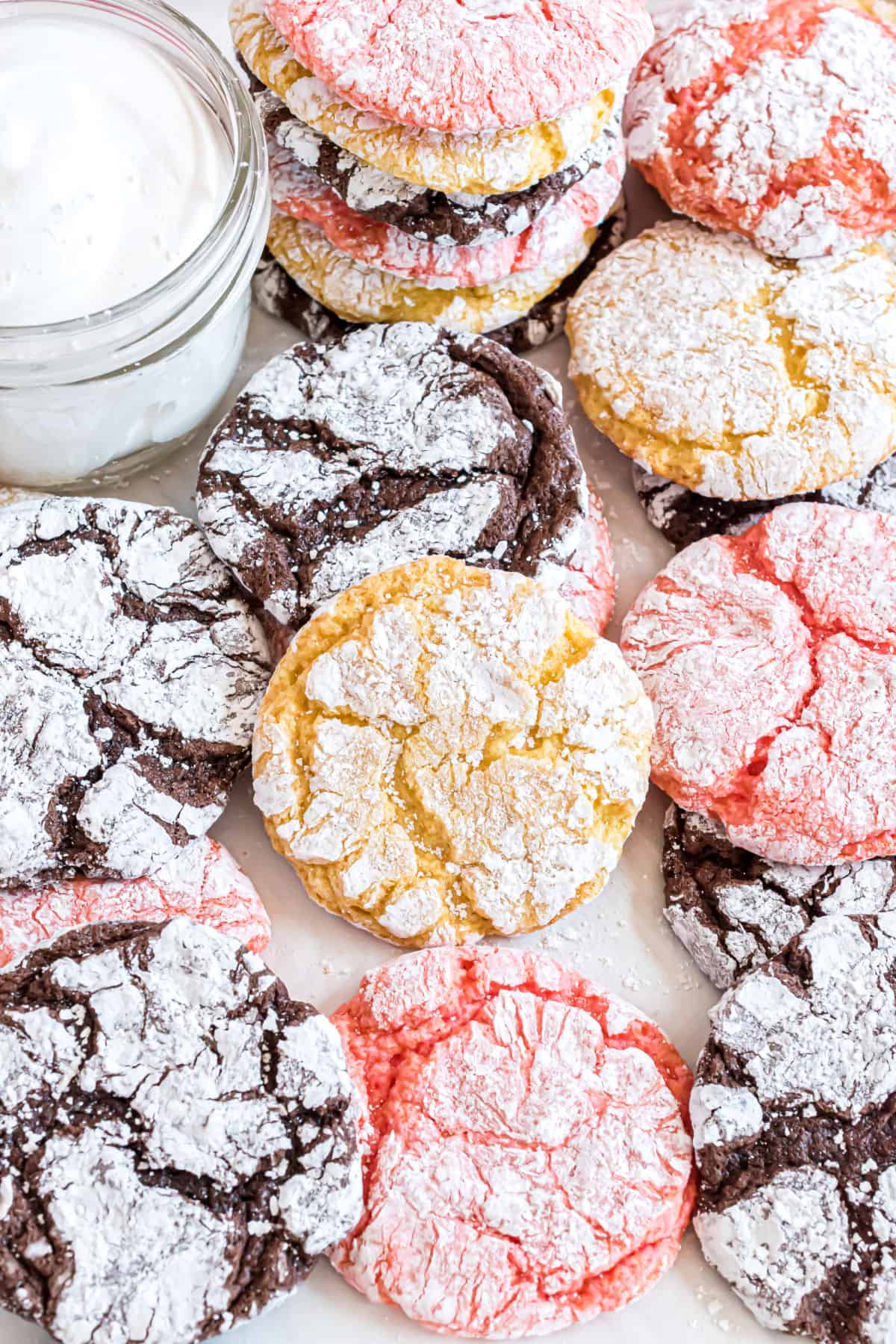 Why You'll Love Cool Whip Cookies
Cool whip cookies are the ultimate easy cookie recipe. With a quick roll in powdered sugar for a crackly surface, they look and taste like our chocolate crinkle cookies!
Here are a few reasons why this recipe works so well,
Ready in a flash. Mix up the simple cookie dough in just a few minutes and you're ready to bake. They'll be in the oven within 10 minutes and ready to eat in about half an hour! It's the perfect recipe for when you want a treat, but you're short on time.
Minimal ingredients. With only 4 ingredients, these cookies are practically foolproof.
Lower in calories. Since Cool Whip has fewer calories than the cooking oil that's typically used in cake mixes, you end up with a lighter cookie.
Easy to adapt. It's easy to change their flavor. By using different cake mix flavors, you can make this recipe a little different every time if you want.
Stock up on some tubs of Cool Whip! You'll need it for our pistachio fluff, Cool Whip Candy, and of course Banana Pudding.
Ingredient Notes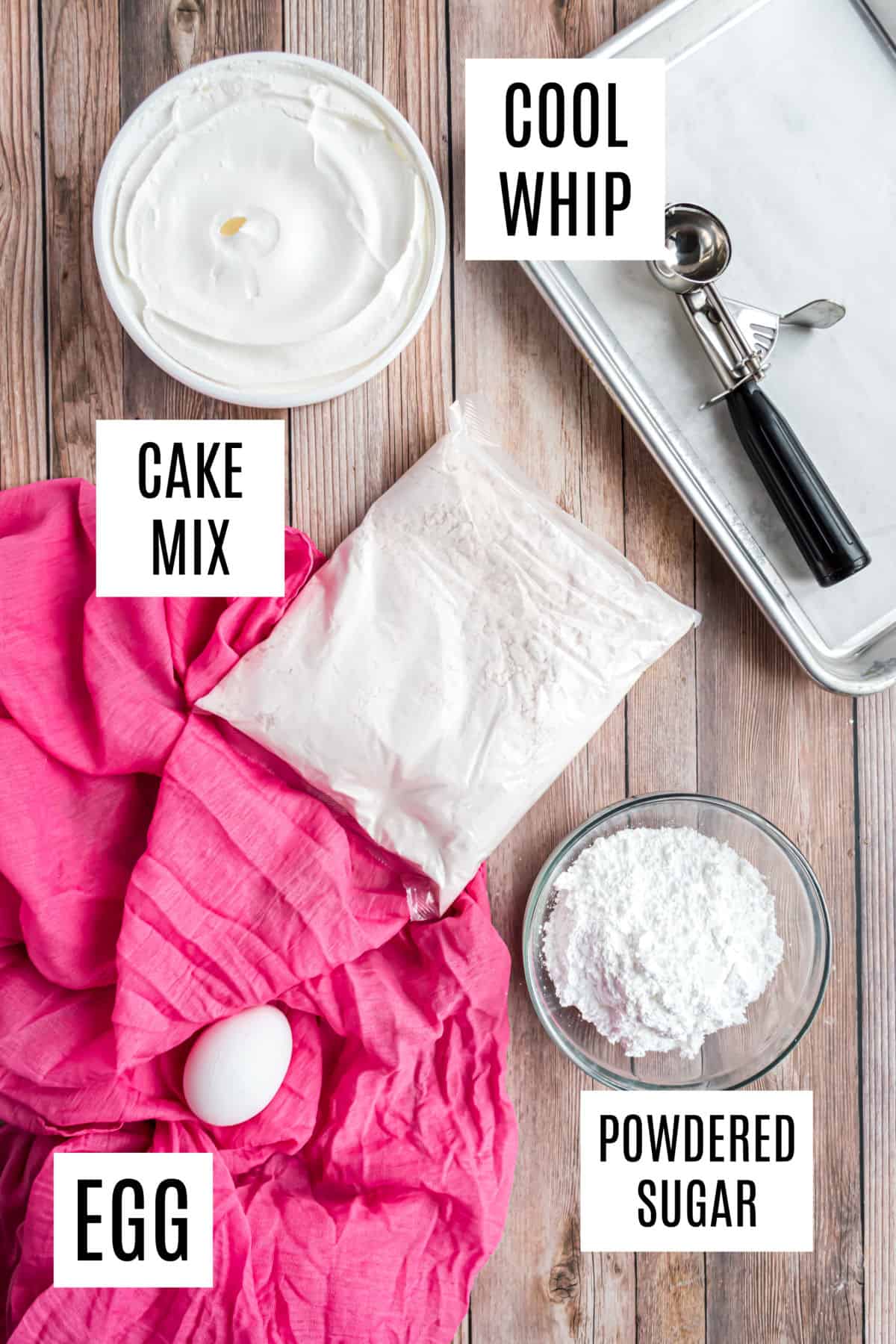 See the recipe card for full information on ingredients and quantities.
Cake Mix – Cake mix provides the basic structure of this cookie. Any flavor of cake mix will do for this recipe. We've featured lemon, strawberry, and chocolate cake mixes in our cookie photos.
Cool Whip – Use thawed Cool Whip.
Egg – Helps to bind the ingredients together and add richness.
Powdered sugar – Roll these babies in powdered sugar for a crackle effect.
Easy Instructions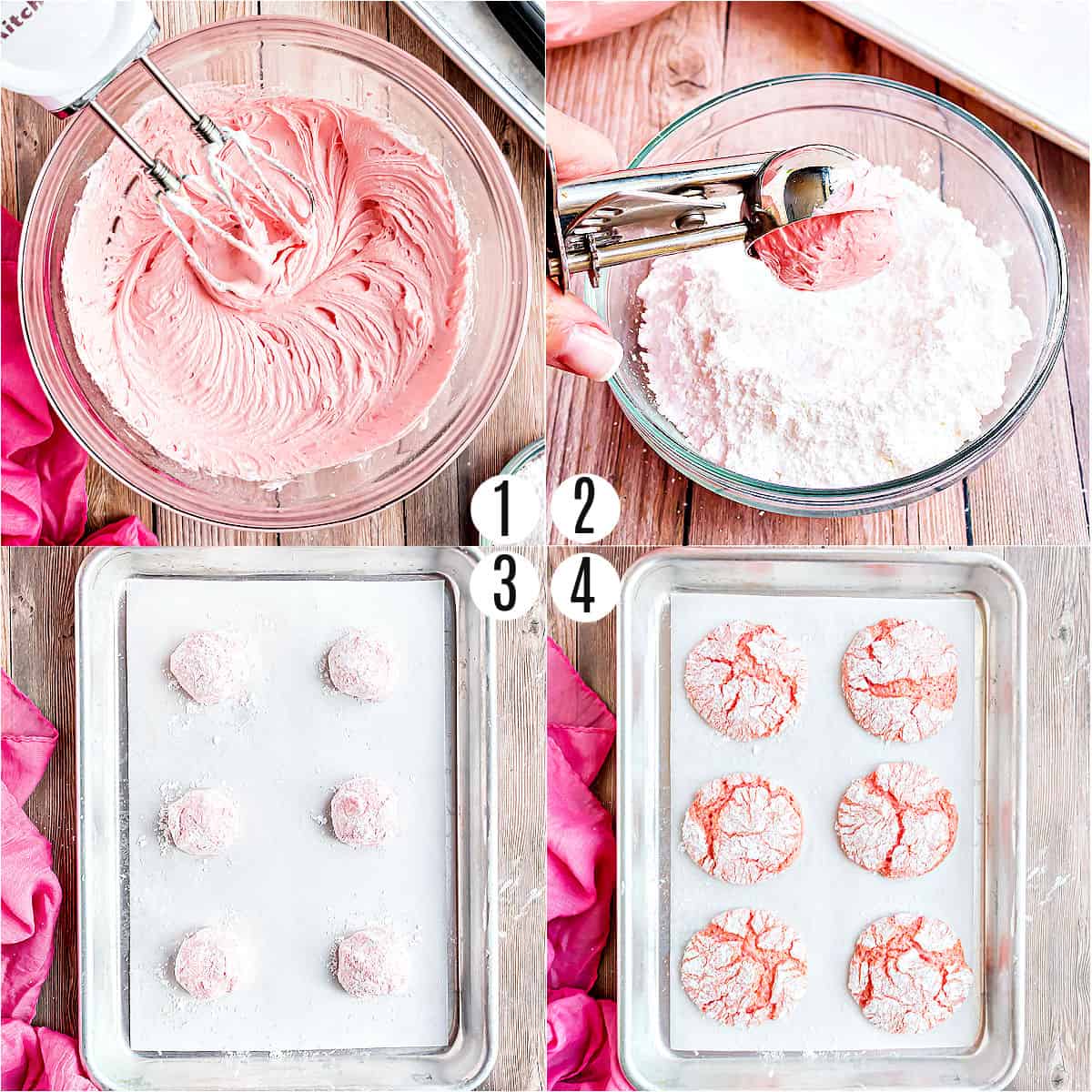 Make the cookie dough. Beat the cake mix, thawed Cool Whip, and egg together until combined.
Scoop. Use a cookie scoop to create the cookie dough balls.
Roll in Powdered Sugar. Place cookie dough on a prepared baking sheet. The texture is like a loose playdoh, so use your hands and give it a generous roll in sugar to help it keep it's shape.
Bake. Bake the cookies in a preheated oven for 12-15 minutes. Remove and allow to cool on the pan for 5 minutes. Then finish cooling them on a wire rack.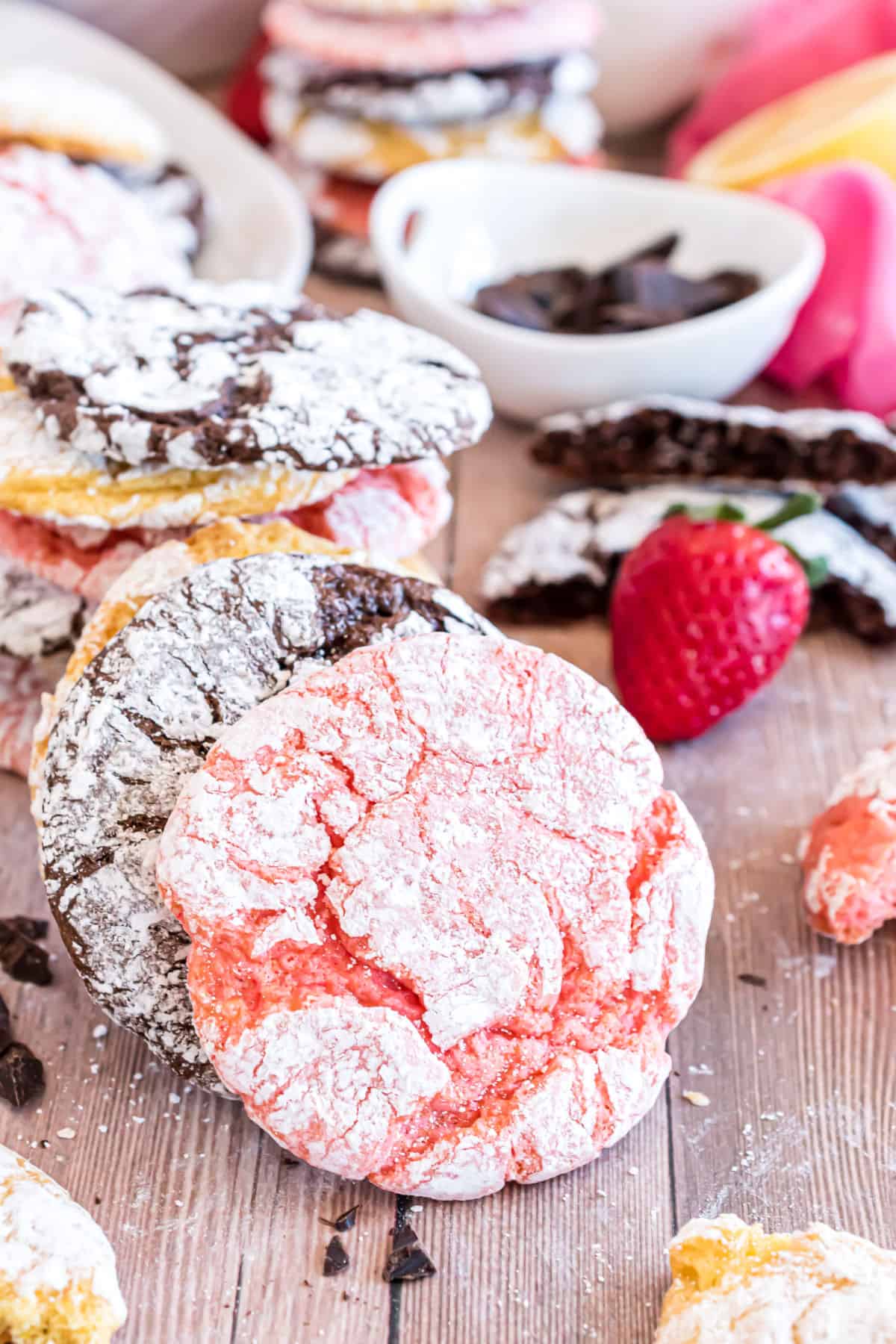 Tips and Tricks
Refrigerate if it's too sticky. If the dough is too sticky to handle, refrigerate it for up to 30 minutes for easier scooping and rolling.
Use a cookie scoop. This dough can be soft and sticky like Play-Doh, so make your life a little easier by using a cookie scoop instead of a spoon.
Change up the flavors. Similar to my Cake Mix Cookies, you can swap out different cake mix flavors to create a whole new treat! Chocolate (or devil's food) and lemon are my favorites. You could also try red velvet, confetti, or spice cake mix.
Add coloring. Use a vanilla cake mix and add a few drops of food coloring to the dough mixture to change the color of your Cool Whip Cookies. This is perfect for making easy but festive holiday cookies.
Check for doneness. They're done baking when their edges are set, and the center is still slightly soft.
Fresh. These cookies are best on the day they are made. However, they will stay soft for about 3-4 days if stored properly.
Eat cold. Delicious when served chilled!
Serving Suggestions
Since you can change up the main flavor of these cookies based on which cake mix you use, they go well with a variety of beverages. For instance, try pairing a spice cake mix with a hot Apple Crisp Macchiato or an iced Pumpkin Cream Cold Brew for caffeinated fall flavors.
If you're using chocolate cake mix in your Cool Whip Cookies, they'll go perfectly with my Skinny Caramel Mocha. Or you can whip up a batch of Instant Pot Hot Chocolate for you and the kids in mere minutes.
If you're sticking with a simpler vanilla flavor, there's no shame in that! They'll taste great with a cup of coffee flavored with French Vanilla Coffee Creamer. Or make a light and airy drink like my whipped Dalgona Coffee to go with them instead.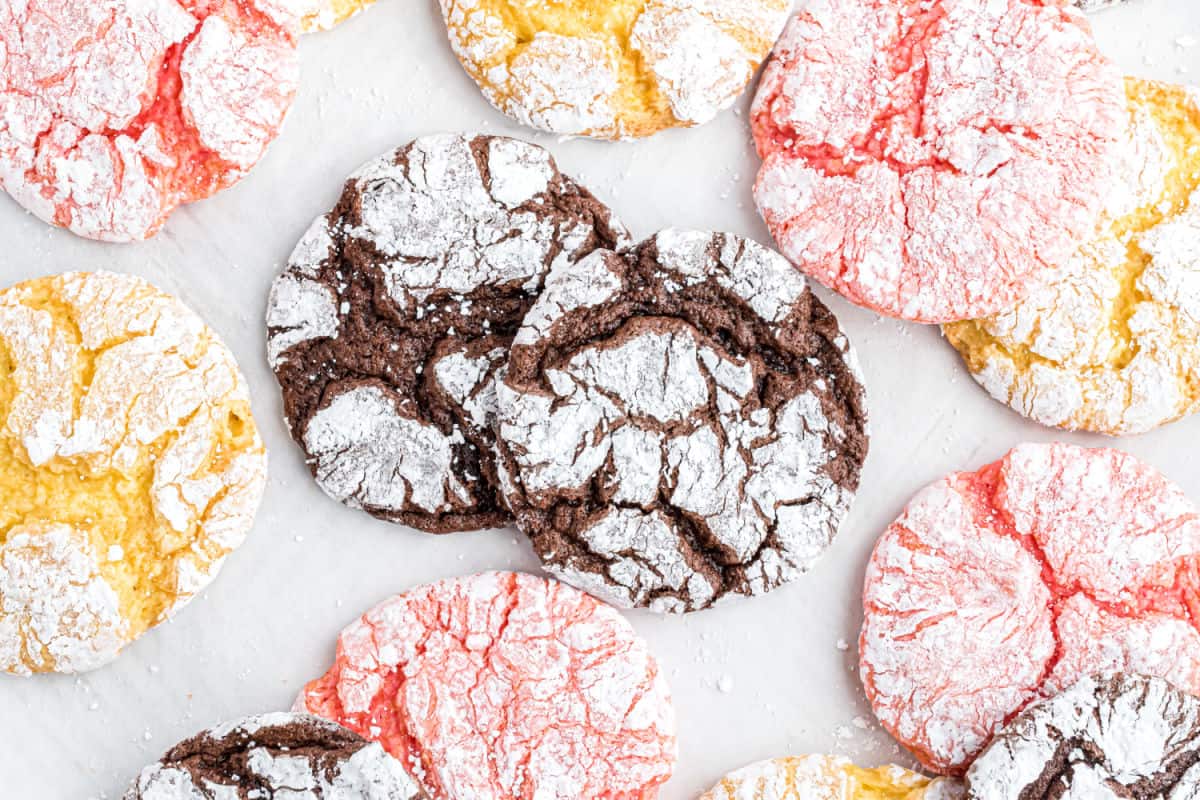 Recipe FAQs
How can I store these cookies?
Store the cooled cookies in an airtight container in the refrigerator for best flavor. They will stay fresh for 3-4 days.
Can I freeze these cookies?
Yes. Freeze the baked and cooled Cool Whip Cookies in an airtight container, ideally with strips of waxed paper between the layers. Eat them within 3 months for the best taste.
Is this a good cookie recipe to make with kids?
These cookies are perfect for making with kids because they're so simple. Have them help with mixing or just rolling the dough balls in powdered sugar before baking.
Can I skip rolling the cookie dough in powdered sugar?
These cookies tend to hold their shape better if they're rolled in some kind of sugar. If you don't want to use powdered sugar, try rolling them in granulated sugar or cinnamon sugar instead.