This copycat Starbucks Apple Crisp Macchiato brings together rich espresso and the nostalgic flavors of spiced apple pie. The homemade apple cider syrup creates the perfect flavor base for today's coffee, serve this hot or cold!
Love fall treats? Bake up a batch of Pumpkin Scones or a loaf of Apple Cinnamon Bread to enjoy with your coffee. A dozen apple cider donuts would be delicious too.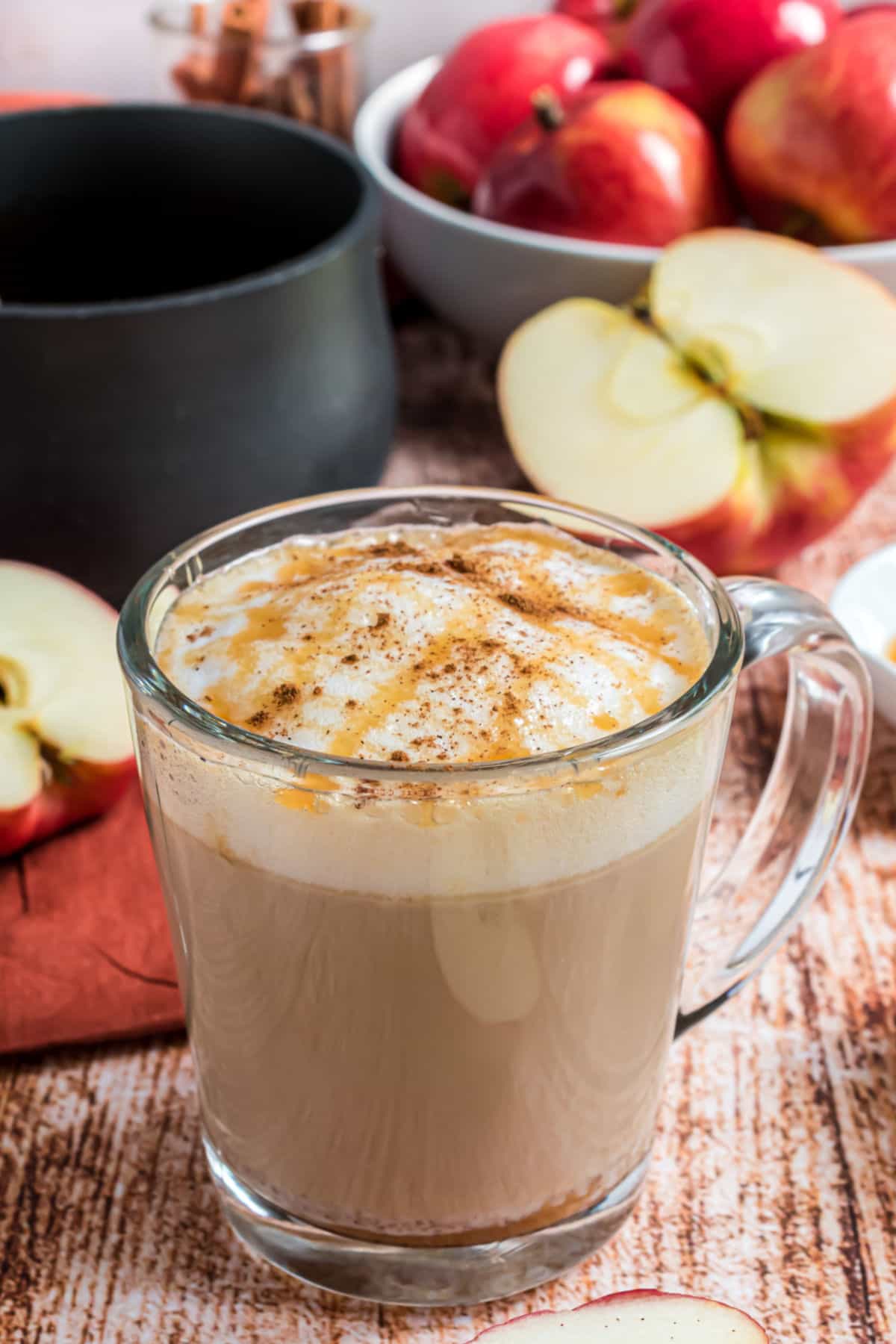 Why this Recipe is Best
Move over, pumpkin spice latte. There's a new fall coffee drink in town! Pull on a comfy sweater, grab your favorite mug and get ready to welcome fall with this warming pick-me-up. No need to leave for Starbucks today.
Brown sugar and apple flavors swirled together are reminiscent of a gooey, caramelized apple pie filling.
No espresso machine needed. This recipe works well with strong brewed coffee too!
The apple spiced coffee is topped with frothy milk and drizzled with caramel syrup.
This homemade Apple Crisp Macchiato tastes just like the Starbucks version, at a fraction of the cost per serving.
The latest addition to Starbucks beloved fall beverage menu combines two of my favorite things: coffee and apple crisp.
I usually prefer making my own flavored coffee drinks at home. By now, I've created my own delicious copycat versions of Starbucks classics, like this Pumpkin Cream Cold Brew.
But when I heard that Starbucks was debuting a new apple flavored macchiato, I had to check it out. Then, naturally, I had to recreate it at home.
This sweet apple drink reminds me of a warm apple cider topped with whipped cream and a shot of espresso.
Ingredient Notes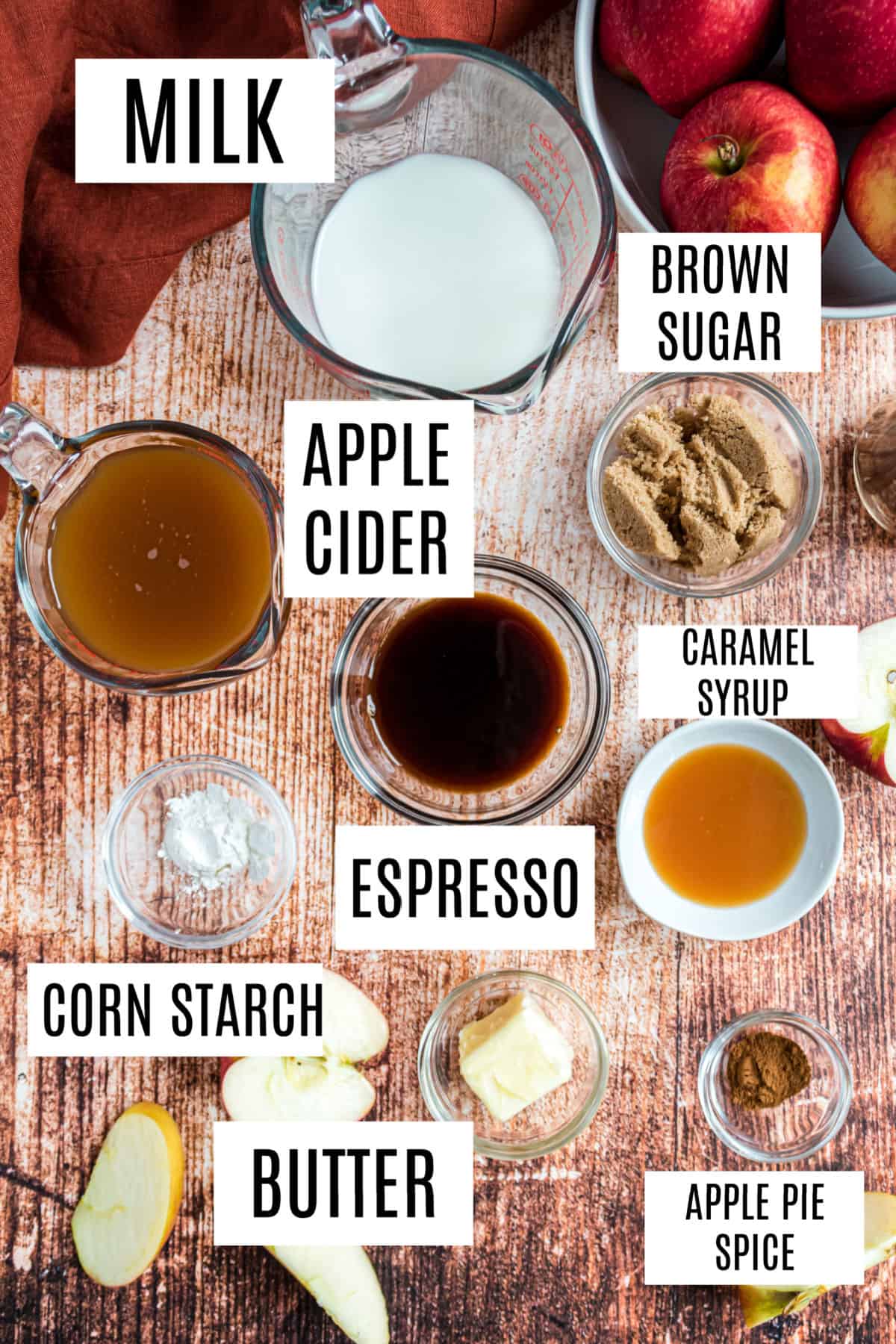 Apple cider. For best results, use real apple cider–preferably without added syrups or flavors. Do not use apple juice.
Apple pie spice. This spice blend usually includes cinnamon, nutmeg and all spice. Store bought spice blends work fine, or you can make your own blend at home.
Espresso or strong coffee. Most of us, me included, don't have espresso machines at home. I used instant espresso powder to make this macchiato. You can also use regular coffee brewed at double strength.
Milk. Skim milk froths beautifully for macchiatos. For a nondairy option, swap it out for unsweetened plain or vanilla almond milk!
Easy Instructions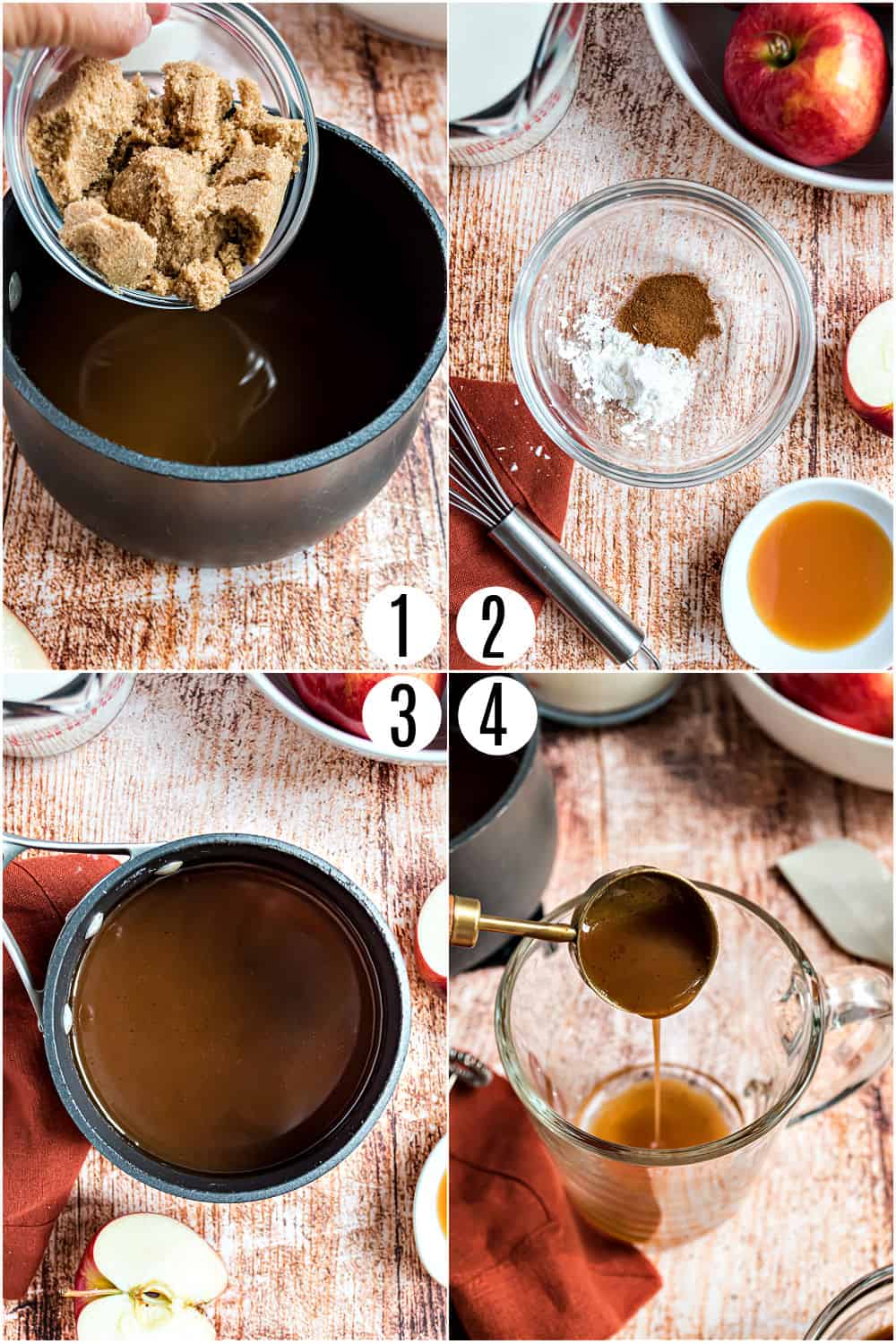 STEP 1. Make apple cider syrup
Start by heating brown sugar, apple cider and butter together in a small sauce pan. Stir until melted and combined.
Whisk apple pie spice and cornstarch into the syrup, then bring to a boil for 10 minutes. Let the apple cider syrup cool slightly.
PRO TIP: This syrup is delicious drizzled over homemade pancakes, waffles, and vanilla ice cream!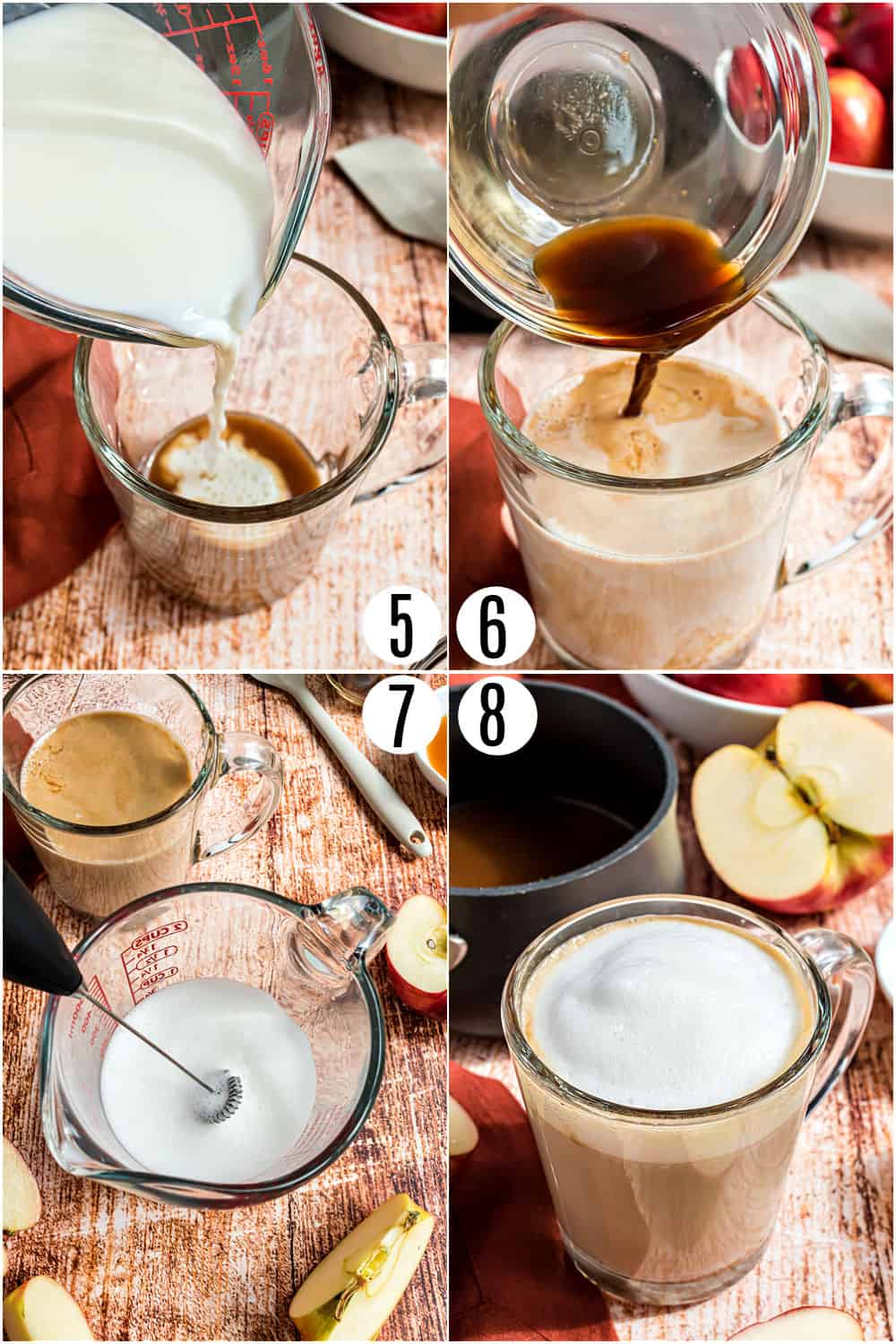 STEP 2. Assemble the apple crisp macchiato
Add syrup to the bottom of a coffee mug. Top it with warmed milk, then the espresso (or coffee).
Froth the remaining steamed milk with a handheld frother until light and foamy. Spoon the foam into the mug.
I love this handheld milk frother on Amazon. Less than $15 which is great if you want to make drinks at home. Also perfect for blending chocolate milk, hot cocoa, and more.
STEP 3. Garnish
Drizzle with caramel syrup and sprinkle with a bit of apple pie spice for garnish.
Serve, sip and enjoy.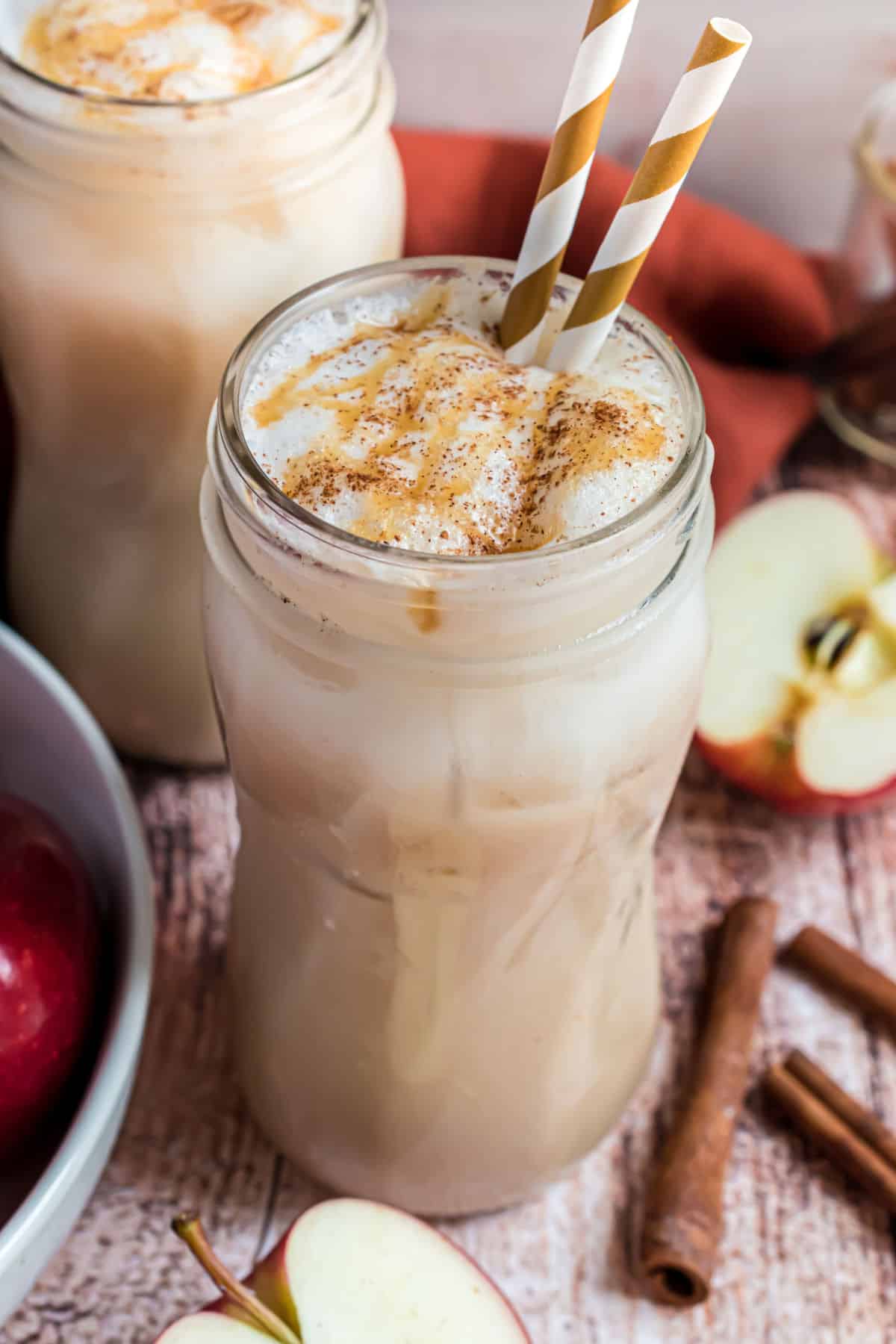 Serving Suggestions
Iced variation: Try the macchiato over ice for a refreshing twist. Add syrup, milk and espresso to a glass filled with ice. Top with foamed milk (or more cold milk if preferred) and drizzle with caramel syrup.
Caramel swirl: Got any of those clear glass coffee mugs? Swirl caramel syrup along the insides of the glass mug before assembling the macchiato for an extra beautiful presentation.
Dunk it: make a batch of our caramel macchiato biscotti to dunk in your coffee! Worth it.
Tips and Tricks
Heat your milk in a glass measuring cup. It makes it easy to heat all the milk together, then measure out 1/4 cup to reserve for frothing.
For a stronger coffee flavor, feel free to add a bit more coffee or espresso to suit your tastes.
The apple cider syrup recipe makes enough for several servings of apple crisp macchiatos. Store any unused syrup in a covered container in the fridge for up to one month.
To stir or not to stir. This is entirely your choice. The Starbucks barista told me that most people prefer this drink BLENDED.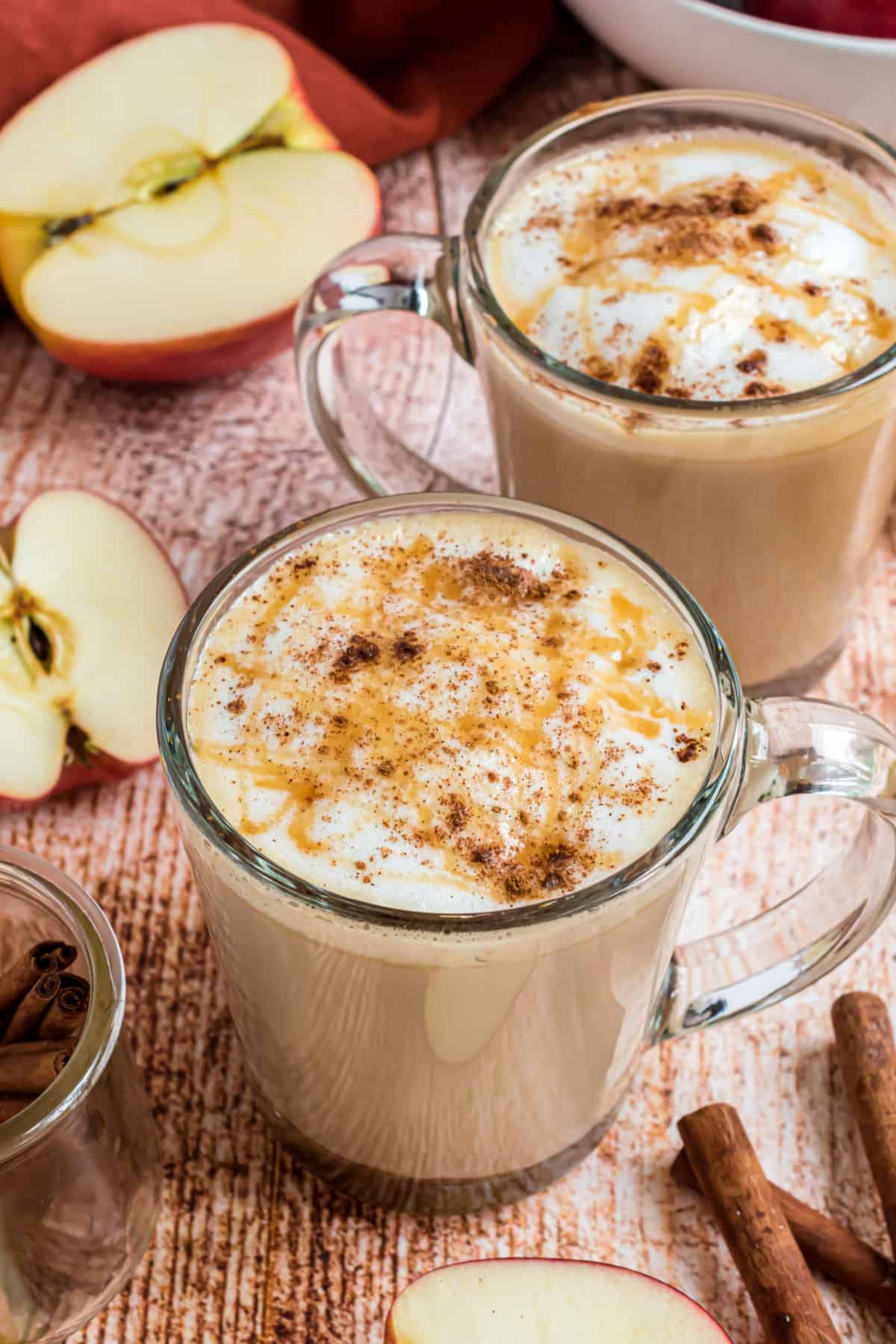 Recipe FAQs
How do I make my own apple pie spice?
To make apple pie spice, combine 1 1/2 Tablespoons cinnamon, 1 1/2 teaspoons nutmeg, 1 teaspoon allspice, and 1 teaspoon cardamom.
What is in a Starbucks apple crisp macchiato?
The key flavors for a Starbucks apple crisp macchiato are espresso, steamed milk, apple brown sugar syrup and a drizzle on top.
I don't have a milk frother. What should I do?
You can make a decent frothed milk using a mason jar with a lid. Add the warm milk to the jar and shake vigorously for at least 30 seconds. It won't be quite as light and foamy, but it works in a pinch!
More CopyCat Recipes
Easy to make and even better than Starbucks. This Apple Crisp Macchiato recipe will keep you warm and cozy on a chilly day.