Want to make your own homemade Apple Cider? It's easy when you use the Instant Pot. Learn how to make this from scratch to sip all autumn long.
Use your homemade apple cider to make a delicious batch of Baked Apple Cider donuts! Or a pitcher of Apple Cider Sangria.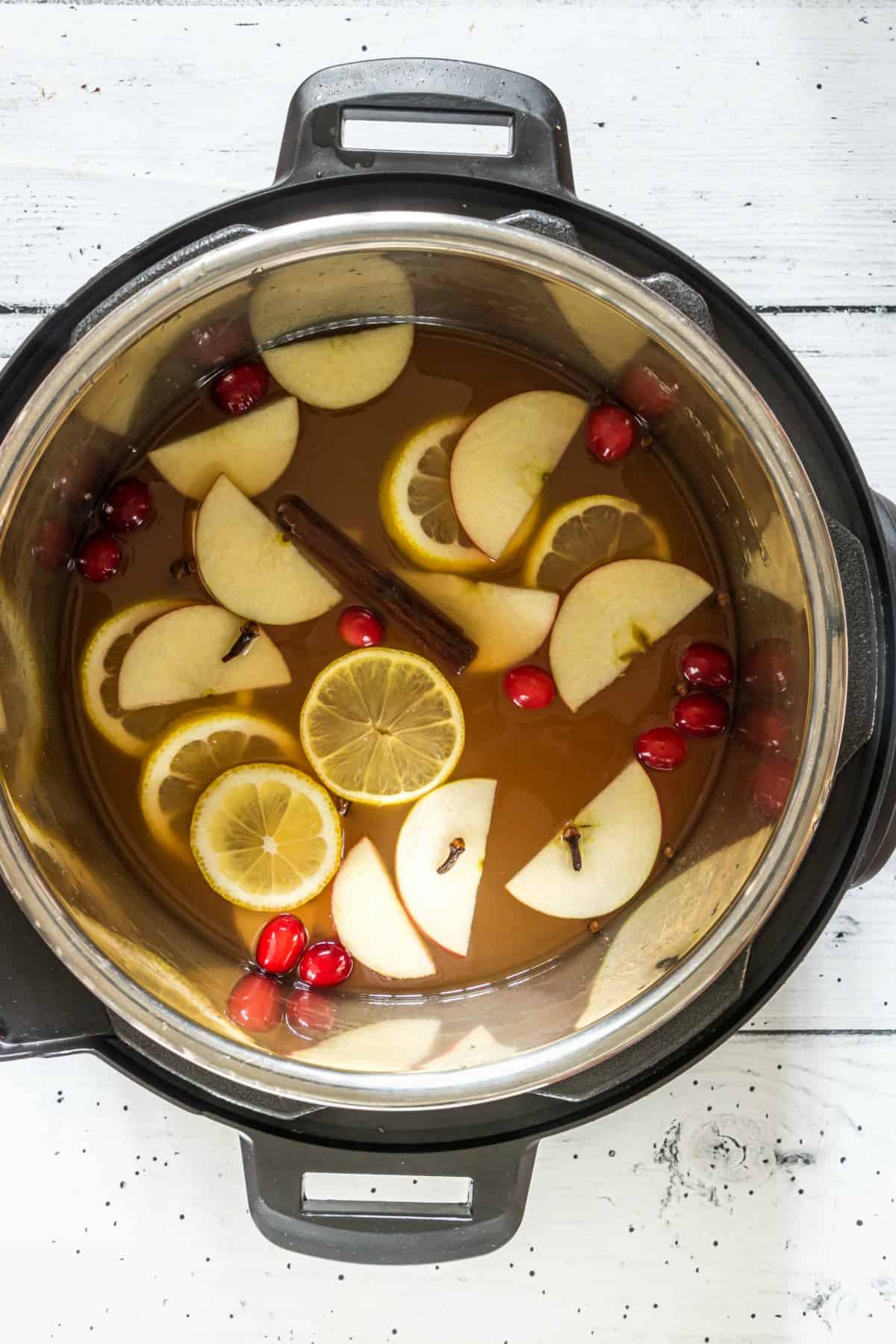 Why make apple cider from scratch?
When the days grow shorter and the air grows cooler and crisper, you know what time it is. . . time for apple cider!
Specifically, apple cider you make from scratch in the Instant Pot then pour into mugs (with or without bourbon). Add your fuzzy slippers, a good book and maybe a slice of Pumpkin Coffee Cake and you have a perfect cozy fall evening.
Grocery stores are well stocked with cider this time of year. If you live in apple country, chances are good there's a cider mill nearby churning it out by the barrel full right now.
Making it at home gives you the ability to control the flavors, add spices and doctor it up however you please.
The fresh taste can't be beat! Sweet with a hint of tartness, you can taste real apples in every sip. This isn't just glorified apple juice–it's the real deal.
Cranberries, citrus and clove added to the brew make this my favorite Instant Pot Apple Cider recipe of all. You can spike it with a splash or bourbon or brandy or serve it just as is.
What type of apples to use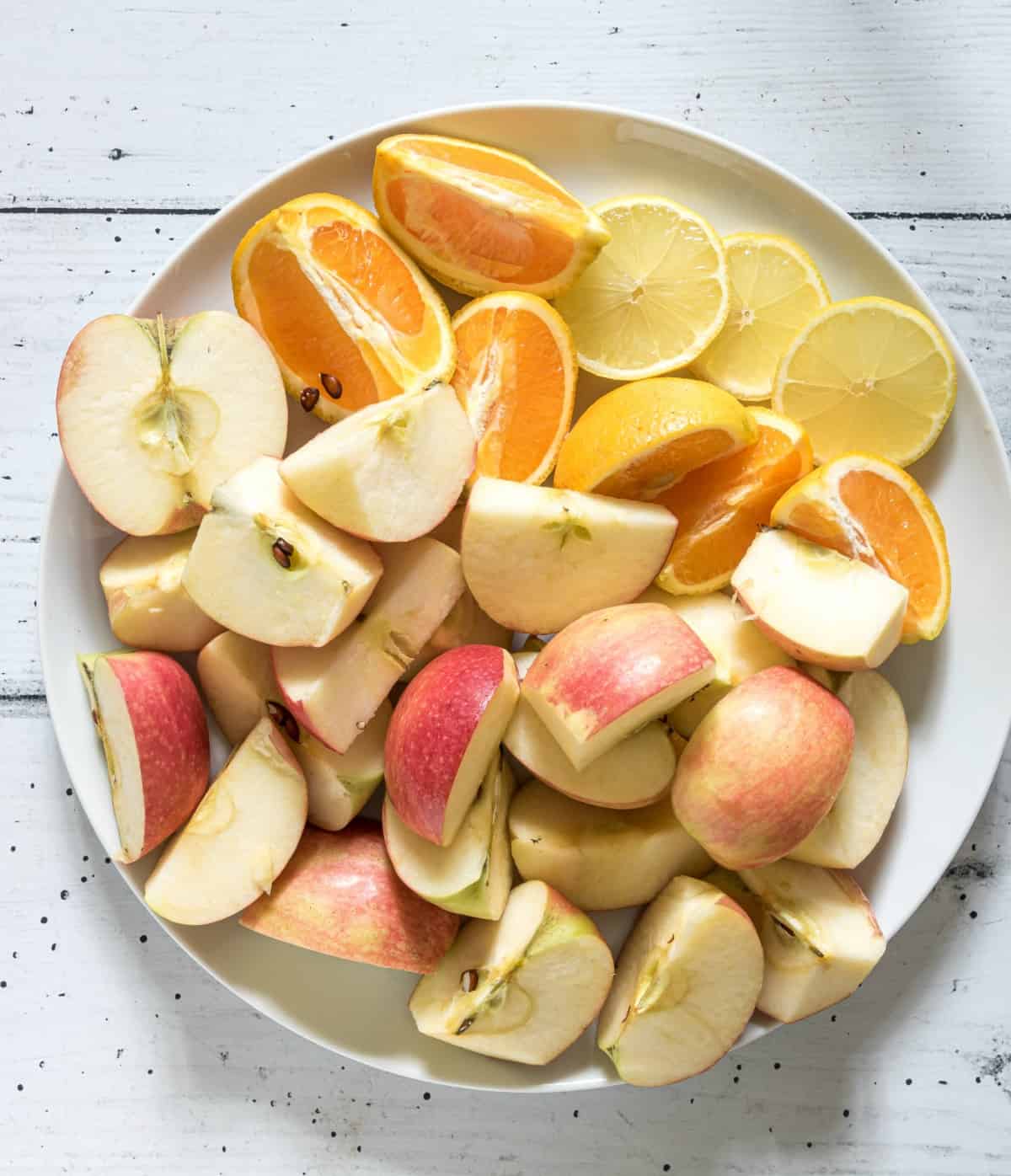 The most important part of making homemade apple cider is–you guessed it–choosing the right apples. I like a juicy apple that's a little bit tart.
The kind of apple you choose for your cider has a lot to do with your taste buds.
If you prefer your cider on the sweeter side, try Fuji, Gala or Cortland apples.
For cider with a little more tartness, Pink Lady, Honey Crisp and Braeburn are awesome. If you like snacking on it raw, chances are good you're going to like it when it's turned into cider.
Cut apples into quarters before adding them to the pot, but there's no need to remove the stems, peel or seeds! You discard all of those with the pulp after the cook time.
Ingredient Notes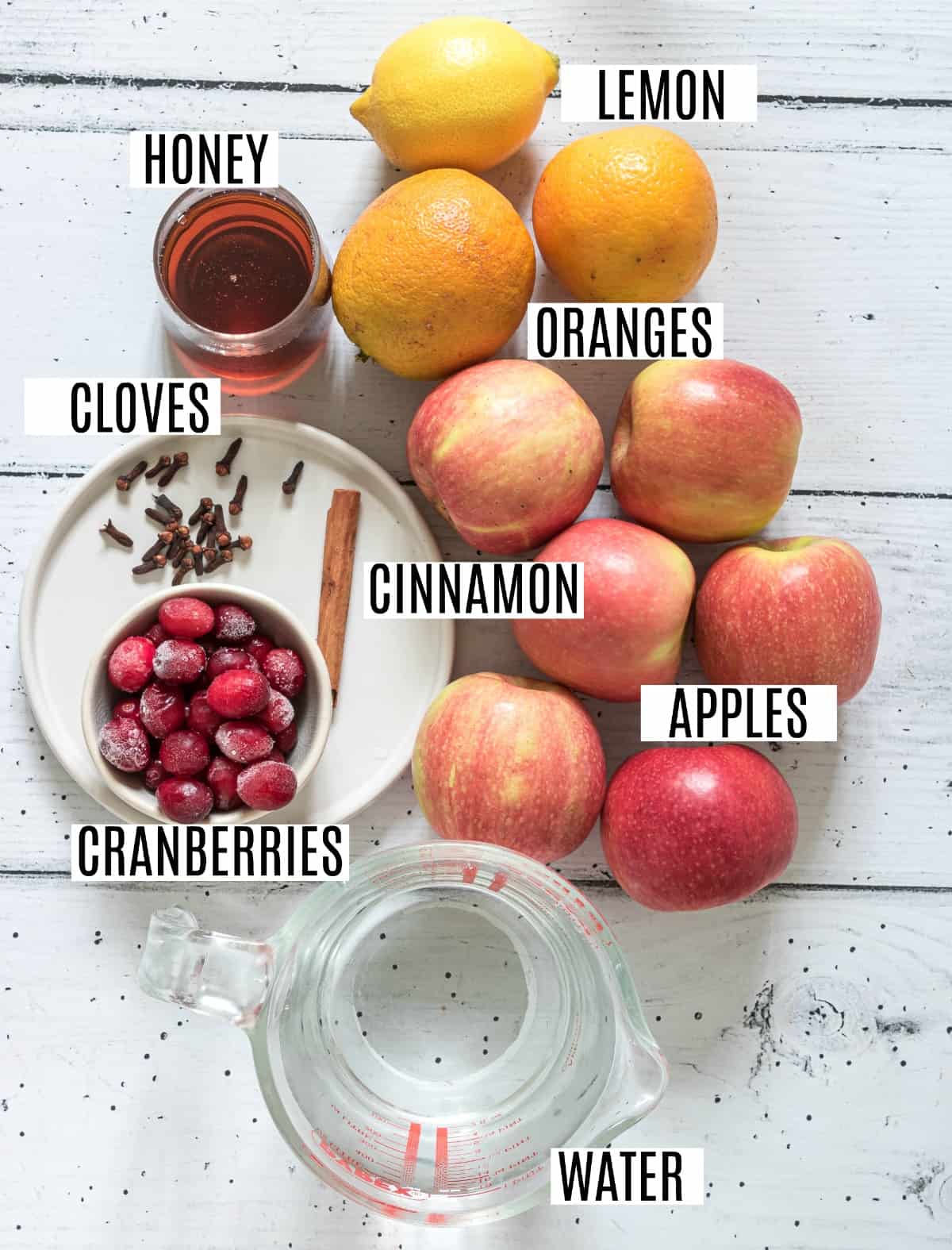 Oranges and lemons – Gives the cider an undercurrent of citrus notes.
Cinnamon sticks and cloves – Hello spice! You can omit these if you're not a fan of spiced cider. Add some star anise if you can find it!
Honey – Brings out the natural sweetness of the apples while balancing the sour lemons. Can also substitute with pure maple syrup if you prefer.
Cranberries – Fresh or frozen, cranberries make apple cider even better!
Put them together and watch how your Instant Pot transforms them into the ultimate apple cider!
Step by Step Instructions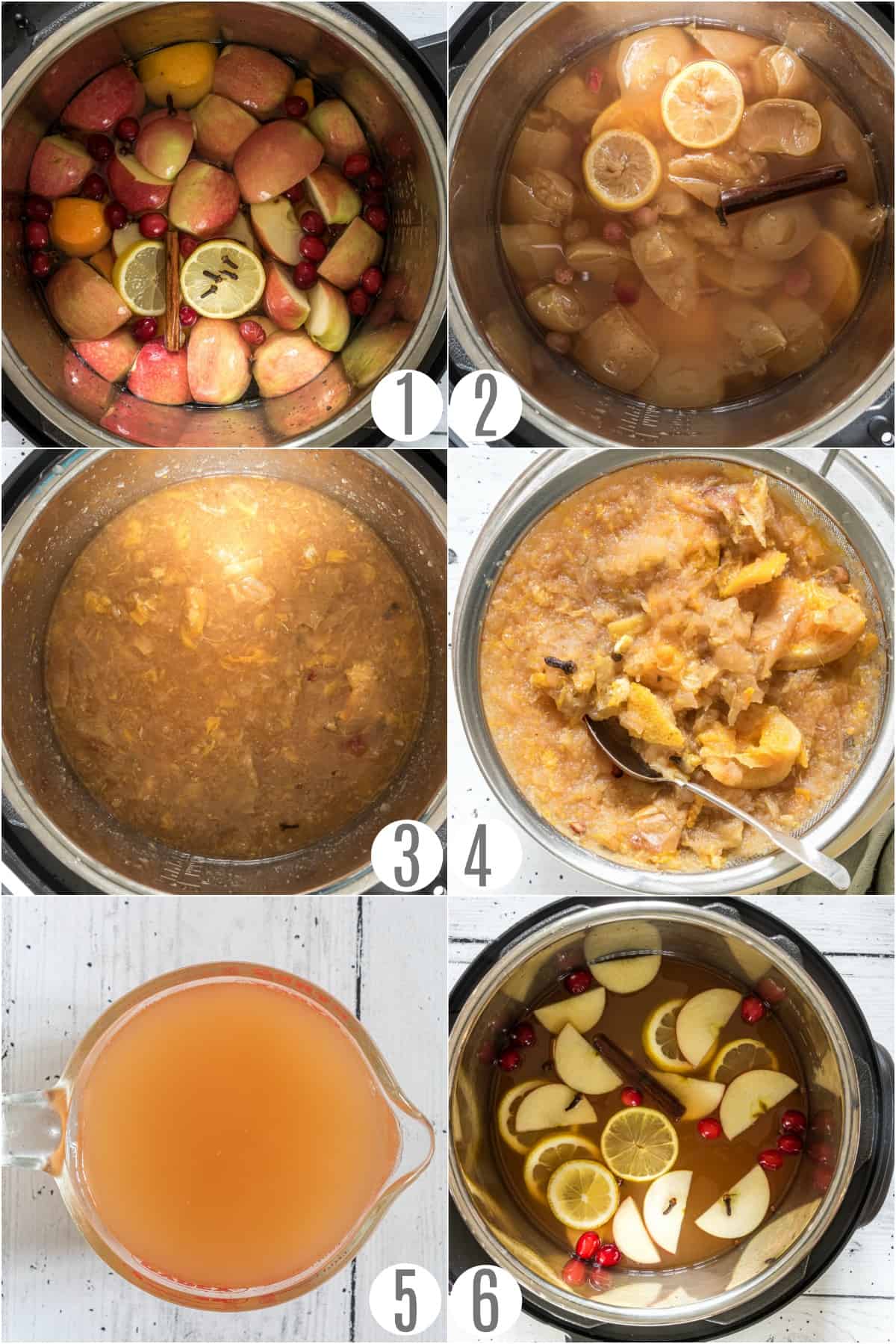 After putting everything together in the pot with water, set it to high pressure and let your cider ingredients pressure cook for 15 minutes.
When the cook time ends, let the pressure naturally release for 15 minutes. Then, open the lid and let the cider cool for a few minutes.
Remove the clove and cinnamon sticks with a mesh strainer. Use a potato masher to smash the fruit. This releases as much flavor and good juices as possible.
Sieve the apple cider through a fine mesh strainer or muslin cloth. Discard the pulp, then taste your finished cider for sweetness. If it needs a little more, add desired amount of honey, pure maple syrup, or brown sugar.
Serving Suggestions
This cider is tasty served chilled or warm.
To rewarm the cider, heat it on the stove then ladle into mugs. Garnish with any combination of lemon, orange or apple slices.
To serve cold, let the cider chill in the fridge for a few hours. Pour in glasses garnished with fruit slices or cranberries.
Use some of the fresh cider to make our favorite Apple Crisp Macchiato recipe.
Serve this cider along with some Instant Pot Hot Chocolate for movie night fun!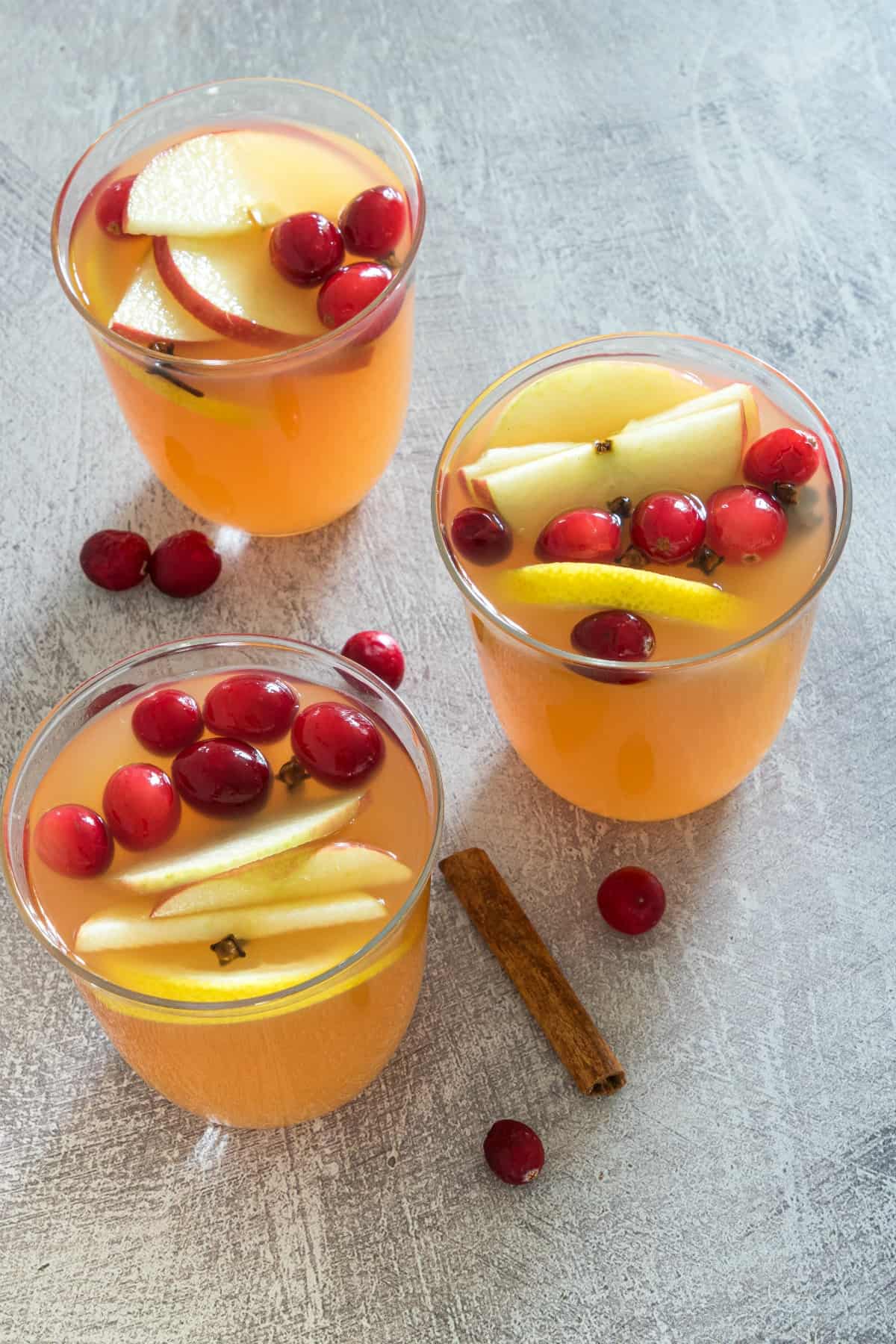 Spiked apple cider
Make your cider even more festive by spiking it!
Brandy and bourbon are both delicious stirred into cider. You can spike a whole batch by mixing in your spirits before serving, or add the bourbon to each glass as you go.
Recipe FAQs
Can apple cider be made on the stove top?
Yes, but it takes quite a bit longer. Simmer everything in a large stock pot uncovered for 2 hours, then up to an additional hour with the lid in place. Mash up any fruit to release flavor, then strain through the sieve.
Can you make apple cider in a slow cooker?
If you have the time, crockpot apple cider is delicious! You can cook it on low for 6 to 8 hours or on high for about 4 hours, then proceed with the recipe as directed.
How long is homemade apple cider good for?
Keep refrigerated for up to one week.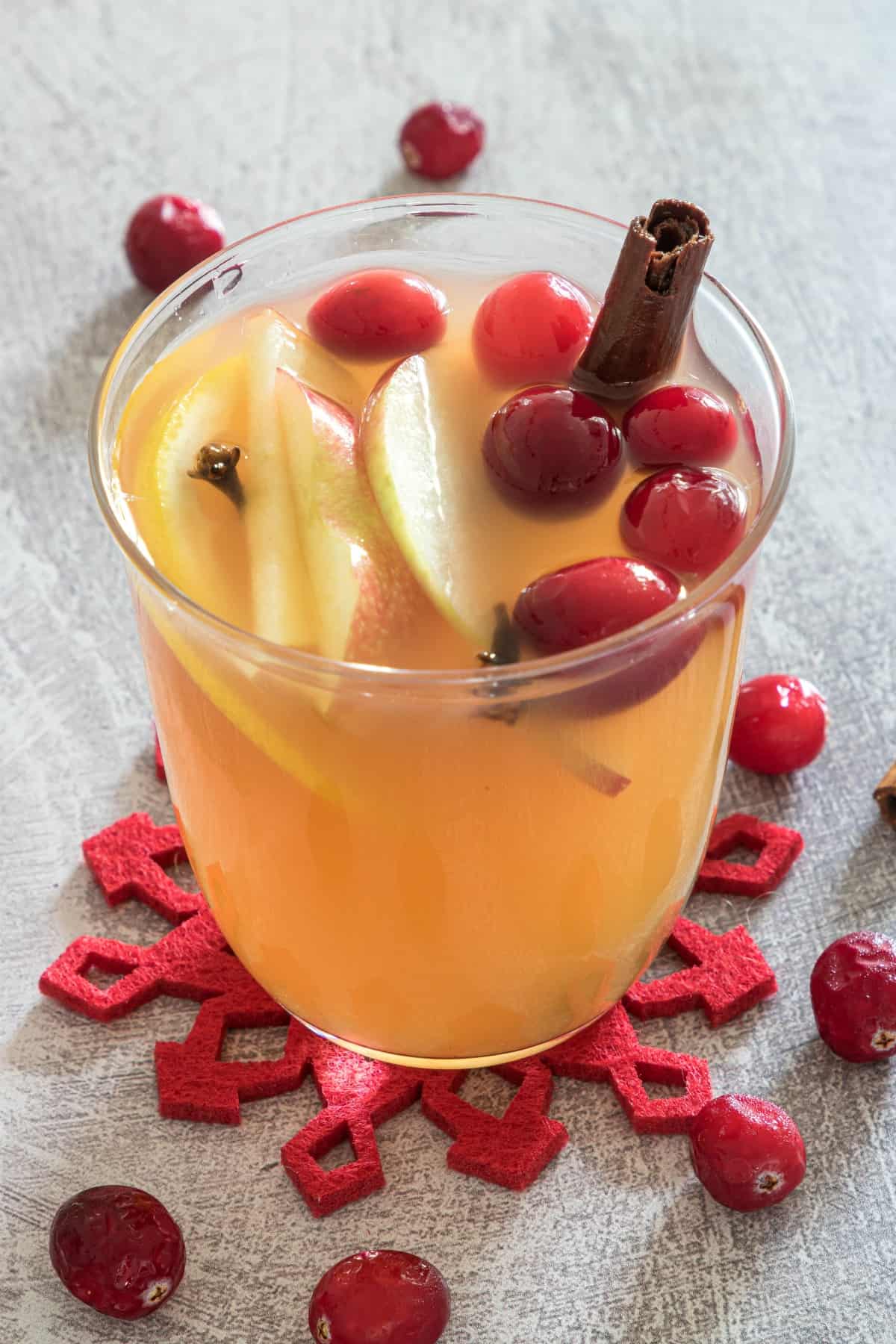 More Apple Recipes
Skip the store bought juice and make your own apple cider from scratch in the Instant Pot.