Soft and sweet, Apple Pie Fudge is the perfect bite sized version of the classic pie. An easy homemade fudge packed with apple pie filling and warming spices. No candy thermometer needed!
Gifting fudge is always a good idea. Whether you make a batch of Eggnog Fudge for Christmas or Pumpkin Fudge in the fall. We've got dozens of fudge flavors in our homemade candy archives!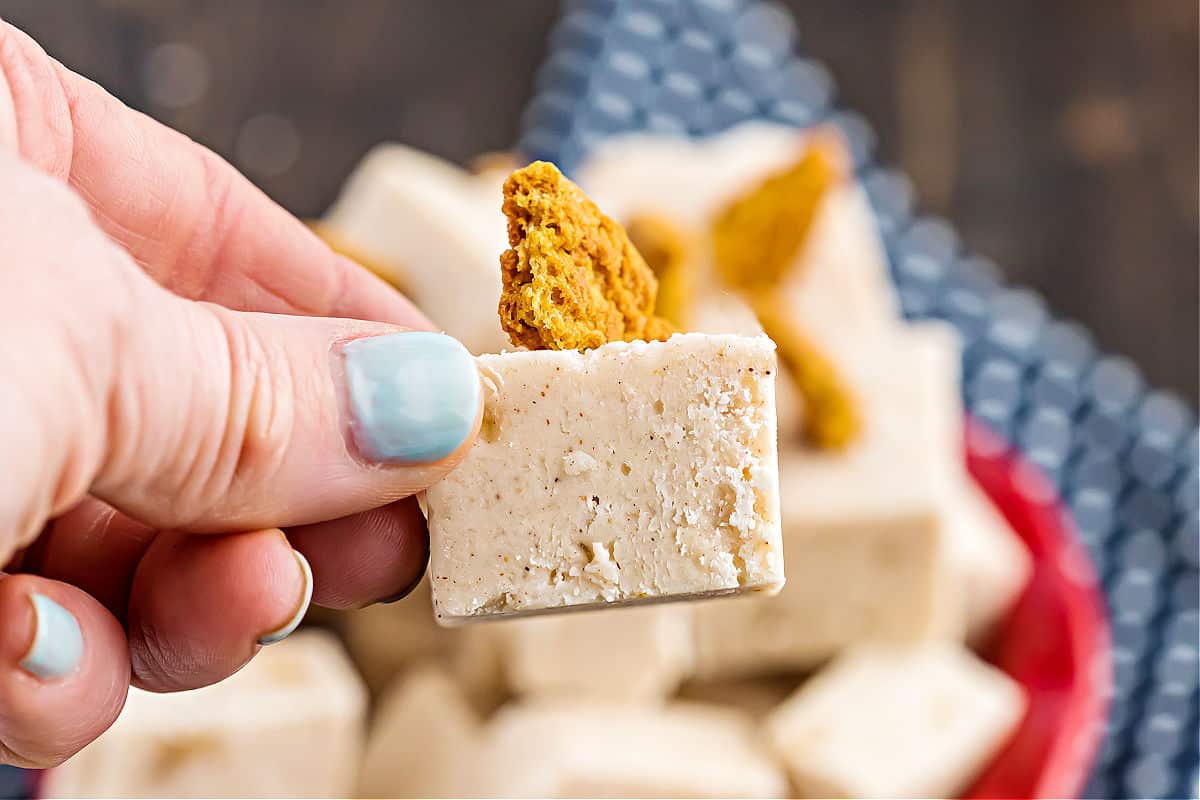 The Perfect Fall Dessert
Is it bold of me to declare that THIS fudge is not only the best fall fudge but the best all out dessert for the season? Maybe, but that's how much I love Apple Pie.
Why is this fudge perfection?
The flavors in each piece of fudge are phenomenal. From the taste of the apples to the kick of the spices, eating this fudge tastes like being in autumn paradise.
A piece of gingersnap cookie adds some crunch and even more spice to each square of velvety fudge. It truly does taste like apple pie!
I also love Apple Pie Fudge because it's an easy, no-bake dessert option that travels well and can feed a crowd. Cut into pieces as big or small as you like, you can add this to a fall bake sale or pass it out at potluck.
Or, go ahead and keep it all to yourself. No one can blame you–it's just that good!
Ingredient Notes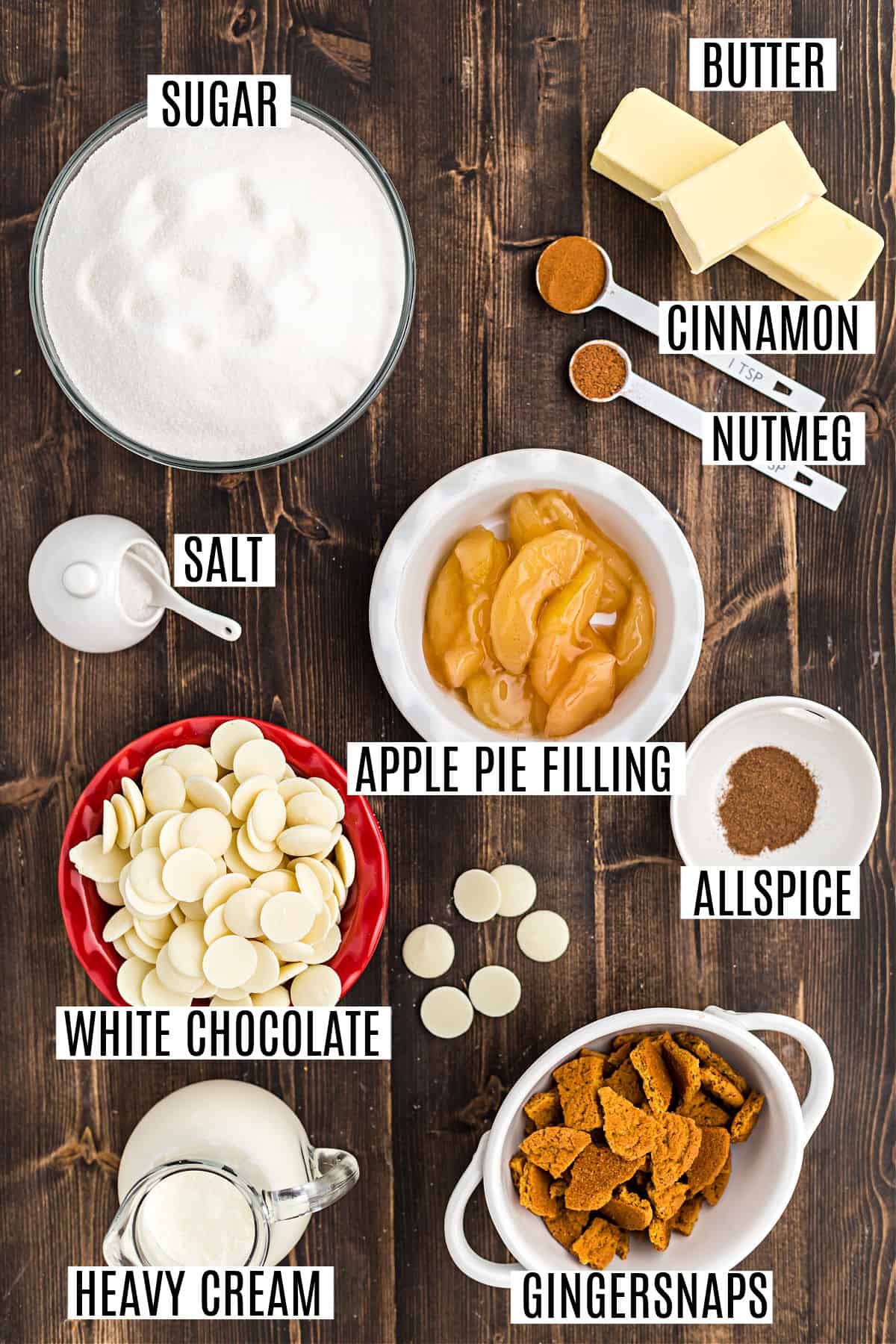 You'll need canned apple pie filling for this fudge. It only calls for half a cup, so you can reserve the leftover filling for making Apple Shortbread Bars or another apple treat!
Before adding the pie filling to the recipe, try to divide as many of the apple slices from the jellied part of the filling as possible.
It doesn't need to be fully separated but you want a higher proportion of apples compared to the liquid.
For the white chocolate, I find white chocolate wafers melt the easiest and taste great. You can also use white chocolate bars broken into small pieces.
Butter- unsalted butter is best. If you only have salted butter, omit the kosher salt in today's fudge.
Heavy Whipping Cream- use the full fat cream. Don't substitute half and half, whole milk, or anything else. You need this fat to achieve the desired consistency.
Sugar
Spices- we use cinnamon, nutmeg and allspice. You could also swap it out for apple pie spice mix or our homemade pumpkin pie spice mix.
Step by Step Instructions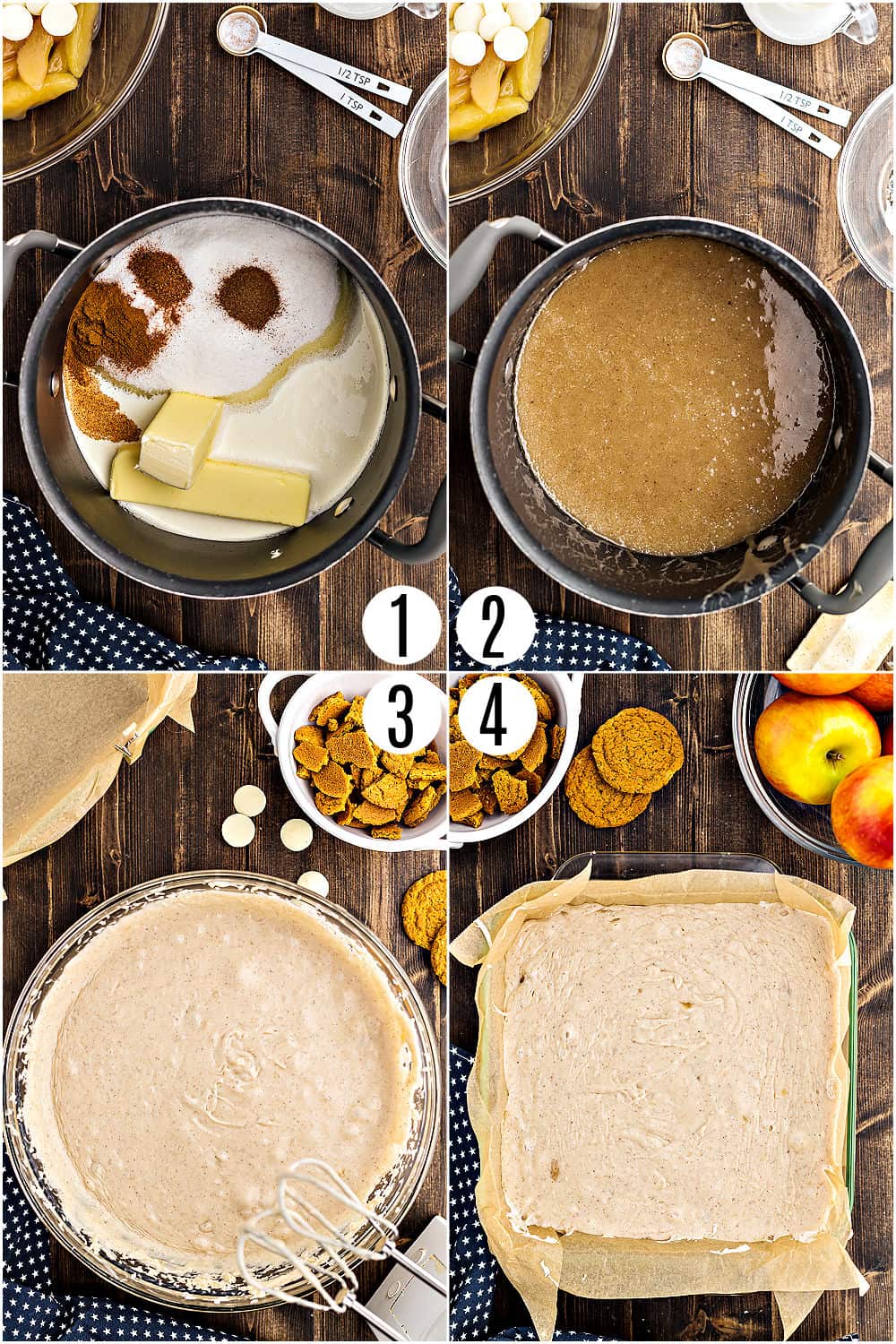 STEP 1. Boil butter, cream and spices
Add white chocolate and apple pie filling to the bowl of a stand mixer and set aside. Then heat sugar, butter, salt, cream, cinnamon, nutmeg and allspice over medium high heat in a large saucepan.
Bring to a rolling boil and stir continuously for 4 minutes. Remove from heat.
STEP 2. Mix with apple pie filling
Quickly pour the butter mixture into the mixing bowl with the chocolate and apples. Beat on medium speed with the whisk attachment until white chocolate is silky smooth. This takes about 2 minutes.
STEP 3. Chill and serve
Pour the fudge into a baking dish lined with parchment paper. Refrigerate for at least 3 hours or until the fudge is set.
To serve: Remove parchment paper from pan and place on cutting board. Cut fudge into bite sized squares and top each piece with a piece of the gingersnap cookies.
Tips and Tricks
An 8 x 8 square baking dish (or 9-inch square) works perfectly for this recipe.
An electric hand mixer works just as well as the stand mixer. You can make this fudge without an electric mixer too, but it will take much longer to melt the chocolate and whisk everything together.
Store in an airtight container in the fridge for up to 1 week. (It never makes it that long in our house because I keep coming back to the fridge for "just one more bite.")
Apple pie fudge freezes well too. Cut into pieces before freezing but do not add the gingersnap. Let thaw in the fridge overnight and top each piece with the gingersnap before serving.
More Candy Recipes
When you want apple pie but don't want to turn on your oven, let this easy Apple Pie Fudge satisfy your cravings! This silky sweet fudge with pieces of real apple and gingersnaps is the fall treat you'll want to make year round. Enjoy!