Soft and sweet fudge with the pumpkin spice flavor you crave! This Pumpkin Spice Fudge is here to make your fall celebrations more delicious.
If pumpkin spice treats are your cup of tea, be sure to give my favorite Pumpkin Oatmeal Cookies a try this year. Soft and chewy! Our Pumpkin Spice Rice Krispie Treats are always a hit as well!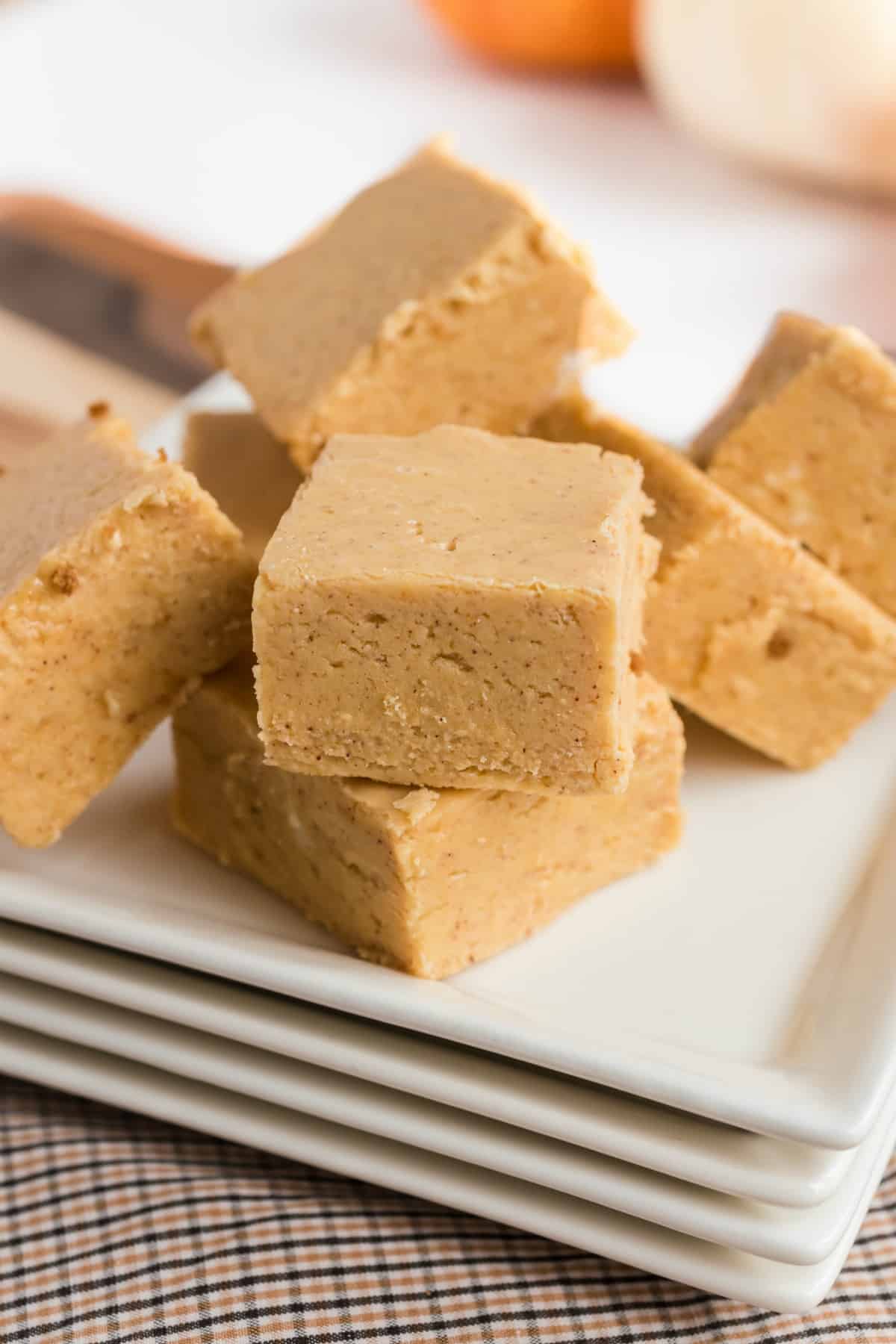 Pumpkin Fudge
You're going to want to stock up on pumpkin puree, friends. Why? So you can make ALL the pumpkin fudge!
I've perfected how to make fudge in all flavors, this pumpkin spice version is absolute fall perfection!
No reason to limit your pumpkin fudge making to October and November either. Bites of velvety smooth fudge with lots of spice are delicious for Christmas too!
Still craving pumpkin? Be sure to try our Pumpkin Whoopie Pies too!
Ingredient Notes
Pumpkin Puree – You'll want to make sure you choose the 100% pure pumpkin, and not the pumpkin pie filling.
Pumpkin Pie Spice– whip up my homemade pumpkin pie spice blend or buy it from the store!
Marshmallow creme – Also called "marshmallow fluff" this helps the fudge achieve the perfect smooth texture!
White chocolate – I use white chocolate morsels here which melt quickly and easily to give the fudge body and flavor. You can substitute a bar of white chocolate instead, just break it into small pieces first so it melts more quickly.
Caramel sauce – Use caramel ice cream topping mixed with powdered sugar to drizzle over the fudge.
Gingersnaps – I love the extra bite and crunch that crushed gingersnaps add when you sprinkle them on top of the fudge! If you don't have any cookies, the pumpkin fudge will still taste good without them.
Step by Step Instructions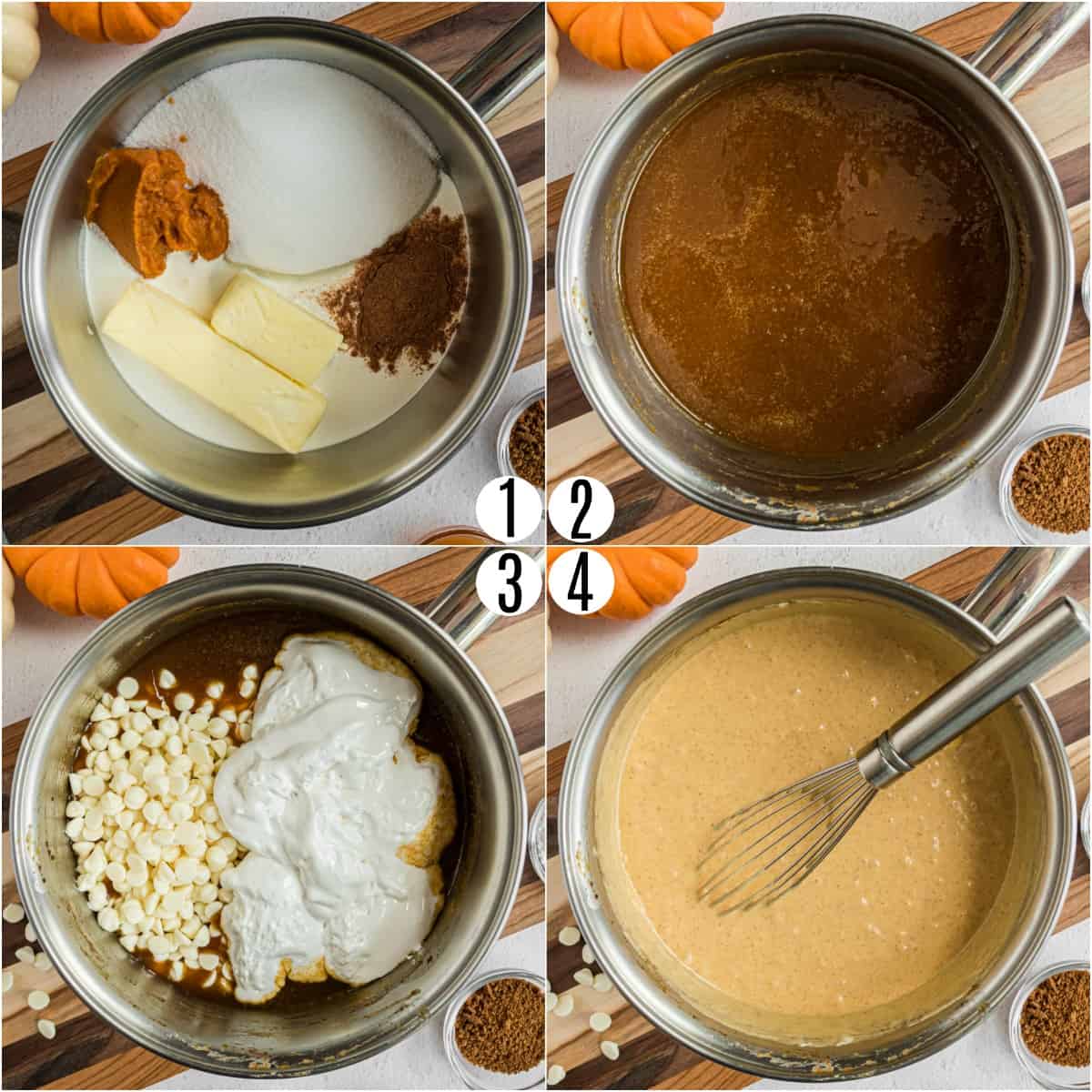 Step 1. Heat on the stove
Bring the butter, cream, salt, pumpkin puree, pumpkin pie spice, and sugar to a boil in a saucepan. Reduce the heat and let the mixture simmer for 8 minutes, stirring constantly.
STEP 2. Melt chocolate
Remove the pan from the heat and whisk in the white chocolate and marshmallow creme. Whisk until the chocolate is melted and everything is fully combined.
STEP 3. Chill
Pour the fudge mixture into an 8 or 9-inch square baking dish lined with parchment paper. Chill in the fridge for at least 4 hours (or overnight!). When chilled and set, take the parchment paper out of the pan and cut the fudge into bite sized squares.
STEP 4. Caramel topping (optional)
Whisk caramel sauce and powdered sugar together and then drizzle over the cut fudge pieces. Top with crushed gingersnaps and enjoy!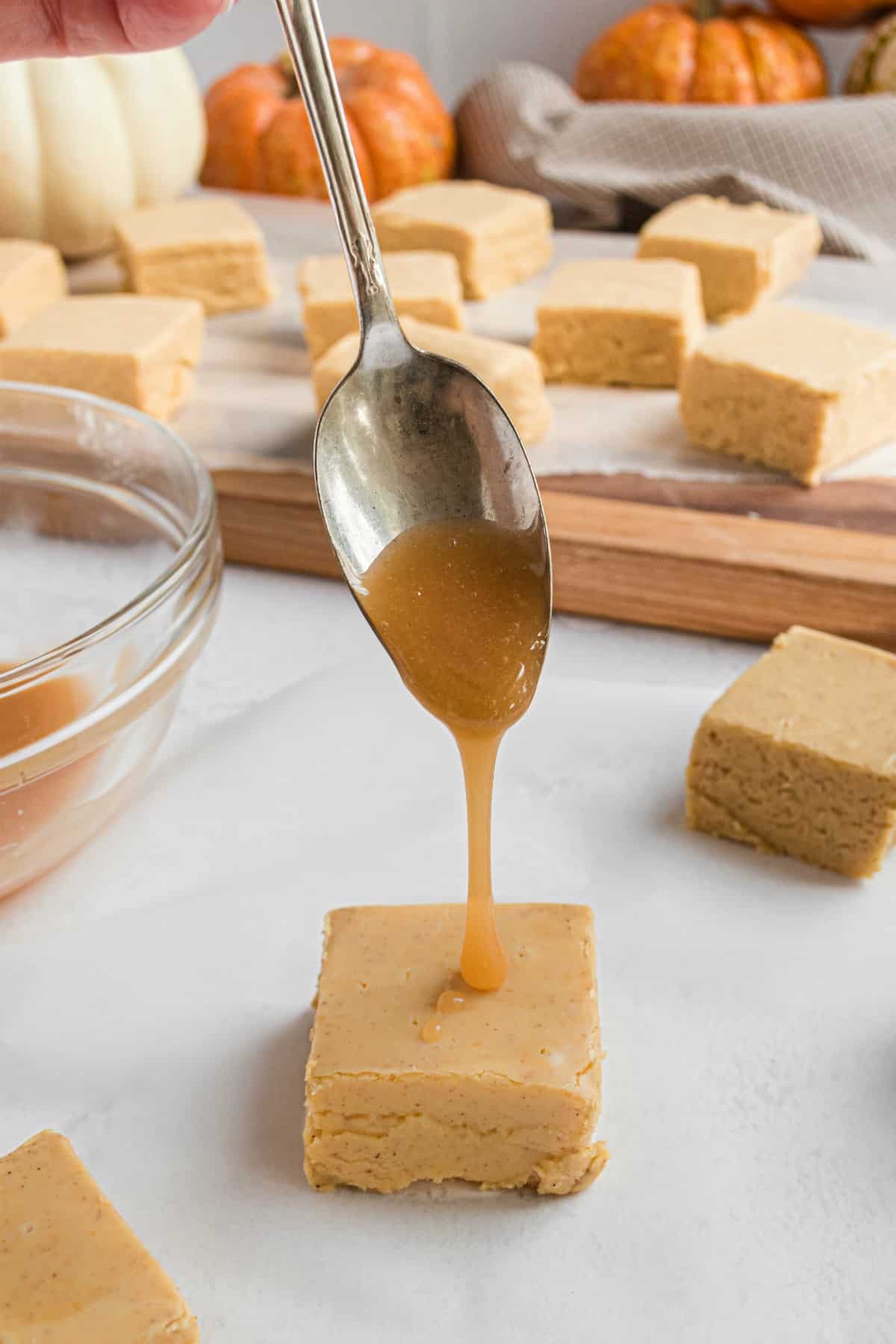 Tips & Tricks
Storing: Store any fudge you won't eat right away in an airtight container in the fridge. It's delicious cold!
Crushing the gingersnaps: Put the cookies in a large ziploc bag and tap them a few times with a mallet or gently roll over the bag with a rolling pin. You don't want to turn the cookies into powder, just small enough pieces that you can fit them on each fudge square.
Mixing the fudge: You don't need an electric mixer for this recipe, but using one will make it quicker and easier to combine the chocolate and marshmallow creme with the other ingredients. If whisking by hand, use a strong wire whisk and make sure the chocolate is fully melted and incorporated before you pour the fudge into the pan.
Serving: Put your fudge squares in mini cupcake liners to make serving and transporting easy!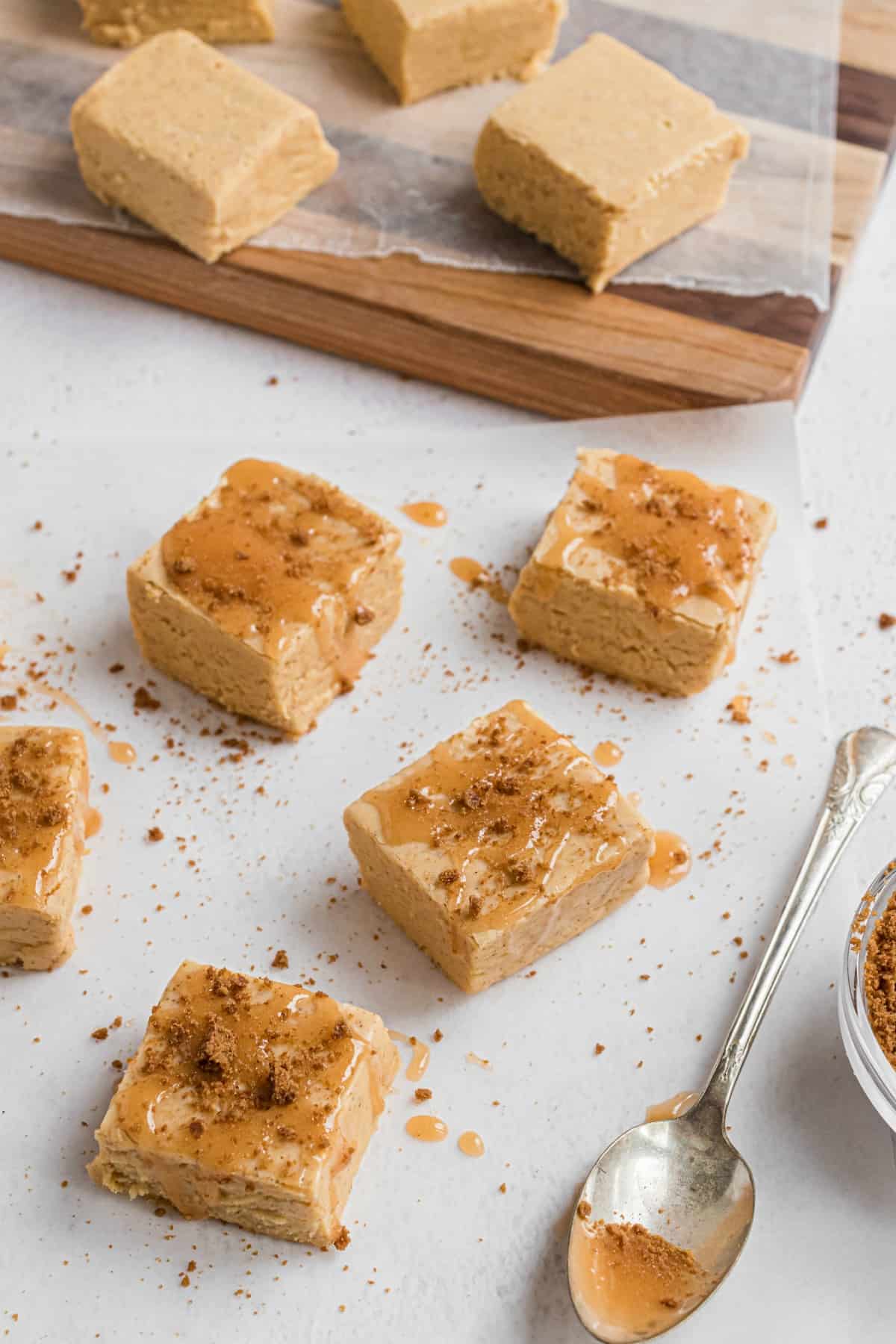 Recipe FAQs
What if my fudge is too soft?
If your fudge turned out too soft you probably didn't boil it enough. Make sure when you boil it is a ROLLING boil for the full 8 minutes.
How long will it take pumpkin fudge to set?
In the refrigerator, pumpkin fudge will take about 3 hours to set firm.
Can you freeze fudge?
Yes! For best results, freeze whole block of fudge (or uncut section) in a freezer safe, airtight container. Store for up to 3 months. Thaw in refrigerator overnight.
Pumpkin Spice bliss comes in the form of perfect squares of fudge! This easy pumpkin fudge recipe is all but guaranteed become a new fall favorite.