Butterfinger Fudge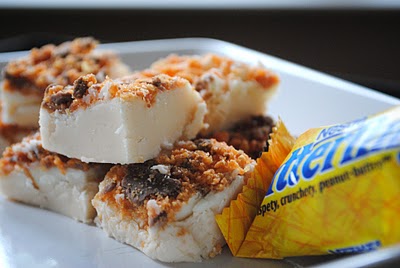 It's been awhile since I experimented with Fudge. I really wanted to try a pumpkin fudge, but our Kroger has been sold out for weeks! No worries though, my withdrawal from pumpkin will soon be over, I found some pumpkin yesterday!
In the meantime, enjoy this Butterfinger fudge. On one of our vacations this summer, I tried Butterfinger fudge for the first time. Since then, I have seen it at several more fudge shops. Who knew this was such a hot flavor!
Save those leftover Halloween candy bars that your kids won't eat, and make this fudge. You'll be glad you did too! If you don't have any Butterfingers, you could always go for the extra step and make your own candy bars using this recipe! Enjoy!
Ingredients
3 cup sugar
1 1/4 cup heavy cream
1 Tbsp corn syrup
2 Tbsp butter
1 Tbsp vanilla extract
8 snack sized Butterfinger bars, crushed
Instructions
Bring sugar, heavy cream, corn syrup and butter to a boil in a heavy saucepan, stirring constantly. Once boiling, do not stir. Using a candy thermometer, bring mixture to soft ball stage, 238 degrees (about 10 minutes). Remove from heat, add vanilla to pan, do not stir, and allow mixture to cool to 120 degrees (about 45 minutes).
Pour mixture into a mixing bowl and beat until it is no longer glossy (about 3-5 minutes). Pour into a parchment paper lined 11x7 pan. Immediately press crushed candy bars onto top of fudge. Press firmly!
Allow fudge to set in refrigerator, covered, for about 2 hours. Cut into bite size pieces and enjoy cold!