What's better than peanut butter cookies? Peanut Butter Butterfinger Cookies! Adding chopped candy bars to your cookie dough instantly adds more great nutty crunch to these homemade treats.
We are cookie experts here! If you love peanut butter, be sure to give our 3 ingredient peanut butter cookies a try next. Or our peanut butter bars, topped with Reese's Pieces!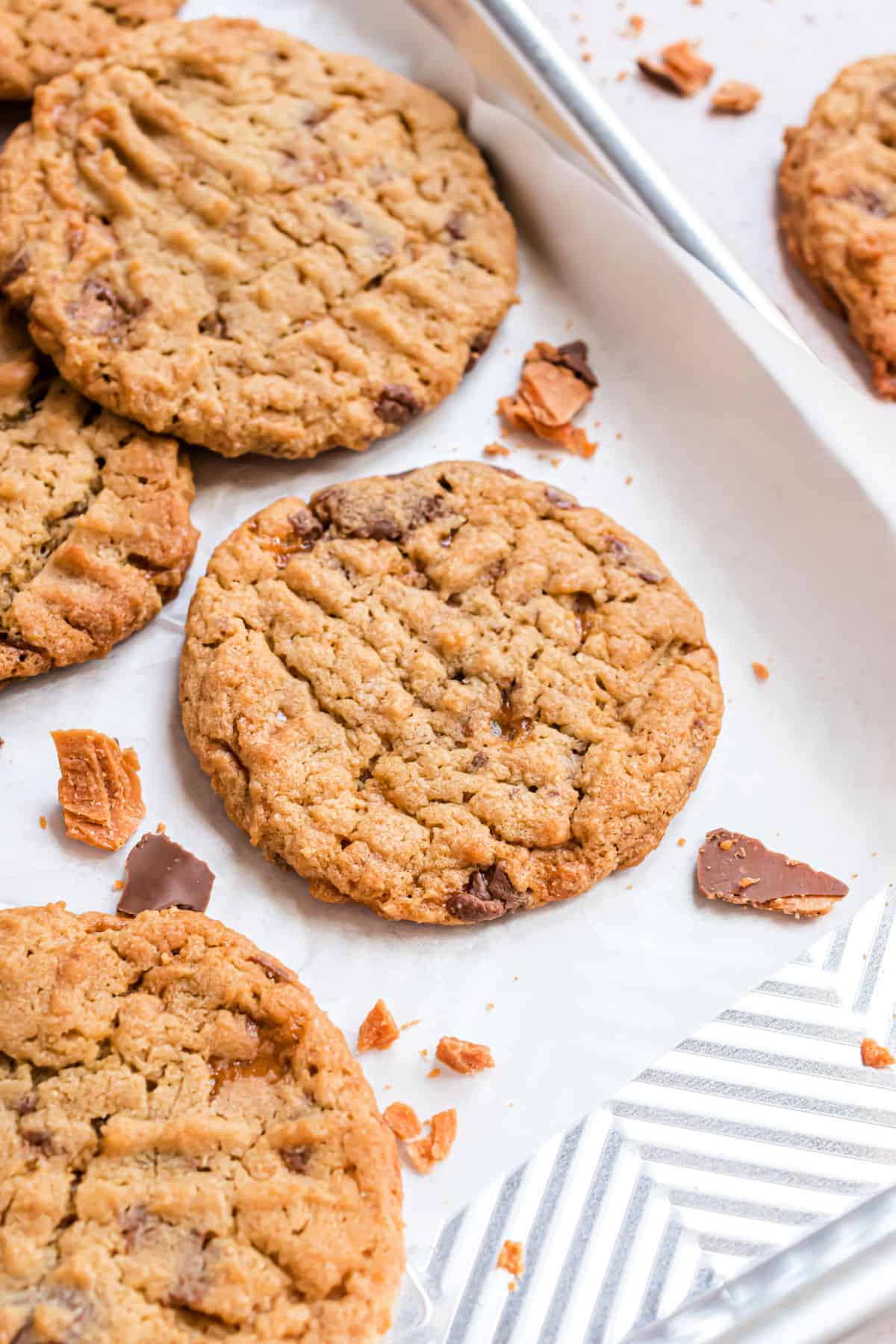 Why these Cookies are Best
While mixing up some dough for peanut butter cookies, a bag of Butterfingers caught my eye.
Chocolate and peanut butter together are never a bad idea, as these Peanut Butter Chocolate Chip Bars are one of the best desserts ever.
With a chewy texture punctuated by the crunch of the candy bars, these cookies are a Butterfinger lover's wildest dreams–and so easy to make, too.
I started with a fairly straightforward cookie recipe.
Most peanut butter cookies have a criss-cross pattern on top, to help the cookies stay level since they tend to not spread and flatten as much. These don't need it.
Chewy cookies
Packed with peanut butter AND candy bars
No chill dough
If you've got some leftover butterfinger candy, make a batch of our EASY butterfinger fudge!
Ingredient Notes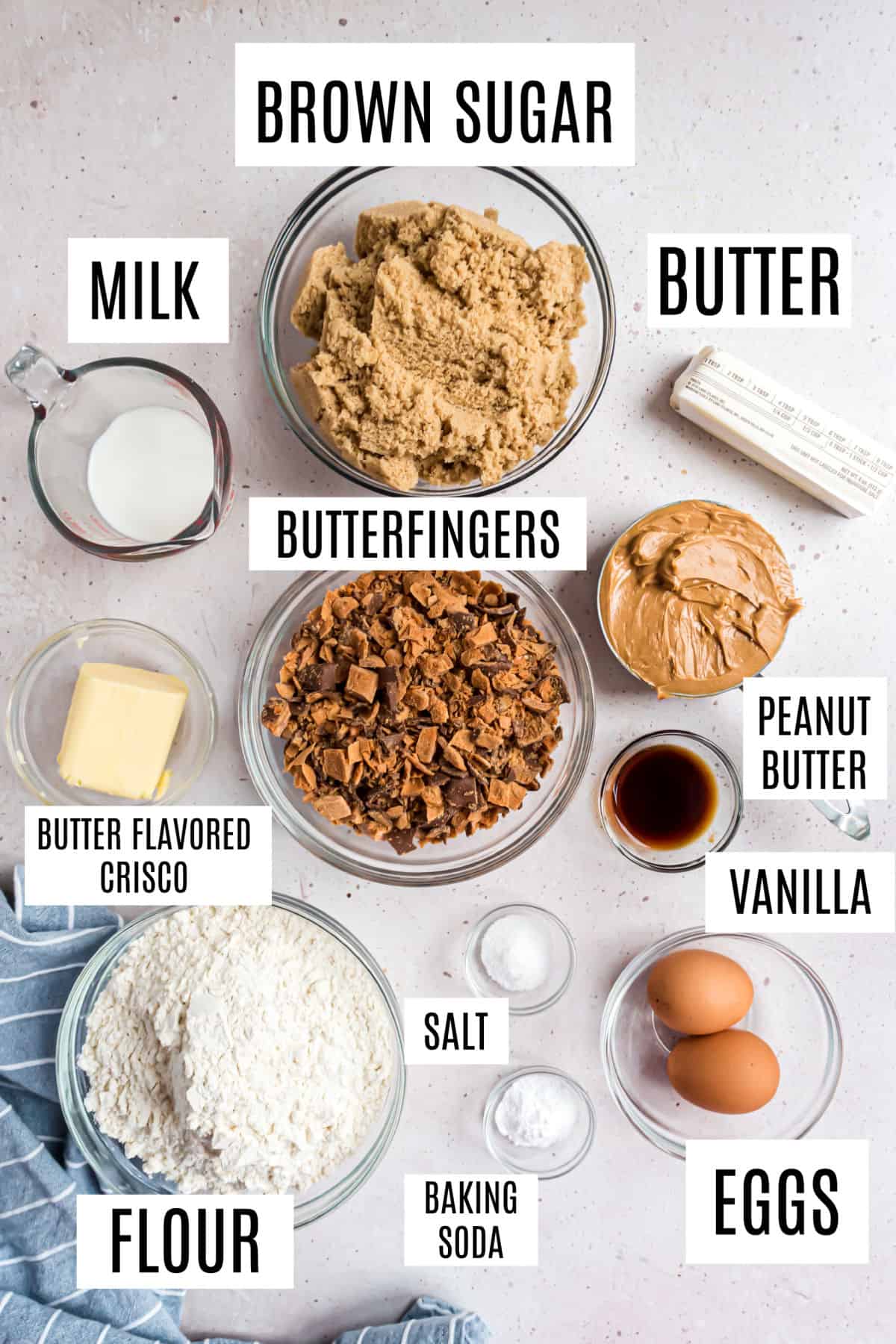 Butter & Crisco- I know some of you are going to ask WHY??? And can you use all butter. The answer is, yes you can use all butter, but adding Crisco creates the perfect texture for this cookie. A slight crisp on the outside with chewy inside. Using all butter, you may need to chill dough before baking or they are likely to spread too much.
Brown Sugar- using all brown sugar is the key to that chewy texture, especially if making with crisco and butter!
Peanut Butter- a shelf stable peanut butter, like Skippy or Jif, is best. If using a natural peanut butter, be sure to really stir it so the oils are incorporated.
Butterfinger Candy- you'll need 10ounce bag of minis (which is about 16 bars).
PRO TIP- We love making our own homemade vanilla extract, but if using store bought, be sure it's pure extract, not imitation (for best flavor).
How to Make Butterfinger Cookies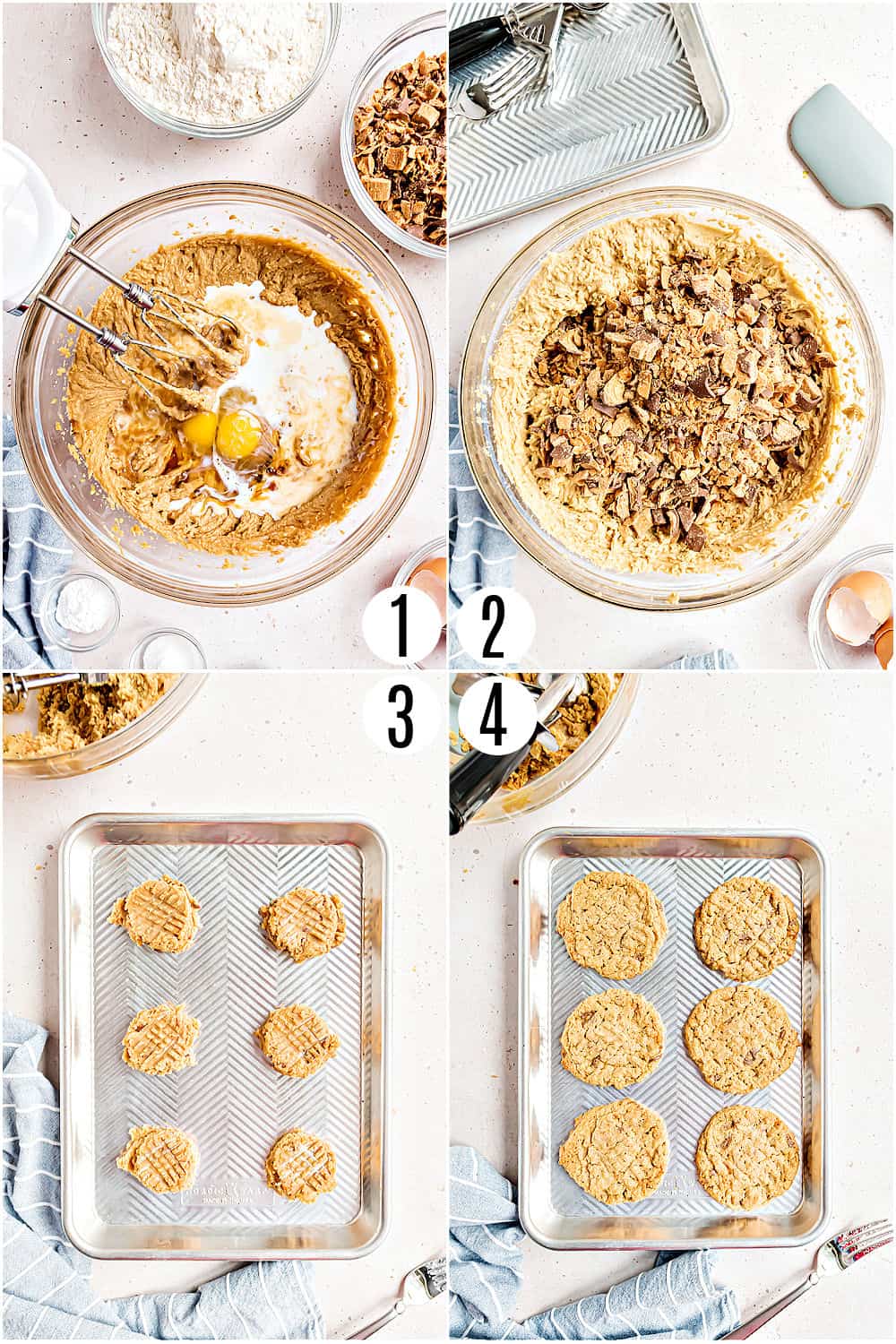 Making butterfinger cookies is quite easy.
Make the dough. Combine the ingredients.
Fold in Candy. Chop up candy bars to desired sizes.
Criss cross pattern: Lightly press the back side of a fork into the top of each cookie before baking. Rotate the fork 90 degrees and repeat to make the lines cross.
Bake.
Tips and Tricks
Butterfinger cookies can be frozen, however the candy inside does get a little chewy instead of crunchy.
To freeze, let them cool completely first, then freeze with layers of wax paper between them so they don't stick together.
Peanut butterfinger cookies will keep well in the freezer for up to 3 months. Thaw at room temperature and enjoy!
If stored at room temperature in an airtight container, the cookies keep well for about a week. . . but in my house they tend to disappear much more quickly than that.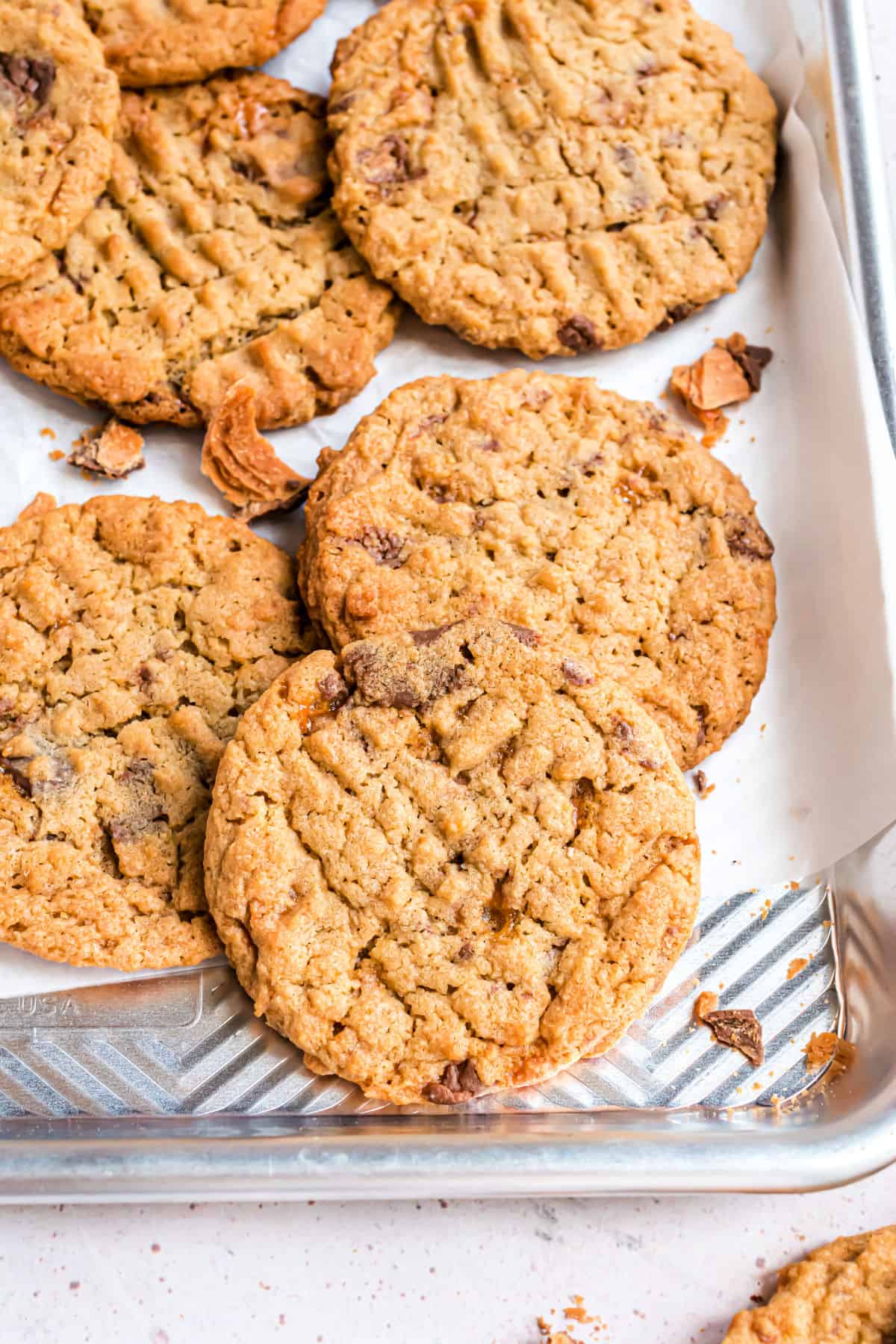 Substitutions
I used a package of fun sized butterfinger bars for this recipe. You could also grab a few full sized candy bars to chop up instead (less unwrapping!).
Don't have any butterfinger candy bars but still want to make some delicious peanut butter cookies. Feel free to leave them out or try some of these substitutes (or mix and match!):
Peanut butter chips
Chopped peanuts
Chopped milk chocolate bars
Chocolate chips
Chopped peanut butter Oreos
Chopped snickers bars
Reese's pieces
Peanut Butter M&Ms
It's worth it to run out for some butterfinger bars to make this cookie recipe. I promise. You can't beat that crunchy buttery goodness in each bite!
If you like adding candy to your cookies, you'll love these Candy Bar Blondies too. M&Ms Cookie Bars and Easy Snickers Cookie Cups with Caramel Frosting need to be on your must-try list too.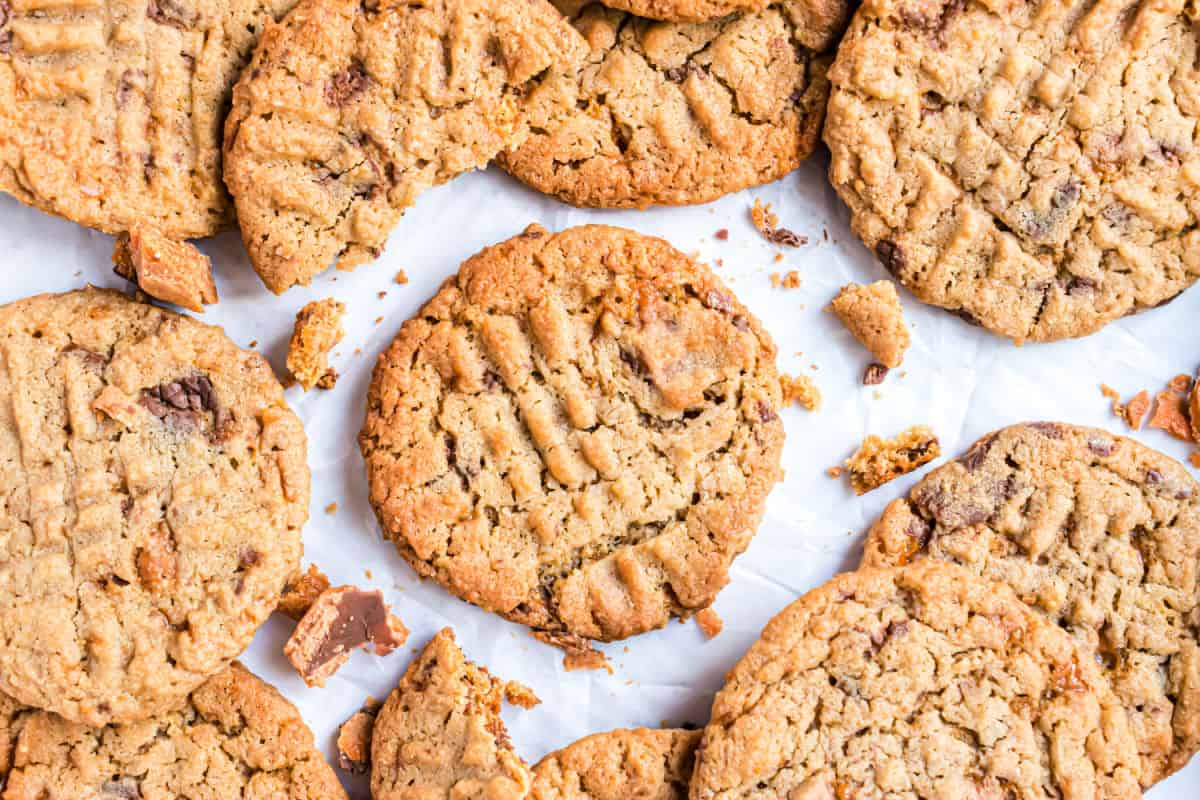 More Cookie Recipes
I can't wait for you to try these deliciously chewy Peanut Butterfingers Cookies! Don't forget the milk!