Butterfinger Frankenstein Cupcakes are going to be a big hit at your Halloween party this year! From the rich, chocolate cupcakes, to the sweet Butterfinger frosting, these holiday treats are topped with a fun and festive candy surprise!
Be sure to check out my Frankenstein Rice Krispie treats for another fun Halloween idea!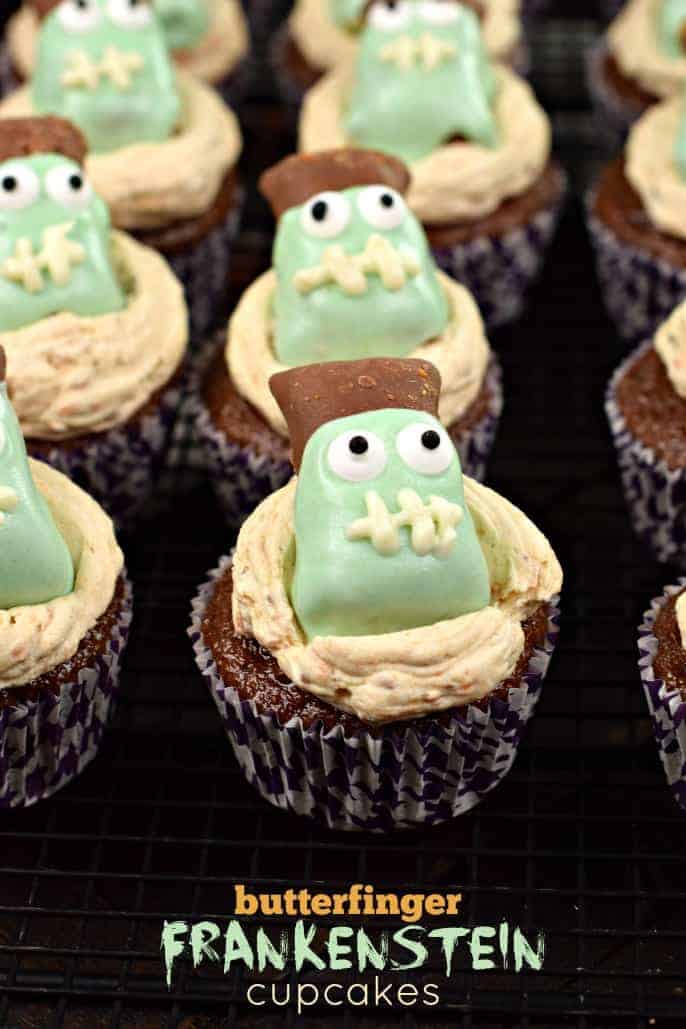 Halloween Cupcake Ideas
Remember last week I shared these fun and spooky Eyeball Red Velvet Cake Balls? Well, I've got another Halloween treat for you today.
And it involves one of my absolute favorite candies: Butterfingers!
Growing up, Halloween night was filled with candy and pillow cases on the floor as me and my three brothers would sit and sort and trade our goodies!
No secret, I would do everything I could to capture everyone's Butterfingers (and Skittles)! Deals were made, and I would walk away with a shoe box of Butterfingers, that I tried to make last until Christmas.
When thinking of new Halloween cupcakes I could make this year, I remembered how much I looked forward to all those Butterfingers every year.
By using them to decorate the tops of every cupcake with mini Frankenstein monsters, I made these adorably spooky treats!
These Butterfinger Frankenstein Cupcakes are not only adorable, they are delicious! used this Chocolate Cupcake with Butterfinger Cupcakes recipe as my base!
I then topped each cupcakes with a piece of candy. A spooky, fun, decorated Butterfinger candy! Today I'll talk you through how I made them, step by step.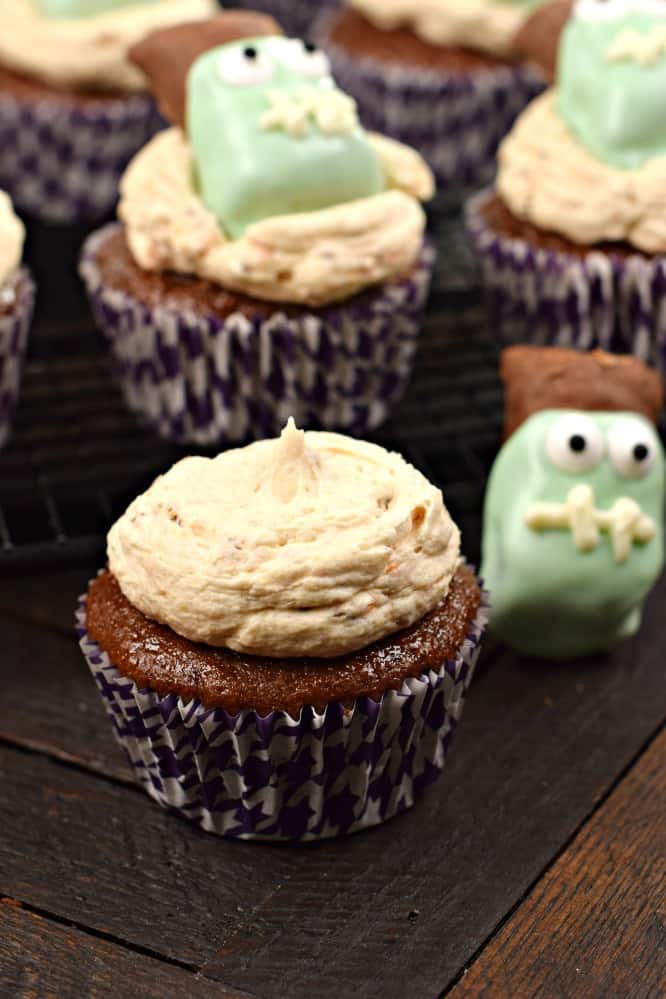 Step by Step Instructions
STEP 1. Mix flour, cocoa, salt, baking soda and baking powder in small bowl. Set aside.
STEP 2. Mix brewed coffee and milk in a separate bowl or measuring cup. Set aside.
STEP 3. In large mixing bowl, beat butter and sugar for 5 minutes until fluffy. Add egg. Slowly add in dry ingredients, alternating with milk mixture (in about 3 additions).
Pour into lined cupcake pans and bake for 15 to 18 minutes or until a toothpick inserted in the center comes out clean. Let cool completely before frosting.
How to Make the Frosting
STEP 1. Beat butter in an electric mixer for two minutes until pale and creamy. This is the secret to making the creamiest ever frosting!
STEP 2. Add peanut butter, powdered sugar and milk. Beat an additional 4 minutes until smooth.
STEP 3. Fold in crushed Butterfinger candy. Pipe the frosting onto each cooled cupcake.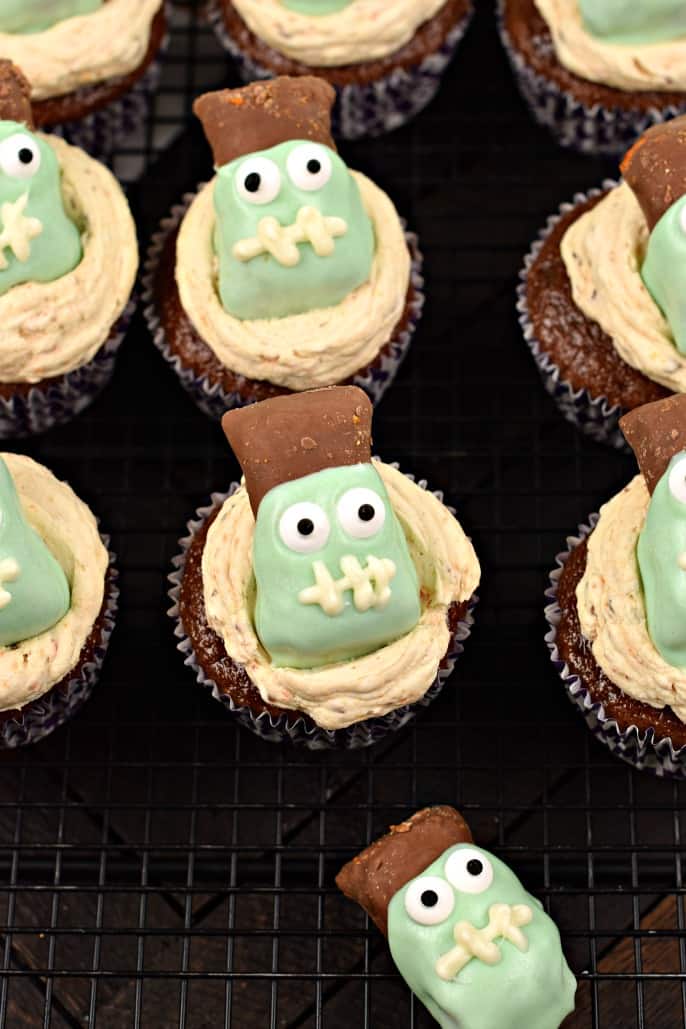 How to Make the Frankenstein
Now it's time to make it spooky! You'll need unwrapped fun size candy bars and white chocolate to turn into your little monsters, along with candy eyes.
STEP 1. Melt white chocolate according to package directions. Reserve about 3 Tbsp for designing the mouths later.
STEP 2. Add one drop of green GEL food coloring to the melted chocolate and stir smooth. Dip 2/3 of the candy bar into the melted green chocolate and place on a piece of parchment paper. Immediately press in the candy eyes. Repeat until all candy bars have been dipped.
STEP 3. Using the reserved white chocolate, drizzle mouths on to the dipped candy bars in whatever design you like. Press the butterfinger Frankensteins on to the top of each frosted cupcake.
Let set. They only take a few minutes to firm up, so you'll be enjoying delicious and fun cupcakes in no time!
Tips and Tricks
Start with a good chocolate cupcake. This chocolate cupcake recipe I used but I enjoy this one too. You can also use a boxed mix if that makes it easier on you!
To make the mouths, transfer the reserved melted chocolate to a little decorator bottle or use a small sandwich bag with tip snipped off for easy drizzling.
Use GEL food coloring (not liquid). It will prevent your chocolate from seizing, and give perfect color with minimal amount of gel. My favorite is this Americolor food coloring and I only used ONE drop for about 1 1/2 cups of melted white chocolate.
Have everything ready for assembly before you get started. Place a piece of parchment paper on your counter, and have your candy eyes ready in a bowl. Less stress and less mess!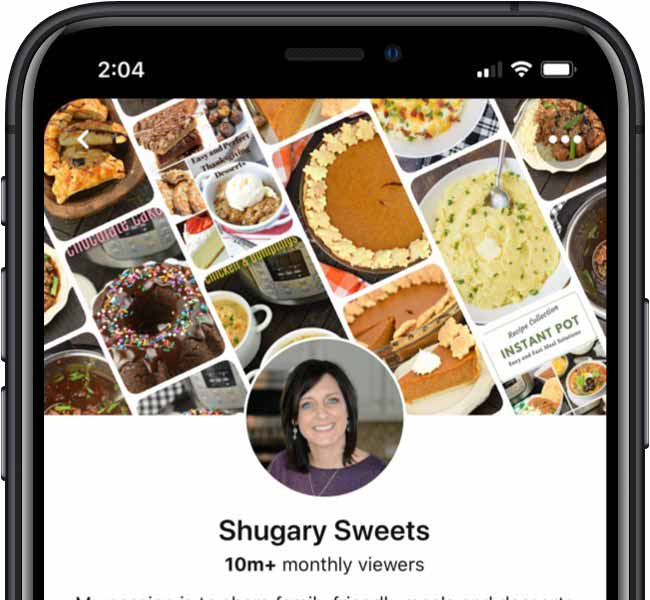 Recipe FAQs
What kind of chocolate should I use to make Frankenstein?
Ghirardelli White Chocolate Melting Wafers are my go melting chocolates. They melt so smooth, and set up quickly, which is PERFECT for this recipe.
What if I can't find Butterfinger Baking Bits?
I bought Butterfinger Baking Bits to add into the frosting, but crushing up candy bars works too.
What other cupcake flavors pair with Butterfinger?
You can put your butterfinger frosting on any flavor cupcake you like. Vanilla or yellow cupcakes work well with butterfinger candy.
More Halloween Recipes
Everyone will be impressed by these silly spooky looking treats. Packed with Butterfinger candies and chocolate, these Halloween Cupcakes taste even better than they look!