Chocolate Cupcakes get the Butterfinger treatment in this copycat Disney recipe. These are no ordinary cupcakes. Filled with fudge and topped with fluffy peanut butter frosting, Butterfinger Cupcakes are magically delicious!
Who can resist the decadent combo of chocolate and peanut butter? Baked into Chocolate Peanut Butter Brownies or in Buckeye Candies, this sweet and salty pairing always steals the show.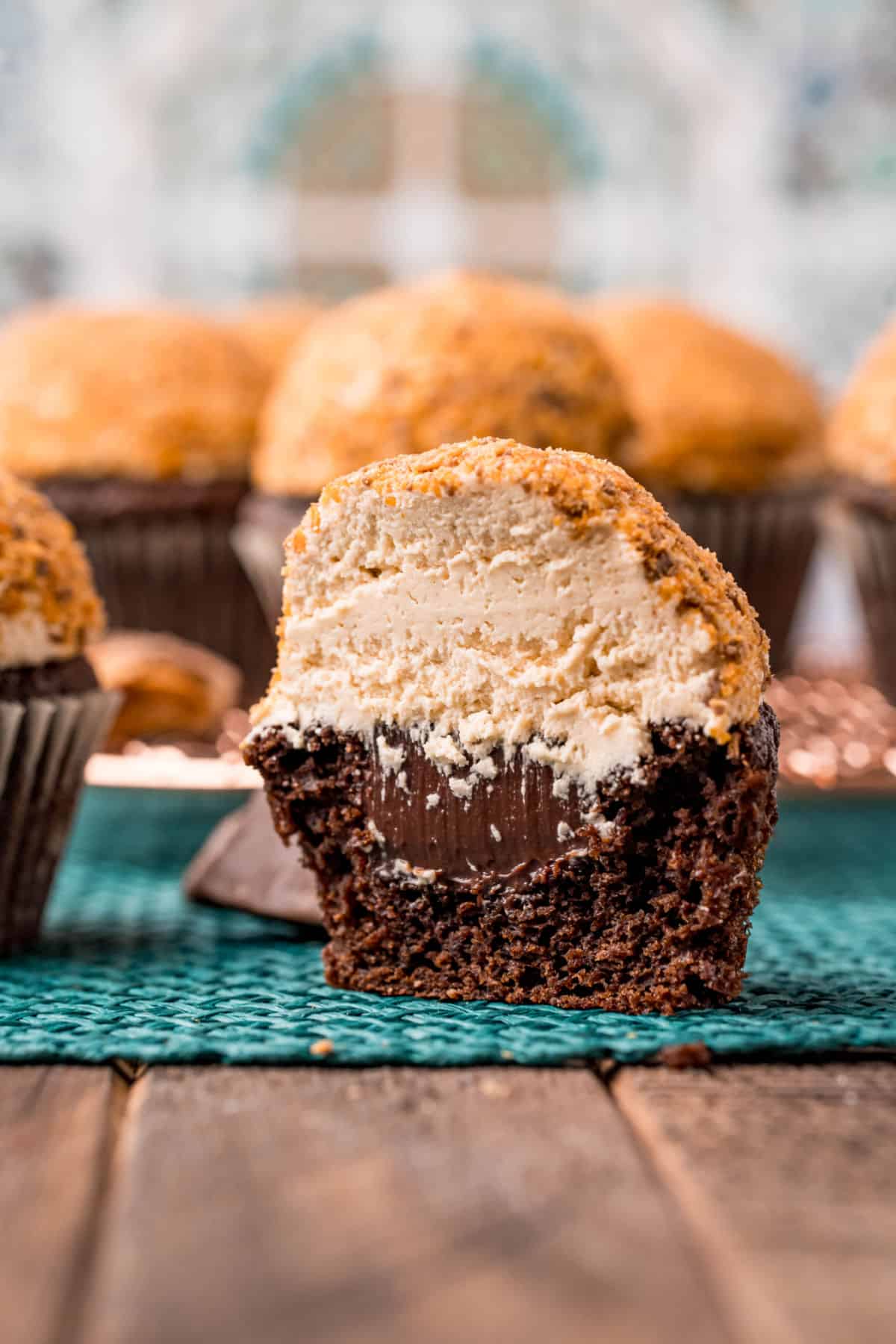 Why this Recipe is Best
Have you ever tried a Butterfinger Cupcake from Disney's Hollywood Studios?
The iconic Disney cupcakes start with the perfect chocolate cupcake
Filled with chocolate ganache
Swirled with peanut butter buttercream frosting
Sprinkled with butterfinger candy pieces.
Writing that description alone has me ready to pack my bags and book a flight to Disneyland. Instead, how about we save ourselves a trip with this copycat Disney Butterfinger Cupcakes recipe?
Impress the Disney fans in your life–and the peanut butter lovers–when you show up to the party with a plate full of these incredible cupcakes.
DISNEY RECIPES: Churros | Dole Whip | Churro Toffee
Ingredient Notes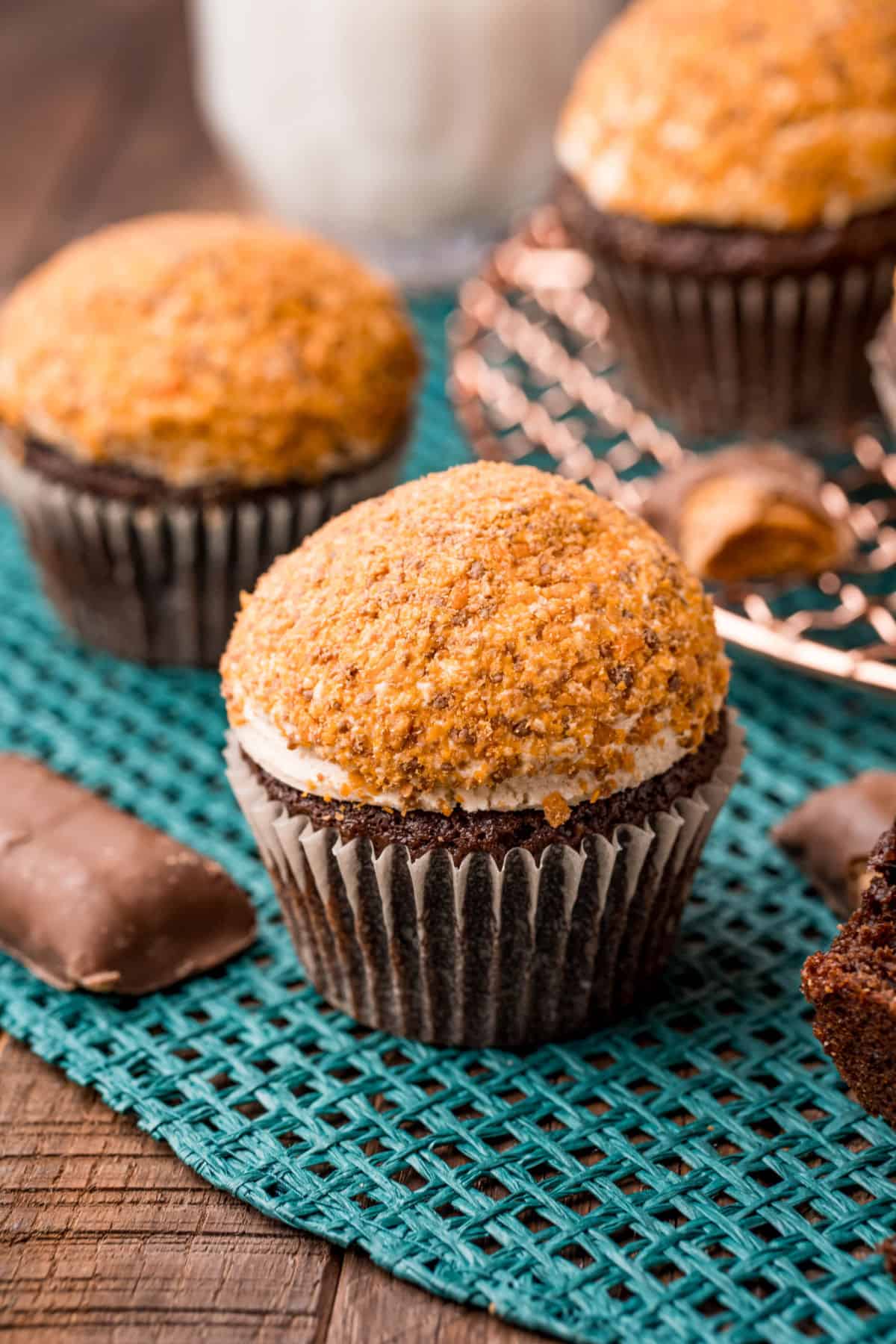 Chocolate cupcakes. Make a batch from a Devil's Food Cake mix or use this from-scratch Chocolate Cupcake Recipe. They should be baked and fully cooled before you make the fudge filling and frosting.
Butterfinger candy bars. Pulse the bars in a food processor to turn them into fine crumbs.
Peanut butter. Make sure to use regular, shelf stable peanut butter (not natural style) in the frosting for best results.
Easy Instructions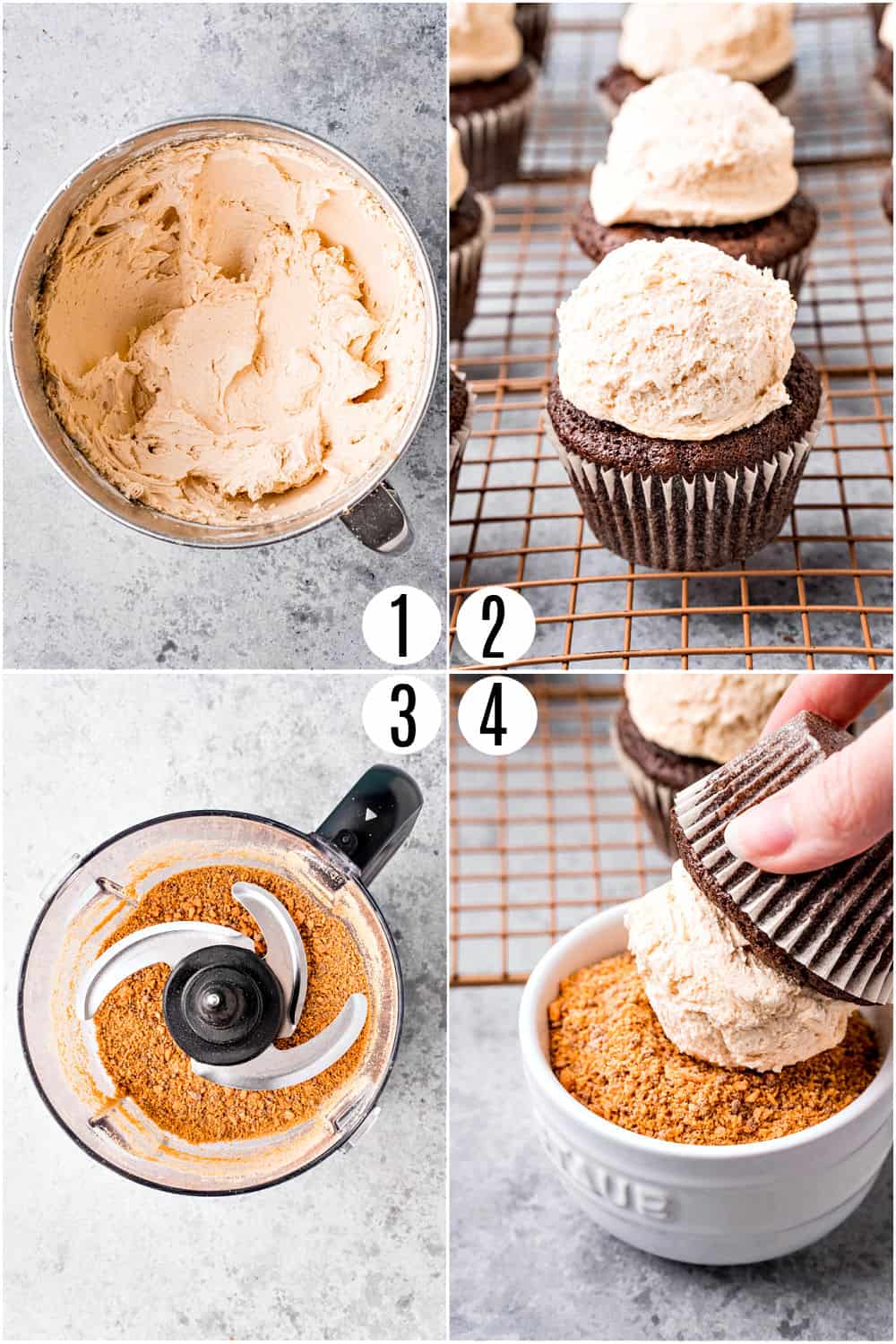 Make the ganache filling.
Heat heavy whipping cream on low to bring it to a simmer. Pour the warm cream over a bowl of finely chopped chocolate.
Let it sit for a few minutes, then whisk until a smooth ganache forms.
Fill the cupcakes.
Cut out the center of each cupcake with a sharp paring knife (or use a cupcake corer). Spoon ganache into the open center.
Make the peanut butter buttercream.
Beat butter in an electric mixer until fluffy. Add peanut butter, powdered sugar and milk, then beat to combine.
Frost the cupcakes:
Scoop about 3 tablespoons of frosting over each cupcake. Dip the tops of the frosting into a bowl of crushed butterfingers. Press lightly to ensure the crumbs stick to the frosting.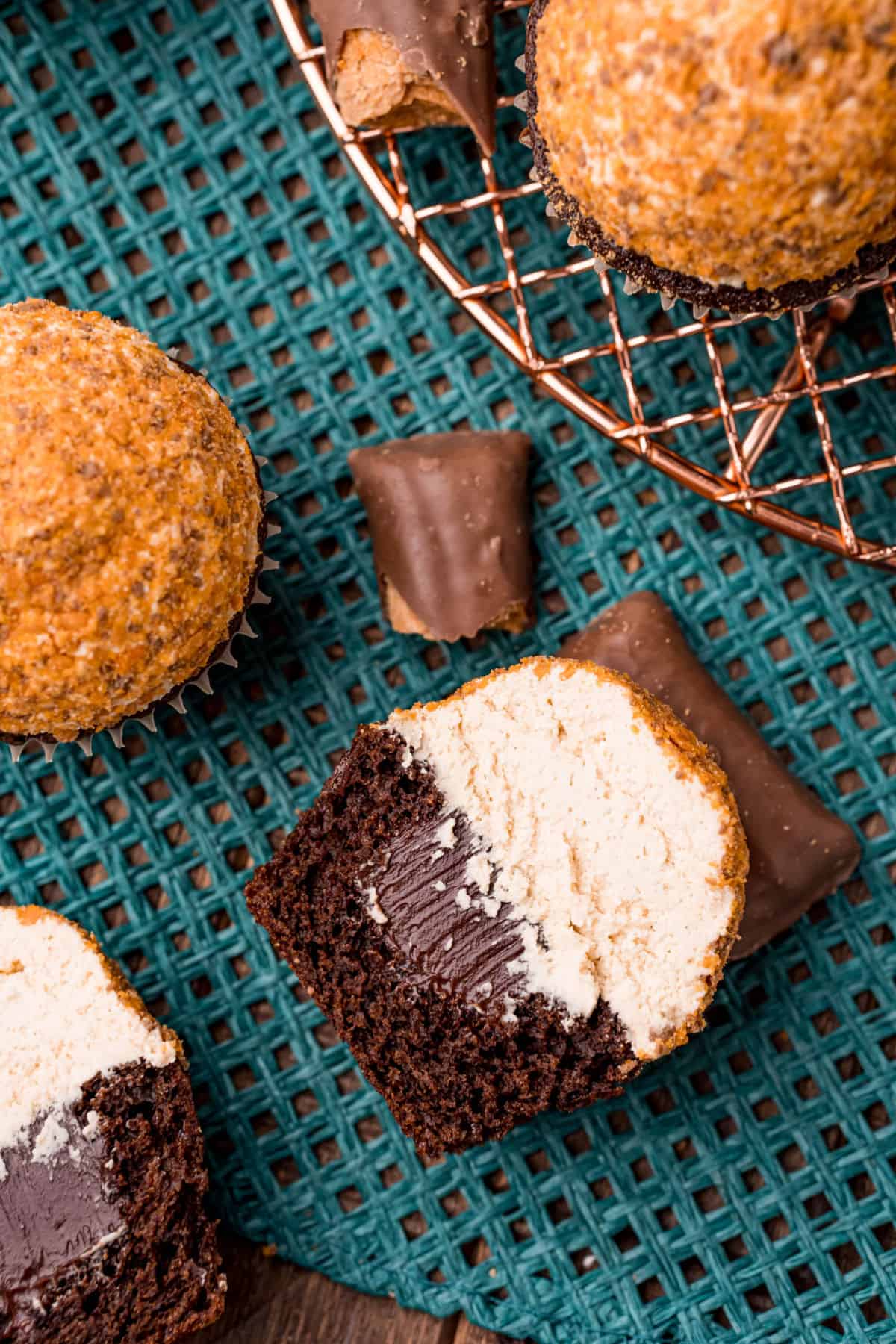 Tips and Tricks
Don't waste the cupcake centers! Set them aside and make a few Chocolate Cake Shakes later.
Enjoy your Butterfinger Cupcakes right away or store them in an airtight container at room temperature for up to 3 days.
When you press the cupcakes into the crushed candies, make sure to cover the top as evenly as possible. You want those delicious crunchy pieces in every single bite!
Recipe FAQs
What kind of peanut butter do I need for these?
We used JIF Creamy peanut butter in this cupcake frosting. Any brand works as long as its creamy and shelf-stable (not refrigerated).
Can I make the butterfinger crumbs without a food processor?
Yes, you can but it is more difficult. If you don't have a food processor, place the candy bars in a plastic ziplog bag. Use a mallet to crush them into crumbs. The crumbs need to be as fine as possible to cover all the frosting, so this may take a while!
How much of the center of the cupcake do I need to remove?
You should cut out about a 1 inch circle of the center top of the cupcake. Do not cut all the way down to the bottom. You want to leave enough cake at the bottom to hold in the ganache filling.
Could I bake the cupcakes ahead of time and freeze them?
You sure could! Baked unfrosted cupcakes hold up well in the freezer for a couple of months. Let the frozen cupcakes thaw while you make the filling and frosting, then assemble and serve. Perfection.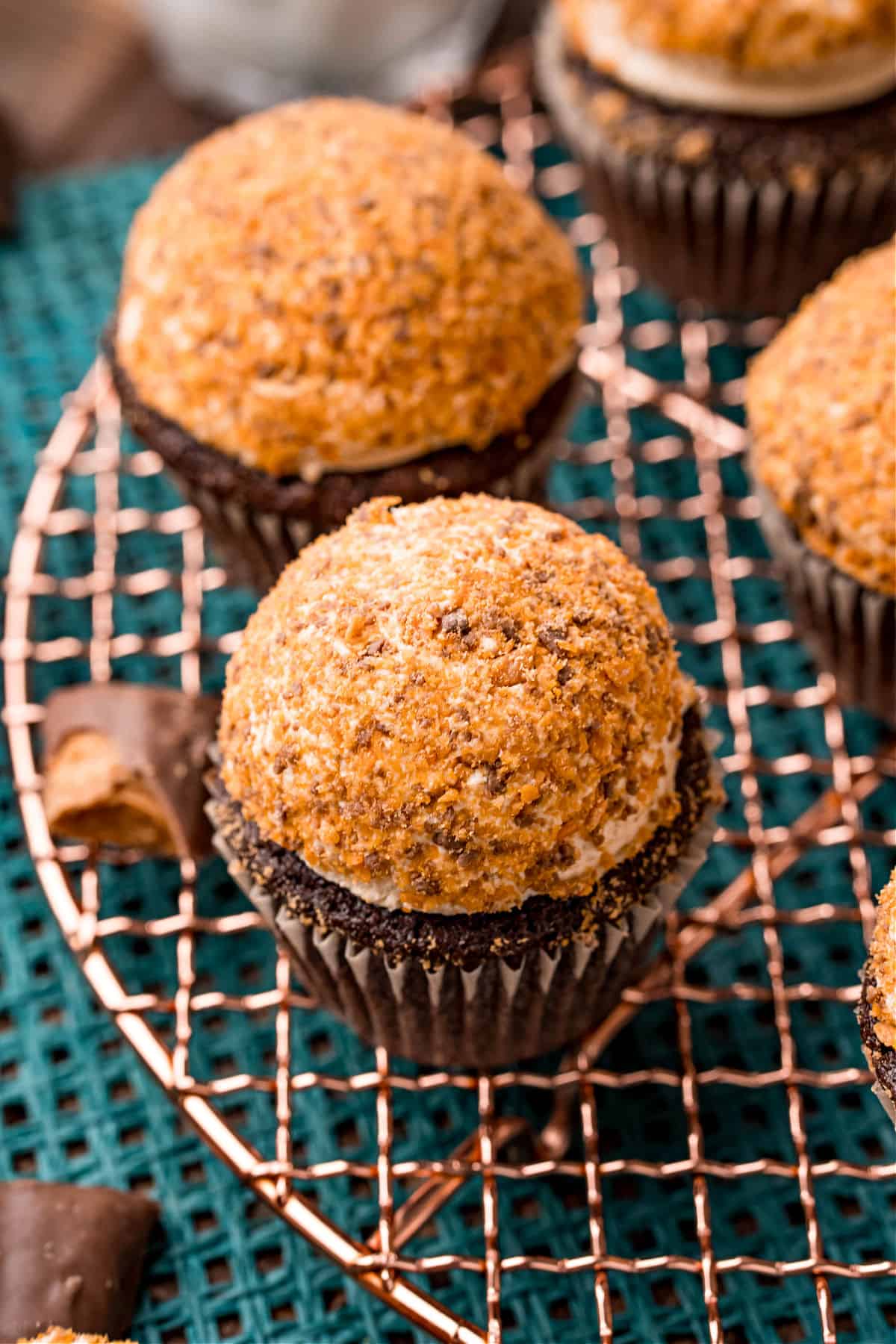 More Cupcake Recipes
No need to wait for your next vacation to enjoy famous Disney Butterfinger Cupcakes. The 'happiest place on earth' is wherever these cupcakes happen to be–including your kitchen!