Incredibly moist Pumpkin Cupcakes with Maple and Toffee Frosting are here to invade your fall baking plans! Fall spiced pumpkin cupcakes topped with cream cheese frosting that's been flavored with maple and bits of toffee!
Love pumpkin? We're obsessed with these Pumpkin Scones for breakfast! You can also whip up a Pumpkin Cream Cold Brew coffee to drink on the side!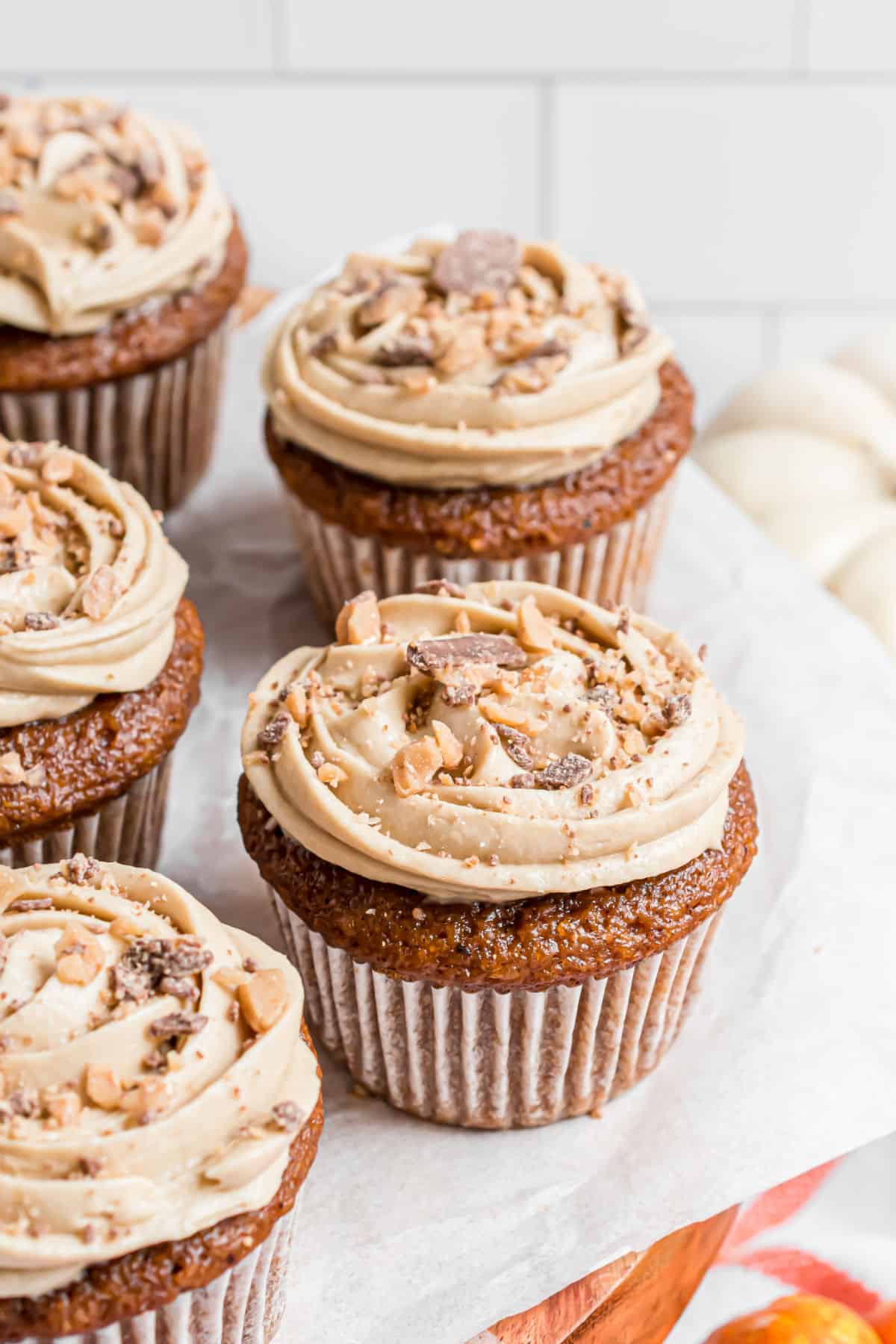 Why this Recipe Works
These cupcakes are so easy to make. And did I mention that the batter itself is oil and butter free? You would never know by the taste--they are so moist!
Pumpkin itself adds a ton of moisture to the cupcake. The rest comes from applesauce. This replicates the moisture added by butter or oil but without any of the fat.
Cream cheese frosting with maple flavoring added. A delicious pair to the pumpkin flavor.
Topped with toffee bits. You'll love this combination!
Recipe makes 12 cupcakes. Perfect amount since you'll find yourself with zero self control!
While your pumpkin cupcakes are baking, pour yourself a hot cup of coffee with some homemade pumpkin spice coffee creamer…and get started on the frosting!
These cupcakes are so moist, frosting isn't necessary. Dollop with some homemade whipped cream for a delicious dessert. Serve cold and they'll give the illusion of pumpkin pie!
Ingredient Notes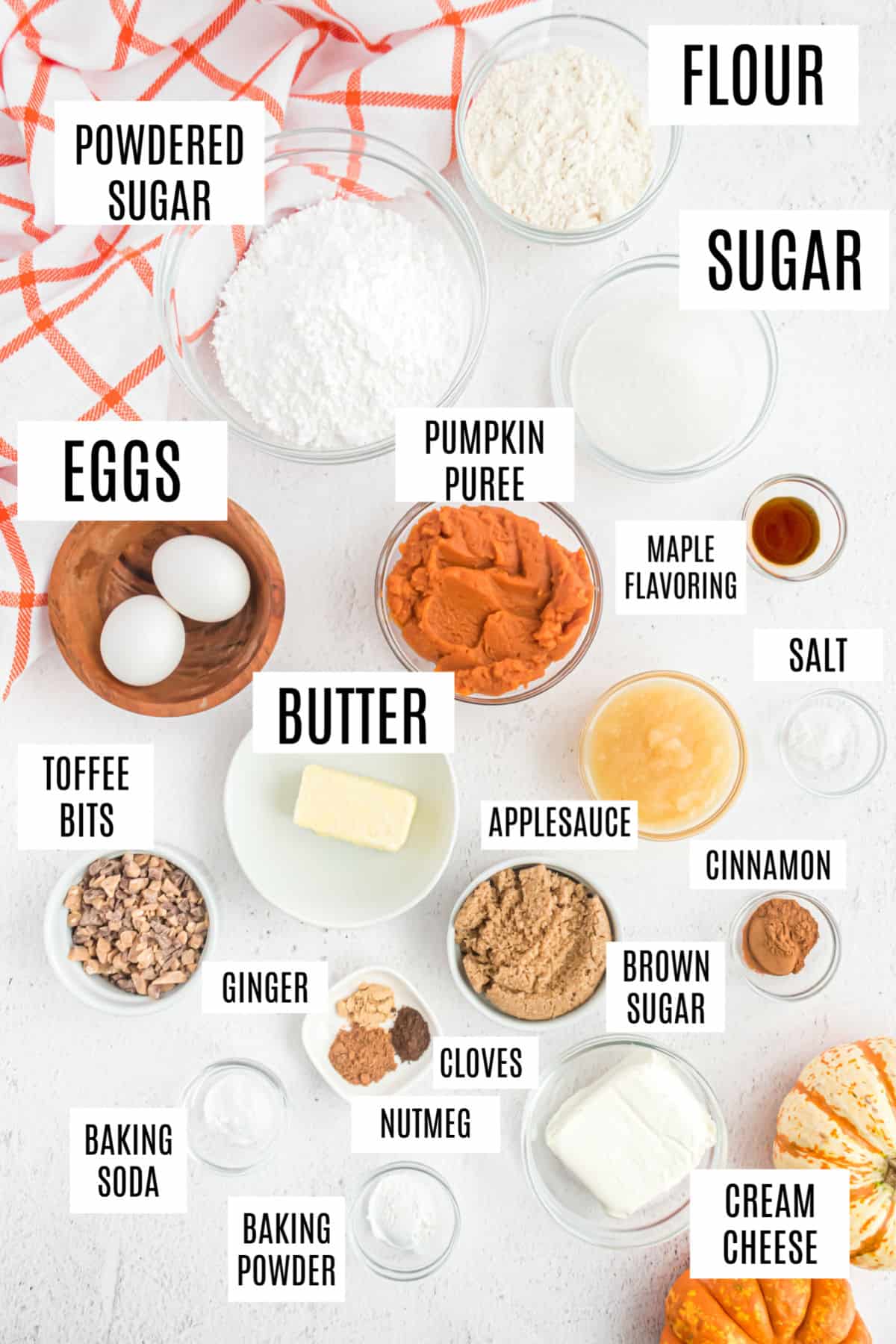 Pumpkin Puree- make sure to choose 100% pumpkin, NOT pumpkin pie filling!
Applesauce- these cupcakes are sweet enough, so using an unsweetened or sugar free applesauce works best. If using a sweet applesauce (or cinnamon applesauce), decrease the sugar to 1/4 cup granulated and 1/2 cup brown sugar.
Spices- a combination of cinnamon, cloves, ginger, and nutmeg is used to season these cupcakes. You could swap those out for 3 teaspoons of pumpkin pie spice instead.
Maple Flavoring- for the frosting. Maple flavoring and maple extract are different product. The flavoring is darker in color and more concentrated (and I prefer it too). If you can only find the extract, it will work, but note that the frosting may still retain a white color. DO NOT use maple syrup, as it is not concentrated enough to give maple flavor.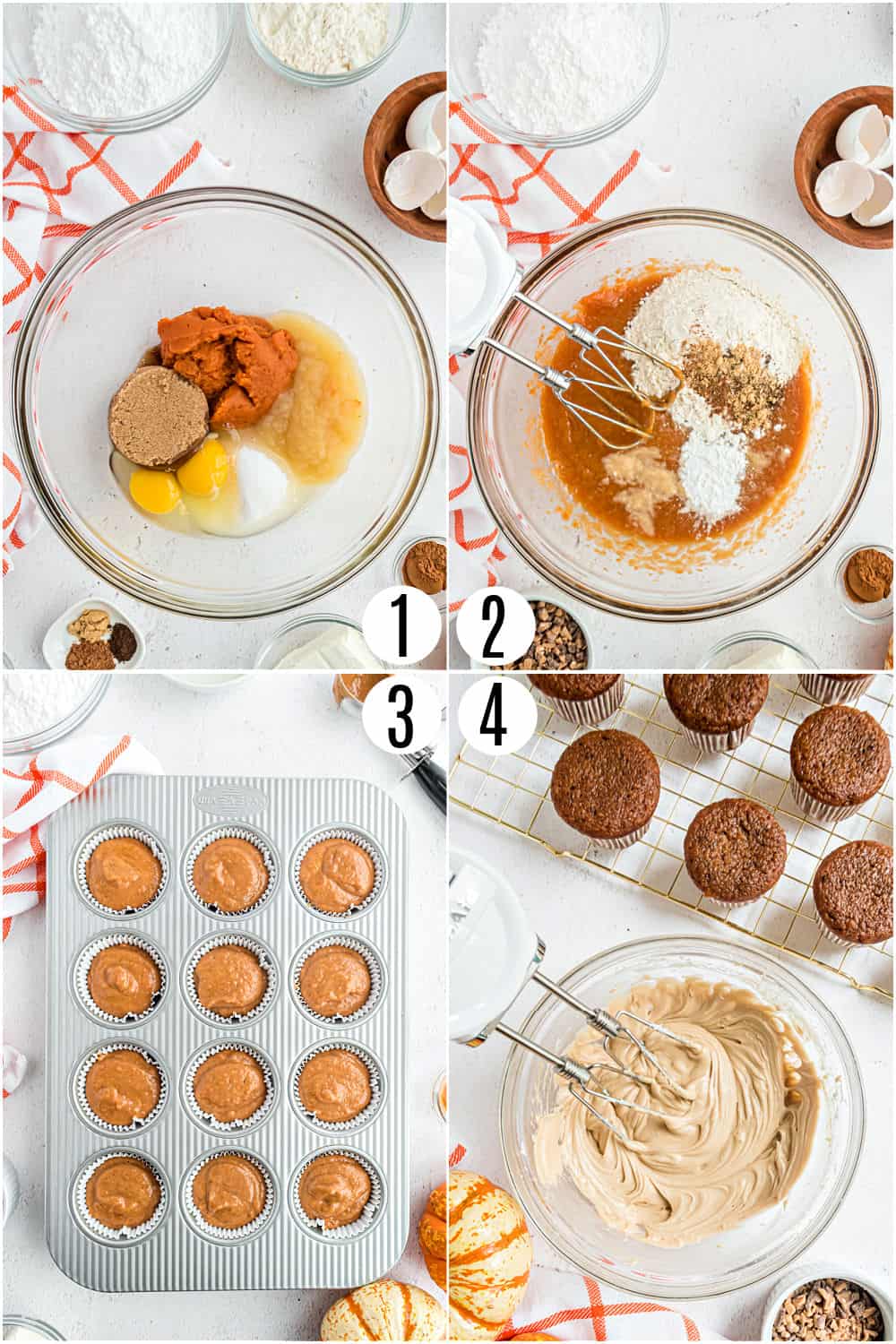 Tips and Tricks
Let your cream cheese and butter soften on the counter for about 30 minutes before making the frosting. This will make it much easier to beat together to get a show stopping fluffy buttercream texture.
The toffee bits are a fun addition but the cupcakes would still be delicious without them!
When filling the cupcake liners, make sure to fill them only about 2/3 of the way full. Any fuller than that and the cupcakes will "dome" on top (like muffin tops).
If you prefer not to use cupcake liners, you can also bake them right in the tin. Spray with cooking spray or lightly grease the tin before adding the batter.
Looking for an almost fat-free pumpkin cupcake? You could replace the maple cream cheese frosting with a dollop of fat free cool whip. Still good, but I highly recommend giving the frosting a try, at least once.
Not a fan of cream cheese frosting? Our vanilla frosting or sour cream frosting are both delicious options!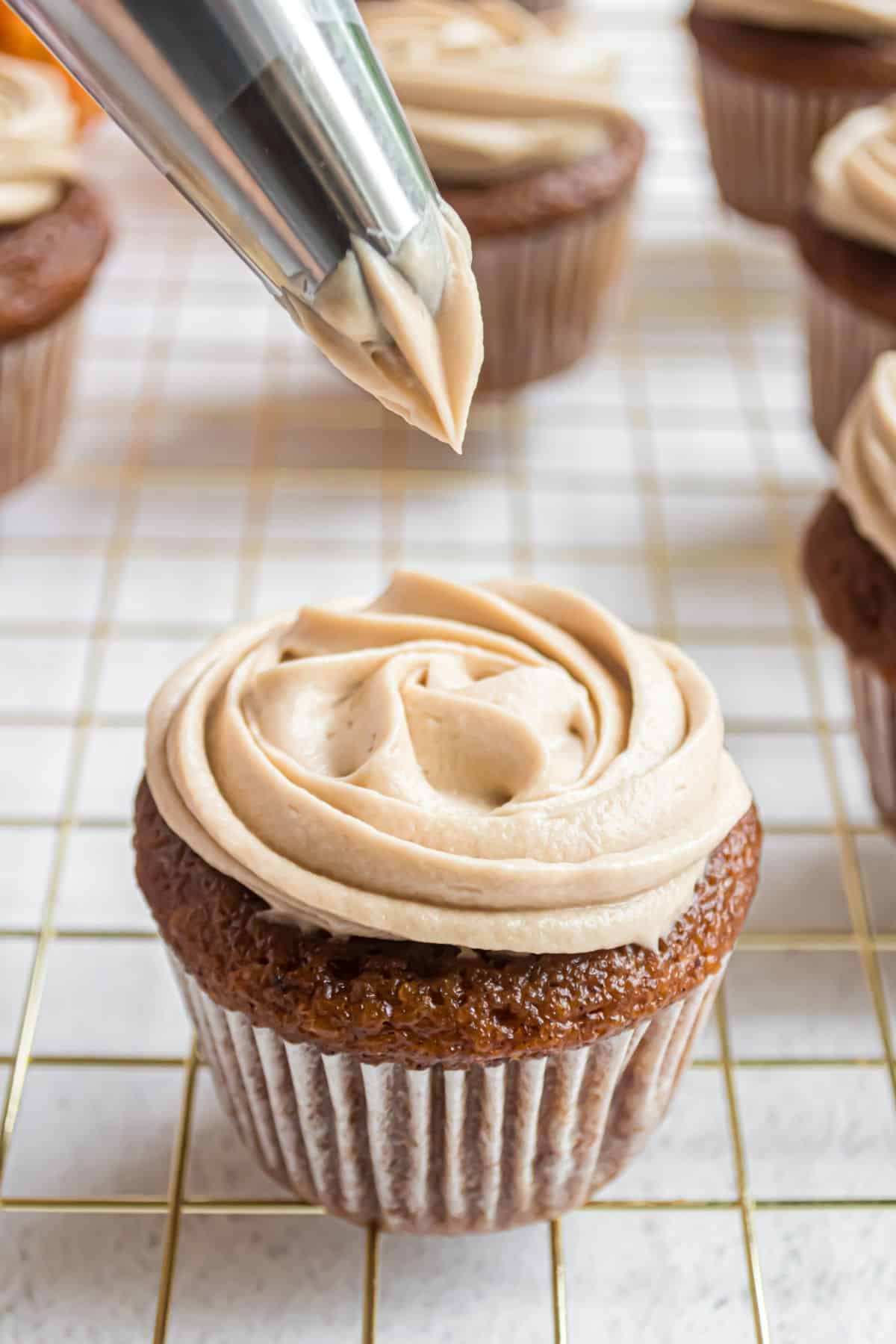 Recipe FAQs
Do you need to refrigerate cupcakes with cream cheese frosting?
Because of the cream cheese in the maple frosting, I recommend storing these pumpkin cupcakes in the refrigerator. You could store the UNfrosted pumpkin cupcakes at room temperature.
Can I use pumpkin pie filling for the pumpkin puree?
No. These pumpkin pie filling and pumpkin puree are not interchangeable in today's pumpkin cupcake recipe.
Can I make pumpkin cupcakes ahead of time?
Pumpkin cupcakes can be made 1 day in advance, and stored in an airtight container at room temperature. Frosting can also be made 1 day in advance, and stored in the refrigerator until ready to use. Frosted or unfrosted cupcakes can be frozen up to 2-3 months. Thaw overnight in the refrigerator.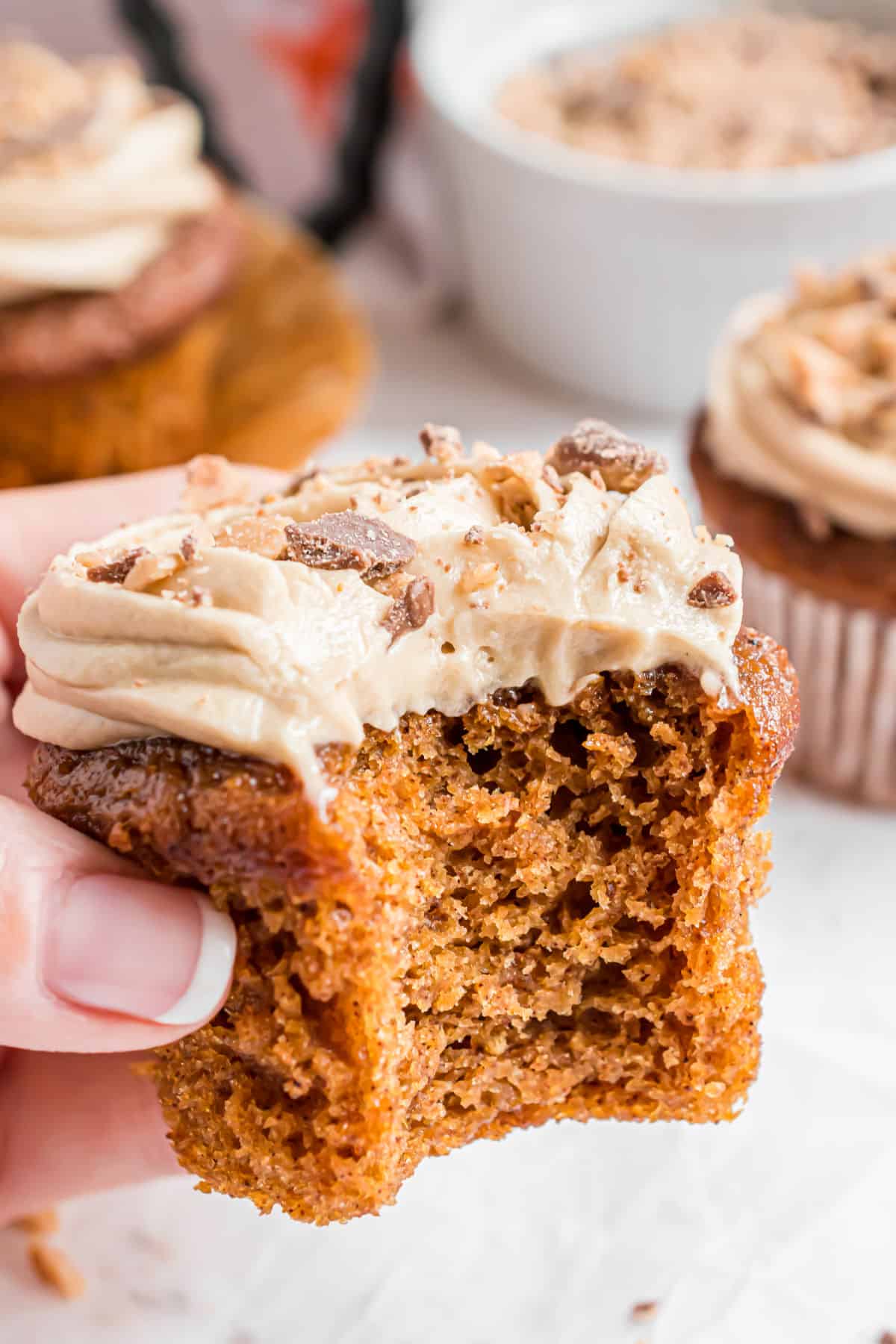 More Easy Dessert Recipes
These pumpkin cupcakes are ideal for a fall bake sale, a Halloween party treat or even a Thanksgiving dessert if you have guests who aren't into pie.