Incredibly moist Pumpkin Cupcakes with Maple and Toffee Frosting are here to invade your fall baking plans! Fall spiced pumpkin cupcakes topped with cream cheese frosting that's been flavored with maple and toffee!
Love pumpkin? We're obsessed with these Pumpkin Scones for breakfast! You can also whip up a Pumpkin Cream Cold Brew coffee to drink on the side!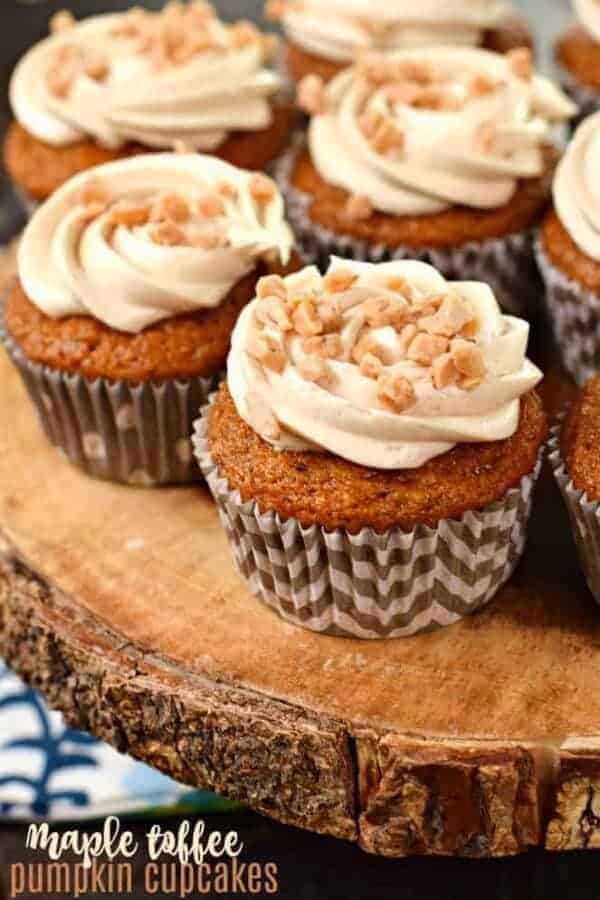 Fall Baking
Fall is my favorite time of the year to bake and not just because of all the pumpkin treats! The crisp air and plummeting temperatures make me want to fill my house with the smell of something warm baking in the oven.
I've already engaged in a ton of fall baking this year and I have no plans to stop anytime soon.
There was only one thing to do: make pumpkin cupcakes.
These cupcakes are so easy to make. And did I mention that the batter itself is oil and butter free? You would never know by the taste–they are so moist!
Pumpkin itself adds a ton of moisture. The rest comes from applesauce. This replicates the moisture added by butter or oil but without any of the fat. I also liked how light and fluffy they taste.
No oily cupcake liners with this recipe!
While your pumpkin cupcakes are baking, pour yourself a hot cup of coffee with some homemade pumpkin spice coffee creamer…and get started on the frosting!
Maple Frosting
I'm not sure why it had never occurred to me before to put maple frosting on my pumpkin cupcakes. They're both classic fall flavors and they go together beautifully.
Unlike the cupcakes themselves, this cream cheese frosting is NOT low fat. Thank goodness!
We need little butter somewhere in this dessert, right? When it comes to frosting, I go big or go home.
To make frosting, beat butter and cream cheese until smooth. Beat in maple and powdered sugar and mix for 2-3 minutes.
You can spread on your frosting with a knife or rubber spatula or do what I did and pipe it on with a pastry bag. I decided I wanted a little crunch on top of these, too, so I also sprinkled each cupcake with Toffee Bits.
All those fall flavors coming together in one cupcake put a big grin on my face.
This recipe made a dozen cupcakes even, which was perfect. Anymore than that and I may have eaten more cupcakes than I could handle. When it comes to pumpkin cupcakes, self control is not a quality that comes naturally.
**These cupcakes are so moist, frosting isn't necessary. Dollop with some homemade whipped cream for a delicious dessert.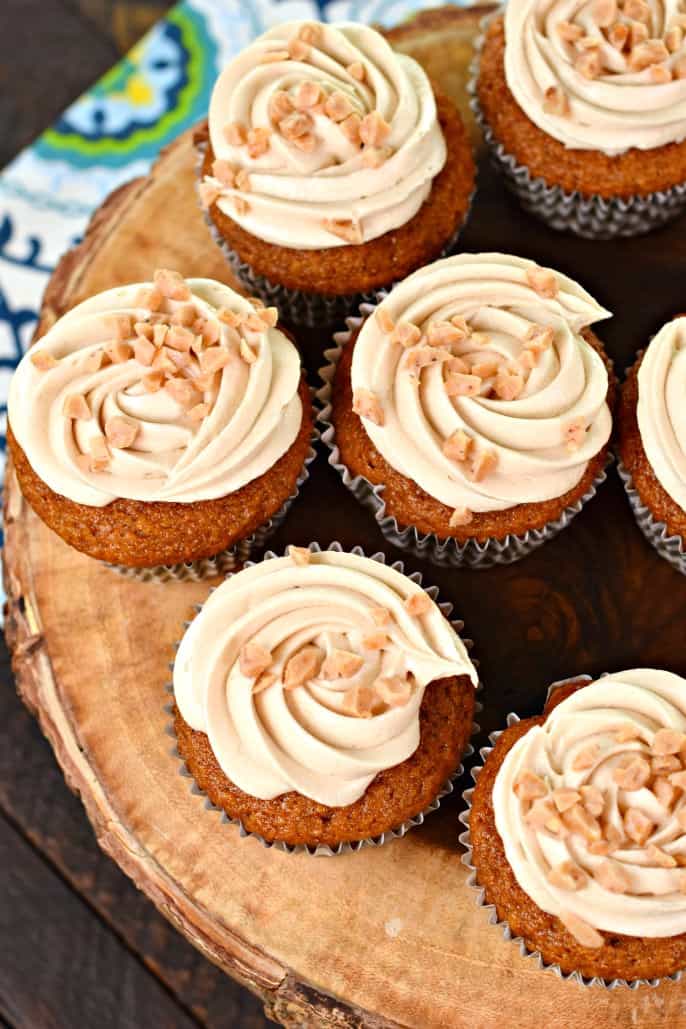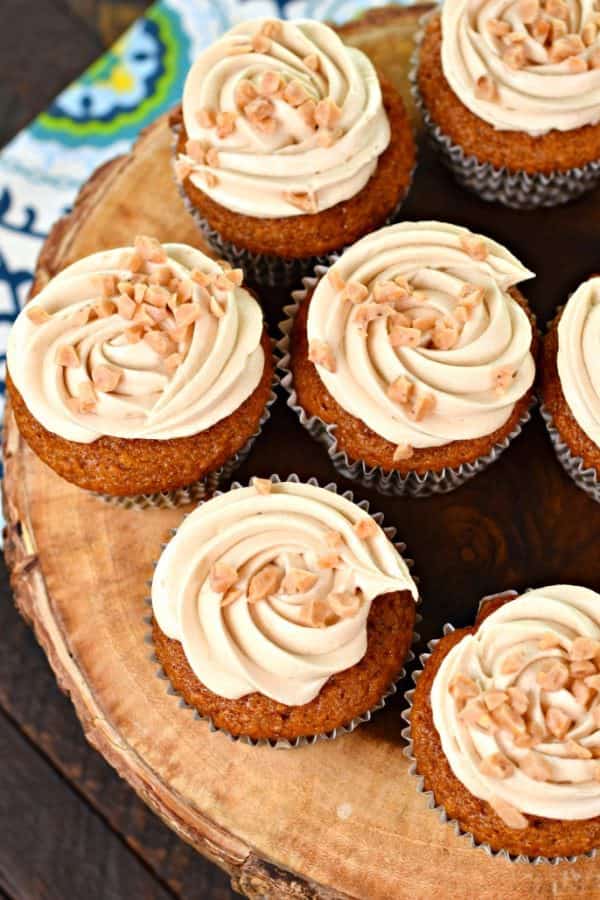 Recipe FAQs
Do you need to refrigerate cupcakes with cream cheese frosting?
Yes. Because of the cream cheese in the maple frosting, I recommend storing these cupcake in the refrigerator. You could store the UNfrosted pumpkin cupcakes at room temperature.
Can I use pumpkin pie filling for the pumpkin puree?
No. These are not interchangeable in today's pumpkin cupcake recipe.
Can I make pumpkin cupcakes ahead of time?
Pumpkin cupcakes can be made 1 day in advance, and stored in an airtight container at room temperature. Frosting can also be made 1 day in advance, and stored in the refrigerator until ready to use. Frosted or unfrosted cupcakes can be frozen up to 2-3 months. Thaw overnight in the refrigerator.
Tips and Tricks
Let your cream cheese and butter soften on the counter for about 10 minutes before making the frosting. This will make it much easier to beat together to get a showstopping fluffy buttercream texture.
The toffee bits are a fun addition but the cupcakes would still be delicious without them!
When filling the cupcake liners, make sure to fill them only about 2/3 of the way full. Any fuller than that and the cupcakes will "dome" on top (like muffin tops).
If you prefer not to use cupcake liners, you can also bake them right in the tin. Spray with cooking spray or lightly grease the tin before adding the batter.
Looking for an almost fat-free pumpkin cupcake? You could replace the maple cream cheese frosting with a dollop of fat free cool whip. Still good, but I highly recommend giving the frosting a try, at least once.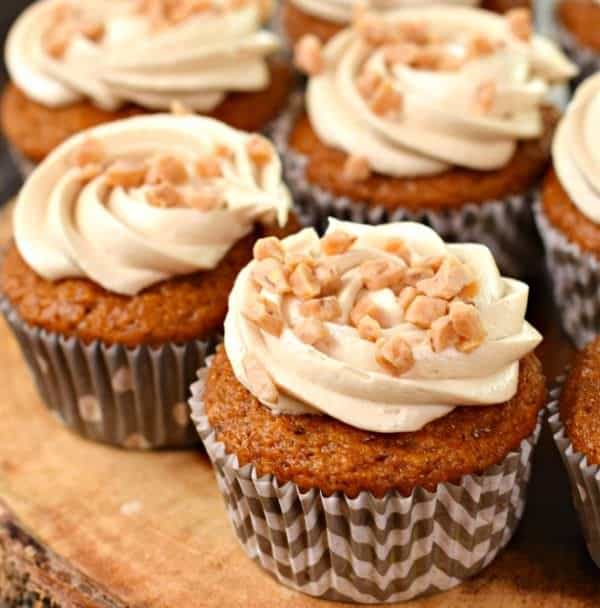 These pumpkin cupcakes are ideal for a fall bake sale, a Halloween party treat or even a Thanksgiving dessert if you have guests who aren't into pie.
More Pumpkin Recipes
Pumpkin Whoopie Pies with Chocolate Cream Cheese filling are the perfect snack to pack in the kids school lunches! Try a batch today!
I've had this Maple Pumpkin Butter from Barefeet in the Kitchen saved for a few years now. Time to get moving and make it!
Love maple? This Maple Peanut Butter Fudge is such a treat for the holidays, and goes great with all your pumpkin desserts!
I'll be whipping up a batch of these Pumpkin Pancakes with Maple Pumpkin Butter from A Family Feast very soon! Like maybe today!
This Low Sugar Pumpkin Cheesecake from Kalyn's Kitchen is perfect for the holidays. Love the layers!