Rich Chocolate Cupcakes topped with Chocolate Chip Cheesecake frosting! Decadent, from scratch, and totally delicious. Moist and delicious with a tangy cream cheese frosting that is loaded with chocolate chips!
Can't get enough chocolate and cheesecake? Bookmark these Chocolate Chip Cheesecake Bars for later! Or try our stuffed chocolate chip cheesecake cookies for an on the go treat!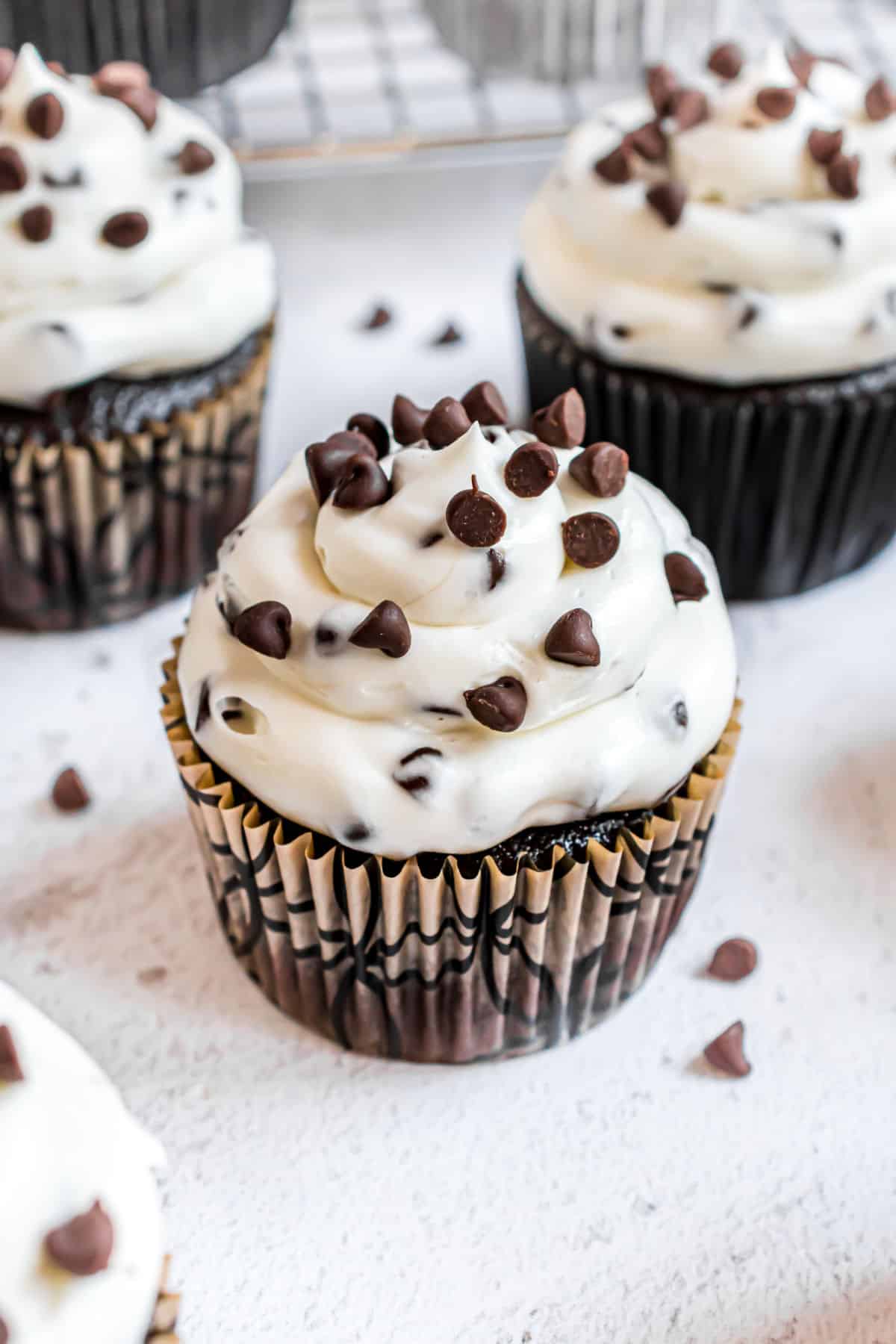 Why this Recipe Works
This decadent dessert is the combination of two all time favorites: my richest chocolate cupcake recipe and my famous cream cheese frosting.
Putting them together creates a decadent cupcake that tastes eerily similar to a chocolate cheesecake! Only, it's even easier to make and you don't have to worry about a cracked top.
I added chocolate chips on top for an eye catching and delicious finish! Make these Chocolate Chip Cheesecake Cupcakes now. You can thank me later!
Ingredient Notes
Coffee. Brewed hot coffee is my secret ingredient for creating the most chocolatey cupcakes! It adds an added dimension of flavor that makes the chocolate stand out.
Buttermilk. Use a store bought variety or try homemade buttermilk for making moist cupcakes.
Bittersweet chocolate. The higher quality the chocolate, the better the cupcakes turn out. I use Ghirardelli brand.
Cream Cheese. Don't even think about using anything other than full fat here!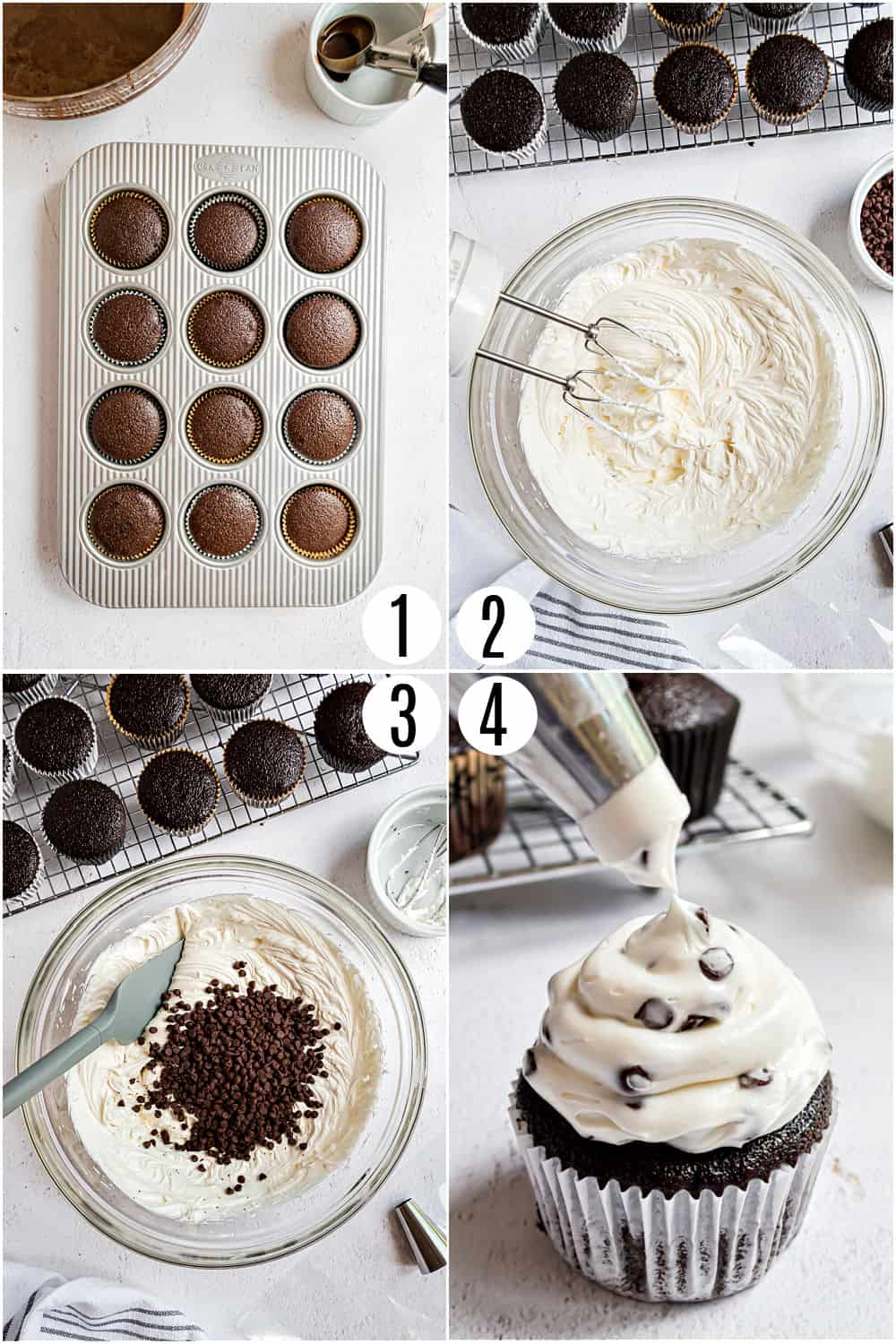 Easy Instructions
For the cupcakes:
Pour hot brewed coffee over cocoa powder and chopped chocolate squares. Stir until the chocolate is melted.
Add the remaining ingredients and beat to combine. Scoop the batter into a lined cupcake pan. Bake for 18 to 20 minutes.
For the frosting:
Beat the butter and cream cheese, then add remaining ingredients. Fold in chocolate morsels.
To assemble:
Pipe cream cheese frosting onto cupcakes using frosting bags. Sprinkle more mini morsels on top and enjoy!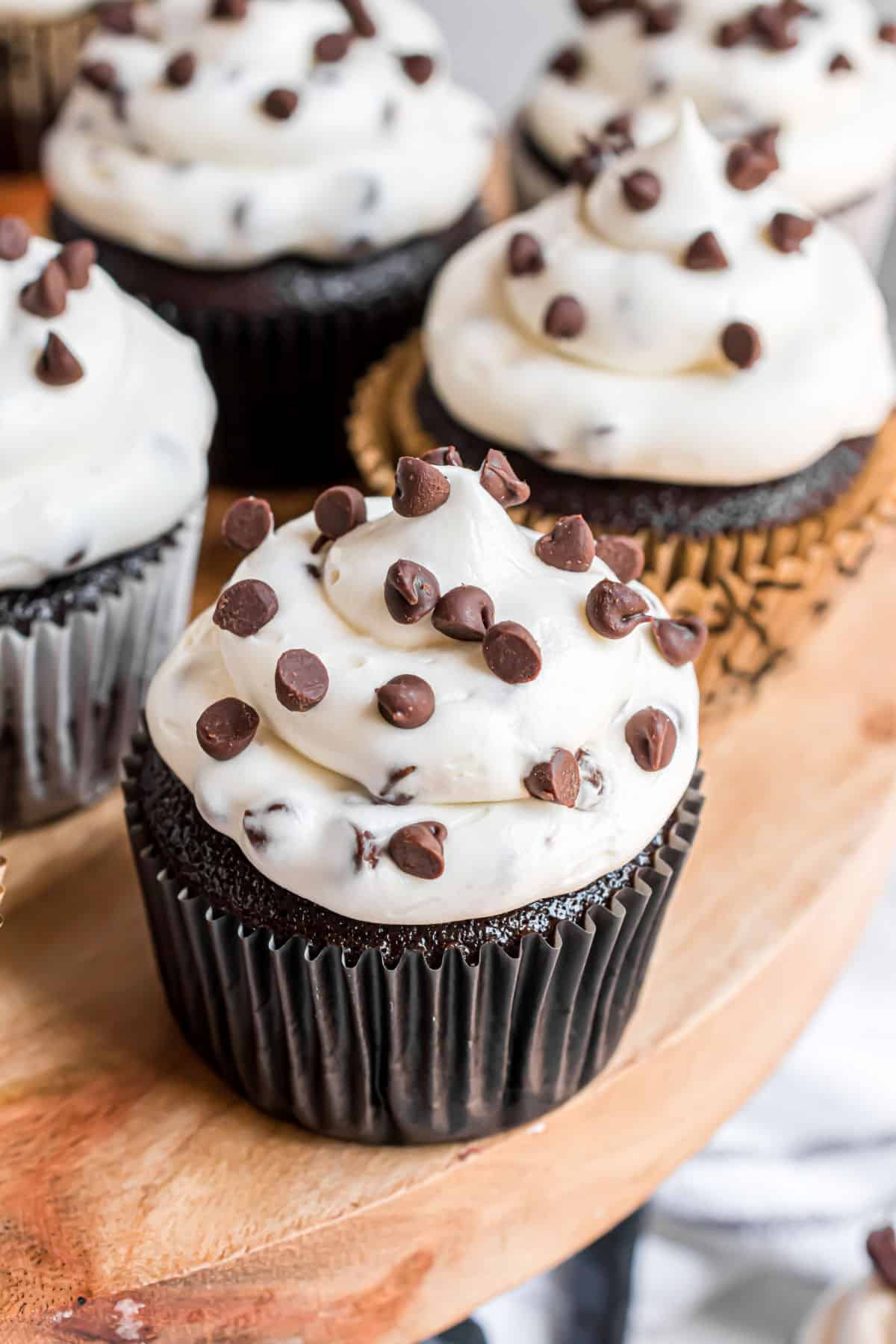 Tips and Tricks
How to prevent chocolate from settling. The cocoa solids will naturally settle and cling to the sides of the bowl as you make the cupcake batter. Stay on top of it by regularly scraping down the sides of the bowl as you mix.
How to tell if cupcakes are done. Press your finger to the center of one of the chocolate cupcakes. If it springs back right away, the cupcakes are done. If an indentation remains, they need a few more minutes in the oven.
Use a cookie scoop. To ensure evenly sized cupcakes, use a cookie dough scoop to divide the batter. Fill each cavity of the tin about 2/3 of the way full.
Recipe FAQs
Do you have to keep these cupcakes in the fridge?
Yes, I recommend keeping them chilled if not eating right away, due to the cream cheese frosting.
Can I make these cupcakes ahead of time and freeze them?
You can make the cupcakes ahead of time and freeze them before adding the frosting. Seal in freezer bags and keep in the freezer for up to 3 months. When ready to eat, let the cupcakes thaw then add the cream cheese frosting.
Do the chocolate cupcakes taste like coffee?
The answer is a resounding NO! You can't taste the coffee at all. The bitterness merely serves to deepen the cocoa flavor in your chocolate cheesecake cupcakes.
Can I use milk instead of heavy cream in my frosting?
You can use milk, but the results will not be as thick and creamy.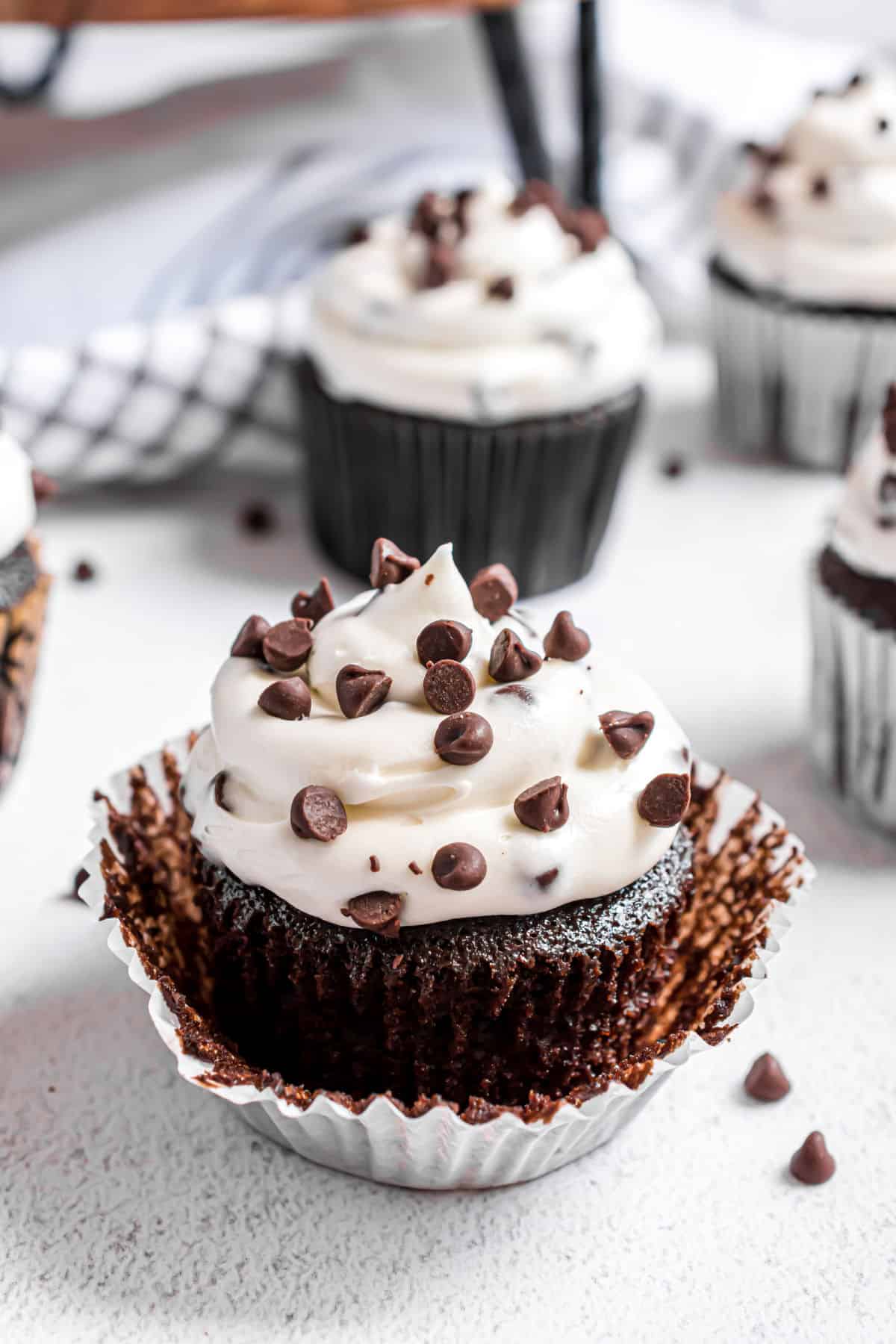 More Easy Desserts
Love chocolate cheesecake? These chocolate cupcakes with cream cheese frosting will dazzle your taste buds!