Chocolate chip cookies and cheesecake collide. Chocolate Chip Cheesecake Cookies look like typical cookies at first glance–until you take a bite and discover the creamy cheesecake center. Amp up your cookie game with these easy recipe!
Love chocolate and cheesecake? Try these Chocolate Chip Cheesecake Cupcakes next. Or give our chocolate chip cheesecake bars a try soon!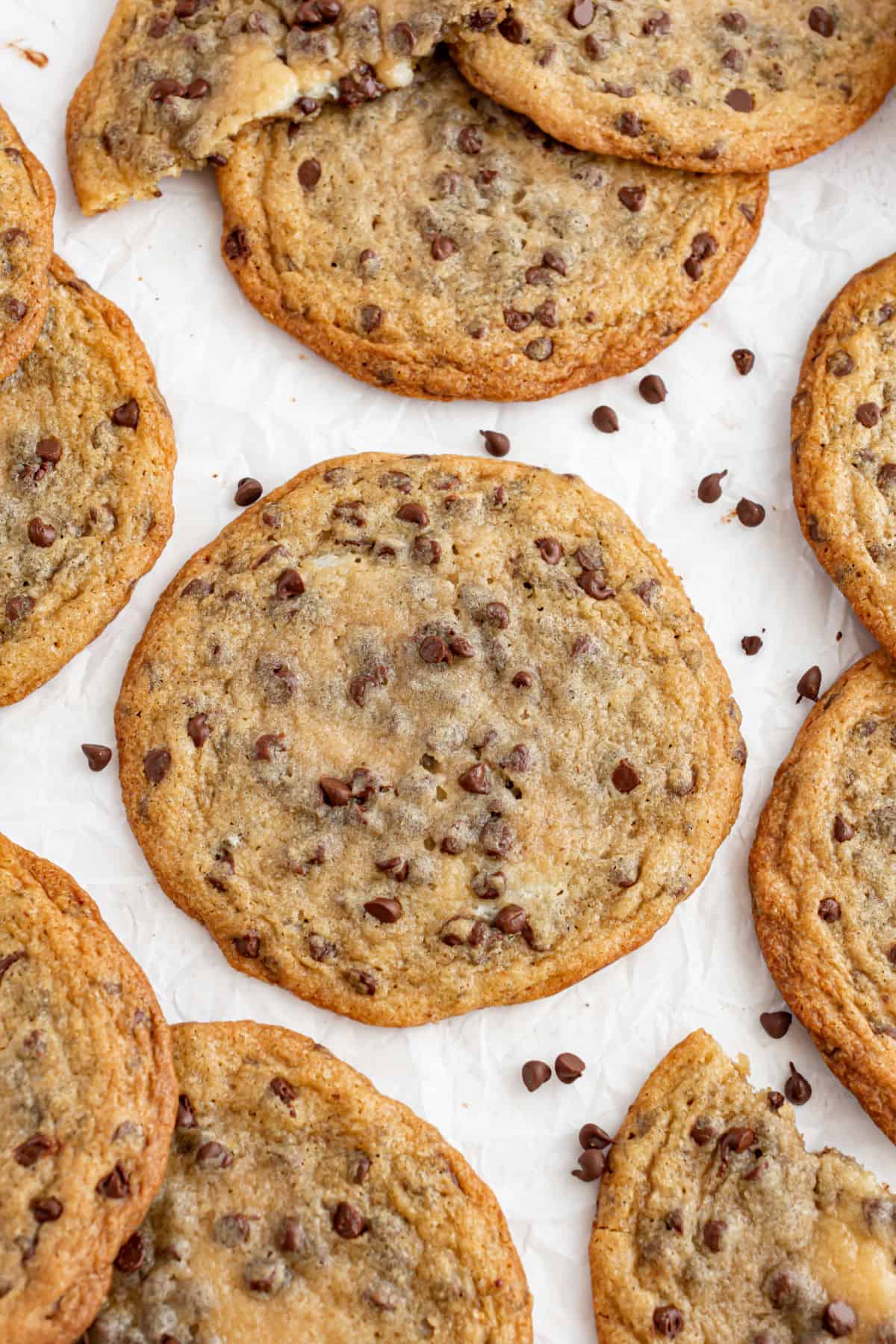 Why this Recipe Works
Classic chocolate chip cookies on the outside. Pure cheesecake bliss on the inside!
Cheesecake center bakes right into the cookies, with no extra steps or fuss.
Delicious served chilled straight from the refrigerator!
Easy to make with no complicated ingredients or materials.
GIANT cookies!
I recently shared my Soft Cheesecake Cookies recipe with you all. Today's recipe offers a different variation on the concept.
Instead of baking cream cheese into the dough, you make a cheesecake filling that goes into the center of a chocolate chip cookie. It's the best of both worlds!
Ingredient Notes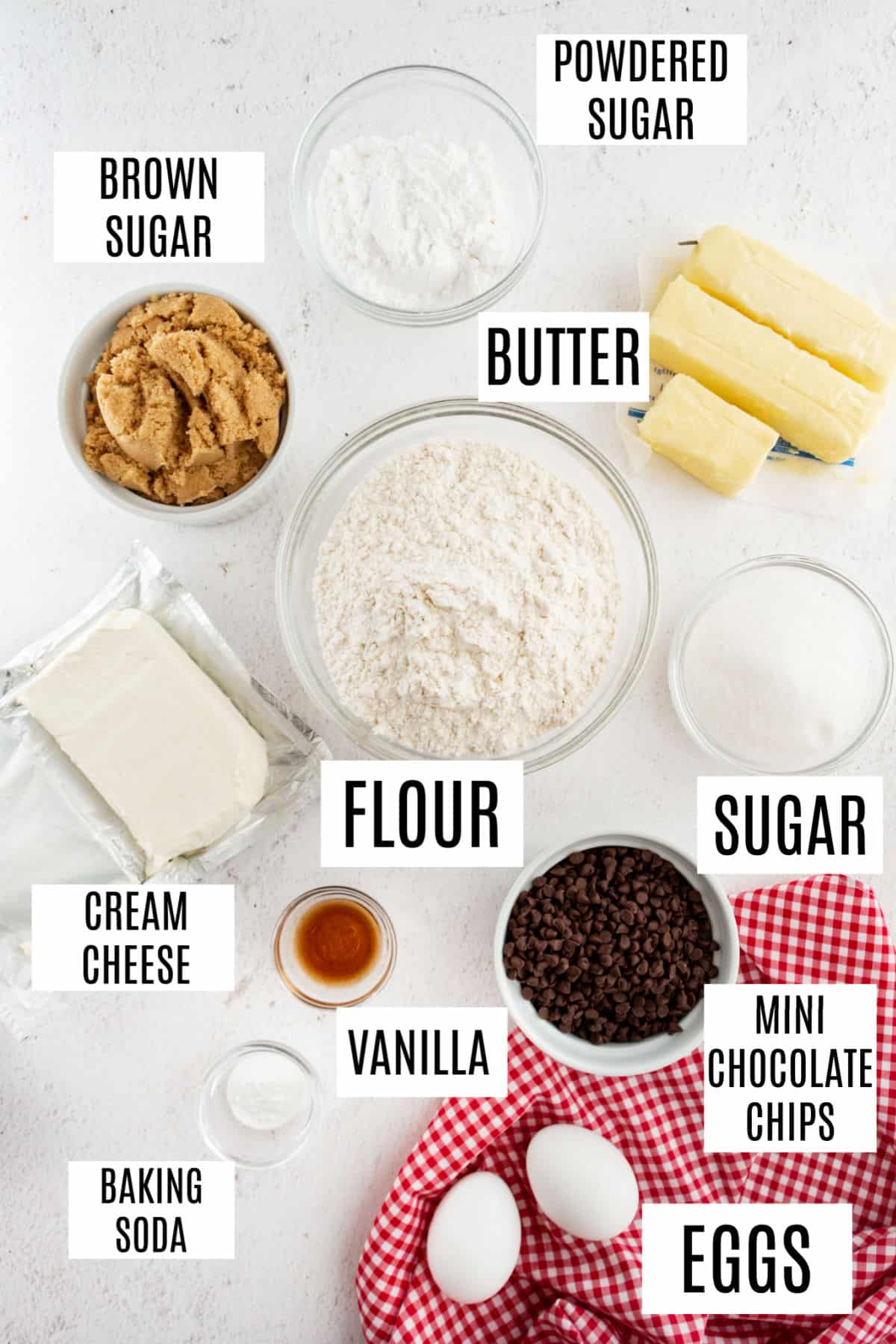 Salted butter. Usually I prefer unsalted butter for baking, but the salted butter adds lovely flavor to this cookie recipe.
Mini chocolate morsels. Semi-sweet are my preference but dark, milk or even white chocolate can be used too.
Vanilla extract. If you haven't learned How to Make Vanilla Extract, now is the time! Or use store bought pure vanilla if you're on short notice.
Cream cheese. Use full fat for best flavor. Will need to be softened!
Easy Instructions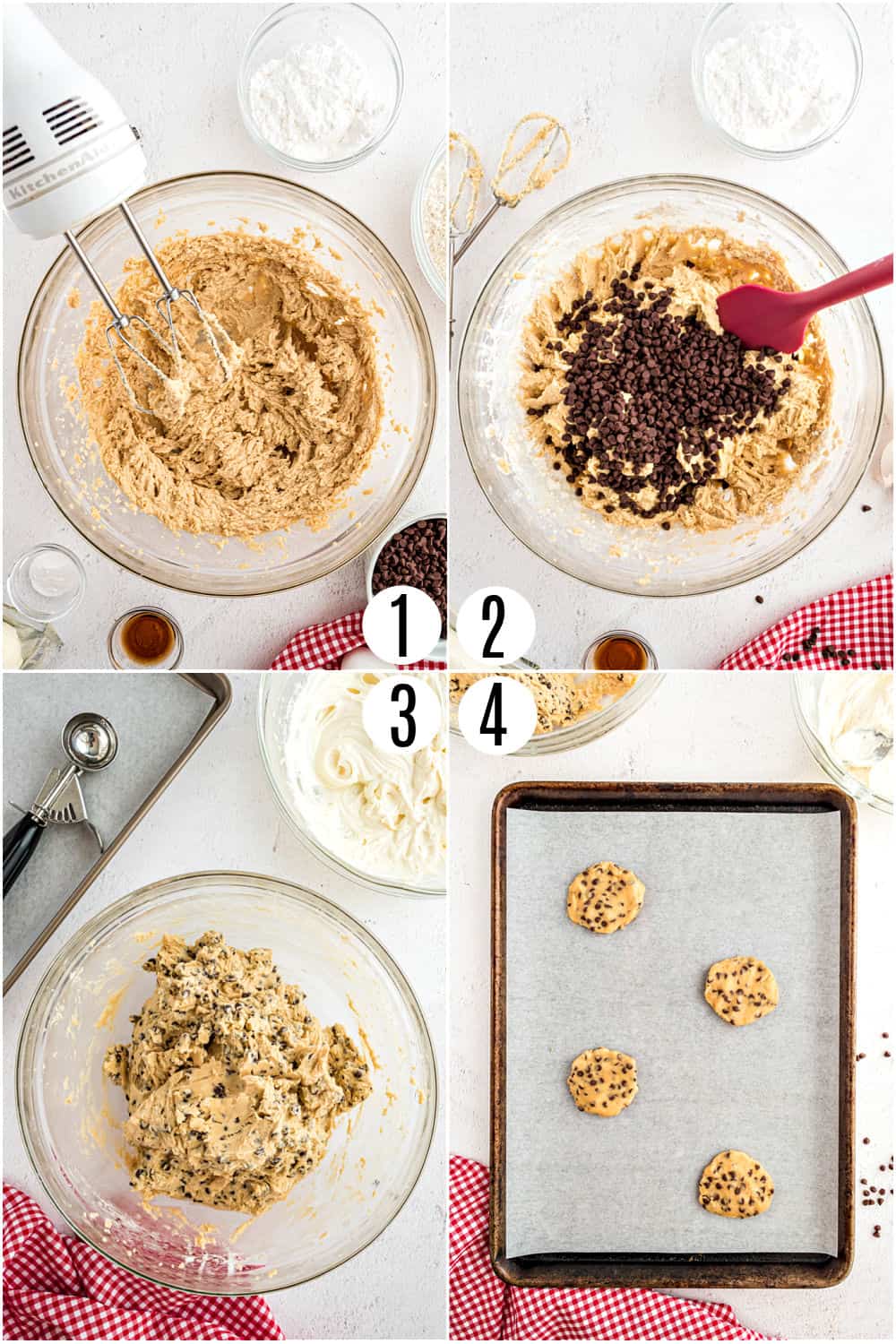 Make and chill the cookie dough.
Prep the dough just like if you were making regular chocolate chip cookies. Allow the dough to chill for 30 minutes in the fridge for easiest handling.
Add cheesecake filling.
Beat the cheesecake ingredients together until smooth.
Scoop cookie dough into the palm of your hand and flatten slightly to form a disk. Drop a spoonful of cheesecake filling onto the center of the cookie.
Top with another scoop of cookie dough. Press the edges together. Repeat until all the cookie dough has been used.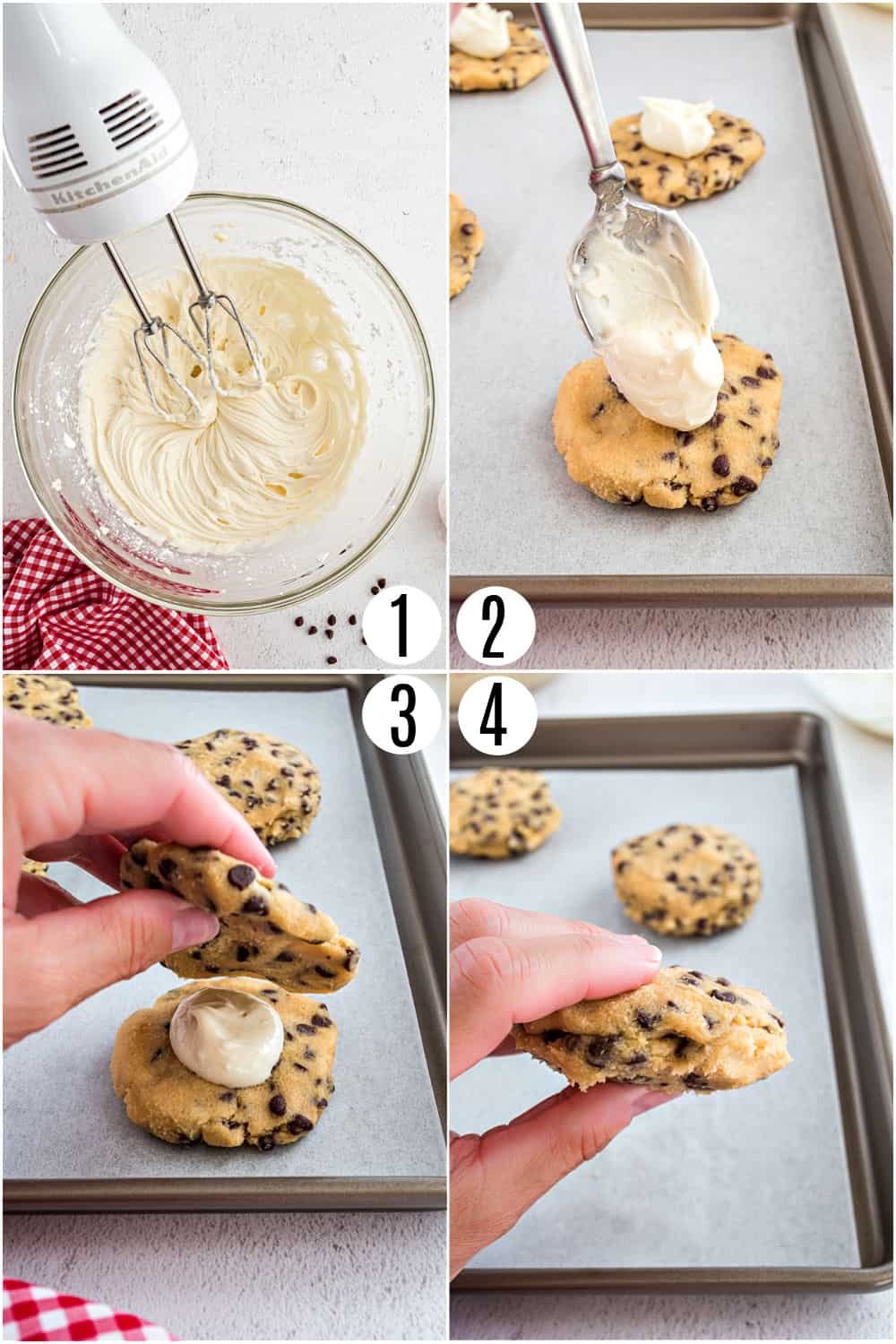 Bake.
Bake chocolate chip cheesecake cookies on a lined baking sheet for 12 – 14 minutes. Remove, let cool and chill before serving.
Tips and Tricks
Do not over bake. The edges of the cookies should be just lightly golden brown with a slightly soft center. When in doubt, err on the side of under baking rather than over baking.
In a rush? Skip the chilling. The dough is less sticky after some time in the fridge, making it easier to handle. But the taste of the finished cheesecake cookies will not be effected if you decide not to chill the dough.
Let cool on the baking sheet for 5 minutes. The cookies will continue to cook a bit as they cool. After several minutes, transfer to a wire rack to finish cooling.
More filling. Stuff with caramel bits instead of cheesecake! Like I did with these caramel stuffed chocolate chip cookies. Or Oreos! These Oreo stuffed cookies are delicious! Try our S'mores Cookies too!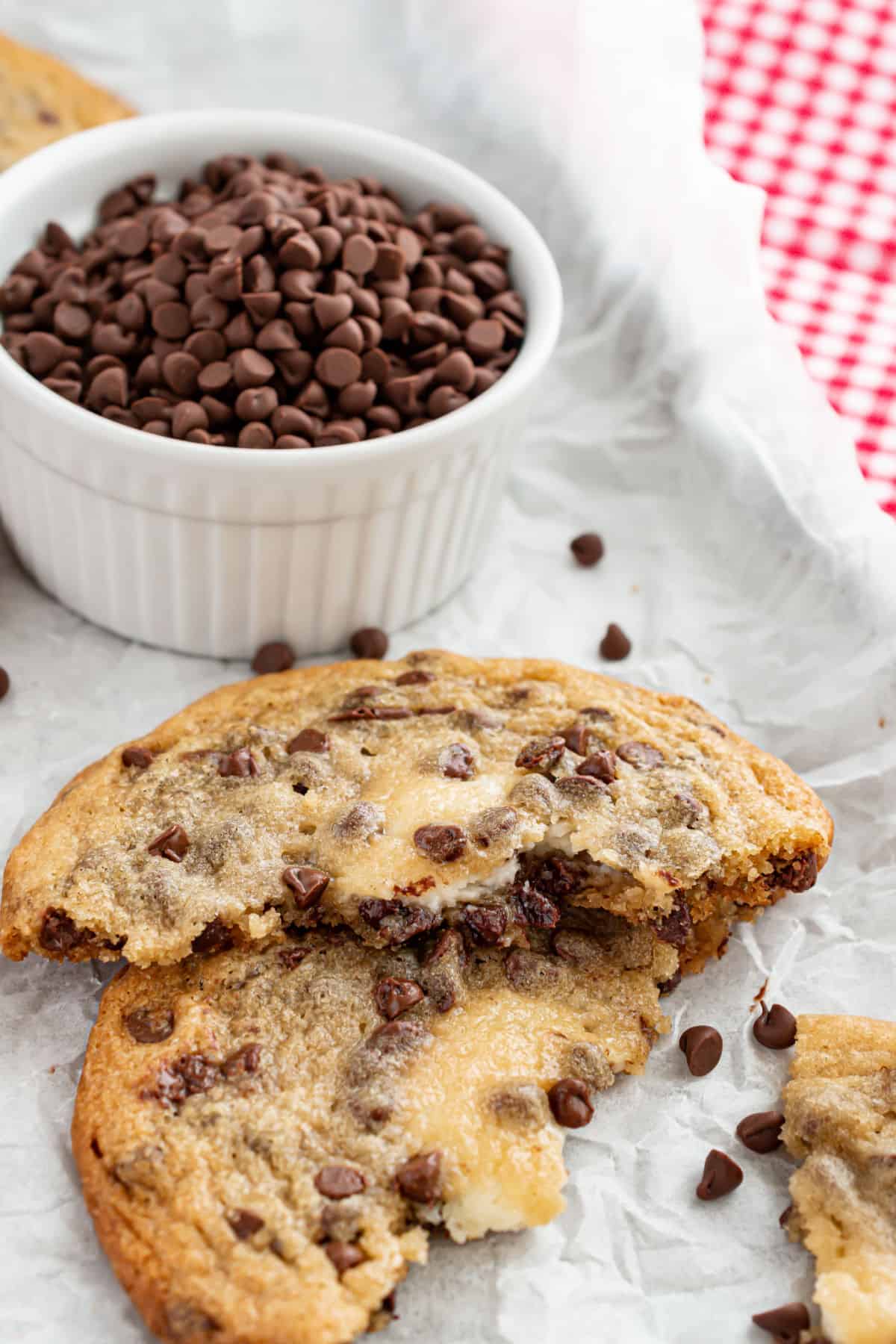 Recipe FAQs
How do you store these cookies?
Chocolate Chip Cheesecake Cookies should be stored in the refrigerator in an airtight container. Enjoy cold for best taste!
Can you freeze cookies with a cheesecake filling?
Yes, these cheesecake filled cookies can be kept frozen for 1 -2 months. Let thaw in the refrigerator before eating.
Can I prep this dough ahead of time?
Yes, you can make the chocolate chip cookie dough as many as 2 to 3 days in advance. Keep tightly wrapped in the fridge until ready to bake. The dough freezes well for several months too!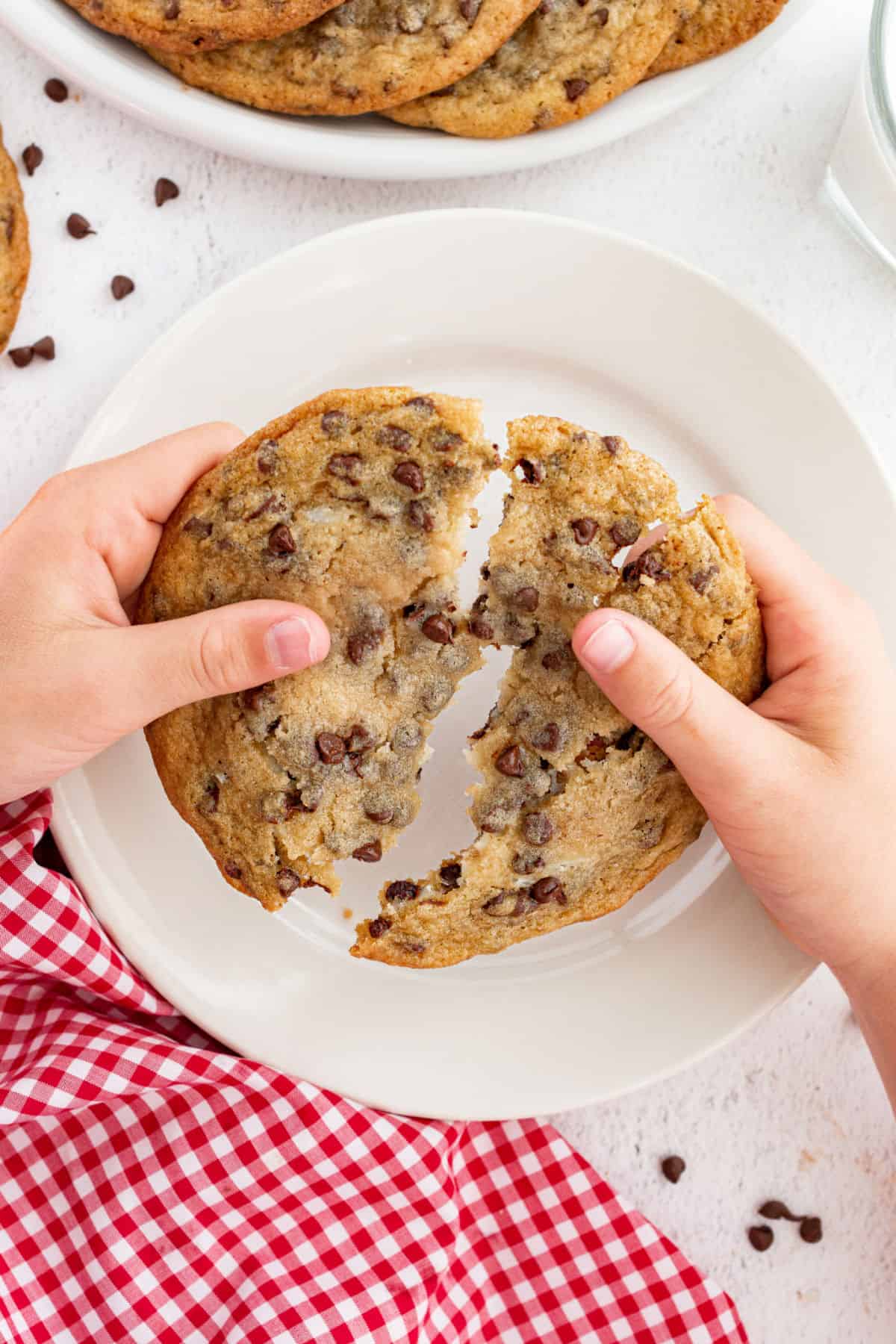 More Easy Dessert Recipes
Chocolate Chip Cookies meet their new best friend: cheesecake! Cheesecake and cookie lovers can't get enough of these delectable handheld treats.