Caramel Chocolate Chip Cookies have a chewy cookie base filled with ribbons of sweet caramel. This easy recipe turns a familiar favorite cookie into an extra decadent treat!
Love caramel and chocolate together? Try these Chocolate Caramel Brownie Bites next. Our Salted Caramel Chocolate Cake is also a reader favorite for birthdays and holidays!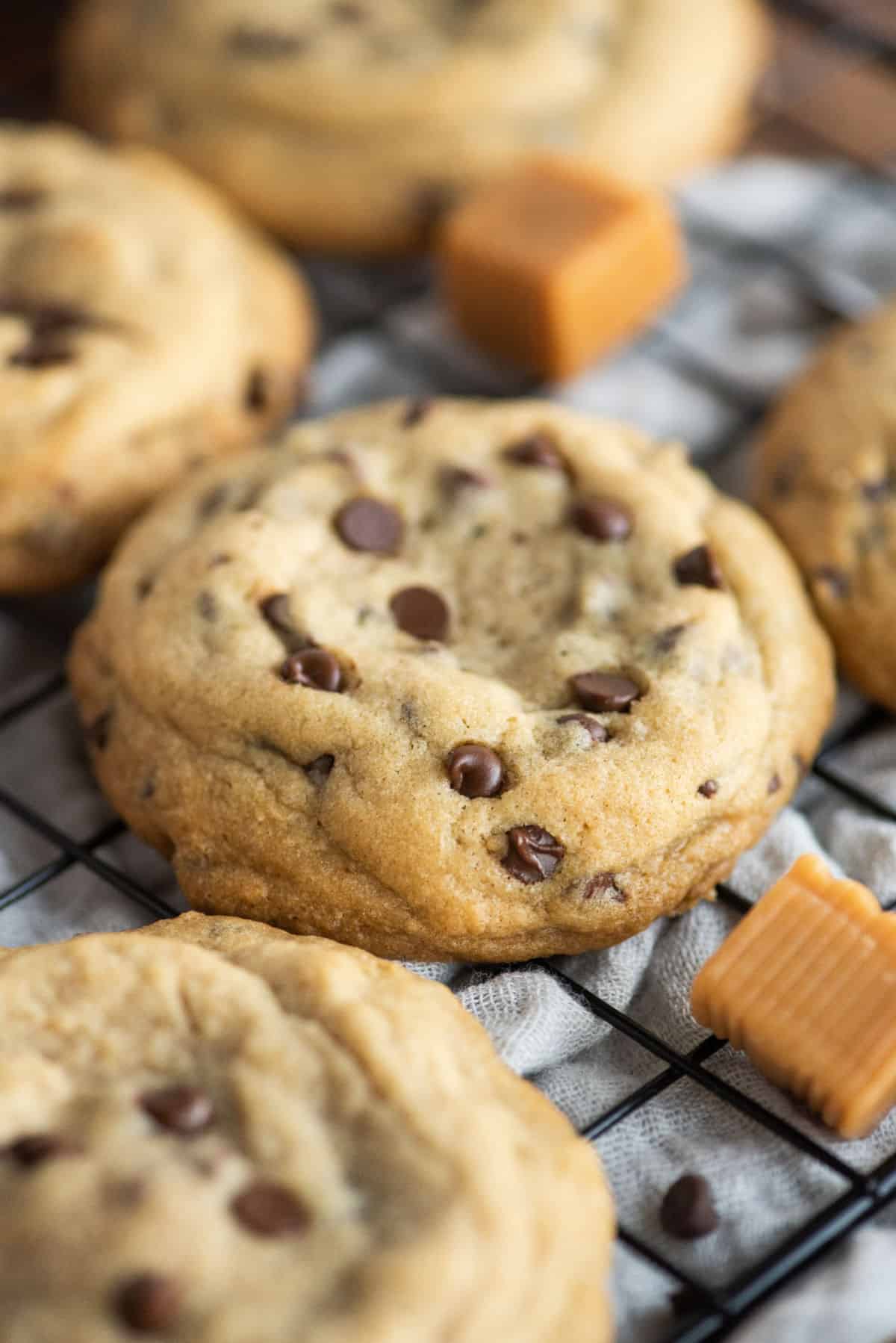 Why this Recipe Works
Chocolate Chip Cookie variations never get old.
Caramel Chocolate Chip Cookies are the latest version to wow my taste buds.
Amazing gooey turtle taste without any fuss or mess. Just add caramel candies to cookie dough!
These cookies have the perfect ratio of caramel to chocolate chips.
Looks like regular chocolate chip cookies with the surprise of caramel inside!
Soft, chewy cookies puff just slightly as they bake. No flat, thin cookies with this recipe.
Easy to make, store and serve.
Whether you crave peanut butter chocolate chip cookies, oatmeal chocolate chip cookies, or MONSTER cookies, they're some of my most popular and requested recipes!
These candy stuffed cookies have a golden brown exterior with an gooey soft center. Delicious ribbons of buttery caramel combine with smooth semi-sweet chocolate for a treat no one can resists.
Ingredient Notes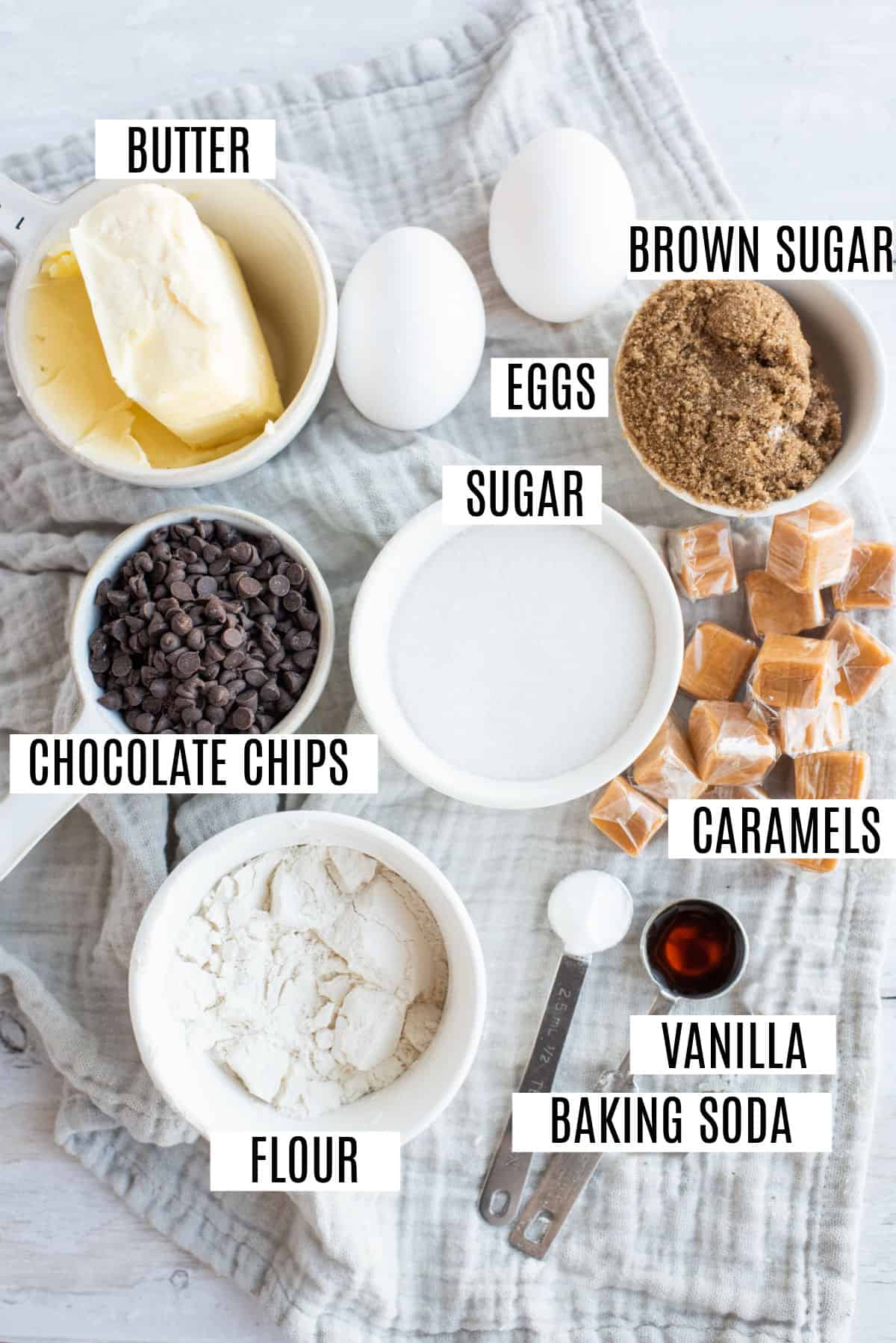 Brown Sugar & Granulated Sugar. A combination of sugars results in extra moist, extra chewy cookies!
Caramel candies. Any soft candy works. I use the individually wrapped ones in the candy aisle. Unwrap them before baking. For best flavor, use our homemade caramels instead!
Salted butter. Usually I prefer unsalted butter in my baking, but salted butter complements the caramel in these cookies.
Vanilla extract. My Vanilla Extract is especially phenomenal in chocolate chip caramel cookies.
Chocolate Chips. Regular or mini size semi-sweet chocolate chips works perfect.
Easy Instructions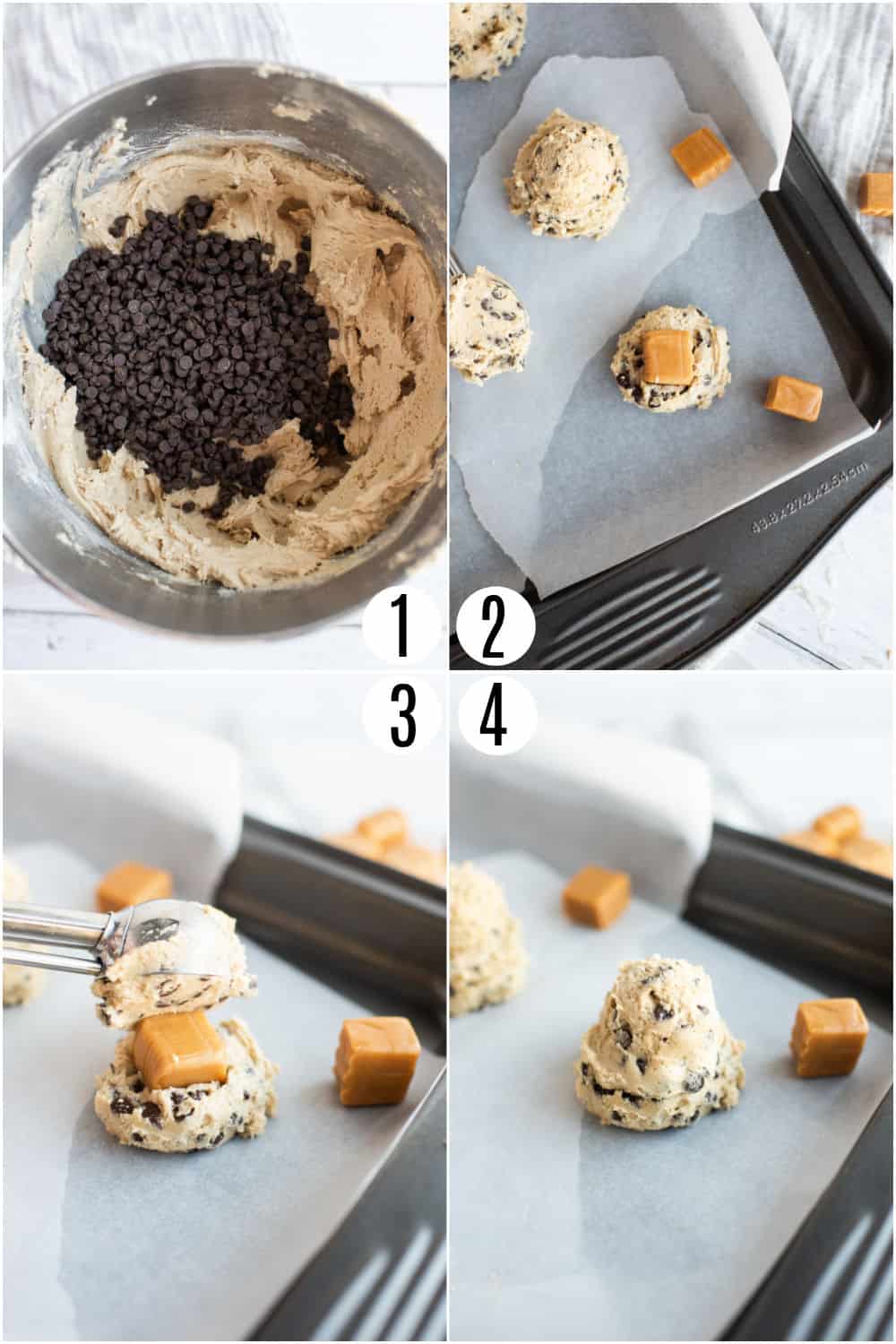 Prepare the baking sheet.
Preheat the oven and line a baking sheet with parchment paper.
Combine wet ingredients.
Beat butter and sugars until fluffy. Add eggs and vanilla and combine well.
Add dry ingredients.
Mix in the flour and baking soda to form a dough. Fold in chocolate chips.
Add caramel center.
Scoop a spoonful of the cookie dough on to the baking sheet. Add a caramel on top. Scoop a second spoonful of cookie dough over the caramel.
Repeat until all the dough is used.
Bake.
Bake caramel chocolate chip cookies for 12 to 14 minutes. Let them cool on the baking sheet for about 5 minutes. Transfer to a wire rack to cool completely.
Bite into a delicious chocolate chip cookie oozing with caramel!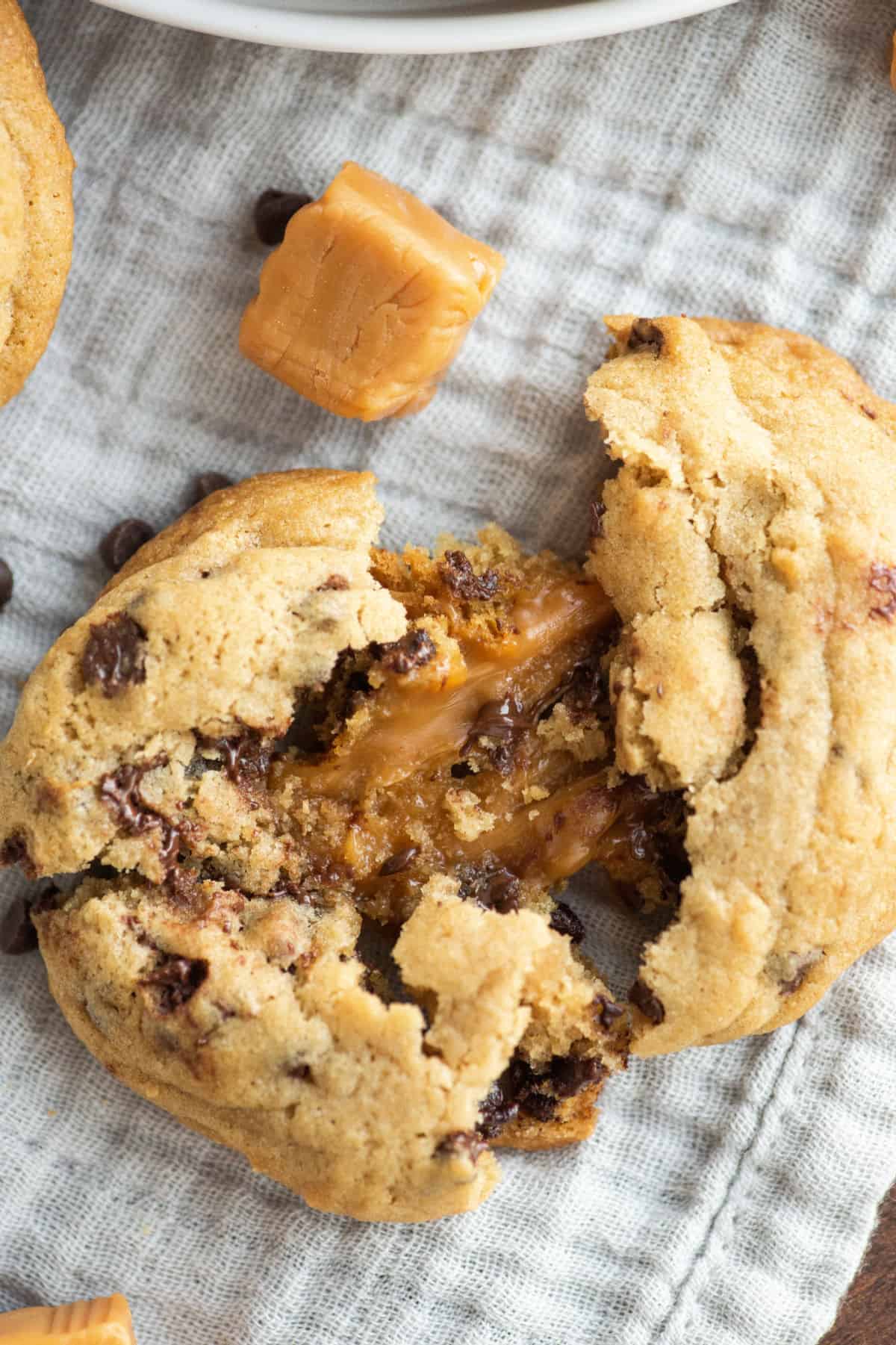 Tips and Tricks
Don't forget the parchment paper. Whenever caramel is involved, be extra vigilant to prevent it from sticking to your counter or bakeware. The parchment will catch any stray melting caramel for easy clean up.
Close sides of cookie dough. Before baking, make sure the top and bottom sides of each cookie dough ball are touching. This will keep the caramel from leaking out of the cookie as it bakes. You can gently pinch the sides together if needed.
Storing. Transfer cooled cookies to an airtight container. Store at room temperature and enjoy within 4-5 days for best taste.
Stuffed Cookies. Love stuffing your cookies? Try our Cream Cheese Stuffed Chocolate Chip Cookies or give these Oreo Stuffed Cookies a try soon!
Recipe FAQs
I only have unsalted butter! Can I use it in these cookies instead?
Yes, if using unsalted butter I would add about 1 tsp of kosher salt along with the dry ingredients.
Can you make the dough ahead of time and freeze it?
Yes, I would freeze the dough after scooping it and adding the caramel. Place the filled unbaked cookies in the freezer until solid. Then transfer the frozen cookie dough balls to a freezer safe bag. When ready to eat, place on a sheet and bake as directed. Add a couple of minutes of baking time for frozen dough.
Can I freeze the cookies after baking?
You sure can freeze chocolate chip caramel stuffed cookies! They'll keep in freezer bags for about 3 months.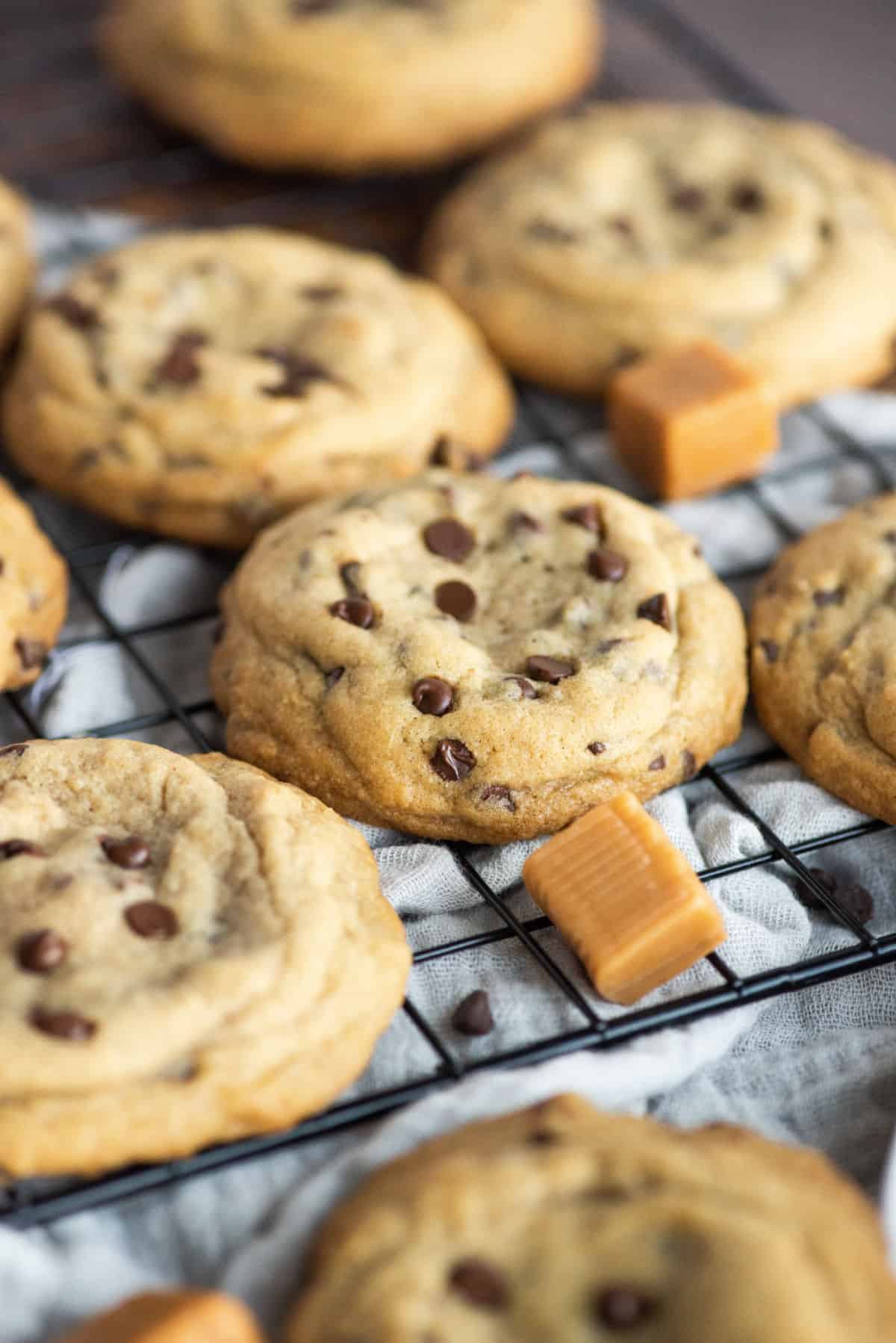 More Cookie Recipes
Caramel Chocolate Chip Cookies with a full caramel candy stuffed in the center. These deliciously easy cookies are a must try recipe!