These Monster Cookies are full of M&Ms, chocolate chips, peanut butter and oats for a cookie that is fun, chewy and delicious (don't tell but I added raisins too)! They're easy to make and perfect for sharing or freezing.
Calling all cookie lovers! If you love Peanut Butter Cookies Recipe, today's recipe is going to be a new favorite. Make it next level and whip up some Monster Cheesecake Bars instead! Or give these Oreo Brownies a try next time you're craving chocolate!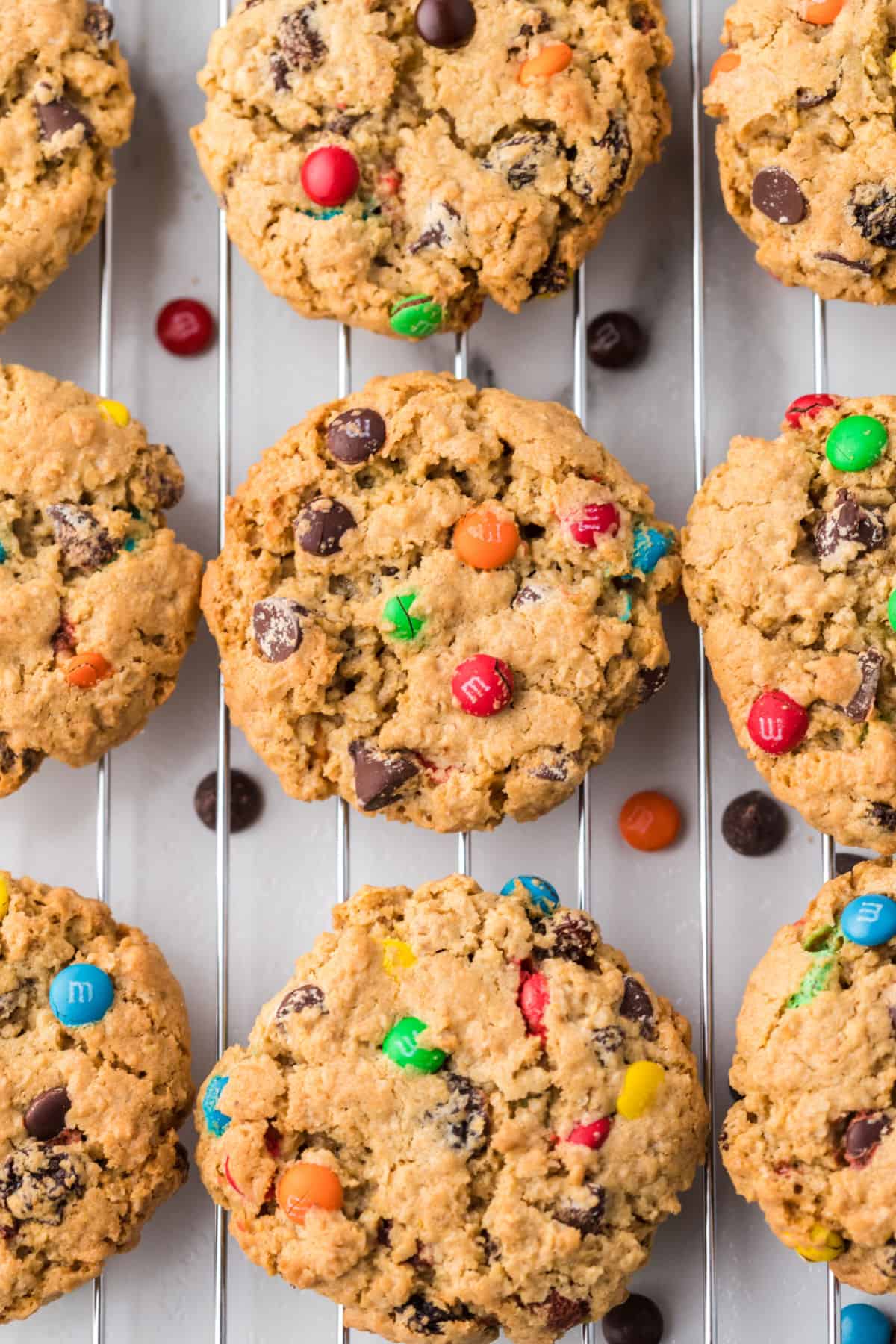 Why are they called Monster Cookies
There's nothing scary about these cookies! Monster Cookies get their name because they're well . . . the MONSTER of cookie recipes.
Like Frankenstein's monster, these cookies are a mish-mash of other kinds of cookies.
Peanut butter cookie dough, oats, M&Ms, chocolate chips, and raisins: Monster Cookies have it all.
There is great debate though about what you MUST include in order to consider them a Monster Cookie.
For me, it's all about the peanut butter, oats and (of course) the CHOCOLATE.
For today's recipe, I started with a peanut butter oatmeal cookie dough. I added in M&M'S and chocolate chips. I usually add raisins to HALF the cookie dough batter, because in my world they are important!
However, leave them out if you prefer. I know when it comes to oatmeal cookies my kids prefer the oatmeal chocolate chip cookies while I adore oatmeal raisin cookies.
Either way, these are great because you make what you love.
Ingredient Notes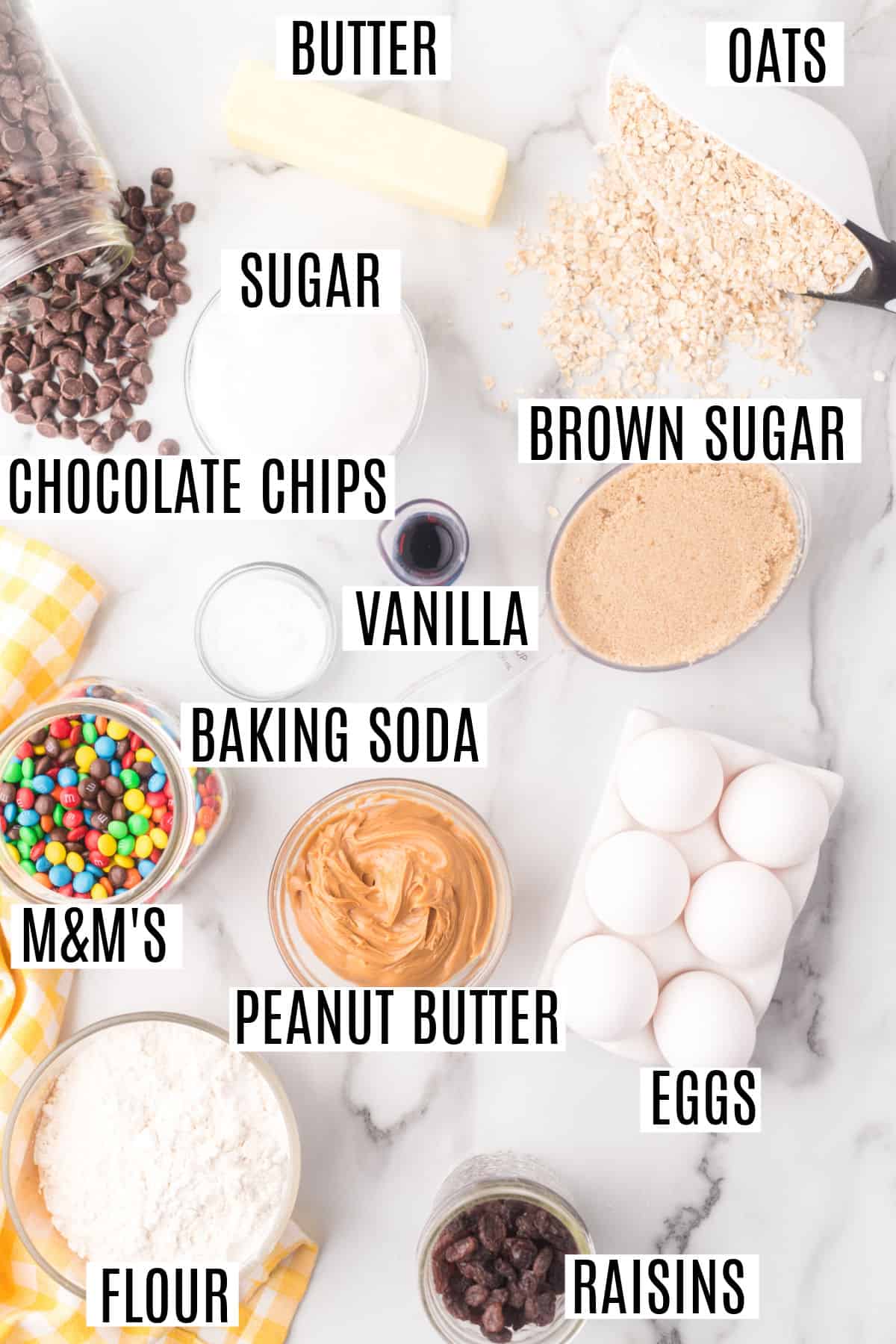 Creamy peanut butter. Use regular shelf-stable peanut butter for best results.
M&Ms. I used M&Ms baking bites. Regular or mini M&M candies work well.
Raisins. Add 3/4 cup of raisins to the dough if you like raisins in your monster cookies!
Quick Cook Oats. This recipe uses these quick cook oats. Unlike my oatmeal scotchies recipe, which uses old fashioned oats. Today's cookie dough doesn't have the right proportions for old fashioned oats. They would end up too dry.
Easy Instructions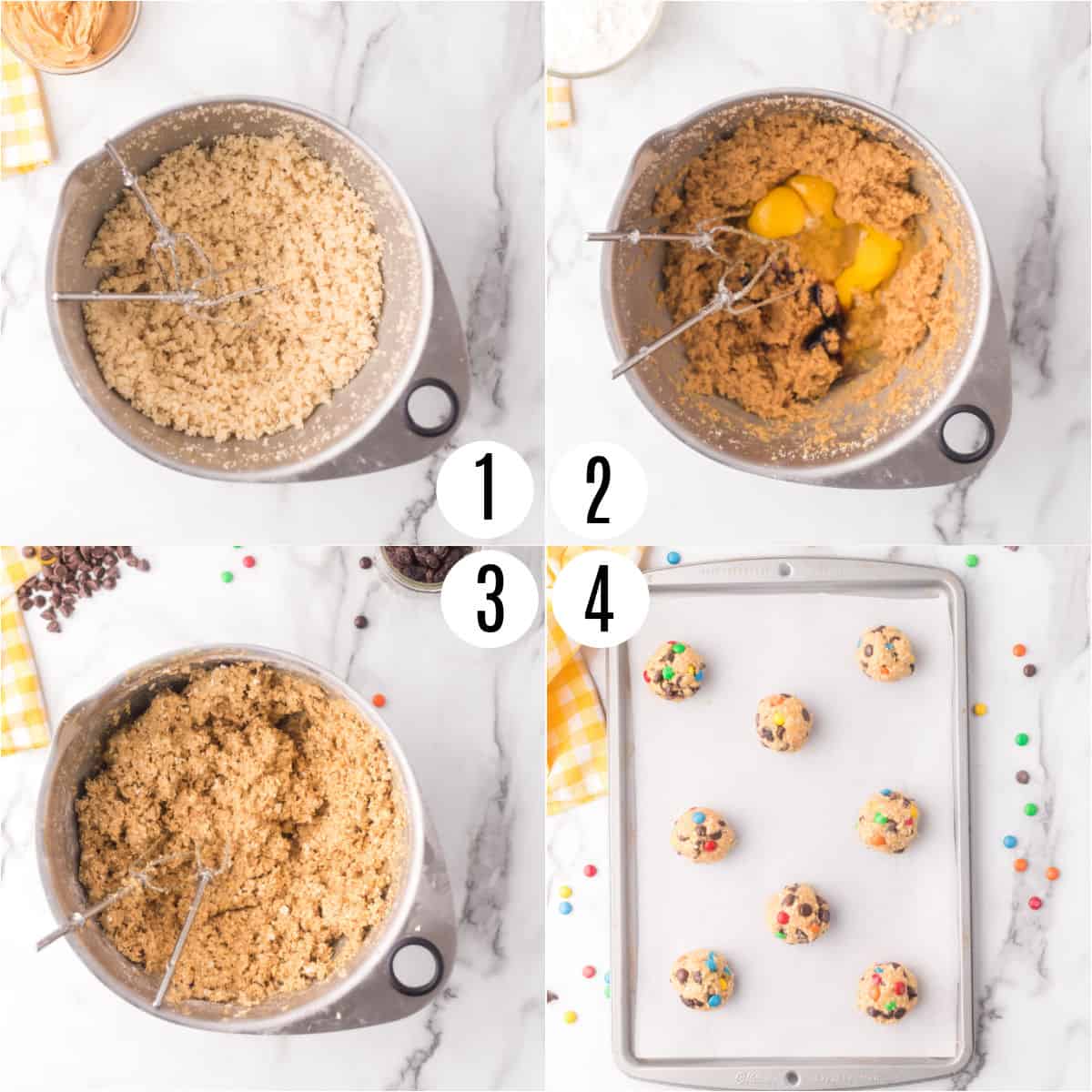 Make Cookie Batter. Start by creaming together unsalted butter with white and brown sugars. Beat in the peanut butter, then eggs and vanilla.
Add mix-ins. Gradually mix in flour, quick oats and baking soda to form a dough. Fold in the chocolate chips and M&Ms. You can add the raisins here too, if you're using them.
Bake. Scoop the dough onto a lined baking sheet and bake for about 12 minutes. The cookies should be lightly golden brown on the top.
Tips & Tricks
Use my homemade vanilla extract for best cookie dough flavor!
For evenly sized cookies, use a 2 tablespoon sized cookie scoop to portion out the dough.
Storing: Monster Cookies can be stored in an airtight container at room temperature for up to 1 week.
Freezing: Baked cookies can be stored in the freezer if you want to keep them longer. Thaw at room temperature before enjoying! Use our guide on how to freeze cookie dough for best results.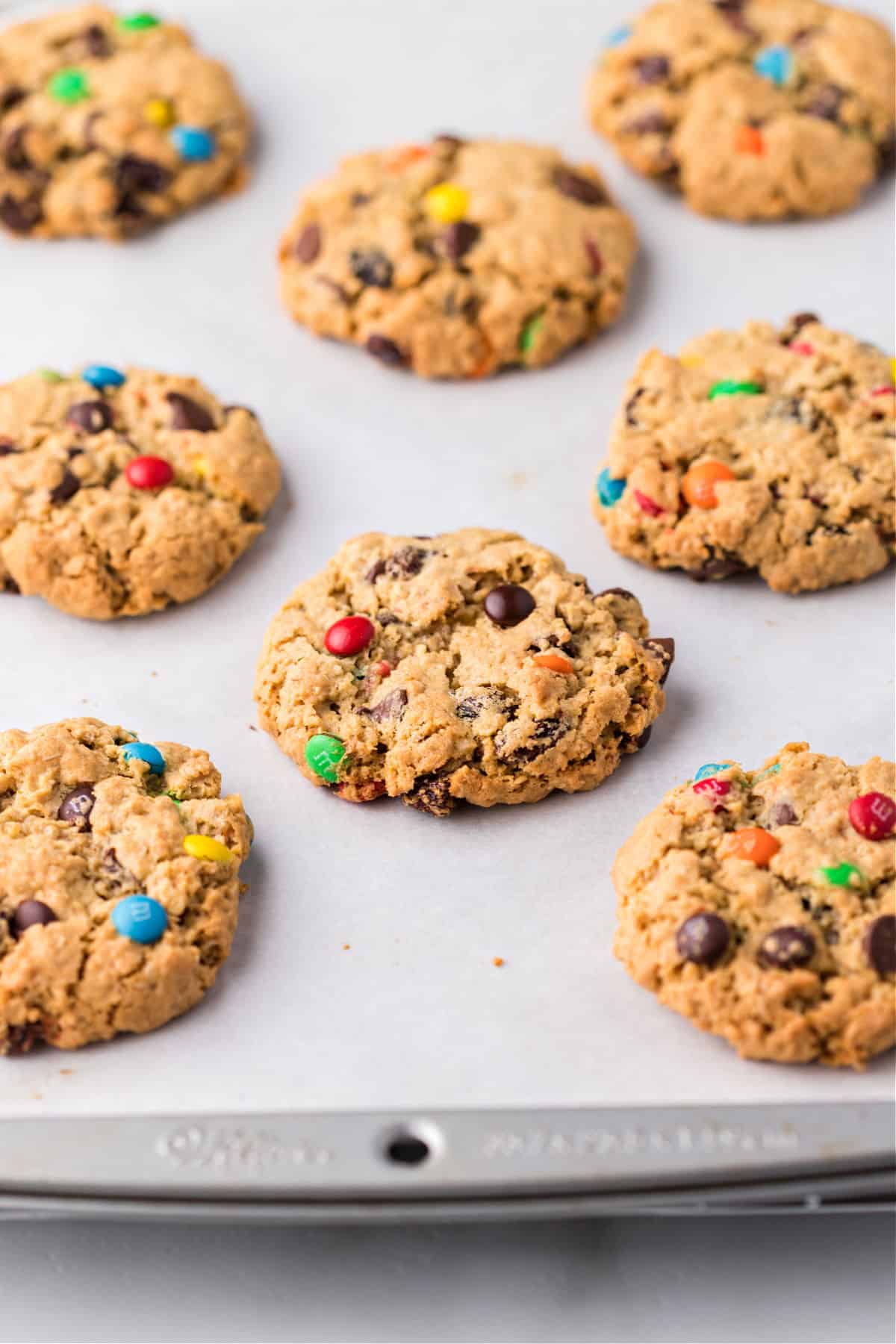 Recipe FAQs
Can you freeze unbaked cookie dough?
Yes, I love to make cookie dough ahead of time and freeze! Scoop balls of dough onto a cookie sheet. Freeze for 1 hour or until frozen solid. Transfer frozen dough to freezer bags and store until ready to bake. When you're ready to bake Monster Cookies, place the dough back onto the cookie sheet. Bake from frozen adding a few minutes of extra baking time.
Why can't I use natural peanut butter in Monster Cookies?
In my experience, natural peanut butter tends to make cookies greasy and crumbly. This is because the oils naturally separate from the nut protein without the added stabilizers.
Can I use old fashioned oats instead of quick oats?
No, I would not use old fashioned or whole rolled oats here. Quick oats are processed more finely, which allows them to incorporate into the cookie dough.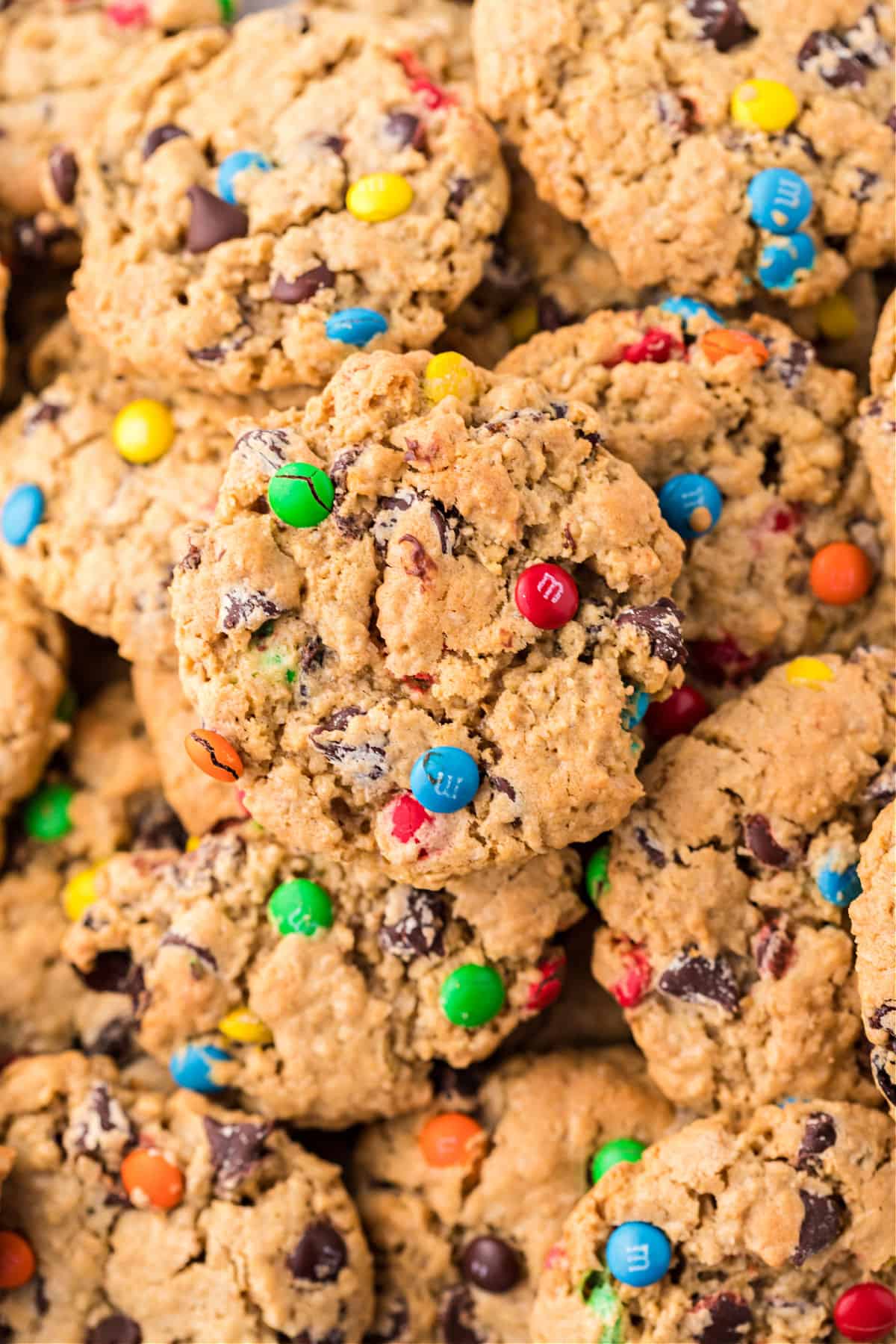 More Cookie Recipes
All your favorite cookie mix-ins mashed together! Monster Cookies are the colorful peanut butter chocolate treat that everyone loves.