Monster Sugar Cookies are a little bit spooky and a whole lot adorable. Make these easy Halloween Cookies to add some colorful fun to your Halloween parties!
Love Monsters? Spooky eyes are so fun in this Monster Cookie Dough Fudge and sprinkled on this delicious Monster Cookie Cheese Ball dessert!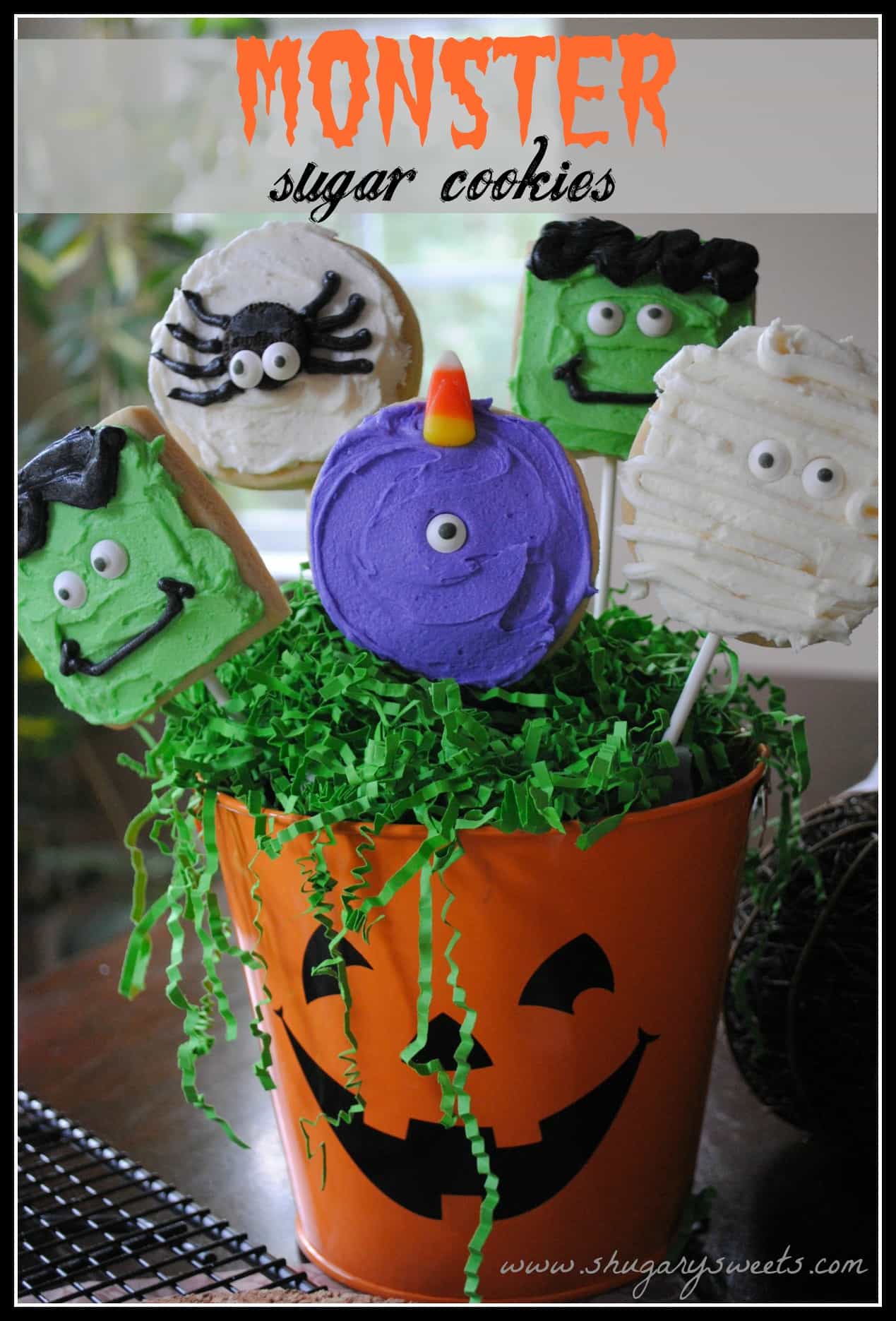 Halloween Sugar Cookies
Looking for some Halloween cookie ideas? These sugar cookies were so fun to make!
With a little vanilla buttercream frosting and a few key decorations, it was easy to turn plain cookie shapes into silly looking monsters, just in time for Halloween.
Why should Christmas and Valentine's Day get all the decorated sugar cookies? My kids and I loved coming up with creative ways to turn our cookies into edible monsters.
The nice thing is, these look best when they're perfectly imperfect! So, if you're not an expert in how to decorate sugar cookies, monster cookies are a great place to start.
Sure, I could have gone all crazy detailed, made some royal icing and painstakingly decorated each one to look like a spooky creature of the night. But, frankly, I like the taste of fluffy buttercream more.
I used my favorite cream cheese sugar cookie recipe and got to work!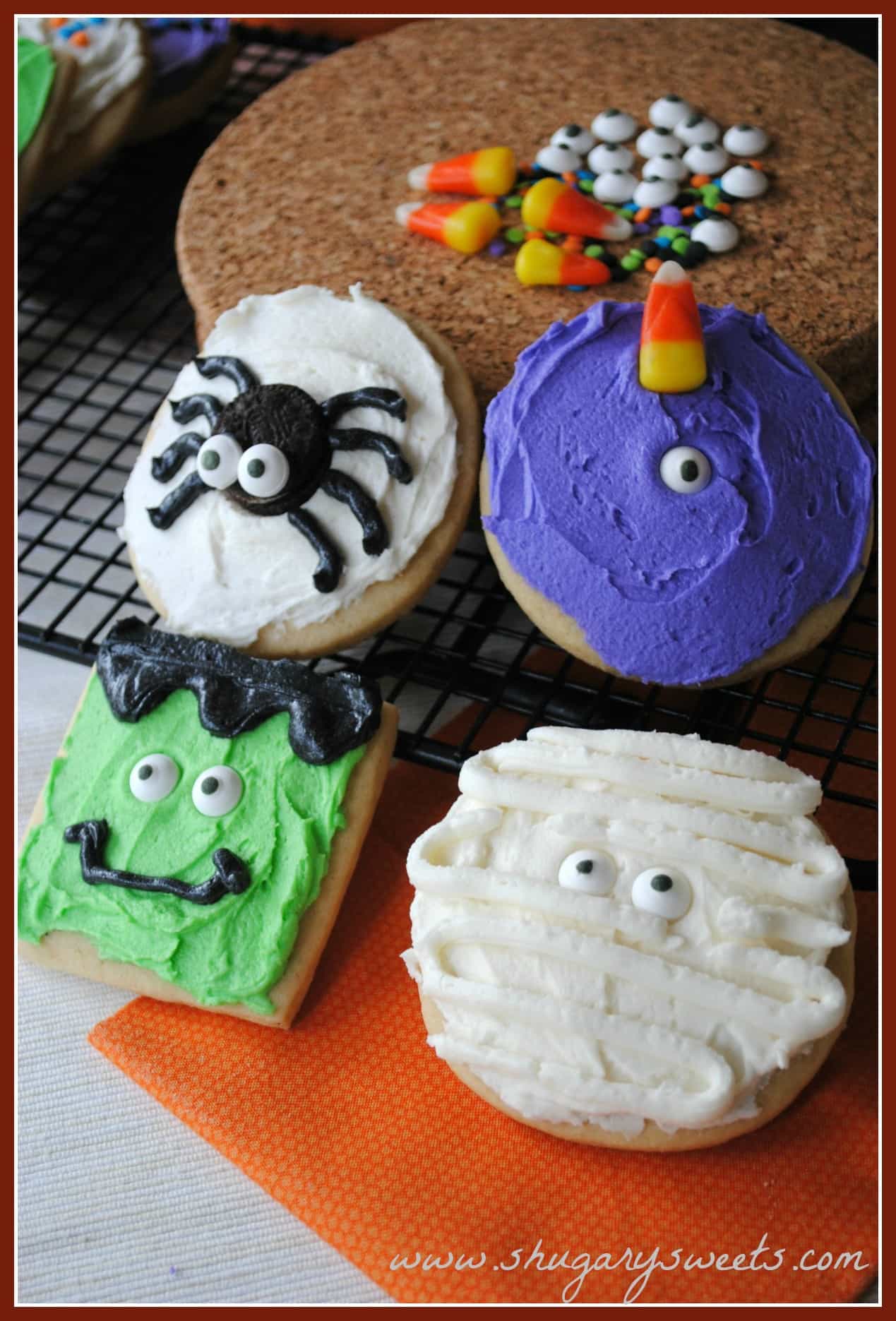 Ingredient Notes
To make my monster treats, I started with a simple sugar cookie recipe.
SECRET ADDITION: This one also has a little lemon zest and a touch of nutmeg for more flavor, along with lots of vanilla.
While I used vanilla bean paste, you could substitute vanilla extract or vanilla sugar without sacrificing flavor.
Then, I rolled the dough nice and thick so the cookies would have a pillowy texture similar to Lofthouse cookies, and cut them into squares and circles.
Cookies on a Stick
I love the way decorated sugar cookies look when they're propped up on sticks like lollipops! You can arrange them into all kinds of fun "bouquets."
To serve these on a stick, insert a lollipop stick into each cookie cut out before baking. You want the stick to go in about 3/4 of an inch or so. Then place the cookies on a baking sheet lined with parchment paper and bake for about 10 minutes.
The cookies will be SOFT when you take them out!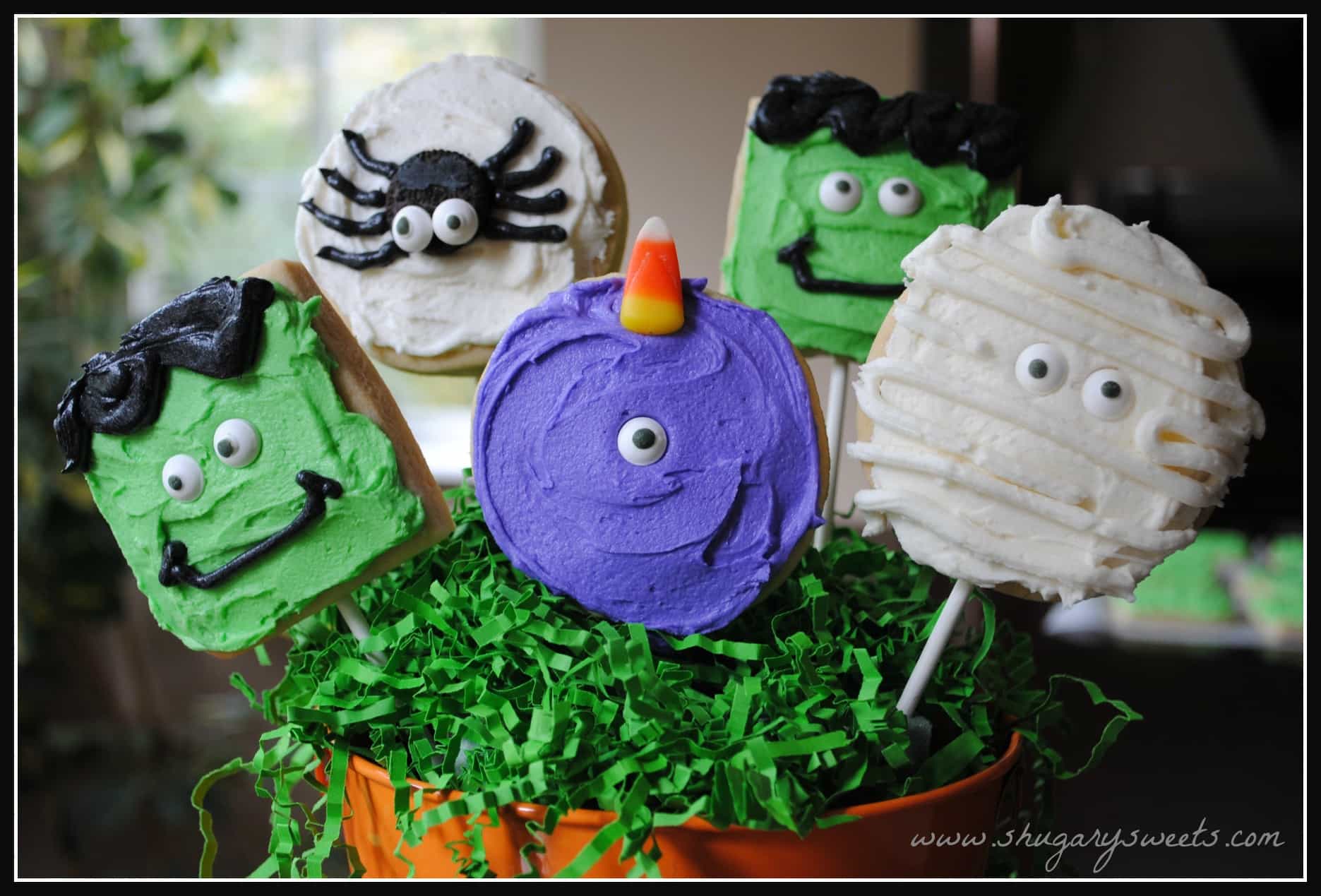 Sugar Cookies with Buttercream
In case you're new to the delicious world of buttercream, allow me to introduce you. As far as frostings go, this sugar cookie frosting is one of the easiest and most versatile!
You can spread it onto layer cake, swirl it over cupcakes and use it as a base for Buttercream Truffles. Okay, and if I have a tupperware of leftover buttercream in the fridge, chances are good I'll sneak a spoonful here and there. There are worse vices, right?
How to make buttercream:
First, beat softened butter in a stand mixer (or with electric beaters) until fluffy.
Add powdered sugar, vanilla, corn syrup and milk, then keep beating for another 5 minutes until the frosting is thick and fluffy.
How to Decorate Sugar Cookies
You can go as detailed or as simple as you want with this Halloween cookies. To make them like we did with a variety of monsters and creatures, divide the frosting into four bowls.
Add food coloring to three of the bowls. We did one in green, one in purple and one in black, then left the last bowl white.
For mummy cookies: Frost each round cookie white. Press in candy eyes. Put remaining frosting into a pastry bag and pipe onto cookie using tip #5.
For spider cookies: Frost round cookie white. Press a mini oreo cookie into the center. Using your black frosting, pipe spider legs legs onto cookie. Dot the eyeballs on the bottom with black frosting!
For Frankenstein's monster: Frost square cookies green. Using black frosting, pipe hair and mouth. Add candy eyes.
For One Eyed Purple People Eater: Color each circle cookie purple. Place one candy eye in center and a candy corn on top for the horn.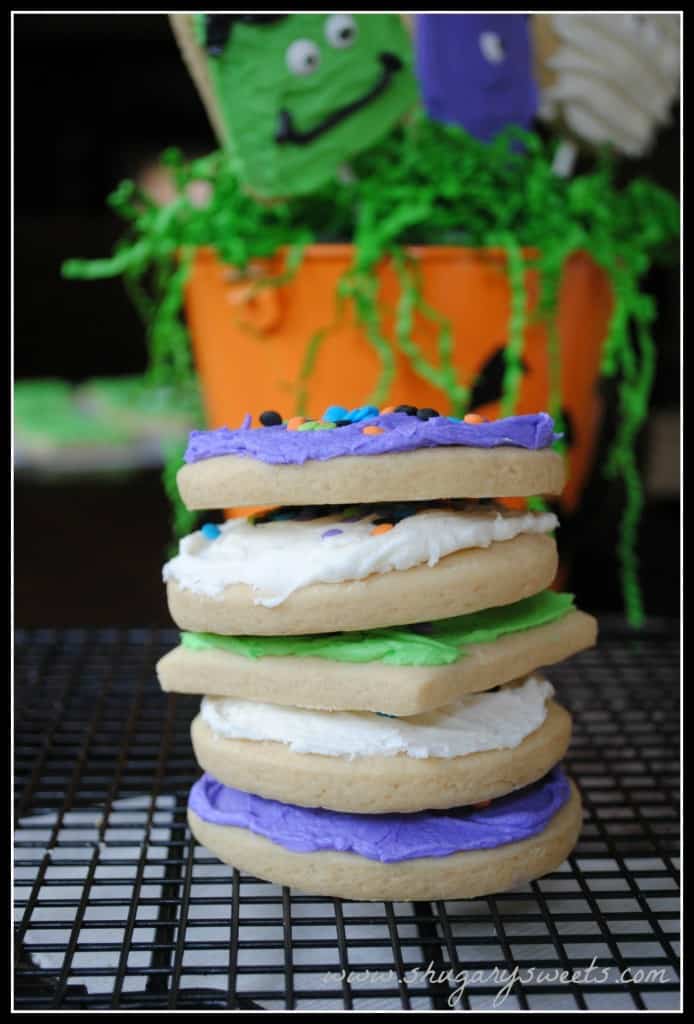 Keep it Easy
Have fun mixing and matching different kinds of monsters! This recipe makes 60 cookies, so you'll have a LOT to play with.
Of course, if you want an easier treat, you can keep it simple:
Spread buttercream frosting on each cookie, then decorate with a combination of orange, black and yellow sprinkles. They taste like Halloween lofthouse cookies.
Easy, festive and always delicious!