Looking for an easy Halloween treat? This Halloween Muddy Buddies recipe is the classic puppy chow recipe with some white chocolate "mummies" made from pretzels!
If you love muddy buddies, be sure to try out my Christmas version of Peppermint Muddy Buddies, and of course, this Snickerdoodle Muddy Buddies recipe is delicious as well!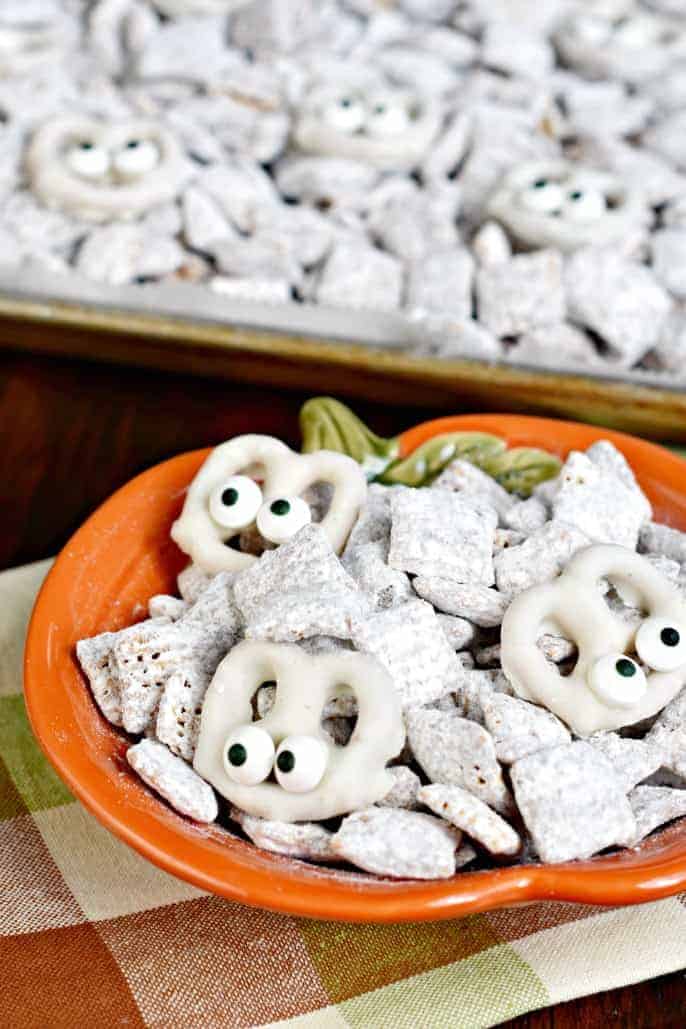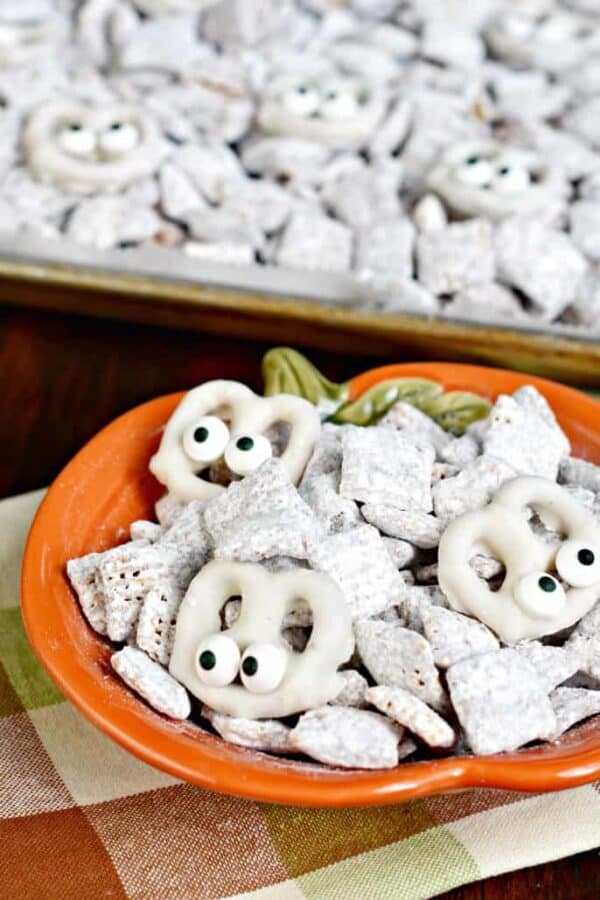 Halloween Desserts
I'll be the first to admit that Halloween isn't the holiday I get most excited about when it comes to desserts! Unless we're talking about pumpkin treats, of course.
Pumpkin aside there is one thing I can't get enough of as we get ready for the end of October: decorating everything with candy eyes!
Candy eyes are the easy way to turn basically anything into an adorable dessert for Halloween. I use them in Butterfinger Frankenstein Cupcakes, Spooky Eyeball Red Velvet Cake Balls and now in Halloween Muddy Buddies!
If you love muddy buddies (or "puppy chow") then this is a must-make dessert for your Halloween celebrating. Perfect for a party or for munching on as you watch spooky movies!
Ingredient Notes
Along with the classic muddy buddies ingredients, like Chex cereal, peanut butter and powdered sugar, you'll need these to make the mummies:
White chocolate pretzels – I used the Flipz brand of regular white chocolate dipped pretzel twists. You could also make your own chocolate covered pretzels if you can't find any at the store.
White chocolate – Melted candy wafers, chocolate chips or a bar of white chocolate are all good choices.
Candy eyeballs – Find these online or at craft stores like Joann's and Michaels.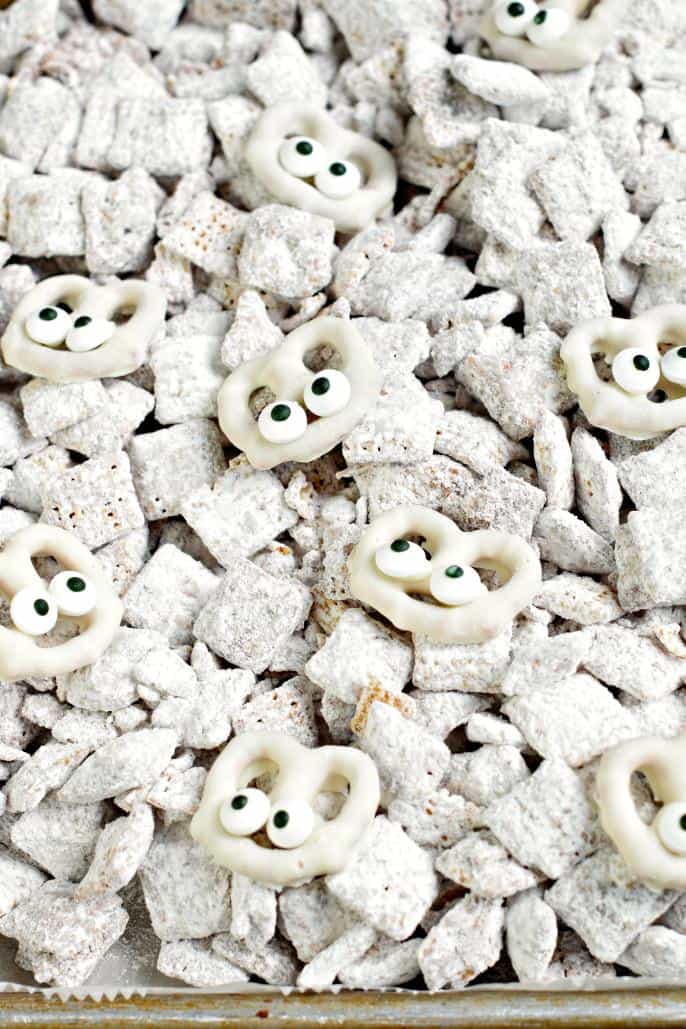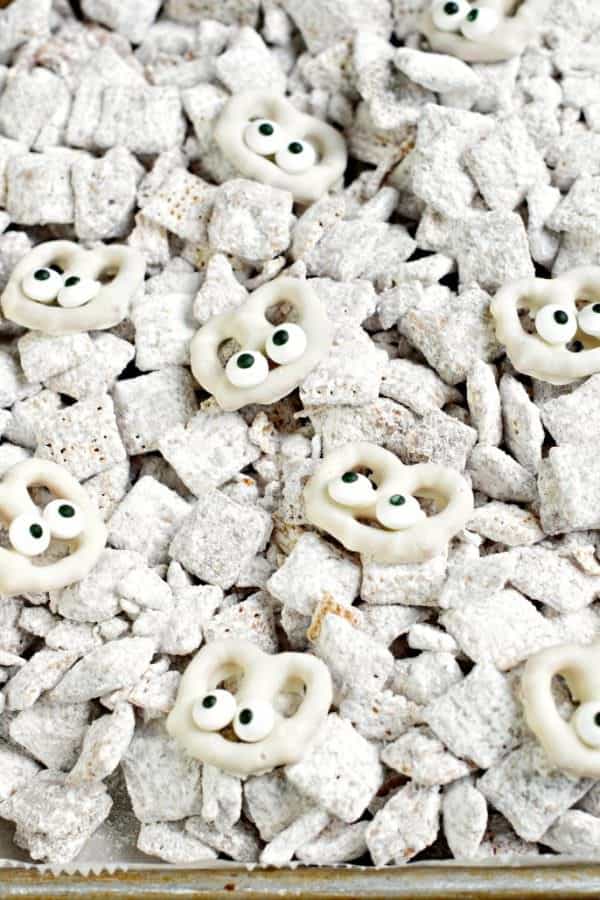 Step by Step Instructions
STEP 1. Melt peanut butter
Melt peanut butter with milk chocolate chips and butter in the microwave. Stir every 30 seconds and continue heating until all the chocolate has melted.
STEP 2. Add cereal
Pour the chocolate and peanut butter mixture over a bowl filled with rice chex cereal. Stir to get the cereal totally coated.
STEP 3. Cover in powdered sugar
Transfer the chex cereal to a gallon sized ziploc bag filled with powdered sugar. Shake the cereal until it's coated with the powdered sugar.
STEP 4. Make the pretzel mummies
Melt white chocolate. Use a toothpick to add a dot of the chocolate to the back of each candy eyeball. Attach to white chocolate pretzel and continue until all the pretzels have 2 candy eyes!
Place the pretzel mummies on a baking sheet lined with wax or parchment paper to harden for about 15 minutes.
Pour the muddy buddies (cereal) into a bowl along with the pretzel mummies. Enjoy!
Recipe FAQs
Can this be made without candy eyes?
Of course, it will still be delicious as a treat for any occasion without the candy eye balls. If you don't care about having mummies in your snack mix, feel free to substitute regular chocolate covered pretzels too!
How do you store muddy buddies?
Store in an airtight container or ziploc bag. If you're transporting the muddy buddies, I prefer a hard container over a bag so the cereal and pretzels stay more in tact during your journey.
Where do you buy candy eyeballs?
I get mine on Amazon. You can also call your local craft stores to see if they have them in stock! They often do.
After you use them to make pretzels into mummies, you may become as addicted to them as I am. I get such a kick out of adding eyeballs to everything. These Spooky Brookies and Monster Sugar Cookies can be next on your list of Halloween desserts.
Happy Halloween!
More Halloween Recipes
These Halloween Muddy Buddies put a cute and spooky spin on the favorite childhood treat! Tasty peanut butter and chocolate coated cereal gets a boost of crunchiness from the pretzels.