Chocolate Covered Peppermint Pretzels make the holidays sweeter! Make these peppermint bark pretzel candies to show someone special that you care. Don't forget to save a few for yourself!
If you love peppermint desserts, be sure to try these Chocolate Peppermint Cookies this holiday! Or whip up a batch of easy Candy Cane Fudge for Christmas.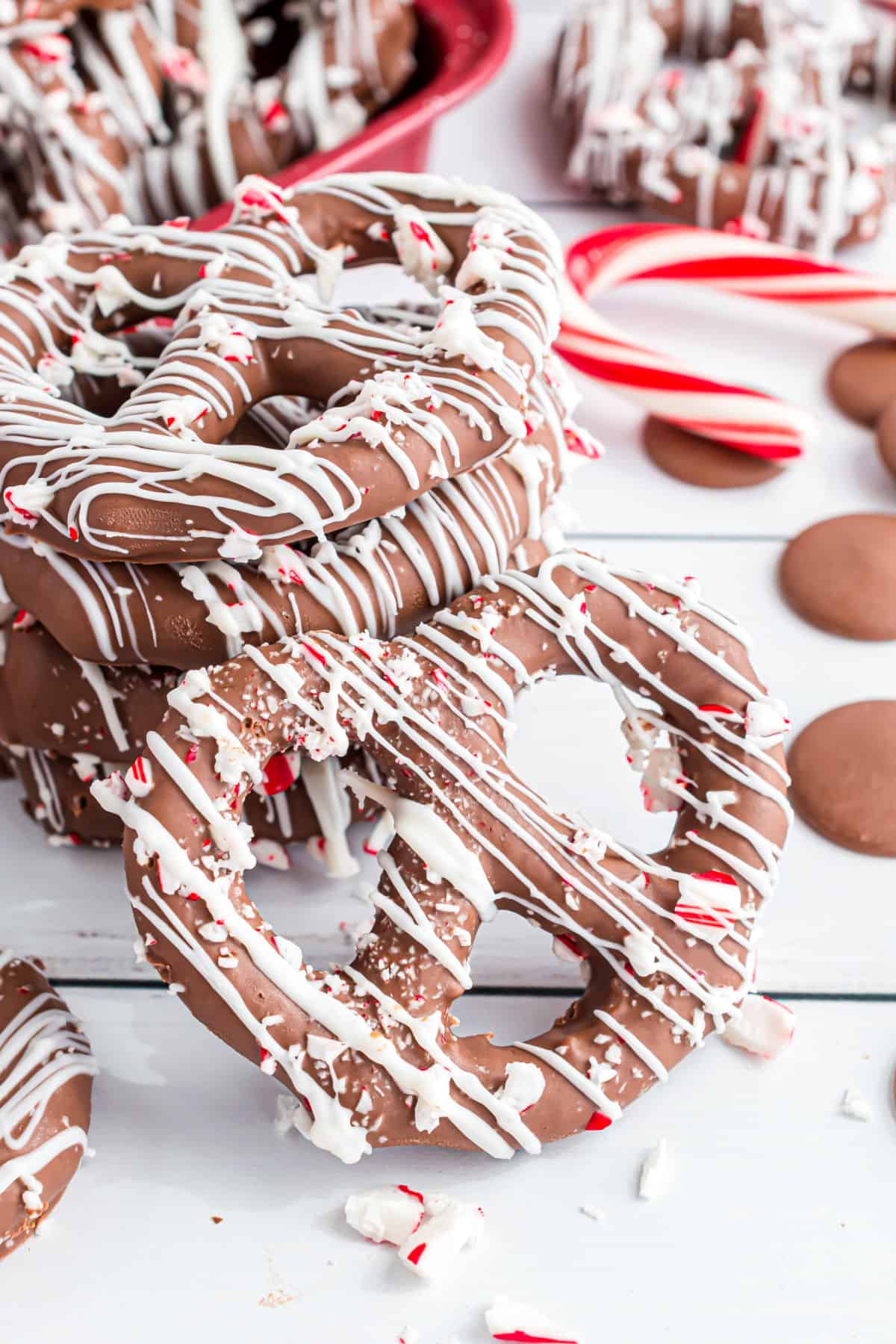 Chocolate Peppermint Pretzels
I'm always busy in the kitchen, but around the holidays I feel like I'm living there. Seriously, do you think I could fit a futon into the kitchen so I can at least grab a few winks in between batches of cookies, fudge and pies?
These cute little Christmas pretzels, though?
I made these to use up some leftover chocolate and crushed candy cane. They taste a lot like peppermint bark but with saltiness and even more crunch thanks to the pretzel base.
I used Snyder's pretzel twists this time. You could also make little pretzel bites using mini pretzels or make these with other pretzel shapes! The big crunchy sourdough pretzels would be delicious too.
Ingredients Needed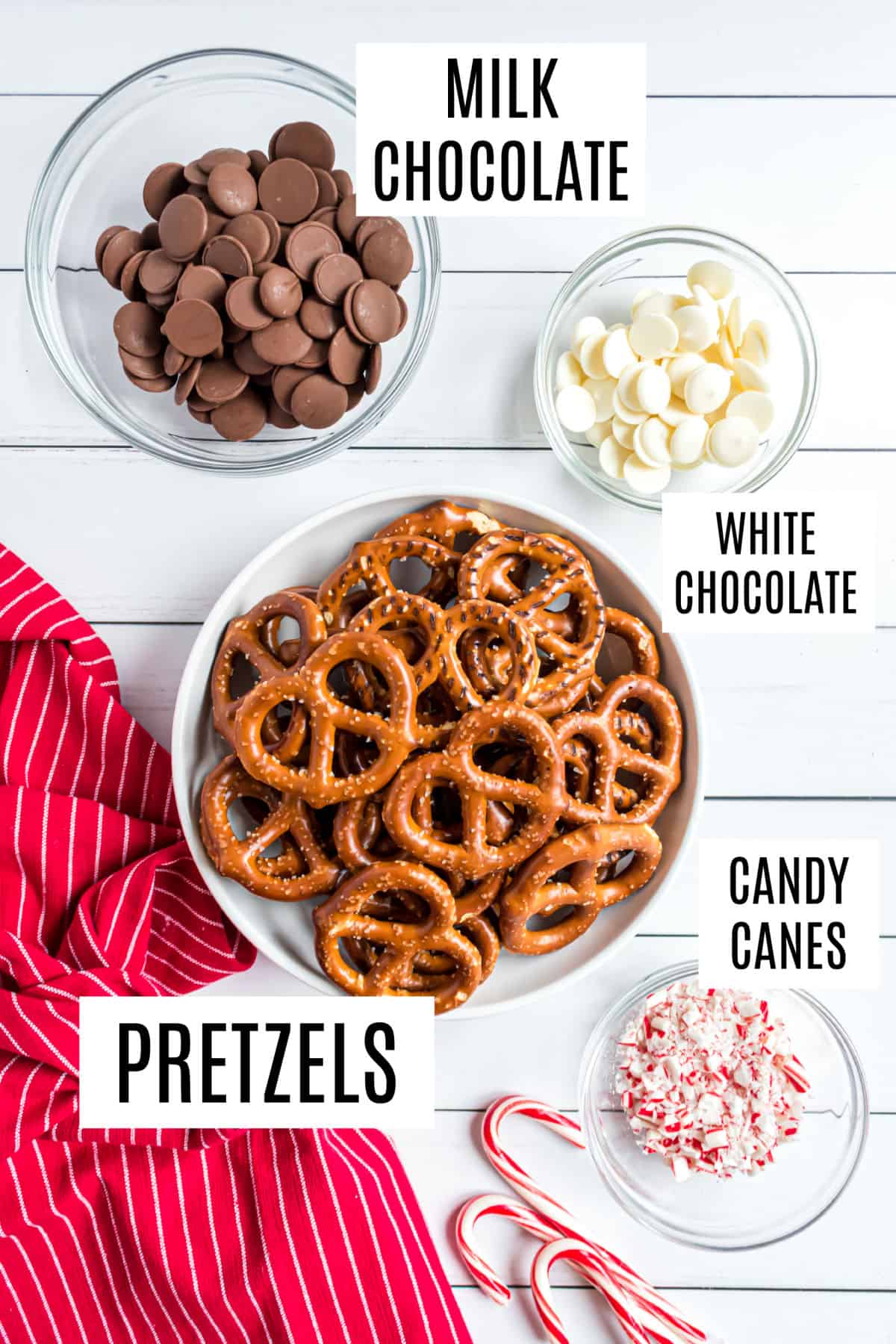 To make this no bake recipe, you only need four ingredients: white chocolate, milk chocolate, pretzels and candy canes.
Pretzels- while it's hard to tell in the photo, these are the larger sized Snyders Old Tyme Pretzel twists. You could also use pretzel rods if you prefer.
Milk Chocolate- Ghirardelli melting wafers melt smooth and taste amazing. No tempering needed.
White Chocolate- Using white chocolate allows you to see the red/white peppermint.
Candy Canes- The red/green/white candy canes also look fantastic. Can't find candy canes? Grab a bag of starlight mints out of the candy aisle at your local grocery store!
Easy Instructions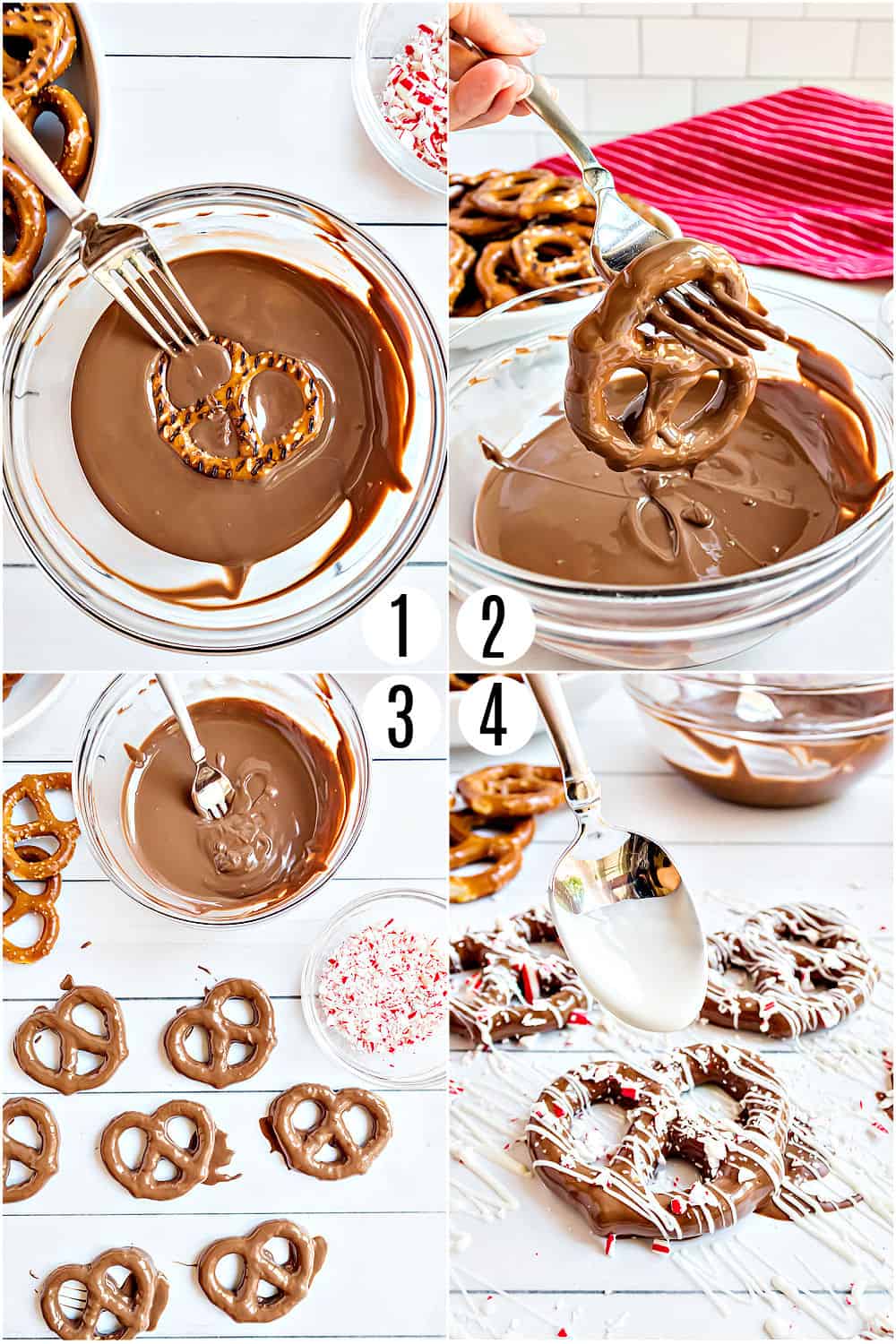 Melt chocolate. Melt milk chocolate and white chocolate in separate bowls. I use the microwave, zapping the chocolate in 30 second increments, stirring after each interval.
Crush Candy Canes. You can do this by placing all the candy canes (miniatures are easiest) in a ziploc bag, then using a rolling pin, mallet or heavy object to crush them. You don't want to turn them into powder–think sprinkle-sized peppermint pieces.
Dip and Drizzle. Dip each pretzel into the milk chocolate, add candy canes, then allow to set on parchment paper. Drizzle with the white chocolate and add more candy cane pieces.
Let them set at room temperature until the chocolate is firm. Once set, enjoy immediately or transfer to an airtight container to store.
Store them at room temperature or in the fridge if you like your chocolate cold!
Substitutions
This basic method can be adapted plenty of ways to make your own custom Christmas pretzels.
Dark chocolate – If you can't get enough dark chocolate, try it as a substitute for the milk chocolate in this recipe!
Candy canes – You can also use crushed peppermint hard candies as an alternative to candy canes. I find that candy canes are easier to crush, though.
Pretzels – Substitute the pretzel twist for pretzel rods. Dip one half the the rod in the dark chocolate, cover with candy cane pieces and drizzle with white chocolate. This recipe can also be made with gluten free pretzels as an allergen friendly holiday treat!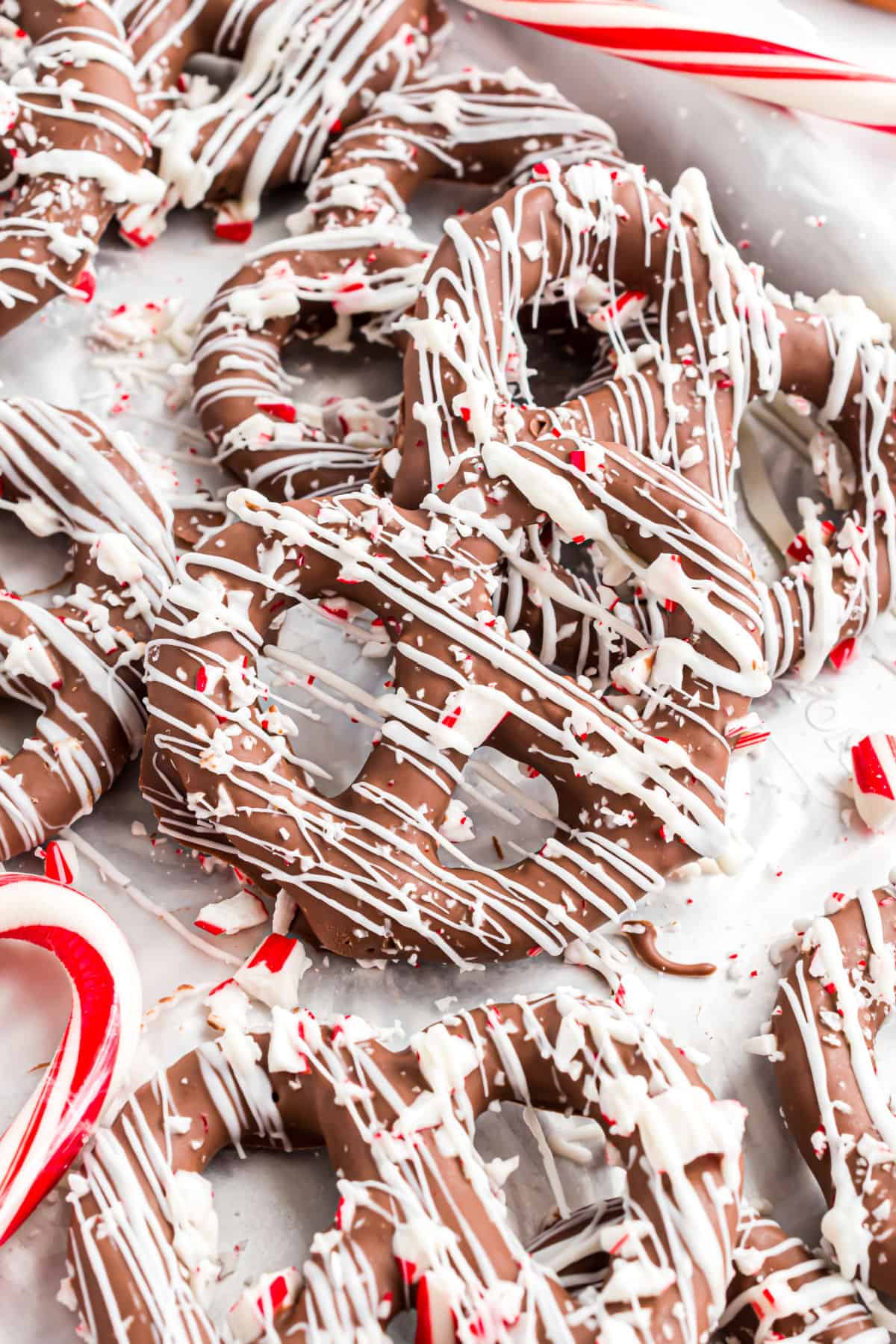 Tips & Tricks
The one thing I used to not like about making chocolate covered pretzels is the potential mess. Especially when my kids were little, any recipe that called for melted chocolate was bound to result in a sticky splattered counter top and traces of gooey chocolate everywhere from the ceiling to the floor. (I'm still not sure how I managed that.)
Over the years, though, I've developed some tricks for making chocolate dipping easier and neater:
Put parchment (or wax paper) under everything! It catches stray chocolate as you transfer the dipped pretzels, so all you have to do to clean up after a spill is toss the paper.
Use a utensil to dab off excess. I like to put the pretzels right into the chocolate, then use a fork to scoop it out. Holding the pretzel over the chocolate bowl, use a second utensil (or the edge of the bowl) to tap off any excess chocolate left on the pretzel. Less mess and your pretzels will look smoother and more uniform.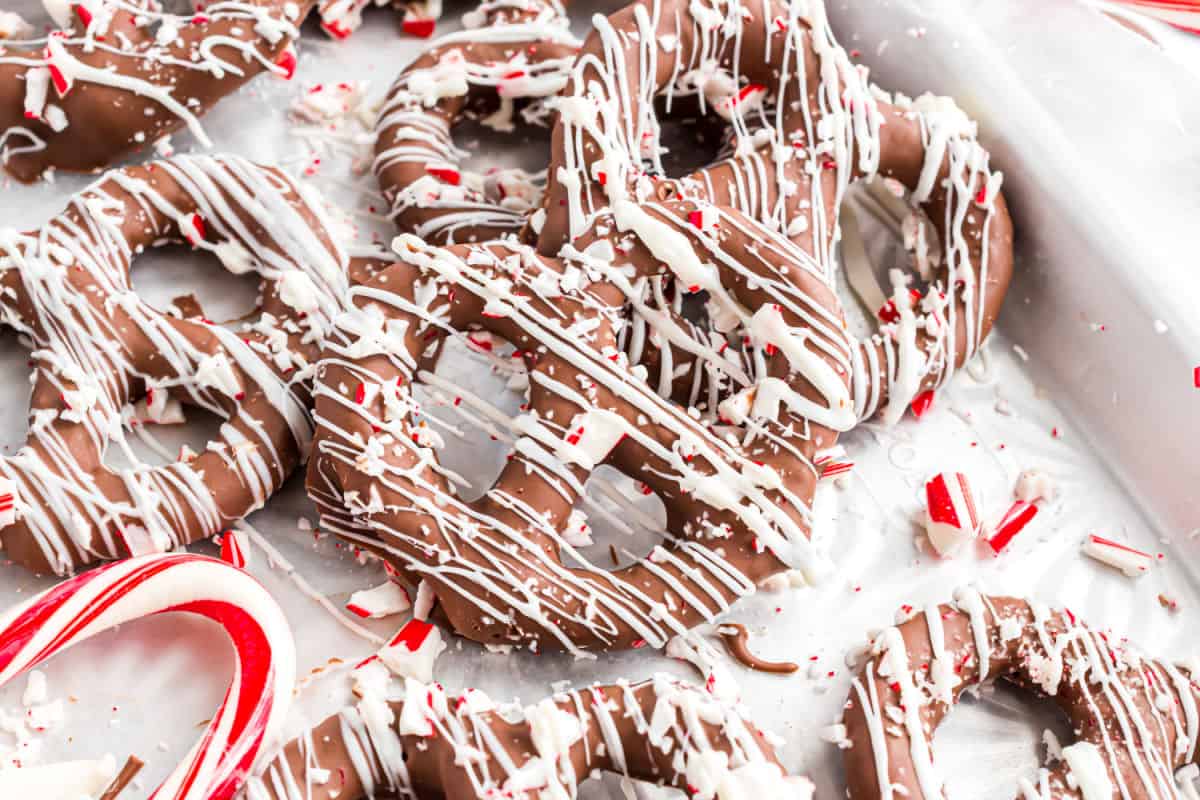 More Holiday Recipes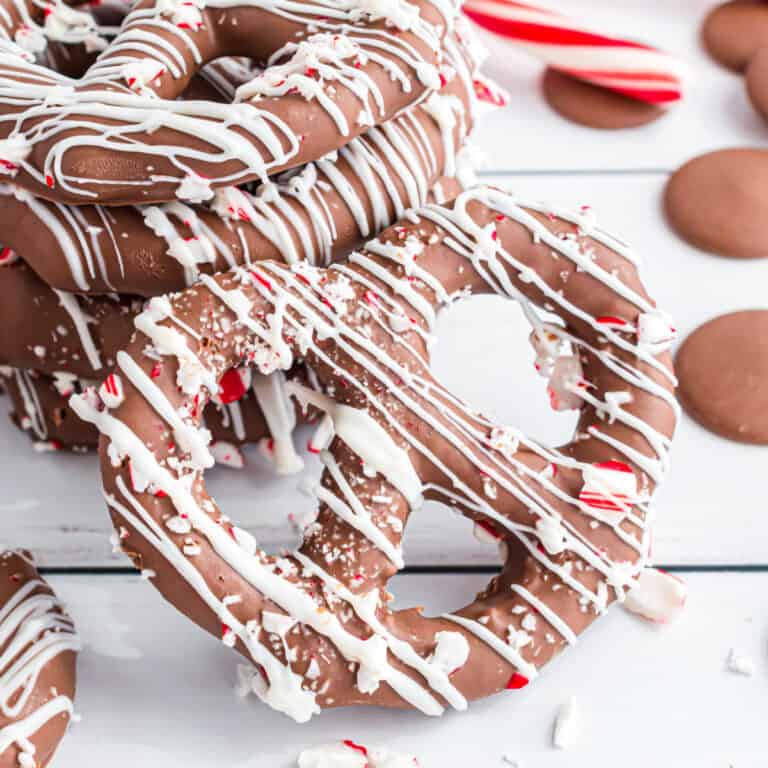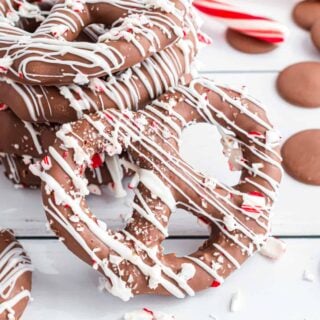 Chocolate Covered Peppermint Pretzels
Chocolate Covered Peppermint Pretzels make the holidays sweeter! Make these peppermint bark pretzel candies to show someone special that you care. Don't forget to save a few for yourself!
Ingredients
1

pound.

bag Snyder's Olde Tyme pretzels

about 48 pretzels

16

ounce

milk chocolate

melted

9

peppermint candy canes

crushed

4

ounce

white chocolate

melted
Instructions
Dip entire pretzel (front and back) in chocolate. Immediately sprinkle with candy canes.

Drizzle with white chocolate (add more candy canes if desired). Allow to set, about one hour. Enjoy!
Notes
Use a fork to dip the pretzel into the melted chocolate. Easy to lift out of chocolate too.
We love using Ghirardelli melting wafers. They taste amazing, melt smooth, and set up quickly.
Nutrition
Calories:
68
kcal
,
Carbohydrates:
8
g
,
Protein:
1
g
,
Fat:
4
g
,
Saturated Fat:
2
g
,
Polyunsaturated Fat:
1
g
,
Cholesterol:
3
mg
,
Sodium:
17
mg
,
Sugar:
7
g