Eggnog Fudge is a better choice for your family cookie exchange. You'll stand out because it's awesome, and it's NOT a cookie!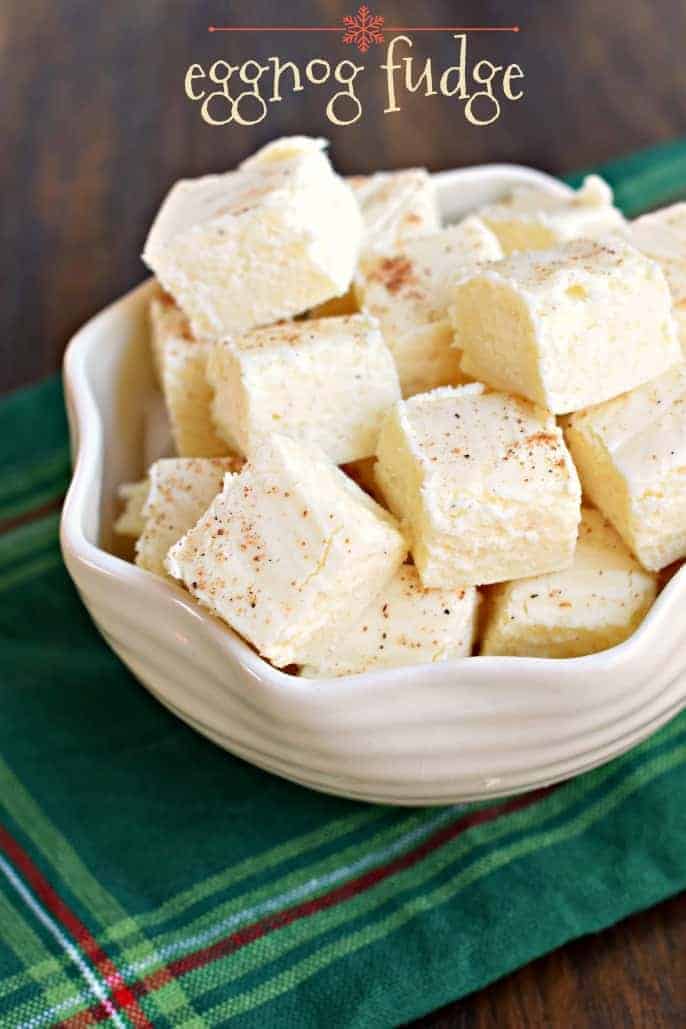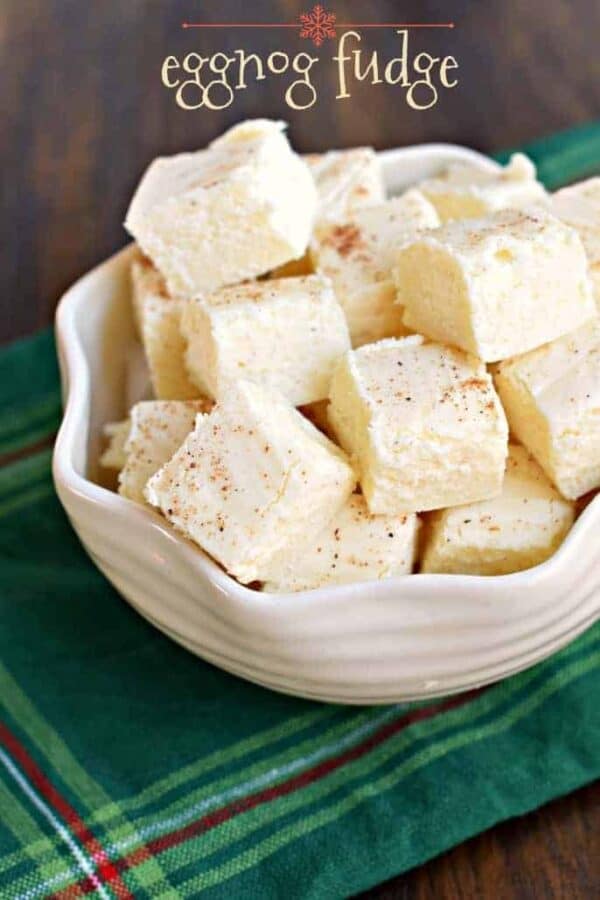 Click HERE to save recipe to Pinterest
Everyone does a cookie exchange this time of year, am I right? You go to someone's house, you bring a designated sized batch of cookies (maybe 3 dozen), then you bring home a mix of 3 dozen cookies.
While the party itself is usually fun, hanging with friends and drinking wine or holiday punch, the cookies can be everywhere from delicious to disgusting.
I've brought home some that I just can't eat, no matter how much dunking I do in my coffee. I think it's because in my family, we have certain flavors of Christmas cookies we enjoy every year. It's hard to veer off the well traveled path of cookie eating.
And one man's Gingerbread cookie, is another man's trash.
You know what I NEVER get sick of though?
Candy. Fudge, to be exact. You can't go wrong, and the flavors are endless. Instead of sending my neighbors off with a plate of cookies, I make an assortment of fudge.
And the best part is, I can make the fudge today, keep it in my fridge, then slice off pieces throughout the month. (You can learn more about storing fudge in my guide for how to make fudge!)
I usually like to make about 6 different flavors and give a variety to people. And, because I always have some in my refrigerator, I have some ready when neighbors I rarely speak to show up with a plate of cookies!
Do you love Eggnog? My family is a mixed bunch, some on team eggnog and some against it. Personally the creamy thick drink is a favorite of mine over the holidays. But sometimes, a big cup is too much. Which is why this fudge is PERFECT.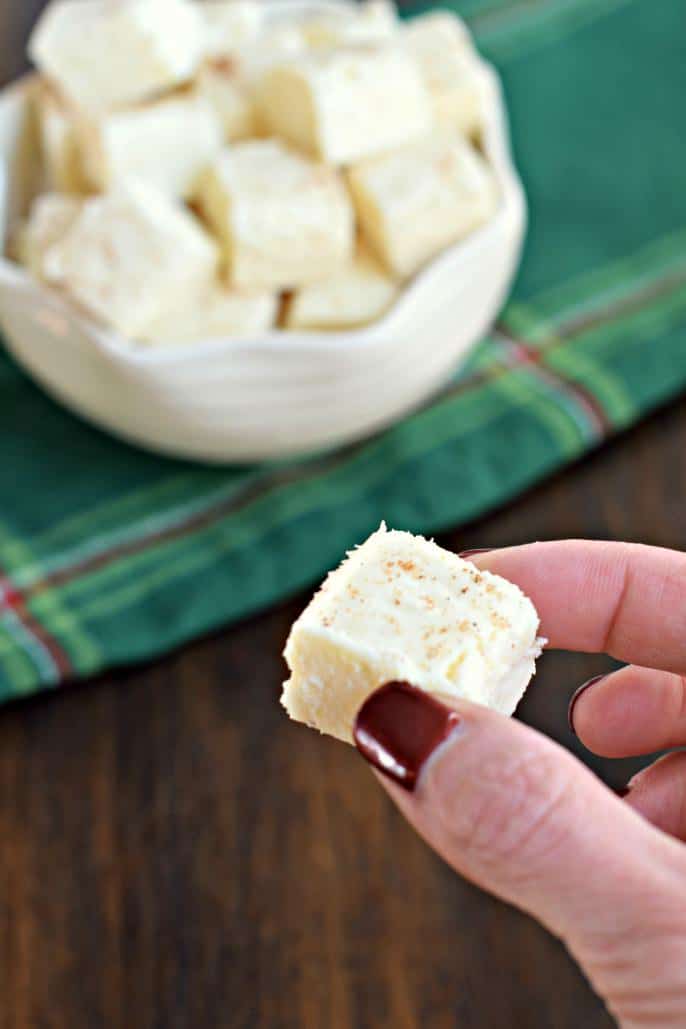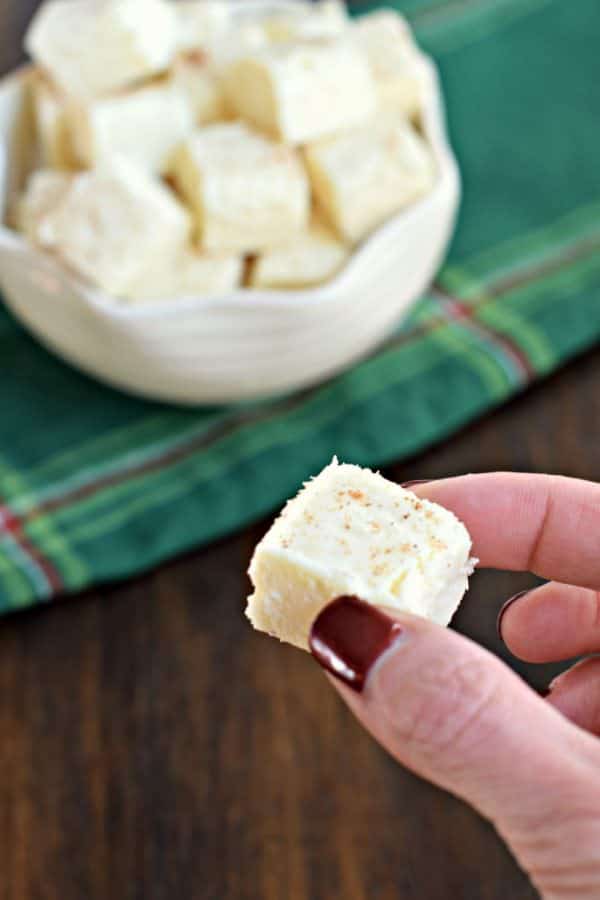 Today's Eggnog Fudge is delicious. Similar to these Eggnog Truffles, these creamy bites of fudge are the perfect treat for the holidays! Packed with eggnog flavor, these are for the true eggnog fans! Each pan makes about 64 pieces, so there is plenty to share!
Also, no candy thermometer needed for today's fudge recipe. That makes it a win in my book!
My favorite recipes of fudge includes this Gingerbread Fudge, a classic Chocolate Fudge, Butterscotch Fudge, Butter Pecan Fudge, and so much more! I may even make a batch of English Toffee or Saltine Toffee to add to the candy plates!
You may also LOVE this Candy Cane Fudge for the holidays. Such a delicious treat, and kids love it too! If this sounds delicious to you, keep on reading!
How to make Eggnog Fudge
First, line a 9 inch square pan with parchment paper or aluminum foil. Set aside.
In a large mixing bowl, add the marshmallow cream, white chocolate chips, nutmeg, and rum flavoring. Set this aside.
In a large saucepan, melt butter with sugar, eggnog, and kosher salt over medium high heat. Bring this to a boil, stirring occasionally. Boil for a full 4-5 minutes, while stirring. Remove from heat.
Pour butter mixture over the marshmallow creme ingredients. Using an electric stand mixer (with whisk attachment) beat for about 1 minute, until smooth, and white chocolate has melted.
Immediately pour into prepared baking dish and sprinkle with nutmeg.
Allow to set for about 3 hours. Cut and enjoy!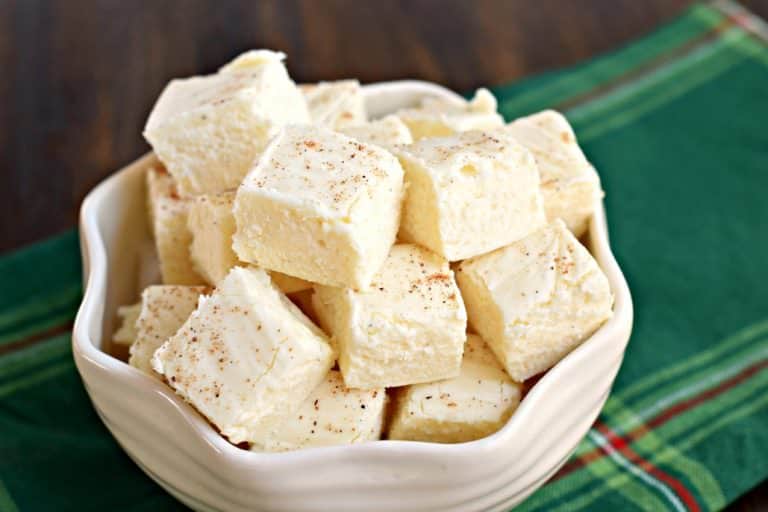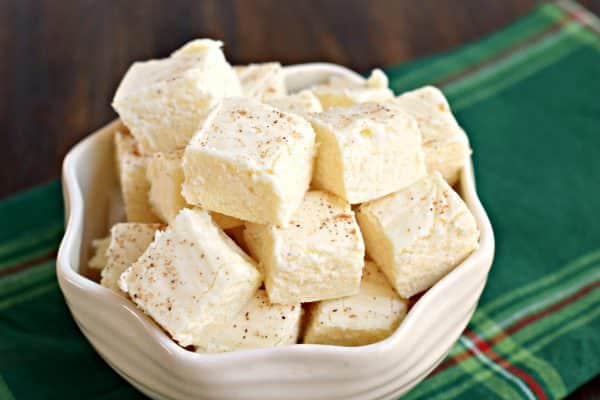 How to store fudge
Most fudge recipes can be stored in an airtight container at room temperature. This allows them to stay soft and not dried out.
I prefer to not cut my fudge until ready to serve, and I only cut what I need, storing the rest for later.
This egg nog fudge can be stored in the refrigerator, for a chilled texture. I love it cold!
Can you freeze fudge?
YES! The best way to freeze fudge is to wrap it in foil if you are going to store it for any length of time more than a month. Then put those wrapped individual slices into a zip lock freezer bag. That way, you can take out a slice at a time whenever you may need it.
To thaw fudge, you should let it stay wrapped and thaw it in the refrigerator slowly. That way the condensation will be less likely to form on the fudge.
Looking for more Eggnog recipes?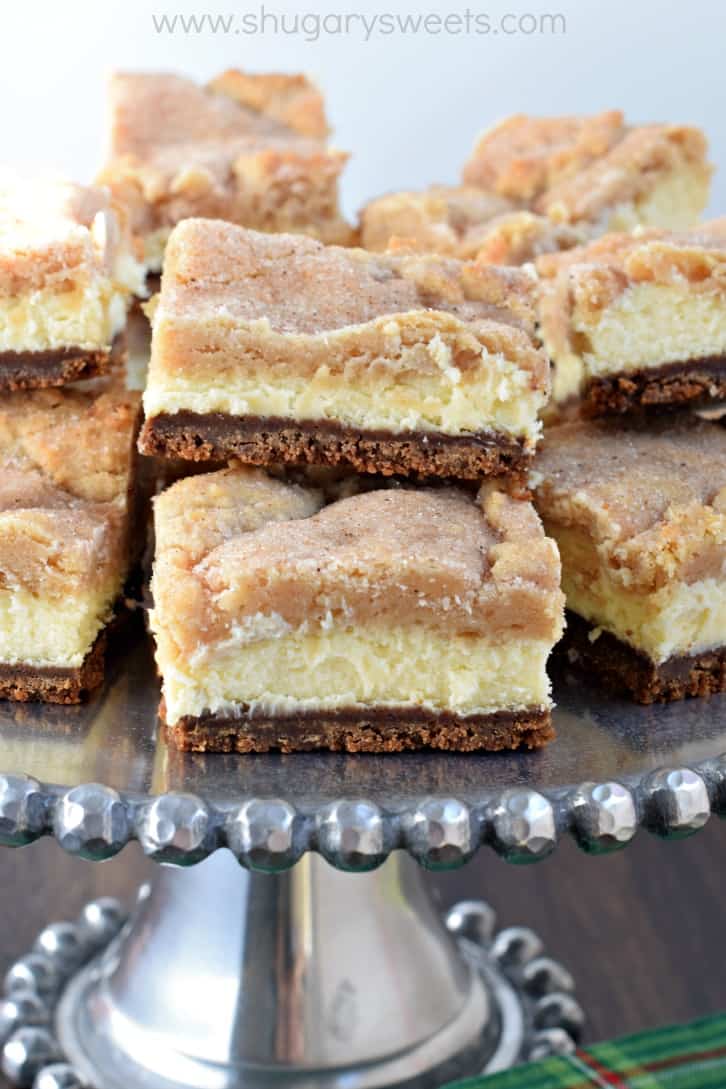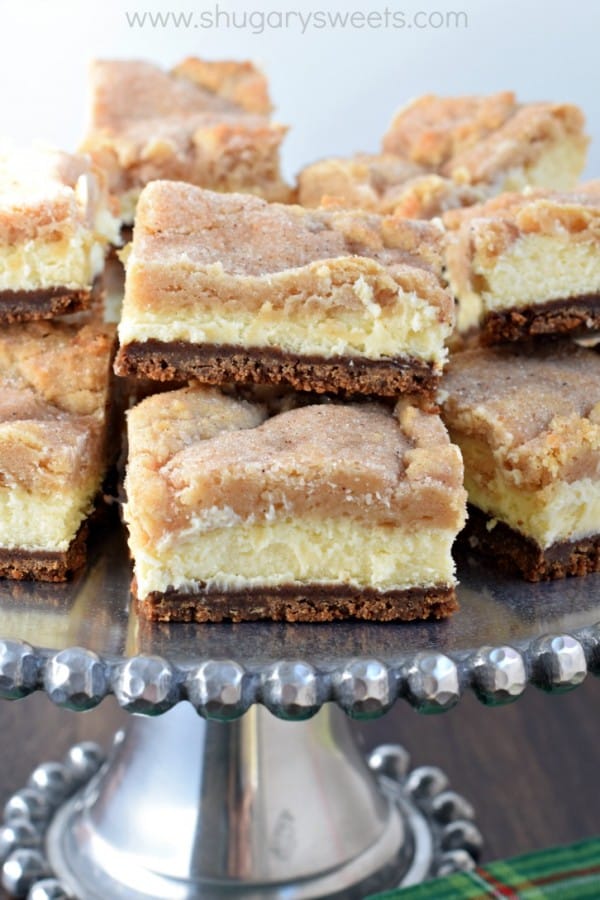 Layered Eggnog Cheesecake bars with a gingersnap crust, creamy cheesecake filling and snickerdoodle cookie topping! This is the ultimate dessert recipe, and it's easy enough to make!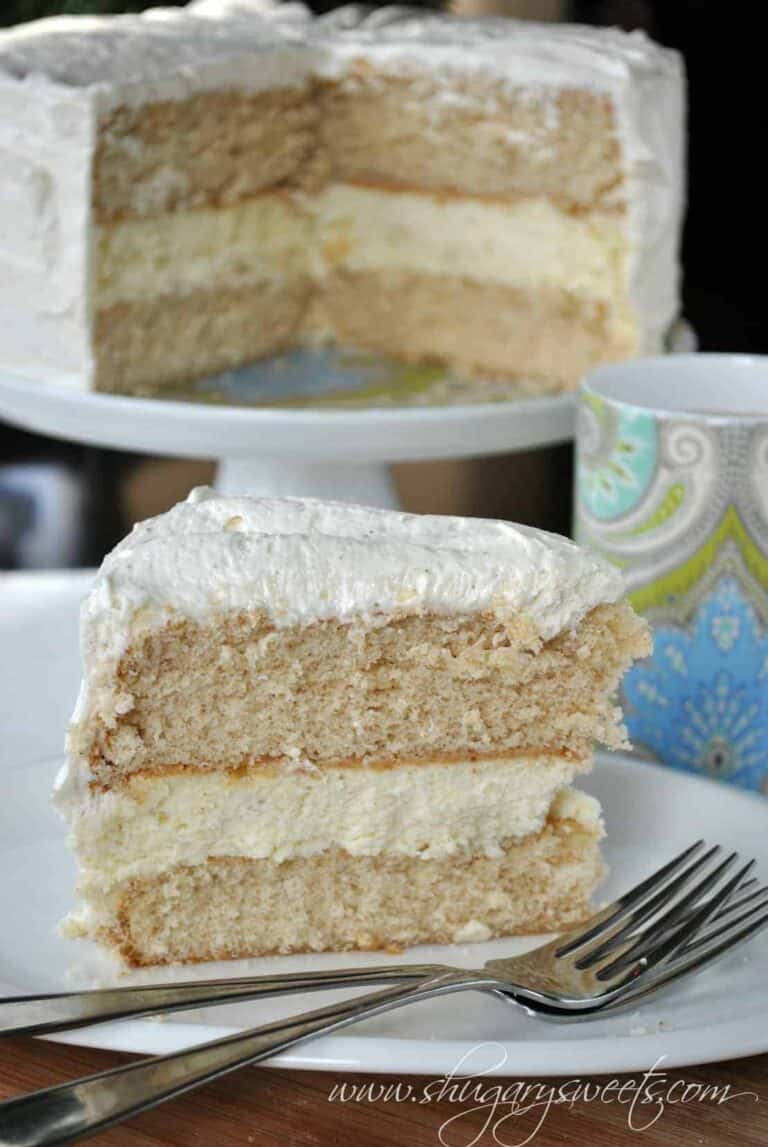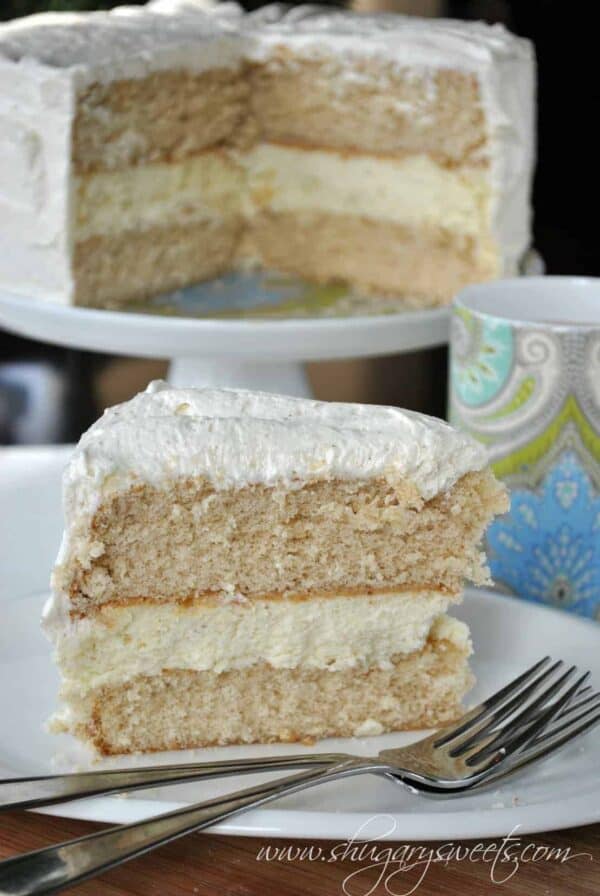 This Eggnog Cheesecake Cake is holiday perfection. Layers of homemade spice cake with a creamy eggnog cheesecake center. All topped with a delicious eggnog frosting.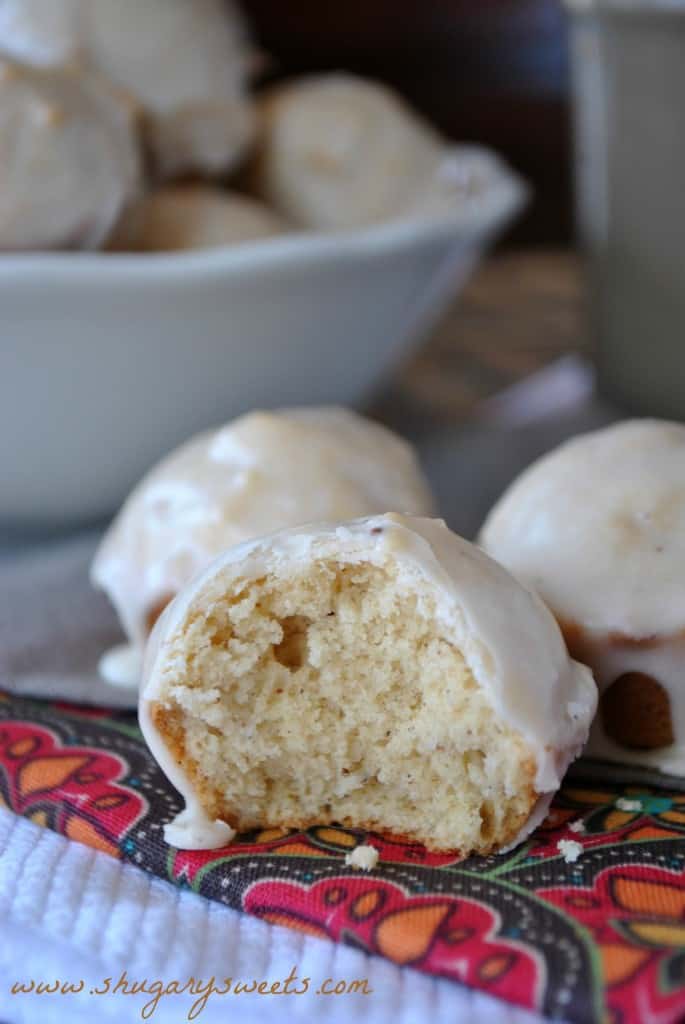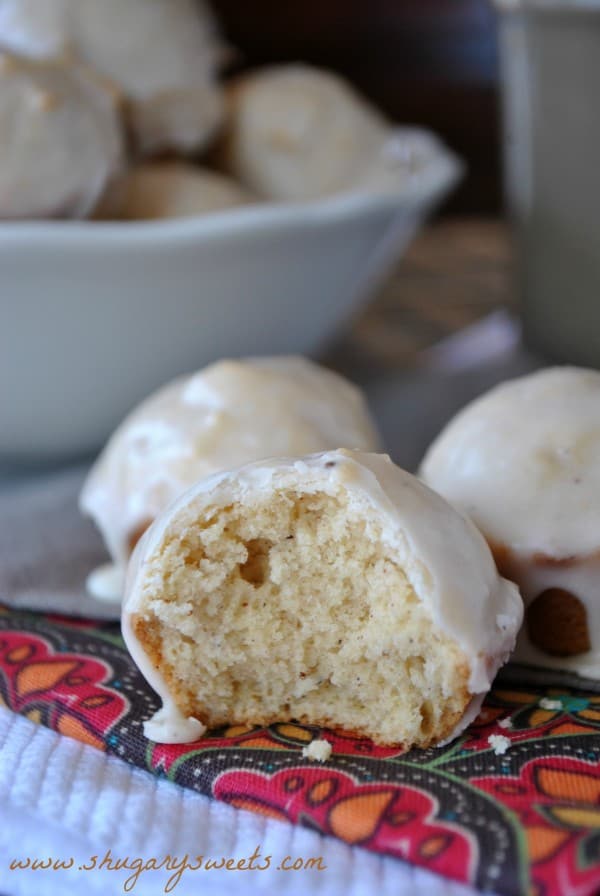 Looking for the perfect Christmas morning breakfast? These Eggnog Donut Muffins are bite size holiday treats!
MORE Holiday Recipes:


Originally published on December 13, 2016 and republished in November 2018