Gingerbread Fudge has all the flavor of your favorite cookies, with none of the hard work! Put away the cookie cutters and make this easy fudge to celebrate the season.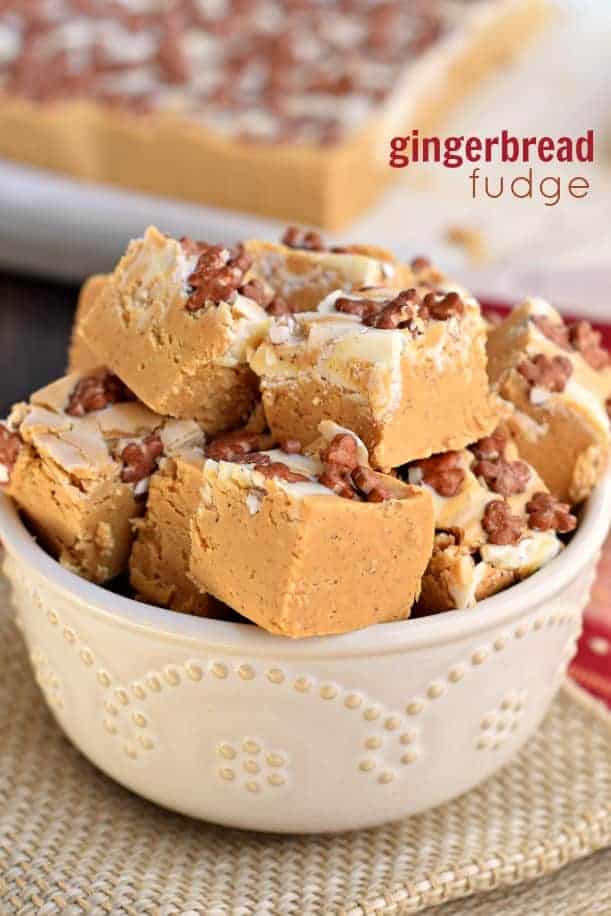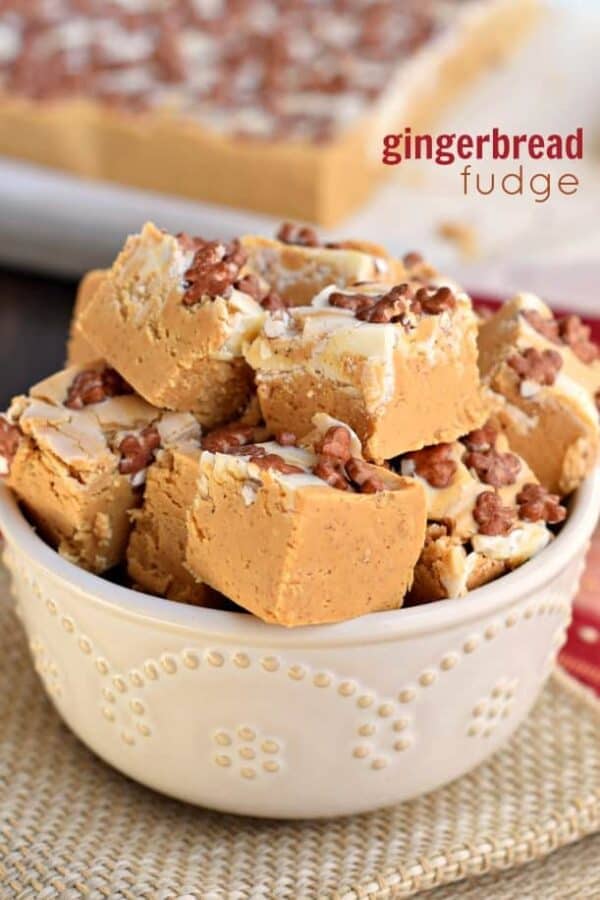 Why This Fudge is Best
Gingerbread Fudge combines two favorite holiday treats in one easy recipe
Homemade fudge that tastes like gingerbread!
Packed with warming brown sugar and spices.
Topped with adorable gingerbread sprinkles.
No candy thermometer needed!
A perfect gift idea for the holiday season.
Everyone loves to make and eat gingerbread cookies this time of year. But you don't always have the time and energy for all the steps involved!
This fudge recipe takes just a few minutes of active cooking time. The rest is hands-off while your fudge sets up in the fridge.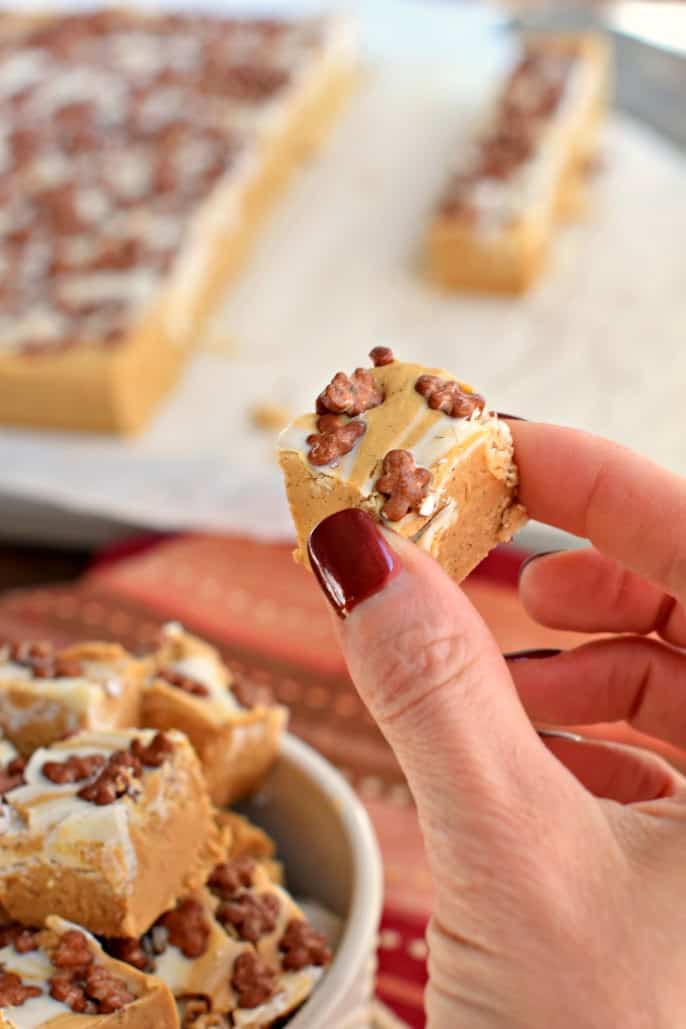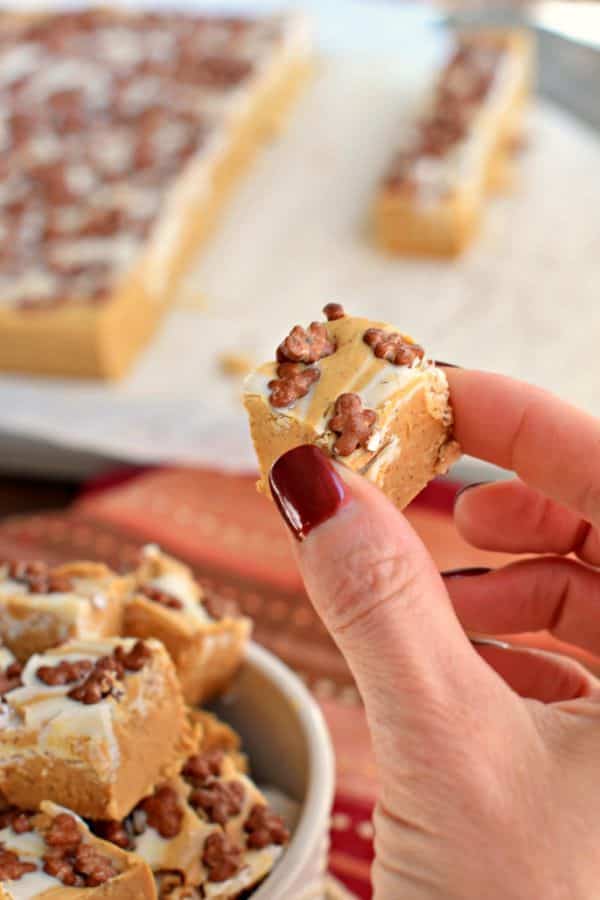 Ingredient Notes
Marshmallow fluff – A spreadable marshmallow cream that creates the base for this fudge.
Spices – A blend of ground ginger, cinnamon, nutmeg and cloves gives the fudge an authentic gingerbread flavor.
Molasses – I use a light molasses. The darker your molasses the darker and more bitter your fudge will taste.
Heavy whipping cream – For thick and creamy fudge!
Gingerbread sprinkles – These tiny gingerbread man shaped sprinkles add a fun garnish to the finished fudge.
Tips and Tricks
If you've made any of my other fudge recipes, like this Cookies and Cream Fudge, you know I almost never use a candy thermometer to make fudge.
That's the case with this gingerbread fudge, too.
You start by boiling the butter, sugars and liquids on the stove, stirring constantly, until the mixture reaches a rolling boil.
Keep it boiling and stirring for a full 5 minutes! This gives the sugar crystals a chance the dissolve into the butter and liquids.
After combining all the fudge ingredients, pour the prepared mixture into a lined baking dish. I use a 9 inch square dish to make equally sized squares of fudge.
Now it's time to garnish the fudge! Drizzle melted white chocolate on top and cover with gingerbread sprinkles!
You can skip the garnish if you're in a rush. It makes it look pretty and adds a little extra flavor, but the gingerbread fudge will still taste delicious without the toppings.
Let the fudge set up in the fridge for about 2 hours before slicing and eating!
Recipe FAQs
How can I keep fudge from getting hard and stale?
The best way to keep fudge fresh and soft is cutting as you go. I store the block of fudge uncut in gallon zip bags. Only slice off what I will eat or serve right away.
Does gingerbread fudge need to be refrigerated?
After the fudge is set, it can be stored in either the refrigerator or at room temperature. It will stay good for about 2 weeks either way.
Where can I find gingerbread sprinkles?
I found them in the holiday aisle at my local grocery store. You can usually find them at chain stores and big craft stores during the holiday season!
Why is my fudge sticky?
The molasses in this fudge recipe can make it sticky IF it's not boiled long enough. Use a timer or stop watch to make sure you boil it for a full 5 minutes for the right consistency.
Everyone on your Christmas gift list deserves a nice big box of fudge. Surprise them with a delicious batch of homemade Gingerbread Fudge this year!