Gingerdoodle Cookies are chewy, soft cookies that taste like a cross between a gingersnap and a snickerdoodle. Add this to your baking list ASAP! You'll love the texture of the cookies, but more importantly the molasses flavor with the cinnamon, ginger, and cloves is irresistible!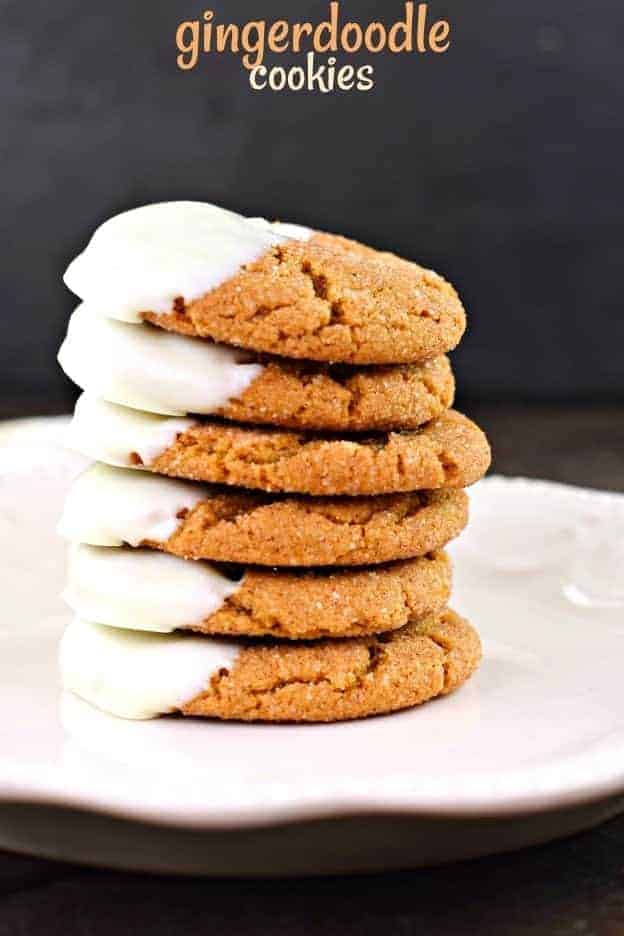 How to Make Soft Molasses Cookies
I just can't wait another day to share this recipe for Gingerdoodle Cookies.
You may first be asking yourself, what are gingerdoodle cookies?
Perhaps this will help…imagine a chewy gingersnap cookie combined with a soft snickerdoodle. Then dunk it in white chocolate. OMG these are seriously so amazing!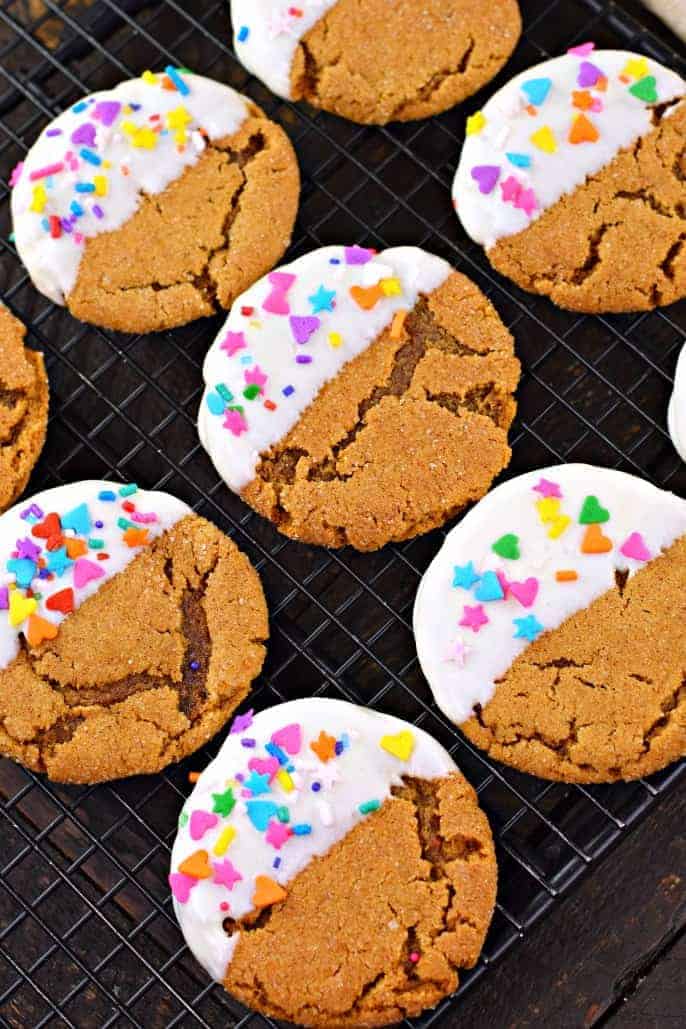 STEP 1. Pre-heat oven to 375°F. Line baking sheet with parchment paper and set aside.
STEP 2. Combine softened butter and brown sugar in a large mixing bowl. Beat together until fluffy. Add in the egg and beat until smooth. Add in the molasses and beat until well combined.
STEP 3. Add the flour, baking soda, cinnamon, ginger, cloves and salt and mix until combined.
STEP 4. Using a medium cookie scoop (or about 2 Tablespoons), roll the cookie dough into a ball. Place the granulated sugar and cinnamon into a bowl and mix together. Roll the dough into the cinnamon sugar. Place on the baking sheet, about 2 inches apart.
Bake for 7 to 8 minutes until the edges are firm. Allow to cool on the pan for 2 minutes and then transfer to a cooling rack. Cool completely.
STEP 5. Melt white chocolate according to package directions. Dip half the cooled cookie into chocolate and return to parchment paper. Allow to set. ENJOY. Cookies can be stored in an airtight container at room temperature for up to one week, or freeze until desired!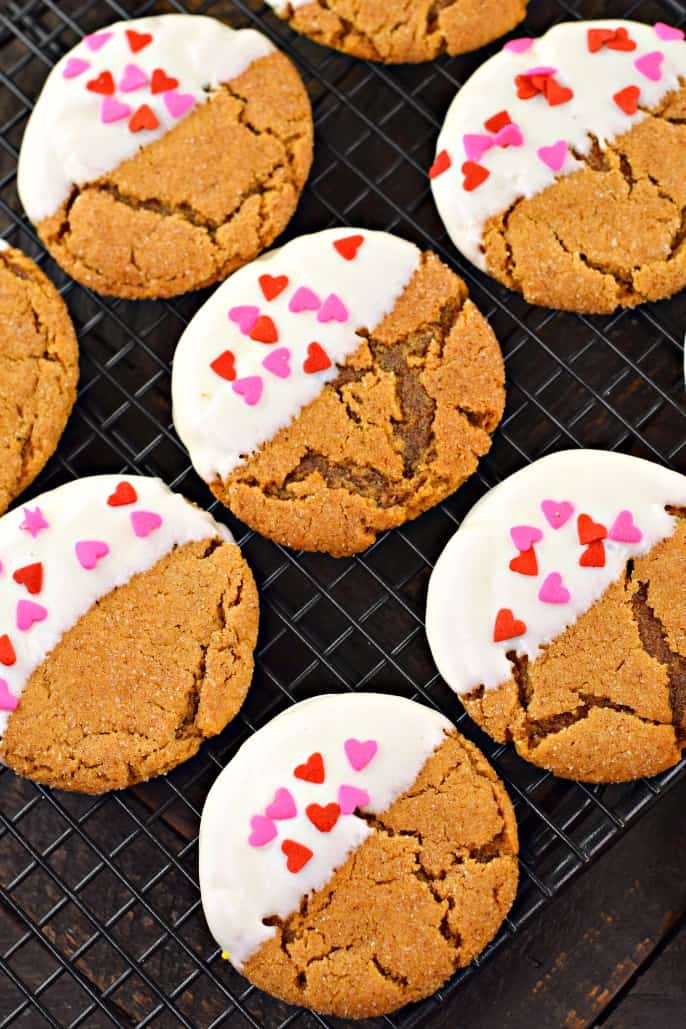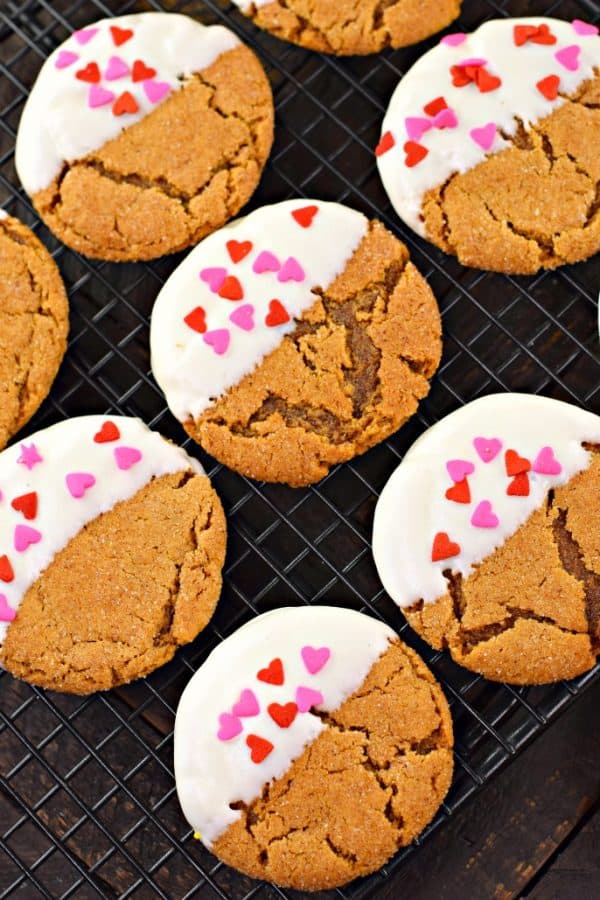 If we're being honest, I'm not really a gingerbread cookie person.
I love gingersnaps, frozen (weird, I know). I love the crunch to them. But soft gingersnaps? No thank you.
I'd rather eat these Gingerbread flavored Krispie Treats, or this Gingerbread Fudge!
You could also make these Gingerbread Cookie Bars. Topped with a cream cheese frosting, what's not to love?
Ingredient Notes
These soft molasses cookies have a crackly top and the perfect amount of CHEW!
Unsalted butter- make sure it's softened to room temperature
Brown sugar- I use light brown since you will be adding molasses you don't need dark brown (but you can use it if you prefer)
Molasses- I usually choose a dark molasses. Blackstrap molasses is too intense for baking in my opinion. Grandma's brand is what I find at most grocery stores.
Spices- a good blend of cinnamon, ginger, and cloves is needed.
Cinnamon sugar- I make my own cinnamon sugar mix for rolling the cookies in before baking. But you can buy it premixed at the store too.
White Chocolate- Ghirardelli white chocolate melting wafers are my favorite. They taste great and melt smooth in the microwave without seizing up!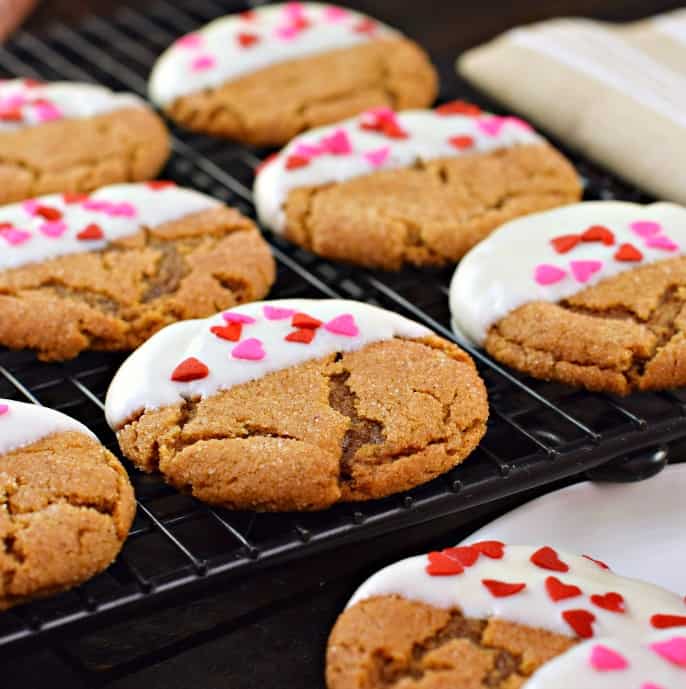 Recipe FAQs
What does molasses do to cookies?
The molasses in these chewy ginger cookies gives a sweet flavor that keeps them moist and soft.
Can you freeze Ginger Molasses cookies?
Store baked and cooled ginger molasses cookies in airtight freezer safe container for up to 3 months. Thaw on counter in container overnight.
What kind of molasses is best for baking?
Dark Molasses is my favorite choice for baking. Blackstrap molasses is too intense for most recipes.
More Easy Dessert Recipes