Strawberry Hand Pies are the perfect sweet treat to share with family and friends. This recipe is so easy, you'll want to make a double batch. We shaped some of them heart shaped, for Valentine's Day.
If you love easy hand pies, you'll have to try our peach hand pie recipe too. Our blueberry hand pies have a hint of lemon, the perfect pairing.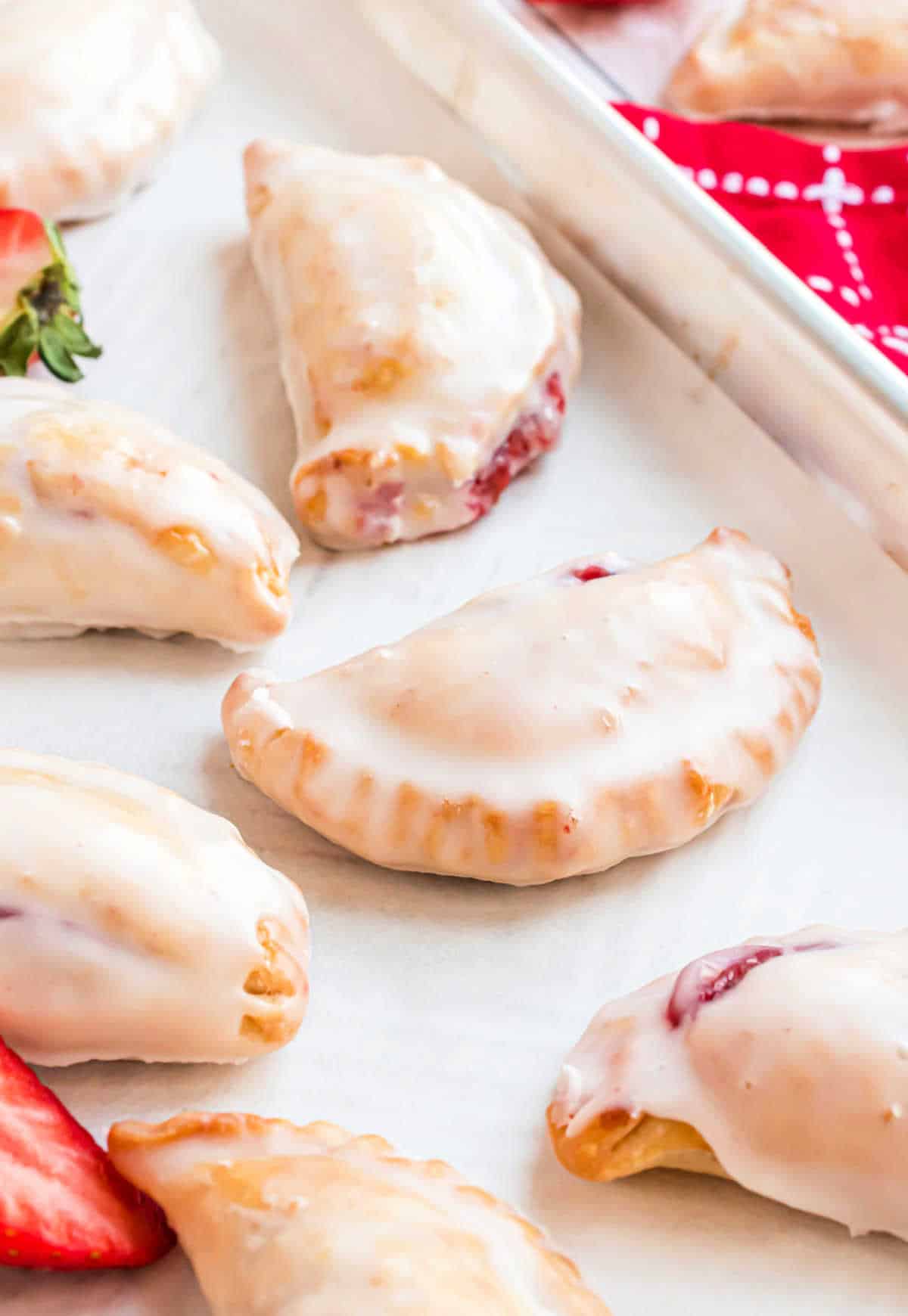 Why You'll Love These Hand Pies
These Strawberry Hand Pies are so simple and tasty that it's impossible not to love them. Easier than our homemade strawberry pie, you'll love the simplicity of today's recipe.
Premade pie crust and pie filling make this recipe dependable and effortless.
Flavor variations are a no-brainer. Swap out the flavor of pie filling, or create your own.
You'll be able to bite into one of these irresistible hand pies in only 30 minutes.
Use any shape. Make hearts for Valentine's Day!
If you love the simplicity of hand pies, you'll have to try our easy strawberry pie bars too. Or make a batch of our cherry slab pie– easy pie in a sheet pan!
Ingredient Notes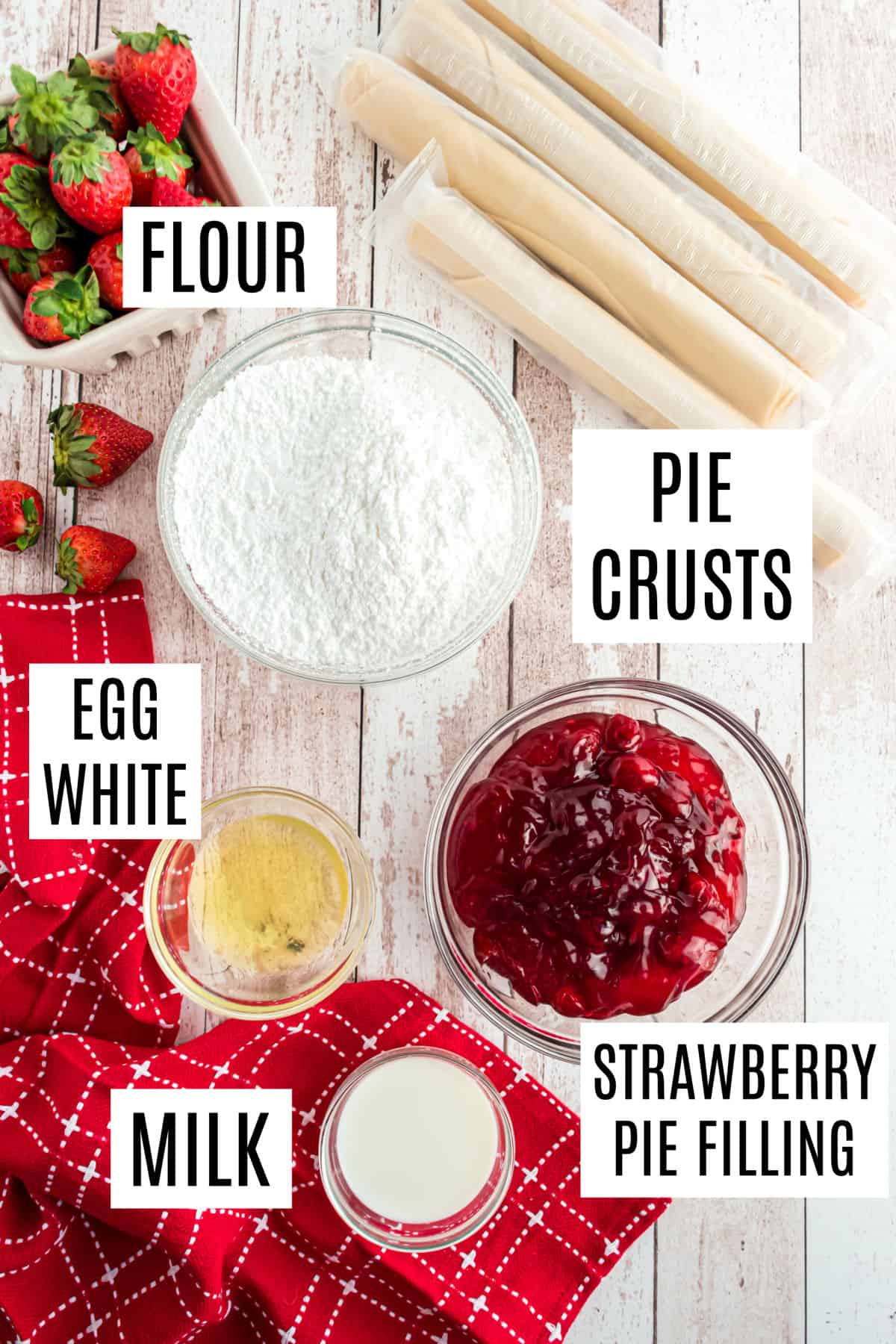 Refrigerated Pie Crust – Using store-bought pie crust will keep this recipe foolproof. But if you have the time, you could always whip up your own Homemade Pie Crust.
Strawberry Pie Filling – I used a can of strawberry pie filling for this recipe, but you could easily swap this for whatever flavor you're in the mood for. Apple, blueberry, or cherry are tried-and-true classics you can't go wrong with.
Powdered Sugar
Milk
Egg White – Don't skip the egg wash on the pies! This is what makes them have a golden, glossy crust. Save the egg yolk to make a batch of homemade lemon curd.
Easy Instructions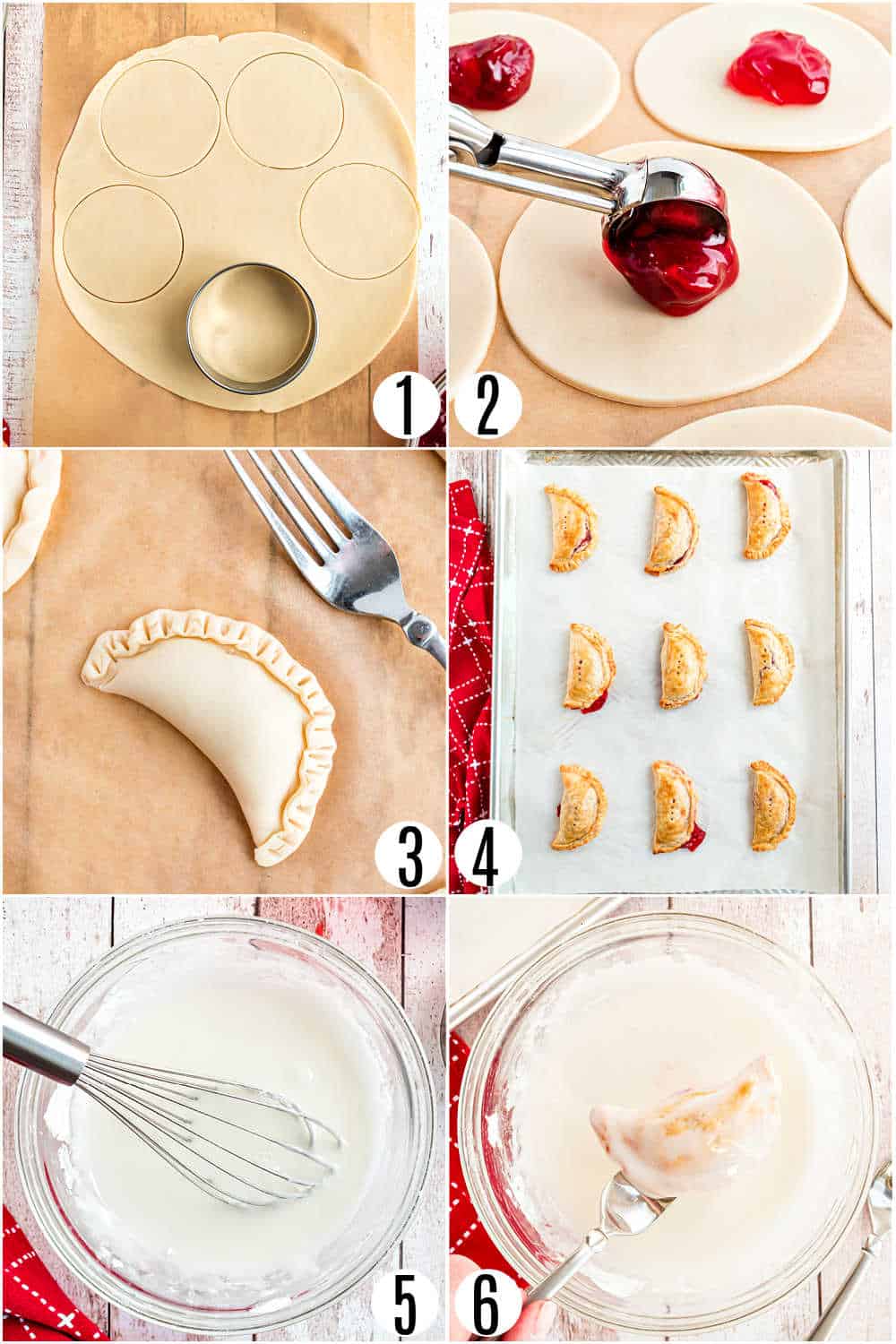 Prepare Pie Filling – Pour pie filling into a shallow bowl. Cut the large chunks of fruit into smaller, almost mashed bits using a fork and knife or kitchen shears.
Cut the Pie Crust – Unroll or roll out the pie crust. The goal is to cut out 6 circles from each crust. You can do this with a 4-inch biscuit cutter.
Fill & Seal Hand Pies – Use a 1-tbsp cookie scoop to drop pie filling into the center of each circle. Then, fold the crust in half and match up the edges of the half-circle. Pinch or crimp the edges to seal the pies. Score or poke a few holes into the top of the hand pie to allow steam to release and prevent the pies from bursting in the oven.
PRO-TIP: Wet your fingertip with water and drag it across the inner edges of the pie crust for a better seal. Then use the prongs of a fork to crimp the pie closed along the entirety of the half circle.
Egg Wash Pies & Bake – Place the hand pies about 1 inch apart on a parchment-lined baking sheet. Then, beat the egg white with a whisk in a small bowl until it's frothy. Next, brush a small amount of egg white over each pie. Bake in a 425°F oven for 15 minutes or until golden brown.
Prepare Glaze – Whisk together the powdered sugar and milk as the pies are baking to create the glaze. Mix until completely smooth.
Glaze Warm Pies & Set – Once you remove the pies from the oven, drop them one at a time into the glaze while they're still warm. Use two forks to flip the pie over in the glaze and then transfer it back to the parchment paper to set.
Valentine's Hand Pies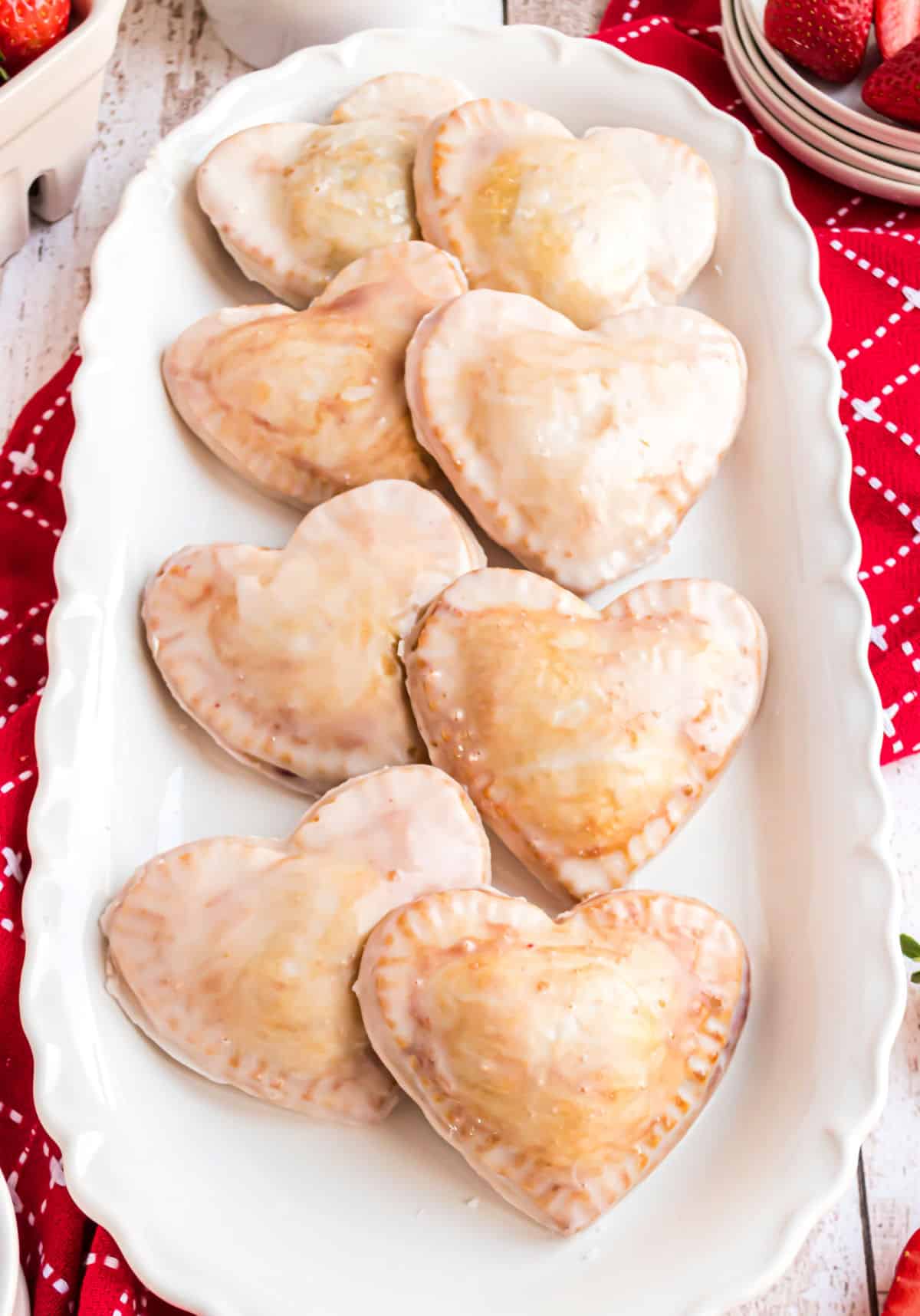 When you don't want to make another batch of Valentine Brownies, or give the gift of Valentine's Hot Cocoa Bombs, today's hand pies are the answer.
You can make some strawberry filled, heart shaped hand pies. They're perfect, and easy to make too. You'll want to find a large heart shaped cookie cutter- we love this one on Amazon.
You'll use the same process to assemble as you would a circle.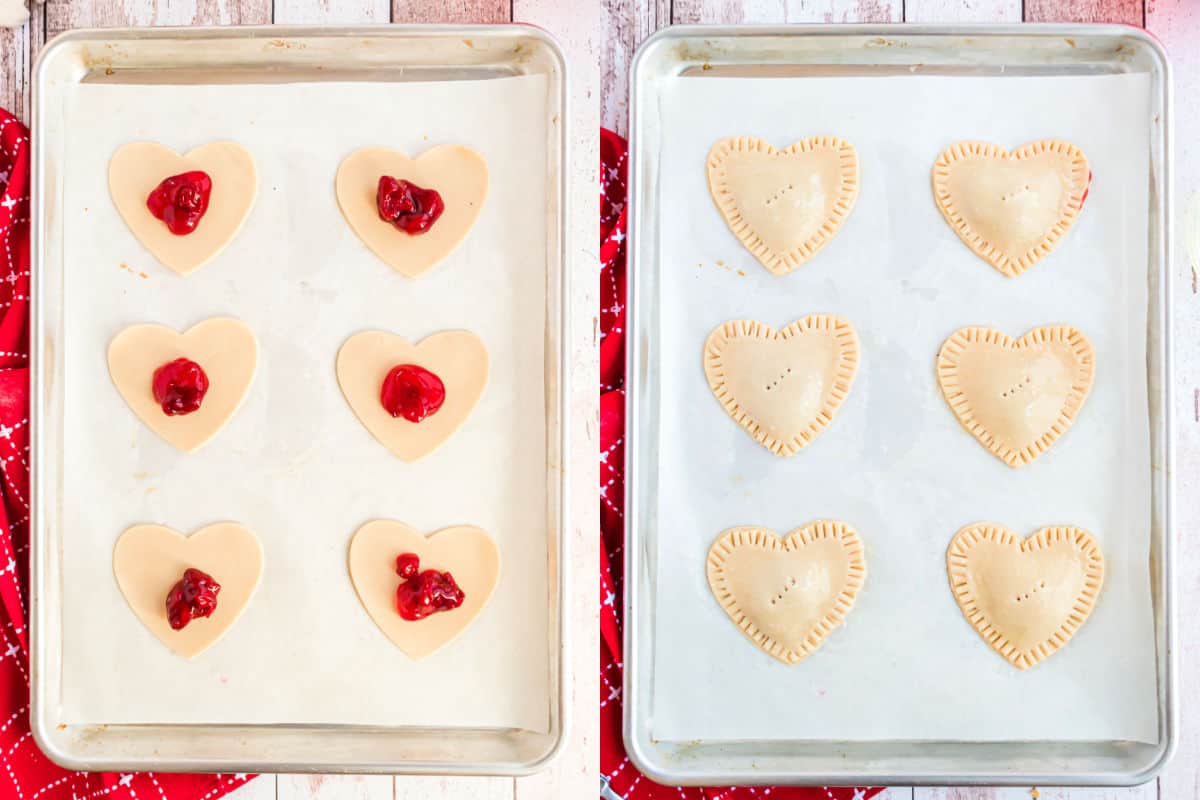 Tips and Tricks
Take the pie crust out of the fridge while preheating the oven and preparing the filling. This way, it will come to room temperature and be easy to work with.
The smaller you can get the pieces of fruit in the filling, the easier it'll be to close and seal up the hand pies. Larger pieces of fruit are hard to wrap in such a small amount of crust.
You can use the pie crust scraps to re-roll and cut to get all 24 hand pies.
If you want to use a fun-shaped cookie cutter, you will need to cut shapes of pie crust to form the top and bottom of the pie. Some cute ideas are making a heart for Valentine's Day or a snowman during Winter, or use our cute idea for cherry hand pies in the shape of a Christmas tree!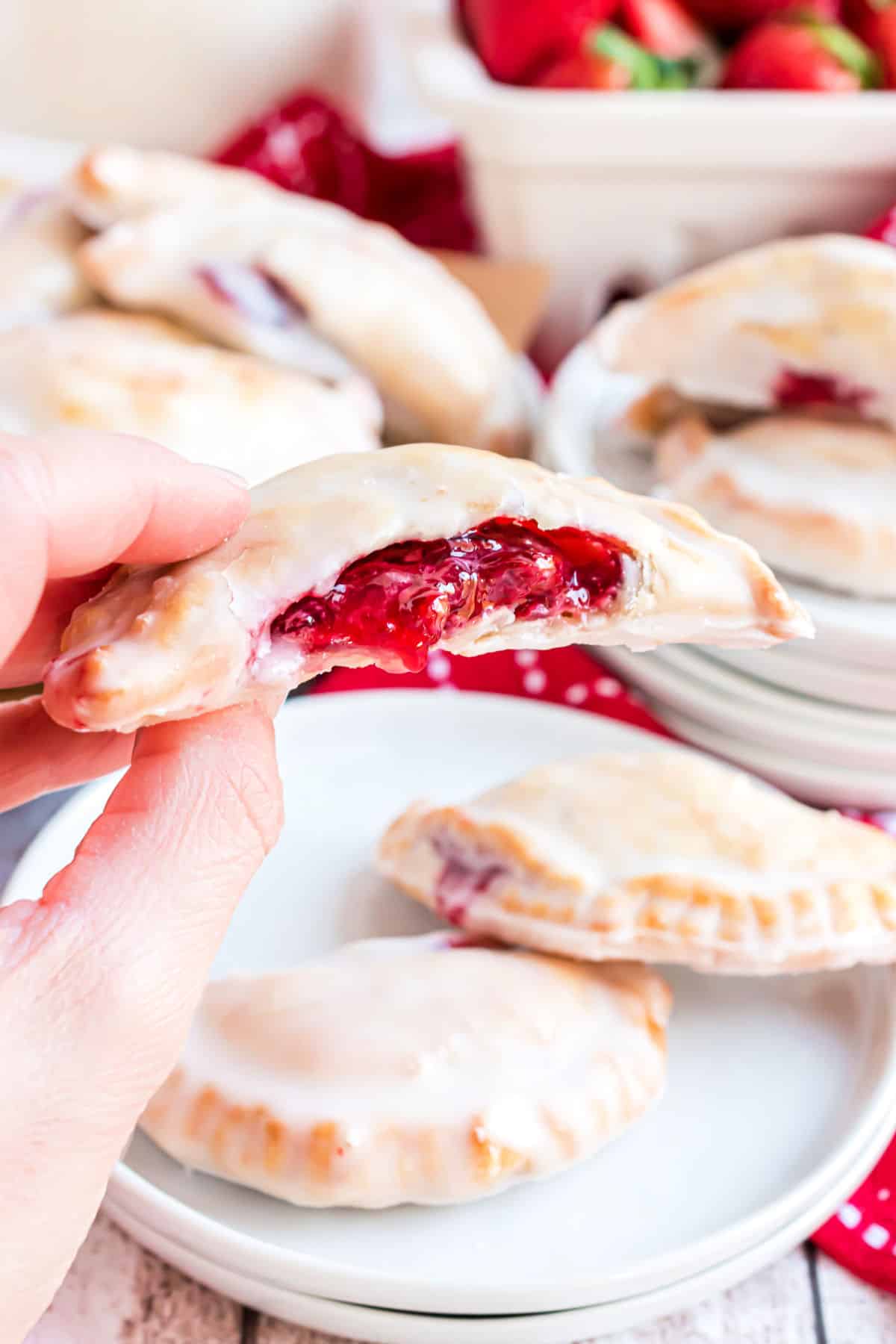 Recipe FAQs
Can I assemble the hand pies and then store them for when I need them?
Yes. Follow the recipe until you fill and seal the hand pies. Then, place them on a  parchment-lined baking sheet and wrap it in cling film. They'll keep in the fridge for 3 days or in the freezer for up to 3 months. If you want to store them in the freezer, let them freeze on the baking sheet, then transfer them to a resealable freezer bag for more compact storage.
How should I store leftover baked hand pies?
If you want to store baked hand pies, keep them in an airtight container at room temperature. Alternatively, freeze the baked hand pies in a resealable freezer bag for up to 3 months.
What's the best way to reheat the hand pies?
Baked hand pies stored at room temperature taste the best as is. However, if you store baked hand pies in the freezer, pop them onto a parchment-lined baking sheet and into a low-heat oven. Heat them until they thaw and lose their chill. Unfortunately, the glaze will melt off the hand pies during the process, but they'll still taste delicious. 
More Easy Strawberry Desserts