Valentine's Hot Cocoa Bombs – An adorable and delicious way to spread the love! Decorated with pink and white sprinkles and melted chocolate, these bombs create the best hot chocolate for Valentine's Day!
I admit it. I can't stop making Hot Cocoa Bombs! These heart-shaped Valentine's versions are cute as can be. Check out my guide for How to Make Hot Cocoa Bombs for even more tips and tricks!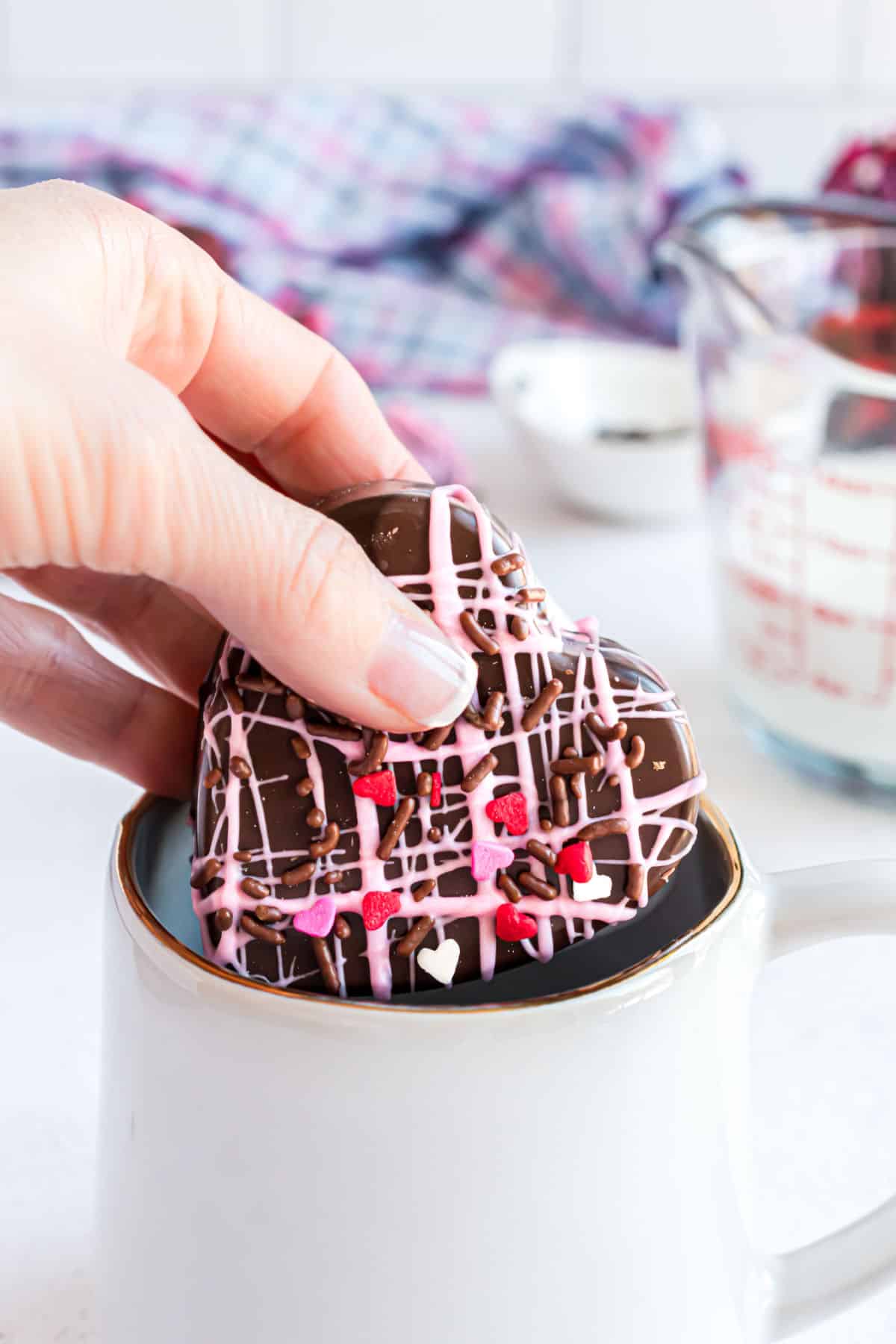 The Perfect Holiday Treat
What's Valentine's Day without a lot of chocolate? Any holiday that gives me an excuse to make and eat chocolate treats is a holiday I love.
This year, think beyond the usual heart shaped cookies and boxes of candy, and make a custom sweet gift for the special someones in your life.
These Valentine's Hot Cocoa Bombs can be made with a heart shaped mold or a regular round mold. Drizzle them with white chocolate and Valentine's sprinkles, then wrap them up as a gift.
Or save them for the kids to enjoy as special Valentine's day treat! Pour hot milk over these bombs and let them dissolve for a perfect mug of creamy hot cocoa!
Ingredient Notes
Chocolate Melting Wafers. You'll need dark chocolate wafers for the shells and white chocolate for decorating. I use Ghirardelli brand. Pink candy melts are also amazing for decorating add more color!
Hot cocoa mix. Use any kind of instant hot chocolate powder you like. Classic milk chocolate is always a hit, or mix it up with other flavors.
Sprinkles. Optional, but add an eye-popping touch. These Valentine's sprinkles are perfect, or use any combination of red, pink and white sprinkles.
Note: You need a heart shaped silicone baking mold to make these hot chocolate bombs.
How to Make a Hot Chocolate Bomb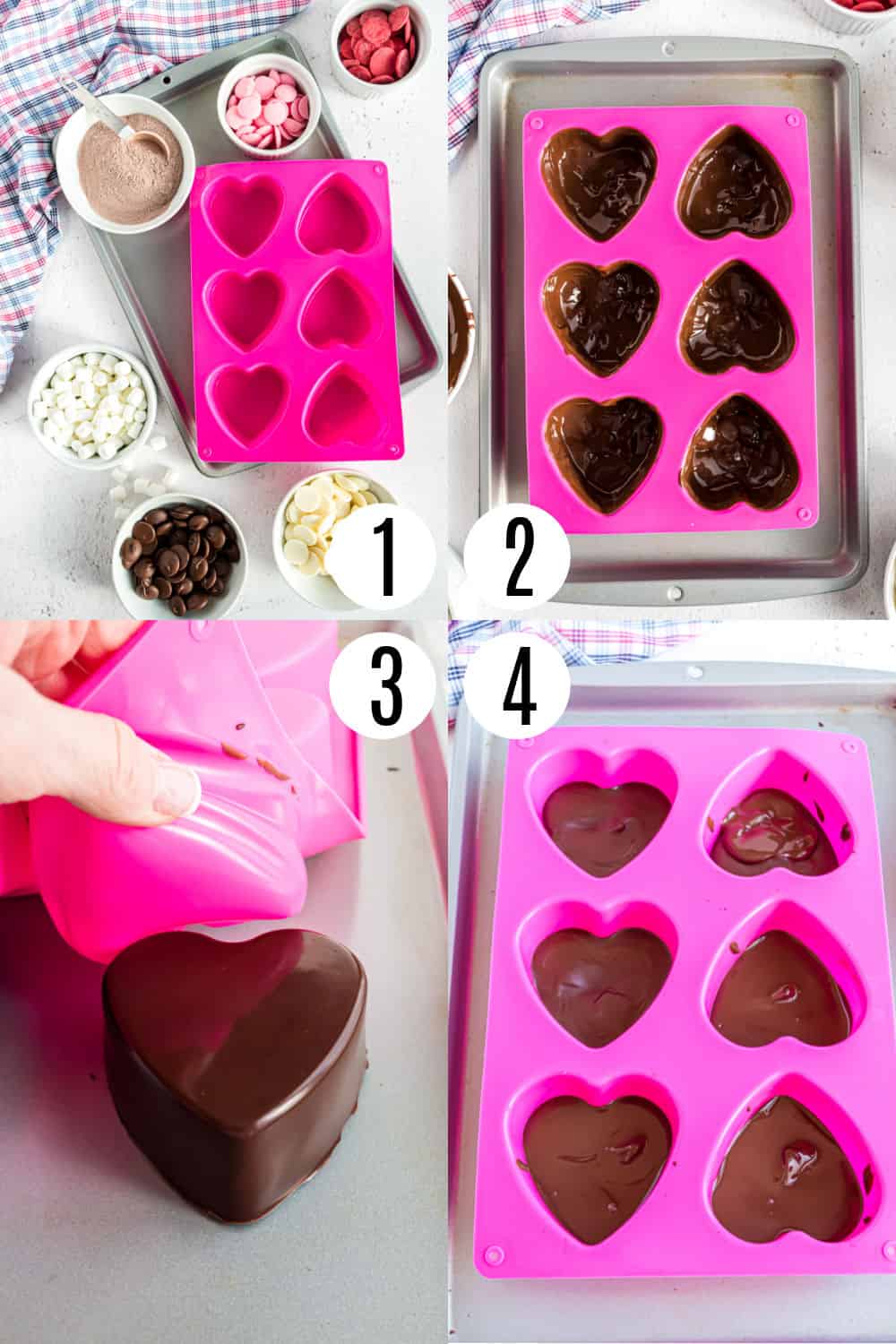 STEP 1. Melt chocolate
Melt the dark chocolate wafers in the microwave. Stir until smooth.
STEP 2. Fill molds
Set your silicone molds on a cookie sheet or other sturdy pan. Use the back of a spoon or a food safe brush to coat the insides of each mold cavity with the melted chocolate.
If you're using a heart shaped mold, start at the curved top of the mold and work your way downward toward the point.
STEP 3. Chill
Transfer the baking sheet holding the molds to the freezer. Let chill for 10 minutes or until the chocolate hardens.
STEP 4. Second chocolate layer
Now, double check that all the surfaces of the molds are covered with a smooth layer of chocolate. If it looks thin around the edges, add a little more chocolate.
STEP 4. Make the lids
Let the shells chill for another 5 minutes. Remove from the freezer.
Flip the molds over so the round side is facing up. Gentle peel back the silicone to remove the hardened shells of chocolate.
Use another set of silicone molds to make the "lids" for the heart shaped cocoa bombs. Put enough melted chocolate in the molds to coat the bottom.
Do not push the chocolate up the edges this time!
Freeze these for 10 minutes, then remove the hardened chocolate the same way as before.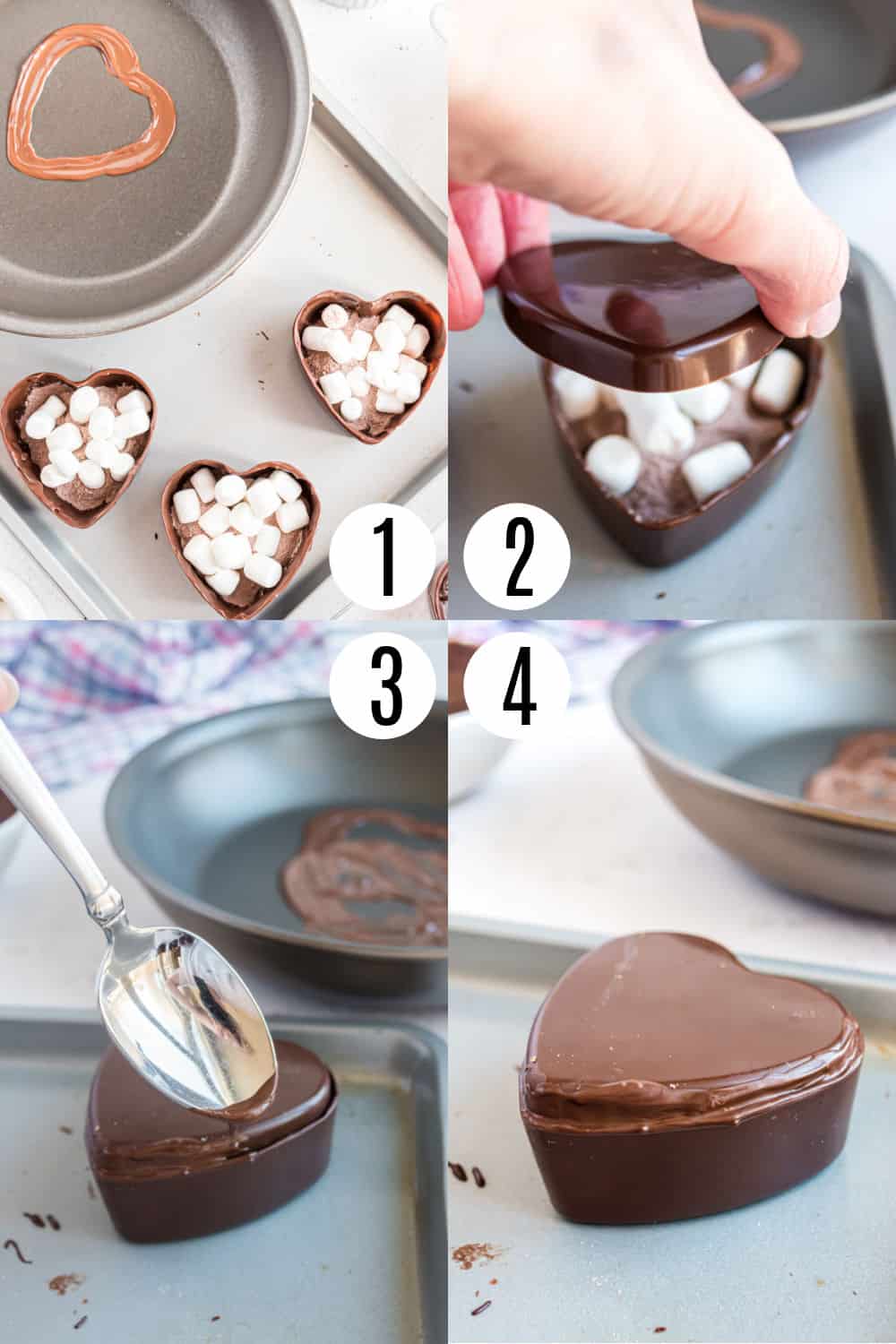 STEP 5. Fill and seal the hot cocoa bombs
Transfer all the hardened shells to a clean surface. Get your hot cocoa mix and mini marshmallows ready.
Warm a plate or skillet then remove from heat. Place one of the larger shells (flat side down) on the warm surface, until the edges begin to soften.
Immediately transfer to a cookie sheet and fill with a spoonful of the hot chocolate mix and mini marshmallows.
Press one of the smaller shell halves onto the top to seal. The melted chocolate will act as a "glue" that holds them together!
Repeat with all the remaining shell halves and fillings. Smooth any remaining dark chocolate over the seams of the bombs with a spoon. This creates a smooth "seal" to lock all the fillings in.
STEP 6. Decorate
Flip the hot chocolate bombs so the rounder side is facing up. Melt the white chocolate wafers or candy melts according to package directions. Drizzle over the outsides of the cocoa bombs and add sprinkles for a colorful finishing touch.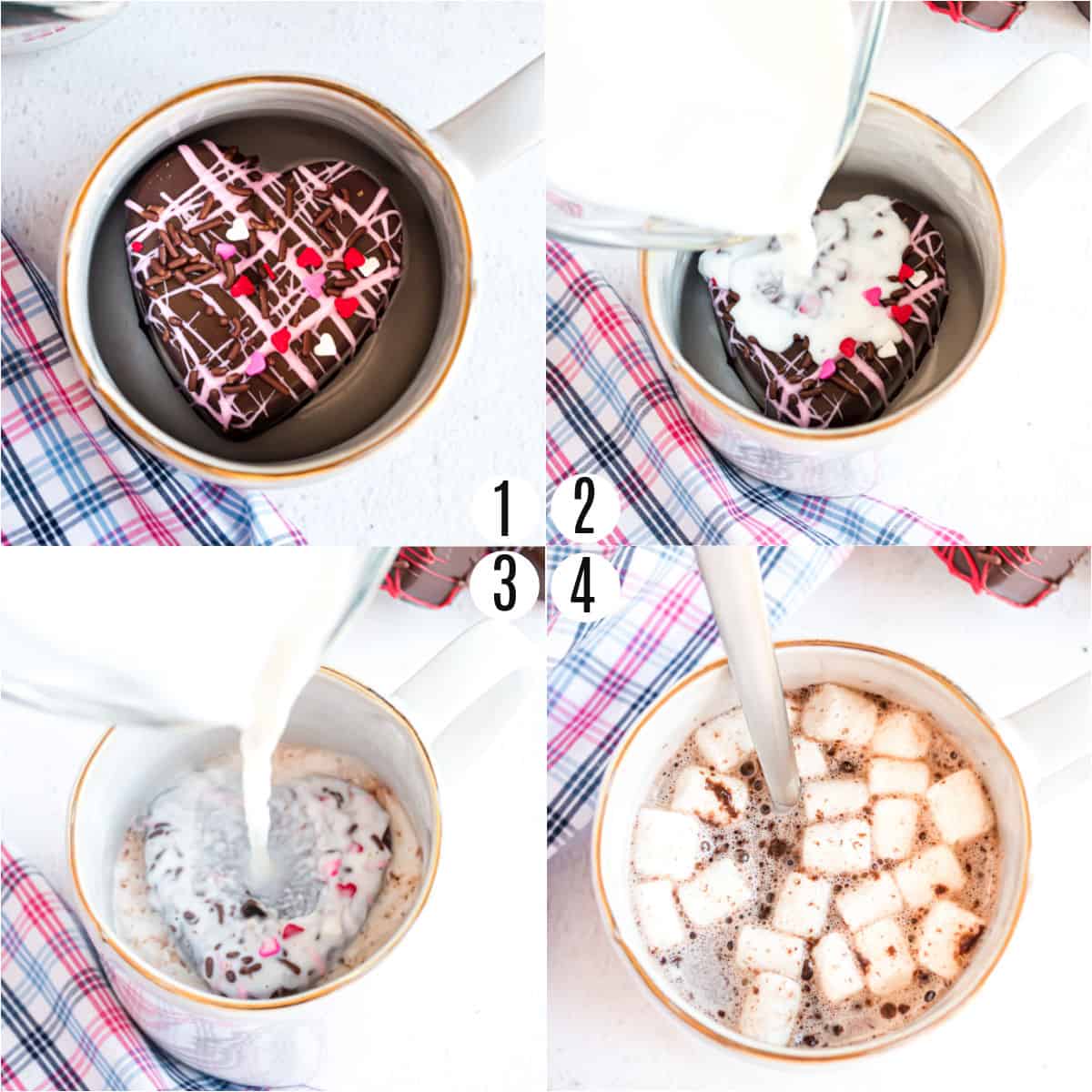 STEP 7. Serve
Once the chocolate drizzle is set, you can transfer them to an airtight container to store or serve them right away.
Make hot chocolate by placing one cocoa bomb at the bottom of a mug. Pour warmed milk over top and let the chocolate dissolve. Stir to incorporate the cocoa mix and enjoy!
Tips and Tricks
Best heart shaped mold: This mold from Amazon works best. Don't use the heart molds that have a lip on the edge.
Sealing. The "lid" portion of the bomb is slightly smaller than the deeper shell in this style of bomb. It will rest on top of the fillings and make light contact with the melted chocolate edges. Add additional chocolate can be added to the seam to fill in the gap and keep the mix in and make sure the lid stays on.
Two thin coats of chocolate are better than one thick coat. You want to make sure that the whole surface of your first mold is covered with chocolate. However, be sure not to make the coating too thick. When in doubt, add a second thin layer of chocolate after the first coat hardens.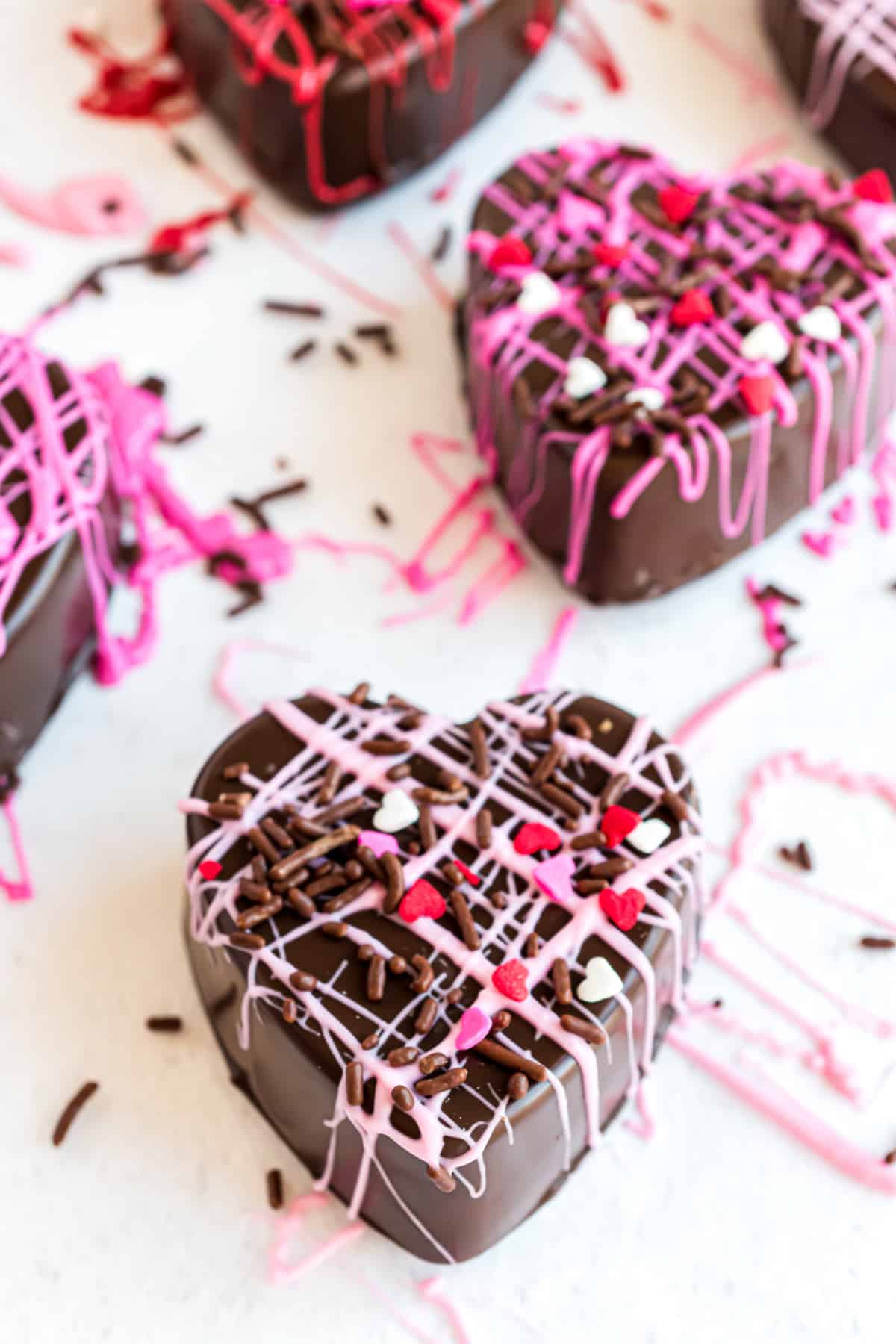 Recipe FAQs
Can I make this recipe with a round silicone mold instead?
You CAN make them round molds with this Hot Cocoa Bomb recipe. Just decorate with Valentine's sprinkles and voila!
Can I make this recipe with white chocolate instead?
No, you should not use white chocolate for the heart shaped shells. It doesn't spread well in the heart shaped molds, making it difficult to coat the whole thing.
Can I use chocolate chips instead of melting wafers?
No, chocolate chips will not work in this recipe. They're filled with additives that prevent the chocolate from melting and hardening smoothly.
Do the sprinkles end up floating in the finished cocoa?
No, the sprinkles will not float in your cocoa and ruin the texture. The hot milk dissolves them beautifully!
How should you store hot cocoa bombs?
Store hot cocoa bombs in an airtight container. Do not chill or freeze–this causes condensation to form on the surface.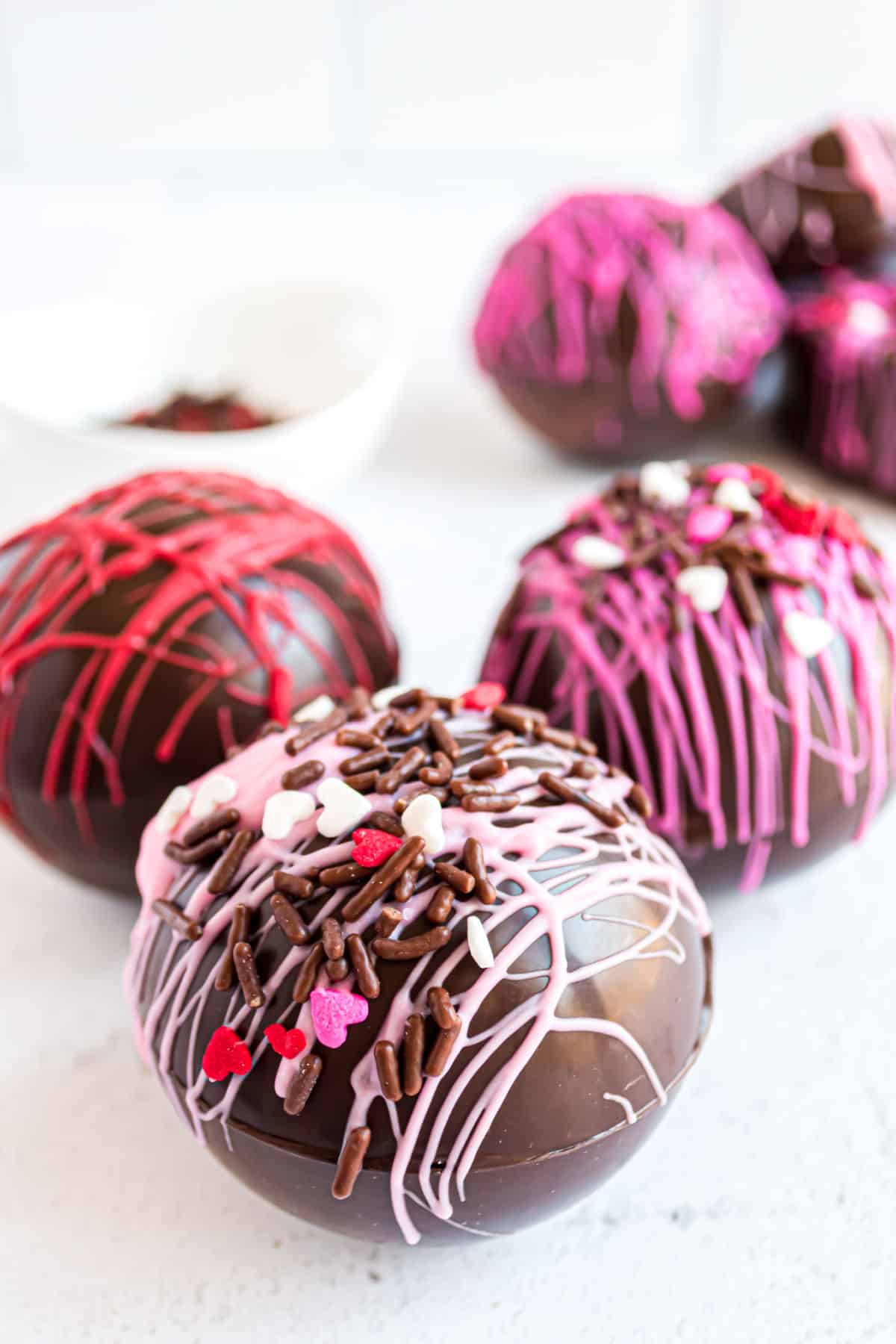 More Delicious Holiday Treats
PS. If you try this recipe, please leave a STAR rating in the recipe card below. I love your feedback! Connect with me on social media by following me on Instagram, Facebook, or Pinterest.
Who can resist a hot chocolate bomb–especially when it's heart shaped? Everyone swoons for these festive and beautiful Valentine's Hot Cocoa Bombs!