Inspired by a favorite cocktail, Cherry Margarita Pound Cake is a cherry pound cake with a grown up twist! Made with tequila and topped with a cherry-lime glaze, this cake will turn anyone into a margarita lover!
I love margaritas. Especially Cherry Margaritas. And when it comes to cherry desserts, these Cherry Chocolate Chip Cheesecake Bars are simply the best!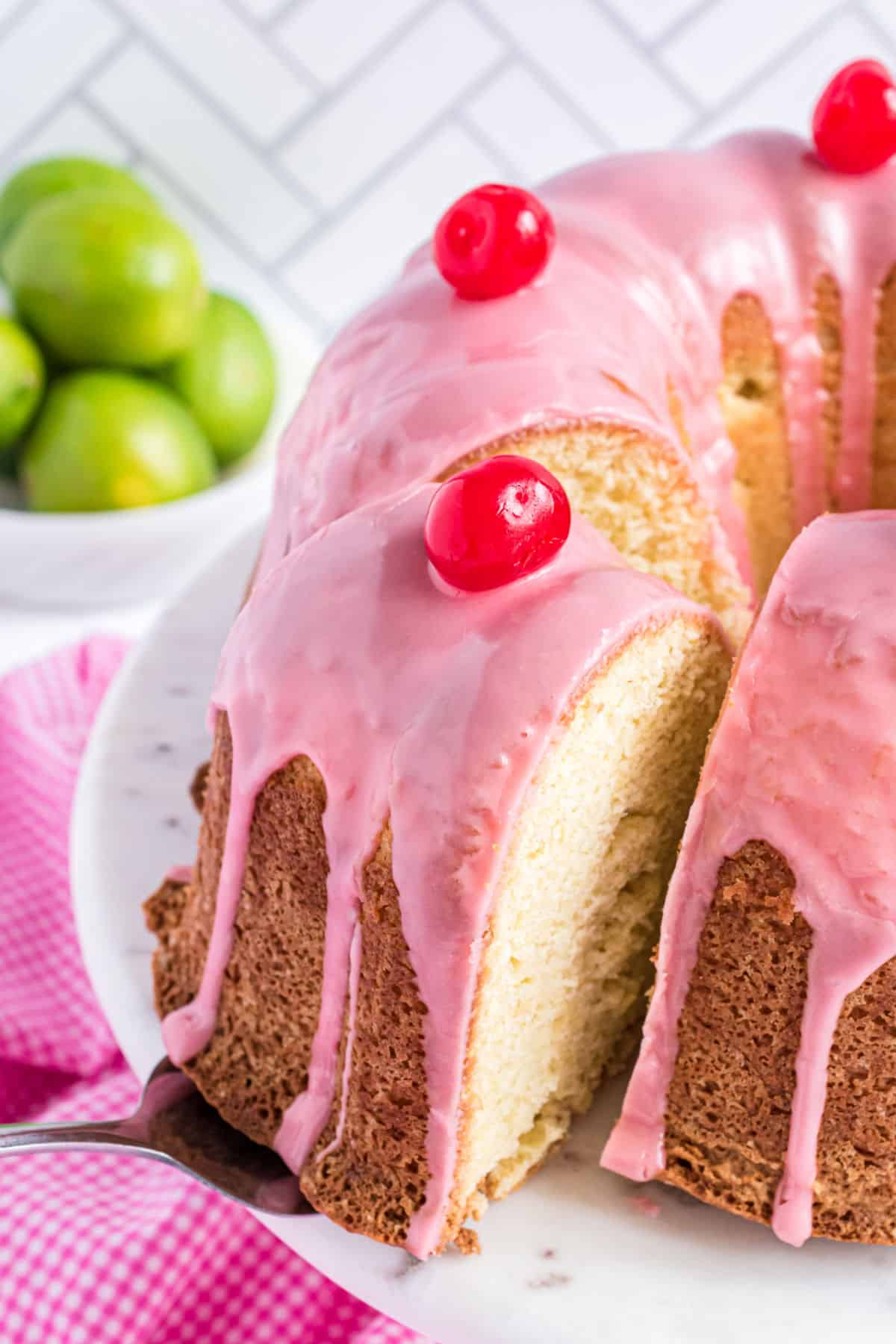 Cherry Pound Cake
A few years back, I discovered the concept of margarita-inspired cakes and, as you can imagine, I was thrilled. Tequila, lime juice, AND cake? I mean, I couldn't not give it my own spin.
It wasn't enough to just make a cherry pound cake, add some lime juice and call it a day–although that would have been delicious, like my Cherry 7 Up Pound Cake recipe.
This pound cake uses freshly squeezed lime juice and actual tequila in the cake batter.
You bake it in a bundt pan, then top with the most amazing icing; a glaze that's zesty and sweet with the perfect touch of tartness, just like a margarita!
This Cherry Pound Cake makes a great option for an adult birthday party or a girls' night!
Yes, the alcohol cooks off, but you're still left with a hint of tequila flavor that makes this dessert extra tantalizing!
Ingredient Notes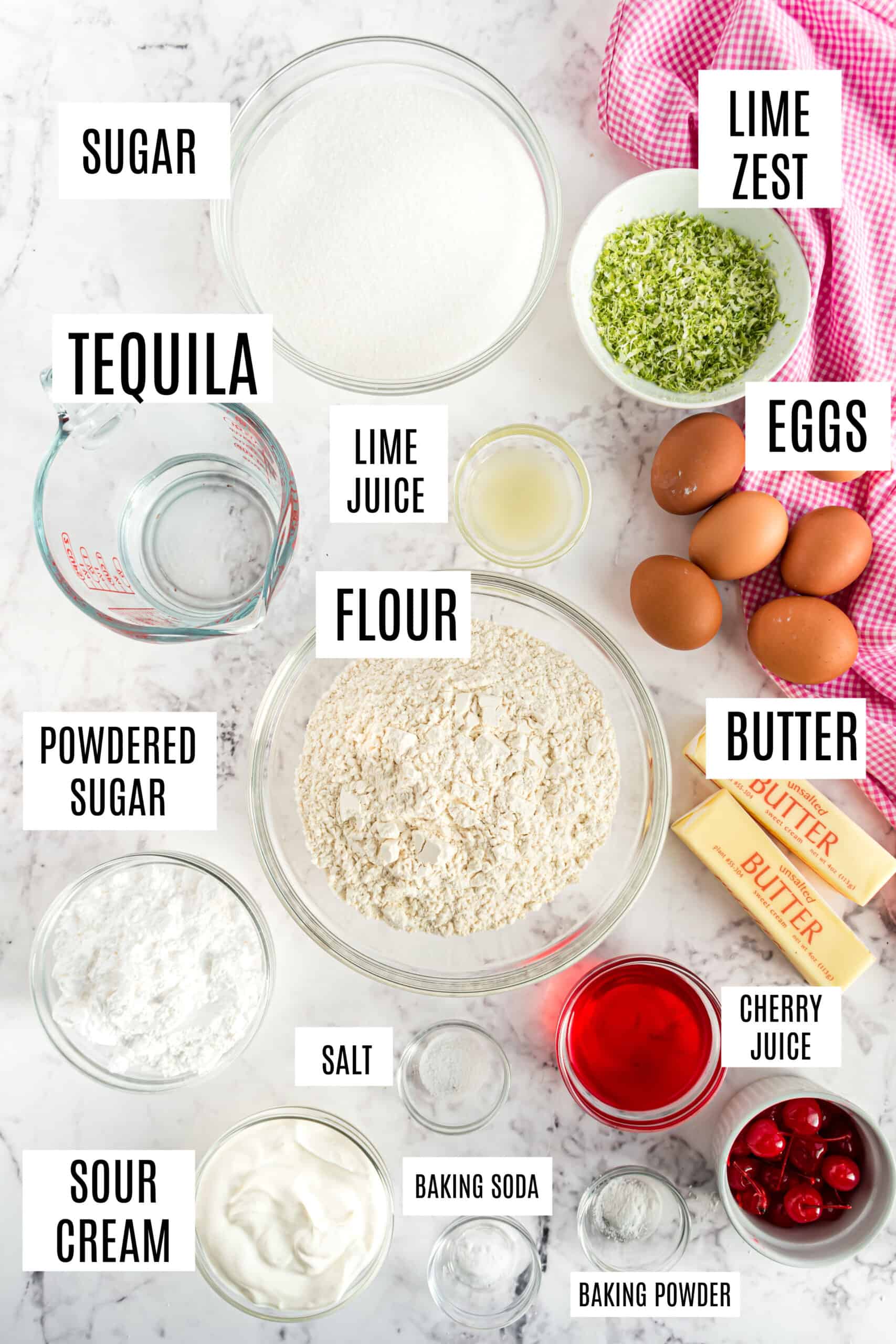 What I love about pound cake is the delicious texture! To achieve the perfect pound cake you'll need:
Butter– I always opt for unsalted in 99% of my baking.
Sour Cream – adds the perfect amount of moisture to the cake! Greek Yogurt also works.
Eggs– to get the fluffy pound cake texture, instead of it being heavy, separate the egg whites from the egg yolks. We'll discuss more below!
How to make Cherry Margarita Pound Cake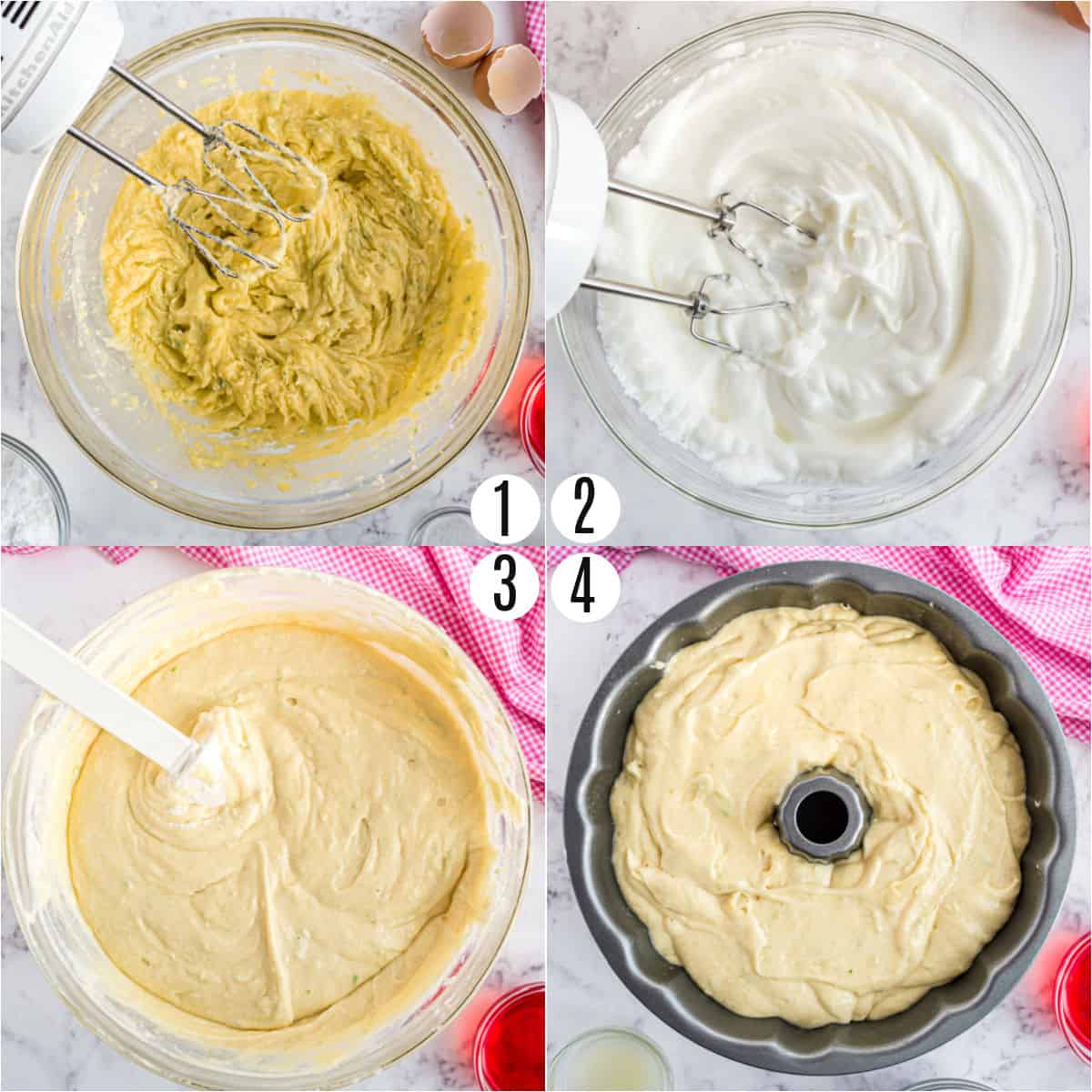 STEP 1. Cake batter
Beat together butter and sugar until fluffy, then add egg yolks, lime zest and tequila. Combine the dry ingredients and then add to the tequila mixture in batches, alternating with the sour cream.
STEP 2. Egg whites
In clean mixing bowl, beat egg whites at high speed until stiff peaks form, then fold gently into the cake batter. This helps the pound cake rise and achieve the right texture.
STEP 3. Bake
Pour mixture into bundt pun (generously grease and flour your cake pan, or use my homemade cake release). Bake in a 325 degree oven for 85-90 minutes.
Let cake cool about 10 minutes in pan. Gently remove the pound cake from pan (see tips below) then cool completely on wire rack before adding the glaze.
Cherry Lime Glaze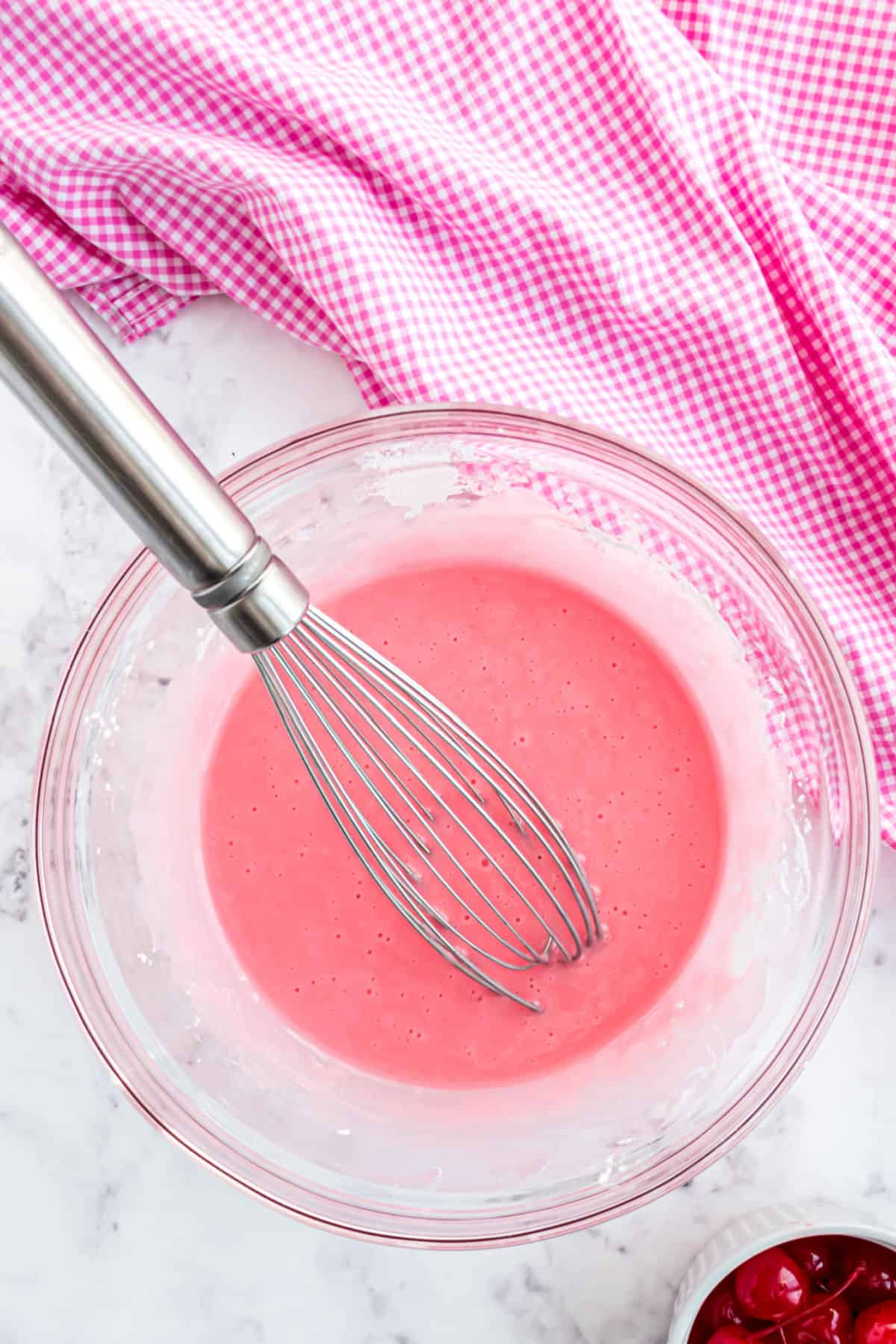 This glaze is so simple and adds the perfect finishing touch to the Cherry Pound Cake. All you do is whisk together powdered sugar with lime juice and cherry juice.
Drizzle it over the top of the cooled cake, then garnish with cherries for even more color!
Substitutions
Not a fan of tequila or or don't have any in the house? You can substitute the booze for more lime juice. It'll still be delicious and a little extra citrusy.
For a margarita pound cake minus the cherry, swap the cherry juice in the glaze for orange juice. The orange juice gives the icing a flavor almost reminiscent of the triple sec in margaritas.
You could also substitute more lime juice for the glaze but it will definitely be more sour. Pucker up!
Recipe FAQs
Can you freeze pound cake?
Yes! Cherry Pound Cake will freeze well. I recommend freezing it before adding the glaze. Then whisk together the easy glaze after thawing the cake and drizzle it on top just before serving. It'll keep well in the freezer, wrapped up well, for about 3 months.
Why is my pound cake so heavy?
If your cake turns out dense and heavy, chances are you didn't fold your egg whites into the cake batter after beating them separately. Make sure you cream the butter and sugar together for several minutes!
How do I know when my cherry cake is done baking?
To test your cake for doneness, insert a toothpick into the center. If it comes out clean (or with dry crumbs) your cake is done baking.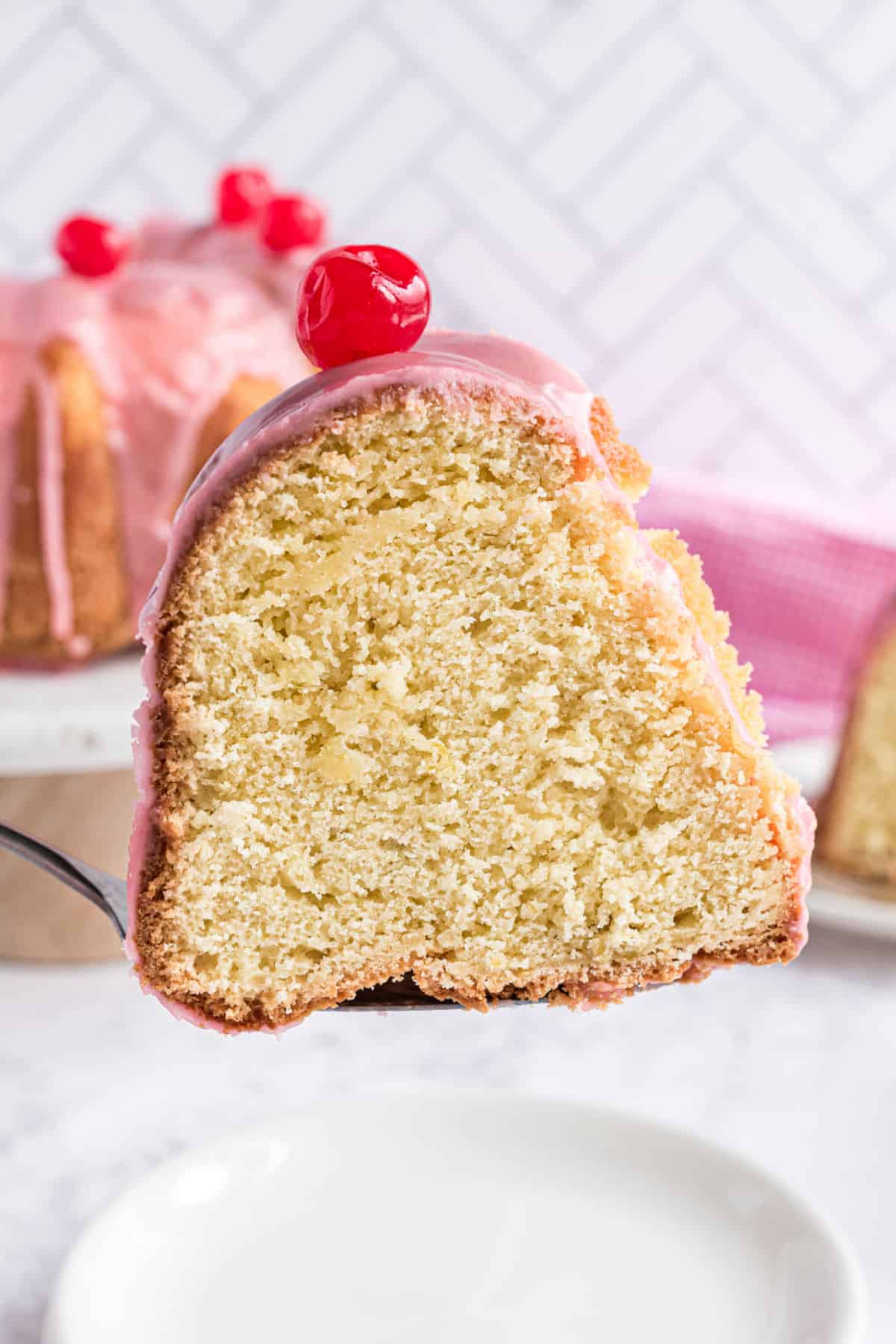 More tips and tricks
Getting cake out of bundt pan: To make it easier to remove the cake from the bundt pan, make sure to grease the pan with baking spray or a generous amount of shortening with flour. When the cake is ready to be removed, invert the pan in one motion onto a cake plate. If it doesn't slide out right away, try tapping the base with a knife or spatula a few times, then gently wiggle the pan to encourage the cake to release (without breaking).
Garnishes: Maraschino cherries make a cute topping for this cake. You could also garnish your Cherry Margarita Pound cake with lime slices or lime flavored candies. No time to decorate? No problem. The pretty pink icing is all you need to make this cake look appealing!
Tequila: Both silvery or gold tequila will work here, but my preference is for silver. It doesn't need to be a top shelf variety, but pick something you wouldn't mind sipping in margarita form.
Cherry Pound Cake made with tequila tastes like a margarita you can eat with a fork. Best of all, you can enjoy it on a weeknight, even if you have to be up early the next day!
This cake is also delicious with a cup of hot coffee! The important thing is that you make a cherry pound cake, cut yourself a big slice, kick pack and enjoy!