These Cherry Chocolate Chip Cheesecake Bars have a vanilla cookie crust and a creamy cherry cheesecake filling. Chocolate chip cookies baked on top take these cheesecake bars to the next level of deliciousness.
You have to love a recipe that gives you two amazing desserts in one. These Pecan Pie Cheesecake Bars are the perfect combination of pie and cheesecake. We love these Oreo Cheesecake Cookies too!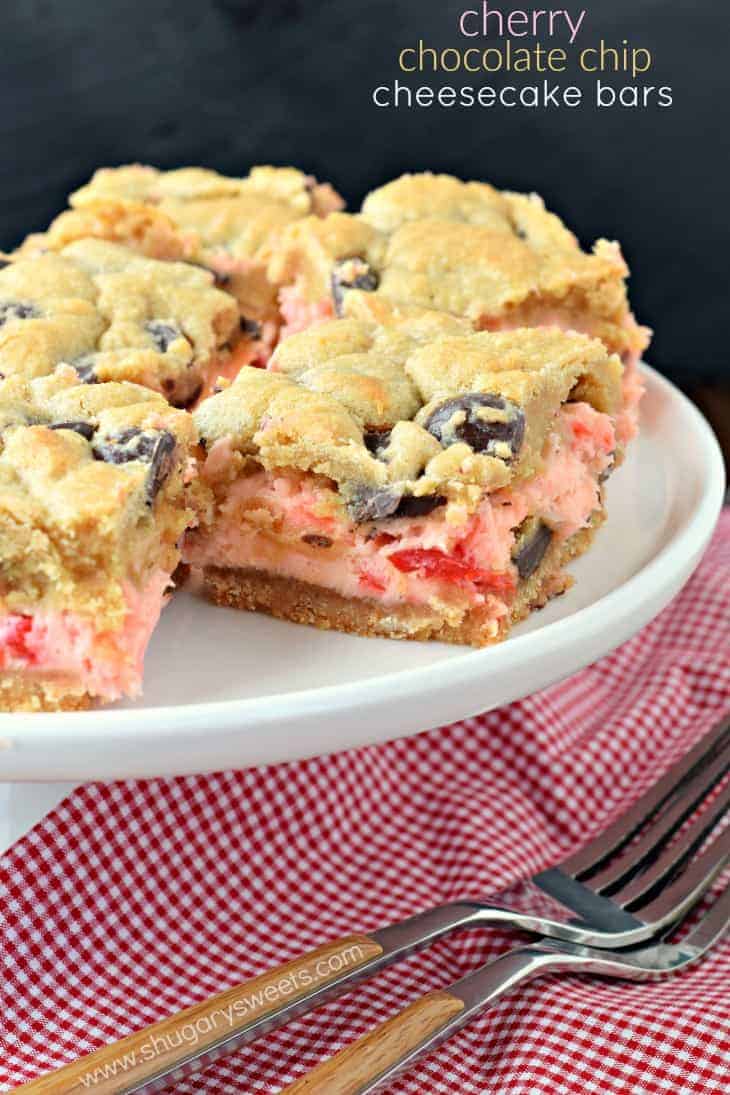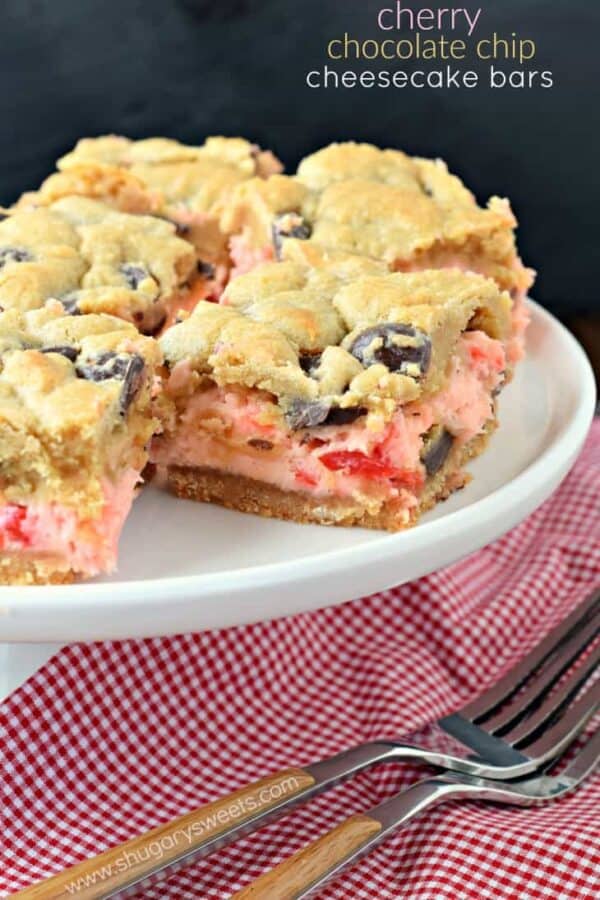 Why These Bars are Best
If you need a cheesecake bar that's a little over the top (without being difficult to make), these Cherry Chocolate Chip Cheesecake Bars are the answer.
Baked on a homemade vanilla wafer crust.
Bursting with the irresistible flavor combination of cherry and chocolate!
Easy to make with ingredients you probably have on hand!
How pretty does the pink cherry juice look swirled into the white cheesecake center? It's so fun to slice into the bars and see that layer of creamy cherry cheesecake layered between the cookie crusts.
Ingredient Notes
Nilla wafers are pulsed into crumbs to form the crust. Any brand of vanilla wafer cookie can be used here.
Cream cheese – Use softened full fat cream cheese for best results in these cherry cheesecake bars.
Maraschino cherries – Cherries should be drained from their liquid and chopped into small pieces.
Chocolate chip cookie dough – This recipe includes instructions for making the dough from scratch. If you're in a hurry, refrigerated cookie dough is a great option too.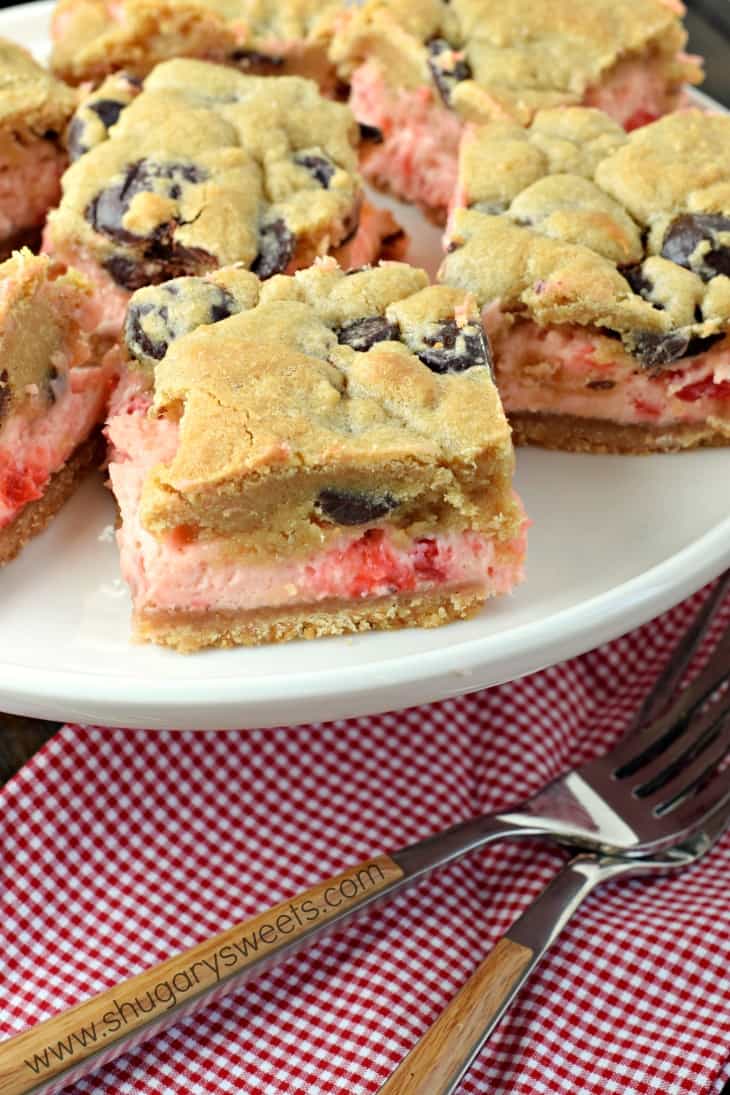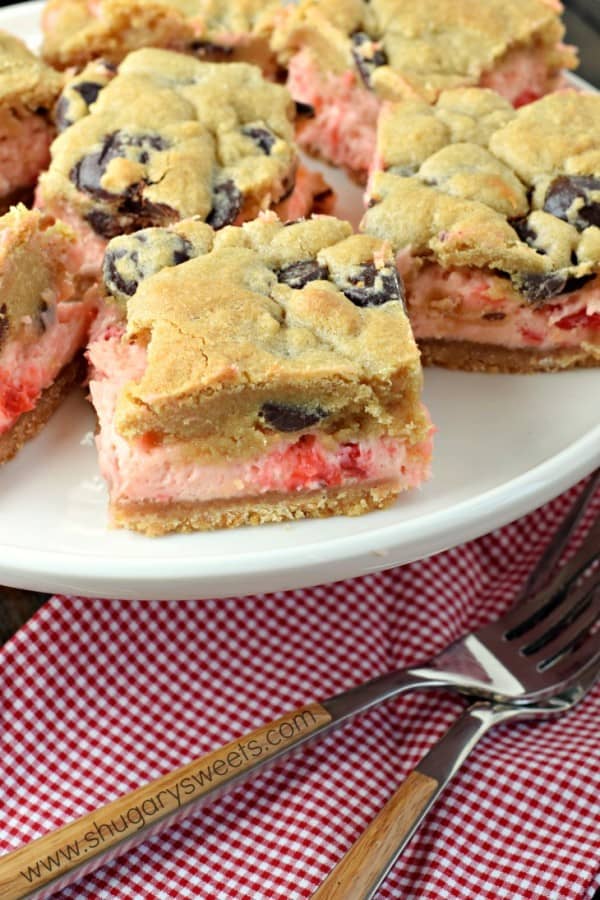 Tips and Tricks
Use parchment paper: Line your baking dish with parchment paper before adding the Nilla wafer crust. This makes the bars easier to remove after baking.
Top with cookie dough before baking: We use a cookie scoop to drop the dough over the bars by the tablespoon. From there, you can use your fingertips to gently spread the dough evenly over the cheesecake.
Do not overbake: The cookie dough layer should be lightly golden but still slightly soft when you take the cheesecake bars out of the oven. The bars will continue to set up as they cool.
Refrigerate: After baking, cover the cherry chocolate chip cheese bars with plastic wrap. Let chill in the fridge for at least 4 hours before slicing and serving.
Change it up: Try this cherry chocolate chip cheesecake bars recipe with our graham cracker pie crust for a different element of flavor.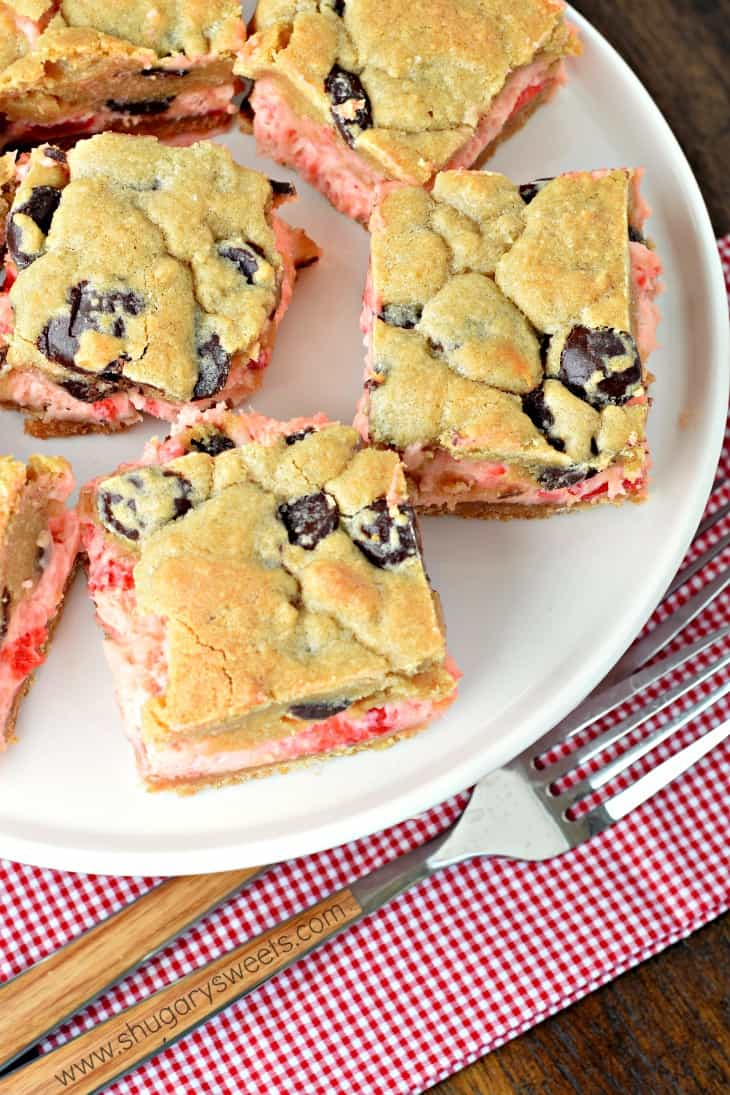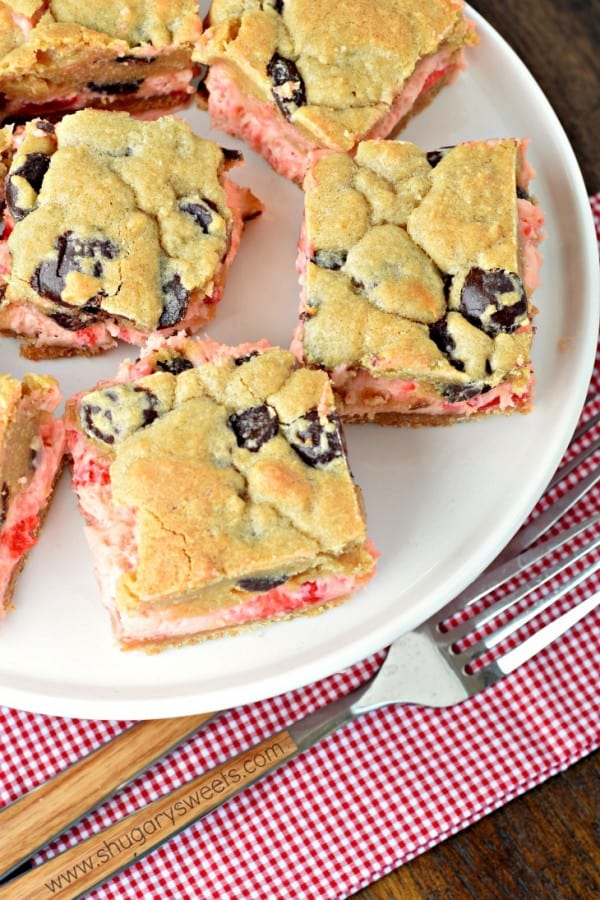 Recipe FAQs
How can I tell if the cheesecake bars are done baking?
These bars are done when the edges are golden brown and the center is slightly jiggly. In my oven, this takes about 30 to 35 minutes.
Can I use fresh cherries instead of maraschinos?
I don't recommend fresh cherries here. They do not contain the additional sugar, moisture and flavorings of jarred maraschinos and may dry out while baking.
How far in advance can I make them?
These bars are best enjoyed within 3-5 days of baking for best flavor. Enjoy that chewy cookie layer while it's still fresh!
Can I freeze these cheesecake bars?
Yes, these cheesecake bars are freezer friendly. Store bars in an airtight container in the freezer for up to 3 months. Place a sheet of wax paper between layers of bars to keep them from sticking together.
Thaw frozen cheesecake bars overnight in the refrigerator. Serve cold!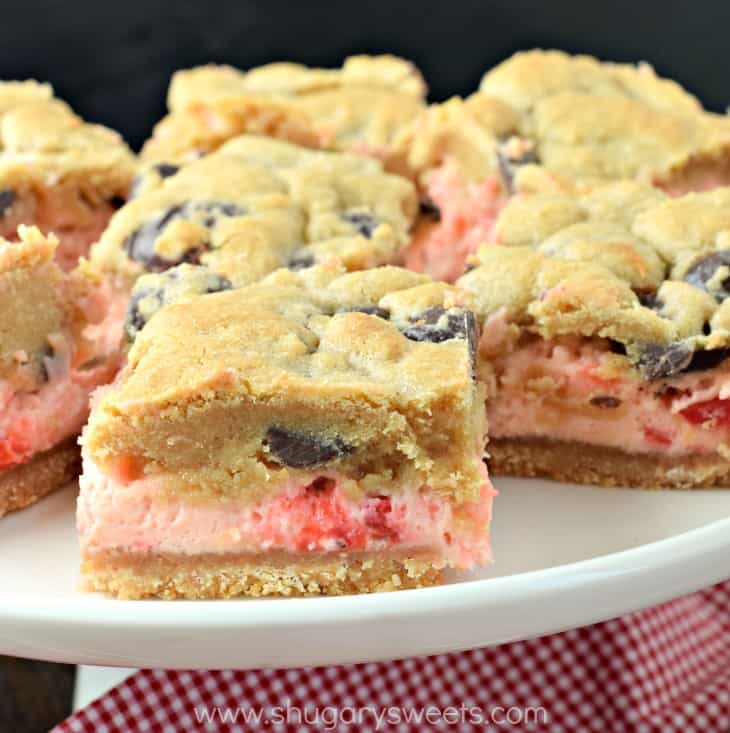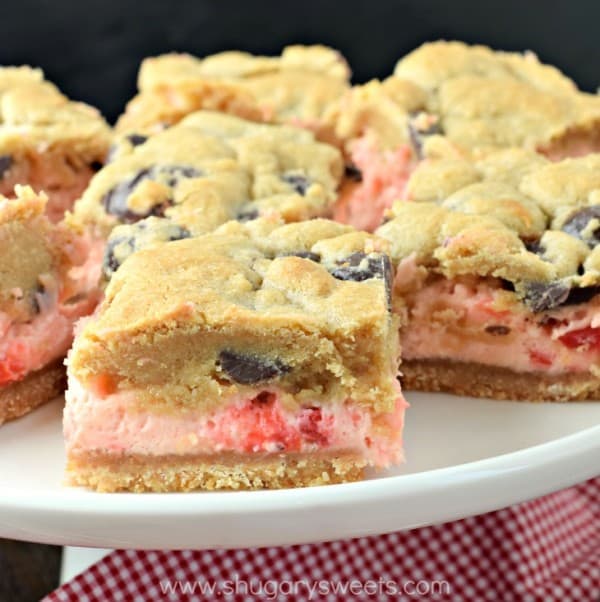 Cherry cheesecake and chocolate chip cookies merge in these easy Cherry Chocolate Chip Cheesecake Bars! You'll love the creamy sweet flavor with rich chocolate and a cherry surprise in the center.