These Coconut Almond Bars are a delightful homemade candy bar recipe filled with toasted coconut and topped with chocolate, caramel, and crunchy almonds!
Love almonds? Give our kringle recipe a try soon. Buttery and flaky pastry topped with sliced almonds. Or try our almond truffles for a holiday treat!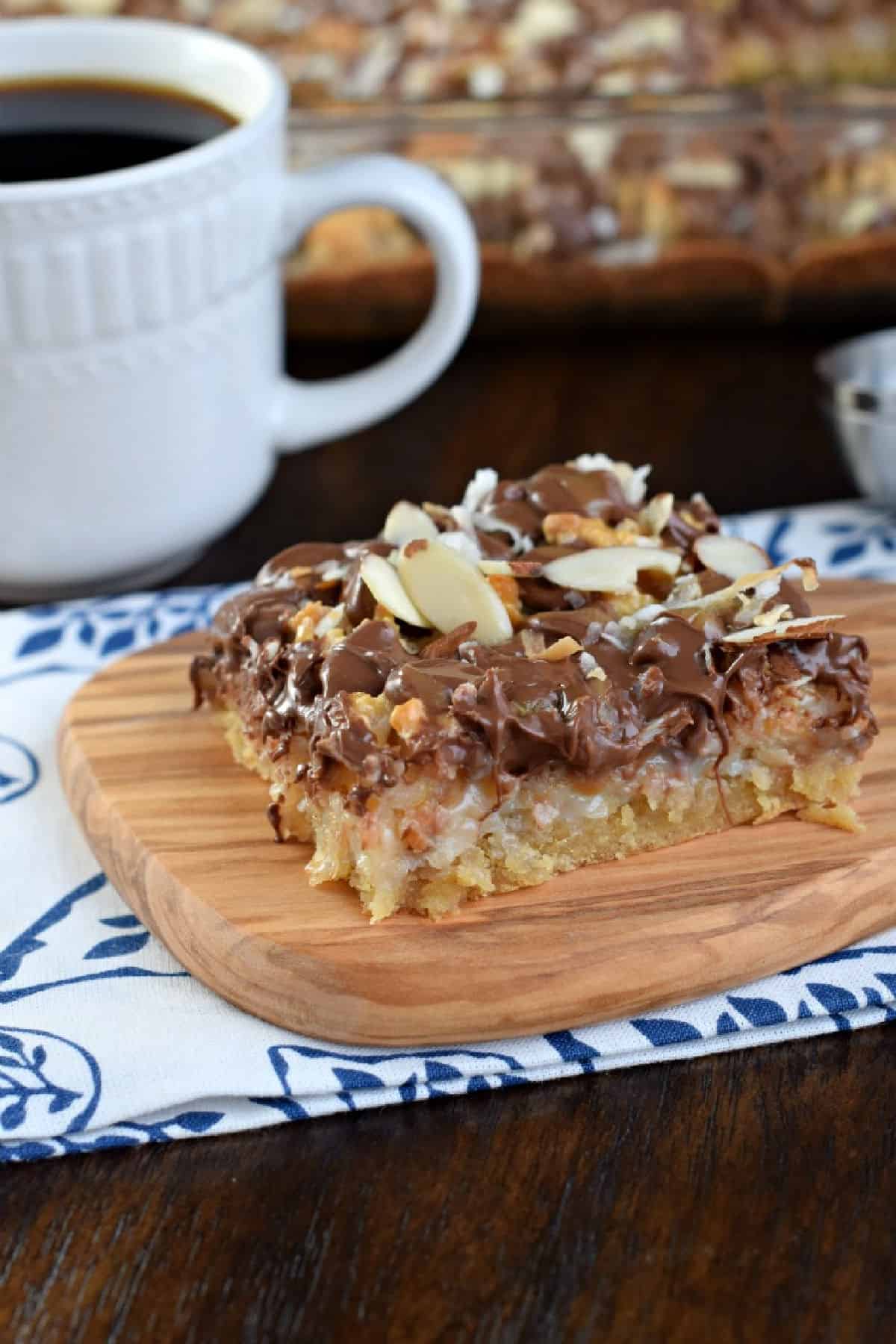 Why These Bars Are Best
Part candy bar part cookie, these Coconut Almond Bars are as decadent as it gets!
Like an ooey-gooey Magic Bar, they're great for a special occasion but simple enough to make anytime your sweet tooth calls.
Buttery homemade crust.
Toasted coconut filling.
Nutty chocolate caramel topping.
Easy to make!
Love cookies? Try our rugelach next. Make with a flaky dough and sweet, nutty filling, they're always a hit!
Ingredient Notes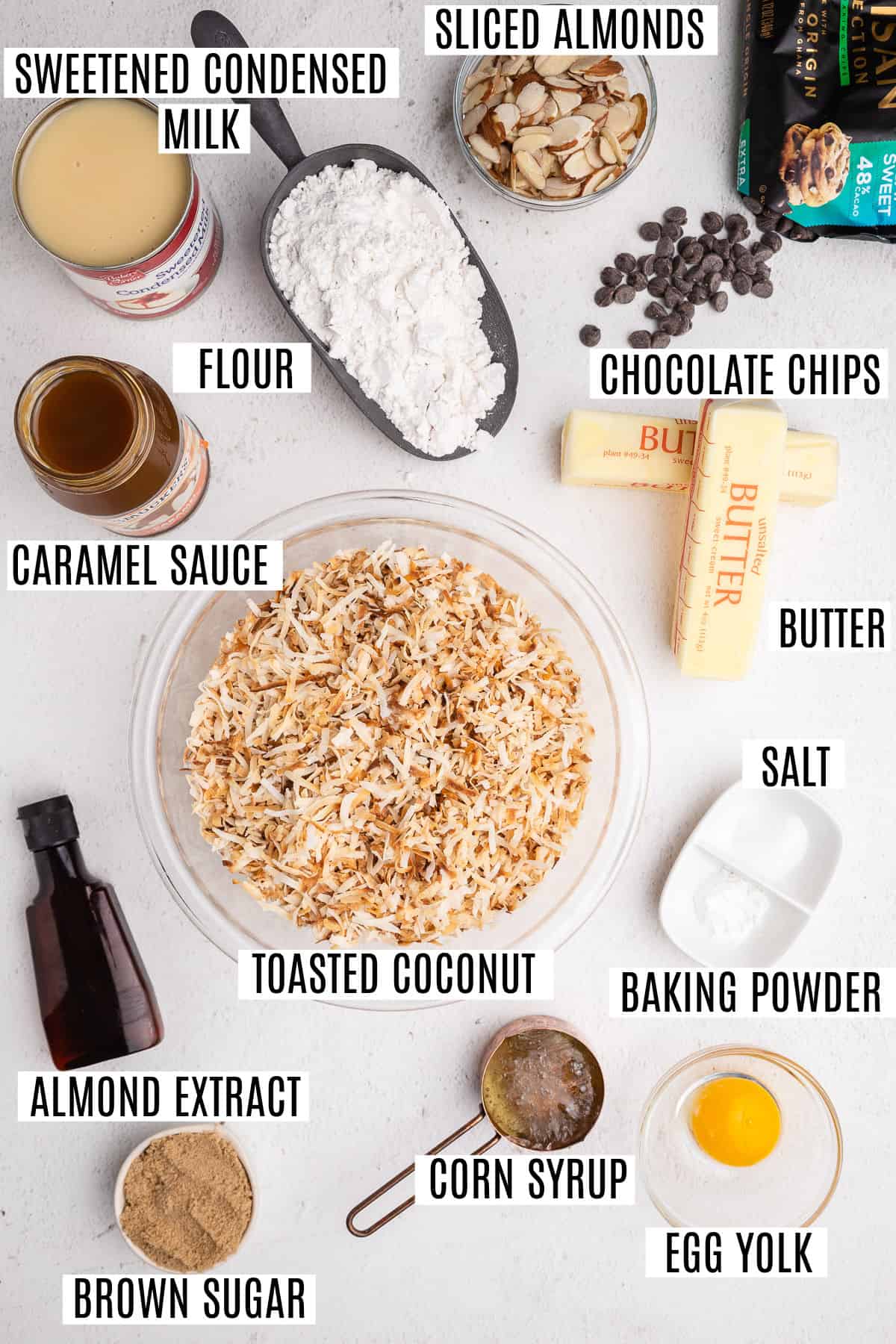 Don't let this list of ingredients scare you off. Let's break down the important items.
Shredded Coconut – The sweetened flakes get toasted in the oven before being added to the filling. Use our guide on how to toast coconut.
Caramel Sauce – Your favorite caramel ice cream sundae topping works perfectly. It's drizzled over the coconut filling and chocolate chips to give the bars an extra sweet finishing touch.
Corn syrup – You'll need this liquid sweetener for the crust, along with regular sugar. It helps keep the crust from becoming crumbly when baked.
Egg Yolk – used to provide structure to the cookie bar, as well as a chewy texture. Save the egg white to make meringues or white cake!
Sweetened condensed milk – This is essential for the thick coconut filling! Don't try to replace it with other milks; they won't work the same way.
Easy Instructions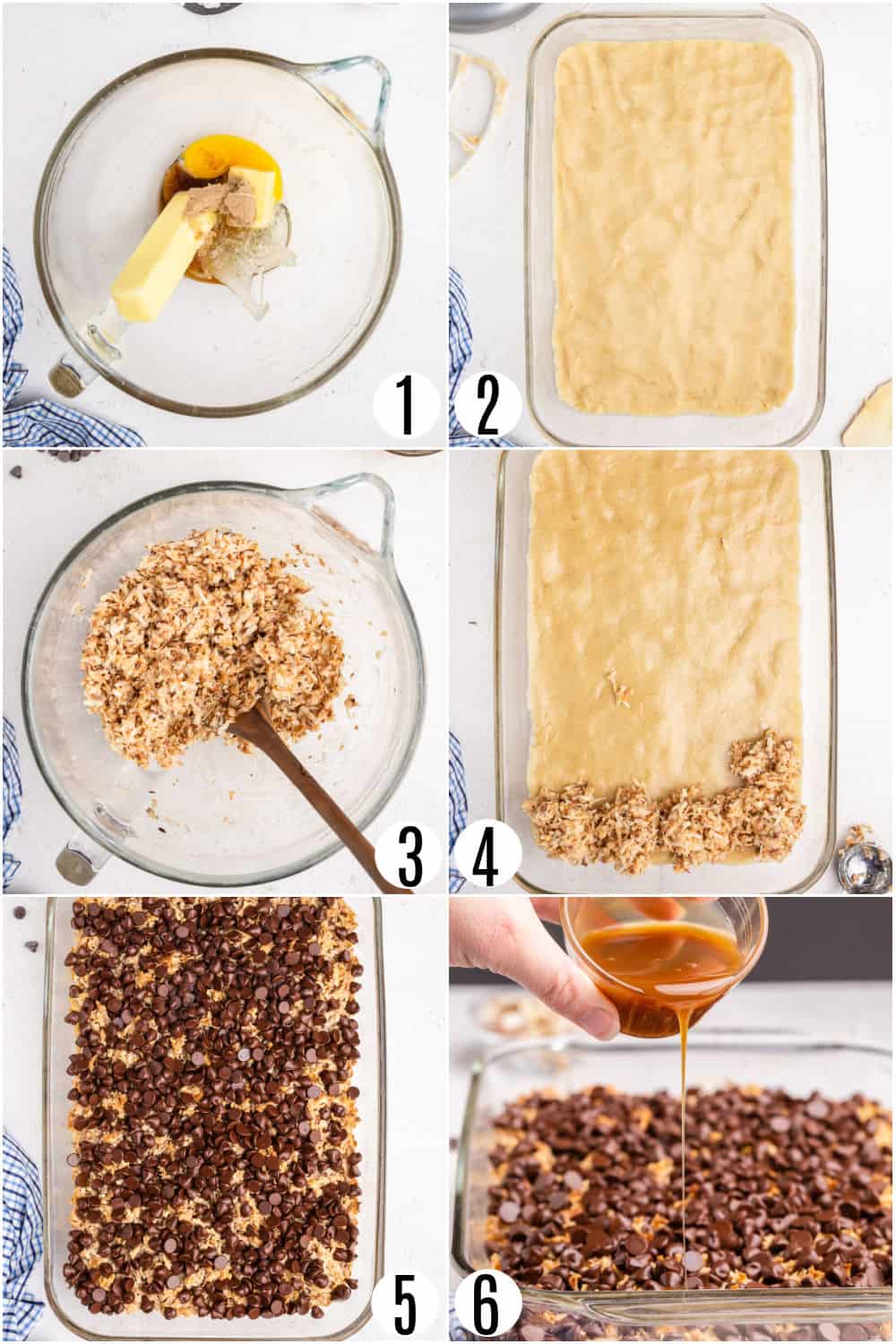 Toast the coconut: Spread coconut flakes out in a single layer on a baking sheet. Bake until they're lightly browned, stirring every 5 minutes.
Make the crust: Beat together the ingredients to form a dough. Press dough into a baking sheet and bake for about 5 minutes.
Prepare the Filling: While the crust is baking mix together the filling ingredients. It's going to be very thick, so be careful when adding it on top of your crust. I used a scoop to drop tablespoons of filling evenly over my bottom layer.
Bake and top: Return the coconut bars to the oven. Bake until you see the crust edges begin to brown. When the bars are done baking, immediately sprinkle on your chocolate chips. I also added the caramel and sliced almonds (learn how to toast nuts) at this time too.
Cool and Chill. Let bars cool at room temperature, then chill for 30 minutes before serving.
Tips and Tricks
Keep cold: Store Coconut Almond Bars in the fridge. It keeps them from getting too soft and you'll love the chilled flavor!
Grease your baking pan: Before adding the crust, give the pan a generous spray with baking spray. This is a must if you don't want bars sticking to your pan.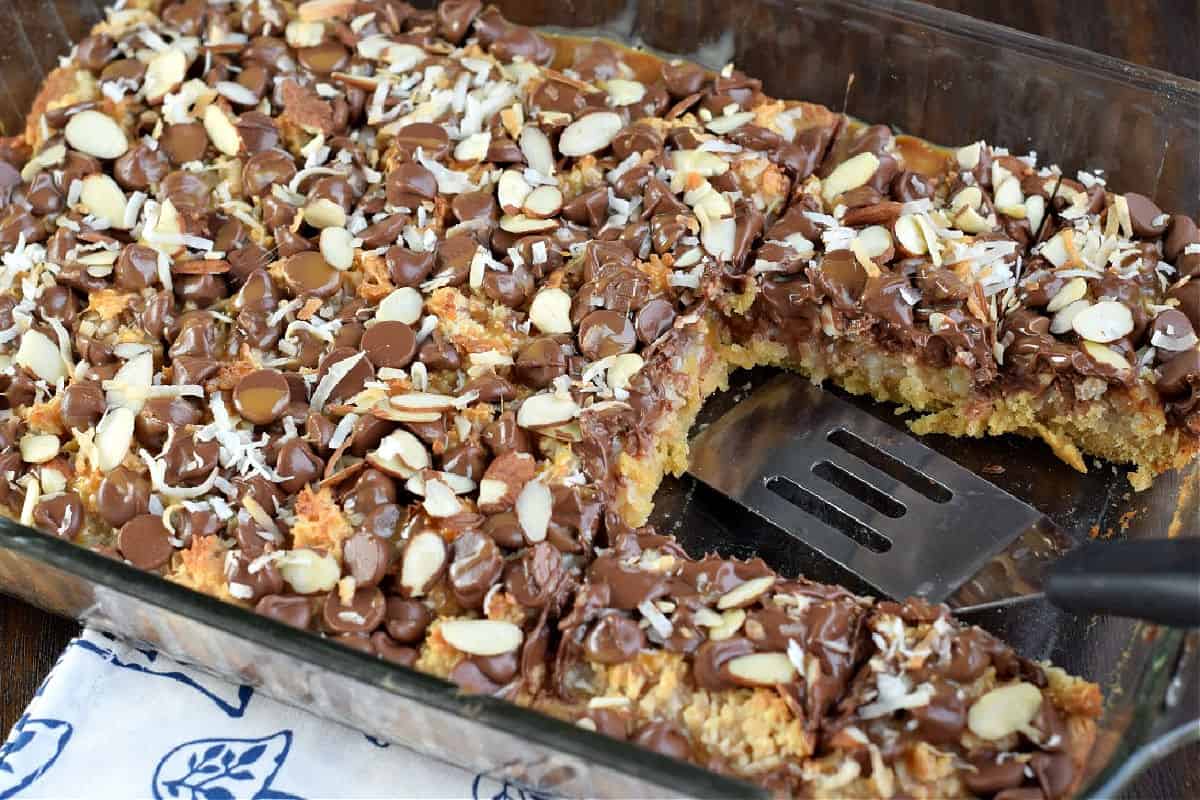 Recipe FAQs
Can I substitute another sweetener for the light corn syrup?
I haven't tested this recipe without the corn syrup, so I can't vouch for the results. If you don't have any, you can try another liquid sweetener such as maple syrup. Let me know how it turns out!
I'm allergic to nuts. Can I make this without the almonds?
Yes, the almonds can be omitted to make a tasty chocolate caramel coconut bar! Try sprinkling a little sea salt over the bars after baking to mimic the saltiness of the almonds.
Why pre-bake the crust?
Partially baking (also called blind baking or par baking) the crust is necessary because the crust needs more oven time than the filling. Blind Baking also helps the crust set up enough to hold up to the thick gooey filling. Without this step the crust would be soft and soggy instead
Coconut, almonds, caramel and chocolate all together in one bar. Coconut Almond Bars can turn any day into a good day!