From scratch, moist White Cake recipe with cranberry filling, almond buttercream frosting, and sugared cranberries as a garnish! Perfect for holidays!
Whip up a delicious Cranberry Cheesecake this holiday if you are as obsessed with cranberries as we are! The perfect Christmas dessert.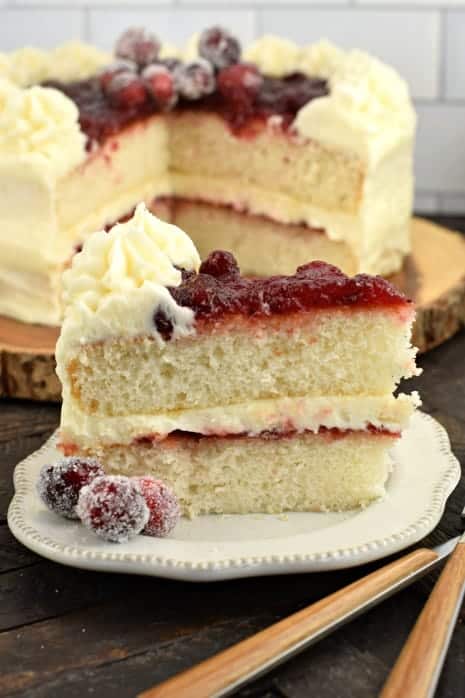 White Cake with Cranberry Filling
I love holidays. Whether it's Christmas or Valentine's Day it doesn't matter, they always call for dessert.
Today's cake recipe is the perfect answer for all your holiday needs.
I started with my favorite white cake recipe. It has the perfect CRUMB texture and flavor.
I debated what flavor filling, and one peek in my pantry revealed a few cans left of whole berry cranberry filling from Thanksgiving. You could make your own cranberry sauce, but I love the canned stuff (food blogger confession)!
I topped the cake with some sugared cranberries (from this cranberry cupcake recipe). If you can't find fresh berries you can skip this step!
How to Make White Cake (from scratch)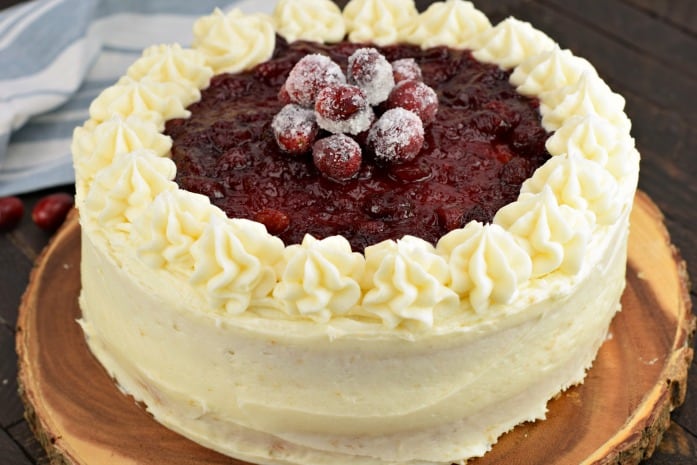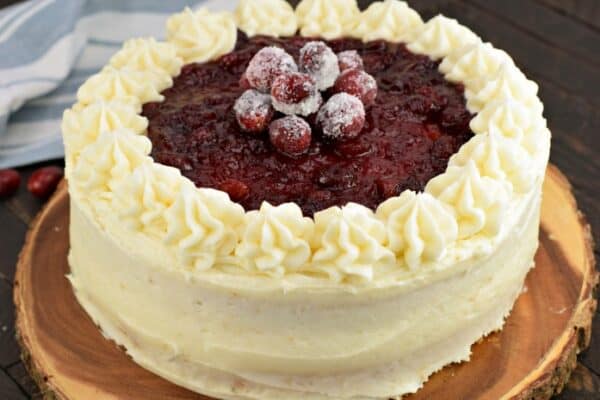 STEP 1. Preheat oven to 350 degrees F. Grease and flour two 9-inch cake pans (or use my homemade cake release). I use Wilton Bake Even strips to keep my cakes level.
STEP 2. In a small bowl, combine egg whites and 1/4 cup of the buttermilk. Whisk together and set aside.
STEP 3. In a mixing bowl, cream the butter and sugar together for about 2-3 minutes. Add in almond extract.
Add in cake flour, baking powder and kosher salt, mixing just until combine.
Blend in the egg white mixture. Finally, beat in remaining buttermilk for 1 minute.
STEP 4. Pour cake batter into prepared cake pans. Bake for 25-28 minutes, or until a toothpick inserted into the center comes out clean.
Remove and cool in cake pans for 5 minutes, then invert onto a wire rack lined with parchment paper and cool completely.
Almond Buttercream Frosting
For the frosting, beat softened butter and cream cheese for 3 minutes, scraping down the sides of the bowl as needed.
Add in orange juice, almond extract, and powdered sugar. Beat an additional 3-4 minutes until frosting is creamy.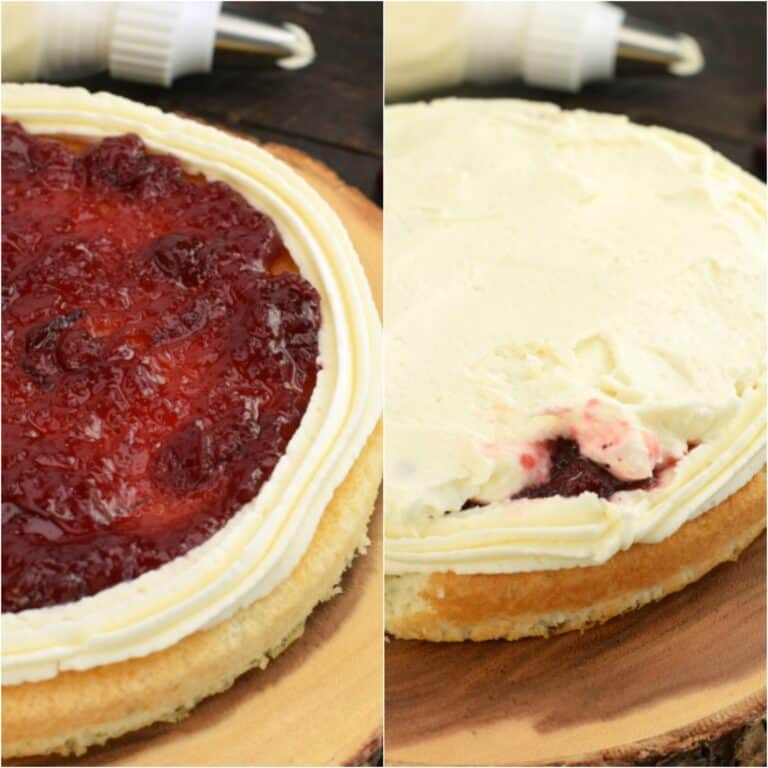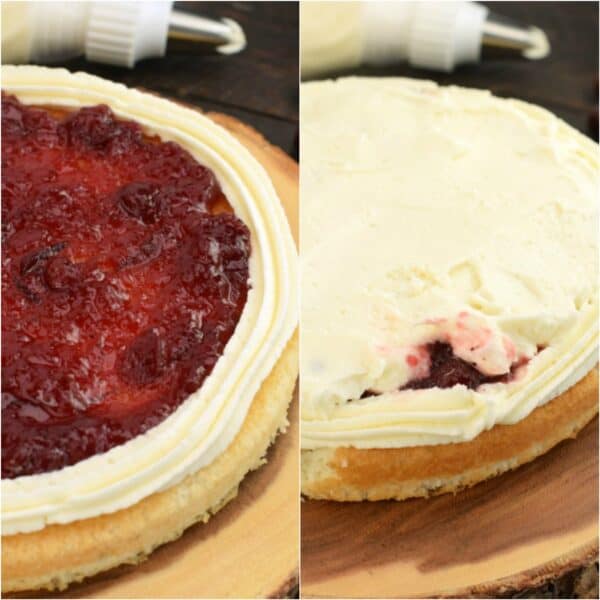 TO ASSEMBLE: Lay one layer of cake on a cake plate. Pipe frosting around the top edge of the cake. Add half of a can of whole berry cranberry sauce. Add additional frosting OVER the cranberry sauce.
Top with second layer of cake. Repeat frosting edge on top of cake, and spread frosting on sides of cake. Fill in the top with the remaining cranberry sauce.
How to Make Sugared Cranberries
For the cranberries, combine 1/2 cup of sugar with 1/2 cup of water in a small saucepan. Heat over low heat, and stir until sugar dissolves. Do not bring to a boil. Remove from heat as soon as sugar is dissolved.
In a bowl, add cranberries. Top with sugar syrup and refrigerate ONE hour or more.
After the cranberries have soaked for at least 1 hour, drain off syrup completely and allow to sit in strainer for at least 15 minutes. Pour remaining 1/2 cup sugar in a large ziploc bag, add cranberries and shake.
Empty contents of bag onto a wire rack (with foil underneath to catch the mess). Let cranberries dry for at least an hour. Store in refrigerator until ready to garnish cupcakes.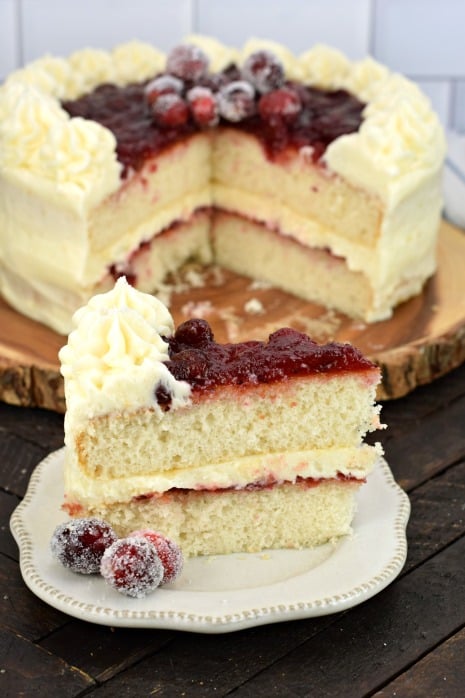 Can Cranberry Almond Cake be Frozen
Yes! One thing I love about cake is the ability to slice and freeze it for a later date.
To do this, I lay each large slice of cake on a piece of plastic wrap and wrap it up entirely. Then wrap the slice in foil and slide into a ziploc freezer bag.
Freeze cake for up to 30 days. Thaw in refrigerator overnight and enjoy.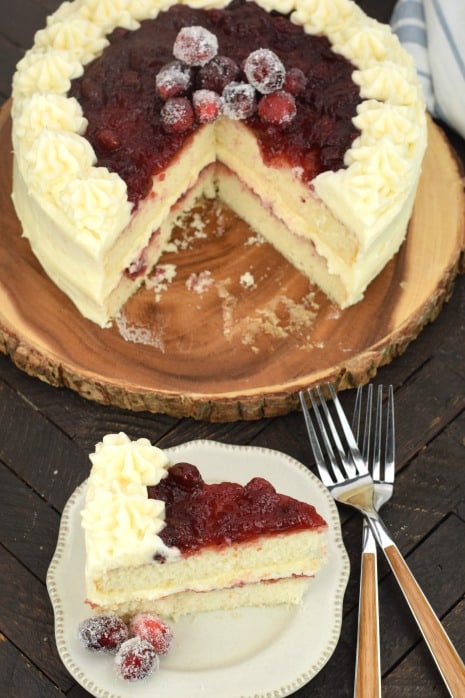 From scratch, moist White Cake recipe with cranberry filling, almond buttercream frosting with a hint of orange, and sugared cranberries as a garnish! Perfect for the holidays!