Looking for a refreshing dessert this holiday season? Make a batch of these White Chocolate Cranberry Poke Cupcakes. Sugared cranberries add the finishing touch to these heavenly Christmas cupcakes!
Love cranberry season? Bake up a delicious Cranberry Cheesecake for the holidays this year. Perfect with those fresh sugared cranberries.
Christmas Cupcakes
This is not your ordinary Christmas cupcake recipe. These cupcakes are just a little more elegant than what you'd find at a kid's classroom Christmas party.
With a smooth white chocolate frosting and sugared cranberries on top, you might feel like you need to eat these cupcakes with your pinkie sticking out.
The beautiful look of White Chocolate Cranberry Cupcakes is nothing compared to the taste. Creamy sweetness contrasting with bright cranberry tang makes it hard to eat just ONE of these treats!
But best of all, there is nothing fussy or difficult about making them. Despite their fancy appearance, they're made with a box of cake mix, instant jello and a simple cream cheese based frosting.
Ingredient Notes
White cake mix – You'll need a box of layer cake sized mix (for 2 layers). If preferred, you can substitute your favorite homemade white cupcake recipe.
Instant Cranberry JELL-O – or any brand of instant cranberry flavored gelatin. Swap out the JELL-O flavors to change up the flavor of these (raspberry, orange and strawberry would be delicious ).
White chocolate – I use the Baker's white chocolate baking bars in the frosting. If needed, you can substitute other white chocolate bars or use white chocolate chips.
Cranberries – Use fresh (not frozen) cranberries to make the sugared cranberry topping.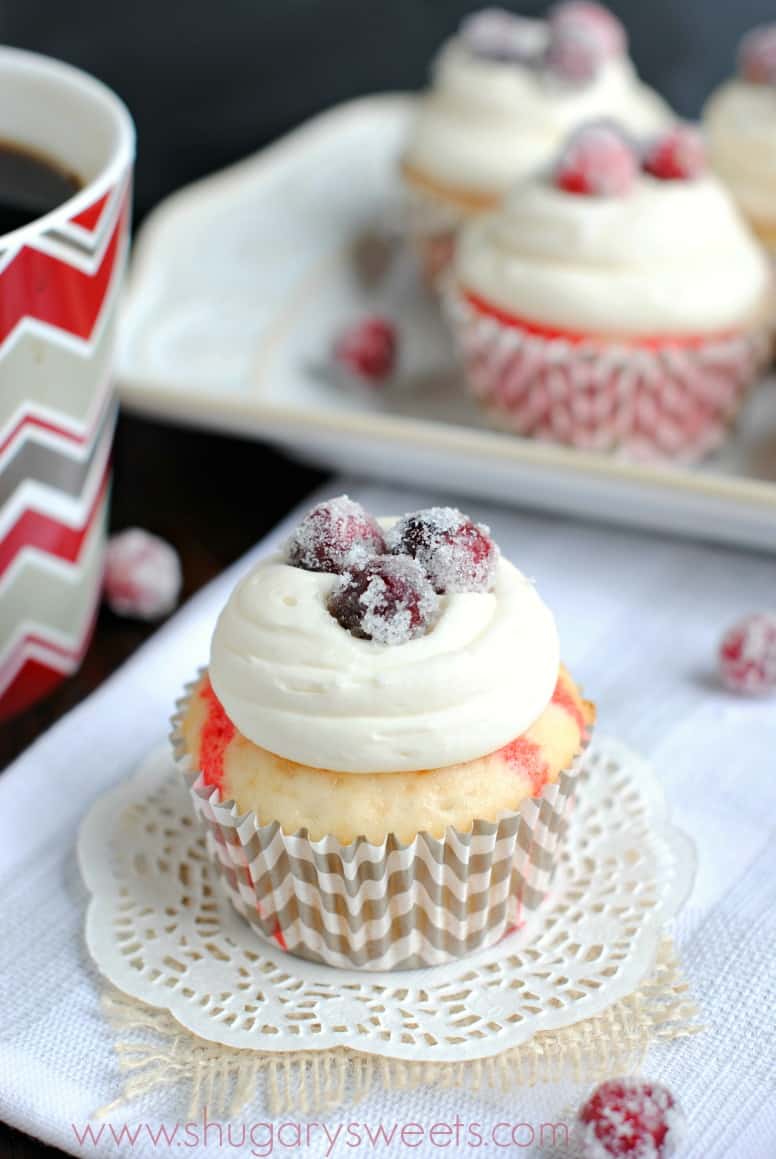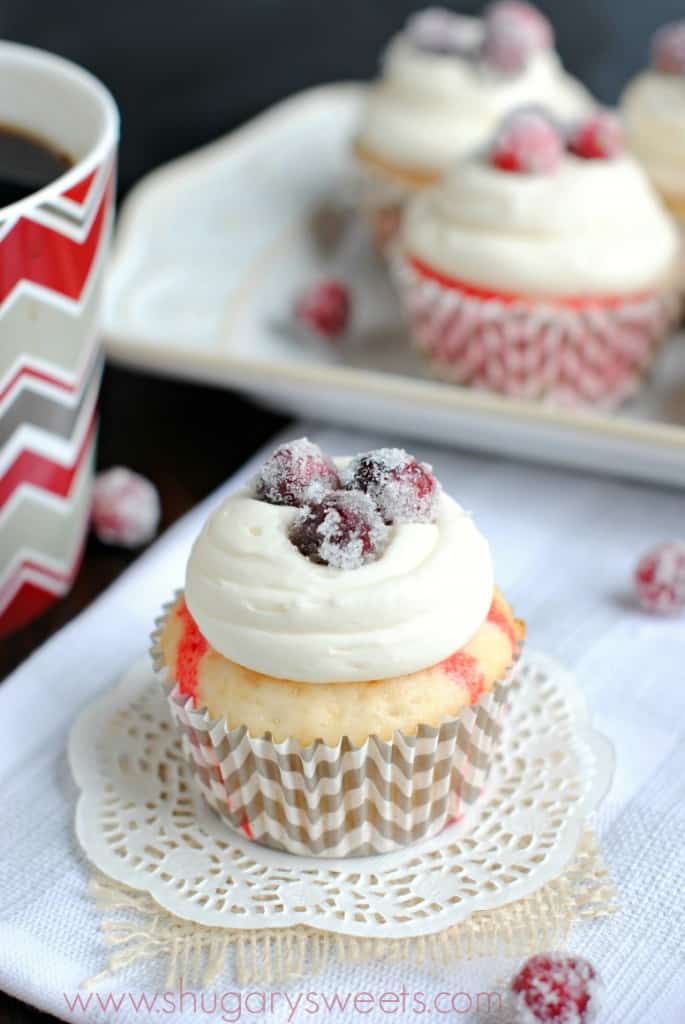 Step by Step Instructions
STEP 1. Bake the cupcakes
Bake the cupcakes according to package directions. Take them out of the oven and immediately poke holes in the top of each cupcake with a fork.
STEP 2. Make JELL-O
Combine boiling water with the JELL-O mix and stir. Spoon the hot JELL-O mixture over the cupcakes. Refrigerate for at least 2 hours or overnight.
STEP 3. Frosting
Melt the white chocolate according to the package directions. Beat the cream cheese and butter in a separate bowl, then add the white chocolate, vanilla and powdered sugar, beating until fluffy and smooth.
Pipe the frosting onto the cupcakes in your desired pattern.
The cranberries, with their snow-dusted look, add the perfect finishing touch to these Christmas desserts. Be sure to get them ready the day before so you're ready to add a sweet garnish to your white chocolate cupcakes!
How to Make Sugared Cranberries
STEP 1. Soak overnight
Combine the sugar and water in the saucepan over low heat and stir just until the sugar is dissolved. The syrup won't be very hot (don't let it come to a boil!
If you do, let it cool before pouring it over the cranberries otherwise your cranberries will pop open…not the goal.
Once the syrup has soaked into the cranberries overnight, drain off the syrup completely.
STEP 2. Toss with sugar
Let the drained berries sit for about 15 minutes before adding the sugar. The best way to do this for me, was to put the sugar in a large gallon sized ziploc bag. Shake the cranberries in the sugar gently.
STEP 3. Harden
Lay a piece of foil on the counter with a wire cookie rack over it. Pour the sugar and cranberries onto the rack. The excess sugar will fall through the wire rack.
Let the cranberries sit until the sugar hardens (about an hour).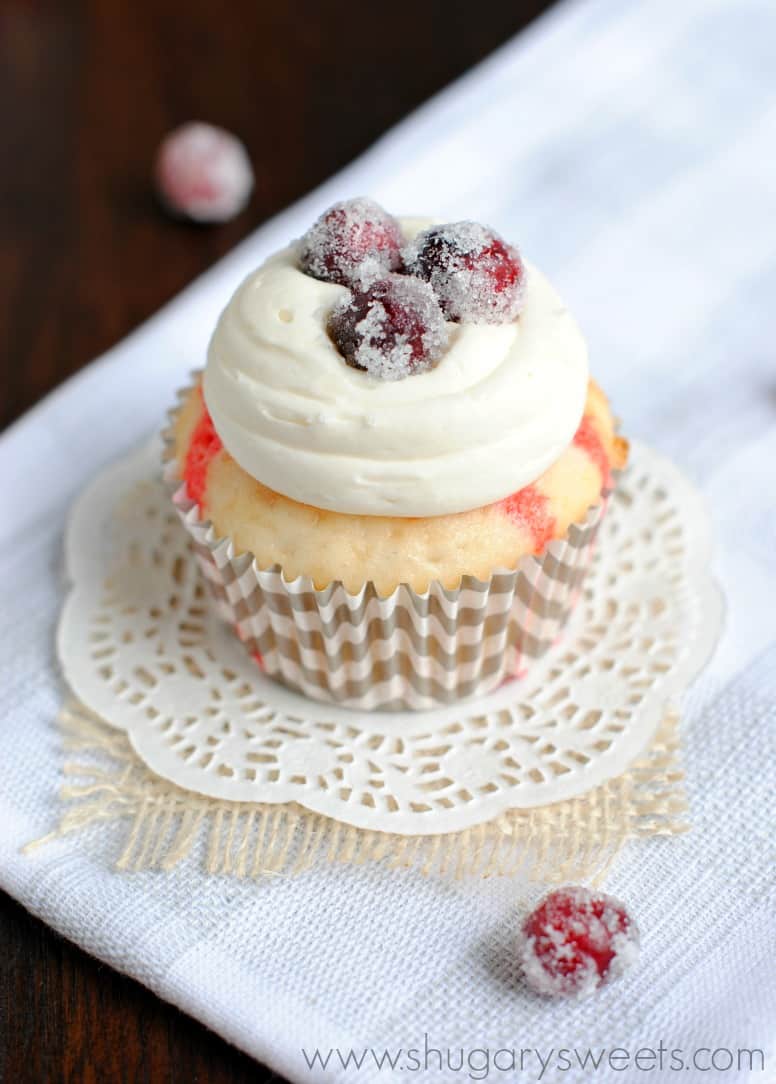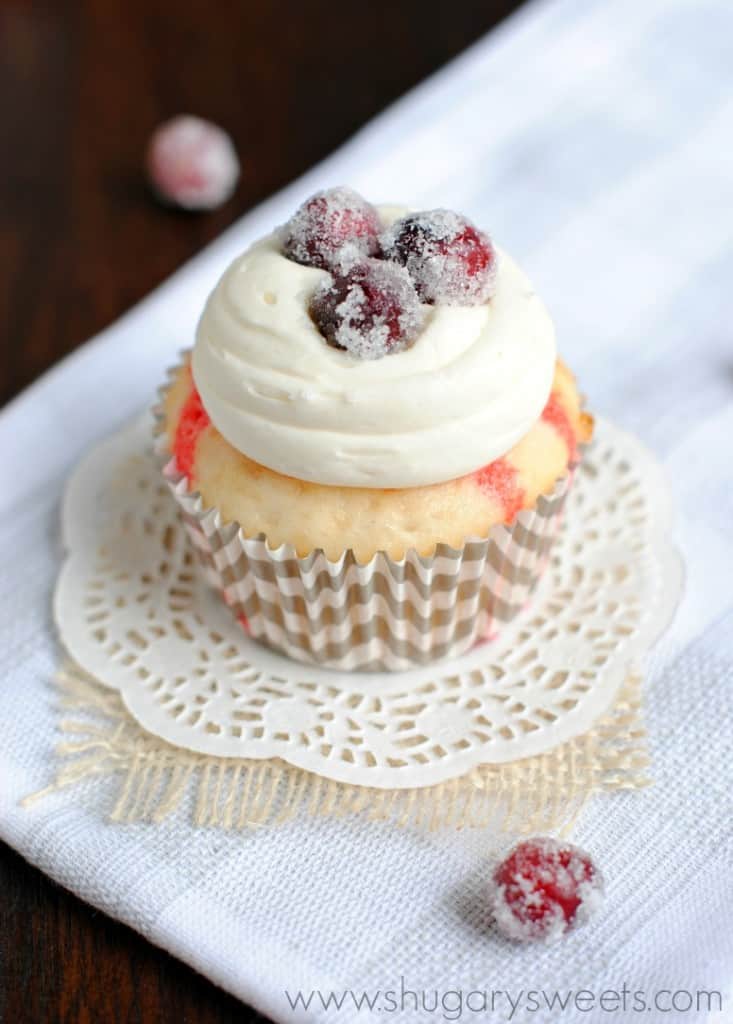 Recipe FAQs
Do you need to make the cranberries in advance?
I made my cupcakes at the same time as the sugared cranberries. Then refrigerated both overnight. Technically the cupcakes only need about an hour or two in the fridge, but if you want to make them the night before, it works great!
How many cranberries should you use on each cupcake?
I only used 3 cranberries to garnish each one. Then, I was left with plenty of extra cranberries to put in a bowl and enjoy as a snack!
How do you store these?
Keep your frosted cupcakes in the refrigerator until ready to serve. The frosting may harden slightly, but it will taste amazing!
One more tip: If you're making a fruit platter this holiday, I suggest making these sugared cranberries to sprinkle around the platter. Not only are they festive and pretty to look at, they're simply delicious too!
Take your Christmas Cupcake game to the next level this holiday season with White Chocolate Cranberry Cupcakes.