Simple, sweet, and elegant, White Cupcakes prove that basic isn't always bad. Enjoy them as-is or get creative and go wild with different flavors and toppings. Our classic white cupcake recipe is moist and delicious.
Love making homemade cupcakes? Be sure to give our yellow cupcakes a try soon. Topped with chocolate buttercream frosting, they're absolutely amazing.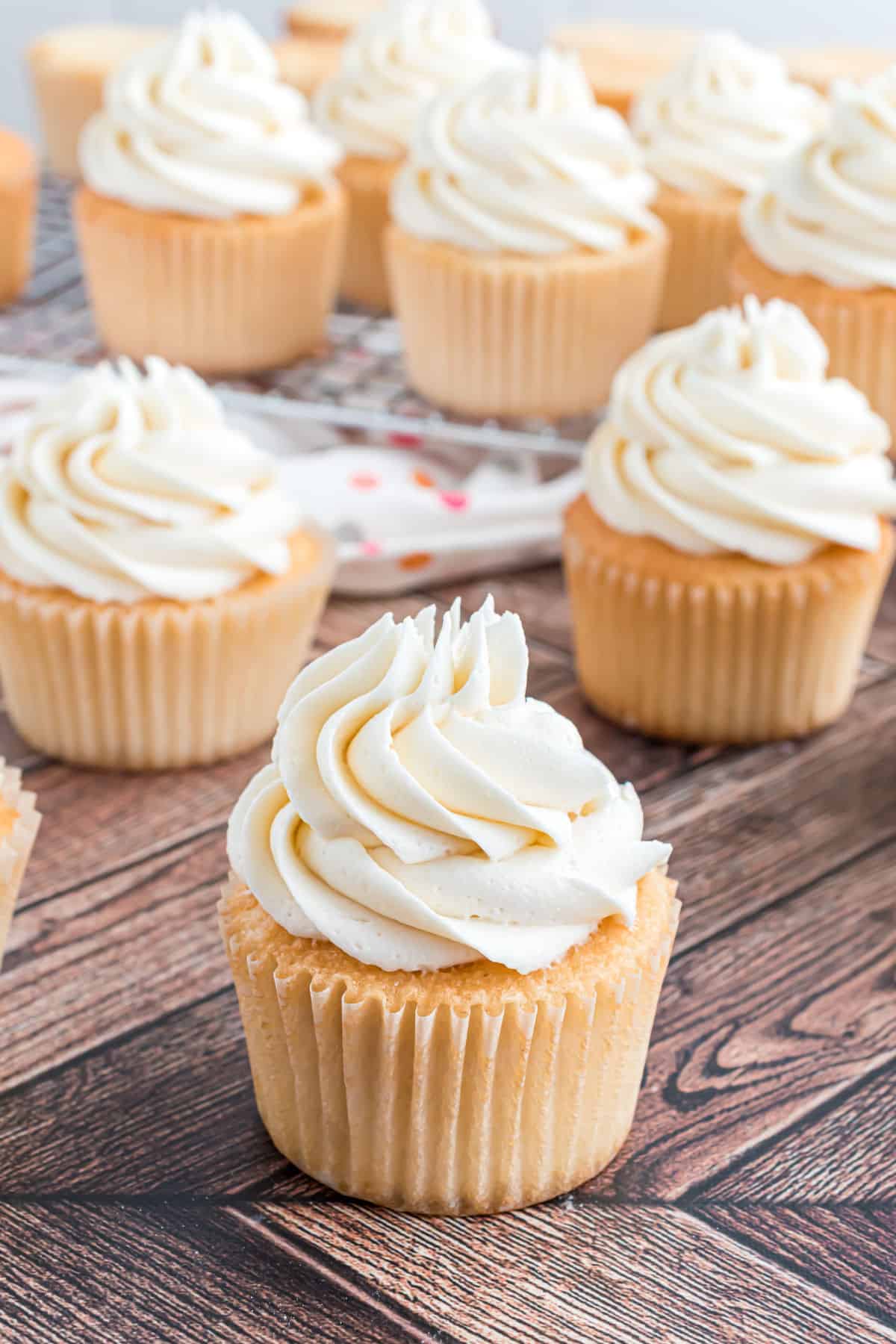 Why This Recipe Is the Best
Making cakes and cupcakes from scratch is just as easy as a boxed mix, but the taste is so flavorful and moist. Our white cake recipe is perfect, so why not take perfection and whip up a batch of versatile cupcakes.
They're the perfect vanilla cupcake. Light in texture, fragrant with vanilla and a touch of buttermilk flavor.
These simple cupcakes can be ready in about an hour.
They're freezer-friendly, so it's easy to make them ahead of time.
A perfect canvas to add fun frostings, fillings, and toppings.
Great for kids! Not only do kids love to eat these, but they're fun to decorate too.
Once you've perfected the white cupcake, be sure to try our homemade chocolate cupcakes next!
Ingredient Notes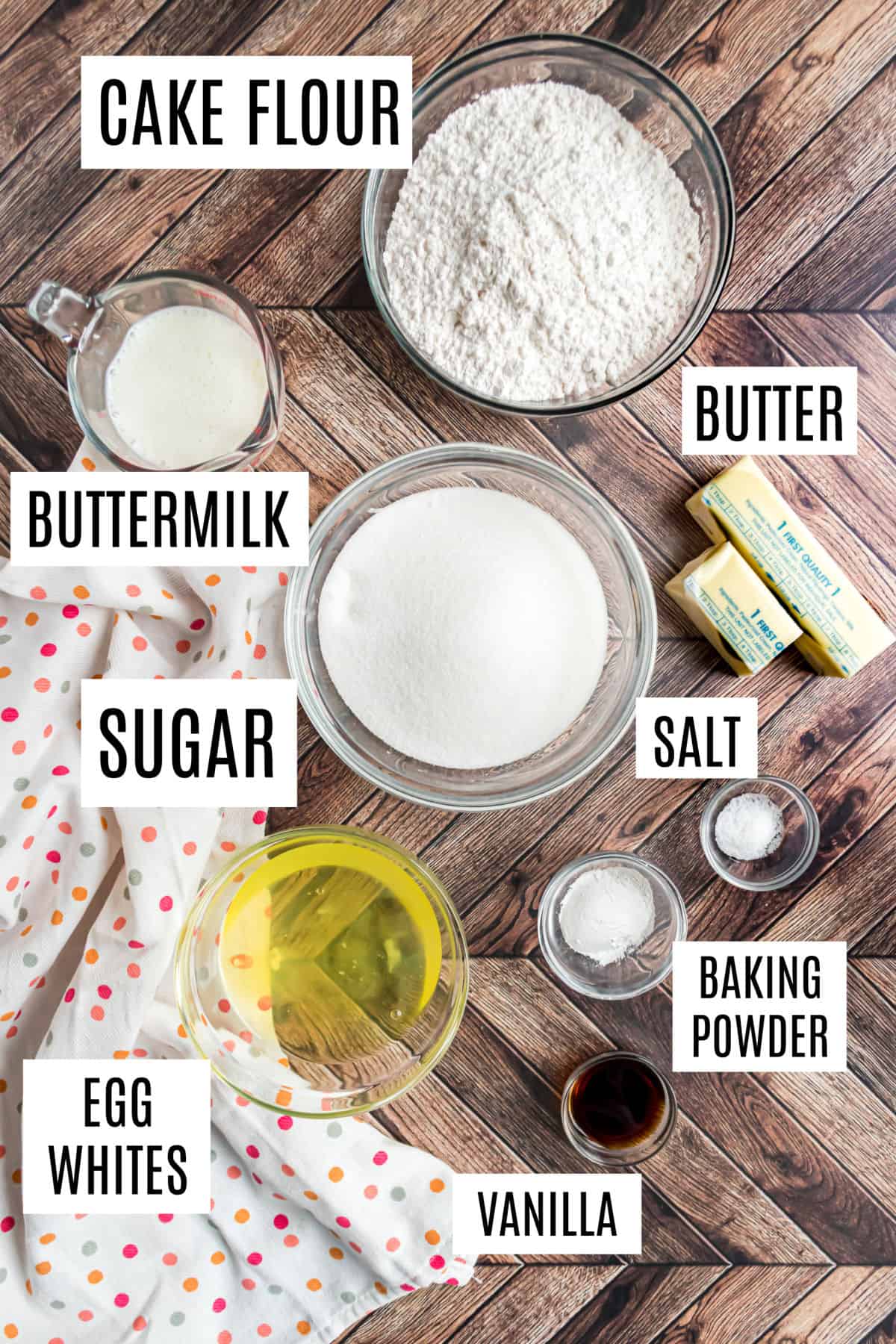 Vanilla extract – This essential flavoring gives the cupcakes a pure vanilla taste. Use real vanilla extract for the best results. Our easy homemade vanilla extract is economical and easy to make.
Cake flour – Using the lightest of all flours ensures the cupcakes have a soft, airy texture.
Buttermilk – Helps to activate the first rise of the baking powder for a fluffier cupcake. And adds tangy richness to the batter. Use our buttermilk substitute in a pinch.
Unsalted butter – Softened, unsalted butter adds rich flavor and moisture. It also provides some natural leavening as it's creamed with sugar. Get our tips and trick on how to soften butter quickly.
Granulated sugar – Sugar helps add sweetness, of course, but it also helps the cupcakes hold in moisture.
Egg whites – Room-temperature egg whites instead of whole eggs creates lighter cupcakes with a lighter color. Save the egg yolks for homemade lemon curd!
Baking powder – Helps the cupcakes rise and get fluffy.
Kosher salt – Salt balances the sweetness and makes the flavors stand out more. Check out trips on why we bake with kosher salt.
Easy Instructions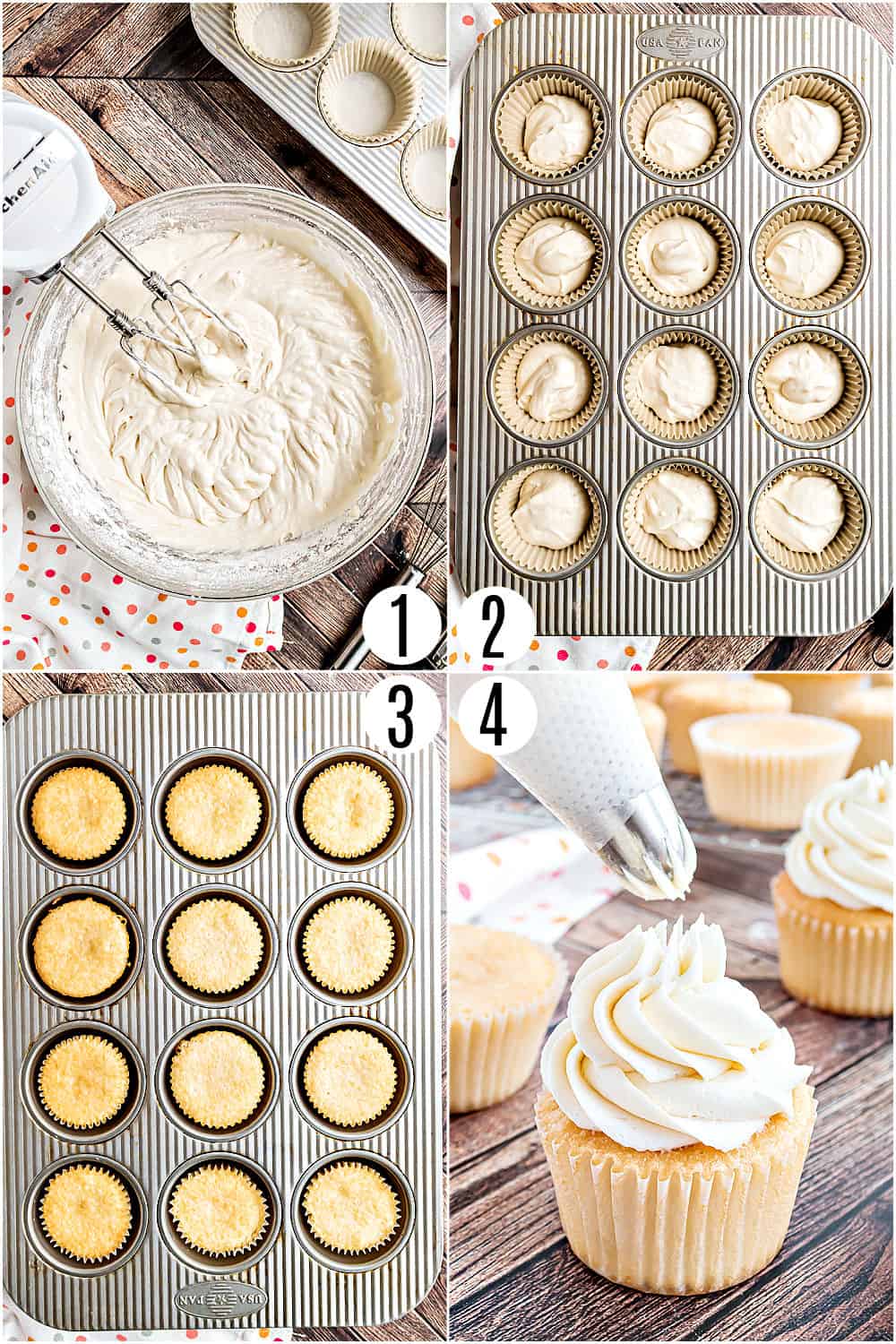 Prepare the Pan. Using paper cupcake liners, line your cupcake tin and set aside.
Make the batter. Combine dry ingredients and set aside. In another bowl, cream the butter and sugar for 2 minutes on medium speed. Beat in the egg whites and vanilla. Alternate adding in the dry ingredients and buttermilk, mixing after each addition.
Fill the prepared cupcake liners ⅔ full with batter. Then, bake in a 350°F oven for about 21-23 minutes.
PRO TIP: When done, the cupcake tops should spring back after you press lightly on them.
4. Frost. Remove and let the cupcakes cool in the pan for 5 minutes. Transfer to a wire rack and let cool completely before frosting.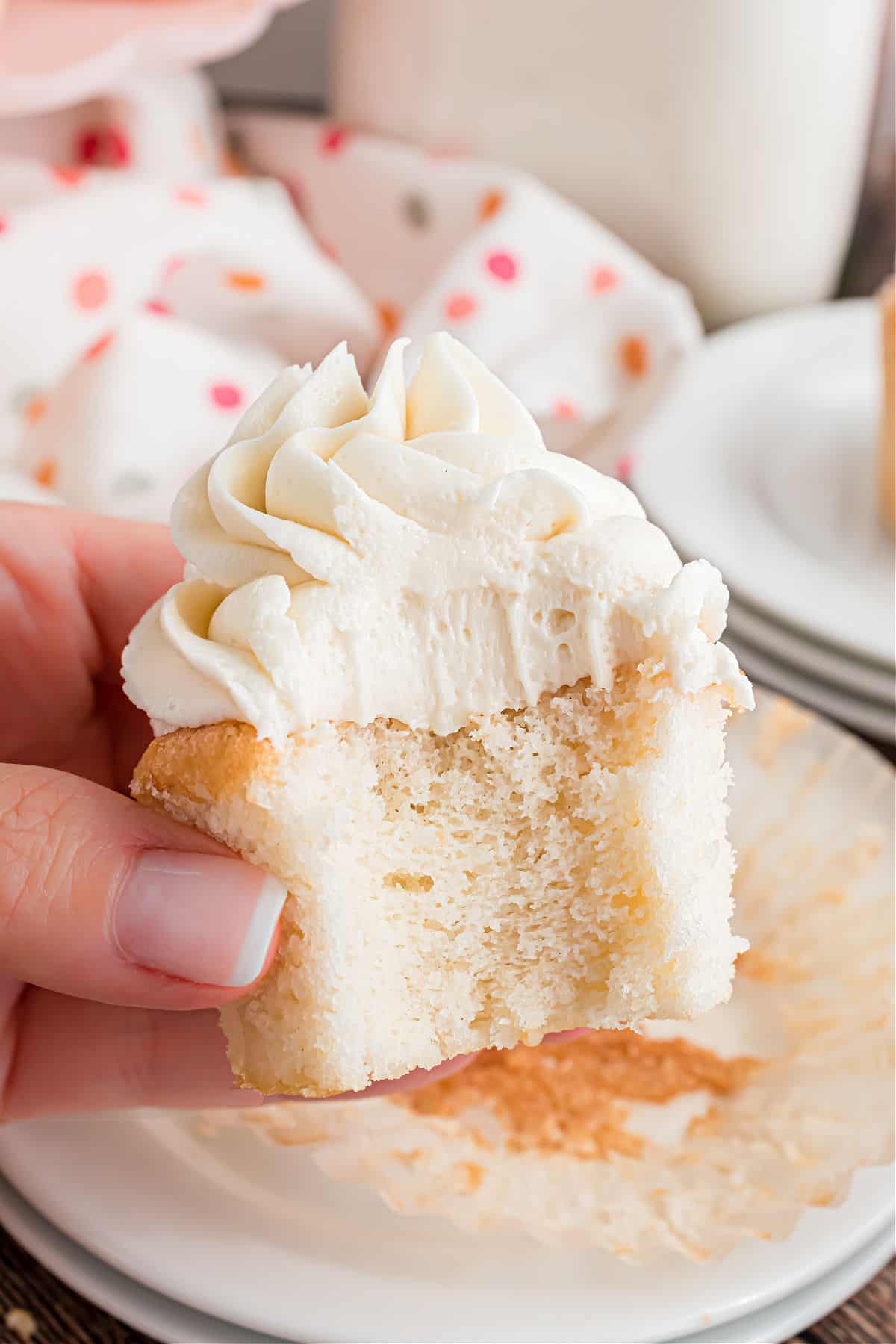 Tips & Tricks
Be sure to use room-temperature butter and egg whites so your cupcakes are easy to mix and have the lightest texture possible.
We love using our classic Vanilla Frosting and tangy Vanilla Sour Cream Frosting on these cupcakes.
For a fruitier frosting, try our Strawberry Buttercream Frosting. It's a beautiful pink color and gets maximum flavor from freeze-dried strawberries.
Add sprinkles or edible glitter on top of the frosting for a fun decorative touch!
Don't want to use frosting on these? No problem! They're just as delish and way less sweet with Homemade Whipped Cream on top.
Serving Suggestions
Looking to make a cupcake buffet for an event? It's hard to go wrong with the classic beauty of Red Velvet Cupcakes. And if you'd like to strike a balance between sweet and nutritious, go for Carrot Cake Cupcakes with cream cheese frosting.
Want a more elegant pairing with vanilla cupcakes? Try our surprising Chocolate Chip Cheesecake Cupcakes or stunning Ferrero Rocher Cupcakes.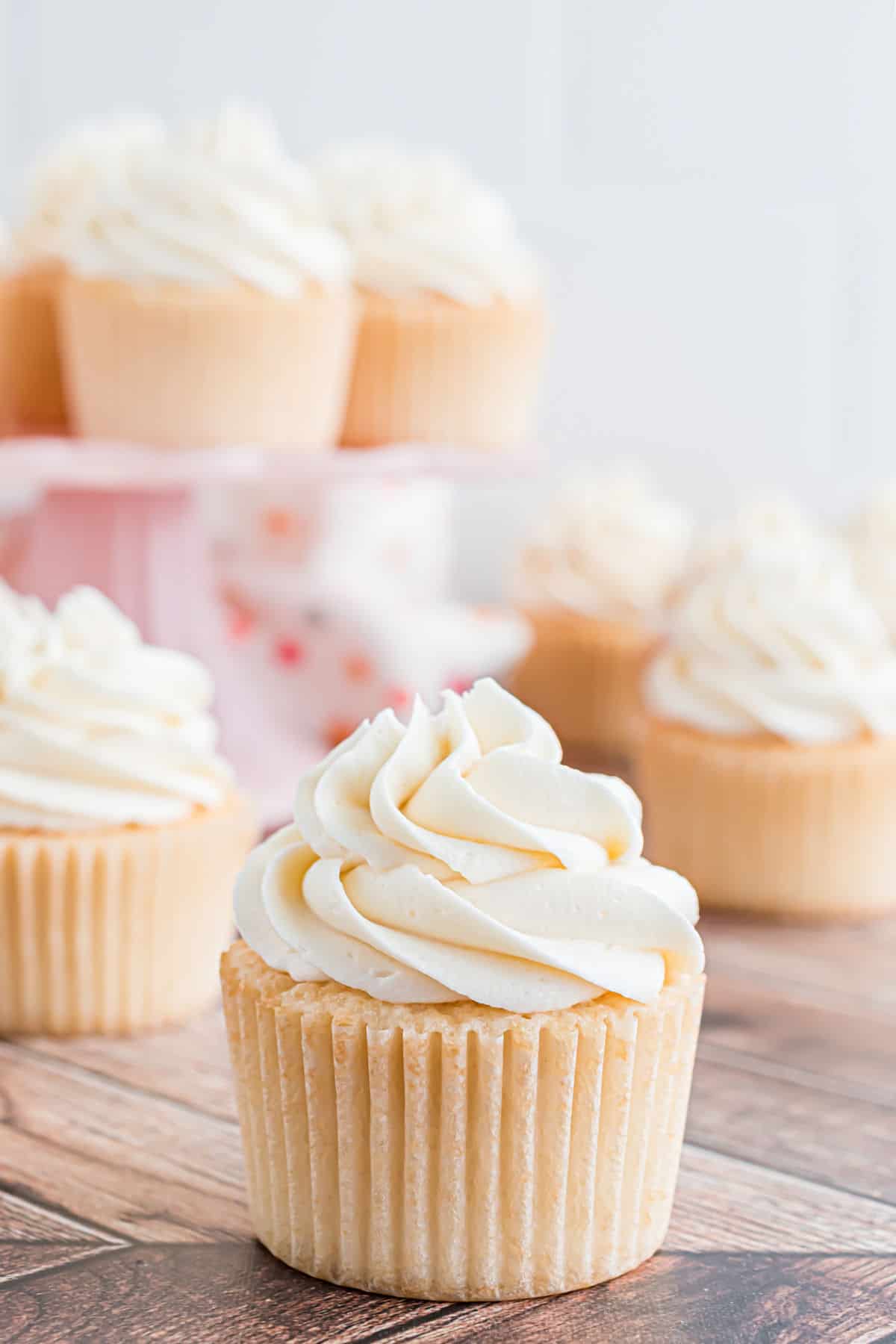 Recipe FAQs
What's the best way to store cupcakes?
After letting the cupcakes cool completely, store them in an airtight container at room temperature for up to 3 days.
What's the best way to freeze white cupcakes?
White cupcakes can be frozen with or without frosting. Wrap each one individually with plastic wrap before freezing. To protect iced cupcakes, freeze them uncovered for a couple of hours before wrapping. Then, store them in an airtight container for up to 3 months.
How do you thaw frozen cupcakes?
To thaw frozen cupcakes, unwrap them and leave them out at room temperature for just under an hour. Or they can thaw uncovered overnight in the refrigerator.
Can I add a filling to white cupcakes?
These cupcakes are perfect for filling! My Almond Wedding Cake Cupcakes recipe has step-by-step instructions on the best way to fill cupcakes.
More Easy Dessert Recipes