Ferrero Rocher Cupcakes – Chocolate cupcakes topped with Nutella buttercream and the classic hazelnut candy. Dreamy chocolate hazelnut flavor and a touch of elegance makes these treats so good.
Love hazelnut? Our readers are obsessed with this Chocolate Hazelnut Mousse dessert. It's rich and decadent and perfect for holidays!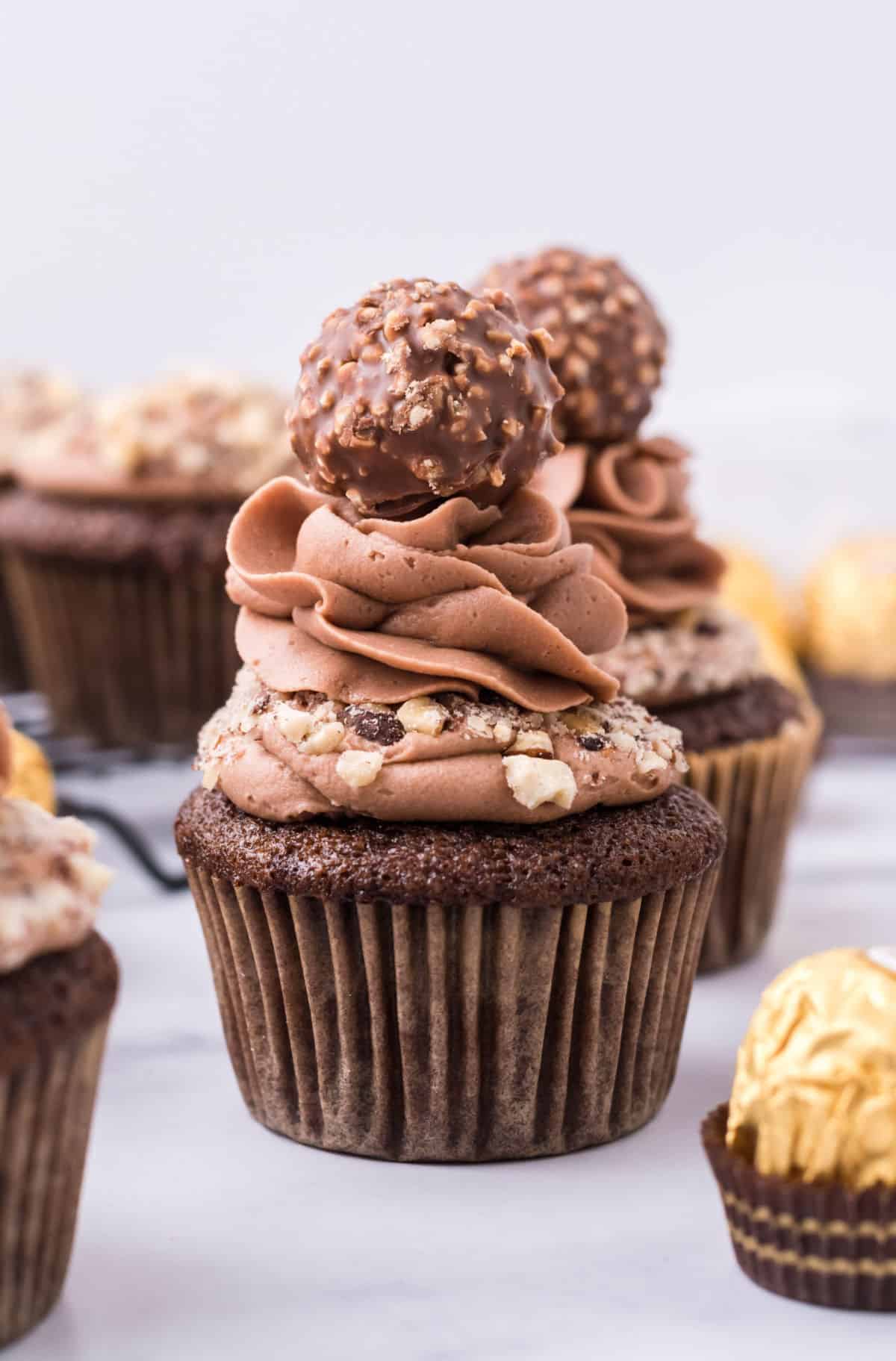 Why this Recipe is Best
If you love Ferrero Rocher chocolates, then have I got news for you: they're amazing on cupcakes!
Did anyone else used to believe Ferrero Rocher candies were the epitome of sophistication as a child?
Maybe it was the alluring gold foil wrapping or the fact that I only saw them on special occasions.
I still love the combinations of crunchy hazelnuts and smooth milk chocolate. And there's no better way to enjoy them than on top of cupcakes!
Simple (but delicious) chocolate cupcakes provide the foundation for this recipe. For more hazelnut flavor, each one is topped with a swirl of Nutella frosting.
Finally, a whole Ferrero Rocher truffle tops each one. These cupcakes look as incredible as they taste!
Ingredient Notes
Nutella. This chocolate hazelnut spread is a European staple but readily available in most supermarkets in the US now too. Generic versions, labeled "chocolate hazelnut spread" will work too.
Heavy whipping cream. Helps make the frosting extra rich and creamy. Do not substitute milk or half and half.
Ferrero Rocher chocolates. You'll need 12 full unwrapped candies for topping your cupcakes.
Hazelnuts. Find hazelnut pieces in the baking aisle or buy full sizes hazelnuts and crush them yourself.
Easy Instructions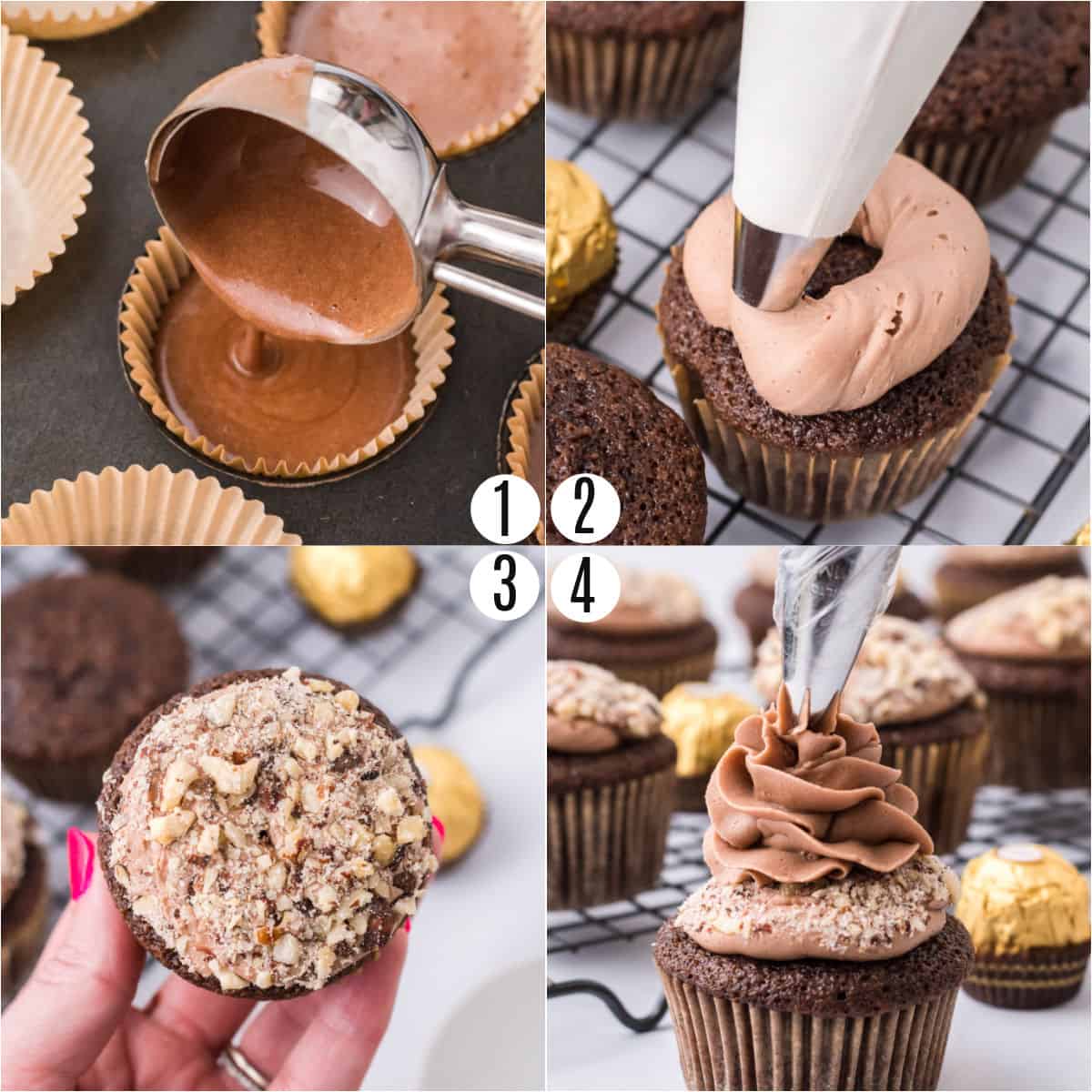 For the cupcakes: Bake and cool cupcakes according to recipe!
For the nutella frosting:
Beat butter and Nutella together in a stand mixer until smooth. Add powdered sugar in batches, beating between each addition.
Finally, add the vanilla and heavy cream. Beat well for a few minutes. The frosting should get a lovely "whipped" consistency!
To assemble:
Transfer the frosting to a piping bag. Pipe frosting onto cupcakes, then press on the crushed hazelnuts lightly.
Add another swirl of buttercream on top, then place a Ferrero Rocher over each cupcake.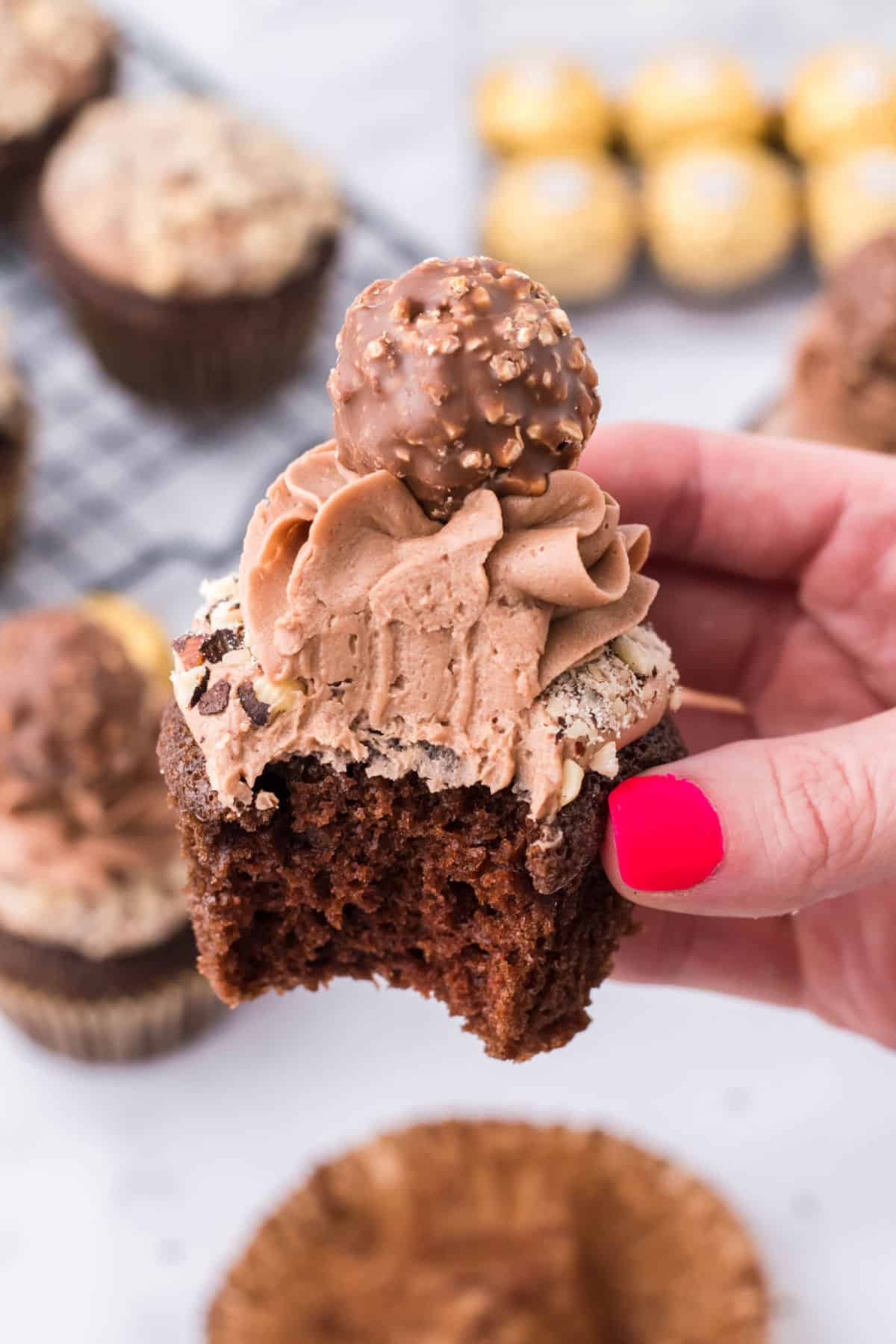 Tips and Tricks
Best frosting tips. I use two frosting bags with different tips for decorating the cupcakes: one with a round top and one with a star top. Swirl the buttercream with the round tip, then use the star tip for adding the final dollop on top.
Storing. Keep the Ferrero Rocher cupcakes in the refrigerator in an airtight container. Bring to room temperature before serving.
Recipe FAQs
What are Ferrero Rochers?
Ferrero Rochers are chocolate candy truffles filled with hazelnut pieces. They have a satisfying crunch that yields to smooth milk chocolate.
Can you make these cupcates without Nutella?
Yes, you can make these with a classic Chocolate Buttercream Frosting instead of the Nutella version. I happen to love the added dimension the hazelnut flavor gives the chocolate!
Can you freeze cupcakes?
Yes, you can freeze the chocolate cupcakes before decorating them. Let them thaw completely before adding the fresh buttercream and toppings.
How long do Ferrero Rocher Cupcakes keep?
Ferrero Rocher Cupcakes are best enjoyed within 4- 5 days if kept in the fridge. Frozen cupcakes will keep for about 3 months.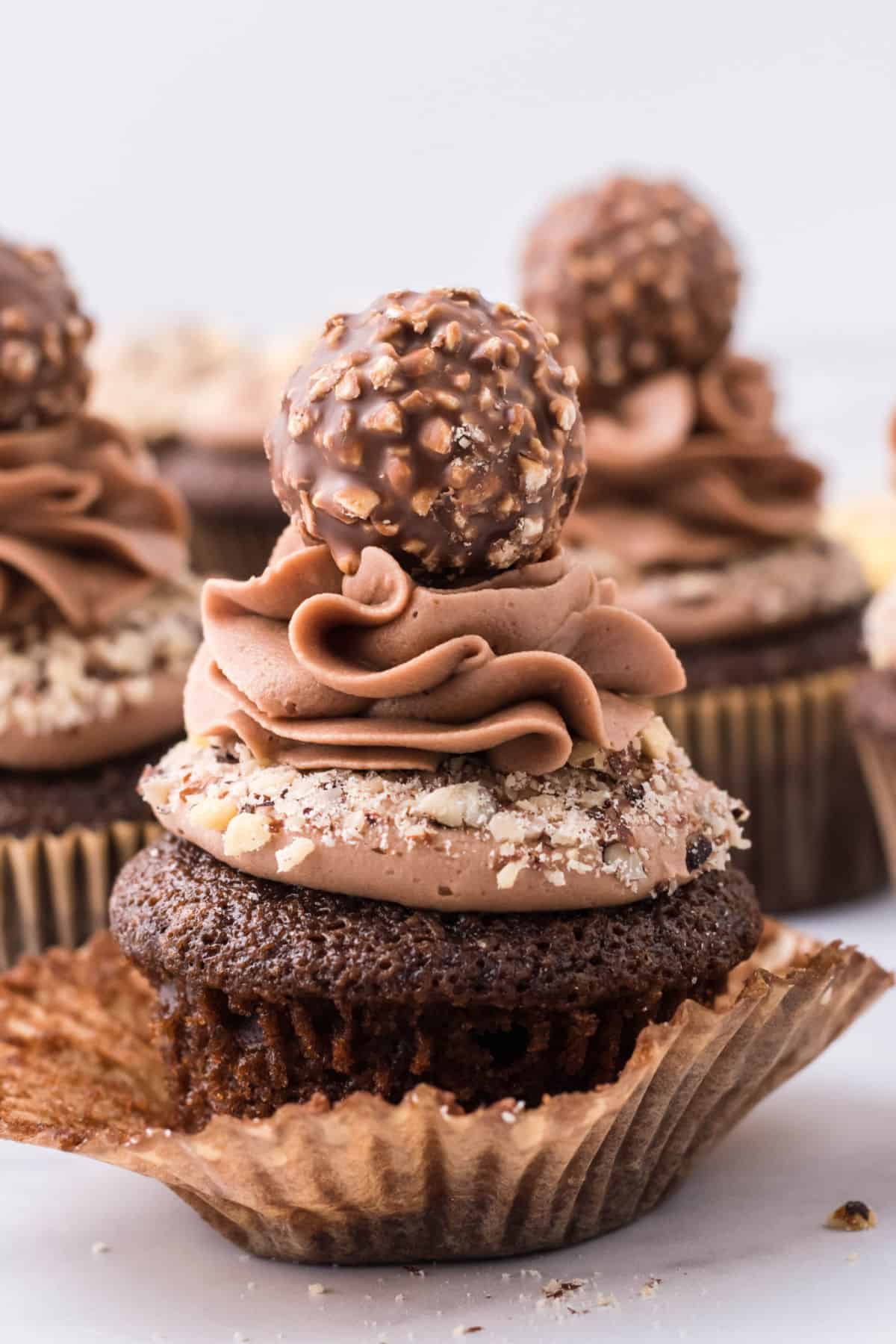 Chocolate and Hazelnut combine to make Ferrero Rocher Cupcakes! Sweet and nutty with an irresistible Nutella frosting, these are a must try dessert for any occasion.