Delicious, easy, copycat Twinkie Cake recipe made with yellow cake and sweet whipped cream filling. The perfect, not overly sweet, cake recipe!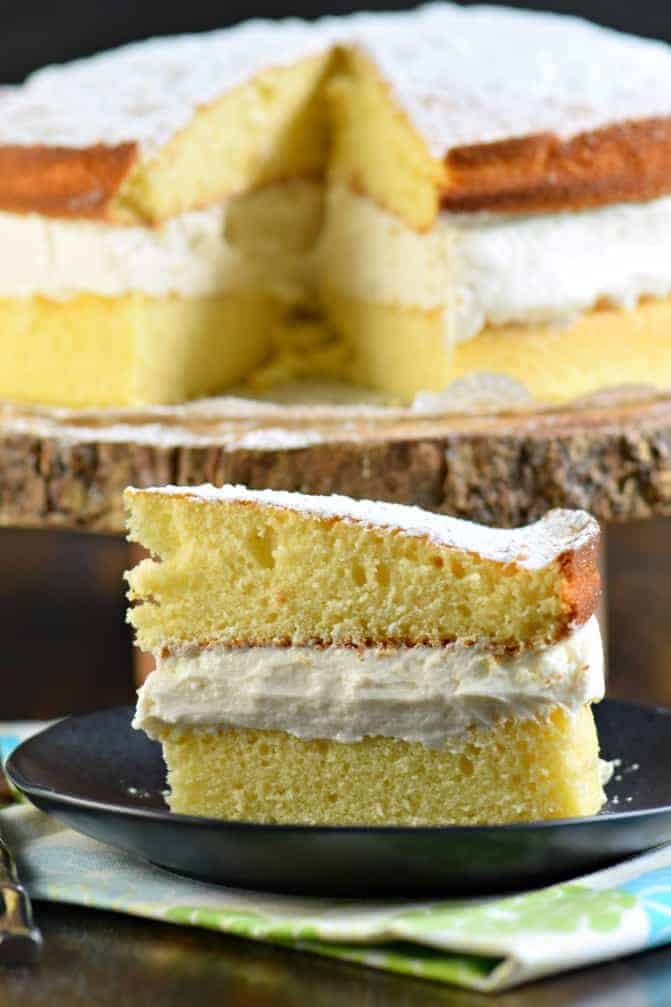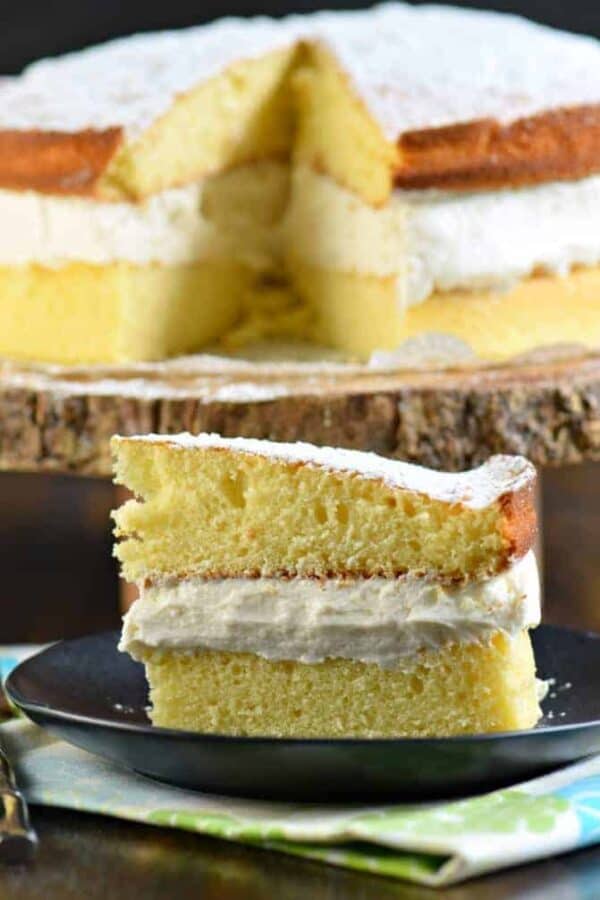 Click HERE to save recipe to Pinterest!
If you're looking for a delicious, moist cake with a creamy filling, look no further. This Twinkie cake recipe tastes very similar to original childhood treat! But unlike the original, this one won't last long, it will get gobbled up quickly!
You may remember this Ding Dong Cake recipe I made earlier in the year? A rich chocolate cake filled with a sweet whipped cream and topped with chocolate ganache. I've been thinking about making a Twinkie Cake for some time ever since.
But I kept getting hung up on, "how do I make my cake look like a twinkie?"
I finally decided it didn't matter. I wasn't going to spend all my time trying to bake it in the shape of a twinkie and poke holes in it. You just have to use your imagination when you take a bite.
The filling to this cake isn't overly sweet (even though it's so thick)! I contemplated keeping the cake bare, but I loved the look of the powdered sugar instead. You can skip that part if you prefer!

How to make a Twinkie Cake:
First. Start by baking a yellow cake in two 9-inch baking pans. You can make a homemade yellow cake (that one is my favorite) or use a box mix!
I also like to use Wilton Bake Even Strips when I make layer cakes. These affordable strips keep your cake from doming on the top, so there's no need to slice off any excess. Back in the old days you may have seen grandma use pieces of an old towel wrapped around the cake pan. Same idea! (just make sure you soak them in water)!
Once your cake is baked and cooling, get started on that creamy filling! Some people refer to this as Ermine frosting, or boiled milk frosting.
You'll first put your cold milk and flour in a small saucepan and whisk until the lumps are gone. Heat this up until thick, stirring the whole time. You want to keep stirring and heating until it becomes thick, almost like pudding. Be patient.
Once your milk mixture is thick, remove from heat and stir in the vanilla. COOL. Very important here. You don't want this warm and melting your butter in the next step.
In a mixing bowl, cream your butter and sugar until light and fluffy, about 4 minutes. Slowly add in the COOLED milk mixture, beating until it resembles a thick whipped cream or frosting. Don't be scared if it initially appears curdled, keep beating!
Spread this thick layer of cream filling between your two cooled cake layers.
Sprinkle with powdered sugar and serve. I refrigerate this cake if not eating immediately. ENJOY.
Not a fan of Twinkies? It's okay. I've got so many other CAKE recipes you may enjoy instead!

My favorite Cake recipes:
Banana Cake with Cream Cheese frosting: Two layers of from scratch Banana cake with a generous filling and topping of cream cheese frosting. Perfect for breakfast too 😉
This Watergate Cake is hands down one of my favorites. It's loved by everyone who tries it, and I'm always asked for the recipe. Pistachio cake with pecans and coconut!
Easy one bowl Chocolate Buttermilk Sheet Cake recipe. Fudgy buttermilk frosting on top! Perfect for a crowd, or freeze for later.
Old fashioned, best ever, 7 Up Pound Cake recipe! You'll love this classic cake with it's perfect texture!
The most delicious, from scratch, white cake recipe is used to create this perfect Coconut Cake!
As featured on Dove Chocolate packaging this year, what's not to love about this Chocolate Peanut Butter Cheesecake Cake? This stunning cake has layers of homemade chocolate cake and peanut butter cheesecake. Topped with a creamy peanut butter frosting and dark chocolate ganache, this cake is sure to satisfy that sweet tooth!
Still not sure what to bake? Check out my Cakes and Cupcakes Pinterest board for more ideas!

What do I need to make a Twinkie Cake?
First of all, no special pan needed. Just two 9-inch cake pans!
1 yellow cake: either boxed (follow package directions) or homemade yellow cake recipe
All-purpose flour
Whole milk
Vanilla extract
Unsalted butter
Sugar, granulated and powdered (for garnish)
Connect with Shugary Sweets!
Be sure to follow me on my social media, so you never miss a post!
Pinterest | instagram
If you LOVE this recipe, be sure to stop on over in my Pinterest Community to share a picture of YOUR dish! Or share it on Instagram and tag me #shugarysweets so I can see it!
I created a fun little group on facebook and I'd love for you to join in! It's a place where you can share YOUR favorite recipes, ask questions, and see what's new with Shugary Sweets (so that you never miss a new recipe)! If you'd like to check it out, you can request to join HERE.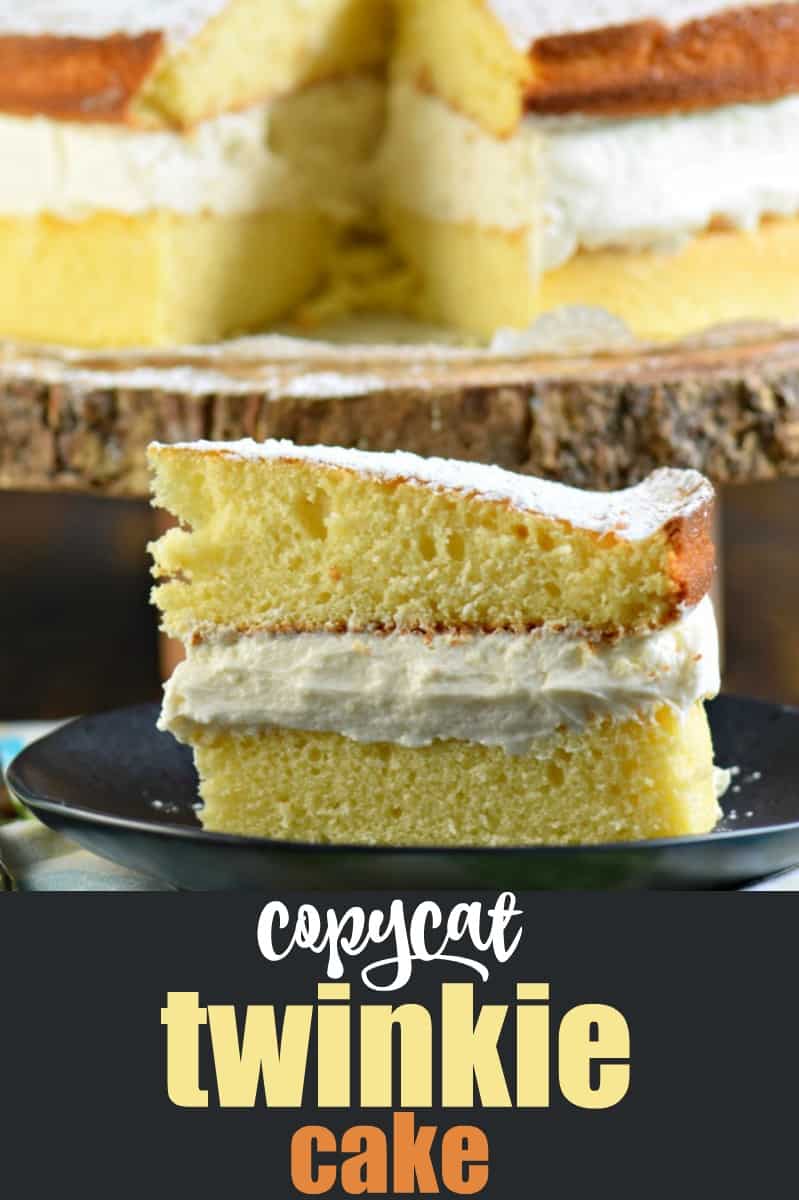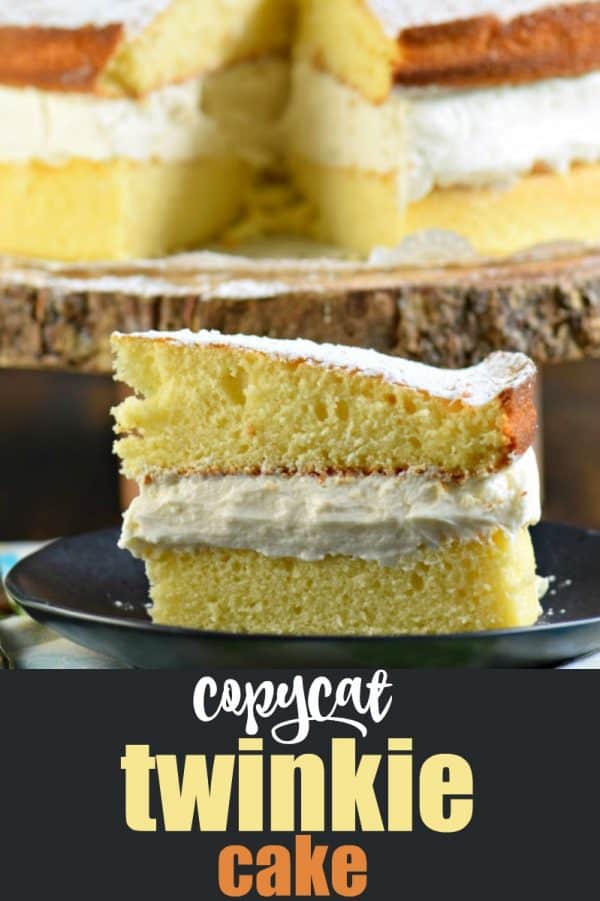 Twinkie Cake recipe: