A delicious, easy, copycat Twinkie Cake recipe with layers of yellow cake and sweet whipped cream. You'll love this not-too-sweet cake inspired by the classic snack!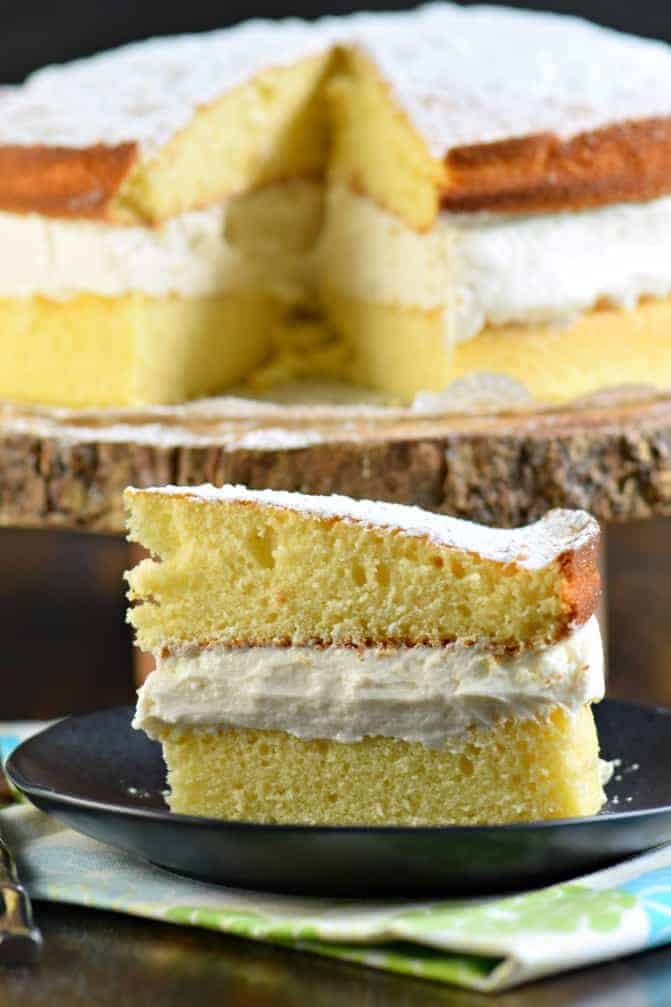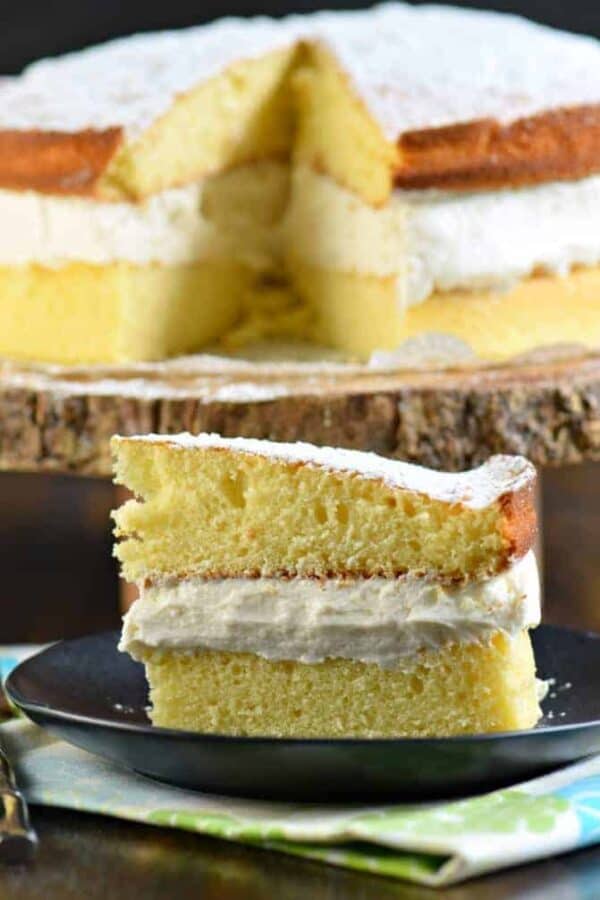 Why This Twinkie Cake is Best
Ahh, there's nothing like ripping open a plastic wrapper and biting into a yellow, cream-filled Hostess Twinkie. Except now that I'm an adult I prefer making my own version with this Twinkie Cake recipe.
It starts with a box of yellow cake mix. Doesn't get much easier than that!
The homemade vanilla cream filling is light and fluffy, just like the center of a Twinkie.
While other Twinkie cakes can be cloyingly sugary, this one has just the right amount of sweetness.
It's topped with powdered sugar instead of frosting. Easy and and delicious!
Creating homemade versions of processed snack foods isn't just a hobby. It's become an obsession!
I've made Copycat Hostess Cupcakes, copycat Lofthouse Cookies and so many more. These Oatmeal Cream Pies inspired by the Little Debbie version are a personal favorite.

Ingredient Notes
Yellow Cake – Grab a boxed mix and prepare it according to package directions. Or make this yellow cake recipe from scratch!
Milk – Use skim, fat free, whole or whatever you have on hand. This becomes the base liquid for the cream filling.
All purpose flour – Dissolved into the milk to thicken it to a pudding-like consistency.
Vanilla – For flavoring the cream. My instant pot vanilla extract tastes amazing in this Twinkie cake.
Butter and sugar- Beaten together to add richness, sweetness and texture to the cream filling.
Powdered sugar – For dusting over the assembled Twinkie layer cake.

Tips and Tricks
Bake the yellow cake in two 9-inch layer pans. Remember to line the bottom of your pans with a layer of parchment paper and baking spray. Or use my homemade cake release instead!
I use Wilton Bake Even strips for the cake layers. These little strips ensure the layers stay even on both sides while baking, creating a perfect appearance and great taste.
Let the milk and flour mixture cool completely before adding it to the butter and cream. Keep beating until it becomes the texture of fluffy whipped cream.
Use a sifter or confectioner's sugar duster to add the powdered sugar to the top of the cake for a smooth appearance and consistency.

Recipe FAQs
Can I make the filling ahead of time?
Yes, you can make this Twinkie cream filling up to 1 day ahead of time. Keep it covered in the refrigerator until ready to add to your cakes.
Does this cake need to be refrigerated?
This cake can be kept at room temperature for about 2 hours. After that, I would store it covered in the refrigerator until ready to eat.
Can I use my own yellow cake recipe for this Twinkie Cake?
You sure can! I have made it both with cake made from a mix and cake made from scratch. Both were delicious.
Why is it called Twinkie cake?
I call this a Twinkie Cake because the yellow cake layers and white cream filling resemble the components of the classic Twinkie snack cakes! While it's not the same shape as an original Twinkie, the flavor and colors are spot on.
If you love twinkies, I know you'll enjoy this cake just as much as I do!