Guilt-free indulgence is yours with this scrumptious Skinny Pineapple Cake. With only 3 main ingredients, this cake is as easy to make as it is delicious! You can also top it with colorful sprinkles to spruce it up for any occasion.
Love pineapple desserts? Our delicious pineapple cupcake recipe is light and delicious! Of course pineapple upside down cake is always a hit with guests.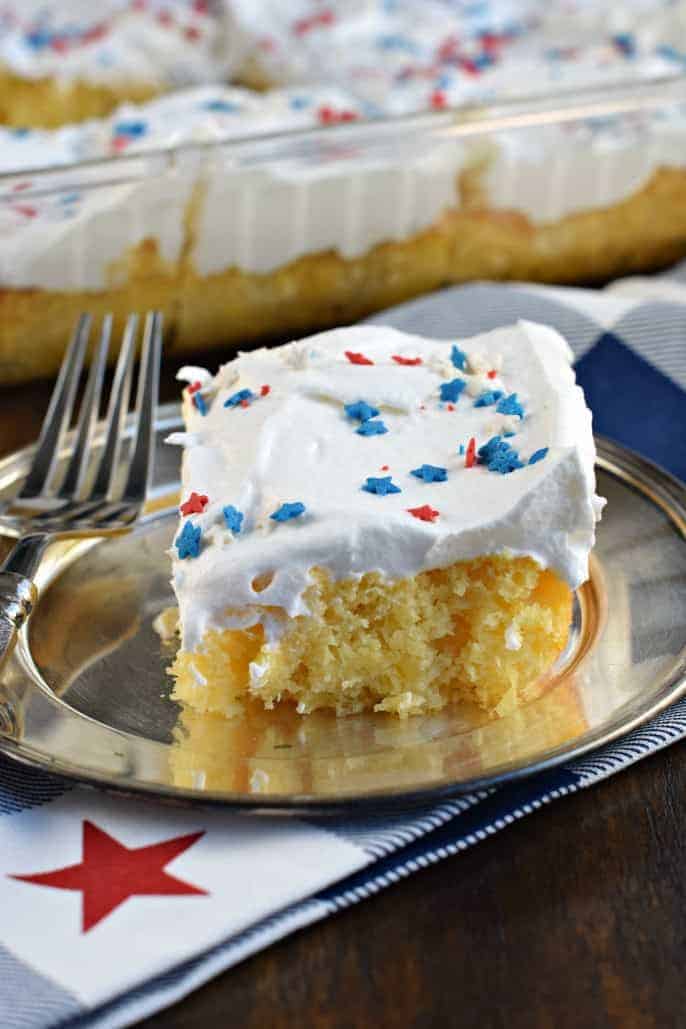 Why This Recipe Is a Keeper
When it comes to this light and skinny cake, it's easy to make.
Quick and easy from start to finish. Just mix, pour, and bake!
Using boxed mix makes this a cakewalk. You don't even need to measure.
Canned pineapple and juice add fruity flavor and make a delectably moist cake.
Using Cool Whip means you only have to open the container and spread it on the finished cake!
Freezer-friendly, so you can make it ahead of time.
If you love pineapple, be sure to try our delicious pineapple pie recipe next. So easy, and no bake too!
Ingredient Notes
Yellow cake mix – Boxed yellow cake mix saves time and adds a nice vanilla flavor.
Pineapple – Crushed pineapple in juice makes this cake taste juicy and flavorful.
Cool Whip – This ready-made low-fat whipped dessert is perfect for spreading and keeping its shape. See the tips & tricks below for homemade options.
Sprinkles – Optional sprinkles add a fun visual appeal to the cake. Plus, you can pick seasonal colors and designs.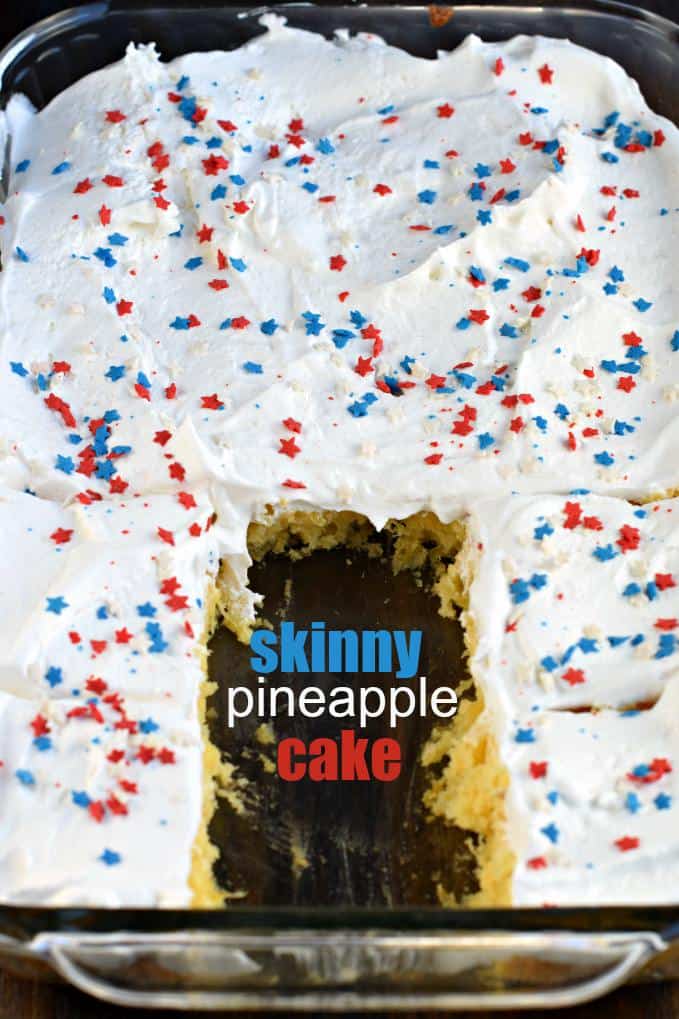 Easy Instructions
Mix – Combine the cake mix, pineapple, and juice from the can in a large mixing bowl. Mix thoroughly, just until no dry flour remains in the bowl.
Pour – Pour the batter into a greased 13×9 baking dish.
Bake – Bake for 25-28 minutes in a 350°F oven.
Refrigerate – Let the cake cool, then refrigerate for 3 hours.
Top and serve – Top the cake with Cool Whip or whipped cream. Serve cold, and enjoy!
Tips & Tricks
Feel free to make homemade Whipped Cream instead of using Cool Whip. For fresh whipped cream that will hold its shape longer in the refrigerator, try using Stabilized Whipped Cream instead.
For an even healthier version of this cake, serve it with a dollop of vanilla yogurt instead of the whipped topping.
Make this a skinny pineapple-ginger cake. Chop ⅓ cup crystallized ginger and fold it into the cake batter before baking.
Instead of putting sprinkles on the Cool Whip, decorate the cake with maraschino cherry halves.
Try using angel food cake mix with this recipe for a lighter, spongier dessert.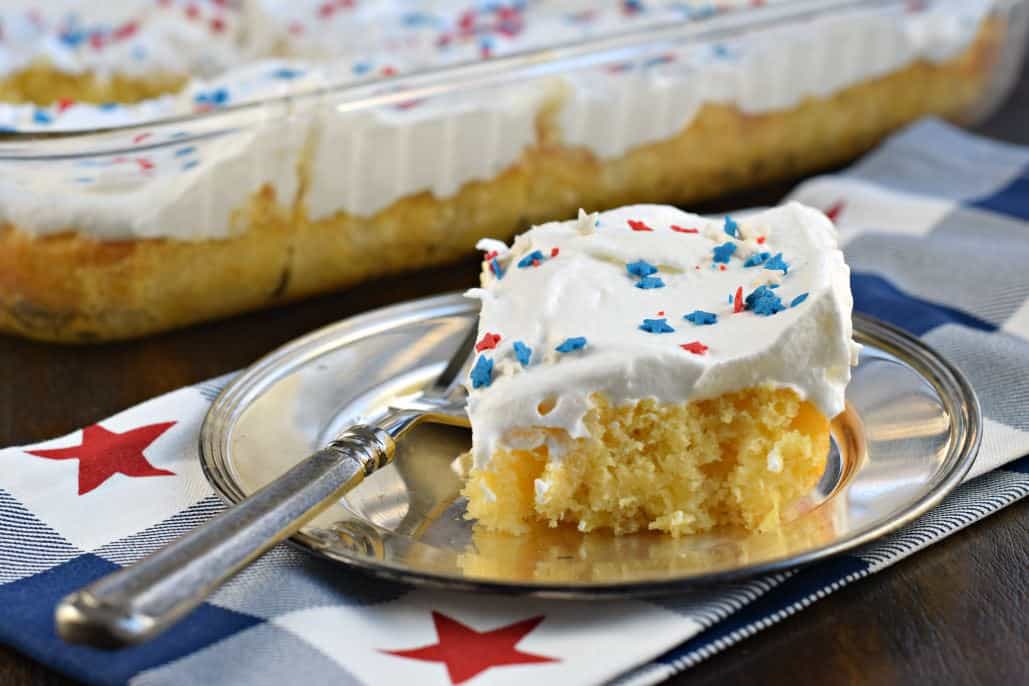 Serving Suggestions
Serve this cake with an island-inspired meal like Instant Pot Hawaiian Pulled Pork for a perfect tropical theme.
For outdoor dining in the summer, Hawaiian Burgers and Grilled Huli Huli Chicken go perfectly with a side of Chinese Coleslaw.
And it's always easy to get the kids excited about dinner with a tasty Hawaiian Pizza!
Recipe FAQs
What's the best way to store Skinny Pineapple Cake?
Keep this pineapple cake covered in an airtight container in the refrigerator. For the best flavor and texture, eat it within 3 days. It will taste best at room temperature, so let it sit out for 15-30 minutes before serving if possible.
Can this cake be made gluten-free?
Yes, this cake is easy to make without gluten. Simply use a gluten-free yellow cake mix, and make sure you use gluten-free sprinkles. 
Can I freeze Skinny Pineapple Cake?
Yes, this cake can be frozen. It's best to freeze it without any topping. Once completely cool, wrap the cake in plastic, followed by aluminum foil. Freeze for up to 3 months, then thaw completely before topping and serving.
Can I make my own crushed pineapple if I can only find whole rings?
Yes, you can crush pineapple at home if needed. Place the pineapple rings in a food processor or strong blender. Pulse until it's in bite-sized pieces. Make sure the weight of the pineapple with the juice is the same as in the original recipe before using it.