Indulge (guilt free) in this scrumptious Skinny Pineapple Cake. With only 3 ingredients, it's as easy as it is delicious!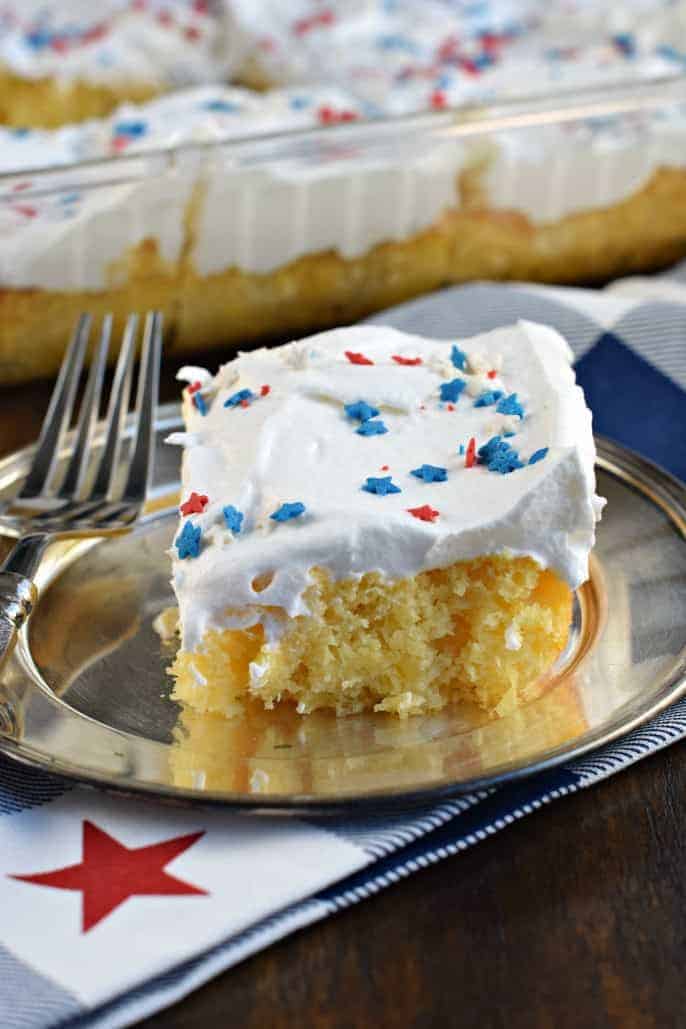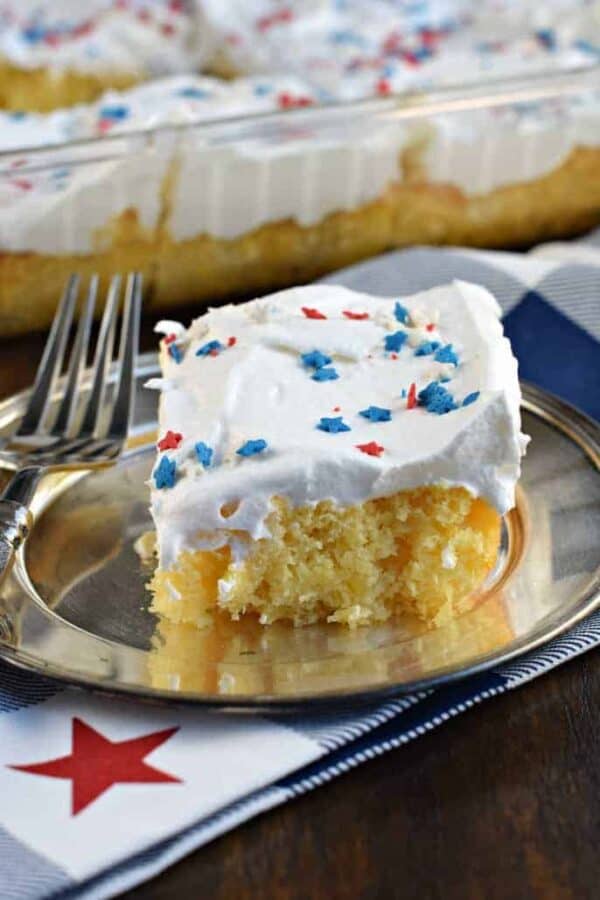 May is such a crazy time of year, especially this year. I spent the first two weeks of this month traveling (I can't wait to share all about that soon!). Add in tryouts for my two youngest girls for sports for next year, prom, graduation (OMG how is she old enough), and my son is coming home from his first deployment!
To top it all off, we threw a little bit of crazy into our home life as we are having all the floors in the house re-done. Which means my house is TORN UP and a wreck right now, and no cooking in the kitchen for at least a week.
Good thing I made this Skinny Pineapple Cake before my kitchen was unusable. Yes, you read that right…SKINNY CAKE.
It's like dreams really do come true!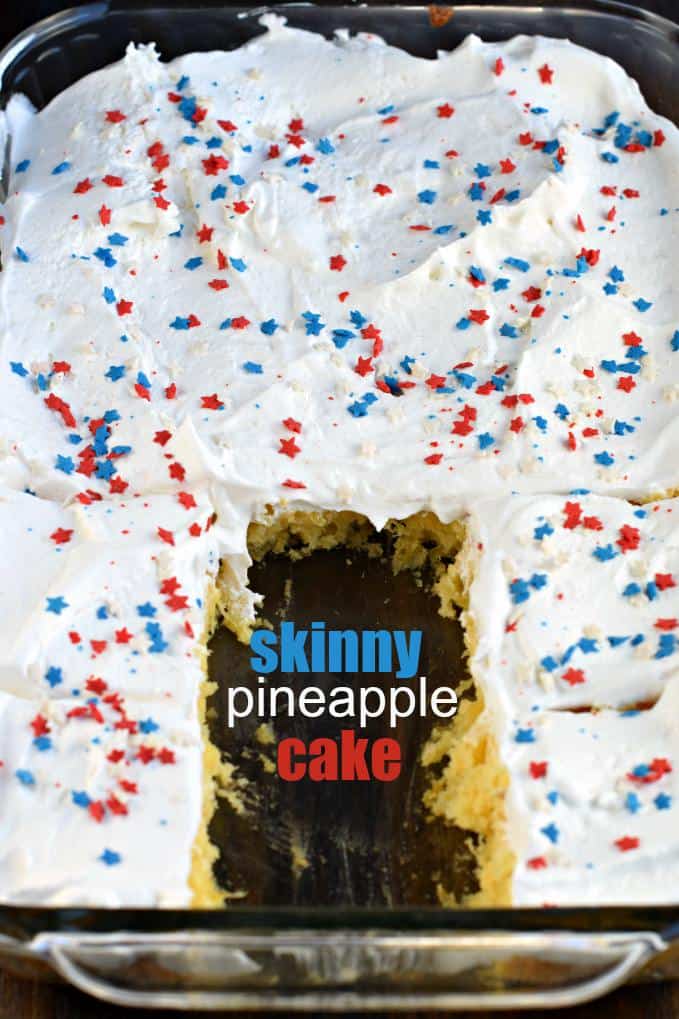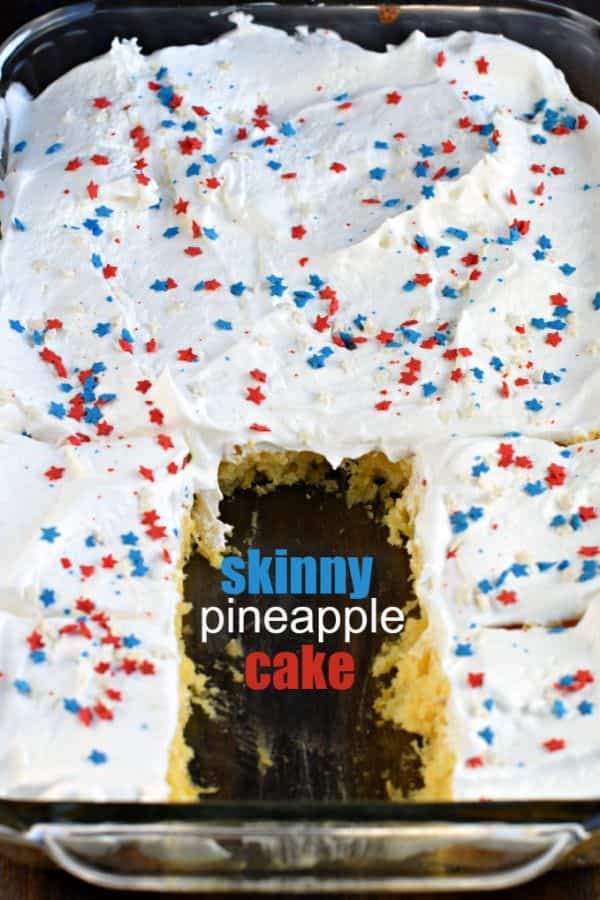 How to Make Skinny Pineapple Cake
Not only is this a skinnier version of cake, but it's also refreshing too. This Skinny Pineapple Cake gets chilled before serving and covered in Cool Whip (yes you can make your own whipped cream if you prefer).
I added some festive sprinkles for Memorial Day or Fourth of July, but feel free to use whatever you have on hand, or skip them entirely!
Don't freak out when you read the recipe. Don't overthink it. Yes….you mix one box of yellow cake mix with one 20-ounce can of crushed pineapple (with the juice, don't drain it). That's it. Mix it really well until there is no dry cake mix to be found.
Then pour the batter into a greased 13×9 baking dish. Bake and cool…then refrigerate at least 3 hours until chilled. This is perfect to make the night before an event or party.
Cover in Cool Whip (or homemade whipped cream) and enjoy! It's a dense cake with a sweet pineapple flavor. I hope you love it!
This cake recipe is based off my favorite Skinny Pineapple Cupcakes. So before you ask, YES, you can make cupcakes with this recipe! ENJOY 🙂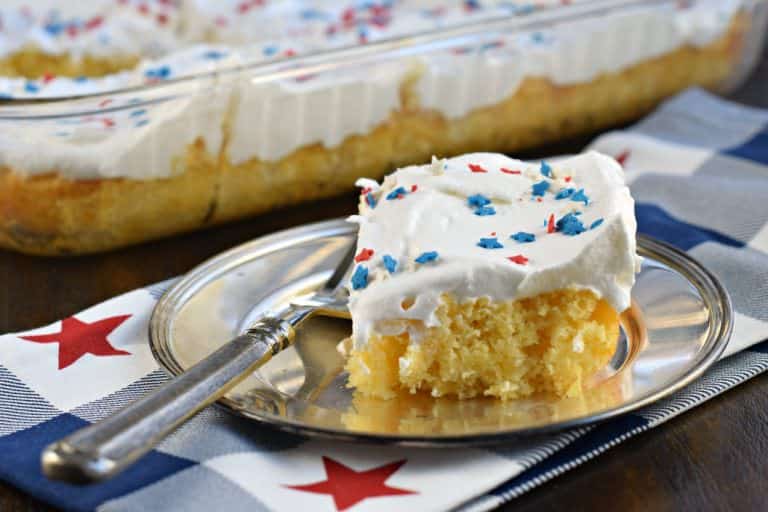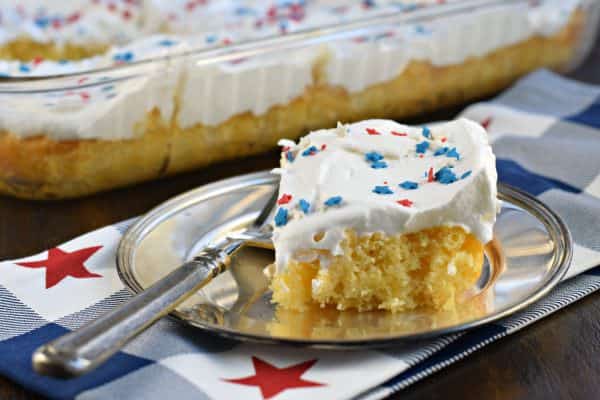 Connect with Shugary Sweets! Be sure to follow me on my social media, so you never miss a post!
Facebook | Twitter | Pinterest | instagram