So much more than an ordinary Zucchini Bread, this recipe adds pineapple and carrots to the mix! A slice of moist Pineapple Carrot Zucchini Bread makes a delicious breakfast or midday snack.
Adding carrots to desserts creates a delicious, moist texture. This Carrot Cake recipe is a family favorite for many years. Or try our homemade Carrot Bundt Cake for an impressive dessert.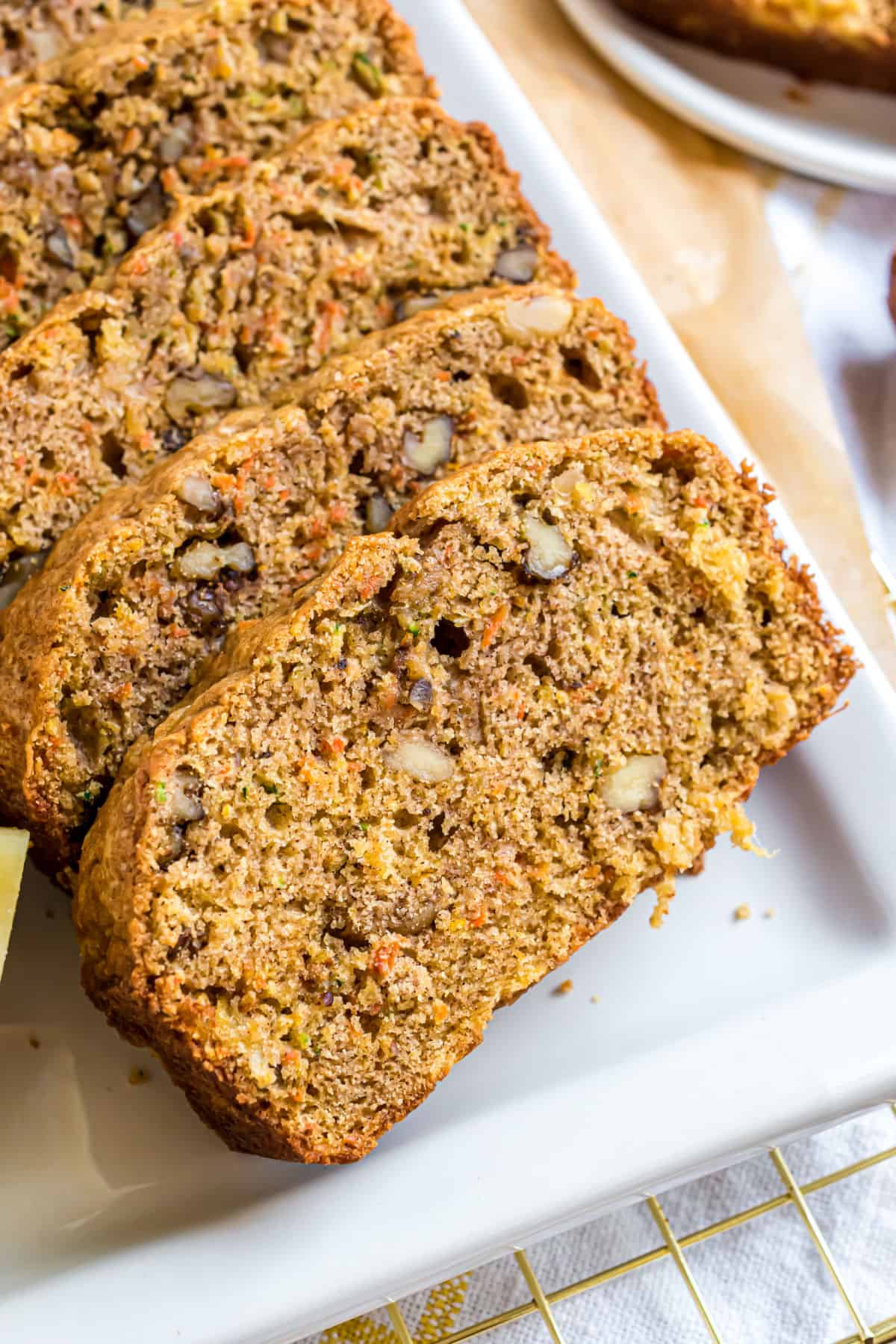 Why this Recipe is Best
I know what you're thinking. ANOTHER zucchini bread recipe?
We have so much zucchini I am trying to find new ways to use it. Thankfully, there's no shortage of Zucchini recipes out there. You've got your Chocolate Zucchini Muffins and your Crunchy Streusel Zucchini Bread. We're roasting it, turning it into zoodles, and adding it to any meal I can think of.
But at the end of the day, I'll never say no to a fresh homemade loaf of Zucchini Bread!
Today's version of this classic quick loaf has a tropical flair with the healthy (and tasty) addition of carrots! I had a bag of shredded carrots in the freezer from a few months ago.
PRO TIP: Shred and freeze fresh vegetables to toss into breads and soups!
Easy quick bread
Makes two loaves that freeze wonderfully.
Ingredient Notes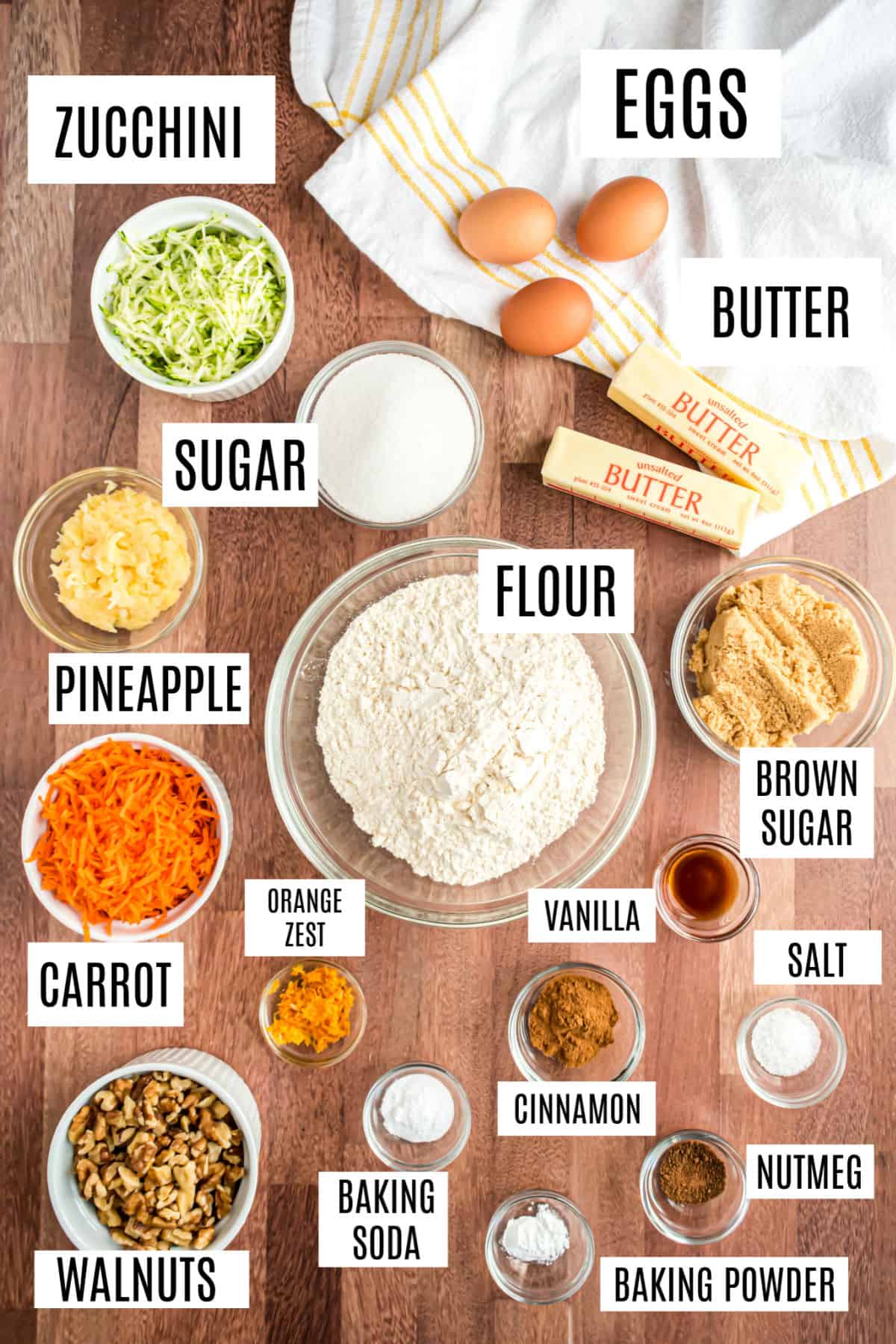 While this may look like alot of ingredients, most of them you may already have in your pantry. Plus it comes together in ONE BOWL!
Zucchini- feel free to shred with the skin, to give a pop of green color. If using frozen zucchini, be sure to squeeze out the excess moisture BEFORE measuring. Follow our guide on how to shred zucchini.
Carrots- LOVE the extra moisture and color these add to the bread.
Pineapple- in addition to a sweet flavor, they also add moisture to the recipe!
Walnuts- they add great texture to the bread, you could swap them out for chopped pecans or leave the nuts out completely. You can toast the nuts too for best flavor.
Orange Zest- could also use lemon or lime zest. It gives this bread fresh flavor. Get our tips on how to zest a lemon (or orange)!
Sugars- The combination of granulated and brown sugar sweetens the bread and adds moisture (have I mentioned this bread is moist??)
Easy Instructions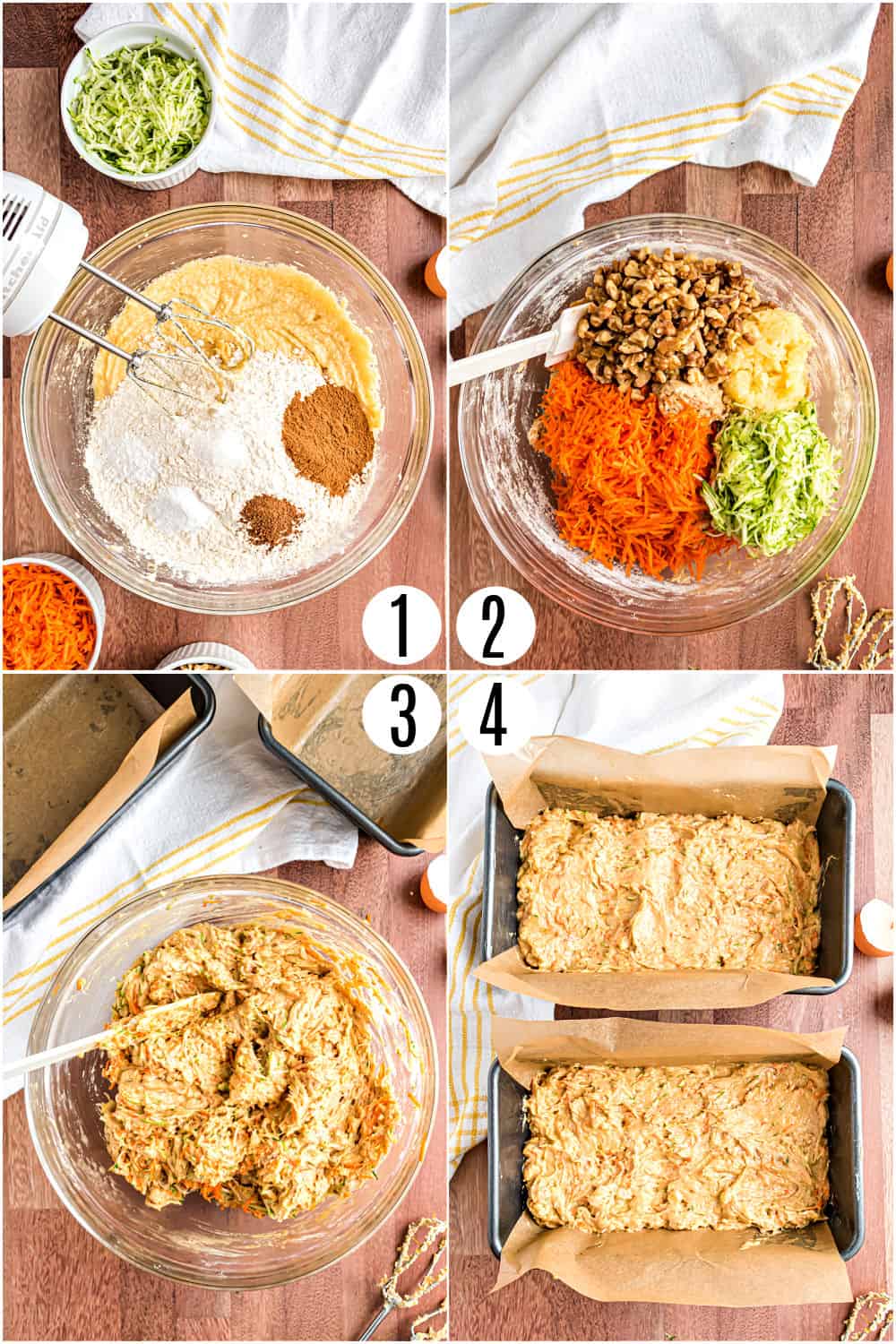 You need shredded zucchini and shredded carrots for this recipe. Use a food processor with a shredding attachment or grab your hand grater!
Combine Wet Ingredients. To make the bread, beat butter with sugar, vanilla extract and a little orange zest.
Add dry Ingredients. Add in flour, cinnamon, nutmeg, baking soda, baking powder, and kosher salt.
PRO TIP: Use the scoop and measure method to properly measure flour to avoid a dense bread.
Fold in Veggies and Fruit. Fold in the shredded zucchini and carrots along with a can of crushed pineapple (drained) and some chopped walnuts.
Bake. Pour the batter into prepared loaf pans, bake for 50 minutes, let cool and enjoy!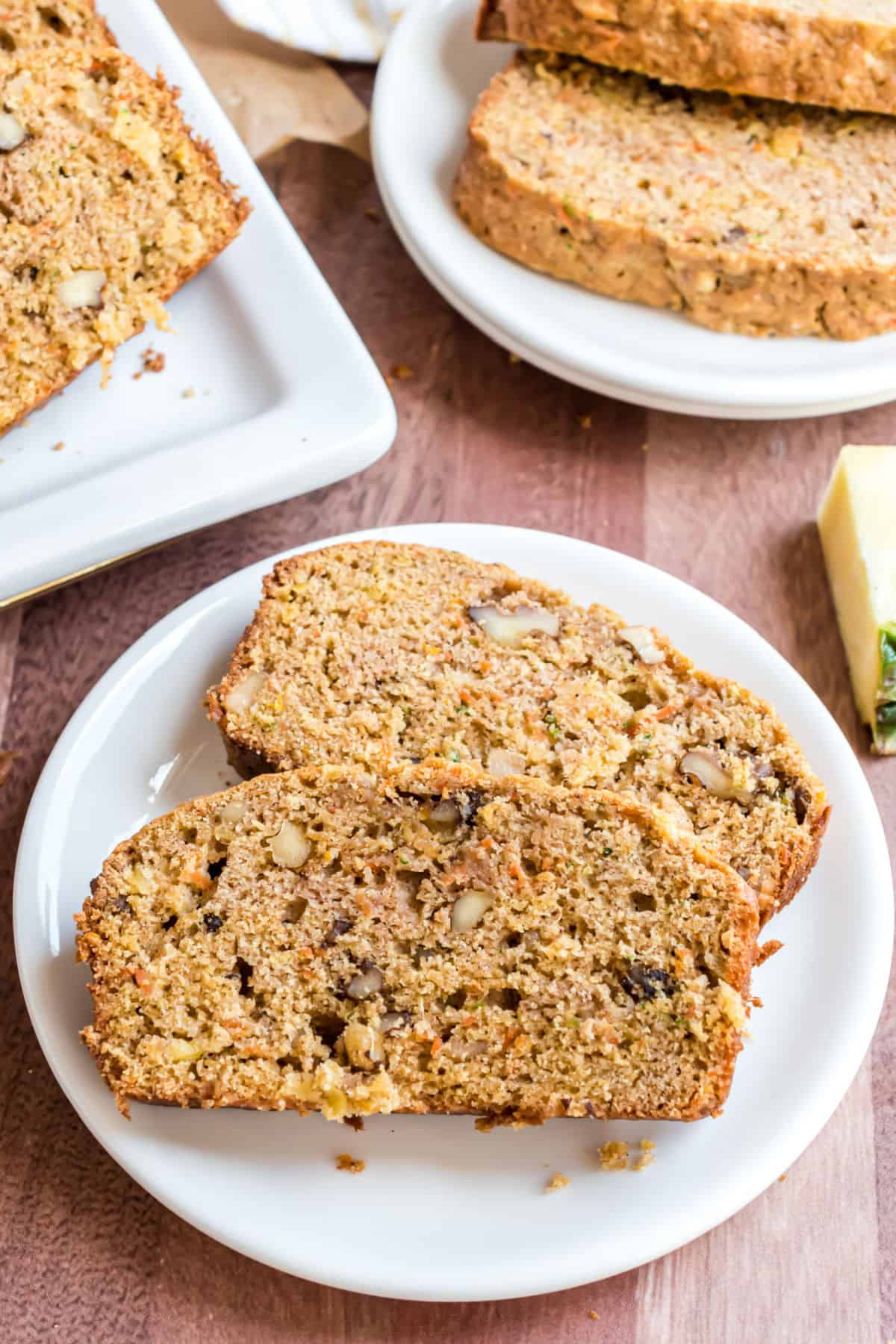 Tips & Tricks
To keep the bread from sticking to the bottom of the loaf pans, I recommend lining the bottom of the pans with parchment paper. A spritz of cooking spray helps too!
Remove the zucchini bread from the pans shortly after taking it out of the oven. Then, let the bread finish cooling completely on wire racks before slicing.
The nuts are optional. You can also sub chopped pecans if you prefer!
Make sure to use crushed pineapple with the juices drained. I haven't tested the recipe with other kinds of pineapple but I think the crushed texture of the canned variety is important!
Love Zucchini? Try our delicious Zucchini Brownies or our Zucchini Chocolate Cake!!
Want icing? Add a drizzle of our cream cheese frosting or our sour cream frosting to the top of this lovely bread!
Recipe FAQs
Can I make pineapple zucchini bread without the carrots?
This bread can be made without carrots…just swap them for an additional cup of shredded zucchini.
How long does zucchini bread last?
Zucchini bread should be stored in an airtight container and is best when eaten within 5 days of baking.
Can you freeze zucchini bread?
Yes! After cooling zucchini bread, wrap in foil then slide into a ziploc freezer bag. Store for up to 3 months.
This easy quick bread with carrots and pineapples adds a delicious twist to a classic zucchini recipe!