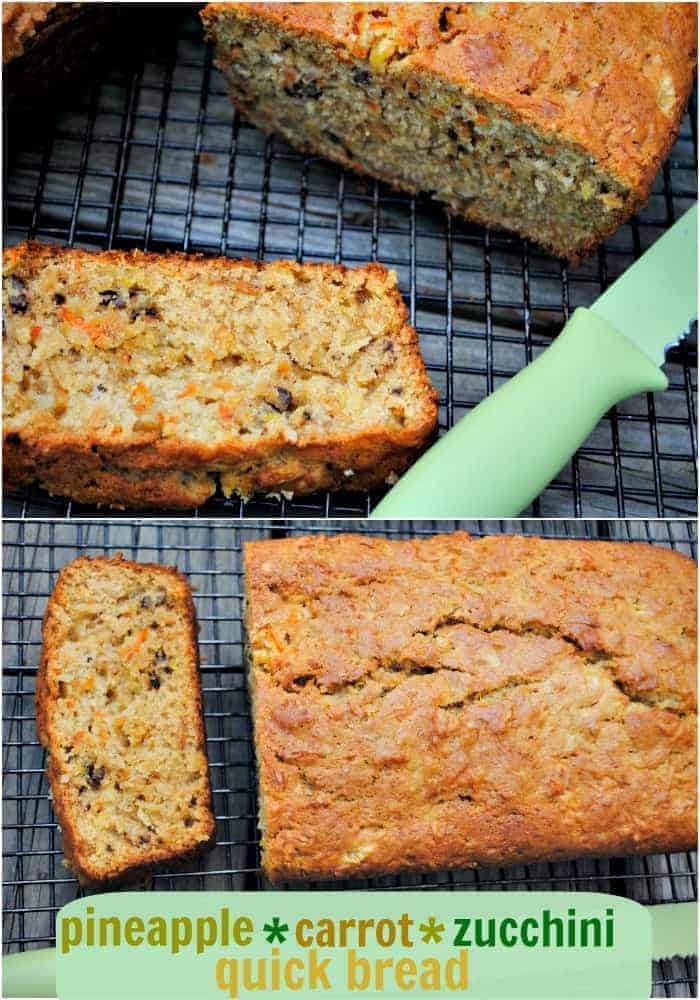 I know what you're thinking. ANOTHER zucchini recipe? Why, yes it is. It's called, using what's in season. And right now, zucchini is in season at our house. Last year I got ONE lonely zucchini from my garden. I had to go to the farmer's market just to get enough zucchini to make a few loaves of my favorite bread (Mom's Zucchini Bread). This year, I have so much zucchini I am trying to find new ways to use it.
Taste of Home had a recipe for Pineapple Zucchini bread, which got me thinking about that combination. Pineapples and Zucchini??? I used my own recipe, and I decided to throw in some carrots, for color. Plus I had a bag of shredded carrots in the freezer from a few months ago. I do that with veggies if we're not using them right away, before they go bad. Shred and freeze.
This bread is really good. Let me know when you all are sick of zucchini, cause I have two more recipes still waiting in the wings….
Yield: 2 loaves
Pineapple Carrot Zucchini Bread
Ingredients
1 cup unsalted butter
3/4 cup brown sugar
3/4 cup sugar
1 tsp vanilla
1 orange, zested
3 eggs
3 cup all-purpose flour
2 tsp cinnamon
1/2 tsp nutmeg
1 tsp baking soda
1/2 tsp baking powder
1/2 tsp salt
1/2 cup crushed pineapple (drained)
1 cup zucchini, shredded
1 cup carrot, shredded
1 cup walnuts, chopped
Instructions
Beat butter with sugars. Beat in vanilla, orange zest and eggs. Add in flour, cinnamon, nutmeg, baking soda, baking powder and salt.
Fold in pineapple, zucchini, carrots and nuts.
Pour into two greased loaf pans (I line the bottoms with parchment paper). Bake in a 350 degree oven for 50 minutes. Remove from pans, cool, and enjoy!