So much more than an ordinary Zucchini Bread, this loaf adds pineapple and carrots to the mix! A slice of Pineapple Carrot Zucchini bread makes a delicious breakfast or midday snack.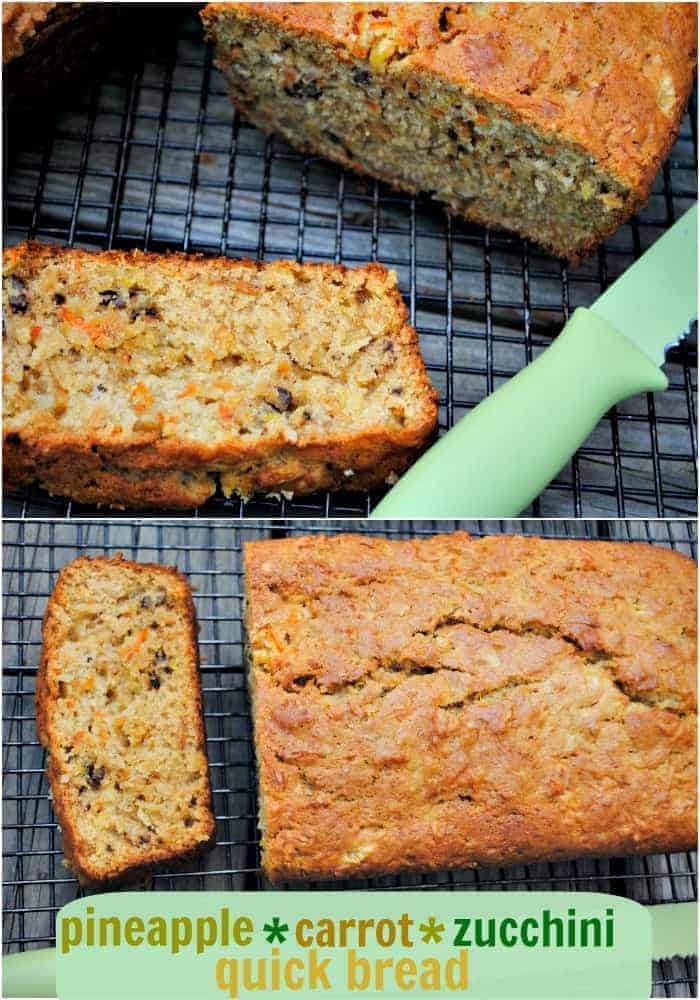 I know what you're thinking. ANOTHER zucchini bread recipe? Why, yes it is. We're trying to use what's in season for our cooking and baking and, right now, zucchini is in season at our house.
Zucchini Bread
Last year I got ONE lonely zucchini from my garden. I had to go to the farmer's market just to get enough zucchini to make a few loaves of my favorite Zucchini Bread.
This year, my luck has turned. I have the opposite problem. Every time I turn around there's another long green vegetable ready to harvest!
We have so much zucchini I am trying to find new ways to use it. Thankfully, there's no shortage of Zucchini recipes out there. You've got your Chocolate Zucchini Muffins and your Crunchy Streusel Zucchini Bread. We're roasting it, turning it into noodles, and adding it to any meal I can think of.
But at the end of the day, I'll never say no to a fresh homemade loaf of Zucchini Bread! Today's version of this classic quick loaf has a tropical flair with the healthy (and tasty) addition of carrots!
Pineapple Zucchini Bread Recipe
I got the idea for this recipe from Taste of Home which had a recipe for Pineapple Zucchini bread. It got me thinking about that combination. . . Pineapples and Zucchini???
I used my own recipe, and I decided to throw in some carrots, for color. Plus I had a bag of shredded carrots in the freezer from a few months ago. I do that with veggies if we're not using them right away. Shred and freeze before they go bad!
This bread makes for a nice chance from the same ol' same ol' zucchini recipes! It's totally worth going out to the store or farmer's market to pick up a few of those green vegetables if you don't have it coming out of your ears like we do.
It's also super easy to make and freezes wonderfully.
How to Make Pineapple Zucchini Bread
You need shredded zucchini and shredded carrots for this recipe. Use a food processor with a shredding attachment or grab your hand grater!
To make the bread, beat butter with sugar, vanilla and a little orange zest. Mix in the dry ingredients and then fold in the shredded zucchini and carrots along with a can of crushed pineapple and some chopped walnuts.
Pour the batter into prepared loaf pans, bake for 50 minutes, let cool and enjoy!
Fresh homemade zucchini bread keeps for up to a week when wrapped at room temperature, but I think it tastes best if eaten within 3 to 4 days of baking.
How to freeze
This recipe makes enough for 2 full loaves of zucchini bread. We ate one right away for breakfast and snacks and stashed the second one in the freezer.
To prevent freezer burn, wrap the loaf in plastic wrap first, then wrap again in tin foil or another layer of plastic. Let the bread thaw overnight in the fridge or for a few hours on the counter top.
Tips & Tricks
To keep the bread from sticking to the bottom of the loaf pans, I recommend lining the bottom of the pans with parchment paper. A spritz of cooking spray helps too!
Remove the zucchini bread from the pans shortly after taking it out of the oven. Then, let the bread finish cooling completely on wire racks before slicing.
The nuts are optional. You can also sub chopped nuts if you prefer!
Make sure to use crushed pineapple with the juices drained. I haven't tested the recipe with other kinds of pineapple but I think the crushed texture of the canned variety is important!
Serving suggestions
Any time is a good time for a sweet slice of homemade bread. I love nothing more in the morning than a slice of moist zucchini bread spread with butter to go with my coffee.
Whenever we have a fresh loaf of bread like this around, no one can resist cutting themselves a slice for an easy snack or sweet treat after lunch. It makes a great midnight snack too!
After all, it's basically vegetables right?
This easy quick bread with carrots and pineapples adds a delicious twist to a classic zucchini recipe!
Yield: 2 loaves
Pineapple Carrot Zucchini Bread
Ingredients
1 cup unsalted butter
3/4 cup brown sugar
3/4 cup sugar
1 tsp vanilla
1 orange, zested
3 eggs
3 cup all-purpose flour
2 tsp cinnamon
1/2 tsp nutmeg
1 tsp baking soda
1/2 tsp baking powder
1/2 tsp salt
1/2 cup crushed pineapple (drained)
1 cup zucchini, shredded
1 cup carrot, shredded
1 cup walnuts, chopped
Instructions
Beat butter with sugars. Beat in vanilla, orange zest and eggs. Add in flour, cinnamon, nutmeg, baking soda, baking powder and salt.
Fold in pineapple, zucchini, carrots and nuts.
Pour into two greased loaf pans (I line the bottoms with parchment paper). Bake in a 350 degree oven for 50 minutes. Remove from pans, cool, and enjoy!