Rich and fudgy Chocolate Zucchini Muffins with double the chocolate! Serve these for breakfast, dessert or a midnight snack. And don't forget to make a few extra to stash in the freezer for later!
Some years my garden goes wild with zucchini. I never complain because it means more Zucchini Bread and Blueberry Zucchini Muffins to fill my freezer. Today's chocolate zucchini muffin recipe is an all time favorite!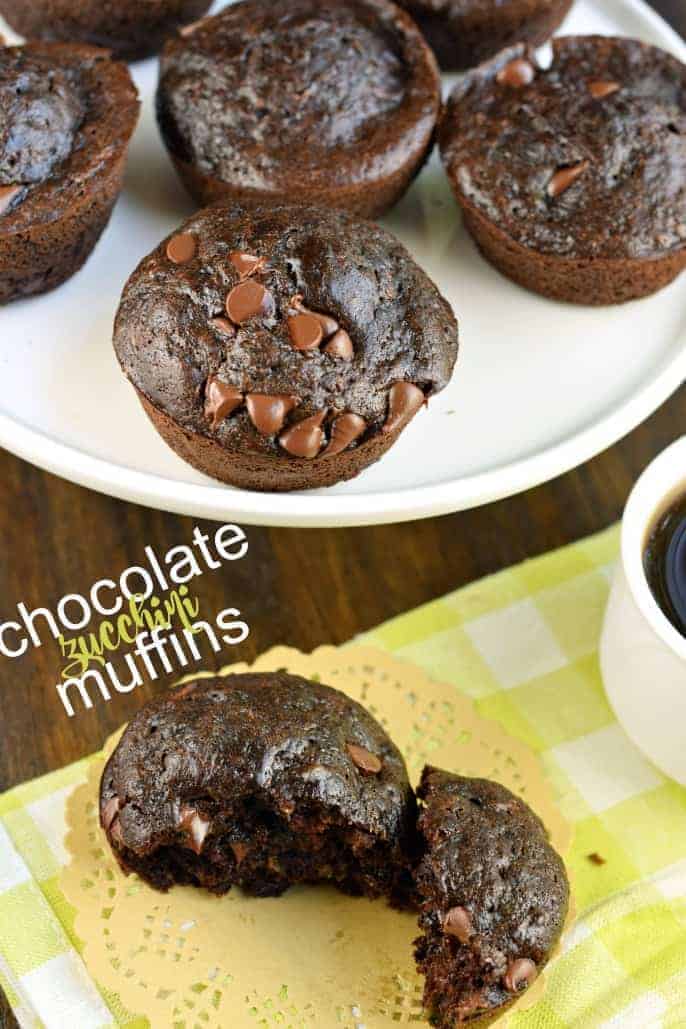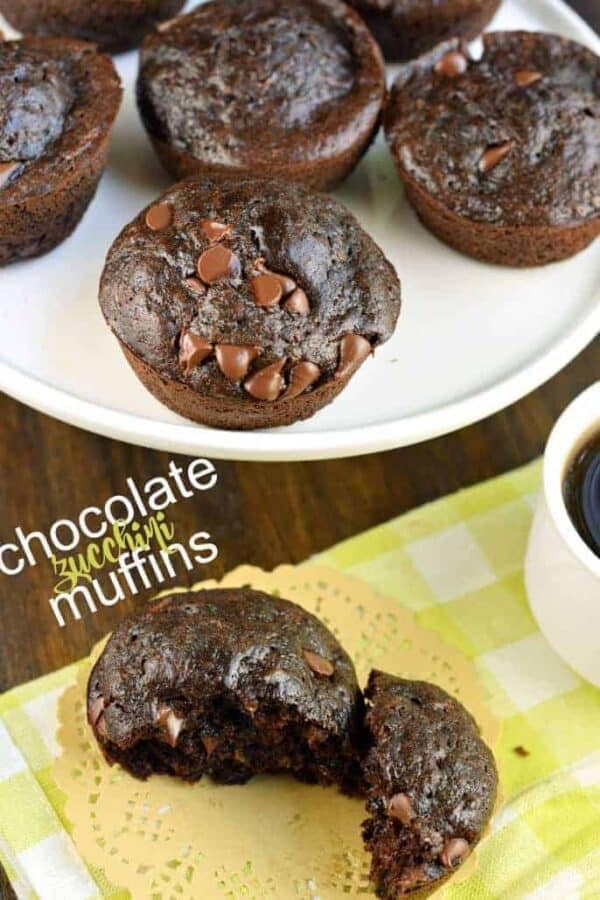 Why this Recipe Works
Amazingly moist. Shredded zucchini and sour cream bring plenty of moisture to these chocolatey muffins.
Double chocolate. With cocoa powder in the batter and extra semi sweet morsels, this recipe gets a thumbs up from chocolate lovers. A secret ingredient makes the chocolate flavor even richer.
Easy clean up. The batter for chocolate zucchini muffins gets mixed together in one bowl. No toppings, frostings or glazes to mess with either.
Freezer friendly. These hold up beautifully in the freezer for up to 3 months.
If you haven't tried zucchini muffins with chocolate yet, what are you waiting for? This is the only recipe you'll need to make fudgy chocolate zucchini muffins for any occasion!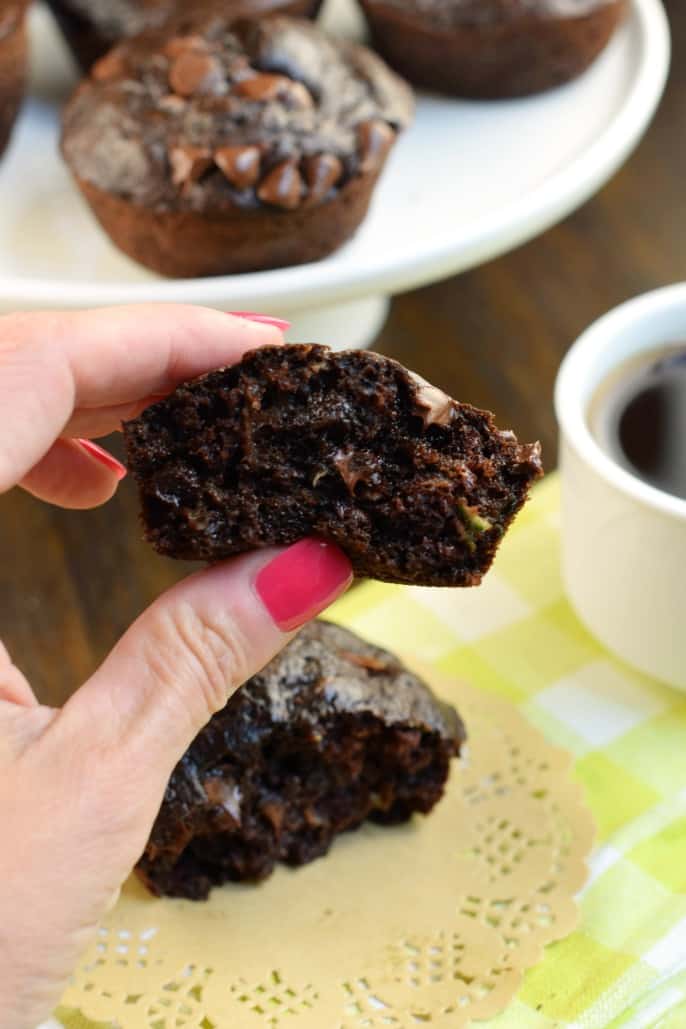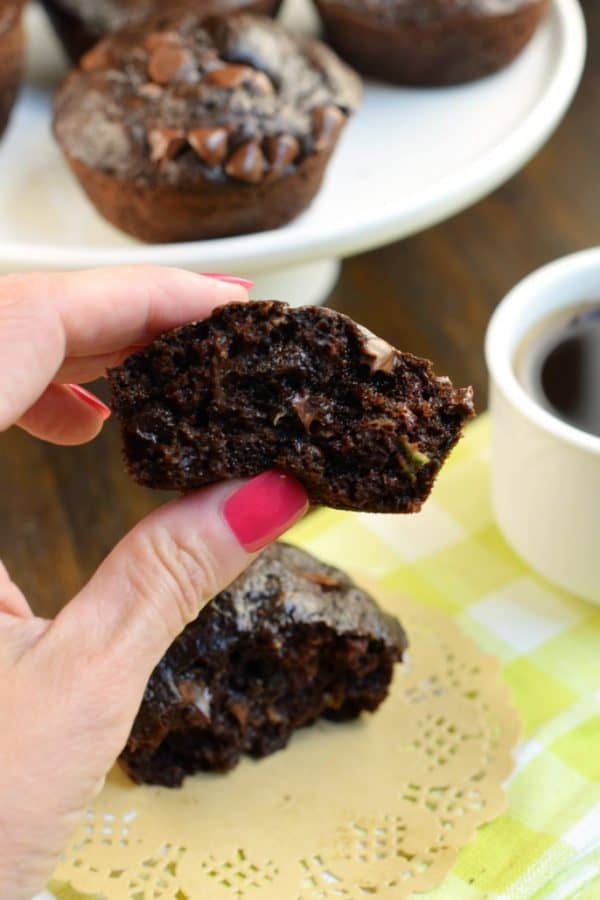 Ingredient Notes
Espresso powder. Adding just a little deepens the cocoa flavor in these muffins. It doesn't make them taste like coffeee at all.
Shredded zucchini. Use a standard box grater or a food processor fitted with a grating attachment to shred zucchini.
Sour cream. Plain Greek yogurt can be substituted if preferred.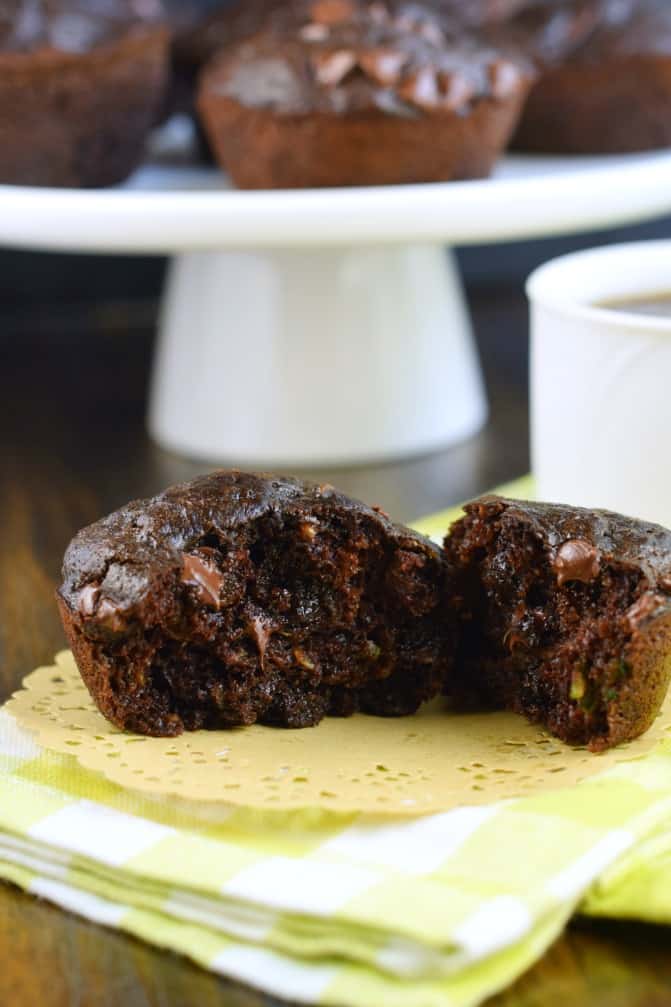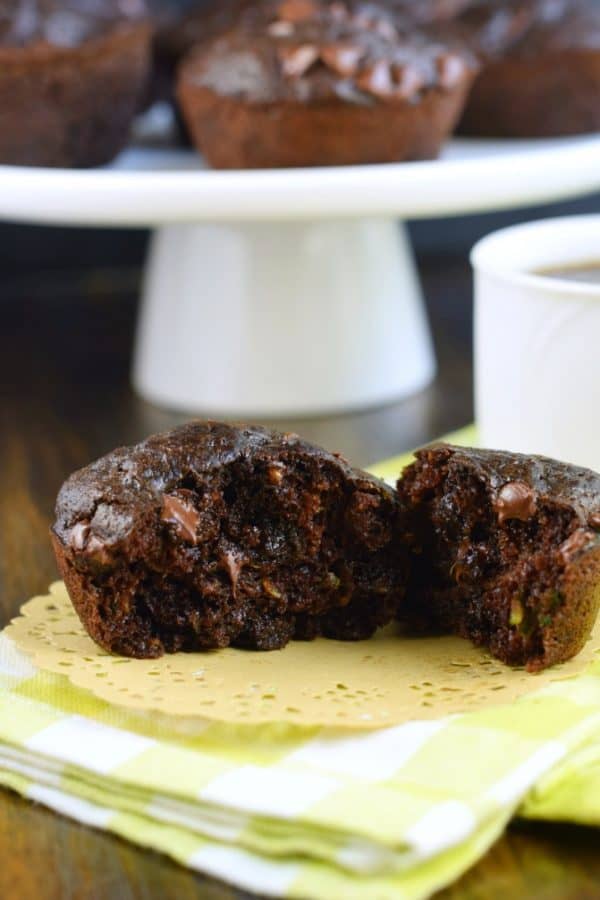 Easy Instructions
Combine the wet ingredients. Mix together eggs, vegetable oil, sour cream, sugar and vanilla.
Add dry ingredients. Stir in flour, cocoa powder, baking soda, baking powder, salt and espresso powder. Mix with the wet ingredients until combined.
Add zucchini. Fold zucchini and chocolate chips into the batter.
Bake. Divide the batter into greased muffin tins and sprinkle on a few more chocolate chips. Bake for 5 minutes, then reduce the temperature and bake for another 15.
Let the chocolate zucchini muffins cool completely before enjoying!
Tips & Tricks
How to freeze. Slide cooled muffins into a gallon sized zip bags and freeze. When ready to enjoy, let thaw overnight.
Fudgier muffins. Warm thawed muffins in the microwave for 10 seconds for an extra fudgy tasting chocolate muffnin.
Recipe makes 24 muffins. Perfect for a crowd or for freezing. Feel free to cut the recipe in half to make an even dozen.
Recipe FAQs
Can I use frozen shredded zucchini in this recipe?
Yes, go ahead and use frozen zucchini. Just make sure to thaw and squeeze out the excess moisture.
Why do you add extra chocolate chips to the top before baking?
A few extra morsels on top make these muffins look even more appealing. You can skip this and fold them right into the batter with the rest, if preferred.
Can this recipe be made gluten free?
We have not tested this recipe with gluten free flour so I'm not sure if it would work. Here's a wonderful gluten free zucchini muffin recipe if you need one!
How do you store chocolate zucchini muffins?
If you're not freezing these muffins, you can keep them at room temperature in an airtight container. They stay moist and delicious for several days.
Chocolate Zucchini Muffins are rich and sweet enough to serve for dessert. . . but totally delicious for breakfast too! Enjoy friends over coffee or eat them on the go. Eaten right away or frozen for later, these easy muffins are the BEST way to use that garden zucchini.