Healthy, vegetarian Zucchini Lasagna Roll Ups are an easy weeknight dinner, but also impressive enough to serve guests!
I'm always on the hunt for more delicious ways to get some more vegetables into my kids' dinners.
Recently, I made Roasted Broccoli and Zucchini as a dinnertime side dish and found myself with a few leftover Zucchini to use.
Usually, my instinct would be to use my zucchini abundance as an excuse to make some Chocolate Chip Zucchini Bread (yum). Then I remembered seeing a recipe where someone used zucchini slices instead of lasagna noodles to make Zucchini Roll-Ups.
I pan fried slices of zucchini to soften them, then rolled them with my favorite cheesy lasagna fillings and added marinara sauce.
The whole meal was so easy to make and my kids liked it just as much as regular lasagna!
Served with a tossed Italian salad and a basket of garlic bread this was a delicious "two thumbs up" meal from the whole family.
FAVORITE ZUCCHINI RECIPES: Zucchini Bread | Zucchini Meatballs
What You'll Need
To make my Zucchini Roll-Ups, I used:
Fresh zucchini
Mozzarella cheese
Marinara Sauce
The lasagna roll-up filling includes:
Cheese (ricotta, parmesan and cottage)
Parsley
Basil
Garlic Powder
Pepper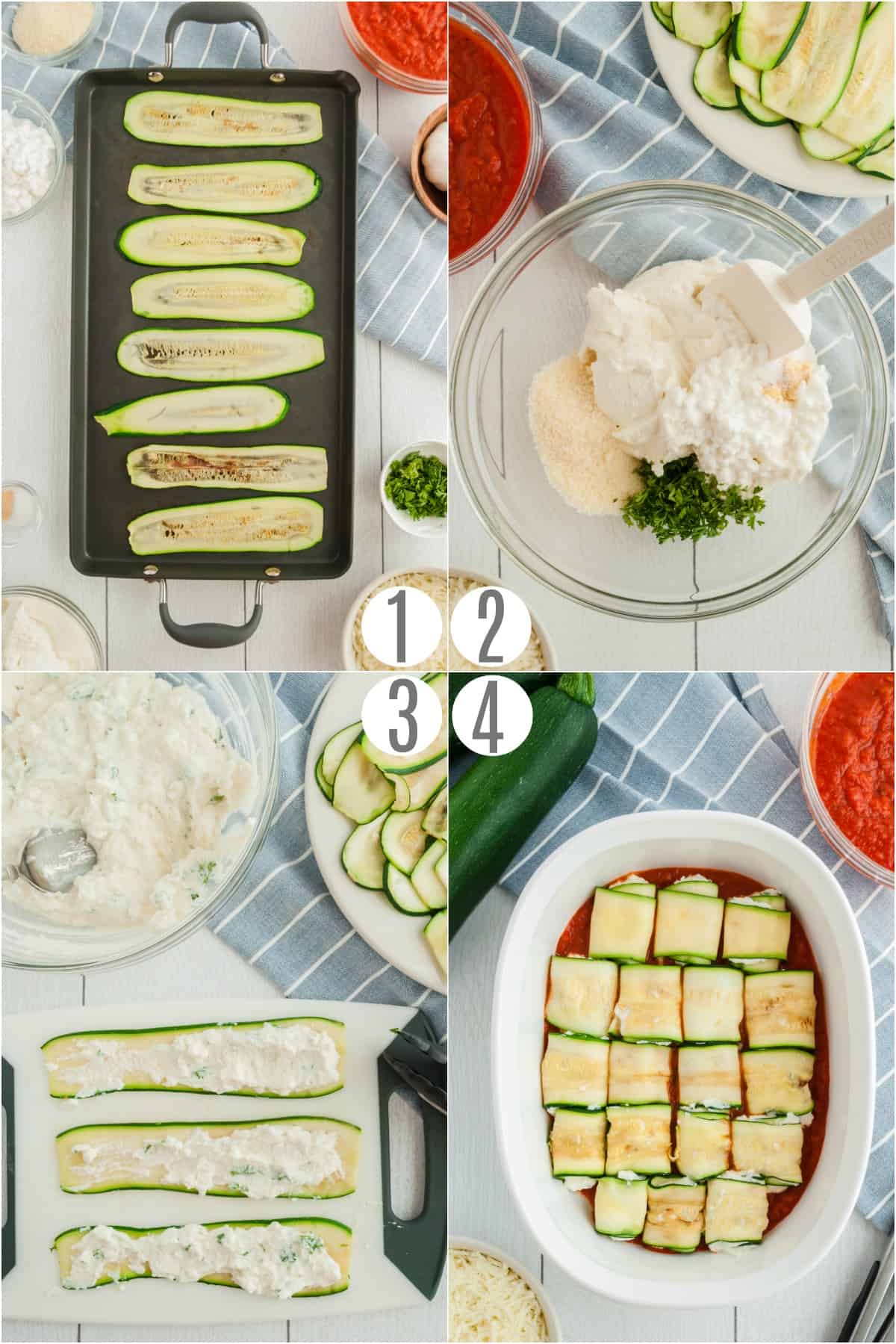 How to Make Zucchini Lasagna Roll Ups
STEP 1. Prepare the Pan.
While the oven is preheating, spread marinara sauce on the bottom of a casserole dish or lasagna pan.
STEP 2. Prepare the Zucchini
Cut zucchini lengthwise into ¼" thick slices. I like to use a mandolin slicer here to produce slices that are a little thinner than cutting them with a knife. That said, you can also use a knife–just try to get the slices at thin as you can!
Place the zucchini in a single layer on a stove top griddle, in a frying pan, or even on an outdoor grill.
Cook for about 2 minutes on each side or until the zucchini becomes soft. This also helps remove some of the moisture in the zucchini. Transfer the slices to a plate.
STEP 3. Make the filling
As the zucchini slices cool, prepare the ricotta mixture by combining all the ingredients in a bowl.
STEP 3. Assemble the Zucchini Roll Ups
Lay out the zucchini slices and spoon about 1 tablespoon of ricotta filling on each slice. Spread the filling the length of the slice into an even layer.
Roll up each slice and place the roll, seam side down, into the baking dish in a single layer.
Top zucchini rolls with additional marinara sauce and shredded mozzarella cheese.
Bake for 20 – 25 minutes until all the cheese is melted and bubbly. Serve immediately and enjoy!
Add salt and pepper, to taste, if desired.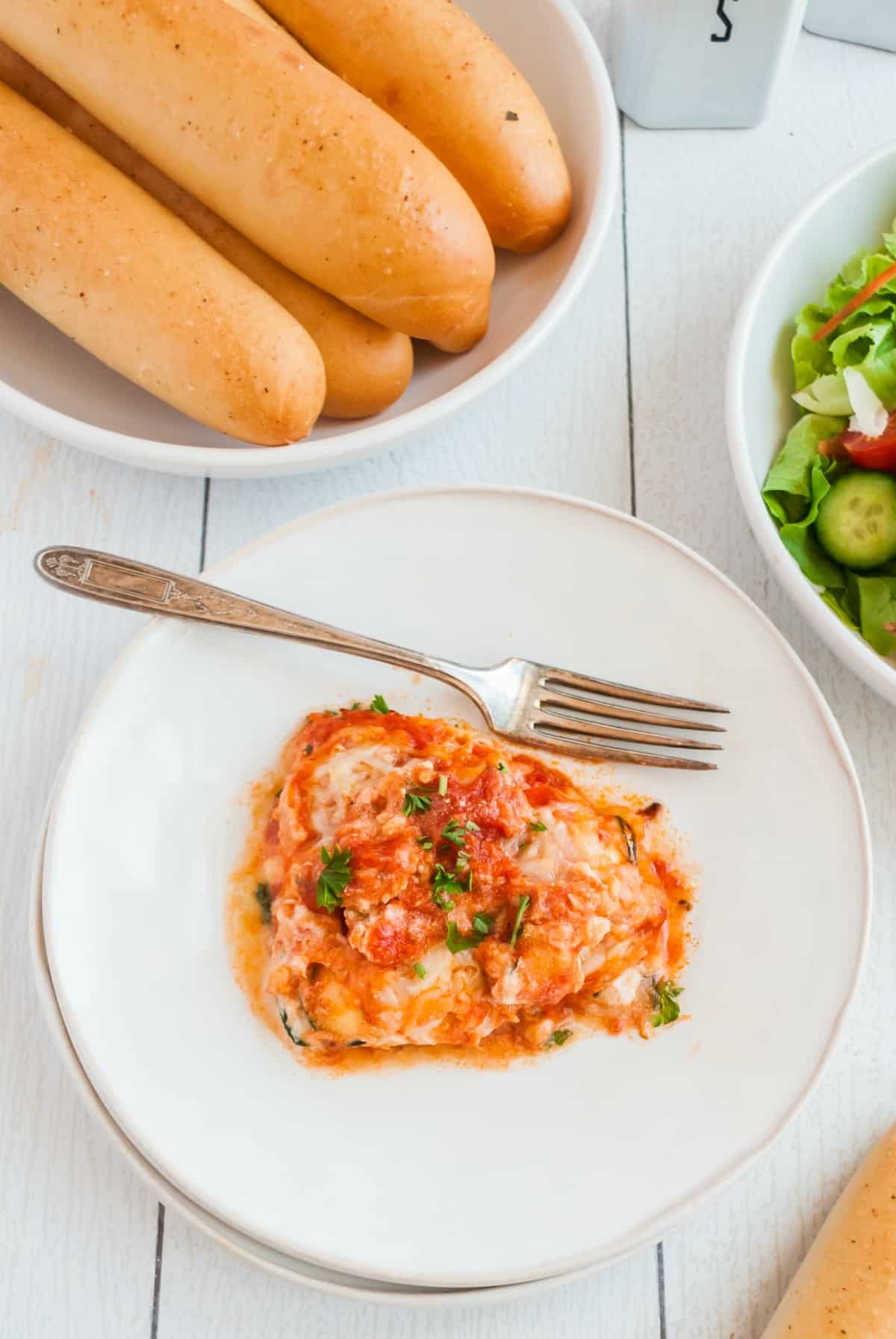 Why Make Roll Ups
The tender slices of zucchini soak up all the good marinara sauce flavor without getting too soggy! Keep in mind that if you use too much sauce, your lasagna roll ups are likely to end up watery.
Similarly to zoodles, zucchini are a great low carb option!
Start modestly with a spoonful of sauce on each roll-up. Keep in mind you can always add more and serve the Zucchini Lasagna with a little extra sauce on the side.
Any marinara or pasta sauce you love will work beautifully in this recipe. I highly recommend using my homemade spaghetti sauce recipe!
I keep a few jars of our favorite Italian seasoned tomato sauce on hand to use for today's recipe. I also use marinara in other favorites like Million Dollar Spaghetti Casserole and Instant Pot Lasagna.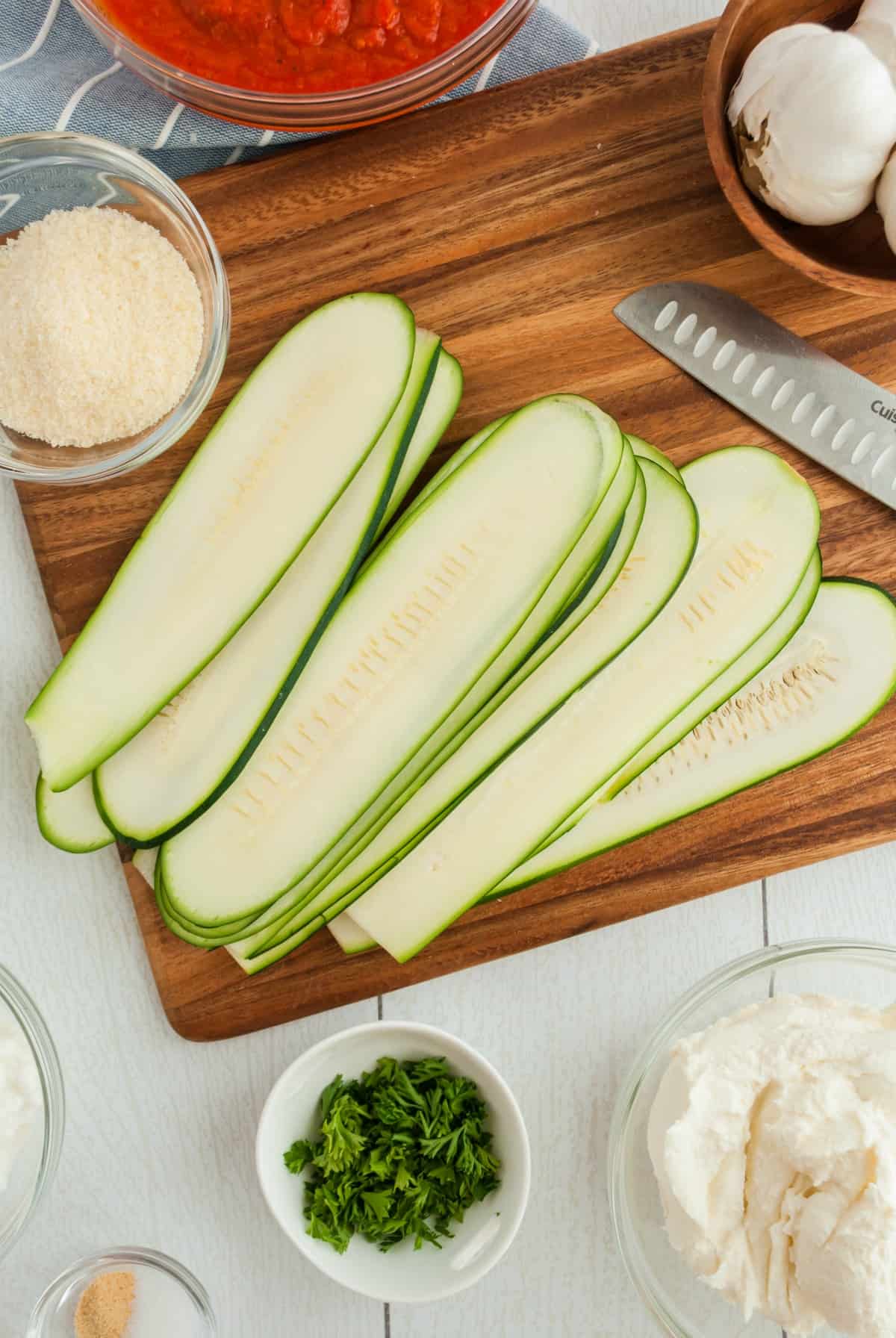 How thick should the slices of zucchini be
With zucchini roll-ups it's all about the balance. Too thick and the slices won't roll easily. Too thin and they may fall apart or get soggy.
A mandolin slicer helps control the size to keep the zucchini slices about 1/8-1/4 inch thick.
You can also layer the zucchini "noodles" just like you would when making a regular lasagna!
When choosing a zucchini, try to choose an oversized one for this recipe. Too small of a zucchini won't give you enough flat surface space.
If using a large zucchini, when you get near the center, don't use the middle portion with seeds.
Can you add meat to the Rollatini
Absolutely! As written, this is a vegetarian lasagna roll up recipe.
But if you want a little more meatiness in your zucchini roll-ups, Italian sausage makes a phenomenal addition.
Just brown ground Italian sausage (sausage crumbles) in a pan and add them to the zucchini on top of the ricotta filling. I've made them both with and without sausage and liked this meal both ways.
Next time you find yourself with an abundance of zucchini from your garden, consider using it in a savory dinner recipe!
This also happens to be a naturally gluten free lasagna roll ups recipe (as long as your sauce is gluten free).
If you have a good jar of pasta sauce, Zucchini and some cheese, you have the start of a great meal.
These Zucchini Roll-Ups stuffed with delicious ricotta cheese and Italian herbs are healthy, kid approved and most importantly, DELICIOUS!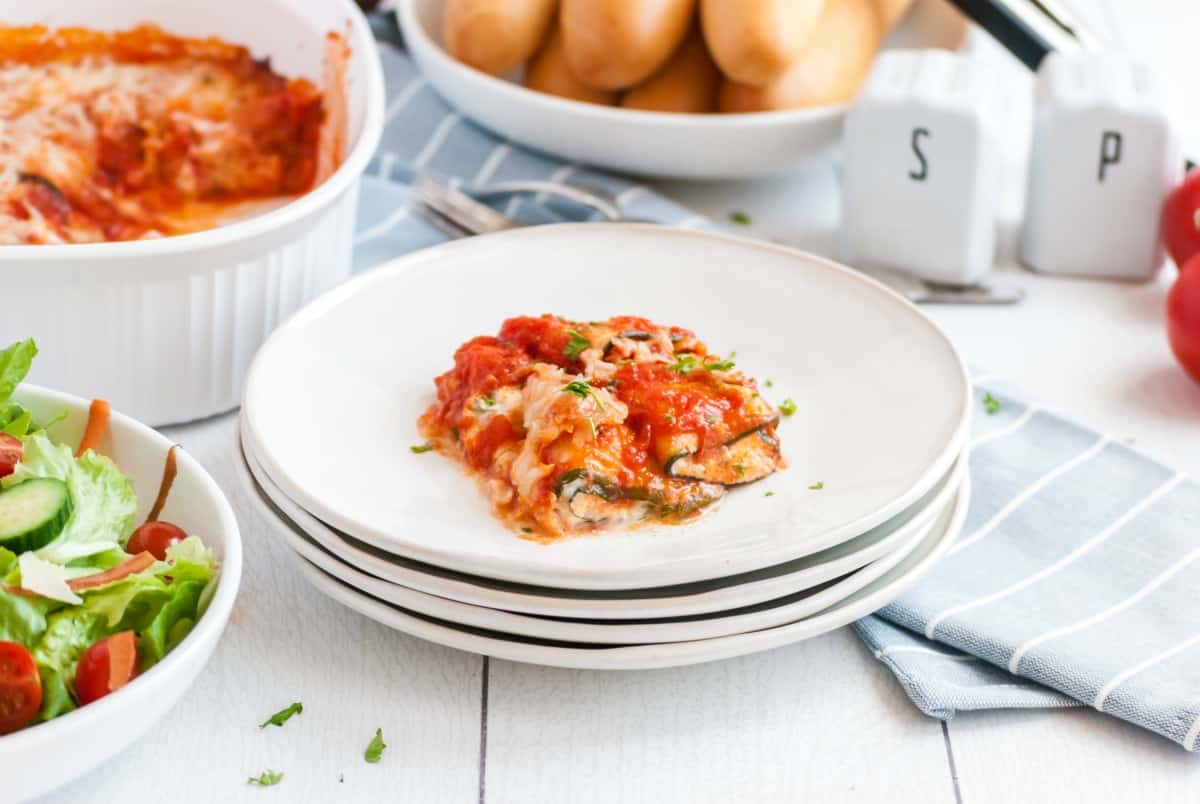 FAVORITE VEGETARIAN DINNERS: Meatless Chili | Penne Rosa