You won't miss the meat in this hearty Vegetarian Chili. Along with classic chili ingredients like beans and southwestern spices, this chili uses walnuts to achieve the perfect taste and texture.
Meatless dinners are some of our all time favorites. For more vegetarian meal ideas, check out this easy veggie quiche and this Lentil Tortilla Soup.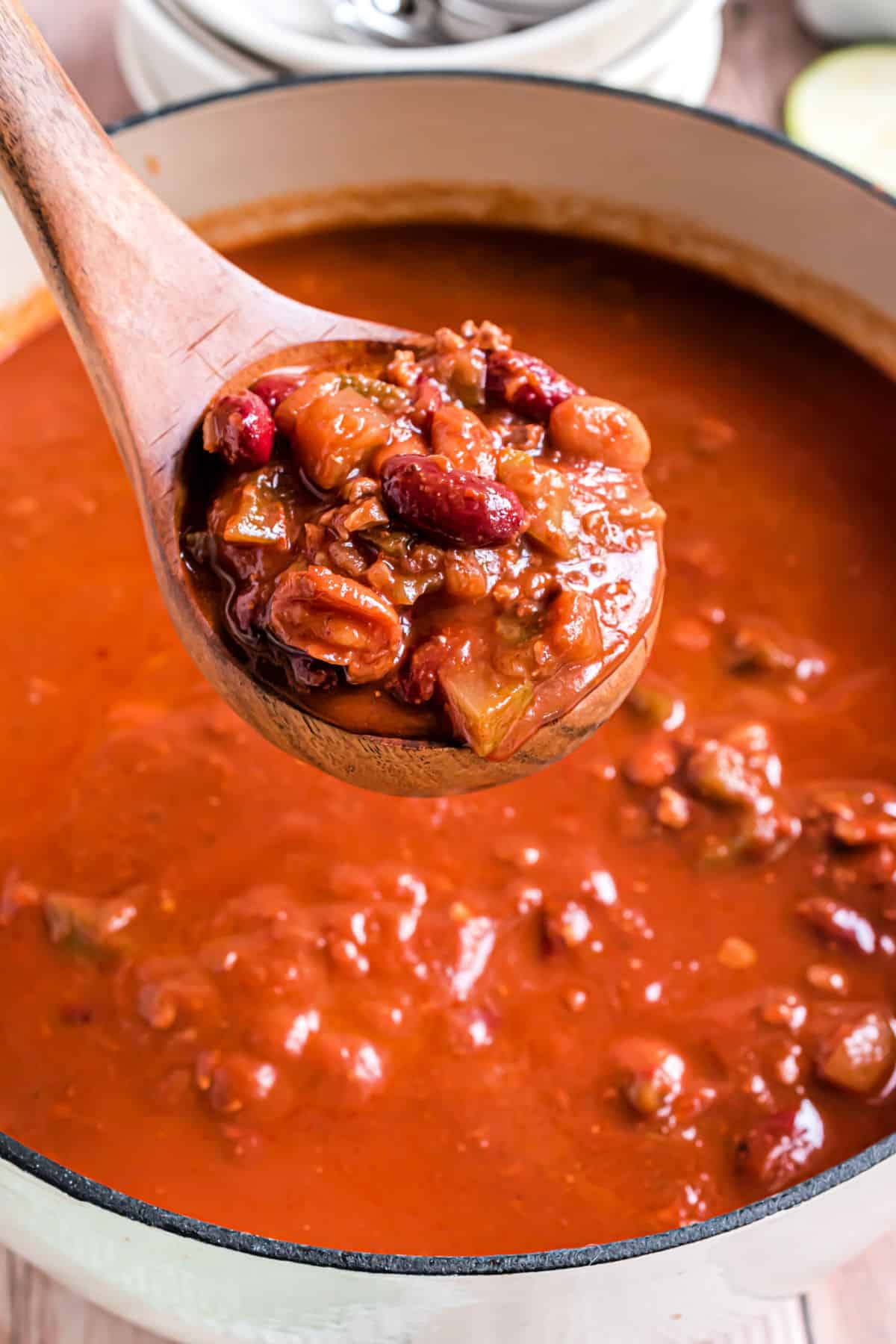 Why this Recipe Works
Whether you're a vegetarian or not, everyone needs a few good meat free recipes up their sleeve! Our zucchini "meatballs" are the perfect example of a flavorful meatless dinner.
Today's vegan chili is one of our go-to family meals. It's so nourishing and filling that everyone at the table walks away satisfied!
Customize your vegetarian chili by adding all your favorite toppings.
It's delicious served over baked potatoes or as a base for vegetarian Frito pie.
You can make this recipe on the stove top or in the Instant Pot!
Embrace meatless mondays and whip up a batch of our Instant Pot lentil soup next!
Ingredient Notes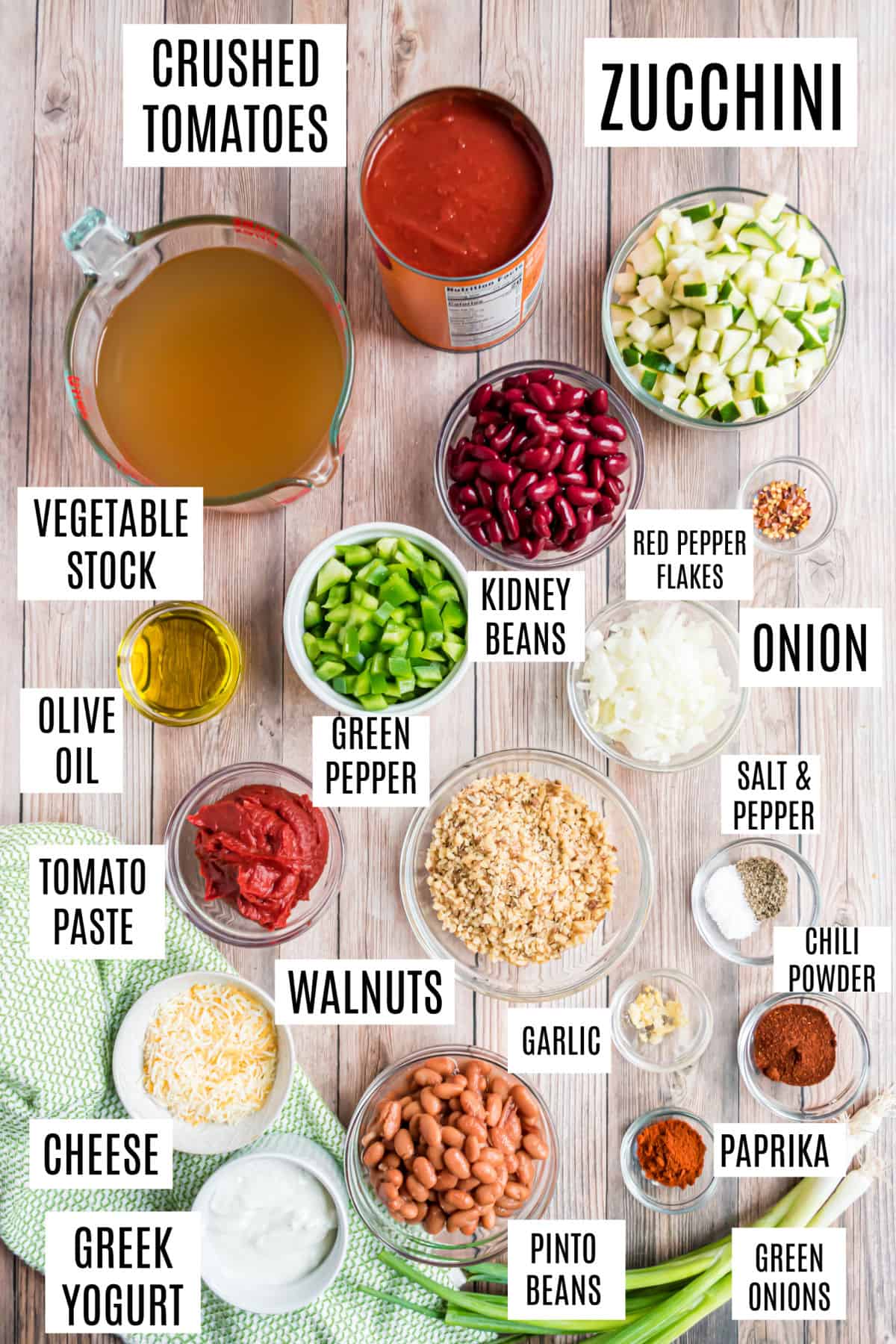 Kidney and pinto beans. These are my preferred beans in this chili. However, you can swap them out for black beans, chickpeas or any beans you like.
Walnuts. Chopped walnuts add a surprising "meaty" element to the chili.
Crushed tomatoes. I use plain crushed tomatoes to control the spice level and flavor profile.
Toppings. Try this chili topped with plain Greek yogurt (or sour cream), shredded cheddar cheese and chopped green onions.
Easy Instructions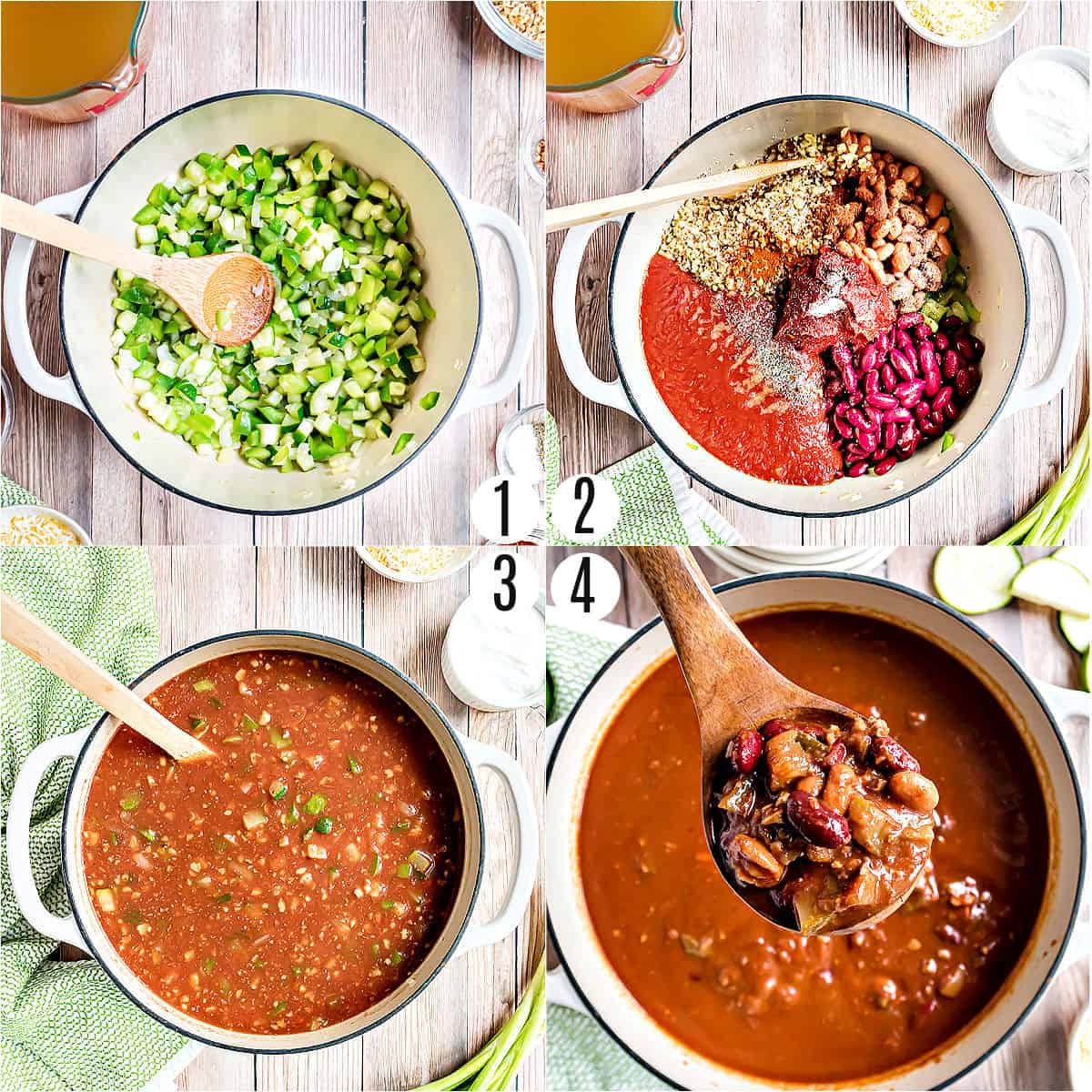 Saute the vegetables.
Cook sliced zucchini, onion, green pepper and garlic in olive oil for about 3 -5 minutes. Vegetables should be soft and fragrant.
Simmer the chili.
Now, add the remaining ingredients and stir. Cover the pot and let the chili simmer for 90 minutes.
When read to eat, ladle the chili into bowls. Top with your desired garnishes and enjoy!
Instant Pot Instructions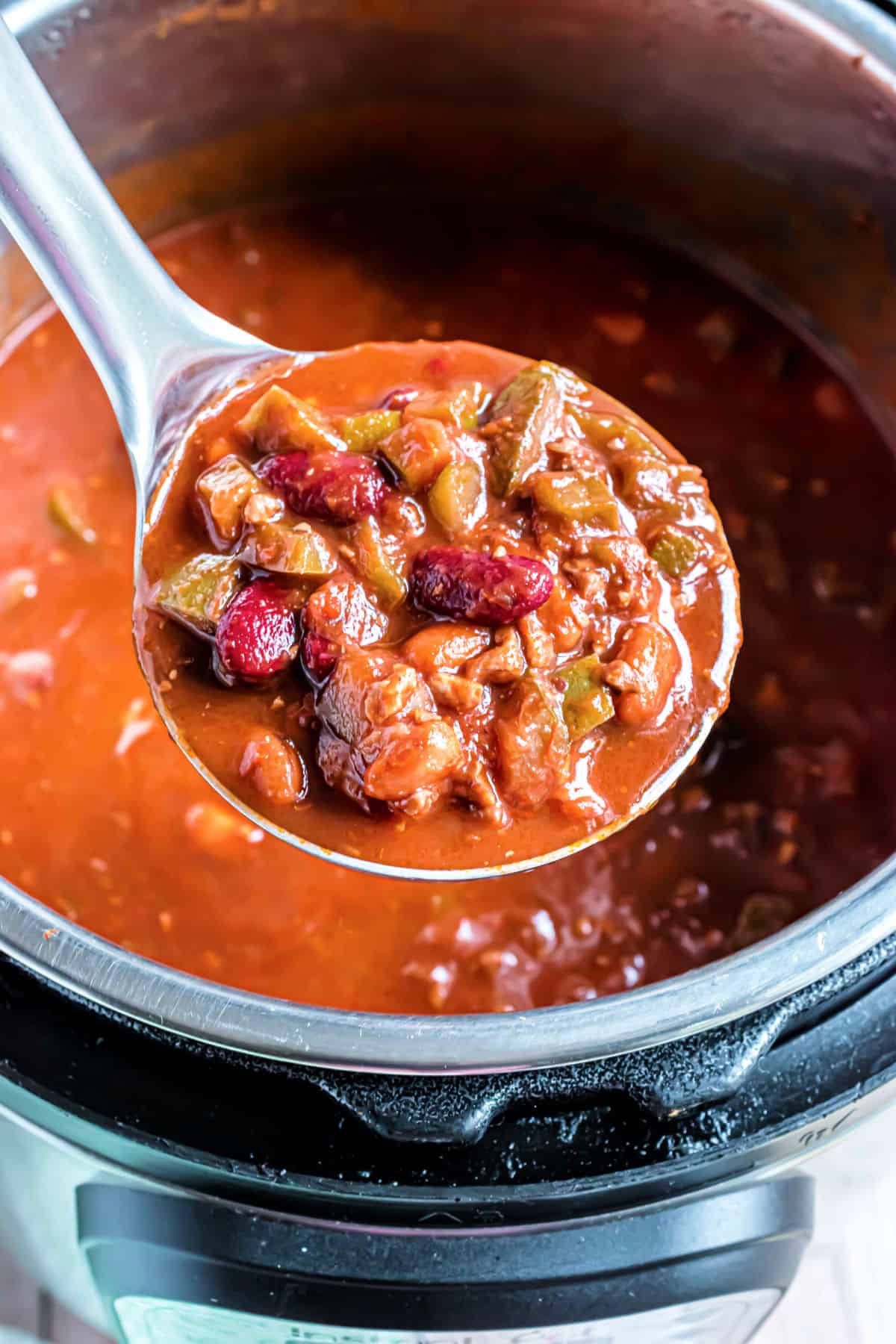 Short on time? This vegetarian chili in the instant pot is ready in minutes.
Add all the ingredients to the Instant Pot. Lock the lid and cook on HIGH pressure for 5 minutes.
After letting the pressure naturally release for 10 minutes, remove the lid, stir and serve! You'll love how the flavors mingle under pressure!
Tips and Tricks
Topping ideas: corn chips, baked tortilla strips, pico de gallo and salsa are amazing on vegetarian chili too!
Storing: Transfer leftover chili to an airtight container. Keep in the refrigerator for up to 3 days. Reheat in the microwave or on the stove top.
Stir. As the chili simmers, give it an occasional stir. This helps the ingredients combine and cook evenly.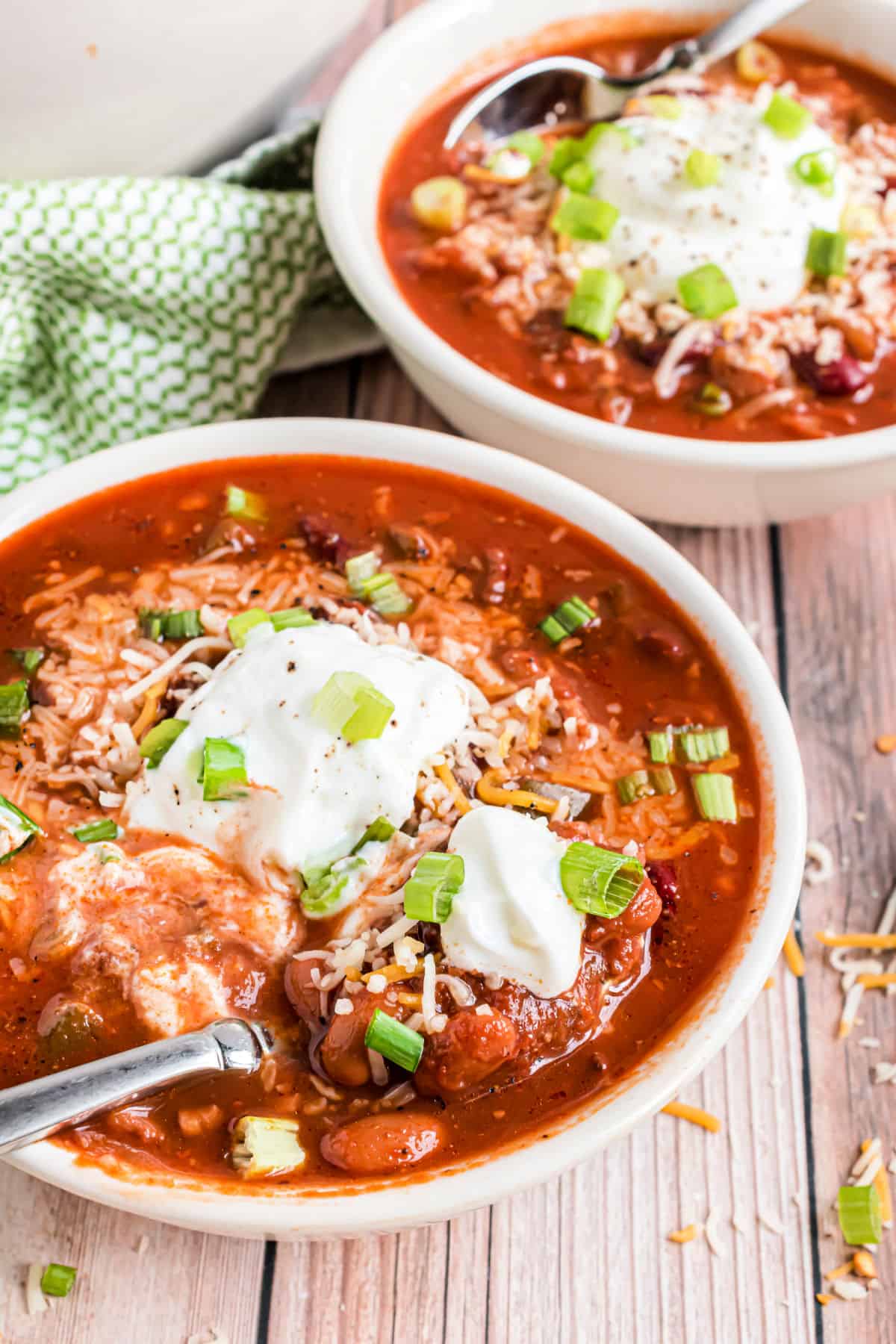 Recipe FAQs
What side dishes are good with vegetarian chili?
You can't go wrong with thick slices of Jalapeno Cheddar Cornbread on the side! Or try whipping up a loaf of Beer Bread to serve with your chili.
Do I need whole walnuts or pieces for this recipe?
I start with whole walnuts and chop them up. You don't want crumbs but they should be fairly small bits to achieve the right texture.
Can I swap the zucchini for yellow squash?
Yes, you can substitute yellow squash, more bell peppers or any other veggie that sounds good to you!
Is this recipe vegan?
The chili itself is vegan because it contains no meat or animal byproducts. If you add cheese and Greek yogurt, it is no longer vegan. If you need this meal to be vegan, you can use vegan alternatives for the toppings or simply leave them off.
Can I make vegetarian chili in the slow cooker?
Yes, you can! I would saute the veggies as directed then transfer to a slow cooker. Add the remaining ingredients, cover and cook on low, stirring every so often.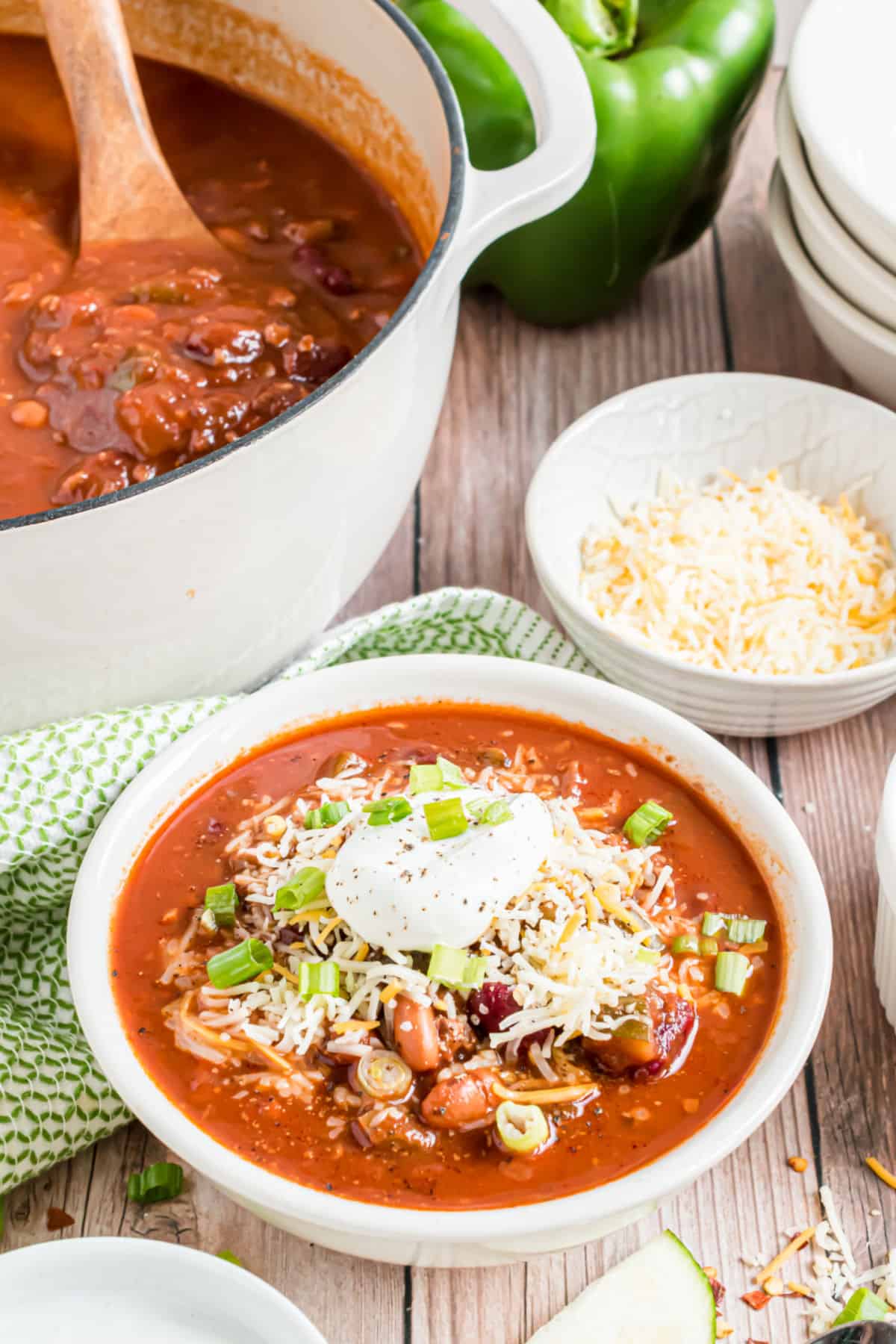 More Delicious Dinner Recipes
Delicious, nutritious and hearty vegetarian chili is a meatless meal the whole family will love!