Comforting Lentil Soup is made quick and convenient with the use of an Instant Pot. With only 10 ingredients, you'll have a delicious, stick-to-your-ribs soup in no time!
Love soup for dinner? Our Instant Pot French Onion soup recipe is delicious and hearty. Or give our white chicken chili recipe a try next.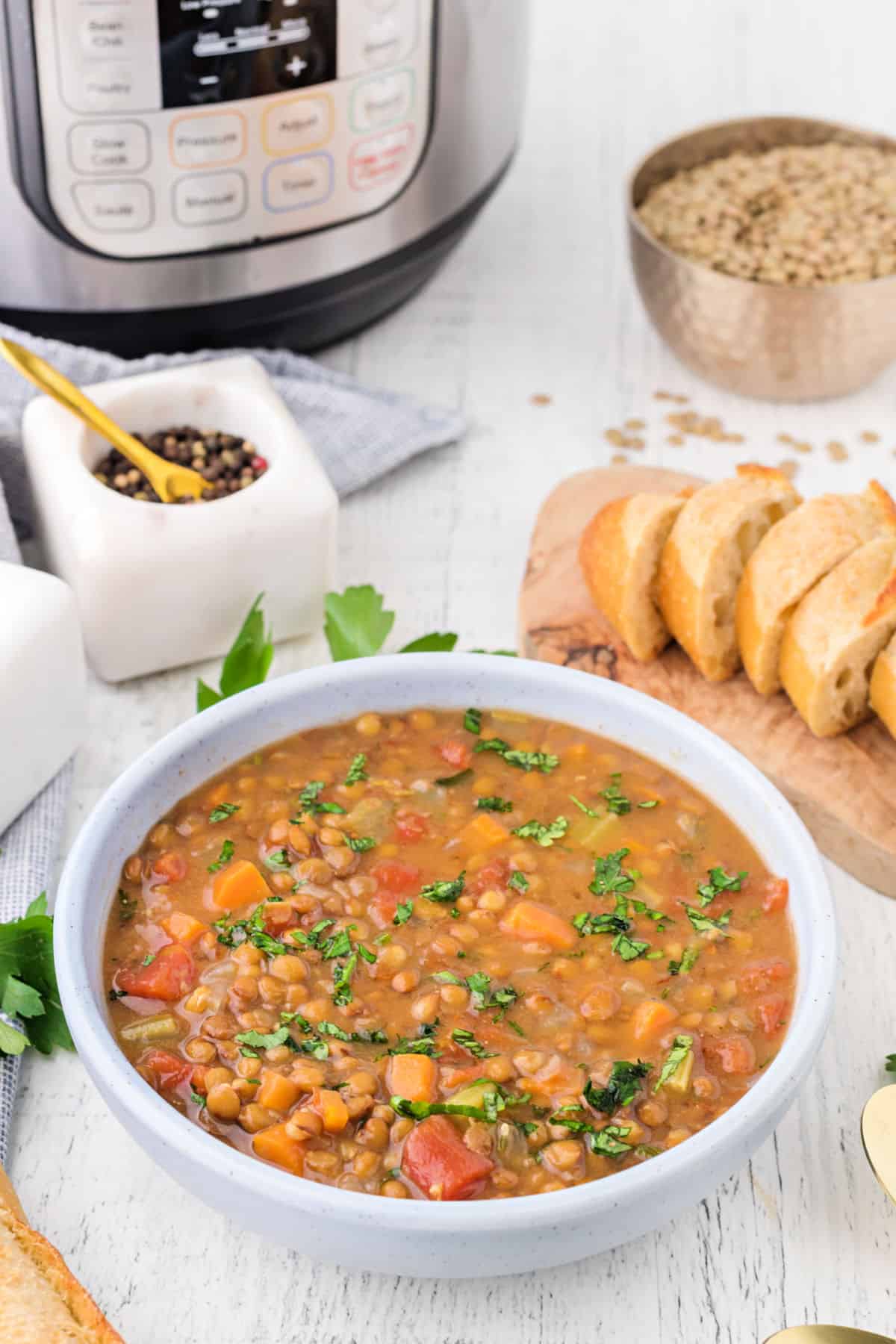 Why This Recipe Is the Best
This recipe is great for busy days and meat-free meal nights. Chewy lentils make this soup substantial and flavorful, so you won't feel hungry after dinner.
With only 15 minutes of prep time, this soup is ready to eat in 45 minutes from start to finish!
A simple ingredient list makes this an incredibly economical recipe.
Prepared ingredients like canned diced tomatoes help the broth come together easily in mere minutes.
Endless options to add your favorite ingredients to make this soup heartier, spicier, or creamier.
Cooking with the Instant Pot means you can wander off and fold laundry while the soup cooks to perfection.
If you love lentils, our lentil tortilla soup is perfect for meatless monday. Packed with spicy flavor, you'l love how easy it is to make.
Ingredient Notes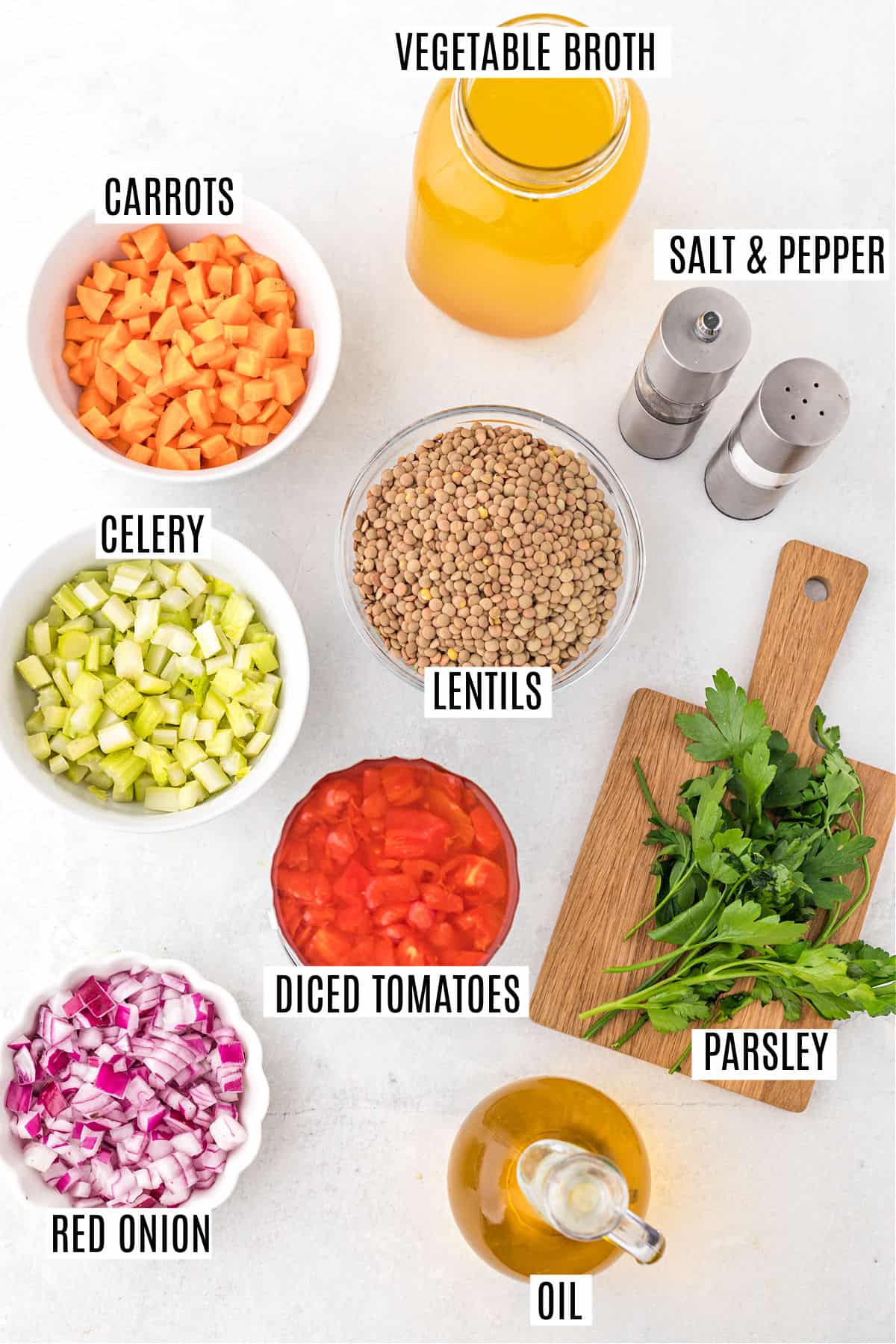 Green lentils – This hearty lentil makes this soup filling and nutritious.
Diced tomatoes – An easy way to add acidity, flavor, and color to the broth.
Red Onion – A little savory and a little sweet, onion adds foundational flavor to the soup base.
Carrots – Adds color, texture, and a touch of earthy sweetness to the soup. 
Celery – Adds a bit of texture to your soup. 
Vegetable broth – Feel free to use your own broth or store-bought. Using bouillon cubes? Be sure to taste the broth and adjust the salt you add to the recipe.
Vegetable Oil – Vegetable oil helps keep your vegetables from sticking to the bottom of the Instant Pot. It also adds a touch of richness to the soup.
Parsley – This bright green, refreshing herb makes a perfect topping for the finished soup. 
Easy Instructions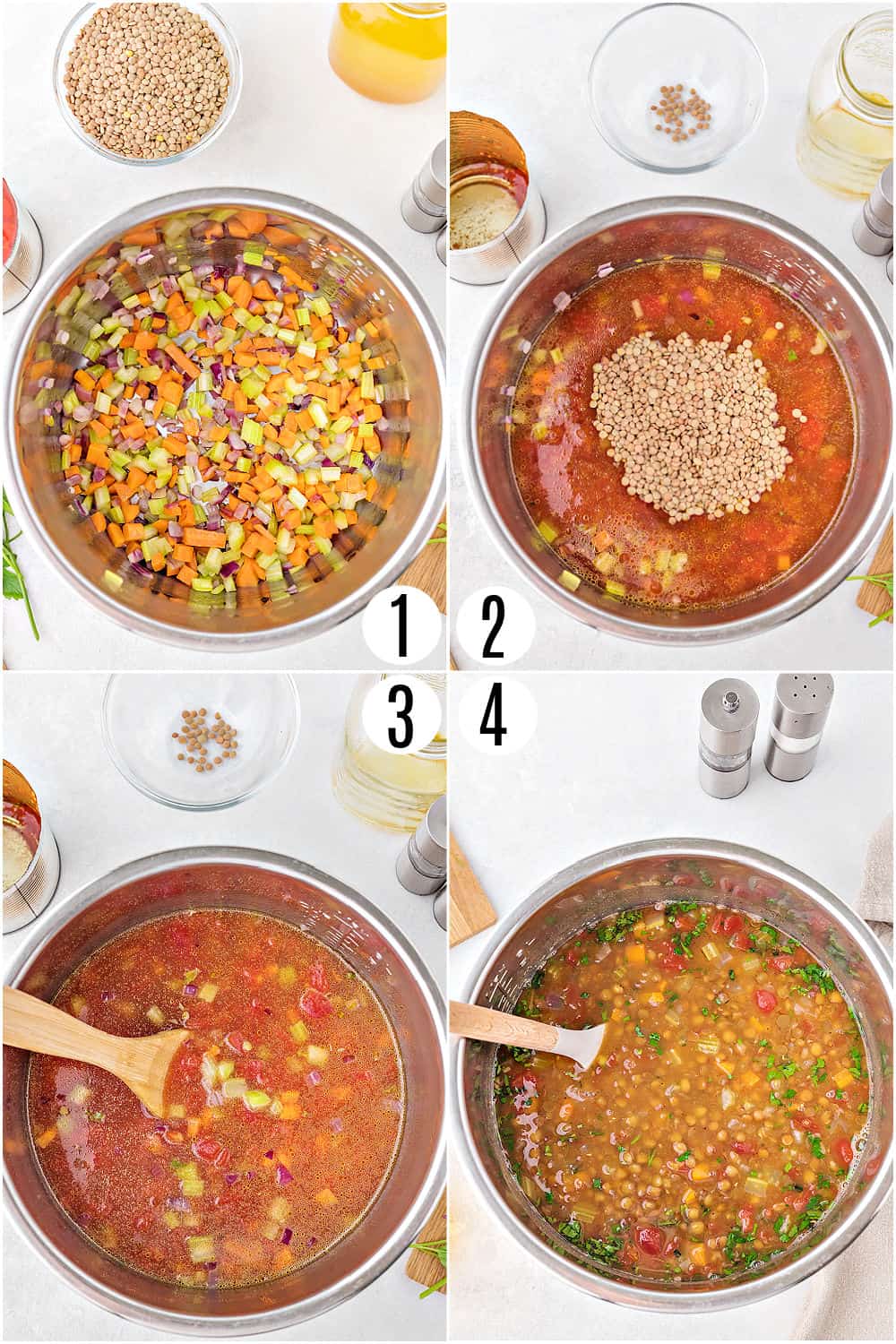 Saute. You'll want to use this function to soften the vegetables and add flavor to the soup.
Seal and Cook. Close the lid and make sure the valve is in sealing mode. Select MANUAL (high pressure) and set the cooking time to 15 minutes.
Natural Release. When the cooking time is complete, wait another 15 minutes to allow the pressure to release naturally. 
Serve. Open the lid carefully. Stir and serve hot with fresh parsley. 
Tips & Tricks
We love using green lentils because they have a firm texture and hold their shape well during pressure cooking.
Want a heartier soup? Add cooked chicken breasts or sausage to the finished soup.
To spice things up, add red pepper flakes while sauteing the vegetables or when serving the soup.
When reheating leftovers, the soup may have thickened. Add vegetable broth or water to thin the soup to your desired consistency before reheating.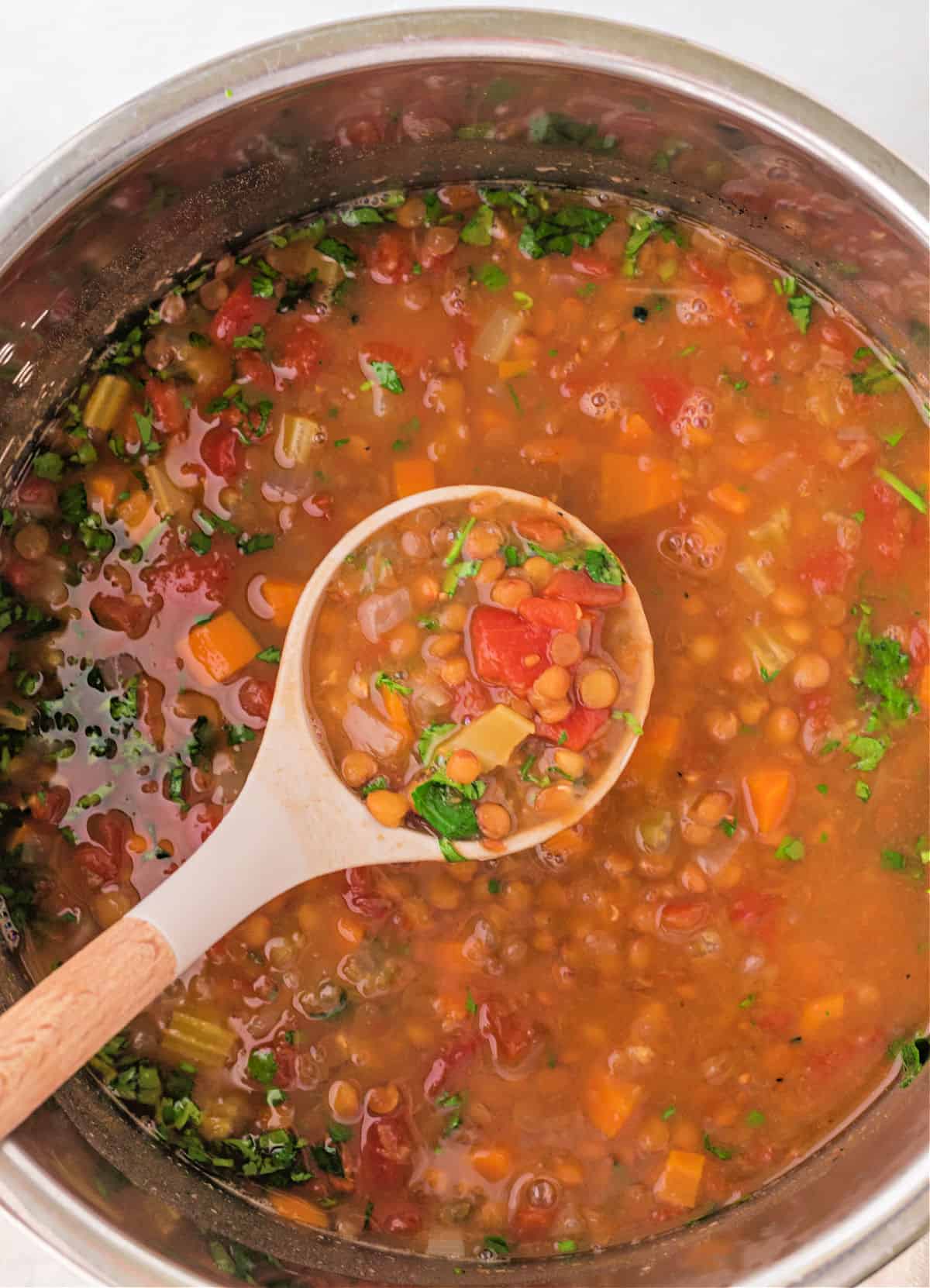 Serving Suggestions
Prefer a creamier soup? Add milk or heavy cream to the soup just before serving. For a creamier soup with a little tang, serve it with a dollop of sour cream or plain Greek yogurt.
Lentil soup goes hand in hand with a side of your favorite crackers or my Easy Garlic Bread. Or you can take it a step further with my Cheesy Garlic Bread or flaky Puff Pastry Breadsticks.
Recipe FAQs
How long can I store this soup in the refrigerator?
Store lentil soup in the refrigerator in an airtight container. Eat it within 4 days for the best flavor and texture.
Does this soup freeze well? 
Yes! Freeze this lentil soup for up to 3 months in a freezer-safe, airtight container. Then, thaw it in the refrigerator before reheating.
Is it necessary to soak the lentils for this recipe?
There's no need to soak lentils for this recipe. However, some may prefer to soak them overnight for easier digestion. In that case, try cooking them for 10 minutes less in the Instant Pot since they'll cook faster.
What are some other spices I can add to this recipe?
To spice this recipe up, add a couple of minced garlic cloves. You can also cook a bay leaf with it and remove it before serving. Other spices that go well with lentils include marjoram, oregano, cumin, and thyme.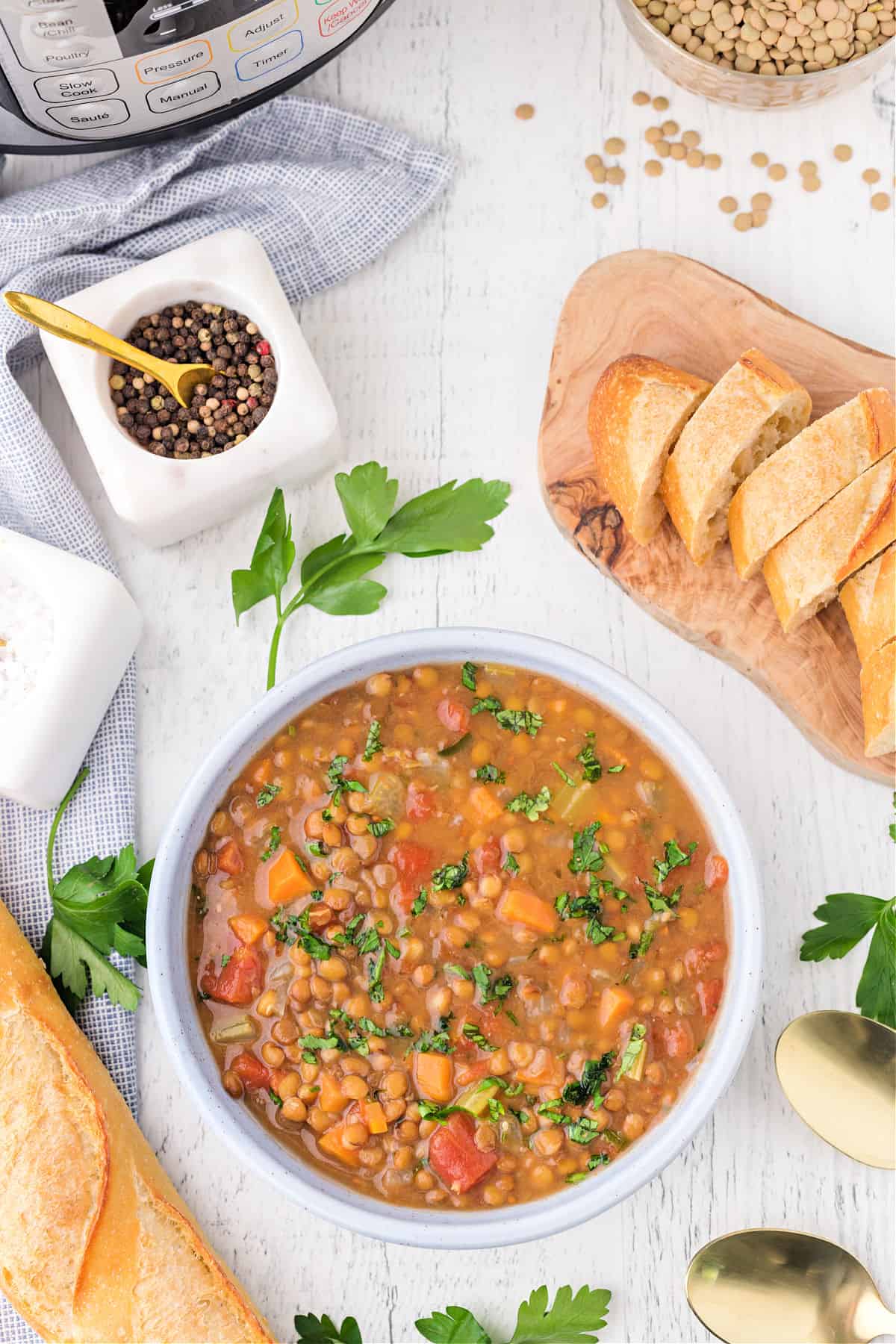 More Instant Pot Recipes