Creamy and cheesy Au Gratin Potatoes are easier to make than ever! Try these Instant Pot Au Gratin Potatoes next time you need a delicious side dish that the whole family loves.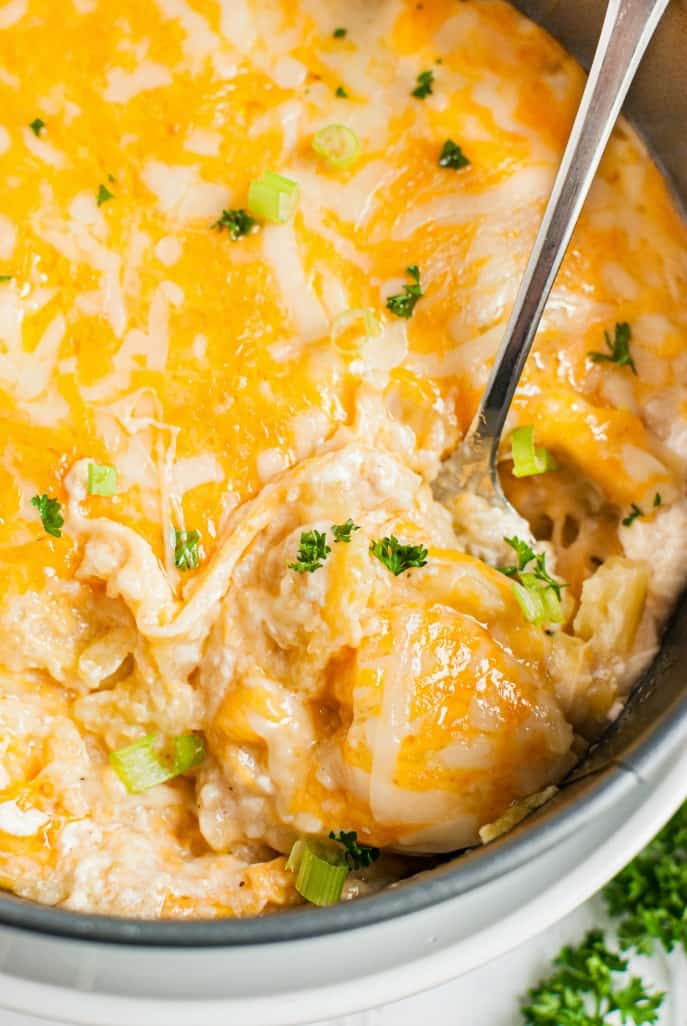 Au Gratin Potatoes
Is there anyone out there who can resist thinly sliced potatoes covered in creamy sauce and cheese?
Just about any kind of potato and cheese combo is my kind of side dish but there's something specifically about Au Gratin Potatoes that's extra comforting.
Traditionally, potatoes au gratin are baked or broiled in the oven. When I discovered how easy it was to make the same delicious cheesy side dish in the Instant Pot I knew I needed to share the recipe with you!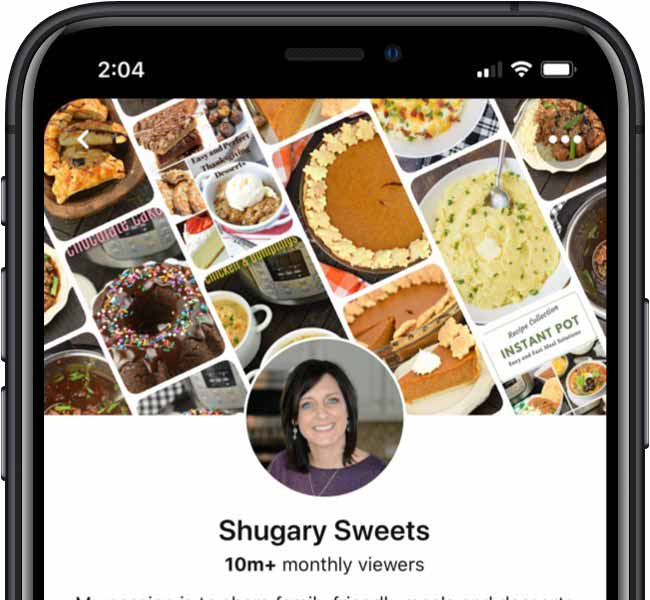 What's the difference between scalloped potatoes and au gratin potatoes?
At first glance, these two potato side dishes look the same. Both are thinly sliced layers of potatoes baked (or, in this case, pressure cooked) in cream sauce.
The difference is all in the CHEESE!
Au Gratin Potatoes have lots and lots of gooey melted cheese layered between the sliced spuds. The result is an even creamier dish with a brown bubbly layer that makes the potatoes extra rich and delicious!
I find most scalloped potatoes recipes involve fewer ingredients in general than au gratin potatoes, too.
My version of this side dish includes plenty of garlic and a little red pepper for some kick.
Are you craving cheesy potatoes yet?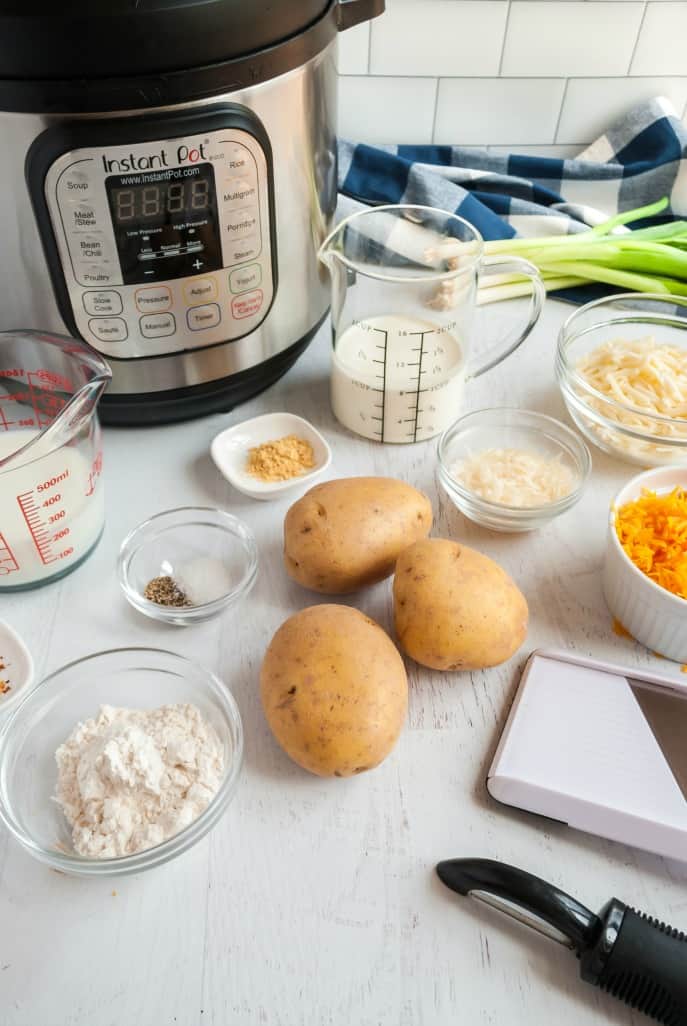 Instant Pot Au Gratin Potatoes
This method for preparing potatoes uses heavy whipping cream, spices and three kinds of shredded cheese.
I love how quick the recipe is to make and also that it leaves my oven free for other things!
If you typically serve au gratin potatoes with holiday meals, making them in your pressure cooker means your oven is free to roast a chicken or bake a pumpkin pie.
Did I mention that my kids loved these potatoes too?
As a side dish, they go with just about all meats and veggies. Try them as an accompaniment to this Classic Meatloaf or Instant Pot Balsamic Beef!
Here's what you need to make Instant Pot Au Gratin Potatoes
Yukon gold potatoes
Heavy whipping cream
Milk
Garlic
Flour
Red pepper flakes
Dried mustard
Grated cheese (I used cheddar, Parmesan and Gruyere)
Salt and pepper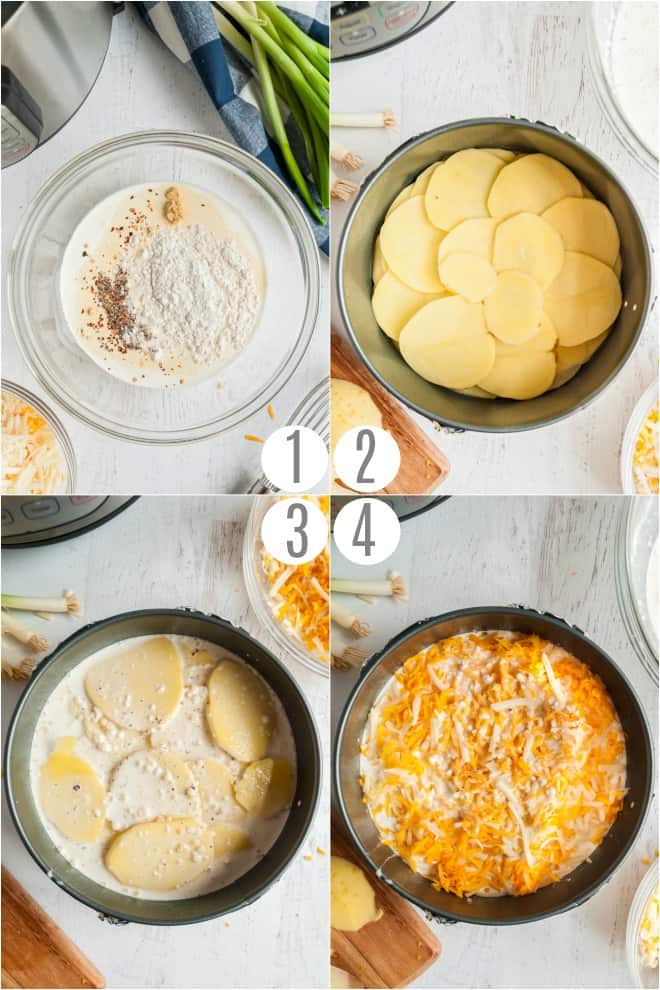 How to Make Au Gratin Potatoes
STEP 1. Prepare the potatoes
Start by washing, peeling and thinly slicing the potatoes using a mandolin slicer or sharp knife.
In a medium size bowl, whisk the heavy cream, milk, garlic, flour, salt, pepper, red pepper flakes, and dry mustard. Set aside. In a separate bowl, combine the gruyere, parmesan, and cheddar cheese. Set aside.
Using cooking spray, generously grease a 7×3-inch push pan that fits inside your pressure cooker.
Layer half of the sliced potatoes into the bottom of the pan, followed by half of the cheese mixture. Pour half of the milk mixture over the top.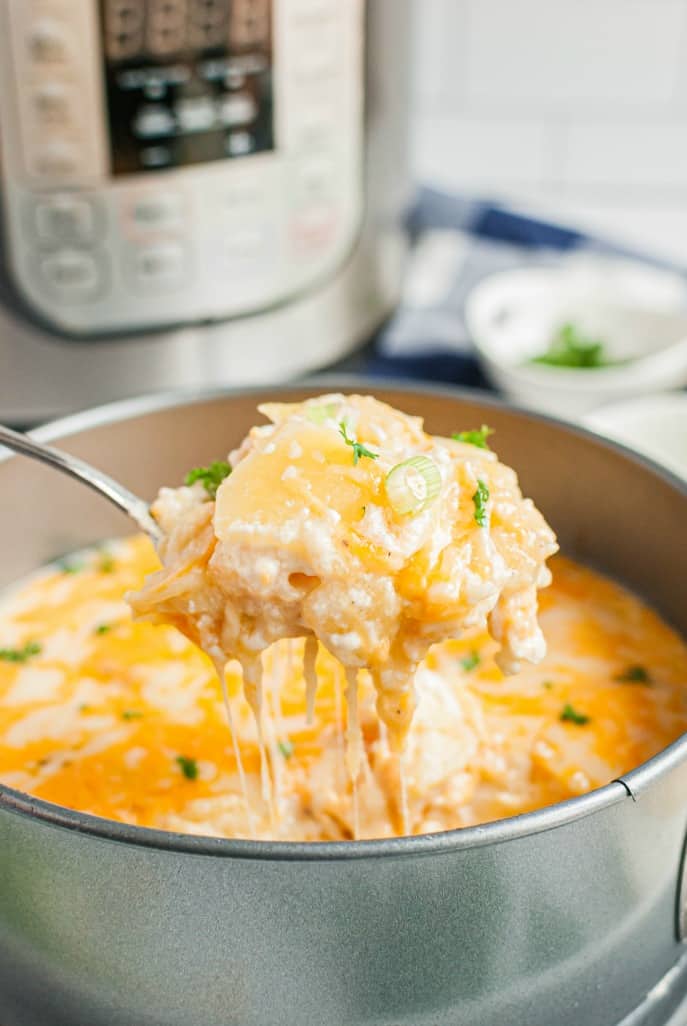 STEP 2. Pressure cook
Pour 1 ½ cups of water into the bottom of your Instant Pot. Place your baking dish on a trivet and carefully lower into the pot.
Secure the lid in place and make sure the valve on top is set to SEALING.Cook on high pressure for 40 minutes. After cook time ends, do a QUICK RELEASE of the pressure.
Carefully remove the pan by lifting the trivet, and top the potatoes with the remaining cheese.
At this point you can either lower it back into the hot pressure cooker, and allow the cheese to naturally melt, or you can place the pan under the broiler to finish cooking so you get the bubbly cracked cheese.
To finish the potatoes in the broiler:
Place baking dish under broiler until cheese is bubbly and begins to brown, about 3-5 minutes.
Allow potatoes to rest about 10 minutes before serving. Garnish with fresh parsley and extra crushed red pepper flakes, if desired.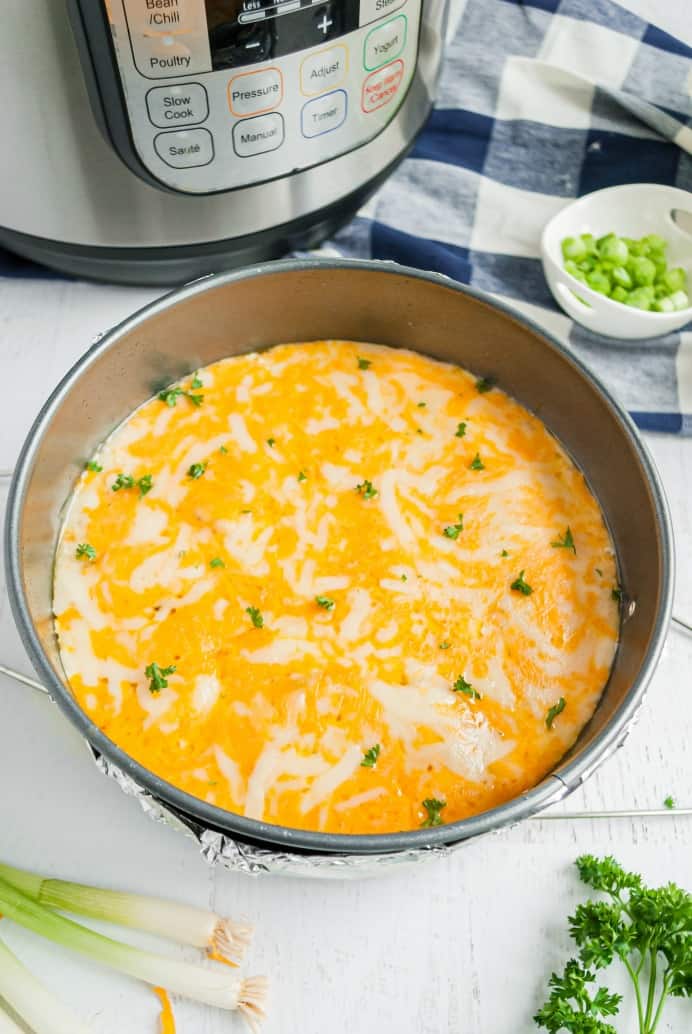 Can you make this in the oven?
YES! This recipe works wonderfully made the old fashioned way in the oven as well.
How to make this au gratin potato recipe in the oven:
Follow the directions for preparing the potatoes as instructed. Instead of pressure cooking, cover with tinfoil and bake the potatoes in the oven at 350 degrees for about 60 minutes. Remove the foil and broil for 3 – 5 minutes or until the cheese is brown and bubbly.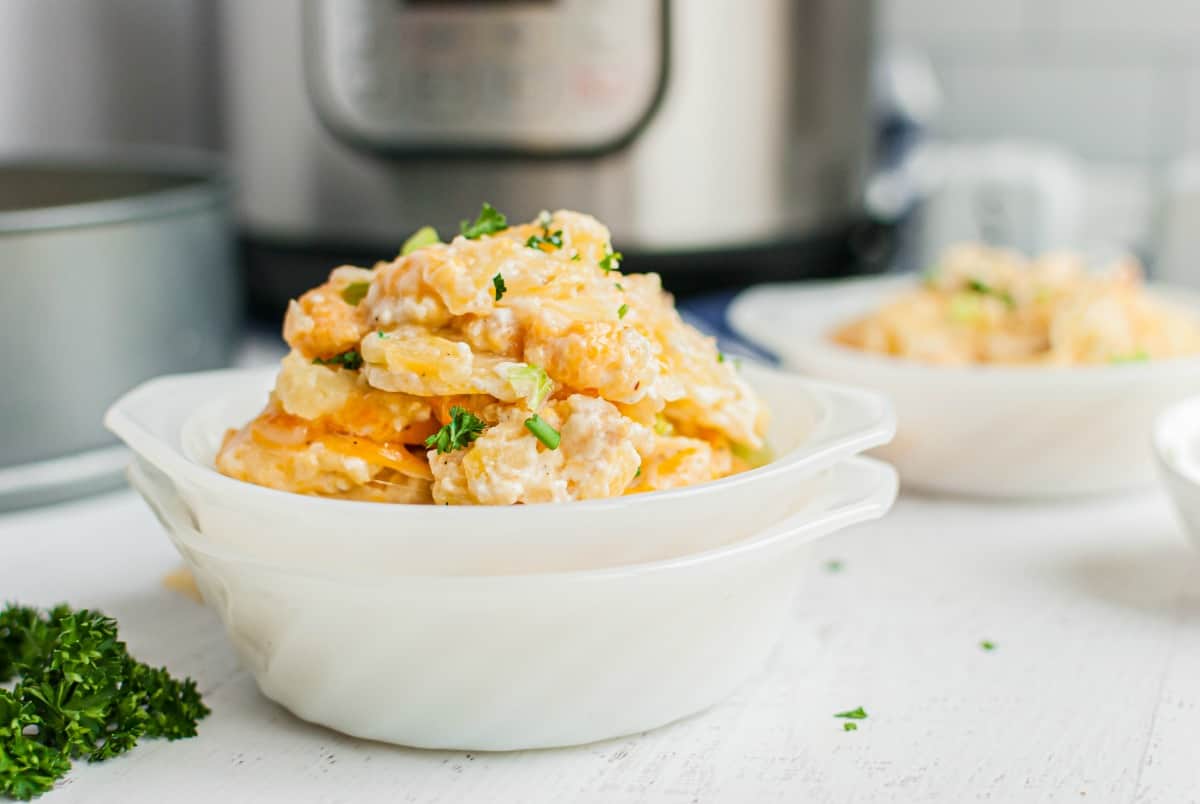 Can you make potatoes au gratin in advance?
You can absolutely prepare the potatoes ahead of time so you can get your side dish on the table even more quickly when it's time to eat.
Follow all the steps up to preparing the potatoes, then cover tightly with plastic wrap and keep in the fridge until ready to pressure cook (up to 8 hours).
You can assemble the dish in the morning before work, come home and pop it right into your pressure cooker!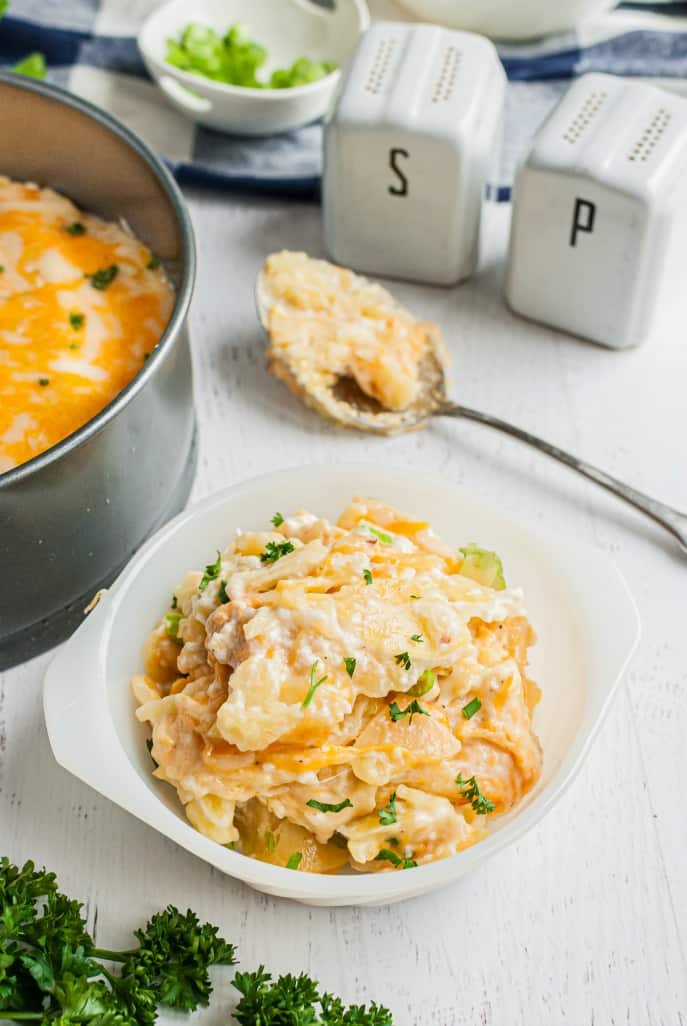 Make this Potatoes Au Gratin recipe in your Instant Pot for a cheesy side dish that the whole family will love!